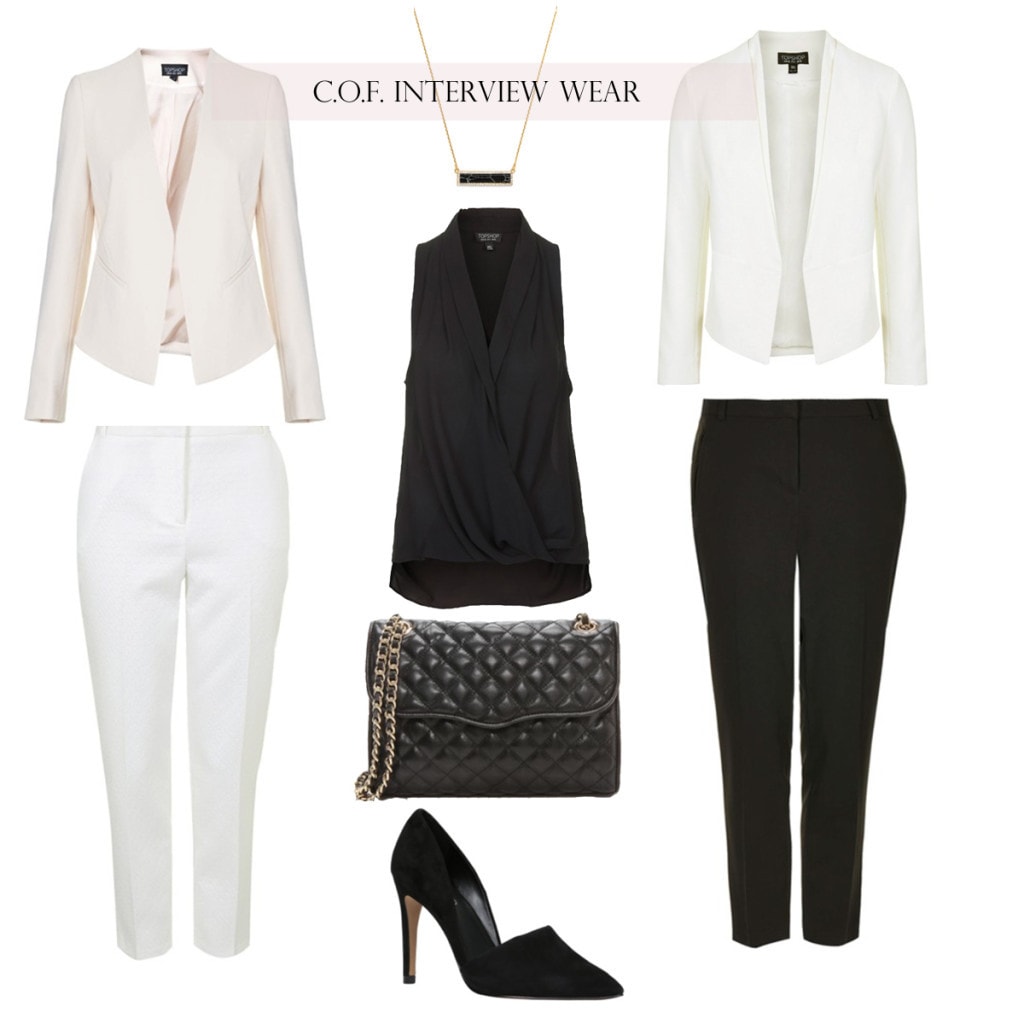 Pink Blazer | White Pants | Necklace | Top | Bag | Pumps | White Blazer | Pants
Interviews are probably starting for those graduating in May and dress code is just such a "loose" word.
You're already nervous. You're still coming up with a fake "biggest weakness" [because you can't say One Tree Hill marathons]. And the last thing you want to do is look down at your pants and think you'd much rather be in some leggings.
Your interview attire should give you confidence and you should look in the mirror and think, "Hope my boyfriend is taking me out on a date after because this blazer needs to be seen!" When I'm aiming for a reasonably priced, confidence boost I reach for Topshop. The cuts are amazing [however I do have to go up a size in most pieces] and make you feel like you spent a lot more than you did.
I pulled my favorite pieces to throw together an interview look and here are a few tips:
1. LBB
Your little black bag is key. I once read an article that said, "Your handbag you carry to an interview should be nice enough to show you have taste in decision making, but not so flashy that your interviewer thinks you don't want need this job." This LBB is my favorite when bringing together subdue and chic.
2. Lighten Up
You are not mourning. You are celebrating your strengths and what you can deliver. Don't go head-to-toe black if you don't have to. I completely understand if you are interviewing for a certain field that requires that, but formal business wear can still include white. Throw on a white blazer or invest in white slacks. If Olivia Pope can save the world in all white, so can you.
3. Lips Don't Lie
Makeup for interviews can be tricky. You never know what the person will prefer, but I think it's a moment to keep bronzer at bay. I say keep your face clean with a tinted moisturizer, mascara and throw on a red lip. A red lip says, "I may be fresh out of college, but I'm smart and I know who I am." It's a bold choice, but by keeping everything else simple it looks really powerful. Think Jenna Lyons. Mac Ruby Woo is my favorite!
Throw on your Topshop & relax. #Girlbosses don't just get jobs, they own them.
Edit: I just wanted to clarify, if you know your job requires you to wear a suit, you of course wear a suit! This was a post done for most interviews in which you aren't having to wear full-on formal business attire, i.e. marketing, communication, etc.