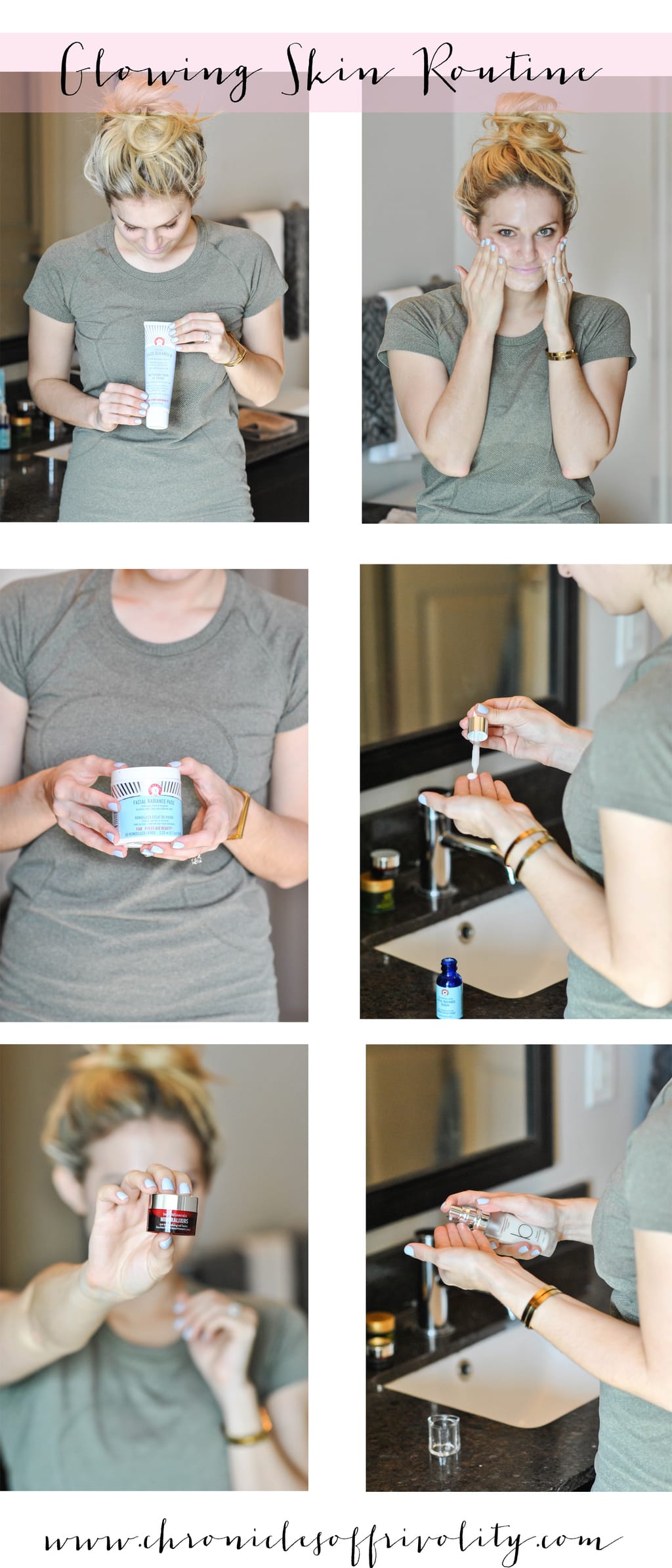 For most of my life, I committed a lot of skin sins. I slept in makeup. I used foaming cleanser [don't do it!!! It literally strips your face off.] And I never moisturized. Ever. [My brilliant mind thought that would cause breakouts.]
But a year ago I really started to be kind to my face. I learned you started aging at 23 [the horror] and decided I didn't want to have to fix what Jesus gave me with 500 trips a week to the beauty counter at Neimans by the time I was 30.
The past year I have learned what works, what doesn't and how to properly feed my skin. So of course when I got engaged I willingly took that opportunity to update my skin routine. I'm sure my debit card was like, "Your face is fine. Stop it. I don't want to go to Sephora anymore." But I told it to stop it.
Your twenties are a confusing time. You start to see some fine lines. One product wrong and you get a lovely week-long breakout. I knew my main concern was glowing skin. I wanted to be makeup free on my honeymoon and not worry that I looked as dull as a file folder. [Because let's be honest, that's the color of my skin.] If you're wanting a glow for summer, or to just treat your skin here's my current routine!
1. Cleanse, Baby. Cleanse
I use First Aid Beauty Cleanser to scrub off all the nastiness that gets on my face during the day. If my mascara was a little heavy for the day I use coconut oil to take it off first. 🙂 This cleanser leaves my skin so soft, so if I'm lazy and don't do the rest of the steps I don't feel too, too guilty! PSA: be careful around your eyes. I have really sensitive eyes so if you have a lot of mascara on I would clean it off with coconut oil first!
2. Radiate
These are crack. For your face. It's a toner that brightens your skin, but it is free of any chemicals that would irritate sensitive skin. You don't peel or turn red, you just wake up with a Sleeping Beauty glow!
3. Serum
The First Aid Facial Radiance Serum evens any discoloration or sun spots you may have! My skin is really susceptible to pealing with my autoimmune order and if I peel my skin is a little red for a few weeks, but this clears it up immediately!
4. Eye Cream
Eye cream is forgotten all the time, but is the first place most women start age! But because I'm only 23 I hate investing in something that I won't see the results for awhile. This Bare Minerals eye balm goes on cracked lips, eczema, broken skin, etc! It moisturizes your eye area to prevent fine lines and adds some volume so you don't get deep, dark circles!
5. Moisturize
Moisturizer is where I like to splurge and have fun. It always seems to last the longest [so I don't feel guilty!] and it stays on my face consistently. For the past month and a half I've been using the Cellular Renewal Complex Moisturizer from Bellatorra. If you go online and read reviews there is a lot of science based on their time release formula, etc. etc. I'll give you the SparkNotes. This product has a plant stem cell that while slowing down your skin's aging process, it teaches your skin to repair itself. Have uneven skin tone? Fixes it. Acne scars? Fixes it. Peeling skin? Done. However, I was most impressed with it's ability to not only fill your face but give it a healthy glow. Each morning I woke up I felt like my skin felt really plump, but my complexion looked amazing. Like I'd slept for 48 hours and someone spray tanned me in the middle of the night. You can purchase here.
I'm starting a little facial routine this week, too, that I can't wait to share! We can buy all the bronzer in the world, but of course the most important way to keep your sweet baby skin God gave you is by drinking lots of water and keeping a consistent face routine! What are some of your favorite products to give you a glow? Have you tried any of these?