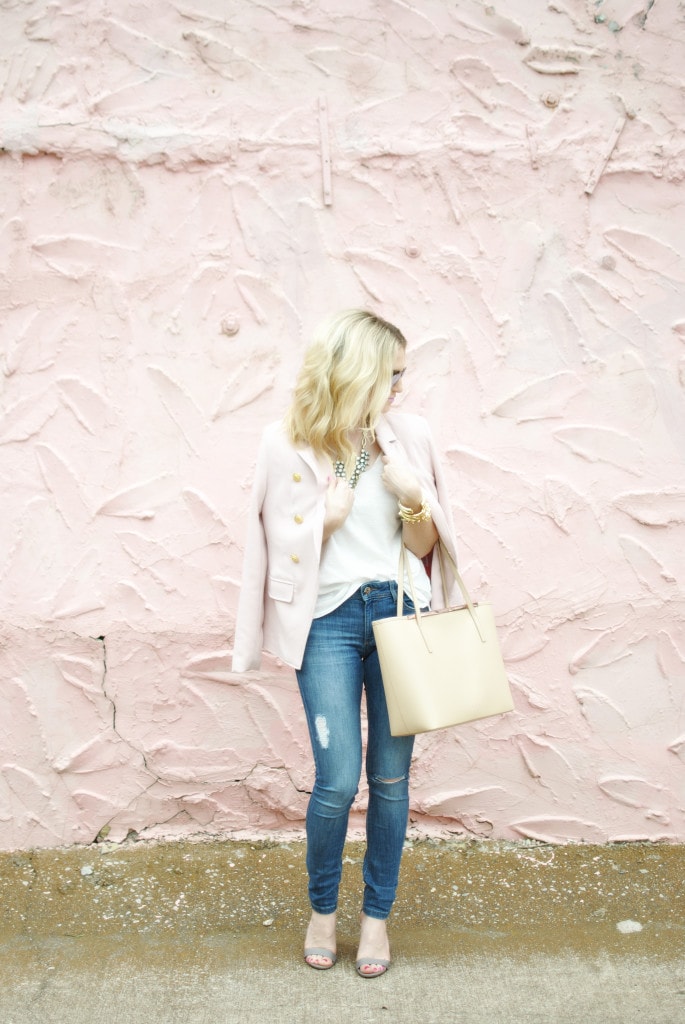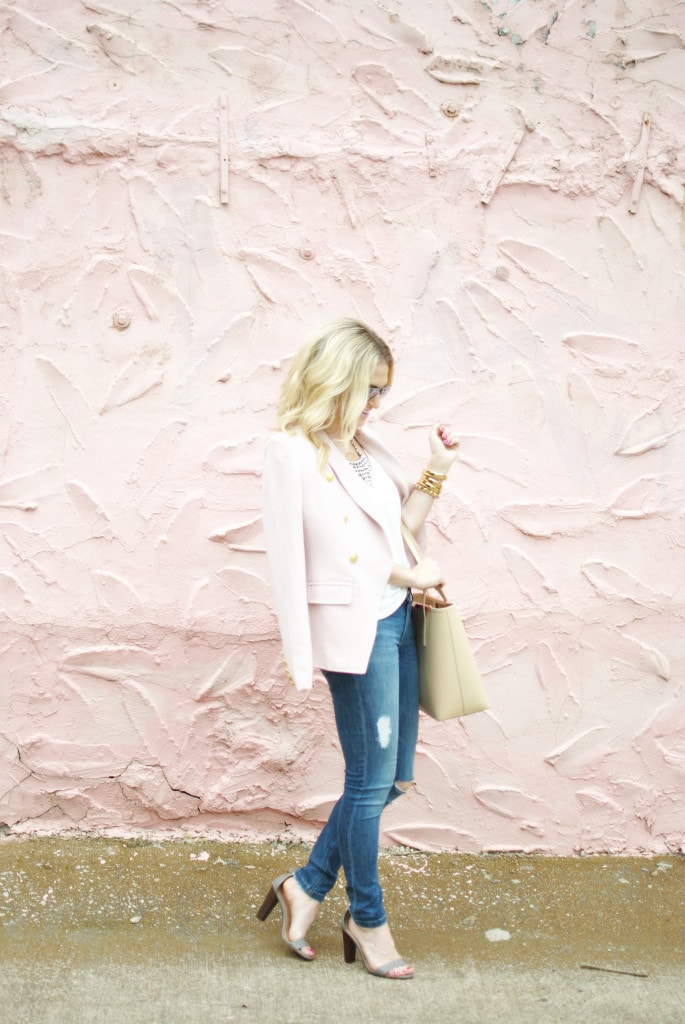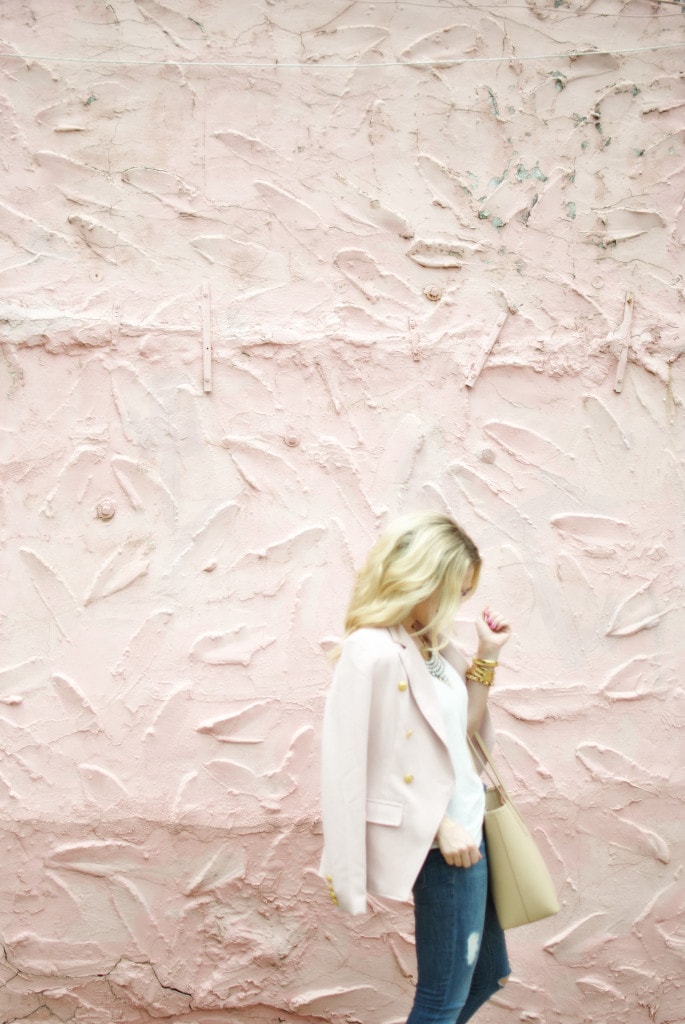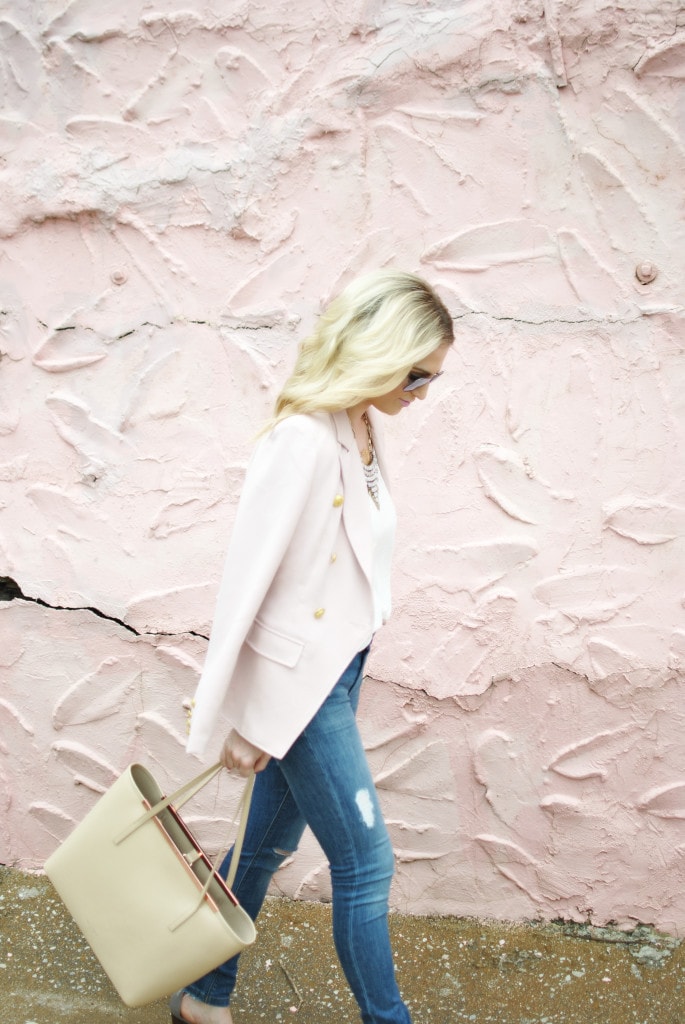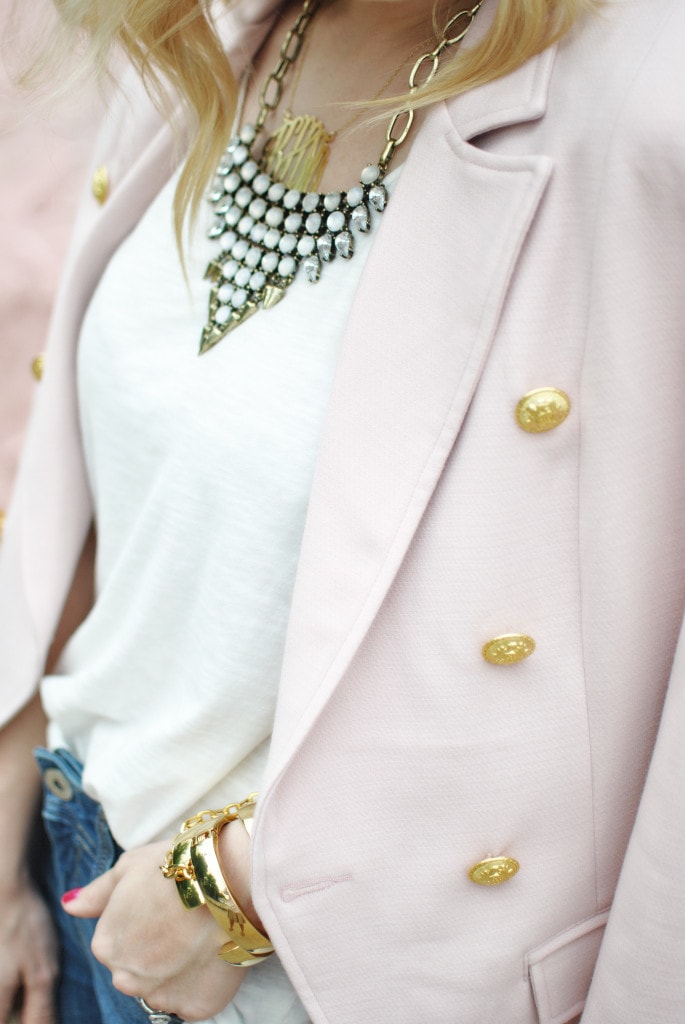 Blazer: [c/o] Missguided | Top: Anthropologie | Denim: Shopbop, Similar | Shoes: Similar | Bag: Ted Baker Sold Out, Similar | Necklace: [c/o] Baublebar | Monogram Necklace: Neiman Marcus | Lips: Nordstrom [shade: 30 ] | Bracelets: J.Crew, J.Crew
Good Morning! I hope you all had an incredibly relaxing holiday weekend. There is nothing I love more than a long weekend.  Paul was able to spend a lot of time in Fort Worth [he still lives in Dallas] and help finish some projects around this house. Oh and our ceiling broke. Remember last week when I said our AC wasn't working and had to be replaced?! Well the company through our home warranty was just a sweet little peach to deal with. My dad is an engineer so when we've had these problems he is always over and makes sure things are installed properly. He kept telling them they had to replace a piece of piping and they informed him he was wrong. What happens the next day? The whole thing leaks through our ceiling and all over my furniture. So now this week I've got them in my house replacing all the drywall in the living room. If men had "I told you so" moments, I think my dad would have had 50 of them by now. haha!
I also got to try my first spin class! This list is proving to be my favorite little document and if you haven't made one do it during lunch today! It's a life changer, let me tell ya girlfriend! I feel like a dork consulting a list before I decide what to do on the weekends, but I find my weekends are actually fulfilling as opposed to just Netflix binging.
Now back to the real world, let's talk work attire. Whether you work in a casual environment, teach or are in a more strict office, we all need blazers. This one was the perfect touch of feminine meets office and the material is light for summer! I even like to pair mine with cut off shorts and a tank with sandals for a summer date.
I hope you all get to enjoy this short week [amen!] and if you are looking to buy a home in 3-4 years I guess you can have mine because everything will be brand spankin' new for ya! haha 😉