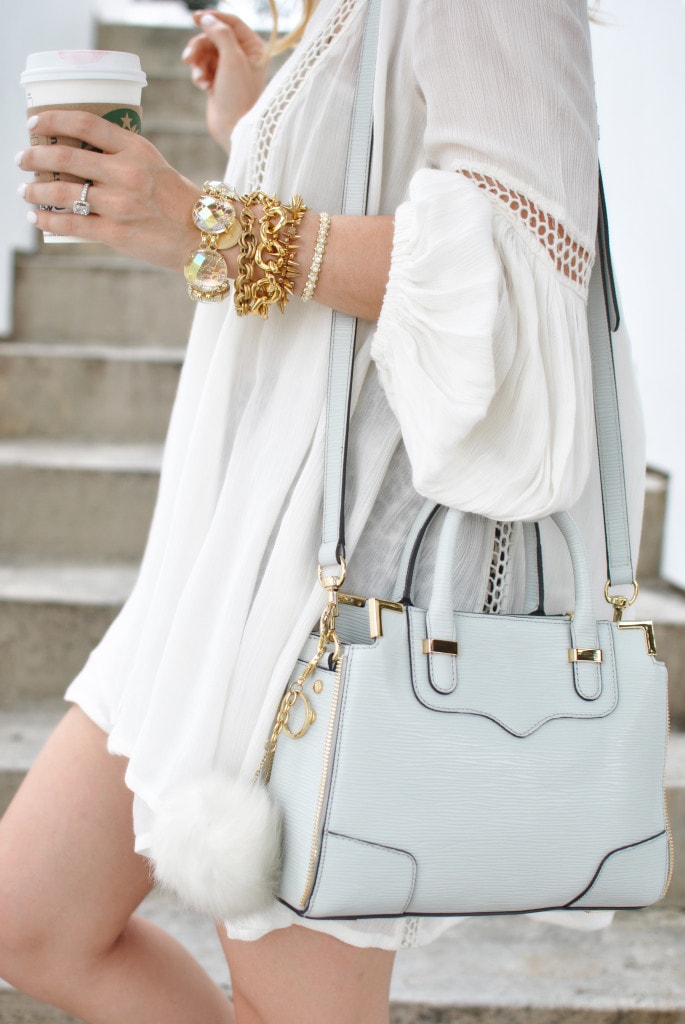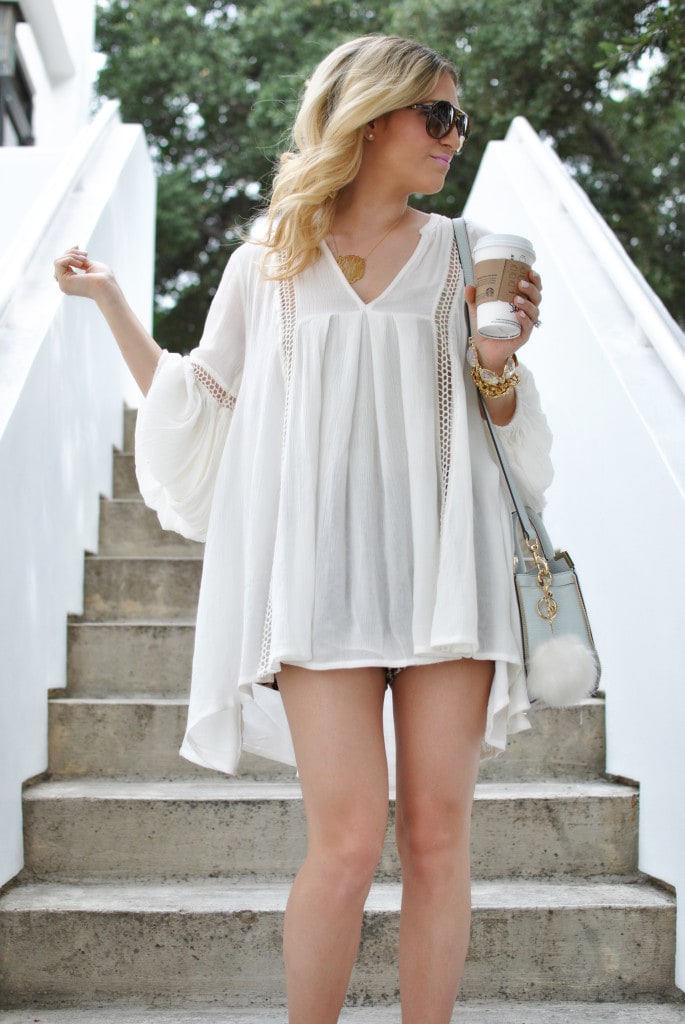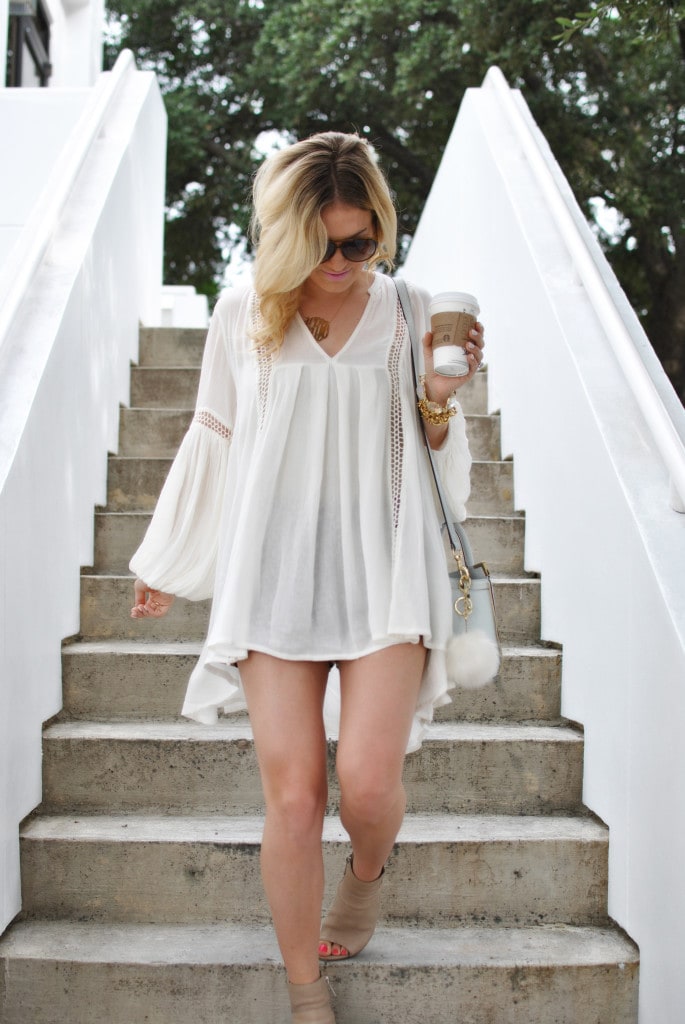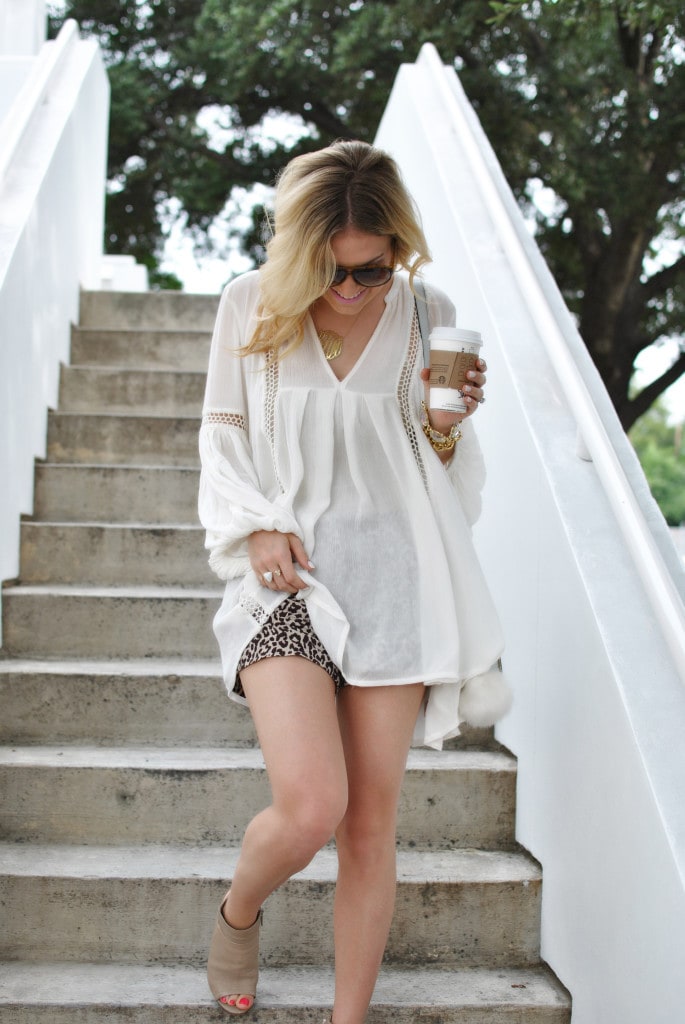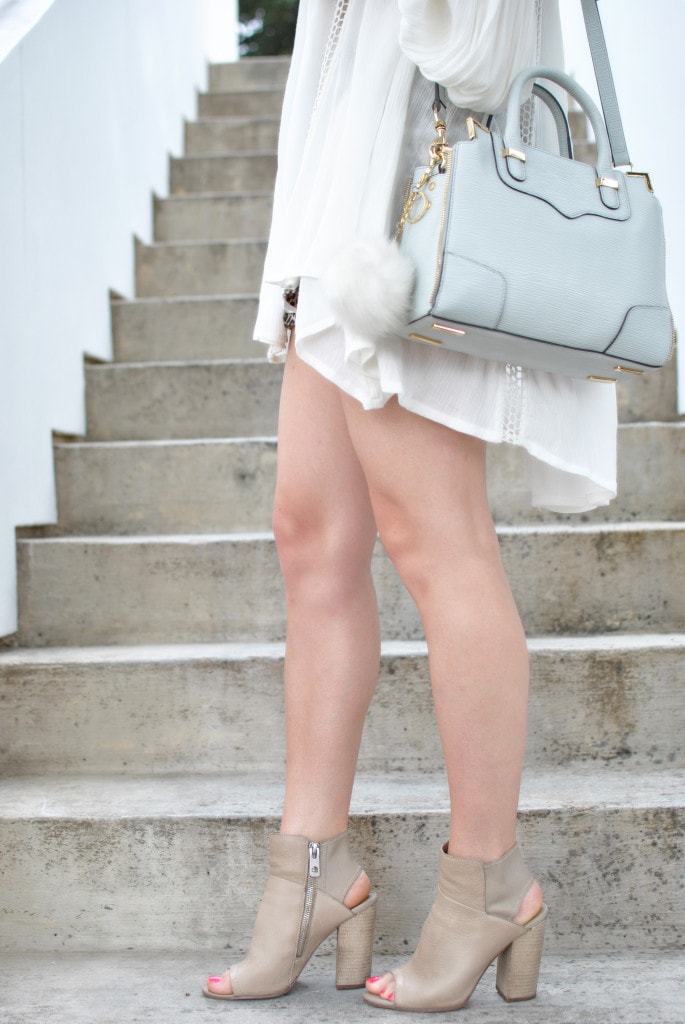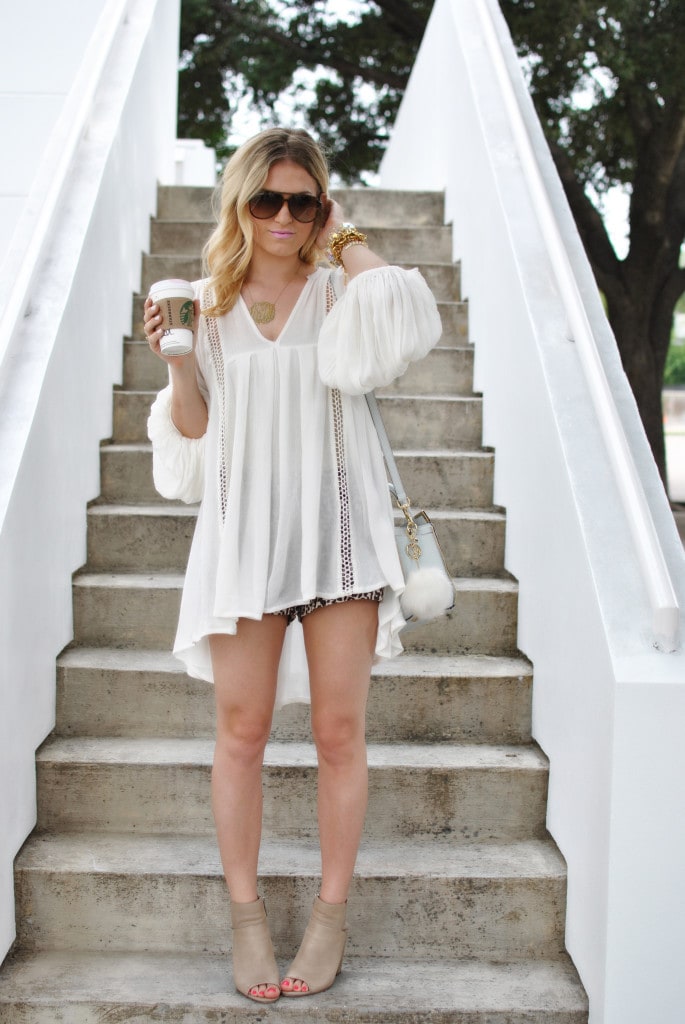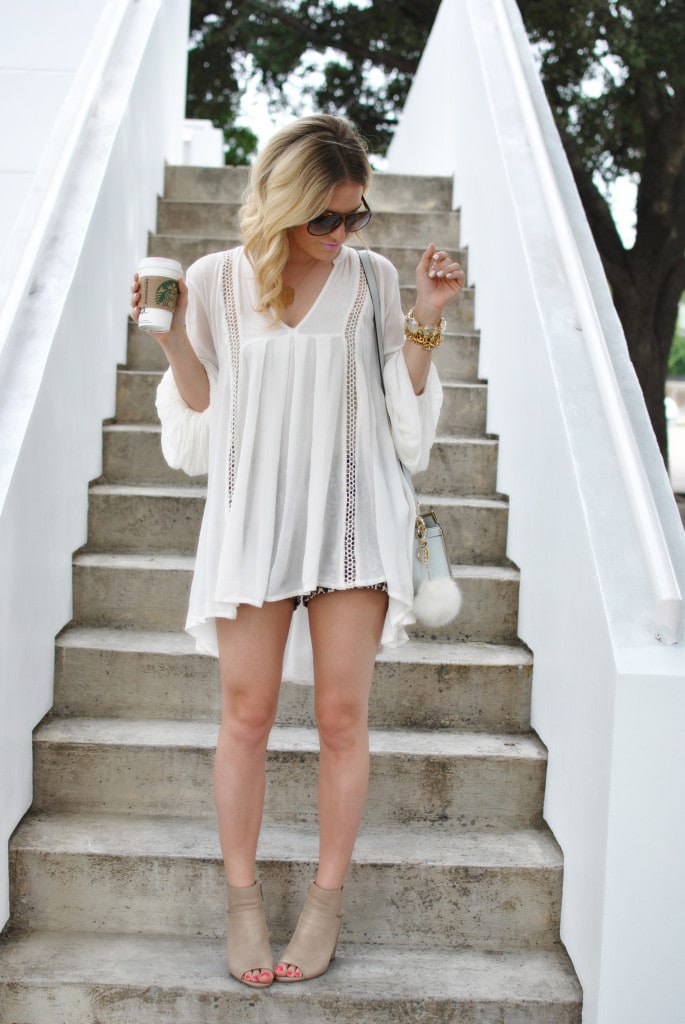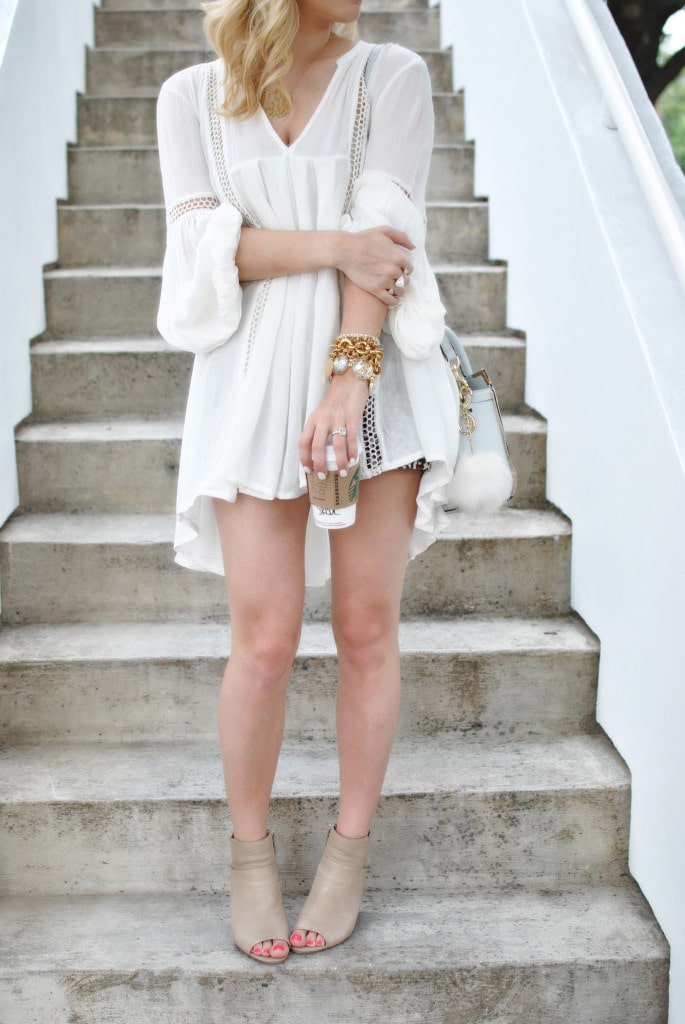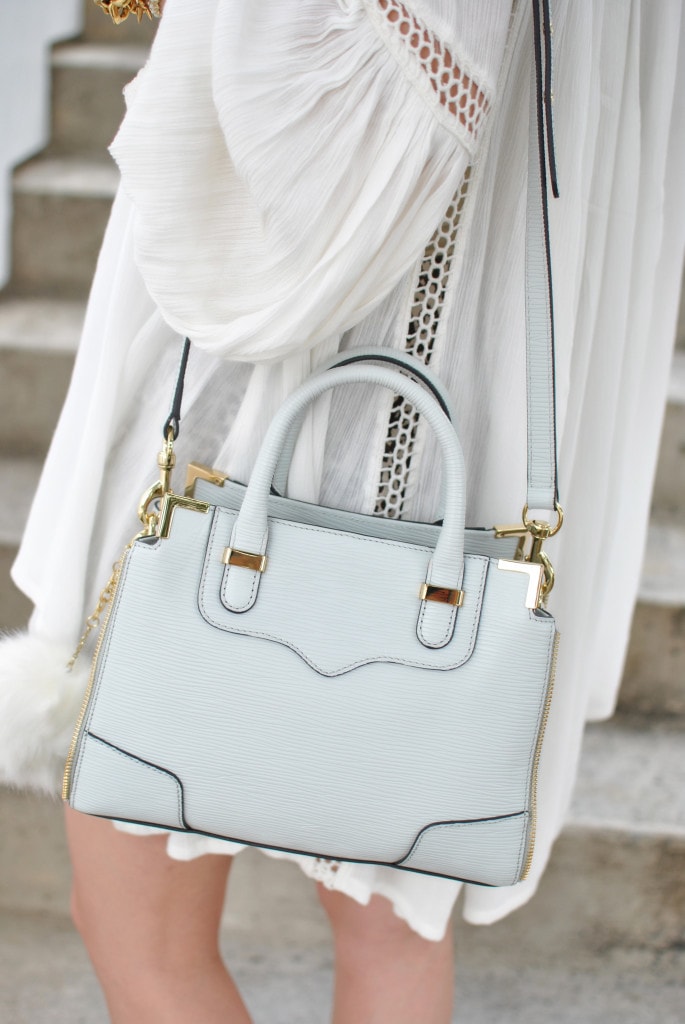 ---
Outfit Details:
Top: Free People, Identical Less Expensive | Shorts: Similar | Booties: Similar, Similar | Bag: Rebecca Minkoff, Other Color | Sunglasses: Gucci | Bracelets: Kendra Scott, Kendra Scott, [c/o] Baublebar, Similar, Stella & Dot | Ring: [c/o] Kendra Scott | Monogram Necklace: Similar [ get size 3 XL] | Lipstick: YSL [#7] | Earrings: Nordstrom
---
To be honest, I fell in love with this top while it was on my 9-month pregnant bestie a few months back. She wore it to her baby shower and I thought it was the perfect combination of effortless, "clean" boho. [I say "clean" boho because I don't wear that style well by any means and so if anything seems a bit more Nordstrom than desert music festival I know it's fine to wear!]
Then I saw it on one of my other girlfriends who was not with child and it looked equally amazing. Pair it with white jeans and wedges for a more conservative, yet trendy dinner look or pair it with cut off shorts á la Sienna Miller. Like the Bend-N-Snap it works every time.
I finally picked it up and got it in white and blue. There is a less expensive version as well, here! I'm all about stocking up on tops that don't require work. Meaning, I don't have to only pair them with one type of bottoms, I don't have to wear a specific necklace with it and I don't even have to iron it if I'm running late. This is definitely one of those tops. I got an XS [it's really oversized!] but still has a flirty feel to where you don't think you are smuggling 47 Prada bags under your top.
And onto the sunglasses. Another pair of aviators. Groundbreaking. I always hear my mom say, "As you age you just know what fits your body and what doesn't. I know what to never wear and what always works." I'm a little bit more adventurous, but I will say that God gives us face shapes and sometimes we can't be that adventurous in the sunglass department. And by we, I mean I. Aviators are my go to and the only sunglasses I don't feel absurd in. I have had those moments of weakness at the counter where I forged over $500 for a pair of Tom Fords that I was sure would change my life [and the structure of my face.] Do I wear them? No! They are like the neglected children I send to boarding school in the bottom of my bag, never to see the light of day. I decided to stop throwing away money on different types and just accept that aviators are what God has in store for my face. [He cares, y'all! I swear! ;)]. So as a coping mechanism [I won't ever be able to wear those round Prada ones with the scrolling script on the sides.] I treated myself to these that I have wanted for years! Seems like a valid shopping decision. Invest in one pair since you can't invest in another. 😉
I hope you have a wonderful Thursday!