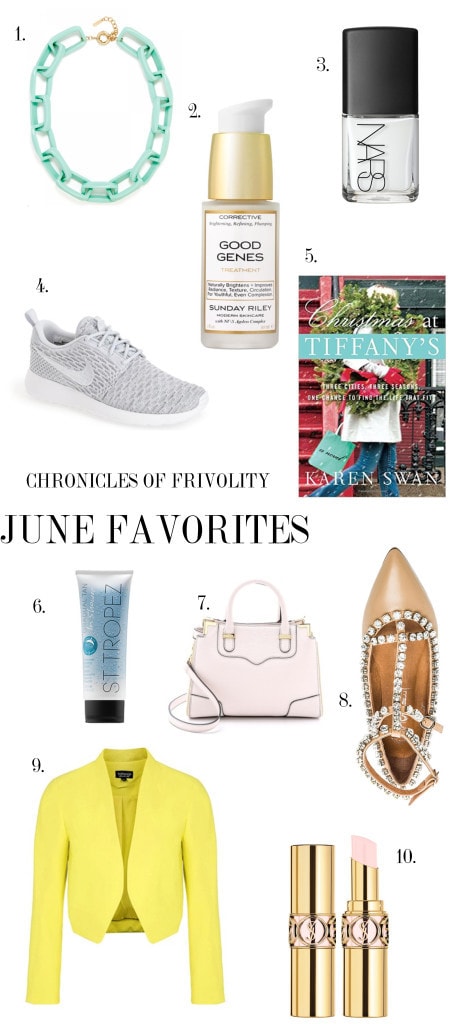 June was hot, humid and went by way too quickly! I'm finally slowing down on the home purchases [it's kind of all coming together? Maybe….] so my closet is getting fed. It's a hungry little girl. Just thought I'd ramble a bit about what has caught my eye all month long!
1. A Pop Of Color:
Sometimes I get too into mixing metals, that I forget how much a pop of color on the neck brightens your look. I'll be the first to admit, sometimes I can look at bit too "Idk if I'm going to a Rolling Stones concert or brunch." I got this necklace and was obsessed with the price. Now that I've had my hands on it for a few weeks it rarely leaves my neck. I pile it on over anything from a white v neck to a hot pink tank.
2. A Luxe Serum:
Two weeks ago, we hit the double digit countdown for the wedding. It just sent me into a black hole with shopping online for skin care. Every. Single. Somebody. who blogs about the beauty industry swore by Sunday Riley Good Genes. The price is steep, but serums last you for months to a year, because you just use a little bit! Tried it for a week [along with some other ungodly expensive skincare. I better glow on September 26th. I better glow like a little baby angel in heaven.] and Paul even commented. He said, "Wow. You look really really good. Even after working out." Backhanded? Maybe. But if your fiancé who notices NOTHING says your skin looks good after you sweat for an hour on a stationary bike, I think this product is a keeper….
3. White Nails:
White nails are my saving grace, because they make my skin look a shade darker! I got a manicure last week and did white polish and when my Nana got in town she said, "I need that!" so naturally, we left .2 seconds later to get her the same manicure! She loved it. I loved it. White nail polish loves everyone. Nars Ecume is a great polish to start with and easy to apply. Some white polishes are the devil because they don't get even and you have to use 17 coats and then your nails smudge and you feel 4. This one doesn't!
I'm still having 6:30 a.m. dates with Zyn22 & I added in some B12 shots to the mix. I got a MIC shot from Skintastic with my 90 day pass. [Read more about that here, but basically I have a 90 day pass through Skincentives at Skintastic and you can get everything from facials to laser hair removal during this time! Such a great comprehensive beauty plan to purchase if you have a big day coming up!]  I talked to my doctor, who said it was completely safe, and I think these are great for weeks you know you have a lot going on [such a healthier alternative to a caffeine spiral that can lead to you getting worn out and sick]. Each shot is $20 and I had a steady stream of energy for 5 days with no caffeine! The shot is filled with all the B Vitamins and L-Carnitine, which helps break down fat. [Hallelujah!] I got my shot on Wednesday and not to be dramatic or anything, but I literally almost flew off my bike Thursday. Best. Workout. Ever. I went to Skintastic in Plano and you can find more info on their Facebook here.
Oh yeah. Does it get any more chic than Christmas at Tiffany's? haha! 😉 I normally read books that terrify me come bedtime [think Dark Places, Gone Girl, etc.]. I wanted something for summer that was easy to read by the pool, so my mom got me this book. I know the title sounds ridiculous, but I was crying and so sad when it was over. It's a cute and easy read, but you get super attached, which is the best kind of book. There's lots of different settings, too, so if you are like me and get bored by page 25 this keeps your attention because the poor girl in it is always having to move.
6. A No Fail Tan:
The thoughts that I wrestle with at least once a week:
"Katey, go get a spray tan. You look pale."
"But I don't want to drive to Palm Beach. I'll stink. My hands will get streaky."
Goes & gets spray tan.
Glows. Has akward shading around wrists.
Avoids wearing short sleeves for a week.
And this happens with at home tanners, too. [I swear the lotion trick doesn't fully work!] I tried this in-shower tan and I'm not sure if I will use anything ever again. This doesn't create any streaks or any scent! Granted, it's buildable. If you have an event Saturday night you'll want to shower with this 2-3 times that week prior to event, but you will be able to shake hands with anyone and not have to pray, "Dear Jesus, please don't let them look at my wrists."
Easy to run around with. Lots of gold detailing. Fits my wallet, cometic pouch, sunglasses, phone and keys. What more could I want? [Unlimited Mi Cocina and a puppy. But that's beside the point.]
8. Dressy Flats:
If a pair of flats had to be my boyfriend, these would be them!
9. A Bright Jacket:
I had an event to go to and I didn't love my outfit. I ran to Nordstrom, got this little cropped jacket and felt 100% more pulled together. This color is a must for summer, but most importantly, the cropped jacket doesn't make your middle section too "heavy" with layers which is something I think we all want!
10. A New Pink Lip:
Oh. Shocking. #BreakingNews. Katey bought a new pink lipstick. YSL #07 has been my June lip and I love that the pigmentation is stronger than most YSL lipsticks! Mix it with shade #01 for the perfect #ImNotTryingtoBeKimKardashianButYouCanThinkIAmCuteLikeHer nude.
Any June favorites you were obsessed with that I should try in July?!