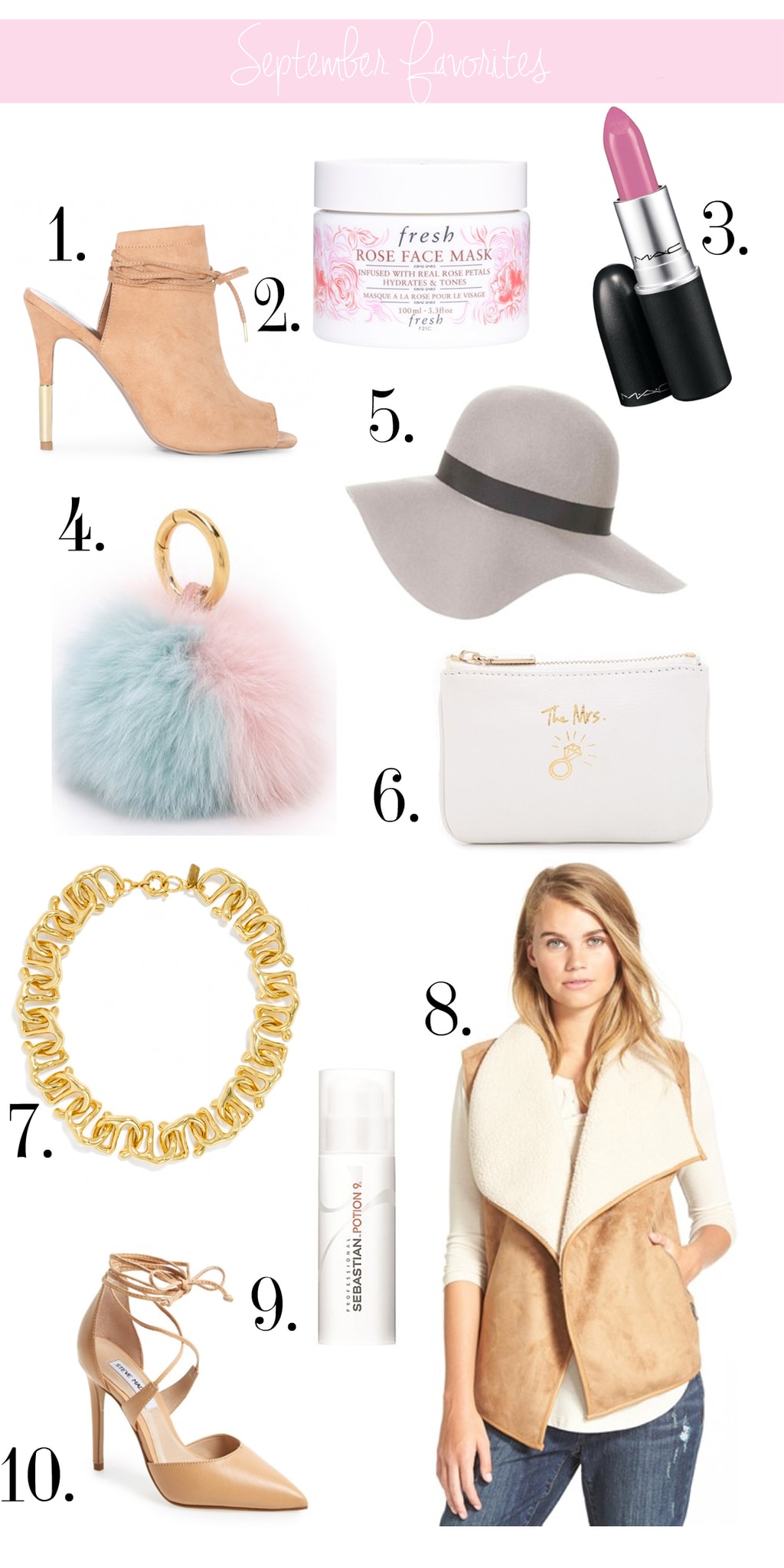 One. // I love any and all lace up shoes at the moment! A few months ago I saw a pair similar but they were closer to $100 and didn't come in neutral, so I couldn't justify it. I got so excited when I found these and I love this website. I get 90% of my summer rompers/shorts here!
Two. // To prep for the wedding I've done a moisturizing mask almost every other night for the past month. I invested in a few more just so my skin wouldn't get used to a routine, and this one gives such a bright glow! Plus it feels cool when you put it on and in Texas humidity I need that as often as possible. 🙂
Three. // I went back to some old lipstick favorites this month and MAC Saint Germain will always be one of my go-to pinks!
Four. // I'm always buying little keychains or poufs for my bags to make a neutral outfit pop. How cute is this cotton candy one?!
Five. // I styled this hat here and I'm welcoming bad hair days this fall with open arms because of it.
Six. // I have lots of little pouches in my purse because I don't like anything to not have a place. How cute is this one for a bride?! I had to treat myself for the wedding! haha.
Seven. // I've been layering this gold necklace over my monogram to dress up a tee and jeans!
Eight. // I invested in a faux shearling vest last year and had the hardest time finding a similar version for y'all. Here it is and I included it on my favorites because I have seriously stalked websites monthly since last fall to find one! I was so excited and can't wait to pull mine out again.
Nine. // In college I spent about 5 seconds on my hair every day and somehow when I creep back on photos it still looked good at the end of the day. I'm not sure what was in the water at my sorority house, but this month I decided to think back and use all the same hair products. The Sebastian Potion 9 is a product I was never without. They reformulated it, but I picked up a new bottle and I still love it. You put it in your hair right when you get out of the shower and it helps your hair air dry like Disney Princess waves.
Ten. // Because I don't work in a typical office environment I don't ever buy typically conservative shoes. But now I'm realizing I seriously need to invest in neutral ones! I ordered these to pair with black skinnies for fall.
What were your favorites this month?! Thank you so much for reading!!