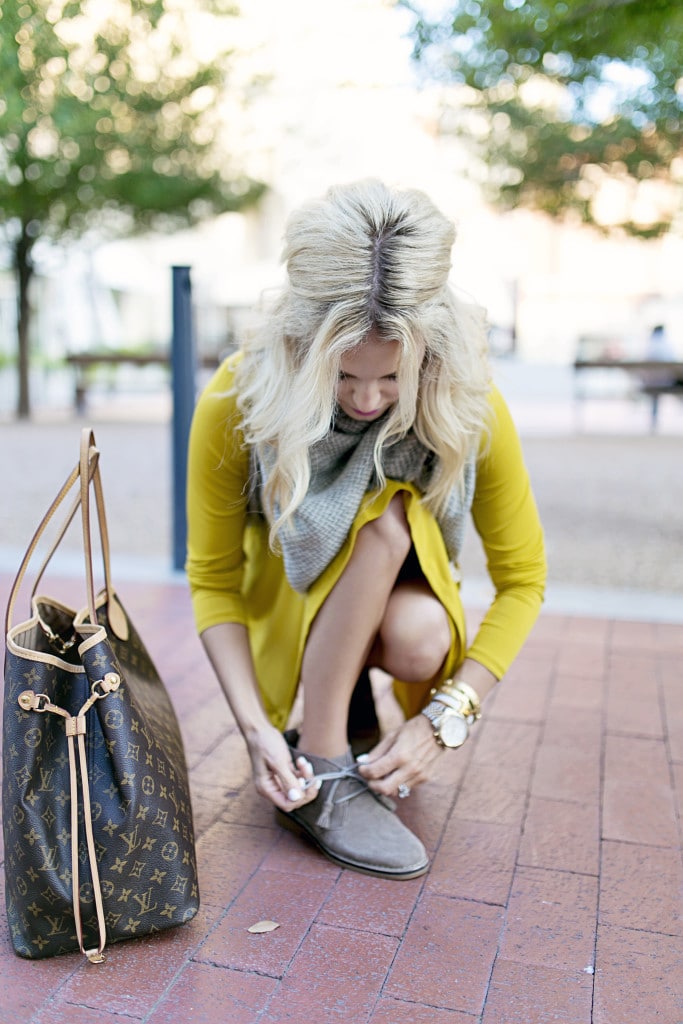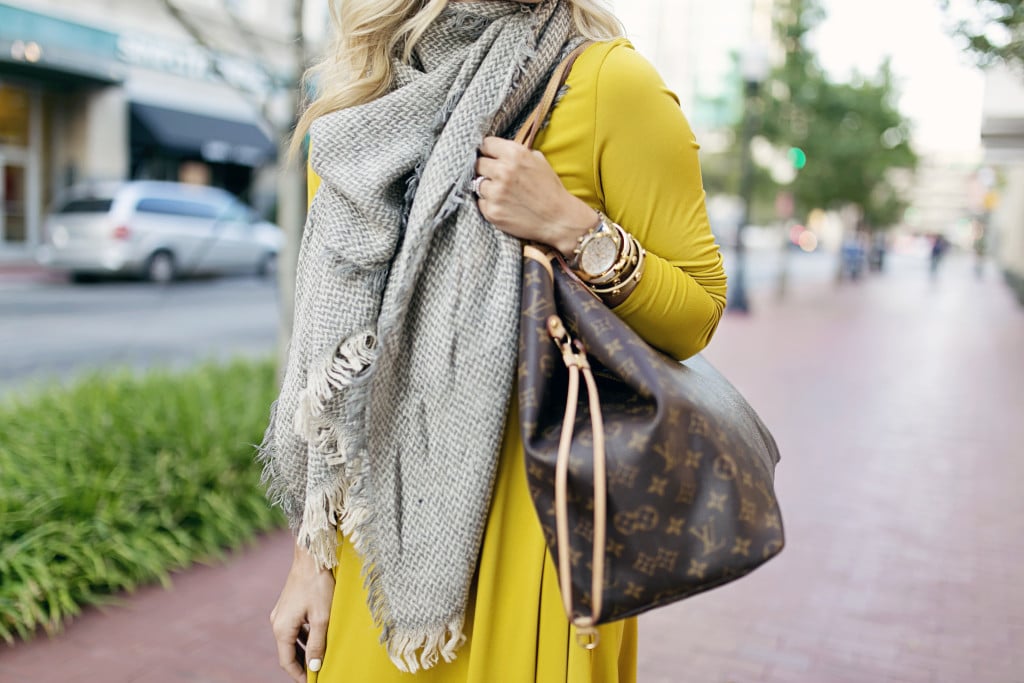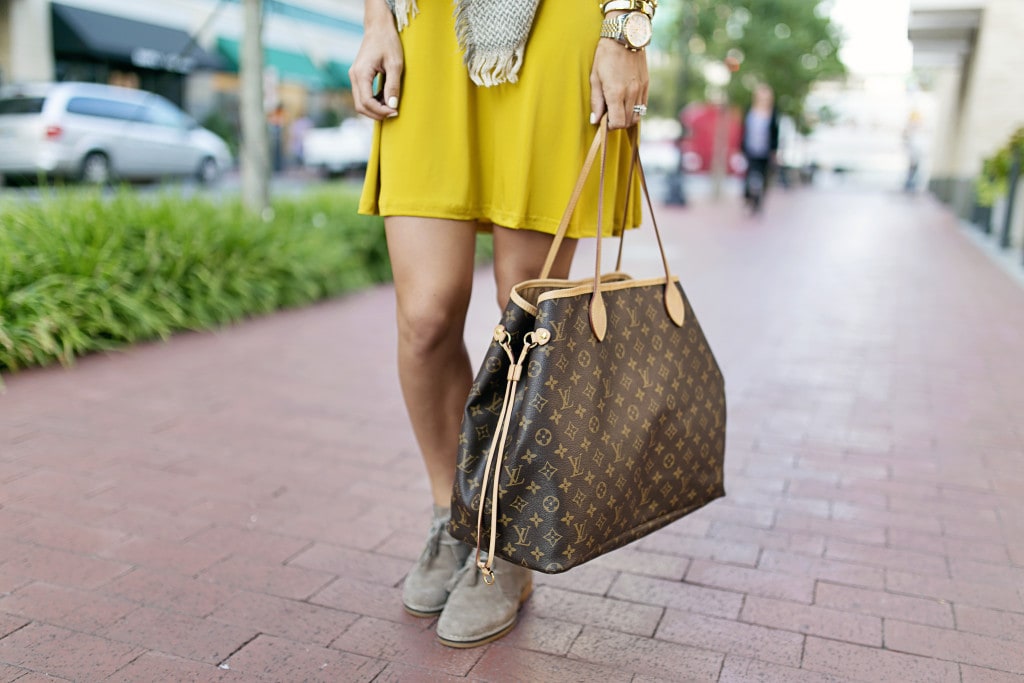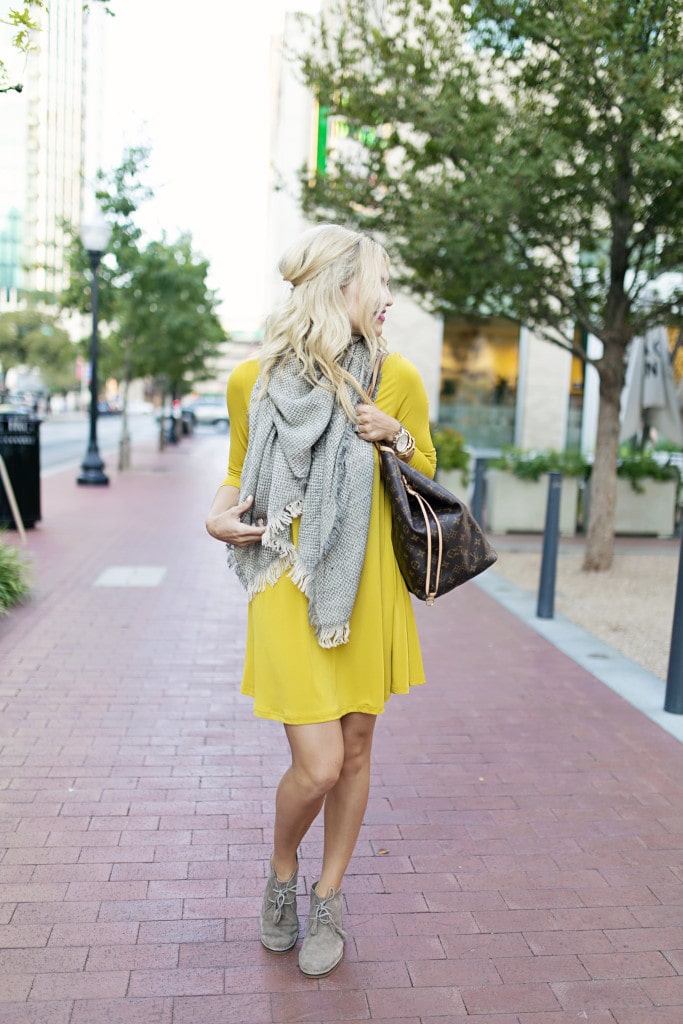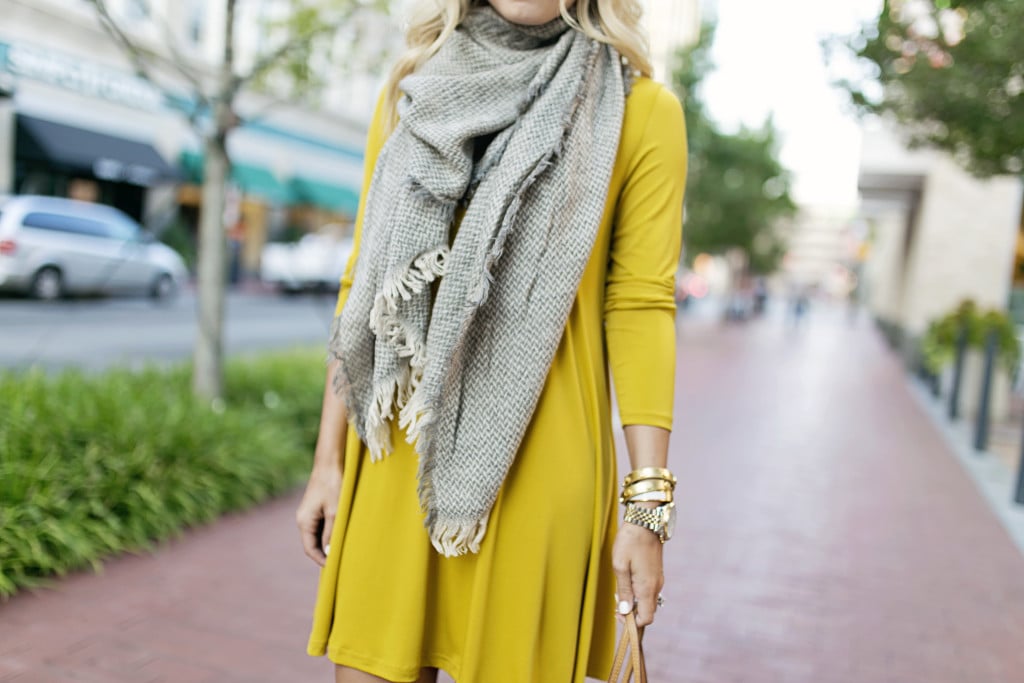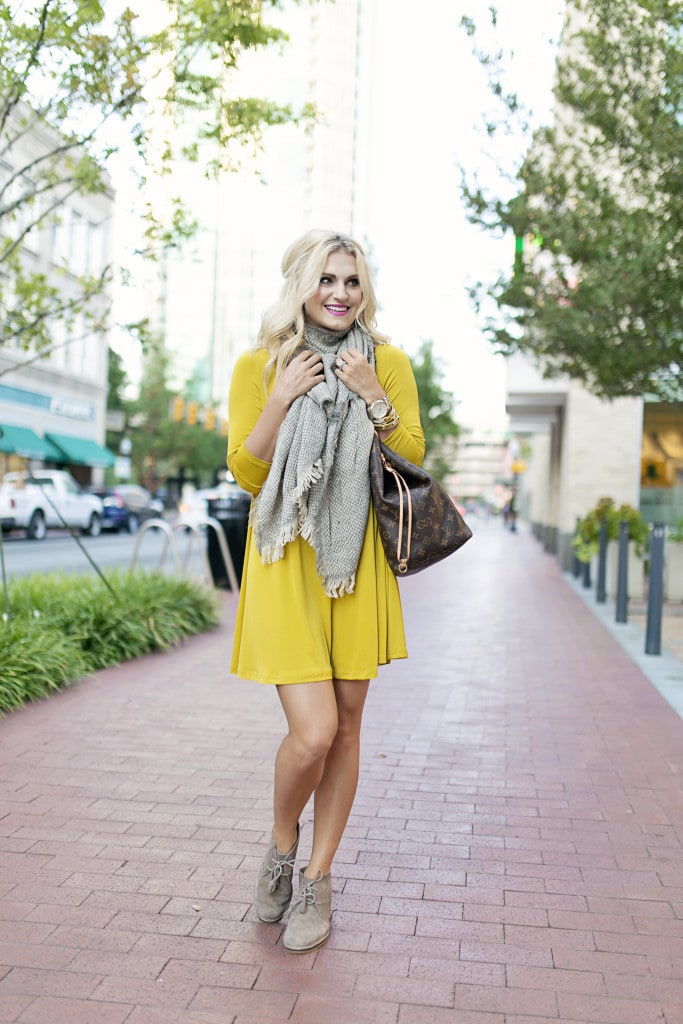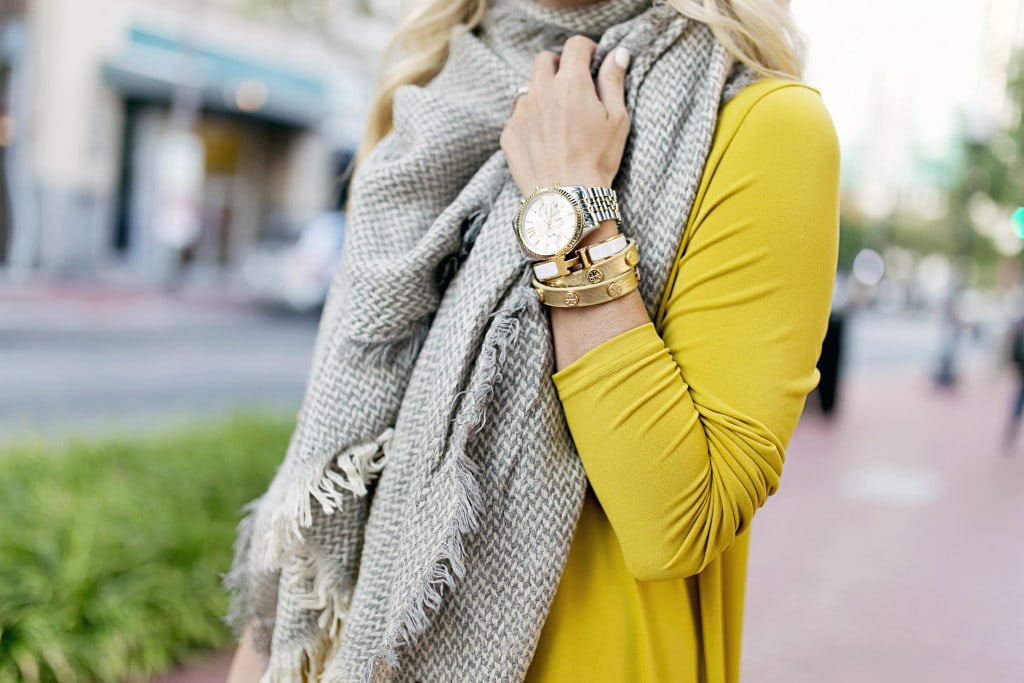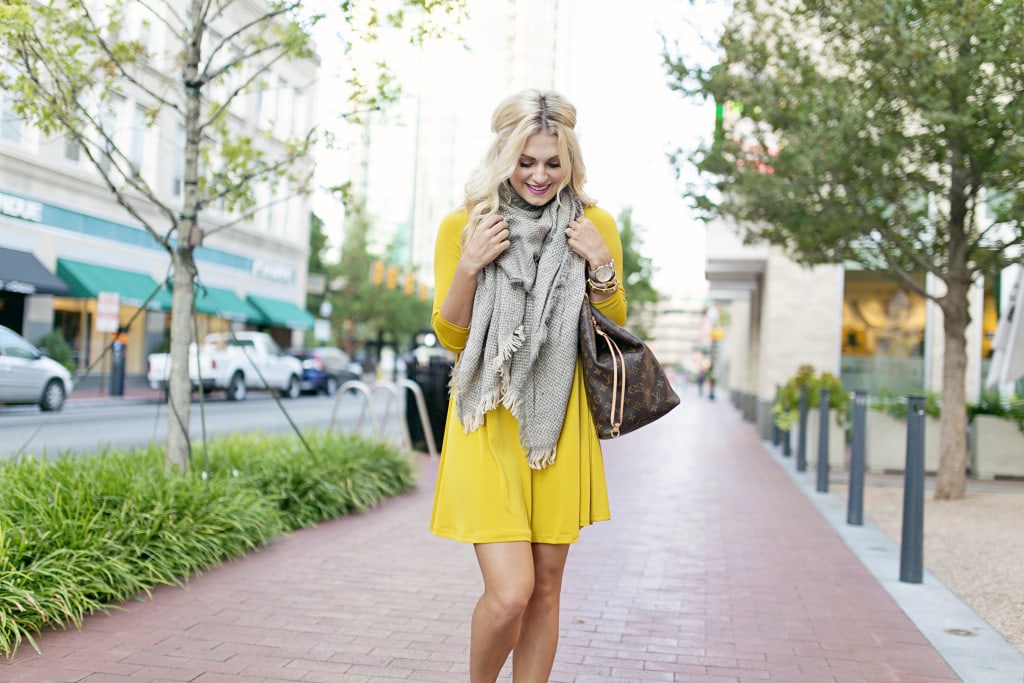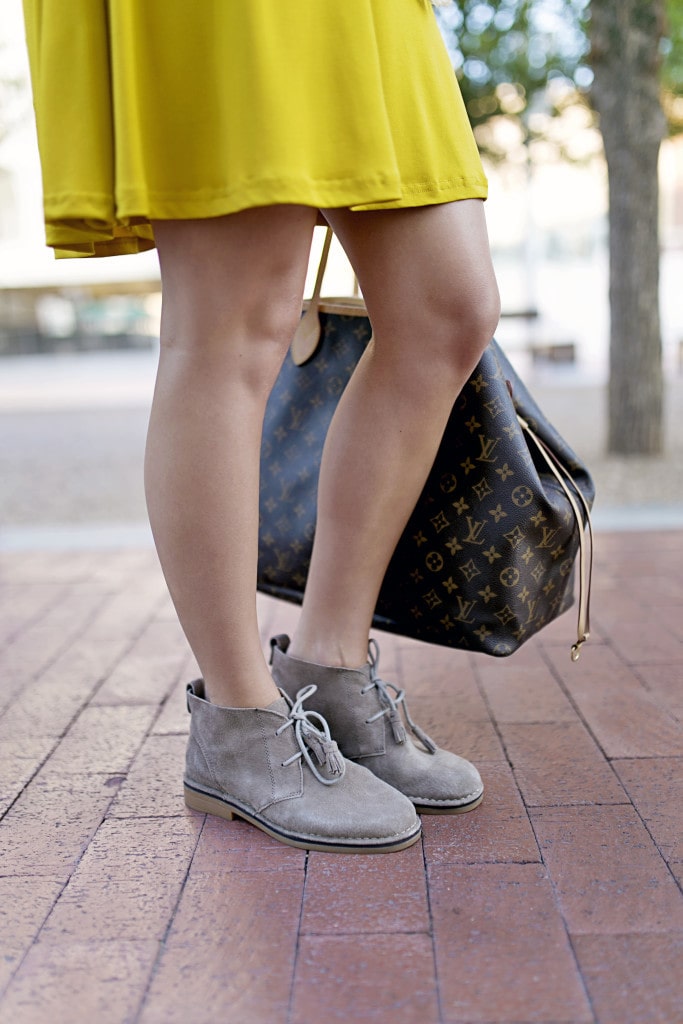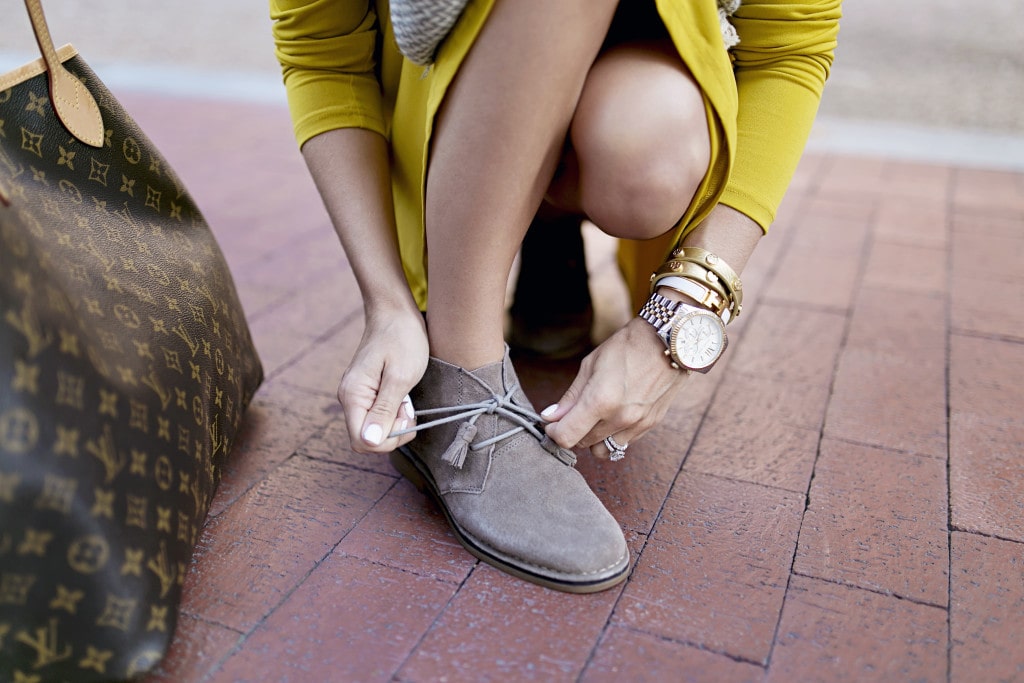 Scarf: Love Always Couture [c/o] | Swing Dress: Beehive [local boutique] Similar, Similar | Shoes: Hush Puppies [c/o] | Bag: Louis Vuitton, Similar | Lipstick: Liner [shade: Bittersweet] | Bracelet: Hermes, Tory Burch | Watch: Michael Kors | Earrings: Nordstrom
Photography by: Angie Garcia
---
We are slowly, but surely getting into fall temperatures here in Texas. Adding easy fall layers has been the most "realistic" way to dress for the day. I always say dress for the season [cut offs and a tank just look bizarre on me October 12th, even though the weather says I could get away with it] and a blanket scarf and booties is the way to do it.
I wore this look last week to meet my friend Cierra's baby, Gates. She was due the week of my wedding but being her first baby he was super content and not in any hurry to make his entrance. I knew she couldn't come to the wedding because she was overdue. But 5 minutes before I walked down the aisle I got a knock at the door at the bridal suite and she was there, overdue and all, and I balled like a little baby. [Sidenote, I cried SO much on my wedding day. All happy tears. But I would have cried at a cupcake because it was pretty.] So we actually had to wait a few extra minutes to walk down the aisle so I could get it together. I was so surprised!
So our entire honeymoon I kept wondering when she would have him and of course I came over right when we got home to meet him. He is so cuddly and sweet! This look was so easy for sitting around catching up. A jersey swing dress, here is a great similar one, can be worn year round and is the perfect canvas to layer in the fall. You can top it off with my favorite vest for fall or this gray blanket scarf I just got.
I paired it with these booties by Hush Puppies! I don't mean to be dramatic, but these might be the most comfortable shoes I own. Beats my running shoes by a landslide. When they came in the mail and I slipped them on it was the day after the wedding and I wore them all day because of how much my feet needed to recover [Mid reception I totally went and stole a random guests' pair of flip flops… #oops]. If you're iffy about suede getting damaged these have a protective coating and are "worry-free suede" that resists water and dirt. If you're a teacher or have another job where you are on your feet a lot, you have to have these in your wardrobe. They look amazing with jeans but I loved how they toned down a dress for during the day!
I hope you have an amazing Monday and that work goes by incredibly quick! 😉