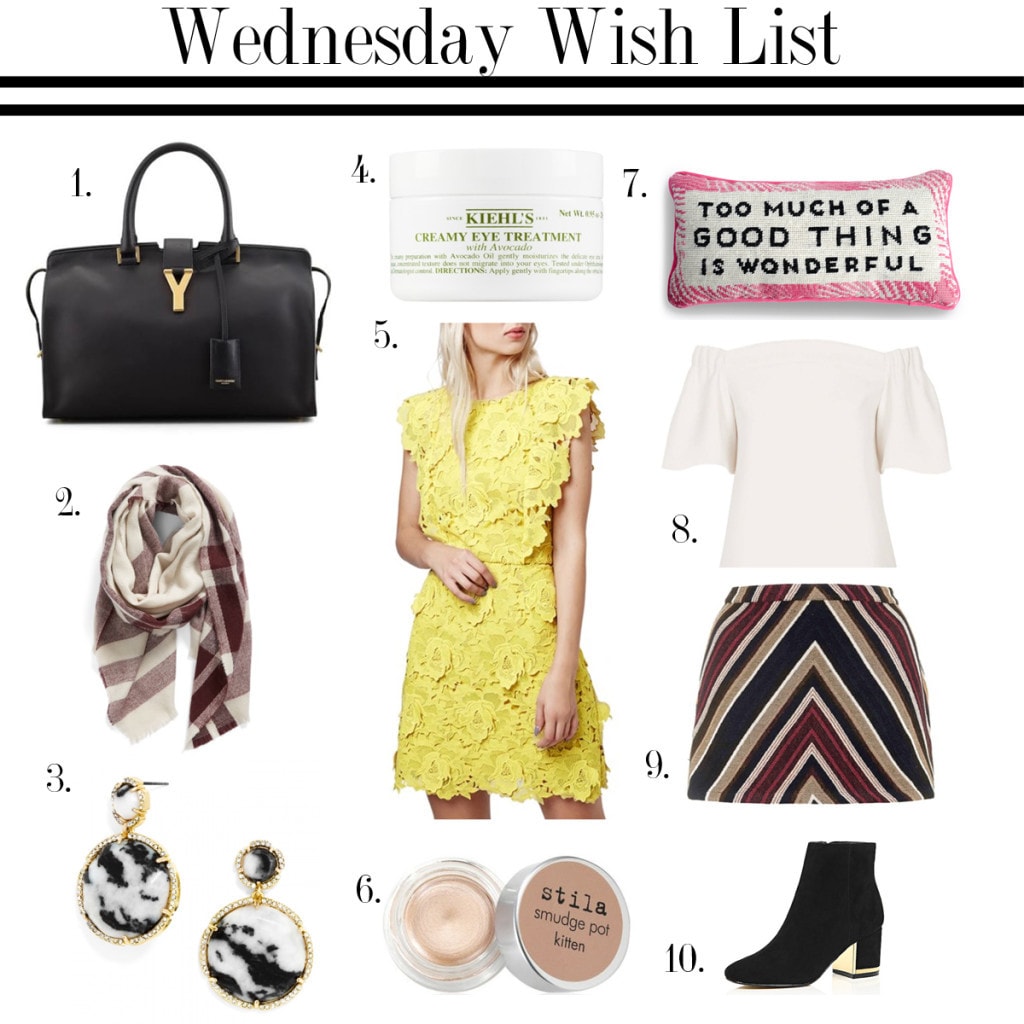 1 | 2 | 3 | 4 | 5 | 6 | 7 | 8 | 9 | 10
Bag: I have been in love with this bag for years! My girlfriend Laura has one in suede and it fits so much stuff! And no matter what she has on she always just looks way too chic for her own good because it pulls her look together. This weekend Paul and I went up to look at it [i.e. he sat and looked at fantasy football while I stared]. They didn't have the shade I wanted [black] so I need to order online. YSL is changing their handbags and I'm not a huge fan of the new ones so I know I need to just go ahead and get it because pretty soon it will be impossible to find. 🙁
Scarf: This scarf is under $30 and the neutral hues pair well with any coat in your closet!
Earrings: I ordered these for some upcoming weddings we have. Black and white marble with gold detailing. Does it get any better than this?!
Eye Cream: I need to be more intentional about the eye cream I use. I typically skimp this step or use a random sample. And Jennifer Aniston [the queen of anti aging] says a good eye cream is the #1 thing she swears by. This is also the #1 eye cream everyone praises, so I really need to add this to my shopping list!
Dress: All of our couple friends are getting engaged and the next year is filled with weddings! Paul's step brother gets married in two weeks and of course I waited until the last minute to find a dress. I'm thinking this in yellow is it! So I guess good things come to those who wait after all! 😉
Smudge Pot: Kitten is my favorite Stila shadow shade, but it always breaks quickly! I want to try the smudge pot for fall and love anything creamy that melts into your lid! It gives such a natural look when you want long bambi lashes and minimal makeup.
Pillow: Too much of a good thing is wonderful. See: Jesus, queso and love. You can never have enough!
Structured Bardot Top: I saw this top on a girlfriend and y'all it's so flattering! I think it's perfect for date night with leather skinnies and booties.
'70s Miniskirt: I don't have any fall skirts and I love this with a turtleneck and booties for a '70s vibe.
Booties: I've been so lazy and haven't really invested in any booties for winter. I love booties with gold detailing, so these might be my pick!