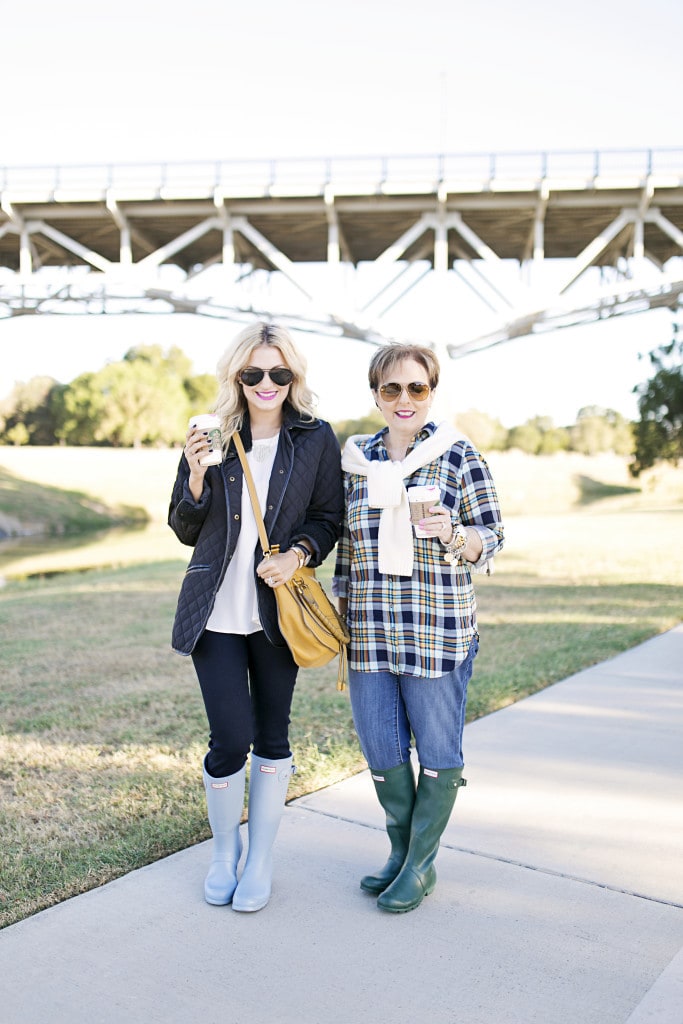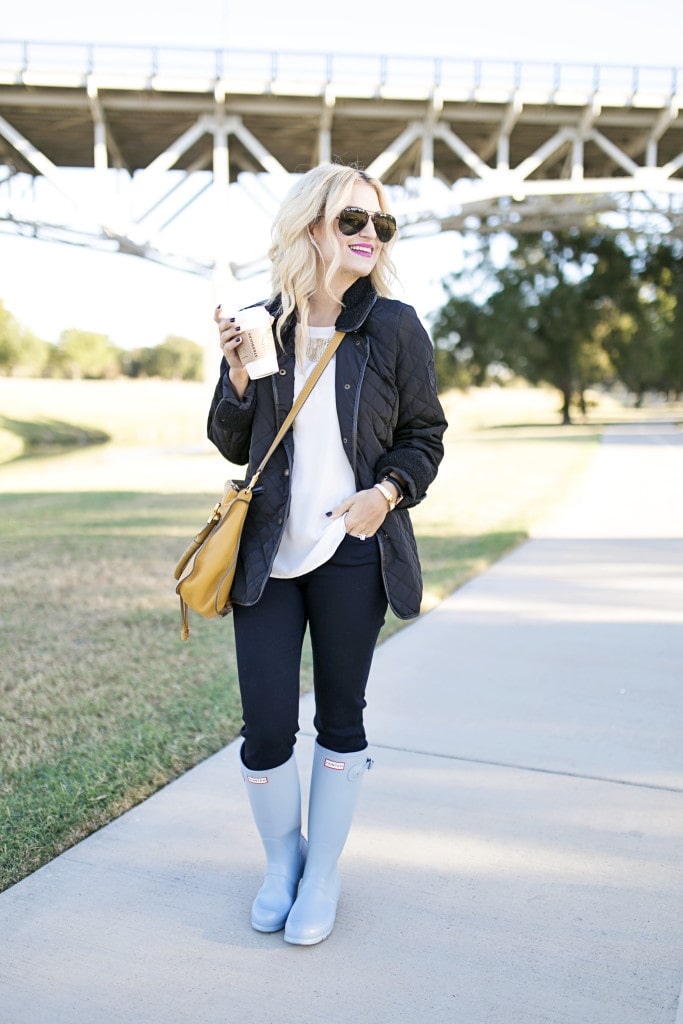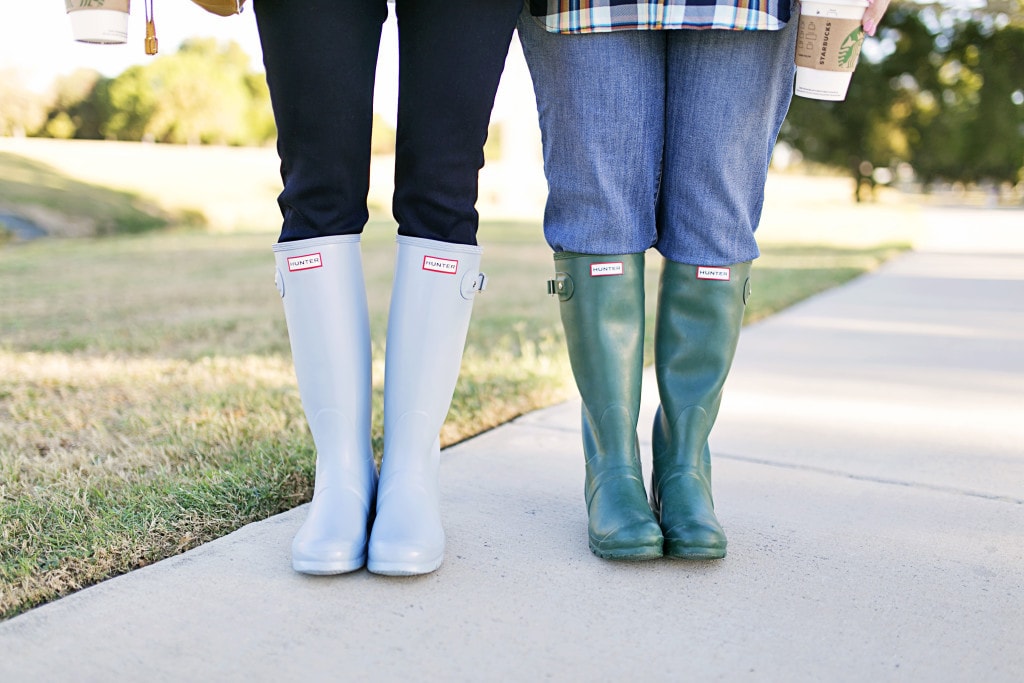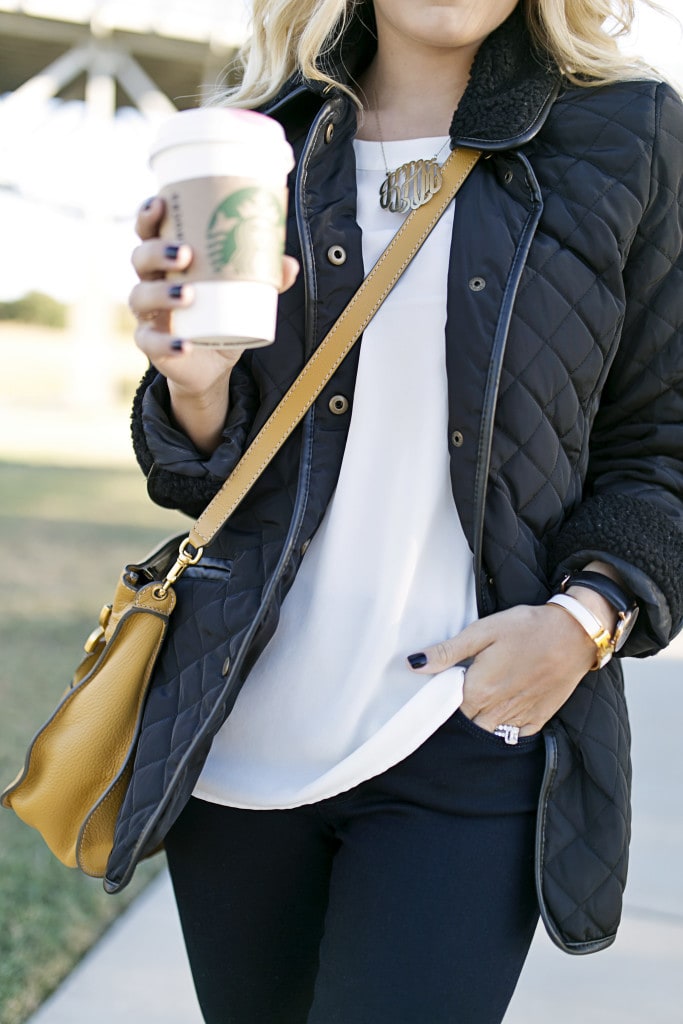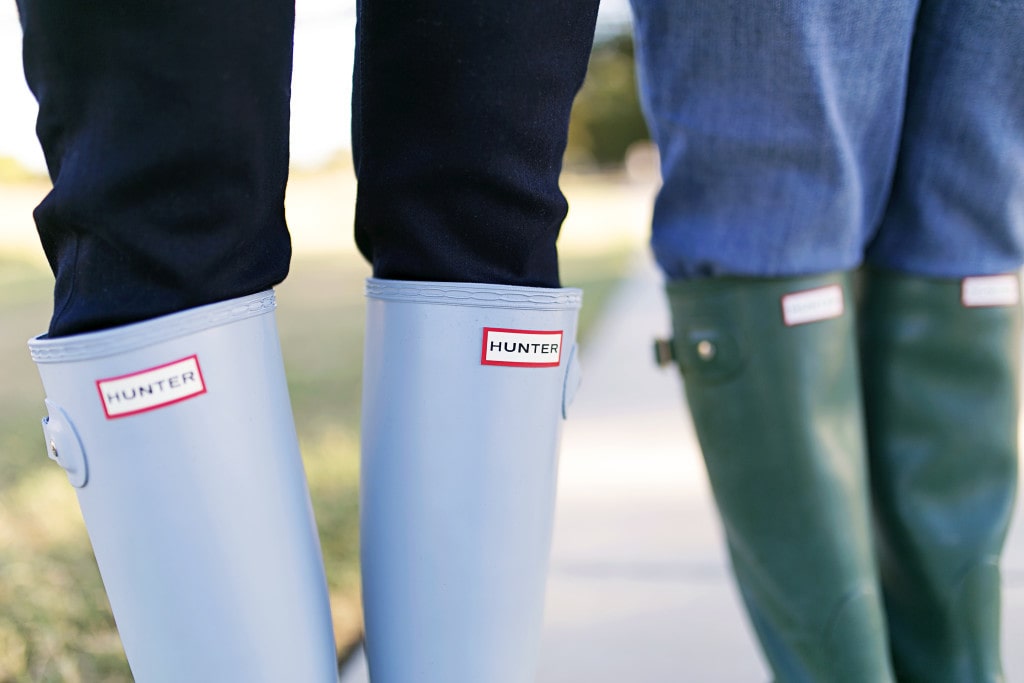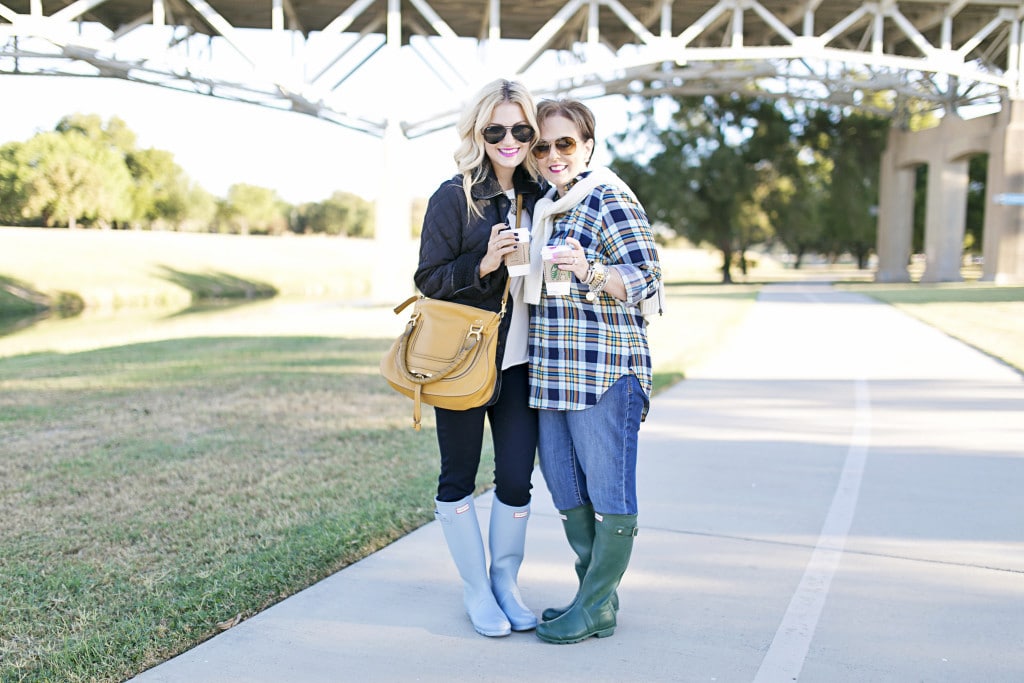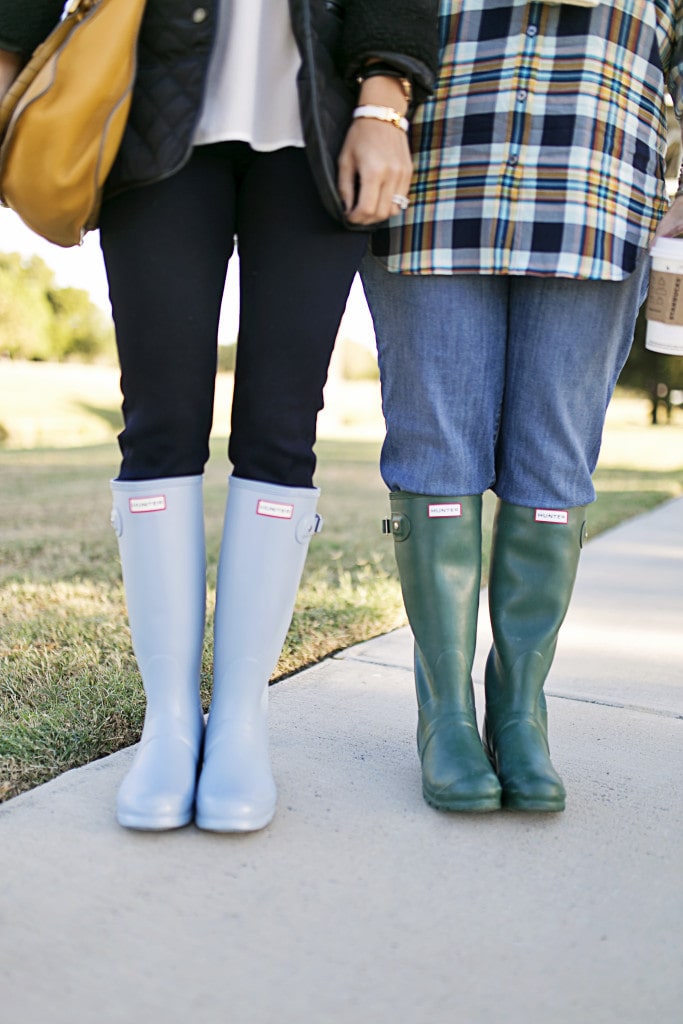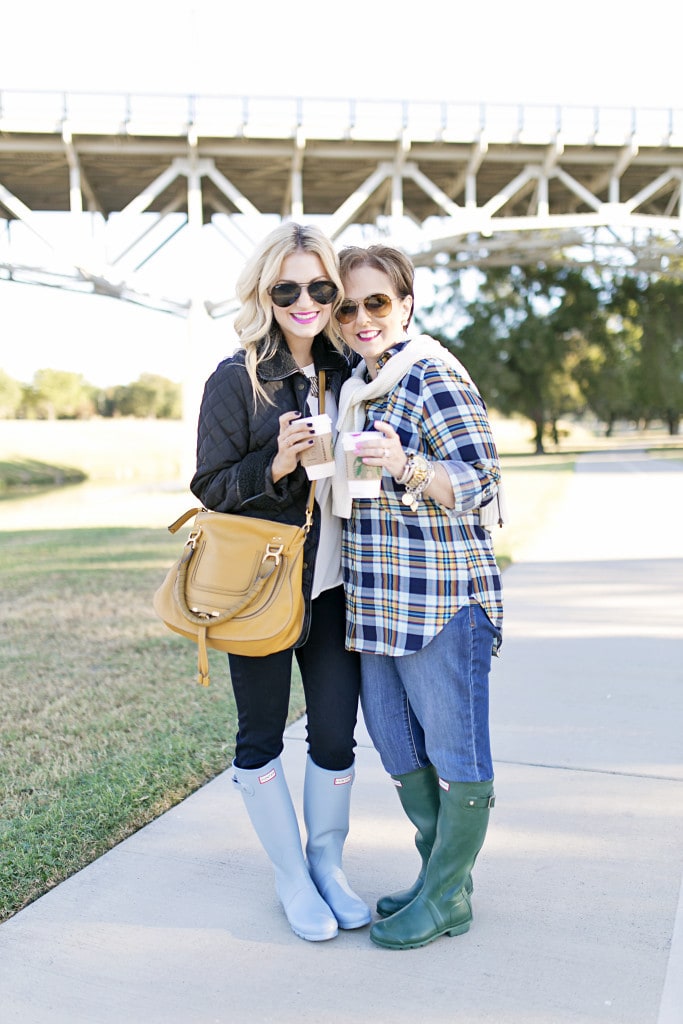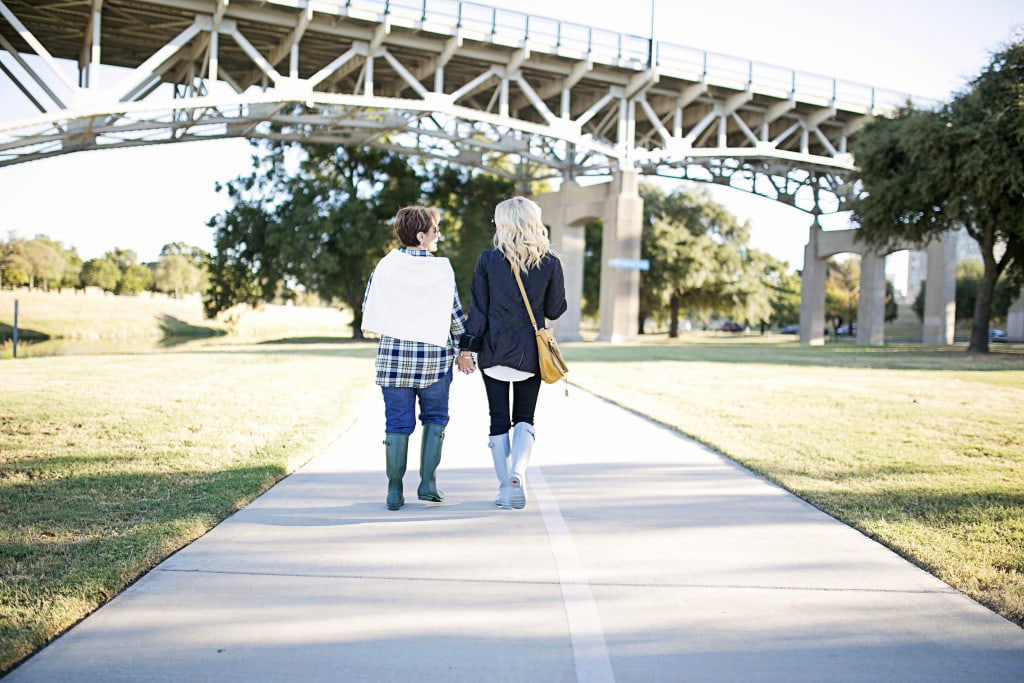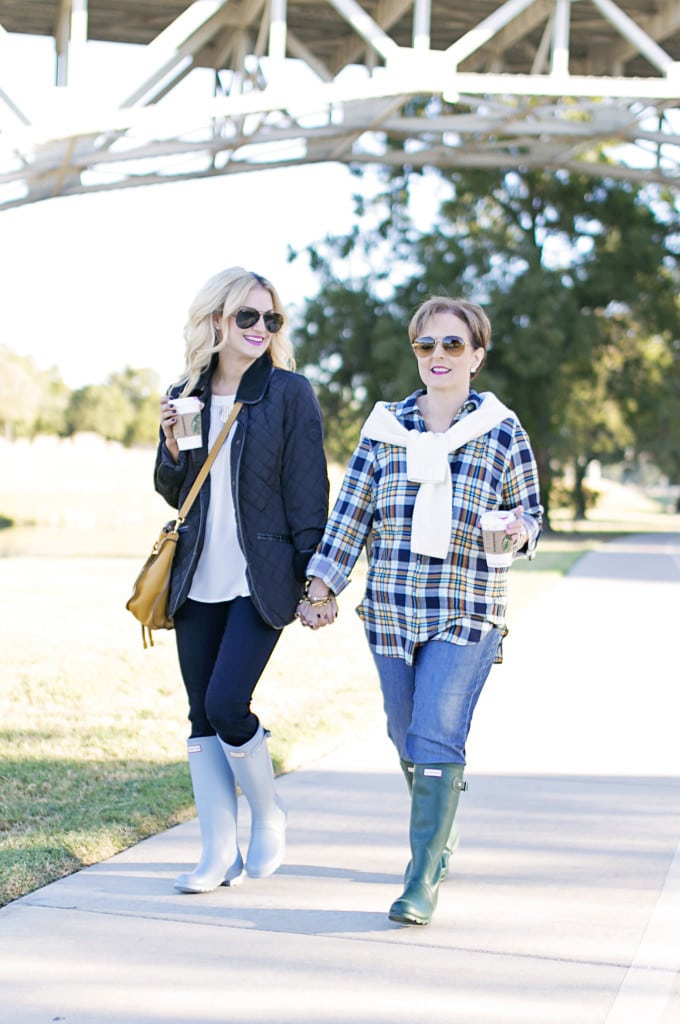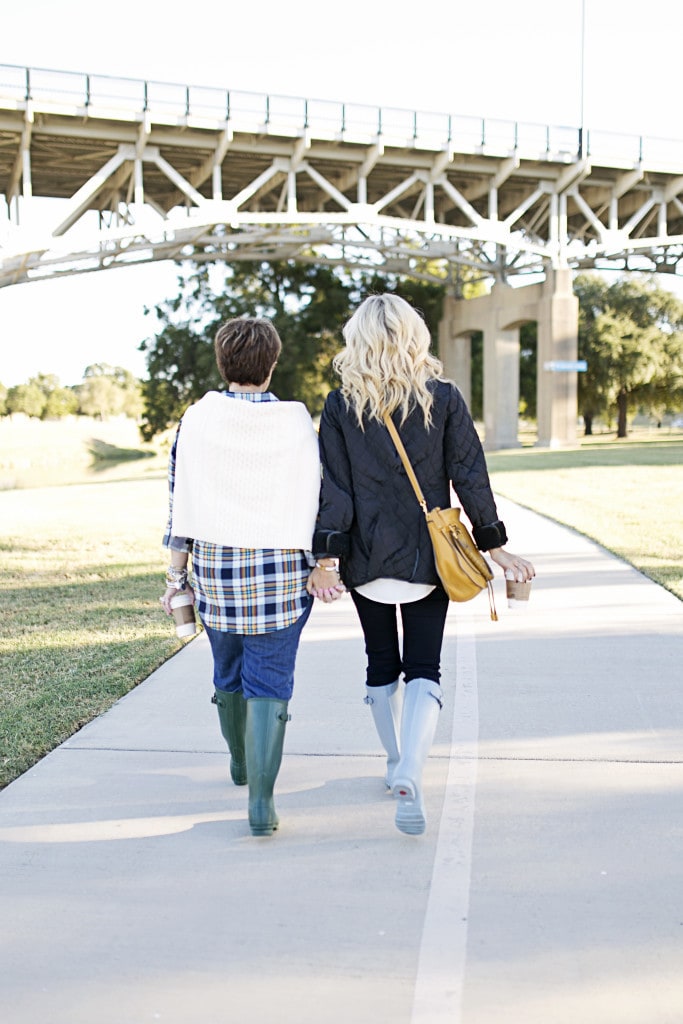 Katey's Hunter Boots: Zappos [c/o] | Katey's Denim: Zappos [c/o] | Katey's White Top: Nordstrom | Katey's Coat: Zappos [c/o] | Katey's Bag: Chloe | Katey's Watch: Daniel Wellington [c/o] | Katey's Sunglasses: Ray Ban | Katey's Bracelet: Hermes | Katey Monogram: Similar [get size 3XL on 18 " chain] | Katey's Lipstick: Liner [shade: Bittersweet] | Katey's Earrings: Nordstrom | Tammy's Boots: Zappos | Tammy's Plaid: Link | Tammy's Sweater: Talbots
Photography by: Angie Garcia
---
Now that wedding planning is over and fall is here, my mom and I have gotten to spend a lot of time together just enjoying the weather and soaking up some of our favorite things together!
She recently was able to stop her methotrexate treatment for a period and so I made a promise to her that I would work less so we could truly appreciate her feeling great and being able to use all her energy! Fridays are our little days together and thankfully I've been able to not work too long on those days. We've spent a lot of it outside [she couldn't be in the sun for long during her treatment, so now my glamorous mother packs up her Chanel sunglasses, throws on Hunter boots and we go outdoors! haha. Never thought I'd see the day!]. We grab Starbucks, walk the Trinity River and then head to my sister's football games or cross country meets.
I wanted to stock up on some boots and key fall pieces because my mom has been on this outdoors kick. [She recently went camping and has now come back saying we all need to go camping once a month. Y'all should imagine my shock. She doesn't even take off her 27 bracelets to shower, so seeing her get so excited about camping has been funny and exciting to say the least.] I get a lot of my shoes from Zappos. Anytime I find a product is out of stock on a brand's site, I typically head to Zappos and they always have it. I actually got all our wedding shoes [flower girls', bridesmaids', mom's] there. We recently partnered together for the next coming months to share my favorites from their site and I knew my first few purchases would be for my mom's newfound outdoorsy and "glamping" obsession. They gave me a gift card and the first thing I picked up were these Hunter boots. Can y'all believe I've lived without Hunter boots?! I've been under a rock. I always thought rain boots were obnoxiously heavy and smelt like burnt rubber. My mom LOVES her Hunter Boots so I decided to get these and they are life changing. I thought the pastel blue would lighten up my look with dark fall hues. I also got Hudson denim. I wanted a darker wash that would go with anything from a white tee to a sweatshirt for camp fires. These are great quality so they last me all weekend and I don't have to pack a lot if we do go anywhere. And then I got this jacket. I've wanted a field jacket for the longest time. It's lightweight which is perfect for Texas but has a warm collar that helps with Texas' chilly wind at football games.
So I have to ask, what are your favorite things to grab for your weekend outdoors?! Any favorites from Zappos?!

Thank you to Zappos for sponsoring this post! All opinions are my own.