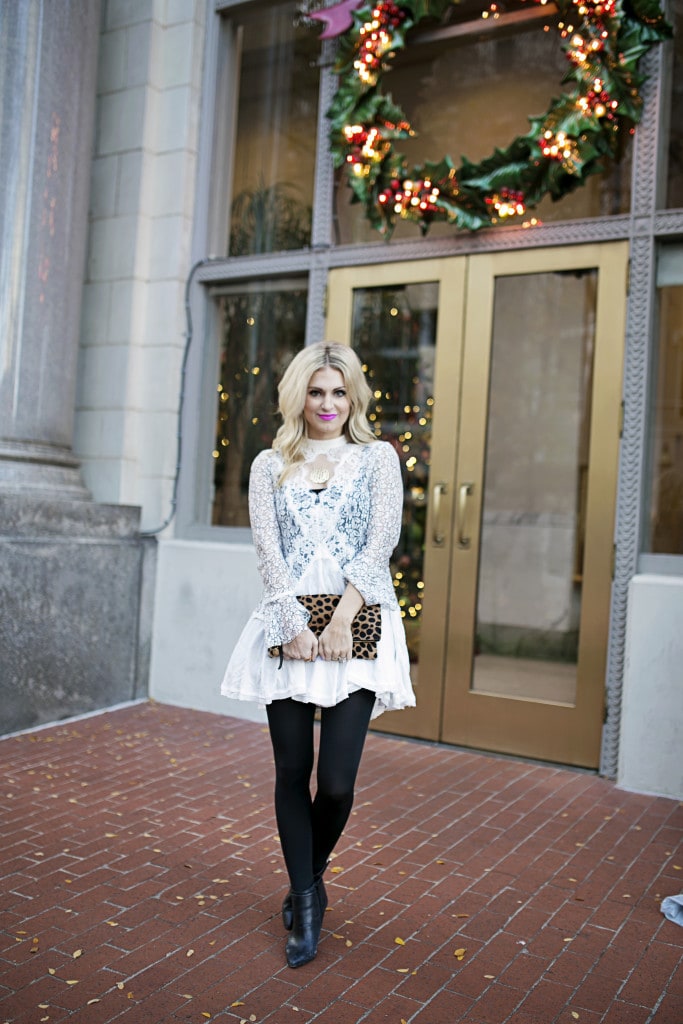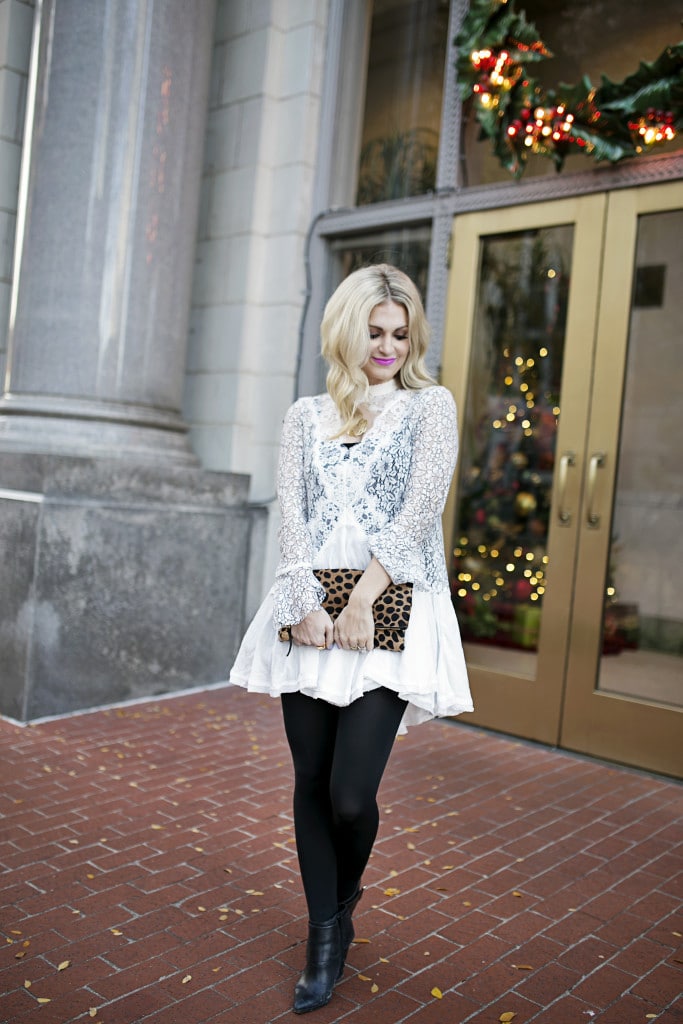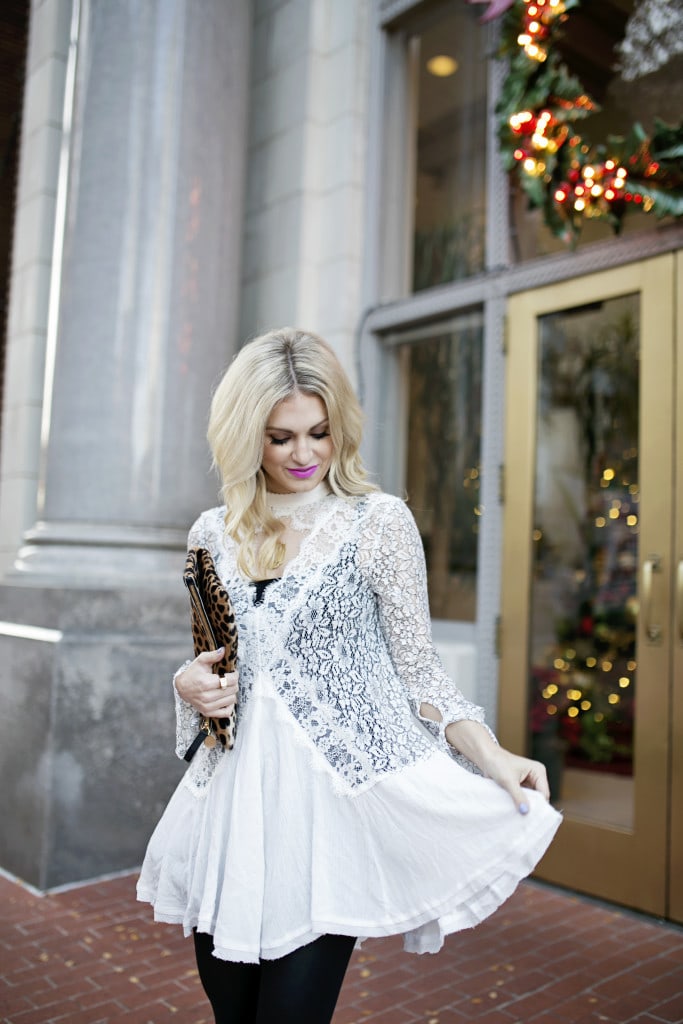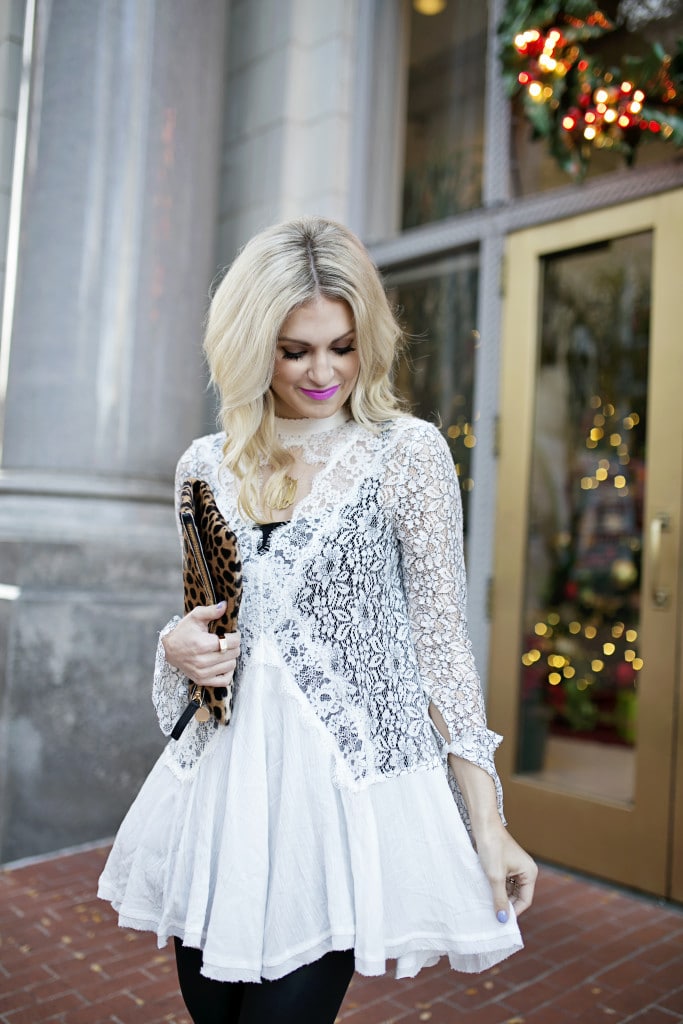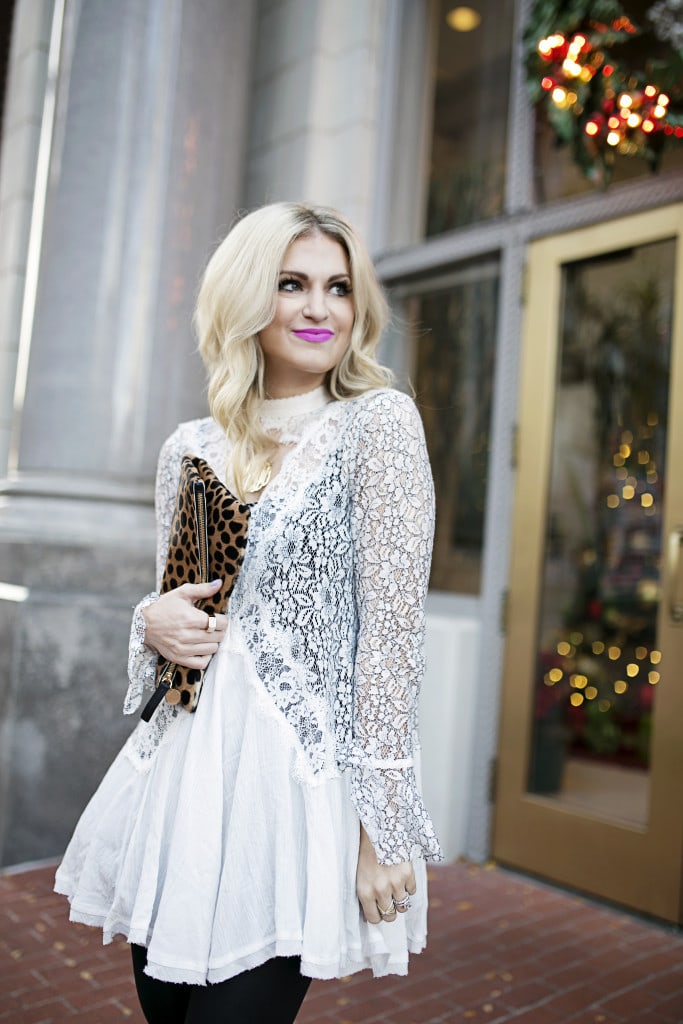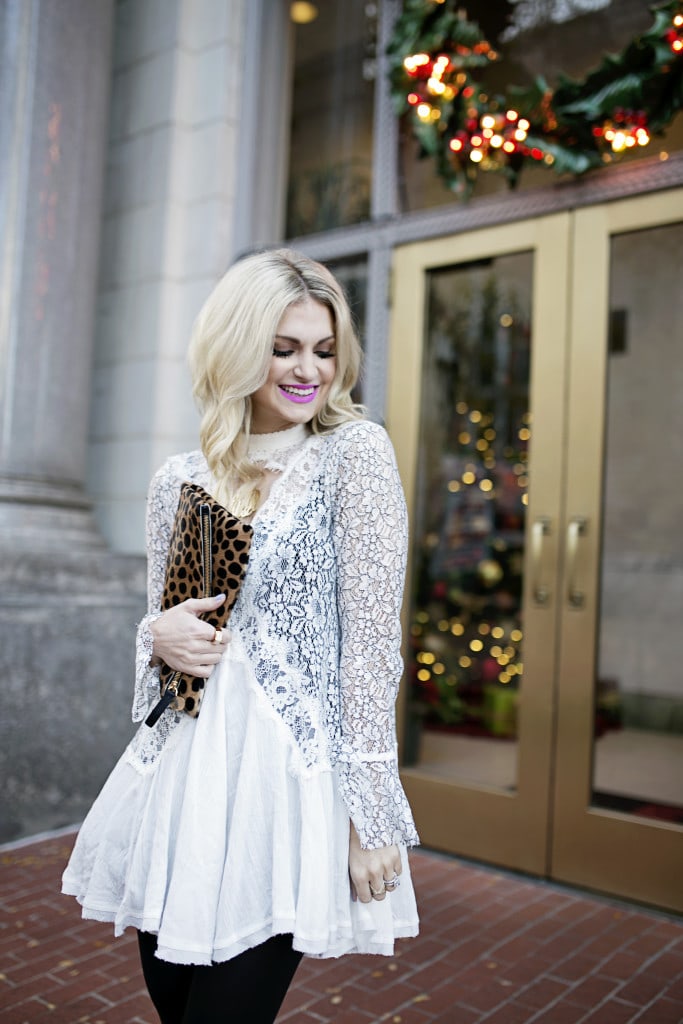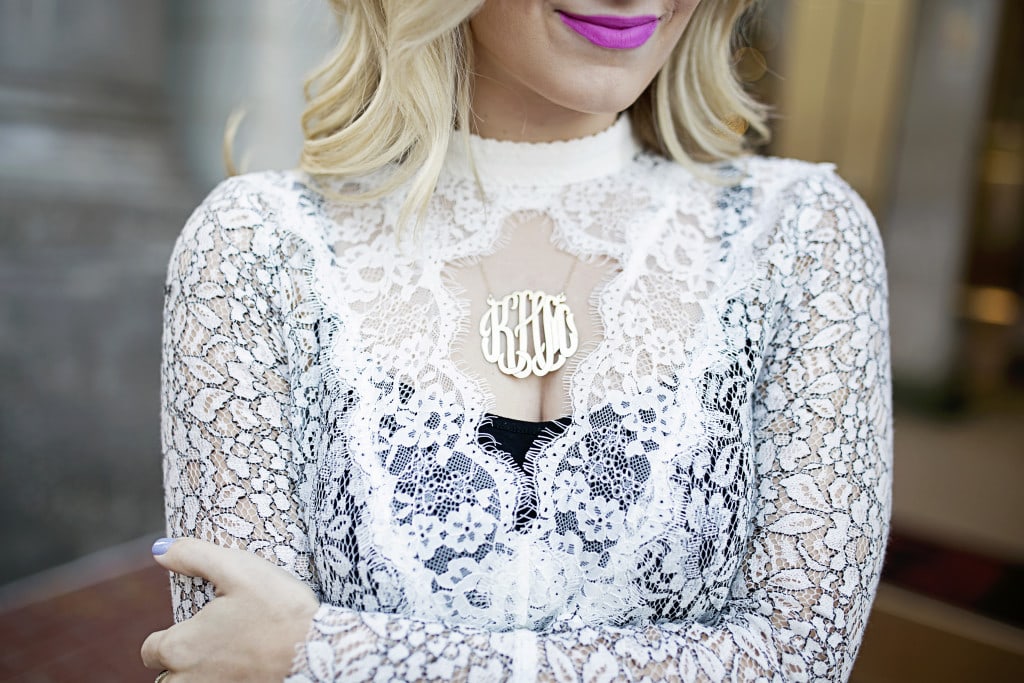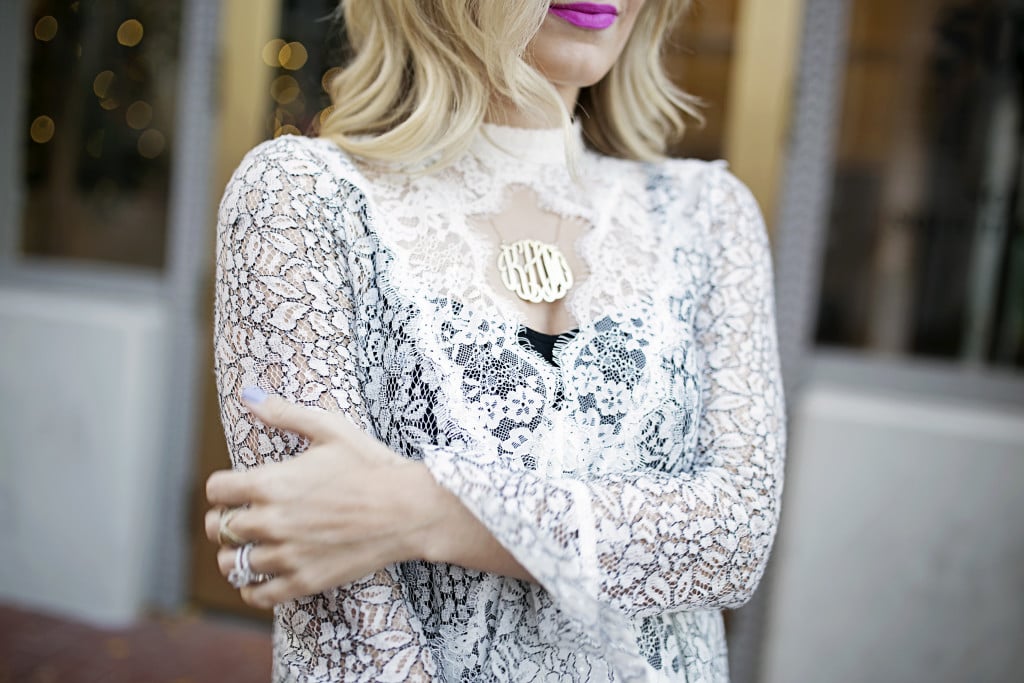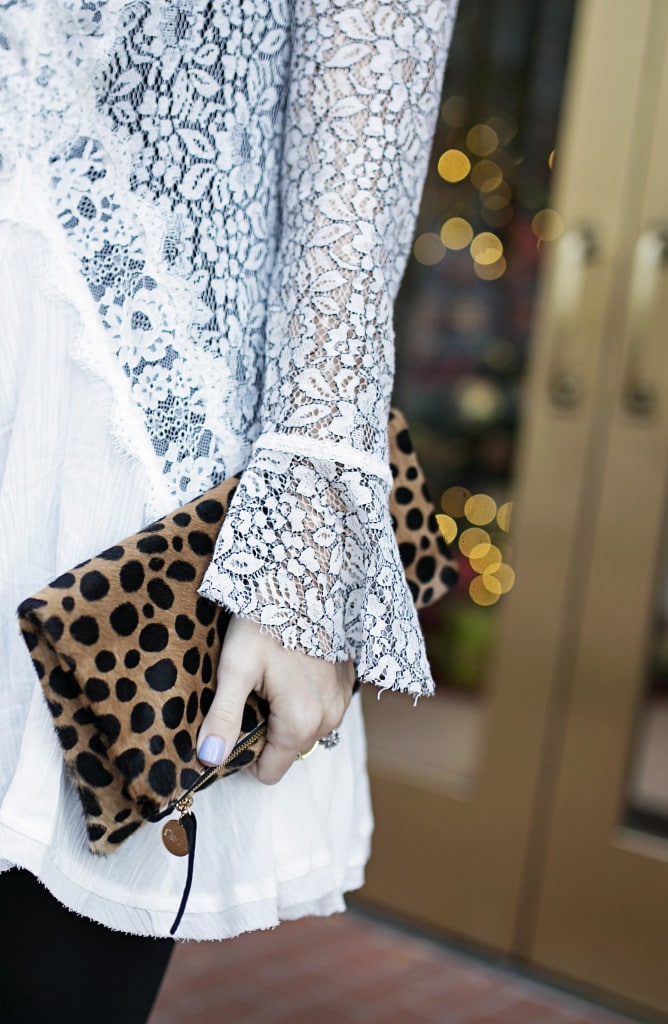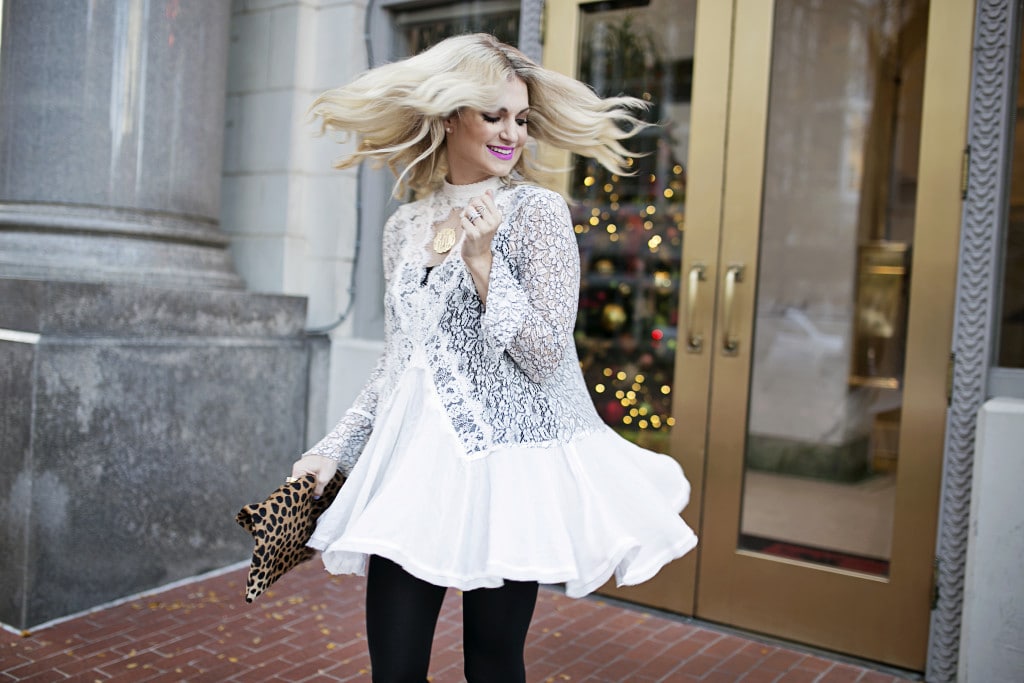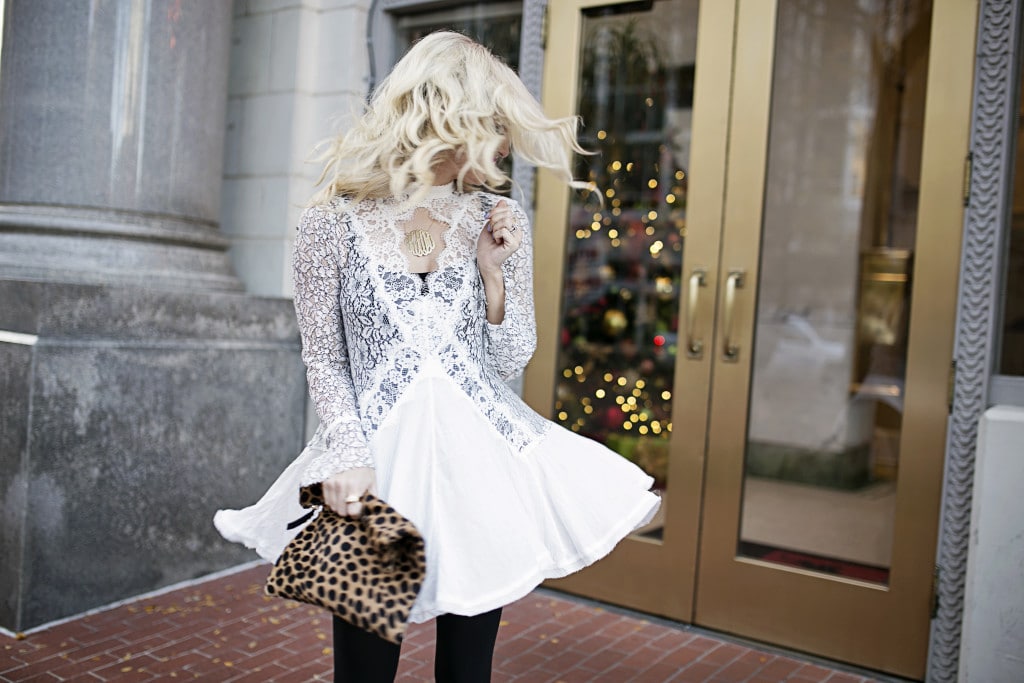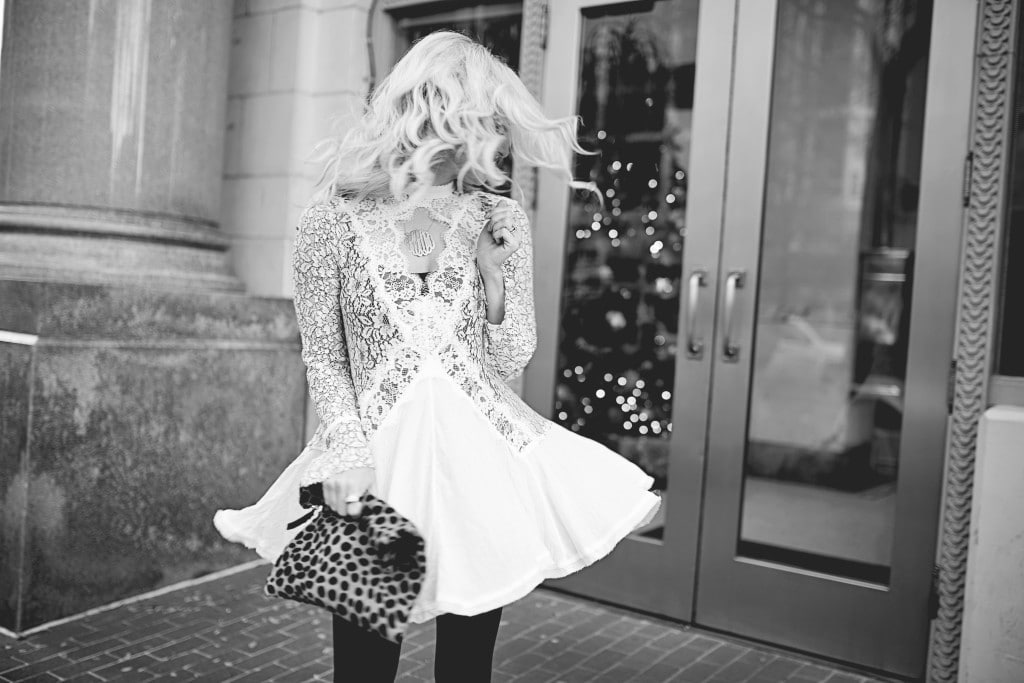 Top: Free People | Bag: Clare V. | Necklace: Similar [get size 3XL on 18″ chain] | Tights: Nordstrom | Booties: Similar | Shorts: Similar | Lipstick: Neon Azalea | Ring: Baublebar [c/o]
Photography by: Angie Garcia
---
 Recently, I've gotten a lot of requests for some Fort Worth date night ideas! From the boys….
This Christmas has been so sweet because I've gotten guys e-mailing me everything from lipstick suggestions for their girlfriends to date night recommendations. All that to say, some of you ladies are about to be very spoiled on Christmas and feel free to share any stocking stuffers you may receive with me! 😉
Paul and I had a Christmas party a few weeks ago and I picked up this top because I thought it was a fun date night option that still fit winter. So many times I think, "Ehh. I don't want to be a slob and wear a sweater to dinner, but a silk tank screams, "I haven't done laundry."
The lace details and cut out add a flirty touch, but you still have long sleeves and a longer tunic length, that you really don't even see the shorts I have on underneath! Go down a size! I have on an XS and that's not my normal. It's been on repeat in my wardrobe, so the price seemed justified and the fit never changes!
FW Market + Table is a new concept that recently opened up here and I've told anyone with ears they need to go. They have an amazing breakfast [try the avocado toast!] but I recently had dinner there and contemplated gaining 8 pounds and eating 3 rounds.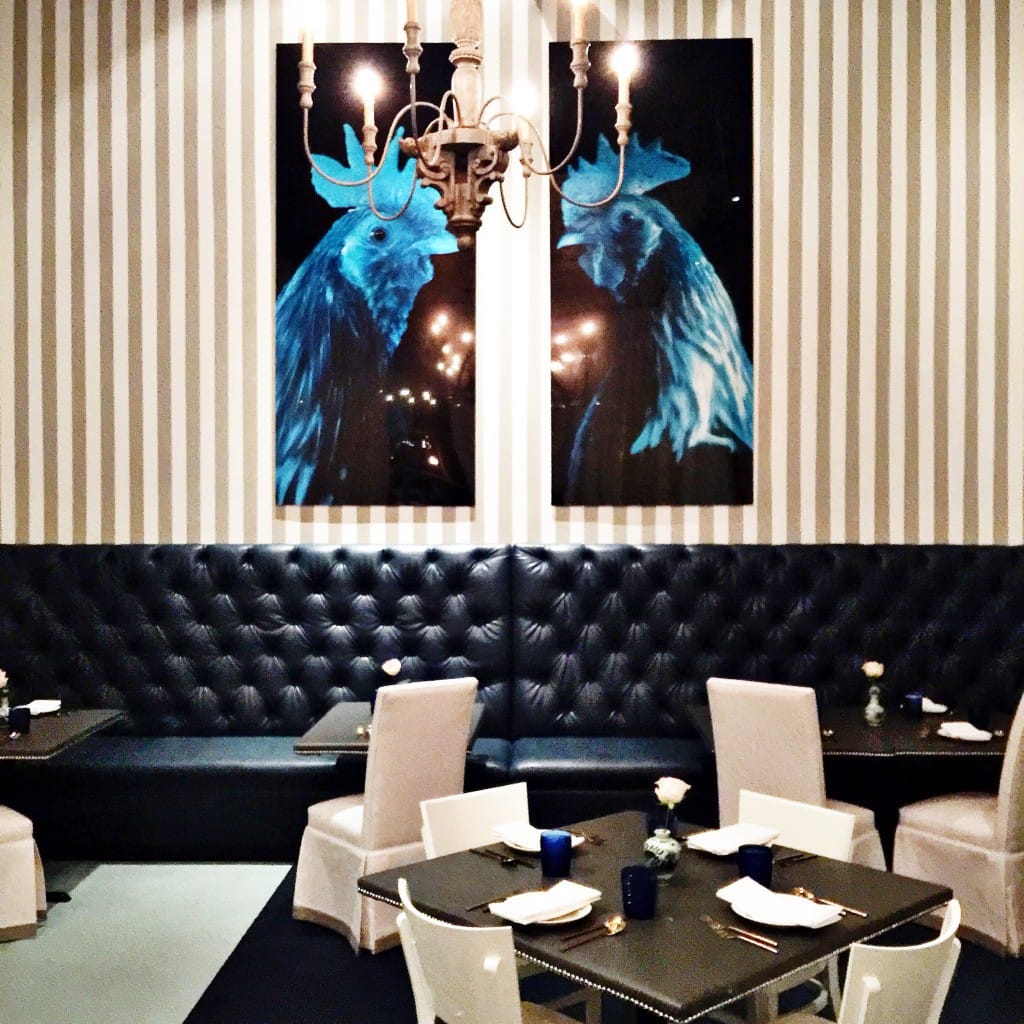 Think Restoration Hardware meets Z Gallerie in terms of decor. It's chic, but not intimidating, which is my favorite kind of restaurant.
I went with my parents and best friend, Taylor, and I'll share what we got in case you want a few ideas!
1.We started with the Arancini [Oh yeah. Fried pimento cheese and bacon in one bite. I wanted seconds. thirds.] as well as the Confit Prawns, which my mother loved!
2.Get. The. Boat. Scallops. They come with grits, and I'm a grits snob. My Nana was the garden club president of Atlanta, if that gives you an idea of how Southern she is. She knows grits, so typically I can't stand when restaurants serve them because they require a grandmother slaving over the stove for a good hour and a half. But these are blue corn grits that I'd gladly have for a last meal on earth and divide up the texture of the scallops, which can sometimes be a bit much after two or three.
3.We did the Grilled Apples and Winter Squash for sides, and if you only pick one go with the Winter Squash. Think potatoes au gratin, but with squash. So you don't feel as guilty? But you still get the cheese and all the taste of a rich side.
4.Apple Pear Pastry for dessert. No questions. Just get it.
They serve dinner Wednesday through Sunday and I'd make a reservation. Paul had called a few times prior and they were booked up, so plan ahead! But I also love their breakfast and lunch, which you can easily pop in for a quick bite with no planning ahead.
If you live in Dallas I definitely recommend taking the trek over and if you want to shop before head to Beehive for clothes and Lawrence's for the chicest gift store you've ever seen. If you make a date night of it to stay the night The Ashton hotel is a fun boutique hotel in Fort Worth that is in the center of everything!
I hope this helps give you some ideas during the holidays for date nights! I know Paul and I have some fun ones planned and have been keeping our eyes peeled for new ideas so we aren't doing the same old' same old!
Let me know if you want anymore review posts! Have a wonder Christmas Eve Eve! 😉