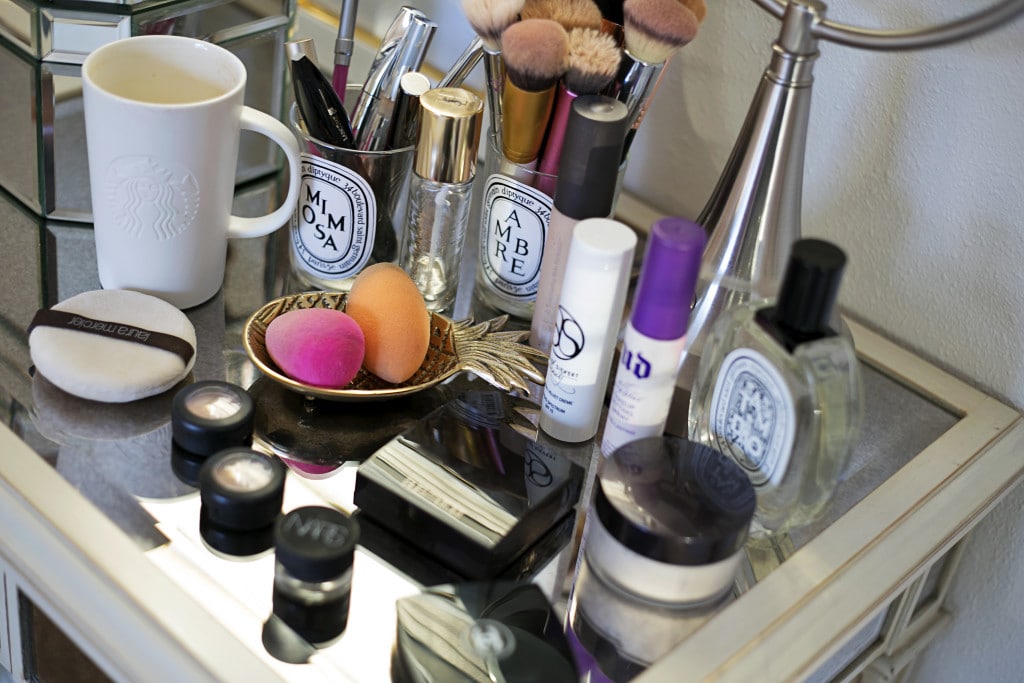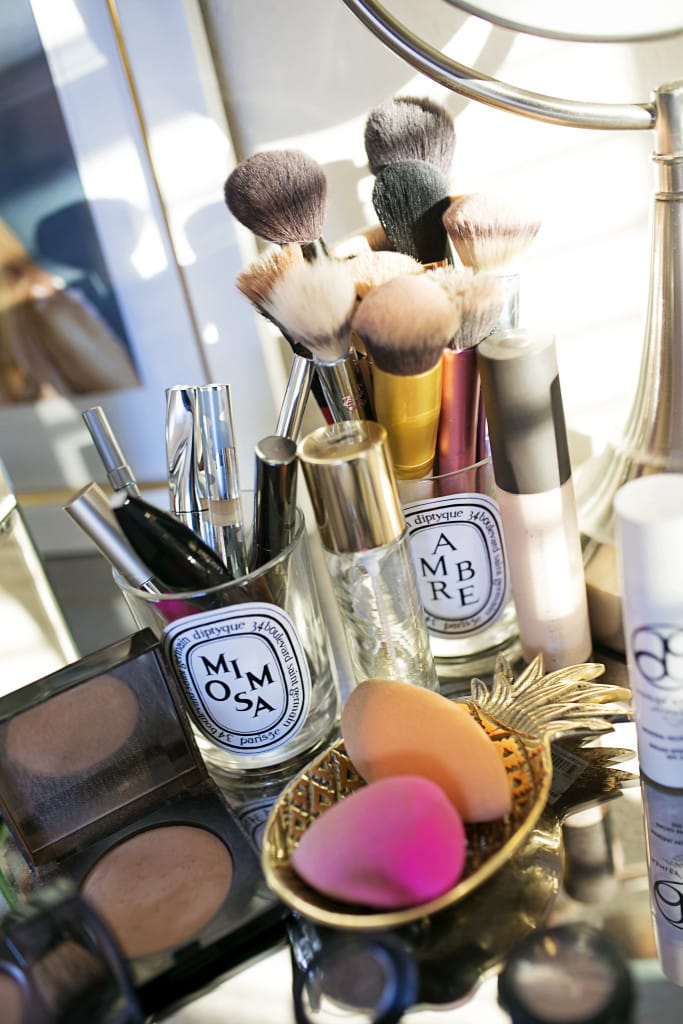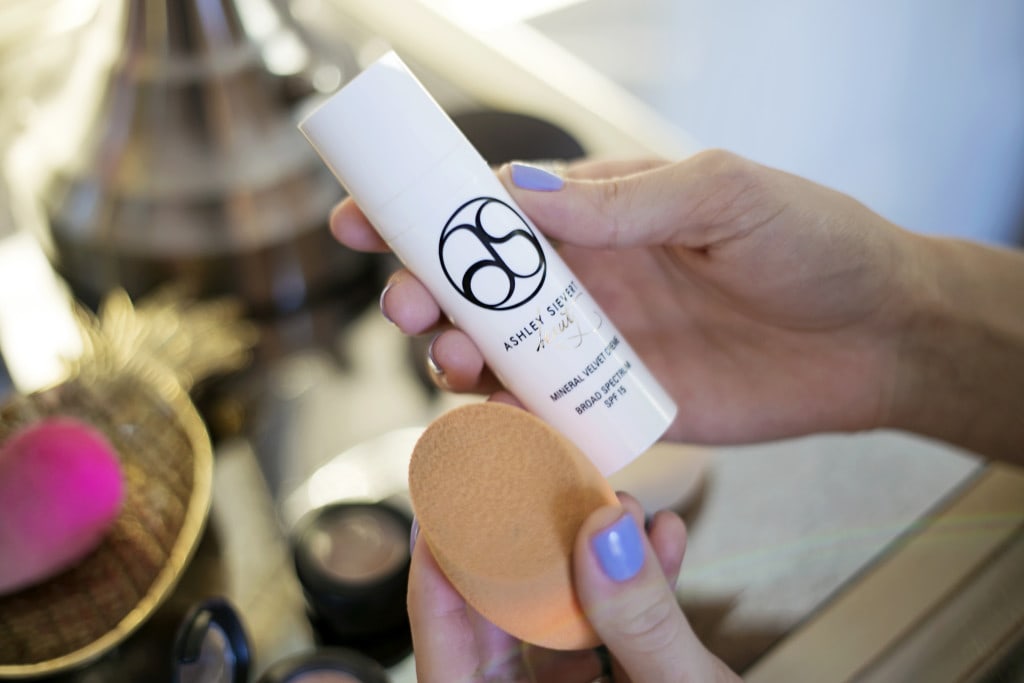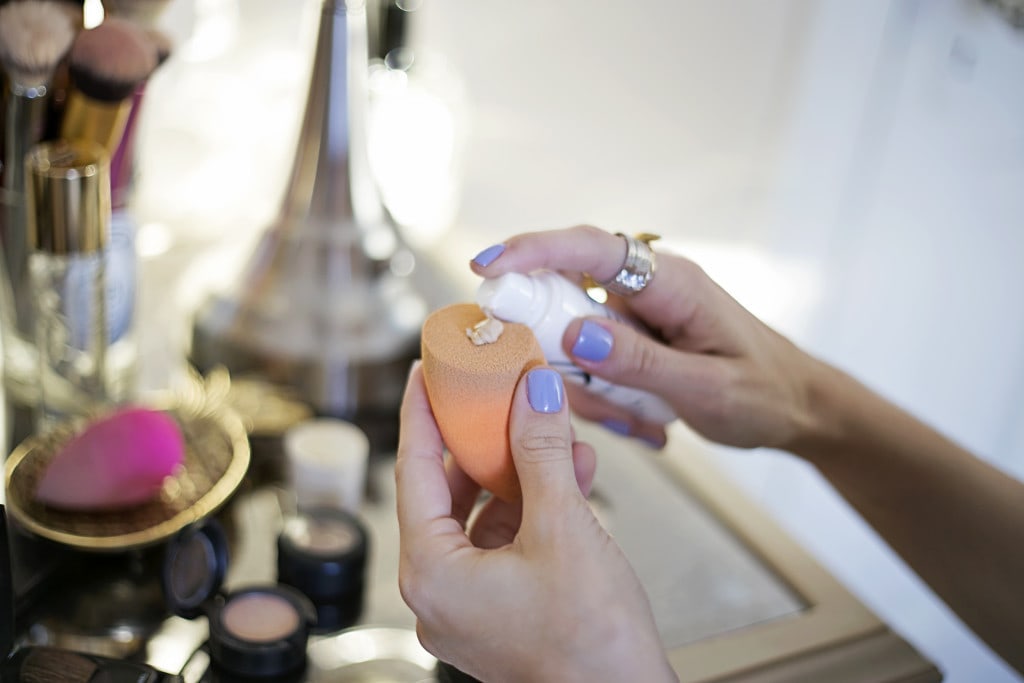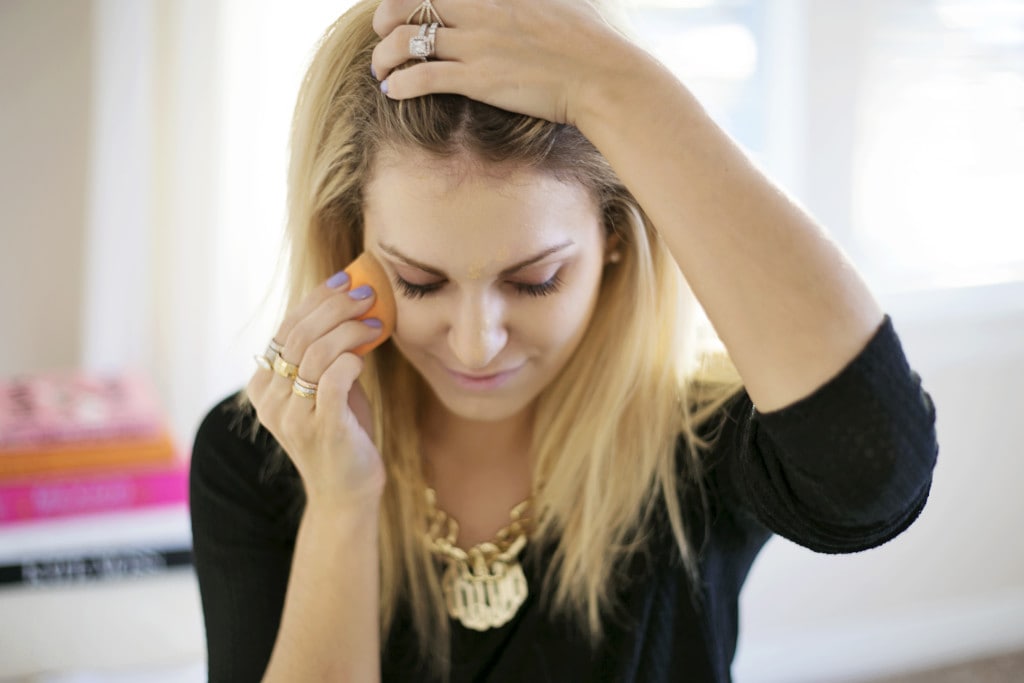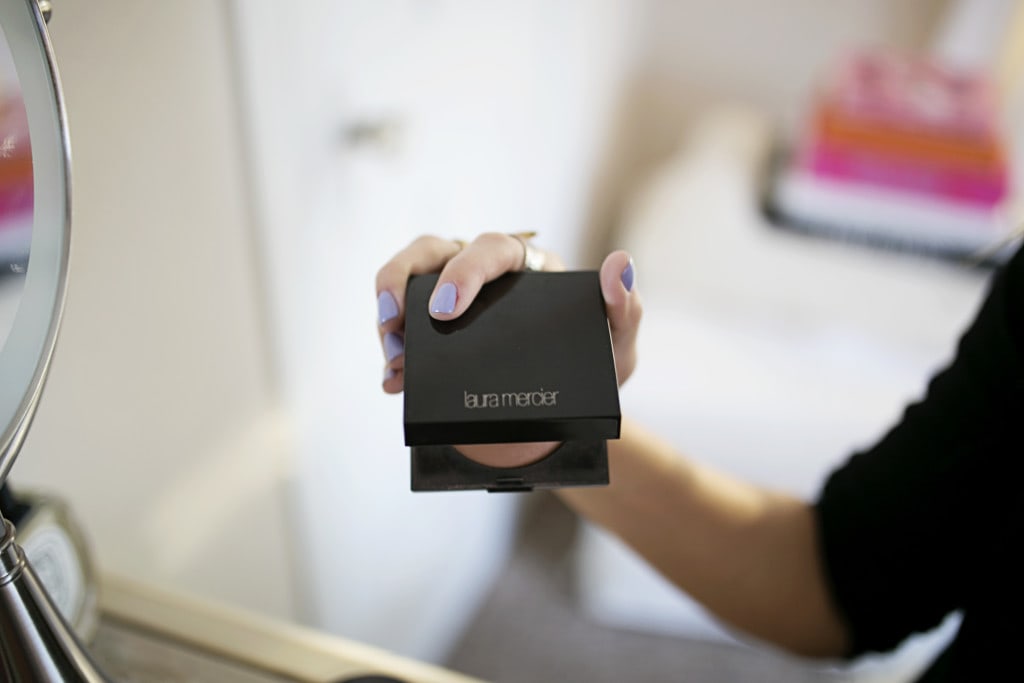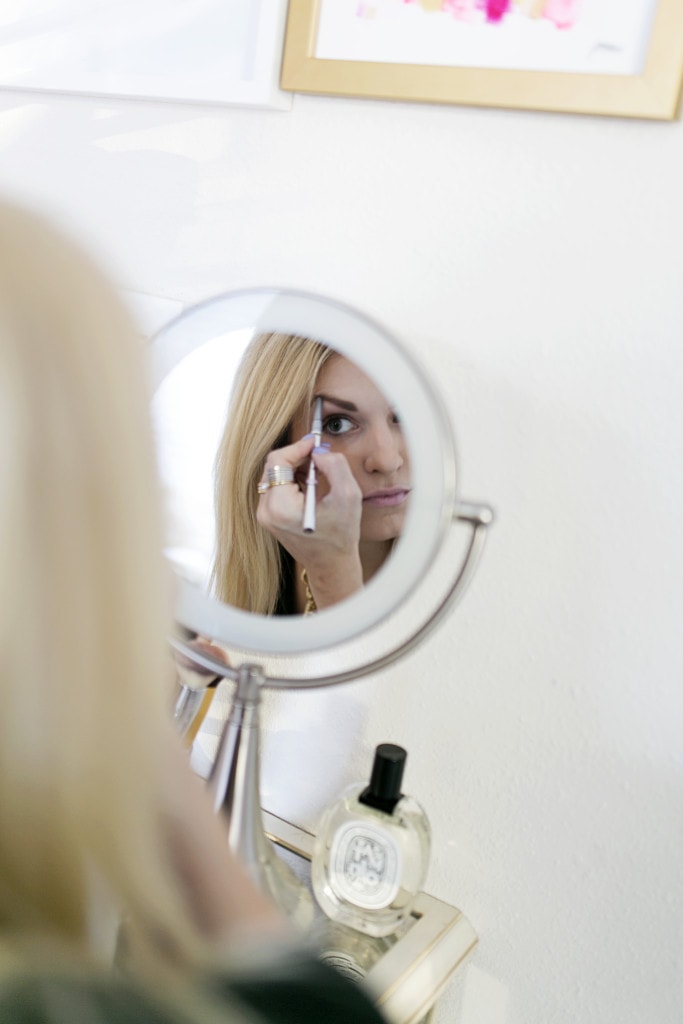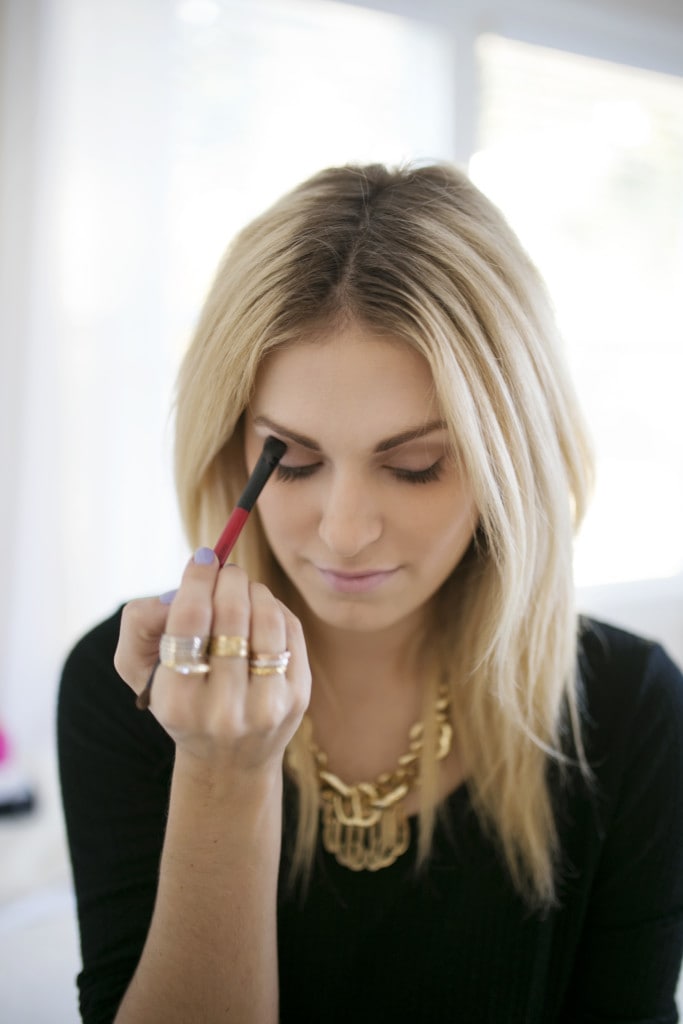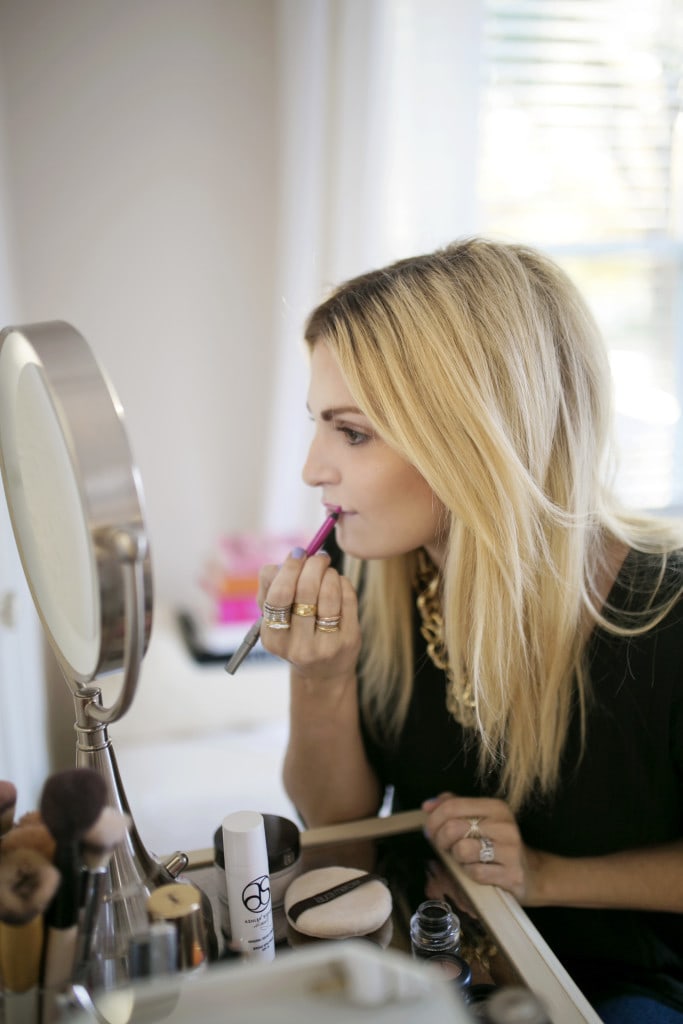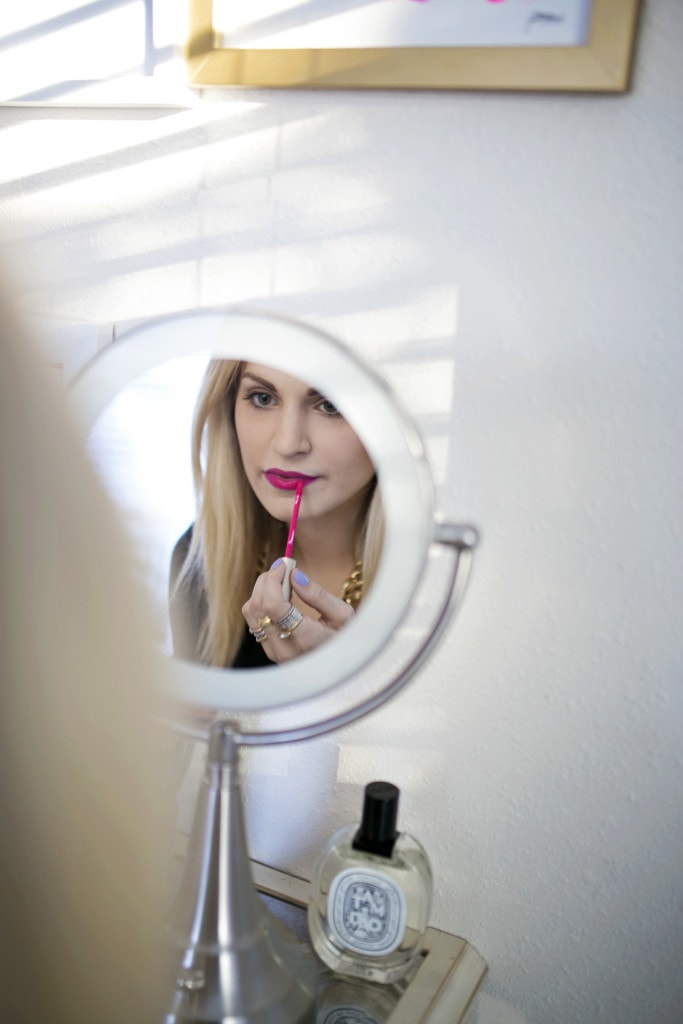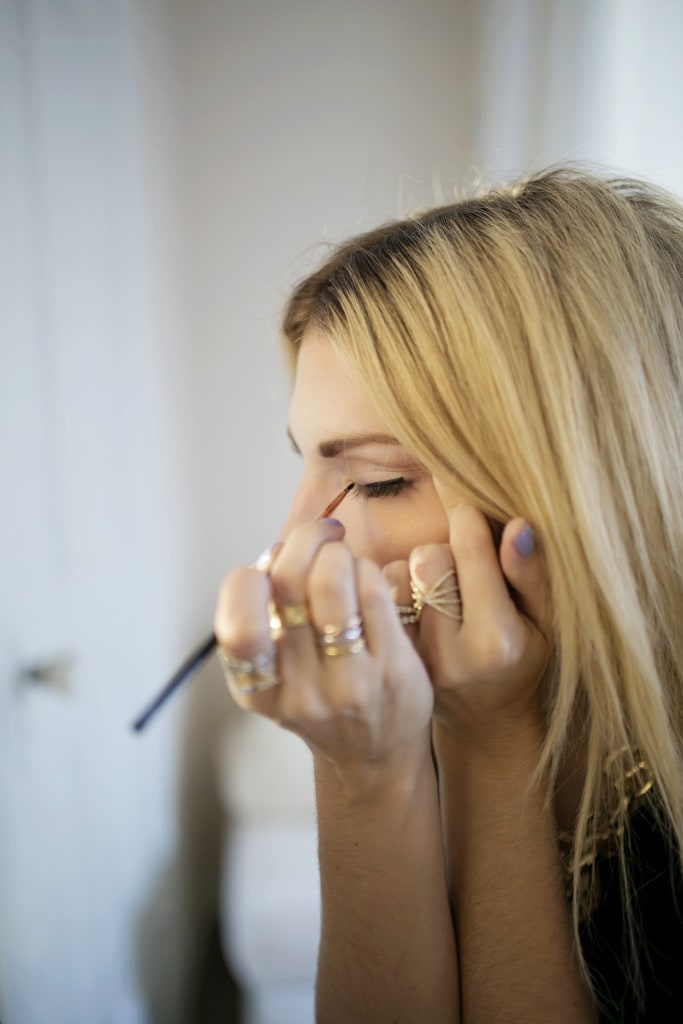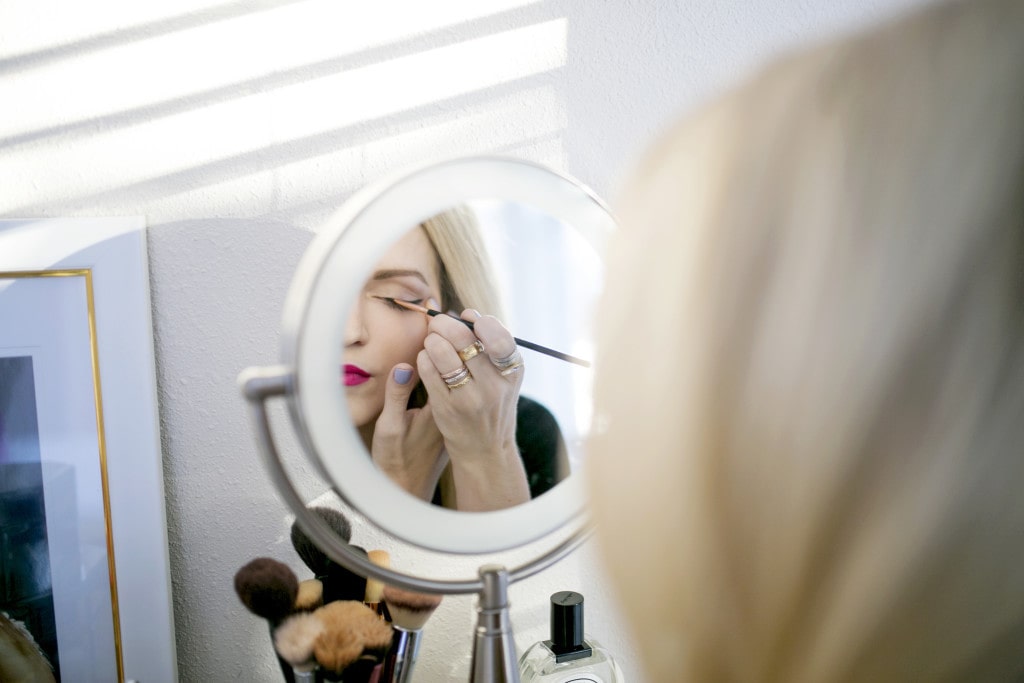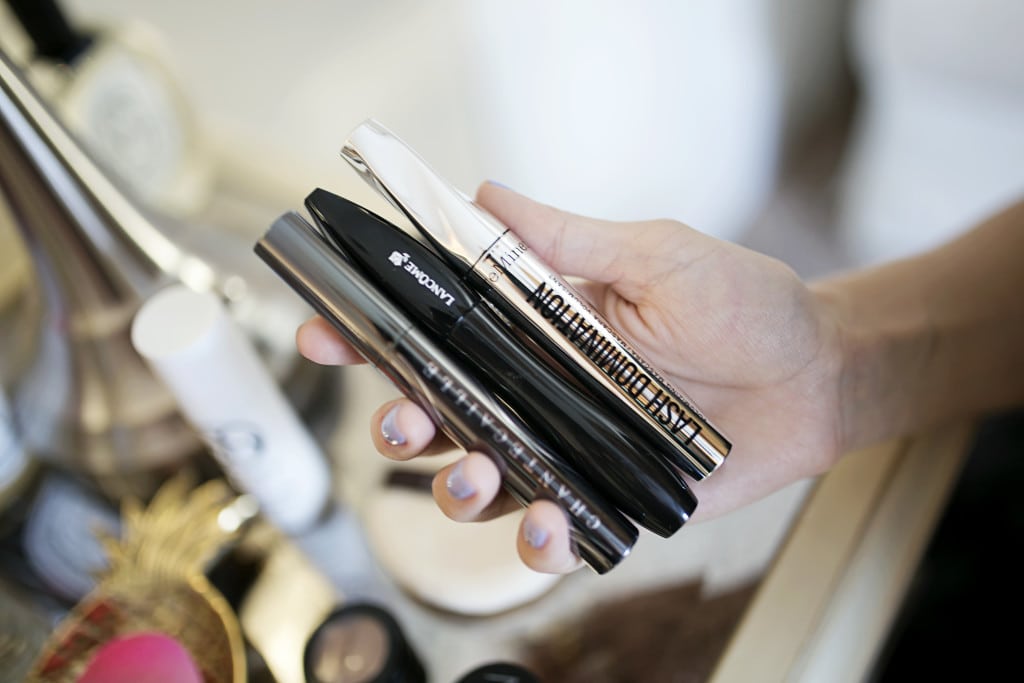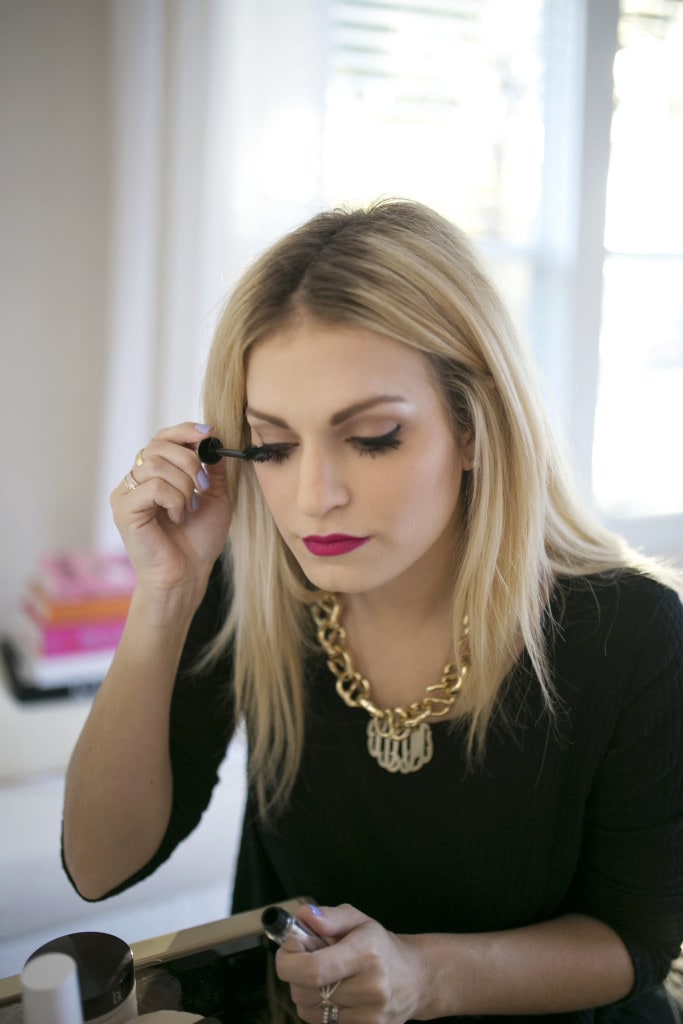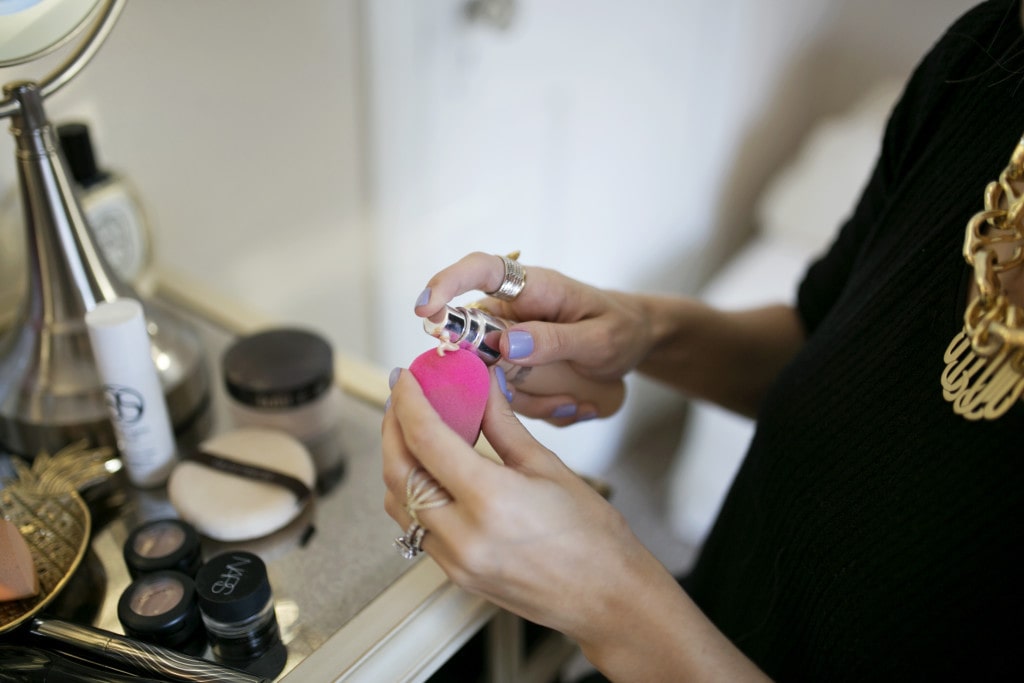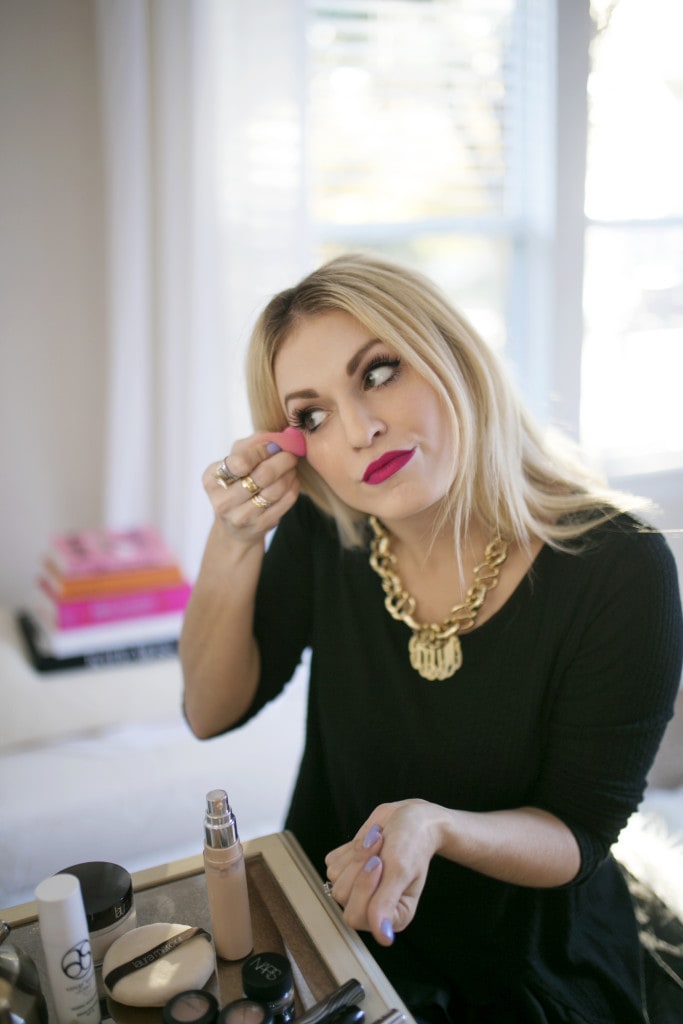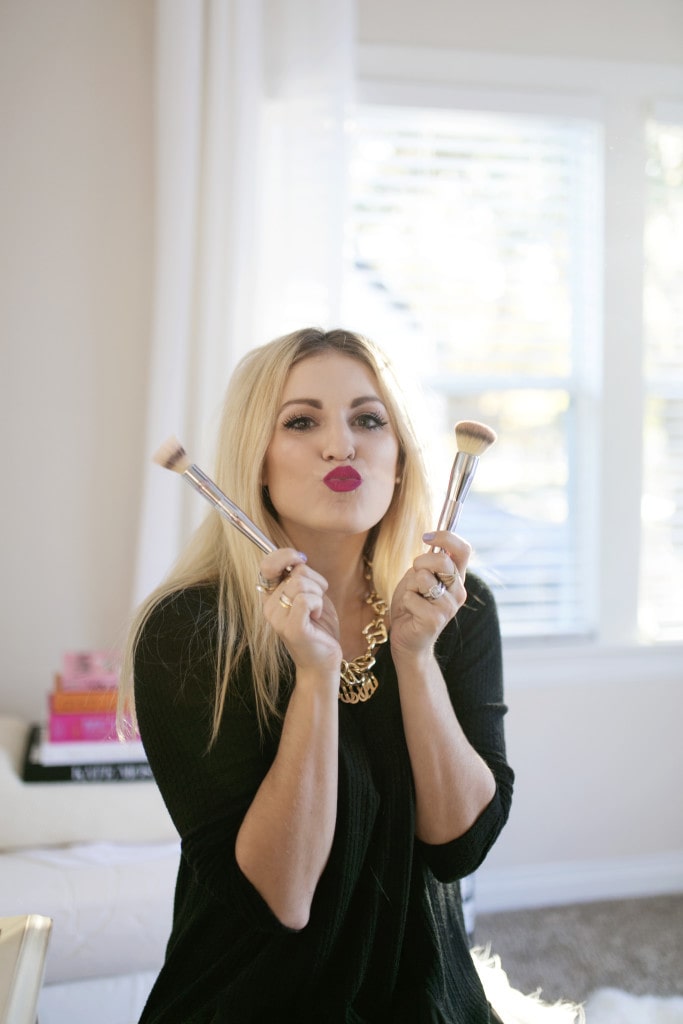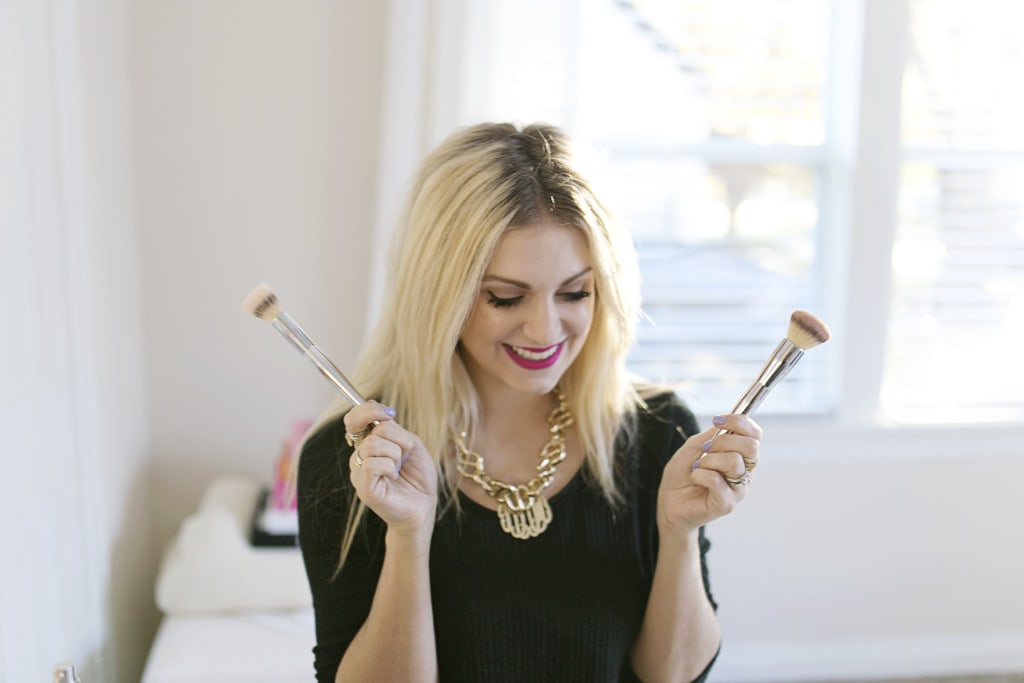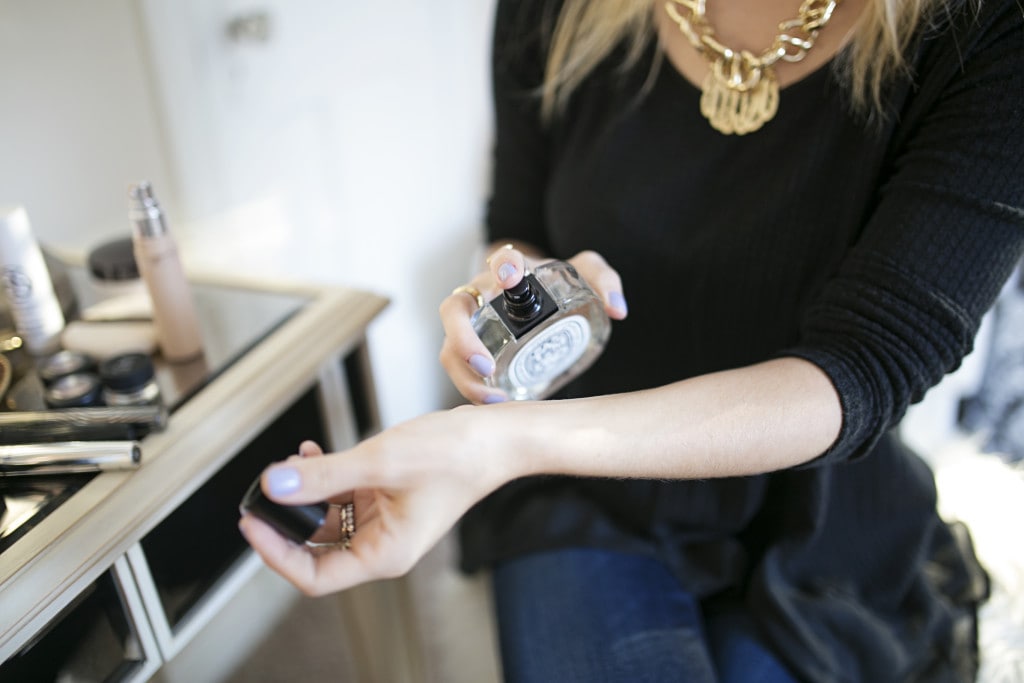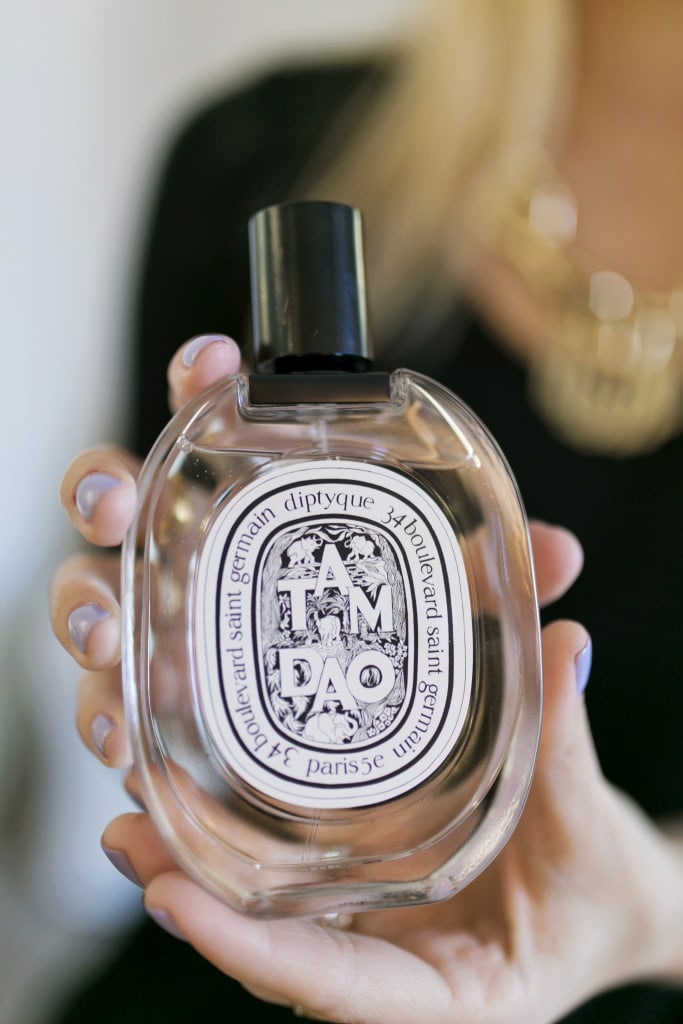 Foundation Primer: YSL | Foundation: Ashley Sievert Beauty [c/o] | Under eye Concealer: Urban Decay [shade Fair Neutral] | Bronzer: Laura Mercier [shade III] | Blush: Chanel-Out of Stock, Similar [shade Love Joy] | Eyeshadow: Naked Lunch, Bamboo | Liner: Nars | Mascara: Chantecaille, Lancome, Bare Minerals [c/o] | Highlighter: Becca [shade: Moonstone] | Setting Spray: Urban Decay | Lip Liner: Bittersweet | Lip Color: Bella | Eyebrow: PUR | Perfume: Tam Dao
Shirt: Nordstrom | Necklace: Baublebar [c/o] | Monogram: Similar [get size 3XL on 18″ chain]
Photography by: Angie Garcia
---
Happy Christmas Eve! This weekend your bound to have a few reasons to dress up, and I thought I'd share a holiday makeup look that has quickly become something I wear on repeat!
With the holidays come a lot of photos! I'm a huge fan of nude lipsticks [it's easy, you aren't always reapplying and for some reason it never makes you feel all too pale] but unless you have some olive undertones it can be an enemy during photos. I revolve this look around my lips, because this liner/stain combo is such a flattering shade on any person I try it on, especially in photos! There are blue undertones so your teeth look whiter!
Because of the heavy lip, I try to keep blush, eyeshadow and highlight a little more muted that way nothing overpowers your smile.
Prep
I start with the YSL primer to smooth my skin out and even out any texture issues I may have. This is a huge trick I have for photos, and it's a product that doesn't make me want to search for others! I love always finding new products [even if I have a specific one that I love!] just because there are so many different ones in this industry to try. But this primer is so good, I honestly have no desire to search around! Plus, the bottle is beautiful. And if I'm spending a hefty chunk on a primer, I like it to  have nice packaging. Anything to make you more excited at 6 a.m.?! #amIright?!
Foundation
I lightly damp a Beauty Blender, I recently got this one from Ulta and love it just the same! The flat edge is so great for blending foundation. I use Ashley Sievert Foundation [it's a whipped mineral one!] in shade Milan. Then I use Urban Decay Naked Skin Concealer in Fair Neutral in a triangle formation under my eyes. Blend that out with a beauty blender and if you want to set it, use Laura Mercier Secret Brightening Powder.
Bronze and Blush
I contour using Laura Mercier Bronzer in shade III and my current favorite blush is Chanel Golden Sun. It's out of stock, but MAC Love Joy is pretty similar!
Eyes
After I apply blush, I use my eyebrow pencil to naturally define my brows. I have pretty full and defined brows, but I like to keep them clean with a pencil. I used the PUR one for this tutorial,and it gives a really natural finish! I applied MAC in Naked Lunch all over the lid and added in Bamboo for the crease. I then lined it with NARS gel liner in Black Valley. I'm not a fan of liquid liner, but sometimes I want something that stands out more than a pencil, and this one is my favorite. I use this brush to line my eyes, it makes it fool proof! I was testing out a different one in the photos, but it definitely isn't as easy to use as the Lancome brush. I then layer these three mascaras: one, two, three. It seems ridiculous, but I just use one coat of each and my eyelashes have never been better! I also never have to repurchase mascara because I'm not using a lot of any. The first one has a lash serum in it, so your lashes grow and it keeps them really healthy! The second provides volume and the third is my favorite for definition and making any clumps go away!
Lips
I line my lips with Urban Decay in Bittersweet, which has a fun violet undertone that looks beautiful under any dark pink or red. I top it with Stila's liquid lipstick in Bella. This lasts for an entire day but doesn't dry your lips out!
Highlight
Because of the bright lip, I don't want a chalky highlight that makes my whole look seem really heavy handed. I use the end of a Beauty Blender and blend out Becca cream highlight in Moonstone. This product is my favorite during extreme weather, whether that is in the middle of summer or winter! It gives your skin a really fresh glow that helps you look properly moisturized.
Finish
I finish with Urban Decay Skin All Nighter Setting Spray. This is is like hairspray for your face, that keeps your makeup looking perfect all day long. If you are covering breakouts this is perfect because even if you accidentally smudge your face or touch it, your makeup doesn't budge! I can take a two hour nap and still wake up looking like I just applied my makeup!
I also love using Tam Dao by Diptyque for evenings as a perfume. It's a spicy scent that isn't overpowering, but makes a statement. I purchased it when we were in Scottsdale for a wedding and I think I applied it 4 times that day just because of how I couldn't stop smelling it in the bottle!
I hope this helps gives you some inspiration for your holiday dinners and evenings this week!