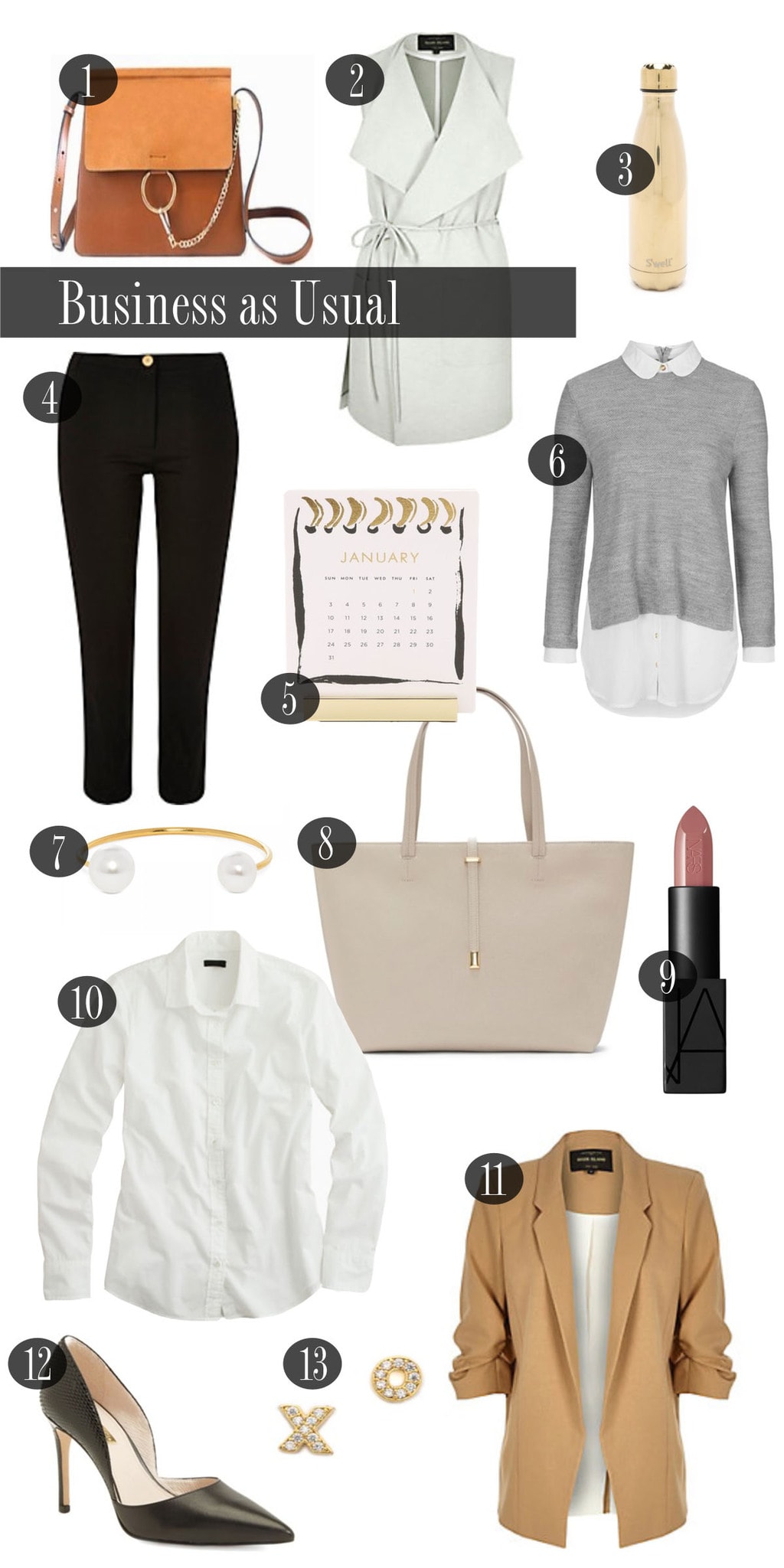 1 | 2 | 3 | 4 | 5 | 6 | 7 | 8 | 9 [shade: Anita] | 10 | 11 | 12 | 13
---
TGIF! TGIF! TGIF!
Happy Friday, y'all! We made it! The first work week of 2016.
I won't lie and say it was easy getting back in the swing of things. Paul had two full weeks off at Christmas and it can always be hard going back to working at home alone after I work with him here. [I missed him way too much!] Don't get me wrong, I'm not complaining whatsoever! I love it! But sometimes I think coworkers and friends at the office make getting back in your groove easier! Like does anyone want to rent out office space at Hotel Hellman, because I need a gal pal to eat lunch with?! And complain about bookkeeping with. 😉
Anyways, in case you were in a rut this week, too, I wanted to share a few items that I think really help build a work wardrobe if your office is business casual. Sleeveless jackets, a boyfriend blouse and a d'Orsay pump are all staples I think you need to make that money, honey.
My background is in PR, so I was really lucky to be able to work in a creative environment and our wardrobes showed that. We had to keep it business casual and professional, but a chartreuse pencil skirt wasn't frowned up. It was praised. However, I wanted to keep this palette neutral for you all in case you don't work in a creative environment. I think these pieces would work well if you work in anything from marketing to teaching!
P.S. Teachers, I give y'all so much credit because if I was having to explain long division to kiddos I'd be in sweatpants. Most likely, because I'd be stress eating my life away. But y'all manage to do it and look chic. One of the 7 mysteries of the world. 
I hope this helps give you some new year inspiration for your work wardrobe! Let me know if you have any other work related posts you'd like to see!