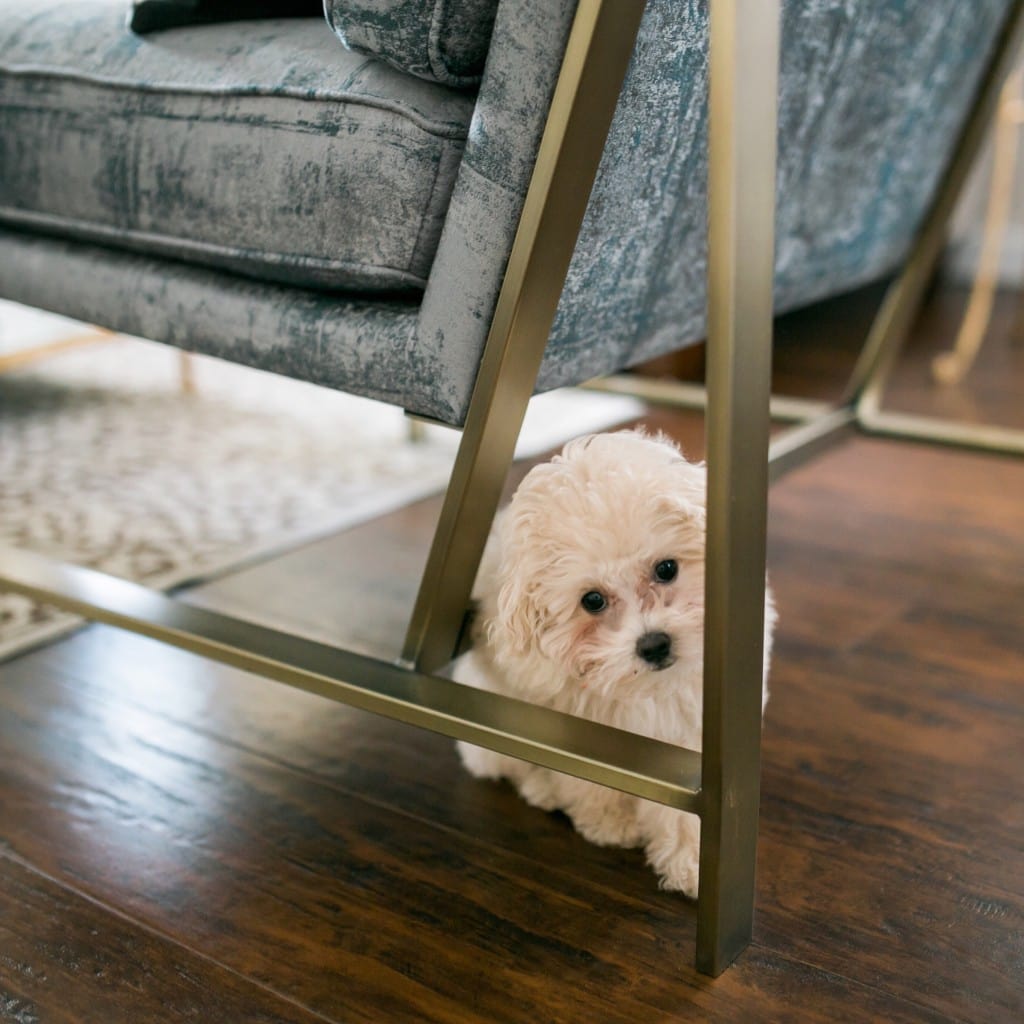 We have had our sweet little Peaches for 6 weeks now, so I wanted to share a post on her favorite things, schedule and how we crate trained her! I've been getting lots of e-mails about her, so I thought a post might be the best way to explain everything.
1. What kind of dog is Peaches?
Peaches is a maltipoo! I'm extremely allergic to dogs. I've had 3 sinus surgeries, 4 years of allergy shots and I still get a sinus infection every other month if I'm around kittens or dogs. So thankfully, my grandmother's friend had a litter of maltipoos and we knew they wouldn't bother my allergies!
2. How big is she?
She is currently 2.6 pounds. Such a chunky pup! 😉 She will be 5 pounds full grown.
3. Did you crate train her?
Yes! To be 100% honest, I wasn't a huge fan of crate training. My family has always had small dogs and they never did well with crate training. My mom's dog actually got so stressed crate training she would get sick and had to go on puppy prozac. It was the saddest thing! I was really worried about it, but Paul convinced me it was best. It has been amazing! She loves her crate! While I work during the day she goes in an out freely for naps and if she is ever scared during a storm [or when I vacuum! haha] she runs in there and hides. I keep a little crate cover over it and a blanket in there for her. *Knock on wood* she has never made a mess in her crate.
4. What is her schedule like?
Because I work from home, her schedule is a little different but in case you are in college or have more free time here is what I do!
6:30 Wakes Up
If it's the weekend, this girl will sleep until 9! It's so funny! I will keep checking on her and being like, "Is her breathing okay?!" But she is such a human and wakes up M-F at 6:30 and hits snooze on the weekend. Paul gets up to run in the mornings so I have playtime with her while she eats breakfast.
8:30 Naps
She will play from 6:30-8:30 and then will nap on my lap while I start working. Sometimes she falls asleep a little earlier while I do my makeup [she sits in my lap on my vanity], but I try to do my blog shoots or work meetings during this nap so I leave her while she sleeps.
10:30 – 2:30 Plays
She plays and eats again during this period. I normally get back home from a shoot by now so I'll take her in the backyard to run around [our yard is treated and our neighbors don't have dogs] and get her all sleepy for her second nap.
2:30 Naps
I'll try to run errands right now while she naps. I let her sleep in her crate while she naps too. Typically she will go to her crate to sleep but in case I am working and she falls asleep on my lap, I'll go put her in there. I didn't ever give her treats to get in her crate [just because I was worried I'd always have to, to get her to like it] but I swear she associates her crate with some great naps. haha. So I haven't had a problem!
3:30 Errand
She will play right now or if I didn't run an errand earlier, I try to take her in the car with me now! My mom's dogs also don't like the car, so I wanted Peaches to be comfortable while I was driving. I'll go drop something at the post office, run to my mom's so she can play with her dogs or pick up Starbucks. She LOVES the car, probably because she knows she will be getting attention from someone. My vet told me if your dog doesn't like the car, just taking them on a short run to Starbucks each day will get them more used to it, so I try to do that!
6:30 Naps
I go to spin right now so she just stays home alone for like 45 minutes.
7:30 Dinner and Plays
I get home around 7:15 and she just lays in the kitchen while I cook. At first I was so nervous so we got a little puppy play pin for while I cooked [I didn't want her to eat something that fell on the floor] but she hated it. So now she just lays by my feet and I'm careful while I cook. She eats dinner and then plays like a wild child until 9:30 when she walks to her crate to sleep.
I was really lucky because she just walks to her crate and I don't really have to put her in there. When I first got her she cried at night, of course. But that really only lasted for 2 or 3 nights. I think being firm and not getting them out of their crate helps a lot. I also don't put her in our bed. I wanted to so badly, but Paul told me it would be harder for her to go to her crate. So I decided we would wait a year and then she could sleep with us sometimes!
5. Is she potty trained?
My friend gave me the best advice with potty training! She told me to find a spot in a hallway I could leave a puppy pad and always have one out until she is 6 months old. I do and it's so nice because if I get caught up working and forget to take her out [she can go about every 3 hours unless she is playing hard she will go every hour and a half] she just runs over to her puppy pad! She knows it is there for emergencies. But she also just gives me a look and I know she has to go. We give her treats for telling us she has to go, so that's where I use the treat incentive!
But I'm also so glad she can use a pad and outside, because when it is storming she just goes on a pad so I don't have to get her outside in the rain.
6. Have you tried Angel Eyes with her tear stains?
Yes! Because she has maltese in her she is more susceptible to tear stains. You can kind of tell on snapchat some days they are bad and some days you can barely tell! My vet told me she had terrible allergies and so she will always have tear stains. Instead of using Angel Eyes [which honestly didn't work for us] because it has an antibiotic in it, to feed her blueberries and use a cleanser! I give her 3 blueberries a day and clean her eyes at night with this cleanser her vet recommended. She also drinks distilled water which makes a huge difference. But I can always tell when she has been sneezing more because the stains get worse. I just try to then not take her outside as much and it normally clears up with the cleanser.
I know we totally spoil her and she is treated like a human, but isn't that how it goes with your first dog before kids?! My mom and dad had a dog before my sister and I and SHE SLEPT IN A BASSINET. So honestly, I think I'm being pretty normal with a crate. 😉
And here is a list of a few things I use with her!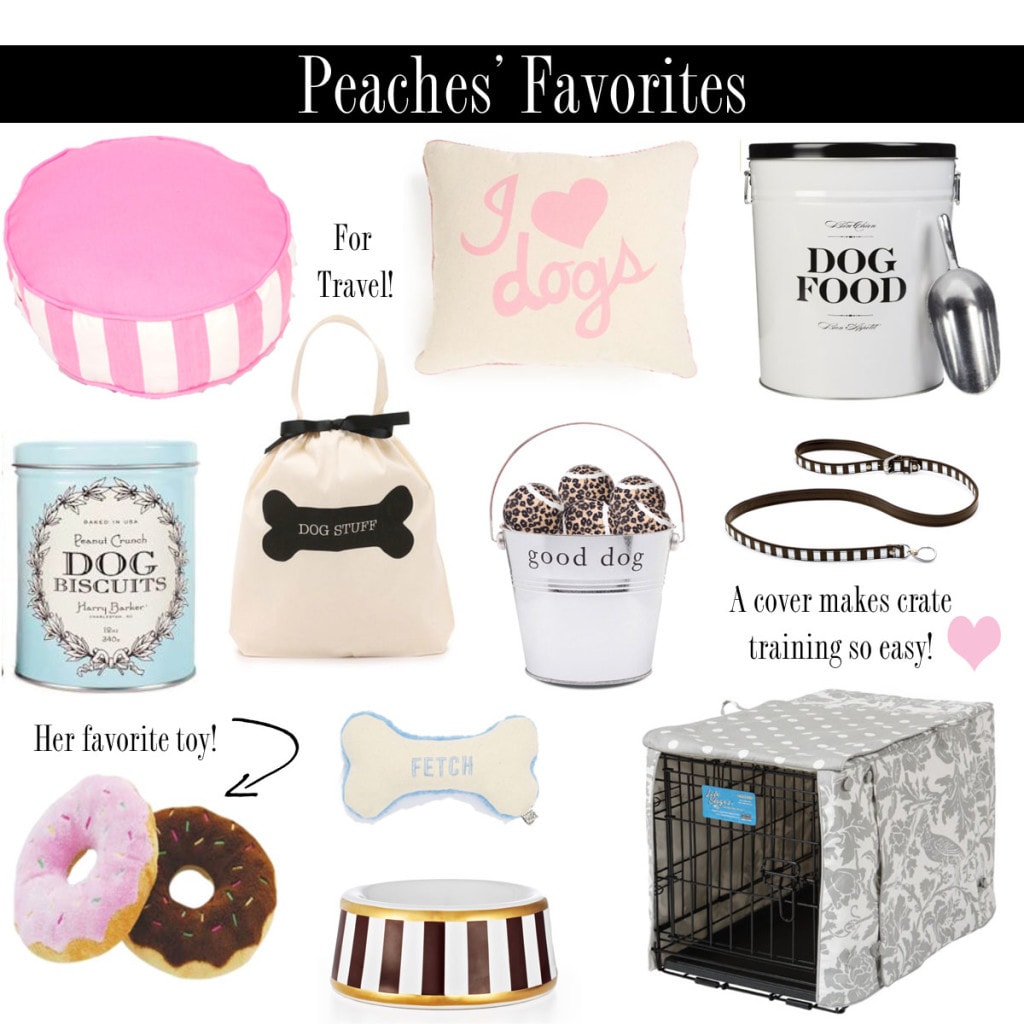 Dog Bed [I mentioned this is a bit overpriced on snapchat, but I had gotten it without realizing that wasn't normal! haha. But so many of y'all loved it I wanted to make sure to include!] | Pillow | Dog Food Container | Treats | Dog Stuff Bag | Tennis Balls | Leash | Donut | Toy | Bowl | Crate Cover [I swear by these!]
I hope you have a wonderful weekend!!