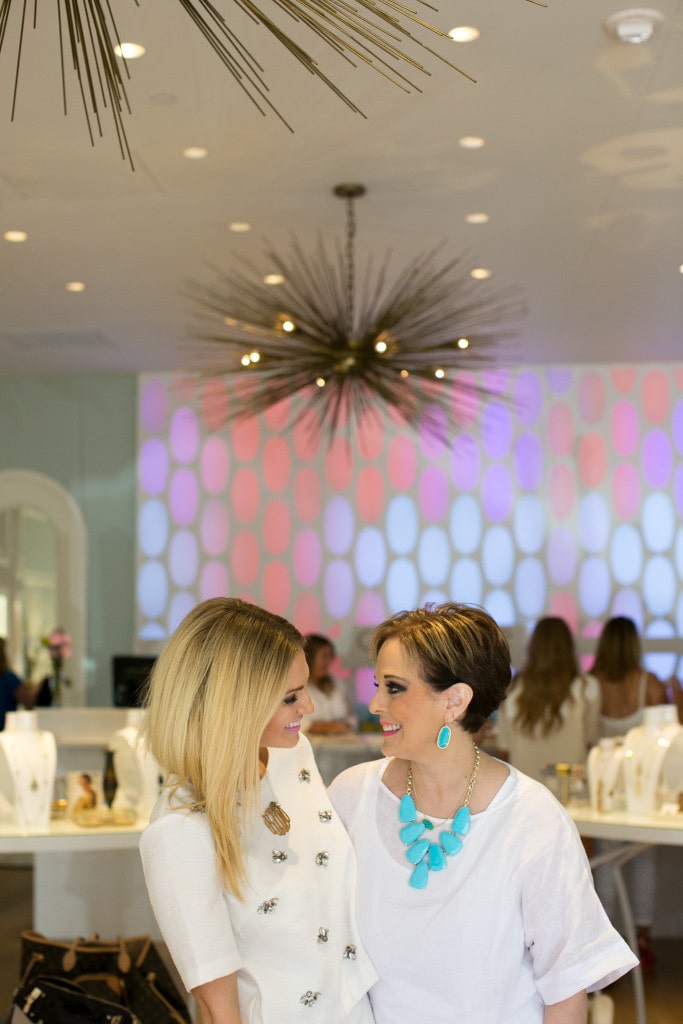 [My mom and I! The one person who has truly taught me how to seek joy in the Lord, spread joy through serving and savor joy in each and every little shopping trip with your girlfriends! Image by: Carmen Evans]
Last week I took the opportunity to do one of my favorite aspects of blogging: listen to my readers. I do a survey twice a year along with a focus group to hear what they want from my blog and what direction they want it to go into. While, I will always stay genuine to my style, taste and understanding of what God wants me to do, I love to keep your views in perspective while I make every decision!
If you've ever wanted to realize you can't please people, try reading 1,000 free responses from strangers.
My last question of the survey, I asked my readers what they wanted to see on the blog more [giveaways, makeup tutorials, etc.]. This is where it got a little funny!
A few sample responses:
1.Stop wearing pink lipstick. It looks immature.
2.I honestly can't get enough of your pink lipstick. I buy 4 tubes at a time because I think it's so cool you have a staple item you never switch up!
3.I can't relate to you because of some pricier items you post.
4.I would honestly prefer if you would start posting more high end items, because I hate spending $45 on a shirt and knowing it won't last for 4 years. 
5.You've changed.
6.You're one of the only bloggers I've followed for years that hasn't changed.
7.You shouldn't post about your religion. Religion doesn't mix with a fashion blog.
8.I follow your blog because you do share your love for Jesus! 
I believe in a humorous God because no joke, y'all, these responses where right after one another. I read each response [total was 1,000] and I couldn't help but chuckle that God placed these responses back-to-back as an opportunity to challenge me.
He wanted to challenge me to say, "Are you using COF in 2016 to please people or to serve people?"
I don't share these responses to say, "Woe is me. People gave me conflicting views." That's the whole point of a survey! I want to see the differences! But I post these responses, because I think as women we struggle with people pleasing. And any women reading those back to back might stop and think, "Uhhh…okay, Lord. I'm confused. What do I do?"
Pleasing people doesn't work. We all have different opinions, hearts and minds that the Lord gave us. I mean honestly, how great is our God that he created in us so many different preferences, viewpoints and convictions?
Serving people does work. And when we serve others, we please our King, and pleasing our King is the only type of pleasing that will lead to ultimate satisfaction.
Galatians 5:13 
You, my brothers and sisters, were called to be free. But do not use your freedom to indulge the flesh; rather, serve one another humbly in love.
We have this unique freedom to use our talents he gave us to serve one another, whether that be through teaching, dancing, singing, caring or listening. But as women, it's so easy to overstep that line into people pleasing. Once we see that our service makes others happy, we want to be useful and wanted, maybe even needed.
I think it's partially because we were made to give love and receive it and partially because we are humans. We have narcissistic actions, we idolize praise and we flat out idolize being idolized.
As I wrote down each suggestion I was overwhelmed with emotion. I was unsure of what direction to take my blog in and I was confused as to how, or if my viewership was changing.
Then I realized, Jesus didn't worry about pleasing those he met. He just worried about serving. And if my job is to be like Jesus, I can't be worried about pleasing everyone. I have to be committed to serving.
By taking each suggestion whole heartedly, I separated what was an opinion and what was a request. I can share low-priced items just as easily as I can share high-end staples. I can share recipes just as much as I share handbag sales. And I can share numerous options and styles for numerous girls, without promoting satisfaction through materialism.
By finding whom we can serve as opposed to whom we can please, we take the selfish emotion out of it. Jesus is pleased by our works! Who the heck cares if the girl next to you at work is? Because chances are if you're pleasing your savior, you're serving those he loves and you'll feel more satisfied than pleasing thousands.
So how can I serve through my blog?
The spring of 7th grade I woke up one Saturday morning and moseyed on into my bathroom like every preteen does to brush my teeth at the bright and early time of 11:00 a.m.
I dropped my toothbrush as I looked in the mirror. I saw blisters all over my face that had popped up overnight. I screamed, ran downstairs and yelled to my parents to see what was wrong.
What started with blisters on my face turned into exhaustion, extreme joint pain [my dad had to physically carry me up and down our stairs], picking up every illness I came into contact with, my hair falling out into clumps, weeks of missed school and gums that bled so badly I could barely eat.
A few years, 3 different states, 4 different medical centers and countless doctor appointments later we found I had Discoid Lupus. My mom has RA and my aunt has Lupus. I have symptoms of both and they happened to show the strongest during my preteen years. I was awkward, going through puberty and happened to feel like absolute crud 24/7, while managing skin that had blisters and hair that would fall out. What a time to become a teenager. What a time.
Because of the Lord, my parents' prayers and an amazing team at the OU medical center, I was able to go into remission by the time I was a halfway through high school. But throughout those years, my mom did everything she could to help get my confidence up.
She would constantly tell me that Jesus was the only thing that would make me feel confident [while I felt disgusting when kids at school asked me what was on my face] and a few trips to the Neiman Marcus makeup counter wouldn't hurt either! She'd pull me me out of school, we'd pop over to NM and grab some lip glosses while each lady at the counter asked if they could do my makeup. They never acted shocked at my skin. And they never asked what was wrong with it. Instead, they told me how pretty I was and how they loved my eyes and eyelashes.
It was the simplest gesture, but it truly meant the world to me. I didn't feel pretty at 13. I didn't feel healthy at 13. And I didn't feel like anyone in their right mind besides my Dermatologist and Rheumatologist wanted to touch my skin.
After I went into remission I was convinced God wanted me to serve others by becoming a nurse. I chose a college based on their nursing program and was so eager to end up back at the OU Medical Center one day to give back.
I quickly realized that plan wasn't for me. [I hate blood. Go freaking figure.] I called my mom crying one afternoon unsure of what to do. She told me, "Along with your faith, What made you feel the best while you were sick?" I knew immediately it was the women that never judged me and gave me tips and tricks to conceal whatever skin issues I was having. They took hours of their day not to make commission [half the time they gave me a bag of free samples] but simply to make me feel better and cared for. I told my mom I knew that's what I needed to do, while also sharing what truly made me happy: my faith.
I switched my major to PR thinking I could work for a firm that specialized in beauty and fashion accounts, while writing press releases that would get into the hands of bloggers that would dispense a message to the girls who needed it. Because of Paul's persistence, I ended up starting a blog hoping to do that exact thing.
My purpose of this blog is to make girls feel beautiful. To let them know that these are just my tales of frivolous shopping. Things that don't matter. Things that just make life fun at times! But what makes you feel beautiful all the time is the love from our savior, a love so strong it can be seen through a stranger at a makeup counter that listens to your pain and a mother that is determined to get your confidence back. Chronicles of Frivolity shares frivolous things like clothes and beauty items. And I don't think there is anything wrong with it! If a lip gloss makes me feel a little peppier, so be it! Life is our frivolity, he is our forever and I hope in 2016 I can serve you by sharing that.
I can't please everyone, and if I am, then I honestly think I'm doing the Lord a disservice. It must mean I'm idolizing humans, instead of him. And if it bothers me, it's because Satan is disguising pleasing others up in a big red bow titled happiness. When in reality, that doest equal happiness, it equals slavery to opinions. But I can use God's guidance to serve you all. So after all of this, I want to say thank you. Thank you for each and every response. From 1 to 1,000 they were all filled with ways I can serve you better and I hope that my editorial, collaborations, reviews and campaigns each help fulfill your needs.
Because I have been that girl that is sick, the girl that feels ugly and the girl who feels unwanted. I'm here to tell you that running to him, NOT Nordstrom, is the only thing that heals that pain. But once he heals, you're given a joy that can't be taken from you. And if you want to take that joy right downtown to J.Crew, go on girlfriend! And I'll join ya! We can't please each other, but we can serve each other with humility, respect and compassion. And when we do that we are always pleasing our King.
Have a blessed Sunday and I can't wait to meet you back here tomorrow!