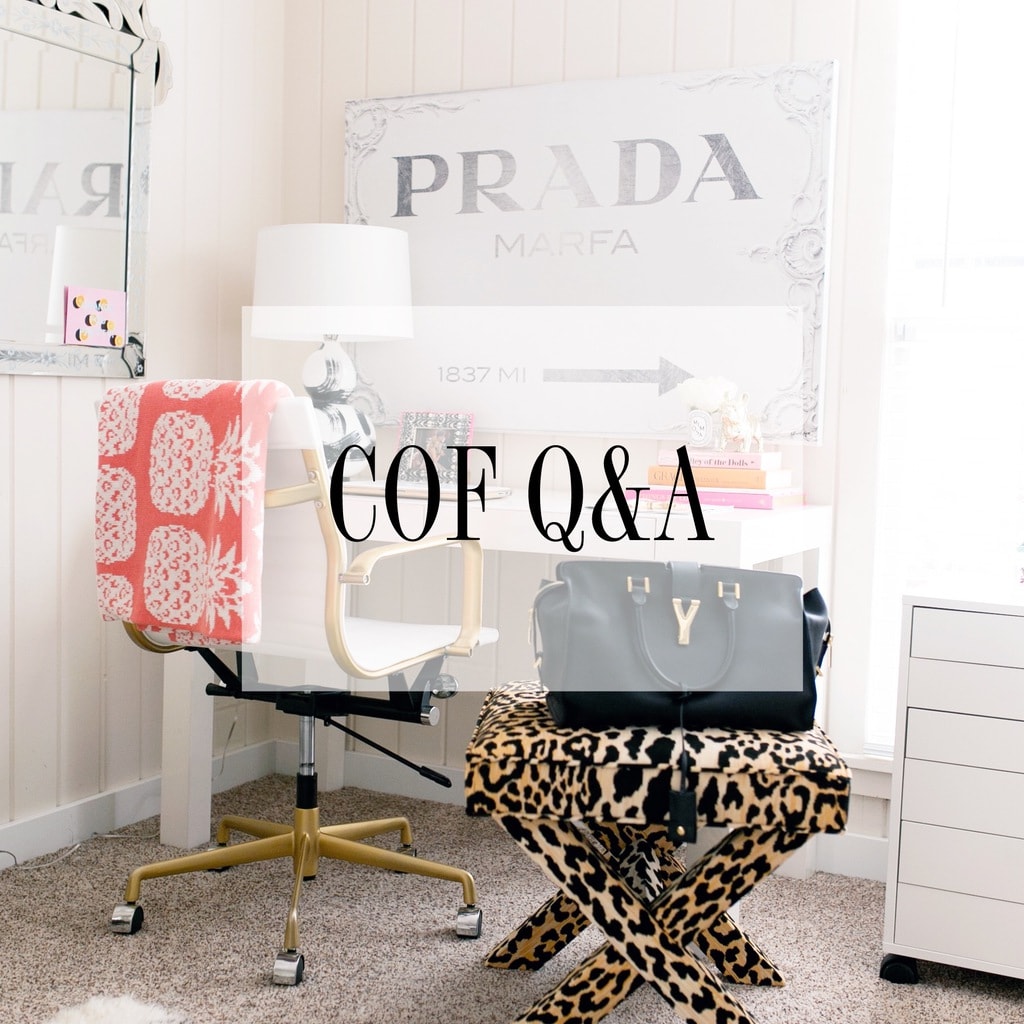 Desk Item Details Listed Here: Link | Photography by: Angie Garcia
---
Happy Friday! I haven't done an "Ask Katey" or Q&A type post in such a long time and after going through some instagram questions and e-mails I thought it would be a great time to do so! I always feel bad missing questions [even though it is inevitable!] and I notice a lot of my e-mails are similar, so I thought I could share the answers.
I'm listing out the most frequent Instagram/Snapchat/E-mail questions I received when I asked the other day, but if your question wasn't answered let me know and I can try to do another one of these posts if you like them!
1.What are the 5 basics you think everyone should have in their closet?
I'm always purging my closet, and these five staples are the things I never get rid of! A chic v-neck [This is my favorite but it is pricey. I always invest in Target ones and then have to toss them because they don't last so when you're ready, I highly recommend investing in one. However, here is a good dupe.], a jean brand you swear by [For me that is J Brand and Paige], printed flats, an oversized tote [I love my LV Neverfull it is the GM size because I got it for work but the Tory Burch totes are just as amazing!] and a signature arm party. I've worn my David Yurman cables for 6+ years now and they still look brand new, but if you are wanting a more budget friendly option I love this.

2. What planner do you use and how do your coordinate your day?
I have two planners! I use my bando planner to list all of my commitments. These are things I know I will be there for, so it could be anything from a meeting, a conference call to our community group at church. Then I use a weekly planner from Anthropologie. Each Friday I take about 30 minutes at the end of me working and schedule out my next week on this day planner. I take my commitments from my planner, add them in and then add in the things I "want" to do. That can be anything from a workout to lunch with a friend. Then the night before I always take a little post it note and schedule out my day with those commitments and wants. I heard once to never make a to do list, but to make a schedule. It works so well for me because with a to do list I might pick and choose, but a schedule tells me, "From 4-5 you're doing this."

3. How do you balance friends and work and continue to keep friendships from around the country?
This is definitely a tricky one once you get married! I shared here how easy it is to spend your time making others happy knowing your spouse will understand. But at the end of your week, month or even life you don't want to sit and think, "Wow, I neglected my spouse because I knew they would understand." I'm a people pleaser, but since being married I've definitely been learning how to balance that time because he works so much and when he is home I don't want to be on the phone our out without him. Even if you aren't married these are the three things I think really help balance and maintain friendships:
1. Know your intentions. When my intentions are right, my heart is right and things work out smoothly. Here's an easy example! I'm in bible study with my girlfriends from Dallas every Monday night. I love and cherish that time with those girls because they truly "get me" and are so incredibly supportive. But if Paul gets home early on a Monday around 6 I'll be torn on what I do. When I don't think of myself and I think, "Who do I need to be around more for?" I always know the right answer. Paul might have had a bad day at work or my girlfriend might have had a fight with her boyfriend, and when I think in those terms I know where I need to be.
2. Send a text. Not a, "Can you believe Becca got sent him on the Bachelor?" text. [But seriously. Did not see that one coming…] Take 3 minutes, pick up your phone, think about who needs to be encouraged and just uplift that person without reason. My girlfriends are amazing at this and their texts come at the right time. Each morning when I get ready I like to think about who I think needs that and it's a huge deposit in a friendship that doesn't require you even being in the same state.
3. Use your love language. You might be great with words of affirmation or you may always give a hug. I love to send gifts. I head to the Target $1 section or search for something sweet and simple on etsy and send it their way! I pack it with a card and it might just cost $5, but to me it really shares that there was a big piece of time I was thinking about them and wanted to surprise them.
4. What are some affordable home furnishings you love?
I love to head to Homegoods, TJ Maxx and Marshalls for fun home pieces! Granted, those places take time and I will just pop in for 10 minutes here and there when I'm in between meetings or appointments. You'll go for weeks find nothing and then head home with two faux mongolian fur stools for $50 and think you hear angels singing. I also love to go to antique stores! Our home isn't "traditional" in the sense that an antique store would fit, but I find lots of Chinoiserie pieces [my ginger jars!] there. I also have found so many amazing chairs that could be given a little TLC [white paint and fabric] for so inexpensive! But here are a few pieces online I'm loving under $50!

5. How do you pick the proper decor and do you find pieces over time or all at once?
Just like with personal style, I'm drawn to home decor that blends taste. I always say my home/personal style is Southern Eclectic. I incorporate those southern touches that you might find in a modern farmhouse. I have white subway tile for backsplash, monogrammed bed linens, neutral furniture, a cow print 😉 and french detailing on mirrors and chairs. But I love to add in a fun hollywood regency and eclectic touch with lots of prints, tufted pieces, gold accessories, ginger jars, coffee table books and glossy, white tables. I think when you blend two styles your homes can always evolve and when you move you don't necessarily have to start over. When we have a family if I want to decorate a bit more neutral I'll lean on my southern/modern farmhouse furnishings. Or if I want to go all out with a hollywood regency living room I'll have pieces for that as well.
I definitely accumulate them over time! I'm not really enticed by pieces that match because I don't think you're given a lot of options for decorating. You kind of have to stay in one little space and I hate doing that. Iris Apfel didn't get all her jewels in one day, and I think that's why her style is so iconic.

6. How do you go about asking a brand to collaborate with you on a post?
I generally don't ask unless I'm in a meeting with them that was set up to collaborate. I think the best thing to do is really focus on your readers and the content you create because sometimes when you go to a brand you end up doing more for them than they do for you and your readers. Content is king [or queen I should say!] in this industry, so if you're creating amazing content brands will want to be part of that and really be able to fit organically for your readers!
However, if you're a huge fan of a brand and want to collaborate go for it, girl! I generally would share with them how you've styled their pieces before [maybe send an example of a blog post], incorporate your circulation numbers and explain how and what you would like to do. Definitely keep in mind that with the blogging market being so saturated those PR girls get hundreds of e-mails from bloggers a day. So just like with a job interview, state your intention. When I worked in PR I was always so excited when a blogger had a plan because it showed she truly loved the brand and it would be a genuine fit.
But always remember content is more important than collaborations. Content is the catalyst for collaborations, not the other way around.
7. What's the best way to gain new followers?
Everyone has a different answer to this, but I think consistency is key. Give yourself a goal and stick to that. So if you want to post 4 times a week, always do that. If you want to post 6 times, do that. But when you're consistent you see growth and when it varies I think growth stays stagnant.
8. What are your favorite coffee table books?
I'll link those below!

9. What are tips you have for buying your first home? And combining finances with a husband?
I don't ever want to give someone financial "advice" but I'll just share what we followed. The best advice we ever got was, "Don't be married to your mortgage." My parents really preach that and live by it and it was something I'd always grown up seeing. We knew whatever we got approved for we would cut in half because they will approve you for some seriously high mortgages! It was such a blessing we did that because the first week I moved in we had to replace the AC/Heating unit [had I turned it on the house would have burnt down!], all the electrical wiring and our ceiling leaked. Our inspection was fine, so it was just proof that homes have a mind of their own and I'm really glad we had prepared for it.
We also did premarital counseling which gives you wonderful advice about finances and combining incomes. I really recommend taking those classes if you can! If you don't already agree, I think it's a really great way to learn to agree on what you want to tithe/save/invest/etc.
10. What does a typical day look like for you?
Every day is different, but I do try to keep it as scheduled as possible!
Mondays are my "office" days. I work on accounting, tax work [and all the small business owners said, "Amen!"], contracts, e-mails, finishing out any collaborations and scheduling shoots.
Tuesdays are my "shoot" days. I do all my shoots that morning and then head home to answer e-mails and work on my next posts.
Wednesdays are my "meeting" days. In the mornings I do my meetings and those can be anything from meetings with brands for collaborations to website design/maintenance. In the afternoons I work on e-mails, blog posts and contracts.
Thursdays and Fridays are my "writing" days. I don't really go anywhere, but I'll have conference calls. A lot of blogging is stuff behind the scenes which never makes it to the blog and I've shared that before! But I work on my blog posts, future collaborations and e-mails.
I typically wake up at 5:15/5:30, work out at 6, shower and start work by 8. I try to finish around 6, but when meetings take longer I'll just work later.
11. What are some of the struggles you faced when you first started blogging and how did you overcome them?
I think the biggest struggle I faced was when I first found out the depth to which strangers make assumptions, generalizations and comments about you. Sure, people leave silly opinionated comments like, "That's ugly. I like that lipstick more than your regular lipstick. Etc." But when I saw some of the nasty things people said and assumed, I didn't even know if I wanted to be part of this industry.
Around that time I was told by someone "hurting people hurt people." And since then it has been my perspective in blogging and in life. I honestly start to hurt for those individuals because I can't imagine how they feel if strangers on the internet bother them enough to say those things. So instead of trying to rationalize why people say assumptions about me, I just understand that they are human beings. Human beings pick apart others when they are struggling with something in their own heart. It helps me realize their hurt has to be way deeper than my superficial hurt from their comments.
At that point I'm just so grateful for all the love and support I AM given from strangers and how blessed I feel by God to get to do what I love in a community of girls who feel the same way!
12. What is your cleaning schedule?
I try to spend about 30 minutes each night before I go to bed cleaning/picking up around the house. That 30 minute pick up involves: dishes, a quick vacuum, dusting, picking up and folding clothes if need be. I can't go to bed if my living room isn't clean, haha! Everything else could be a wreck but I just try to keep that area put together. I also make our beds each morning and try to not leave the house messy at all. I hate coming home to a mess and Tuesdays after I shoot I'll spend about 15 minutes cleaning and organizing my closet because it will be a complete wreck! But I will take a few hours Friday evening or Saturday morning to wash our linens, clothing and mop/vaccuum. I love to start the weekend with a clean home because then I feel like I can truly relax.
13. How far do you schedule out your blog posts?
It really depends! I'm working on this exact post a week in advance, but I have some blog posts that are scheduled out as far as next February. It is dependent upon collaborations, my personal schedule and what timeline things will fall best into. But if something isn't a collaboration I generally work on it a week in advance. However, I've found that lots of things sell out so I have to go back and redo some things before I hit publish!
14.What are your favorite foundations?
Lately, I have so many! haha. So here is what is on rotation:
1. Full Coverage: Estee Lauder Double Wear, my shade is Sand.
I wear this for shooting, long days or date nights. Blend with a damp beauty blender.
2.Full Coverage for Sensitive Skin: Ashley Sievert, my shade is Milan.
I wear this if my skin is acting up because it is mineral based. Blend with a foundation brush.
3. Buildable Coverage/Travel: Wander Beauty Foundation Stick, my shade is Light.
This is so creamy, gives a great glow and can easily go from light to full. Set with a translucent powder if you have a long day. Blend with foundation brush.
4. Every Day Foundation: IT Cosmetics CC+ Illumination, my shade is Light.
This CC Cream gives you the "back from the beach" glow and is so hydrating! I wear this for regular days/weekend and blend with a damp beauty blender.

If you left me a question about blogging that you didn't get answered, I'm working on an entire post for March that will be really long going over my schedule/what I think girls should know starting out! But I also have a Blog FAQ post here! Thanks so much for stopping by, I hope this helps you!