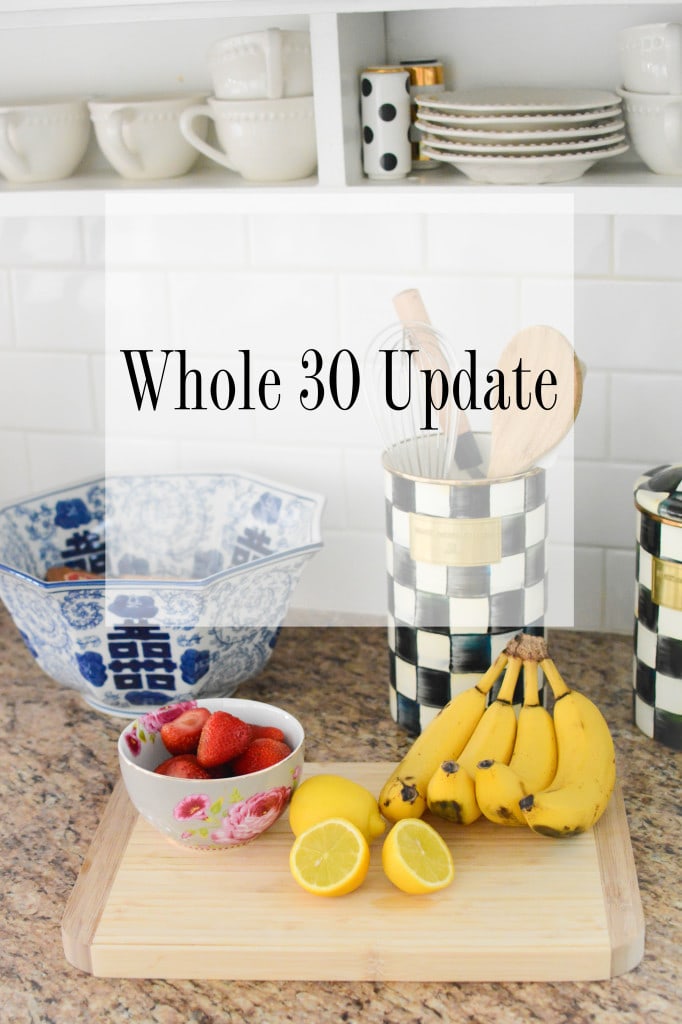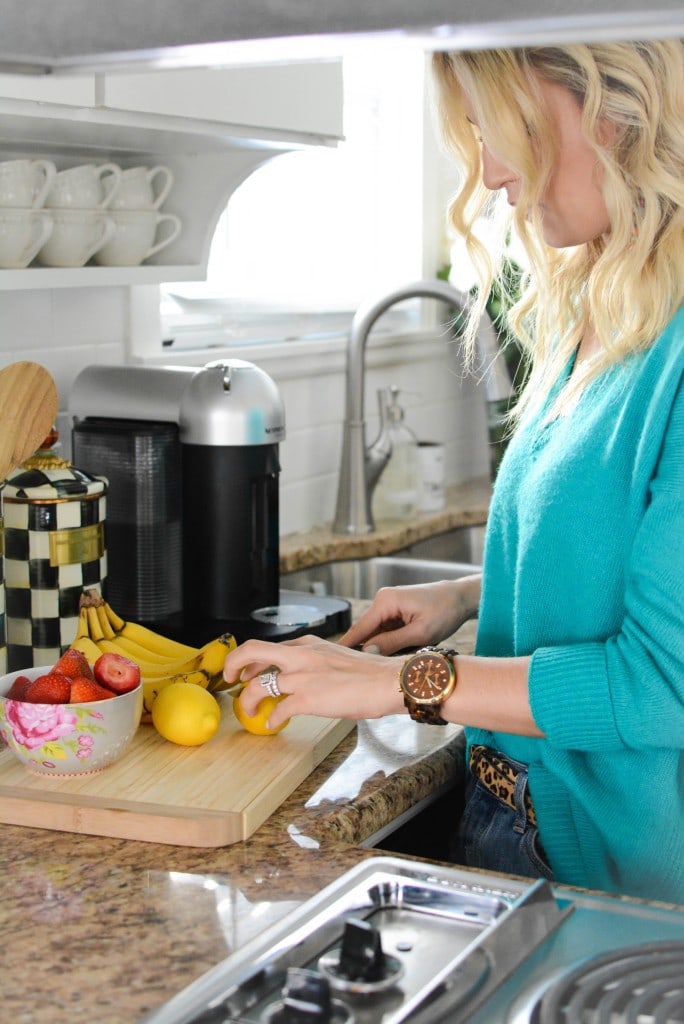 Sweater: J.Crew | Shorts: One Teaspoon | Belt: Nordstrom | Shoes: Sam Edelman | Earrings: J.Crew | Lipstick: Baci | Black and White Utensil Holder: Mackenzie Childs | Black and White Canister: Mackenzie Childs | Coffee Mugs: Pottery Barn | Pink Jar with Strawberries: Gift from Mom
---
I've made it to the middle of Whole 30! I have not yet died of cravings and I have not yet found a good coconut substitute for creamer. Go figure. Coffeemate Sugar Cookie Creamer can't be beat by blended coconut oil. 😉
I'll share a few pros and cons along with what I've been living off of!
Pros of Whole 30:
1. I cheated and got on the scale. Whole 30 says you can't, but it was honestly the thing that kept me from grabbing a class of Cabernet one Saturday night with Paul. If that kept me from cheating, so be it! I'd lost weight and while I'm not doing Whole 30 for that purpose, it was a tangible sign that this is working.
2. Cooking at home hasn't been bad at all. I don't really crave pasta or anything like that anymore! So much so, that I've gone on a rant to Paul about how I think we will eat Paleo at home and not stress about it when we go out. I've pinned up a storm of Paleo desserts and am excited to continue what I've learned even after the 30 days.
3. I'm starting to not get enticed by normalcies at restaurants. I just order a house salad with no cheese and oil and vinegar on the side, but I do notice what others eat. I see things I'd typically reach for [chips, bread, cheese] and I get a little surprised at quantities! This isn't to say I won't have those things in the future [I WILL getting my rear end to Uncle Julio's for some Queso] but I'm not really enticed by it as much as I used to be! I was eating with Paul and noticed how long we eat chips and salsa before our meal comes and I was actually shocked. This is a huge step for my mind because I love chips and salsa more than any Texan you'll ever meet! But I think I have a different mindset about portions and when you need to eat vs. when you want to eat.
4. I got a lot of energy around days 10-13! I deep cleaned, I organized, I purged, I finished all of my taxes, I got ahead on my e-mails and I finished out contracts that typically take me forever. However, that energy did go away. Maybe I did plateau. Maybe I stayed up too late, but it did eventually subside. I haven't really noticed an insane level of energy the last few days either, but I will say I got that crazy energy within the first 10 days so I guess my body adjusted.
5. The crankiness is completely gone! At this point I joke with my friends that you just accept that eating this way 24/7 stinks and get over it! haha! It's a huge attitude thing and I'm over being consumed by what I will eat next. I made batches of soup and Whole 30 chili, freezed them and that really cut back on dish washing time! I was able to not have to cook for lunch most days and that freed up a lot of my time. 🙂
Cons of Whole 30:
1. Eating out is still a huge hassle. My mom was a little upset I couldn't eat the Valentine's Day cookies she got for me and my dad didn't understand why I couldn't have a Bloody Mary for brunch last weekend. I feel like such a diva asking friends if we can go to specific places because I know I can get a house salad there. It's a bit much, but I know it will be over soon and once it is over I'm not going to stress about going out to eat. I'll have a glass of Cab and I'll eat what is available. My birthday dinner has also been a HUGE issue. My sister and dad are headed to Africa for a mission trip the week of my birthday so my family wanted to eat February 28th. I said that was fine but we couldn't do cake or anything, so they were a little confused. Sure, I could have just quit by day 28 but at this point I've come so far! So now we are celebrating at the end of March. haha!
2. They say you're an energizer bunny at this point, but days 14-17 I was exhausted. I took the longest nap on Valentine's Day and the Monday after I was worthless for work. I was constantly yawning and felt sick without the "sick" symptoms, if that makes sense! I honestly think this is because I'm not having coffee and my "excitement" has worn off.
3. I felt like I ruined our first Valentine's Day. Paul wanted to do a cheese board, I couldn't. I couldn't really eat much at brunch with our family. We couldn't go on a date. We couldn't share a bottle of wine. That might sound silly to some, but Dallas spends more money on eating out than any other place in America. haha! So it's definitely the culture here and I felt bad asking him if we could just cook at home. It was still sweet and I loved being at home, but the queen of homebodies is ready to be out and about! Paul even begged me last Friday to quit so we could do something fun. If you've done Whole 30 I think you totally understand this phase. It isn't that you don't have willpower, it's just not enticing to go to a wine bar and have water the entire time.
4. I will be honest and say this is more expensive to eat this way! Our grocery bill has definitely increased, but this isn't necessarily a con to everyone. I feel more comfortable knowing I'm eating lots of fresh fruit and vegetables, however I do want to mention you may want to save more in your grocery budget if you choose to do Whole 30!
Tricks That Have Helped:
-La Croix with frozen grapes has been what I've drank when friends have been over for wine. It's fizzy and not relaxing like wine, but it's something to sip on other than water!
-Cashew Cookie Larabars are my saving grace when I have an extreme sweet tooth!
Here are the approved ones, but still be sure to read the labels!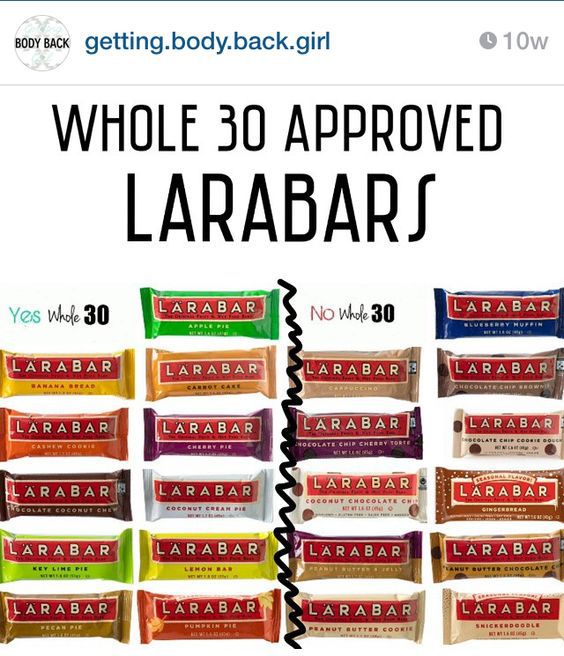 -I make little jars of carrots, almonds and grapes. Those curb my cravings and I can easily throw a bag in my purse if I'm going to be out and about during a meal.
-I get lots of e-mails about recipes I make and I will be honest, that eventually you just stick to the Whole 30 grocery list [here] and you make up as you go. Chicken, approved chicken stock and veggies? You have soup for a week. Ground turkey, eggs and veggies? You've got a stir fry. The first week I exhausted myself looking up recipes and now I just throw what we have in a pot and honestly, Paul likes it better! haha.
Favorite Meals:
Breakfast: These egg muffins lasted me an entire week of not having to cook breakfast! I typically hate egg muffins, the smell/taste makes my stomach turn. But these have sundried tomatoes and honestly fight strong pizza cravings! I also have found that black coffee is completely fine! I thought I couldn't do it, but we have a nespresso so the coffee is extremely stout. I've just been getting my black coffee at Starbucks and at this point it tastes like water. haha. Hard boiled eggs and approved chicken sausage has been an easy weekend breakfast, too! Trader Joe's has most of the approved meats if you have one close by.
Lunch: I made this chicken tortilla soup a week in advance and froze enough for all my lunches! We got a grill recently, so Paul just grilled me a lot of chicken and I throw them on salads. The dressing I make is: olive oil, lemon juice, clove of garlic and Annie's [approved brand] dijon mustard. Blend in food processor for a few seconds.
Dinner: This is what we made for Valentine's Day and Paul loved it! I added in a lot of extra vegetables like Kale and Mushrooms and it still tasted great. For most dinners I have just sautéed eggs, kale, mushrooms, tomatoes [let them sauté in the garlic before you cook anything else it will make a great sauce], bell peppers with sea salt and pepper.
Have you tried Whole 30?! Thanks so much for stopping by!