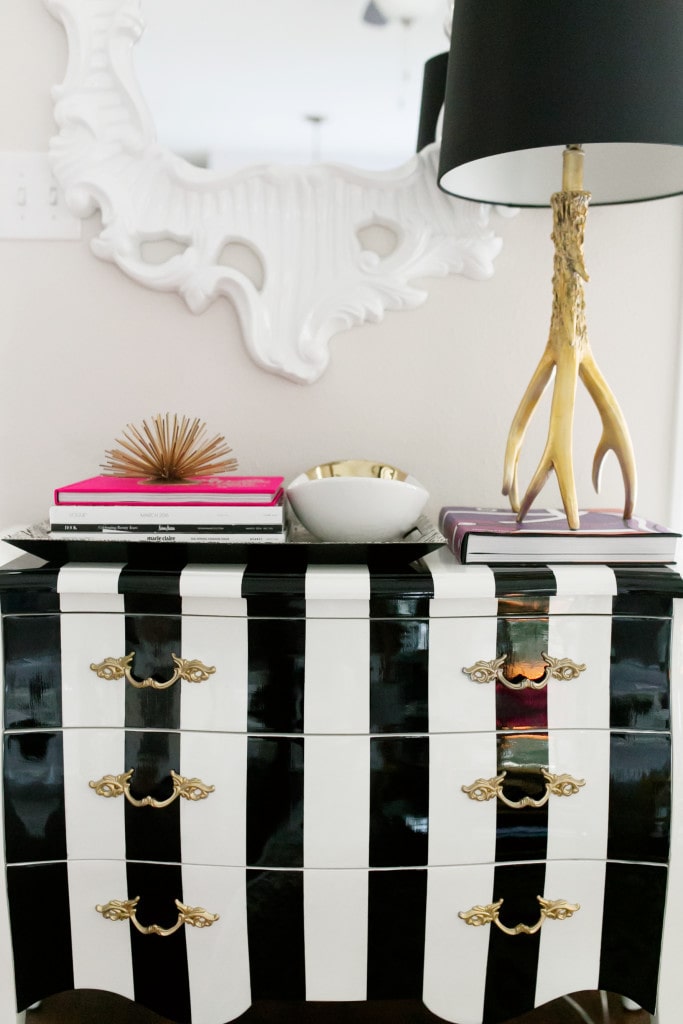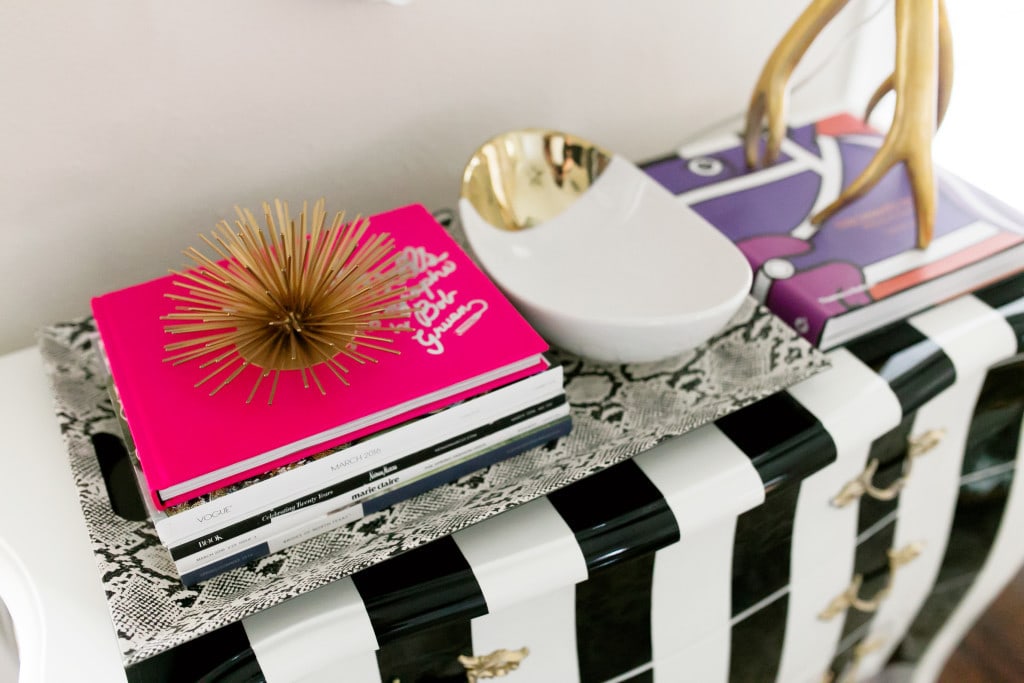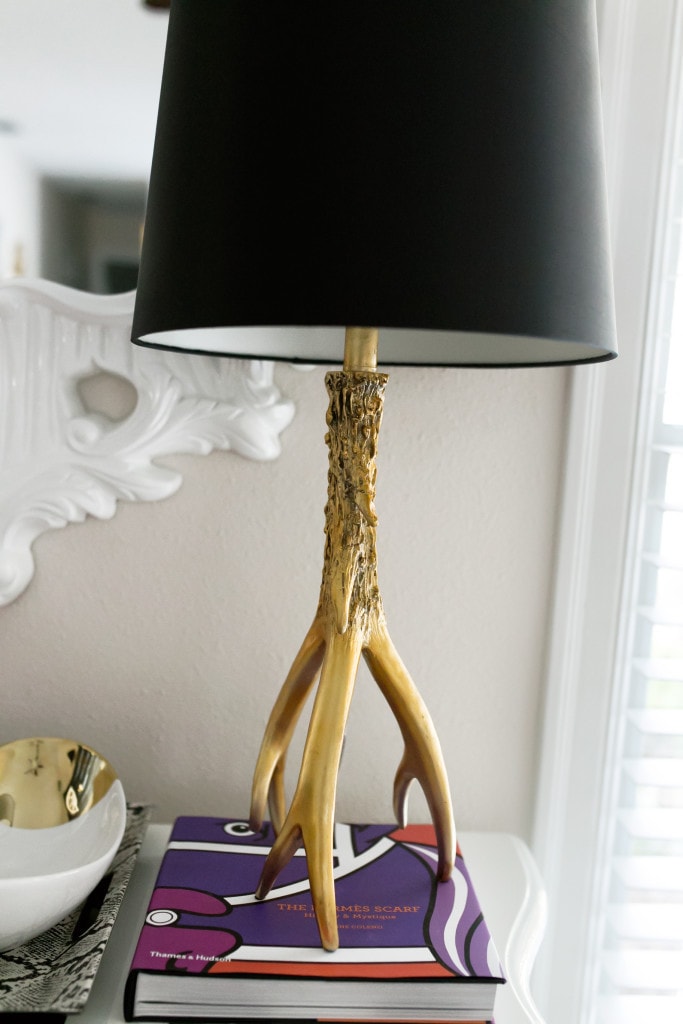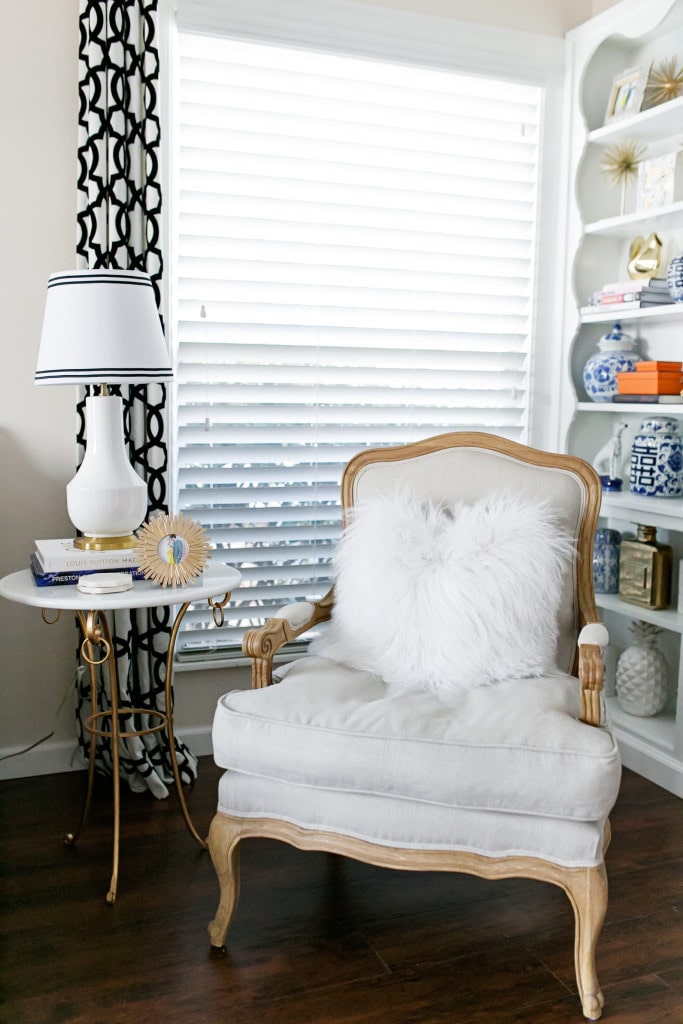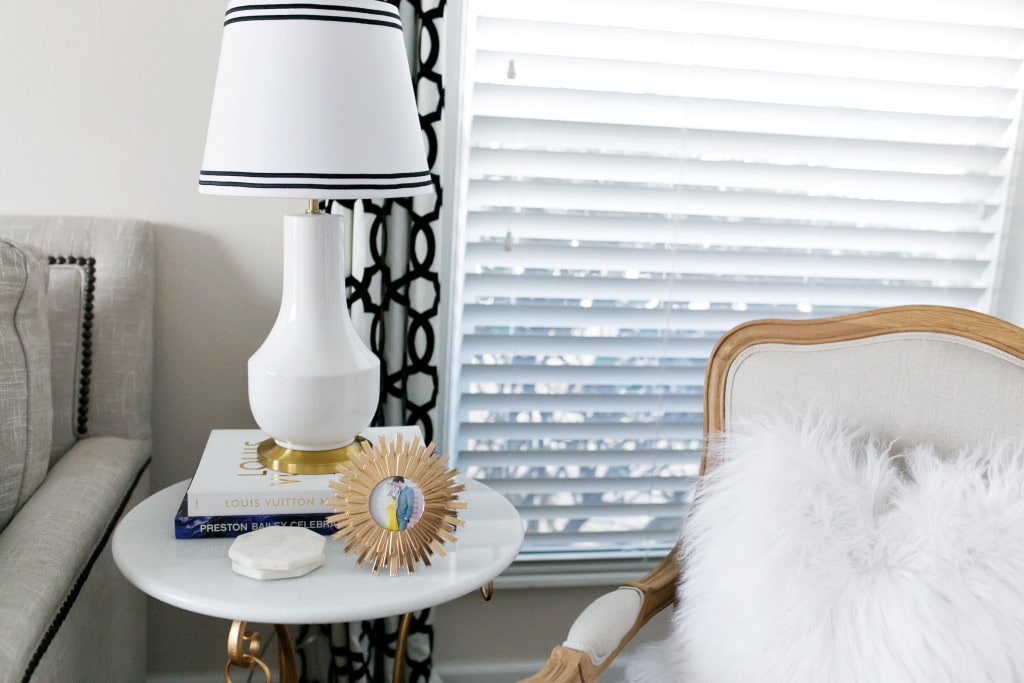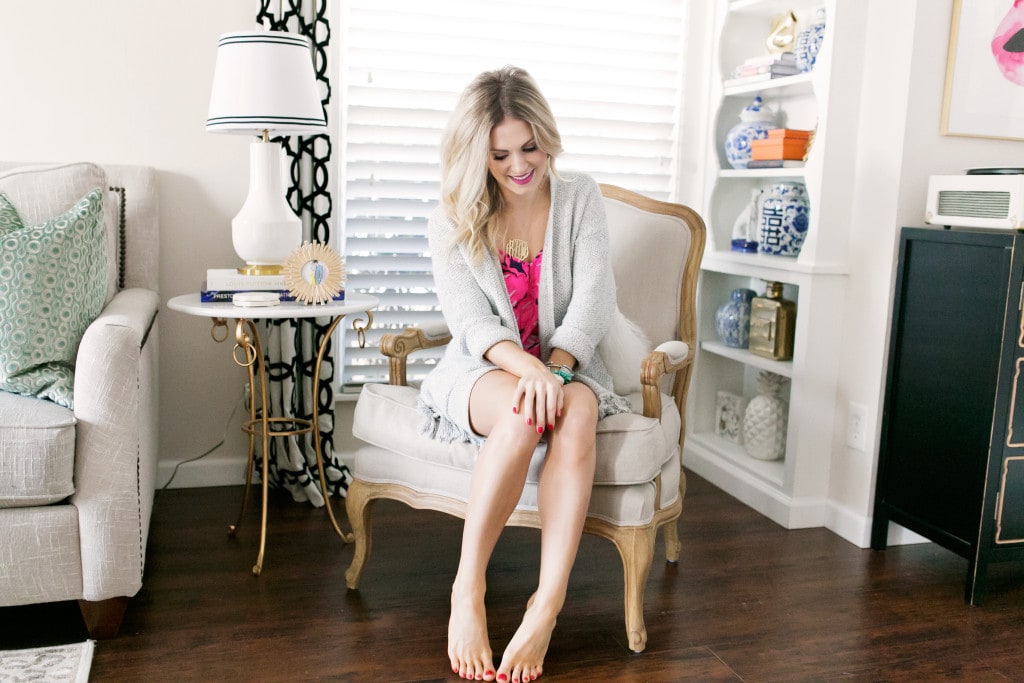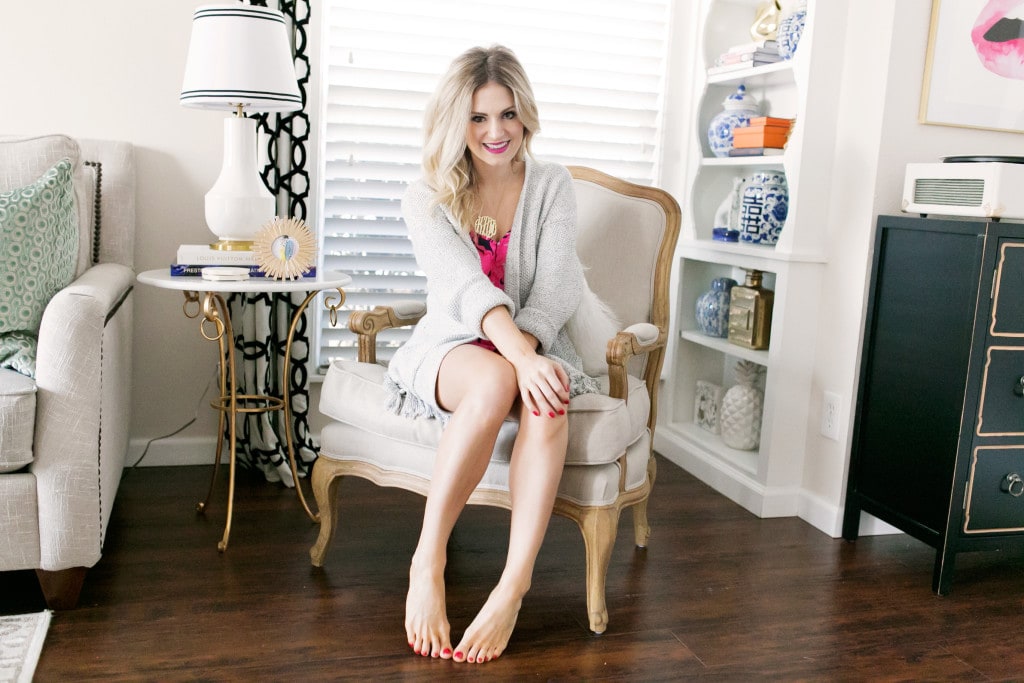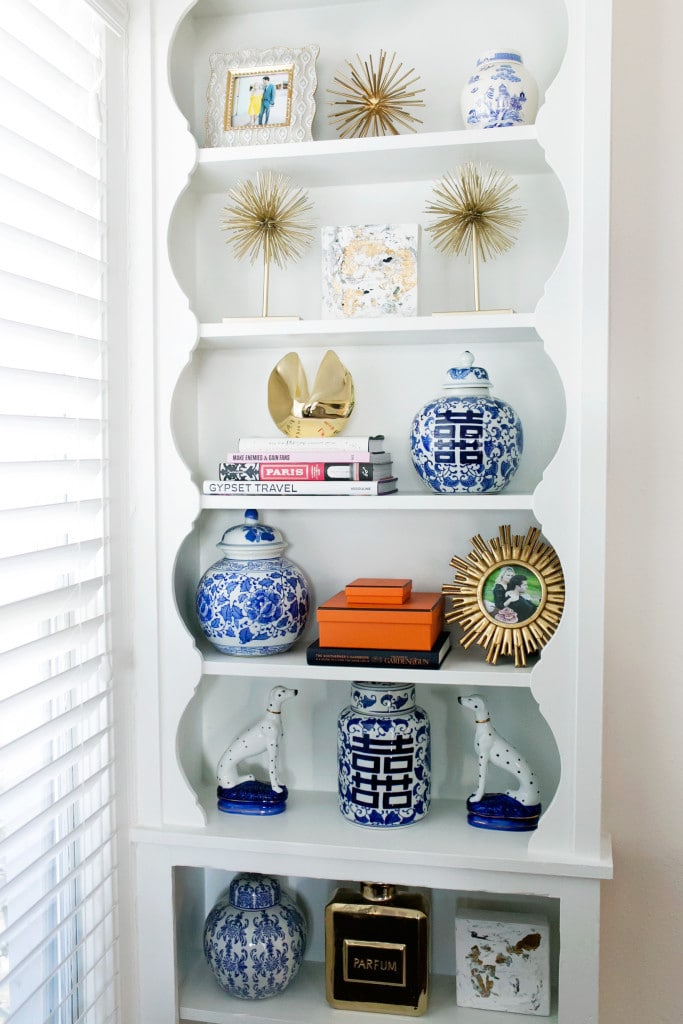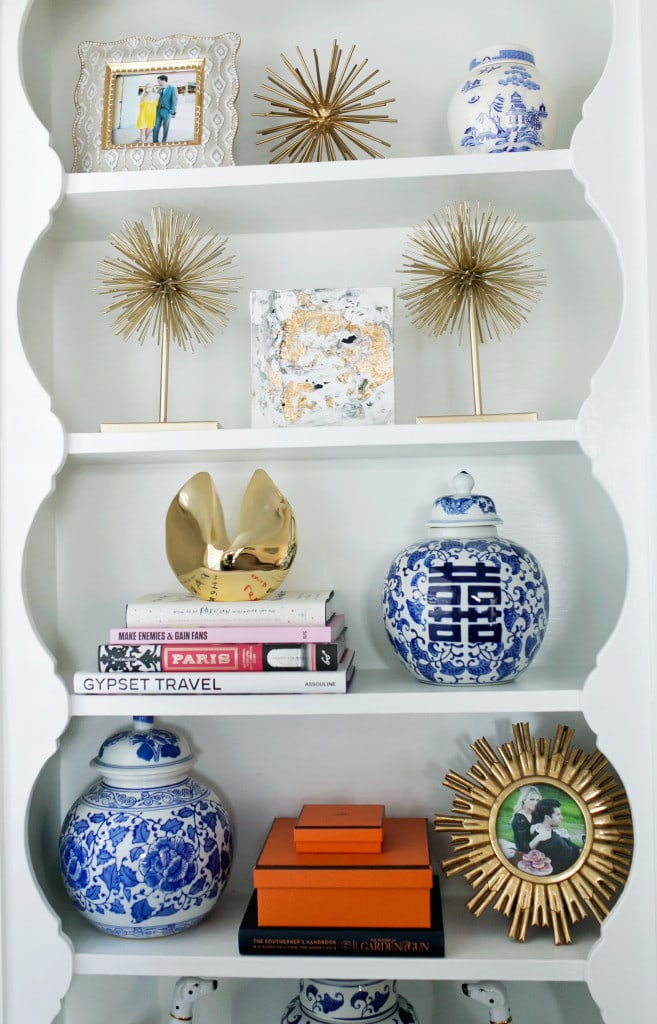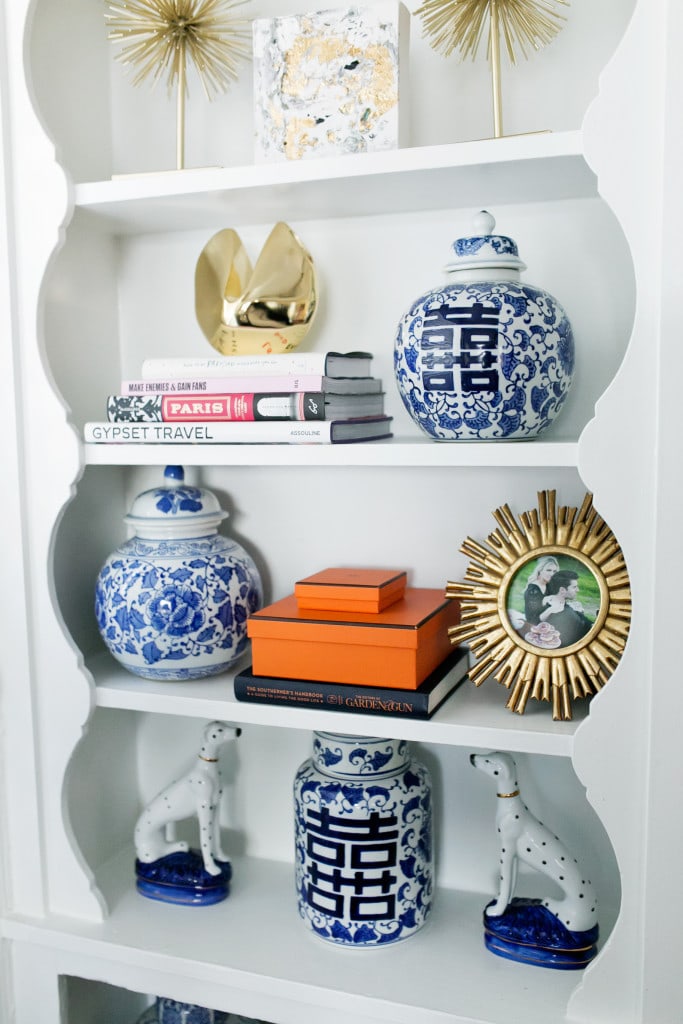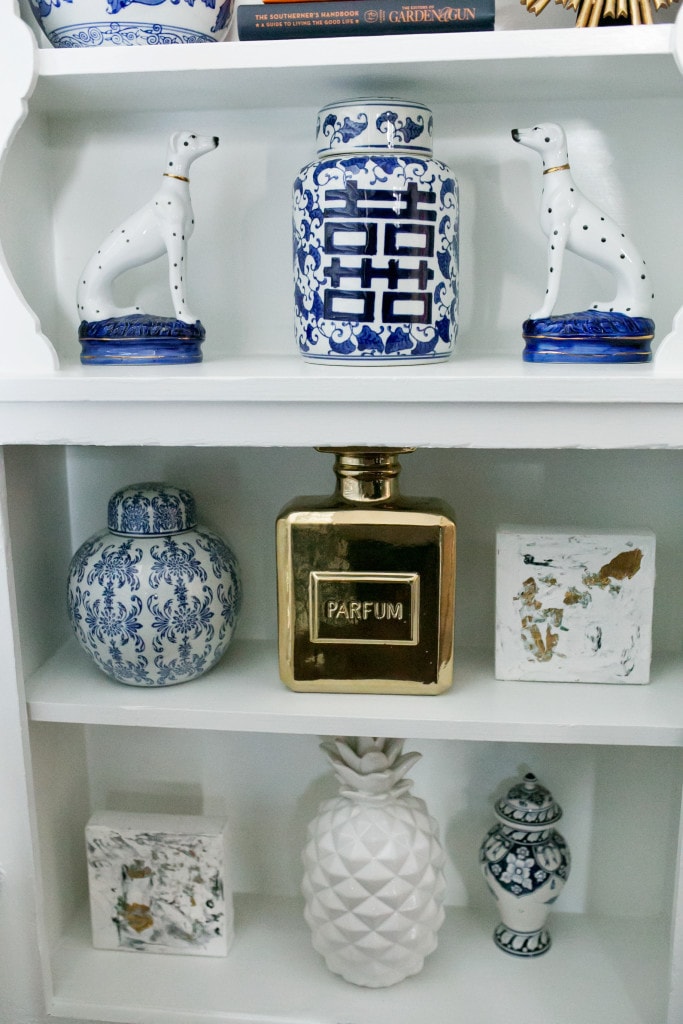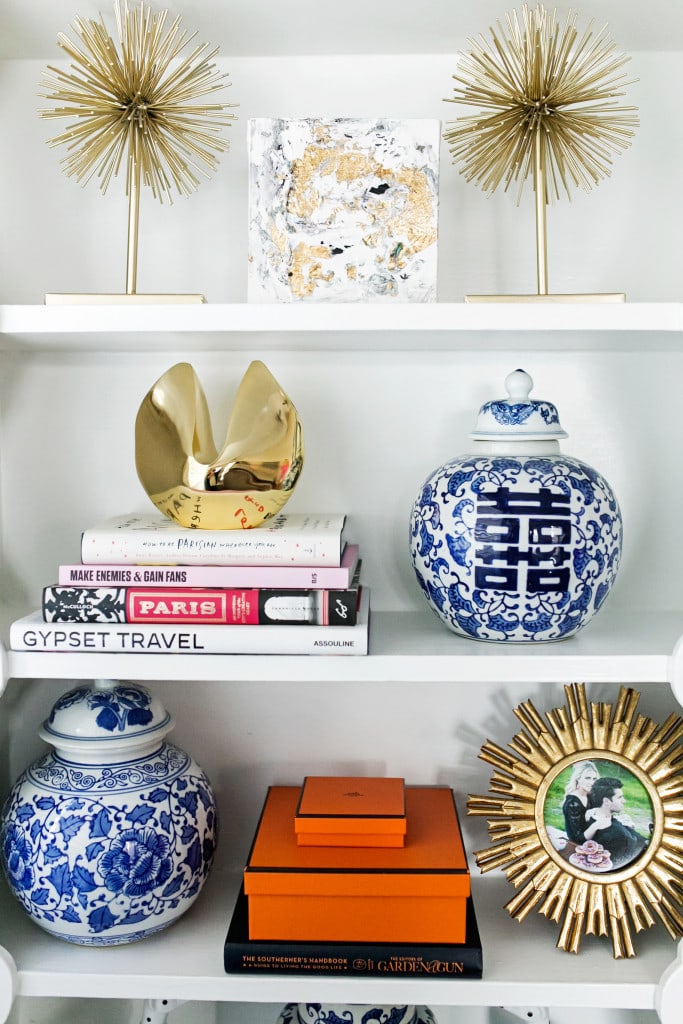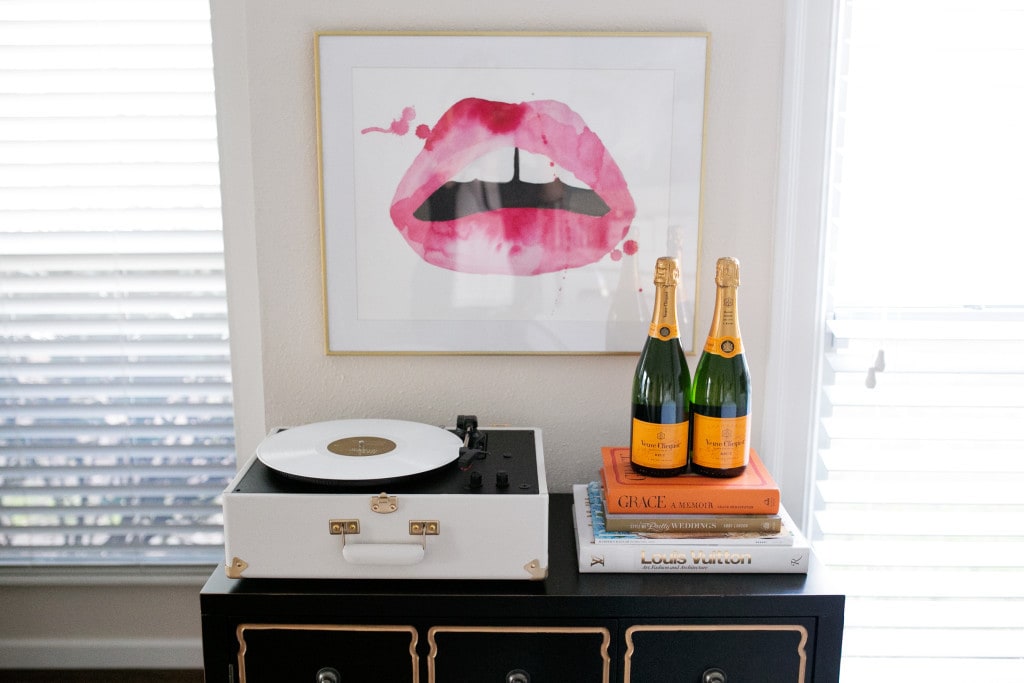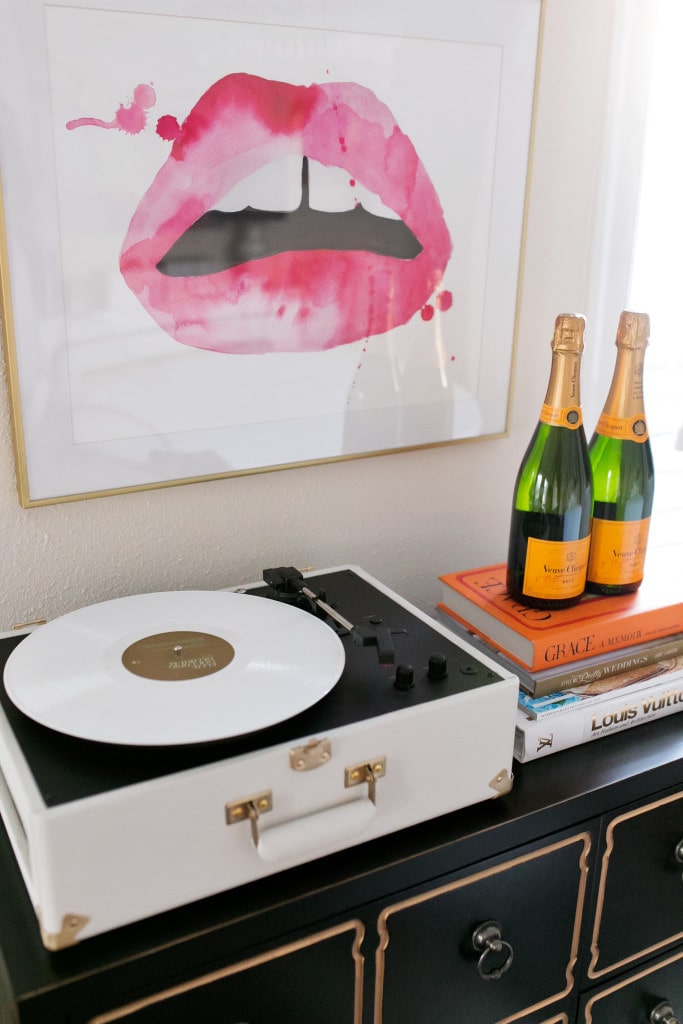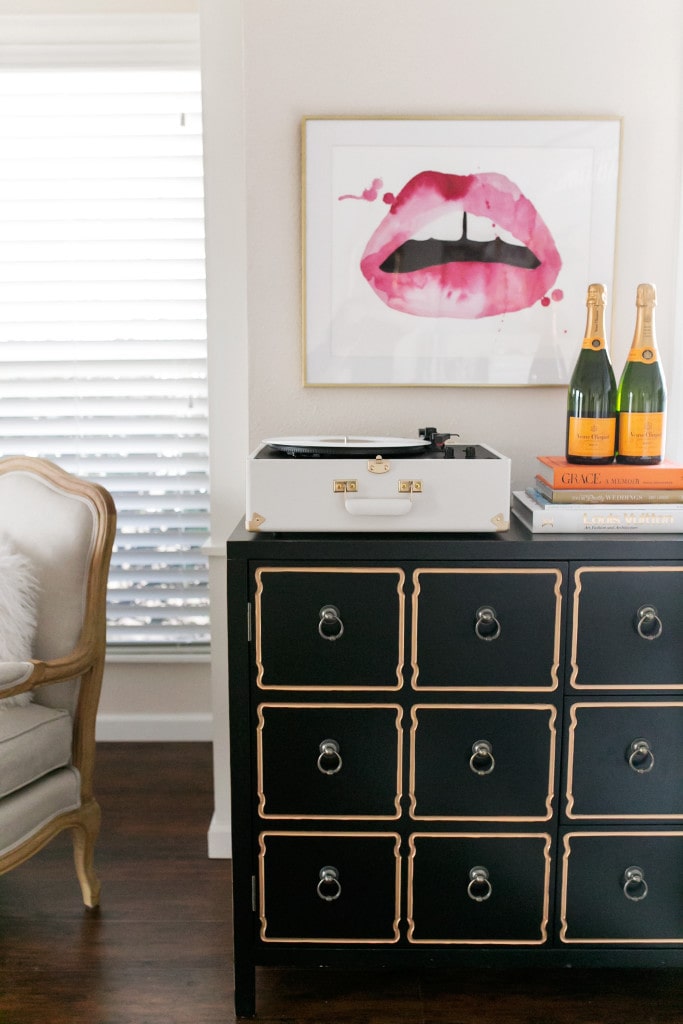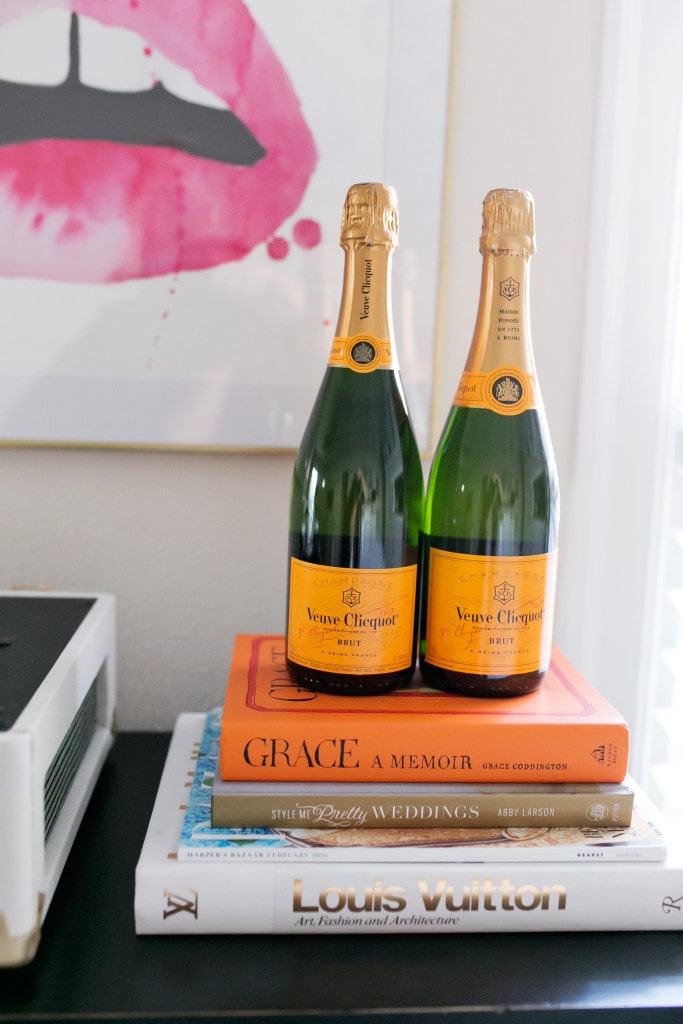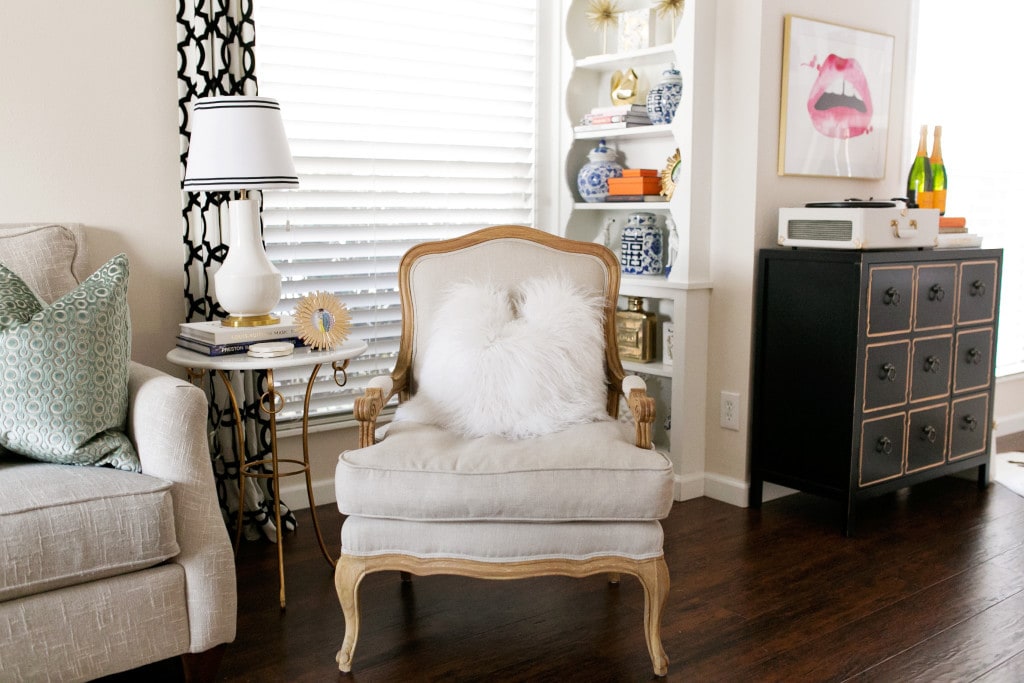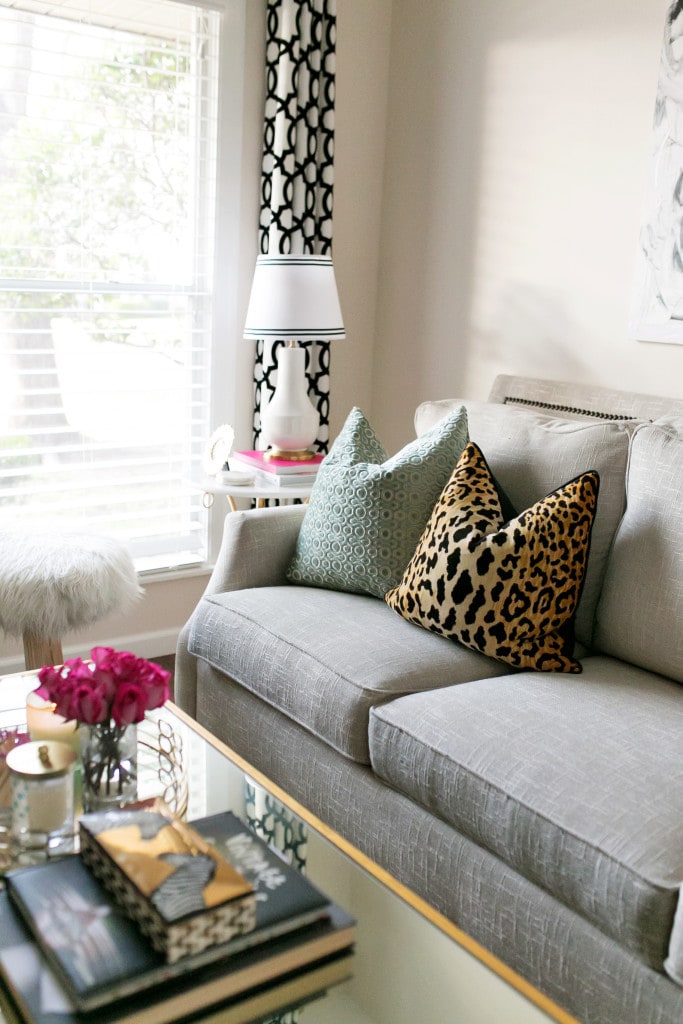 Home Decor Sources: Home Tour | More Home Decor
Pillows: Furbish Studio, Maven | Chair: Kathy Kuo Home [c/o] | Coffee Table: Similar, Similar | Lip Print: The Aestate | Dresser: Similar | Record Player: Urban Outfitters | Ginger Jars: Furbish Studio | Lamps: Pottery Barn | Zebra Tray: Maven [Jonathan Adler] | Side Tables: Wayfair | Couch: Local Store, Similar | White Pillow: West Elm | Furry Stool: Similar | Tray: Similar | Candle: Nordstrom
Photography by Angie Garcia | If item source says similar, it is because that item is sold out/ no longer made.

---
 We do so many different things when we stress. Some of us grab chocolate. Some of us bite our nails. Some reach for a little glass of Pinot. Me? I decorate.
Creating a styled and clean environment is the most therapeutic thing for me. I get to use my creativity while being productive and it does wonder for those little "freak outs" we as girls can sometimes experience.
Because I love to add in new pieces and constantly rearrange existing items, I like to define my home style as Southern Eclectic. Blending strong southern touches with a unique and modern twist.
However, let me just be honest here. I don't just walk in my home and give myself a pat on the back and say, "Hey girl, you have just outdone yourself in this 1100 sq. feet. Truly outstanding. Why aren't you an interior designer?" 😉
Just like with any first home [or I'm sure home in general] I get nervous about little corners and wonder if certain spaces should be refocused on. One of those little insecurity areas was our accent chair in the living room. When we first moved we got an inexpensive chair white chair and that just gave me anxiety through the roof. Each time someone sat on it I was pulling out the OxiClean like I I was Billy Mays.
Then we got a blue chair, but it felt too modern for the space. It clashed with the Southern touches and while I loved it, Paul had his eyes set on something with a linen base. We saw a chair like this when we were in Scottsdale and he said, "I think these would look good in our living room."
Well, when your easy-going husband who never requests anything says he has an opinion on home decor, you jump at the chance to incorporate it. My first thought was, "Beg your pardon, you have an opinion?! Is this real life?!" I got to partner with Kathy Kuo Home to share how you can get my Southern Eclectic Style and how to style this French Country Bastille Chair.
Here are my decorating guidelines to get that easy Southern Eclectic Look:
1.Pick Neutral Bases
You can easily swap accessories, but southern touches are timeless, so I like to keep my furniture neutral. Our couch is an oatmeal,gray shade and this linen chair falls in the same color scheme. Our rugs are neutral and our dining area has lots of glossy white lacquer. I love to do the same with bed linens by using a white duvet and just mixing in printed pillows. I don't get too loud with paint choices, either.
2. Clump Similar Accessories
I have enough ginger jars, sunburst and coffee table books to decorate our neighborhood. I think that "sparingly" is not something that the term "eclectic" strives to be. With so many ranges of taste incorporated through accessories in our home, I like to group them together so it seems purposeful. This is why I have lots of ginger jars and sunburst on our built-in shelf. Instead of appearing cluttered [which I don't care for!] I find it comes across as planned.
3. Layer Prints
From a striped dresser to a leopard rug I don't worry about prints clashing. Because I keep neutral bases in our home those layers of prints add dimension to a room and keep it from seeming like a standard store set.
I also pulled some other pieces from Kathy Kuo Home so you can recreate this look in your own nest!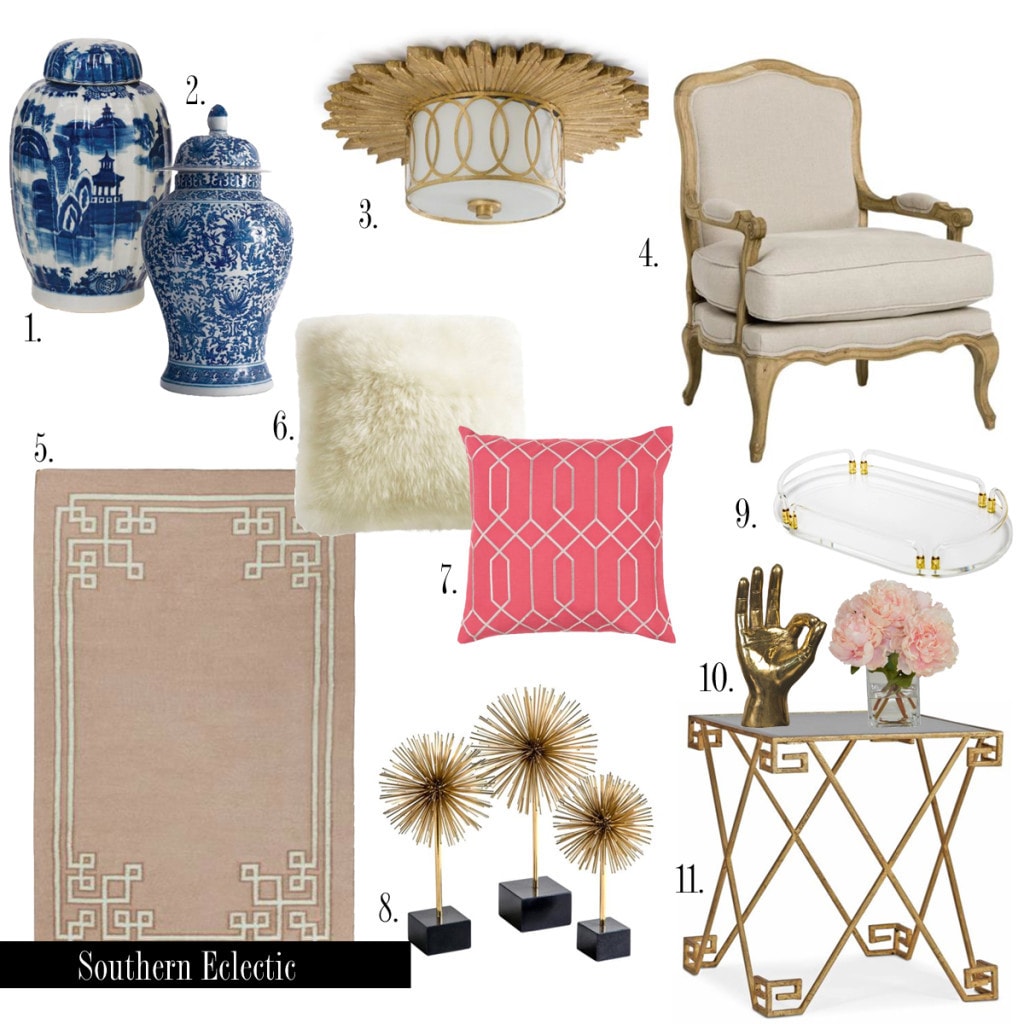 1 | 2 | 3 | 4 | 5 | 6 | 7 | 8 | 9 | 10 | 11