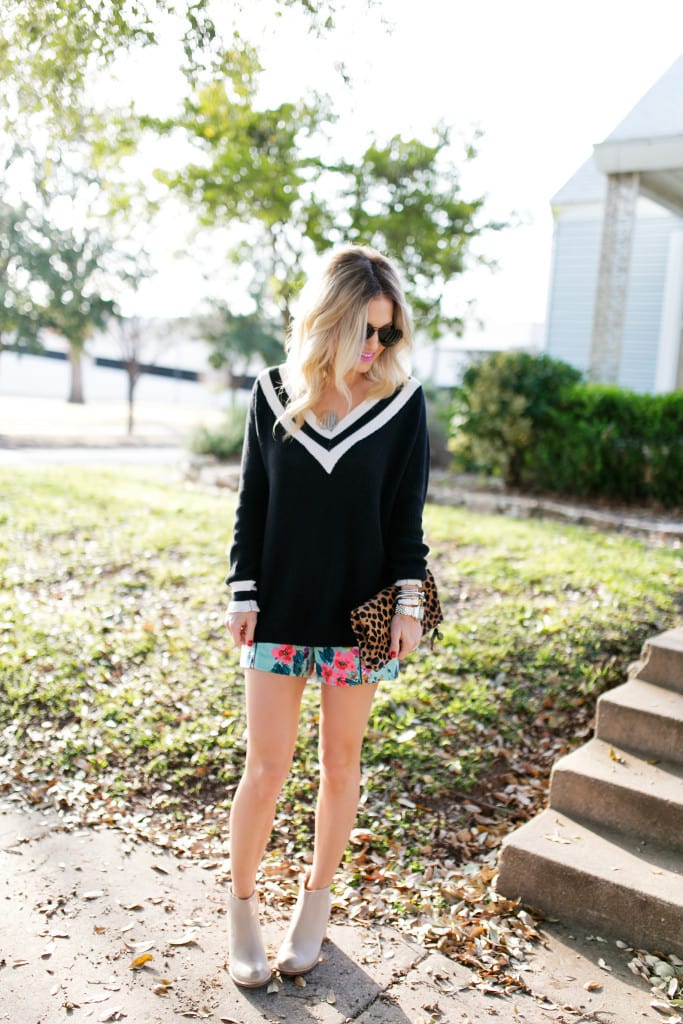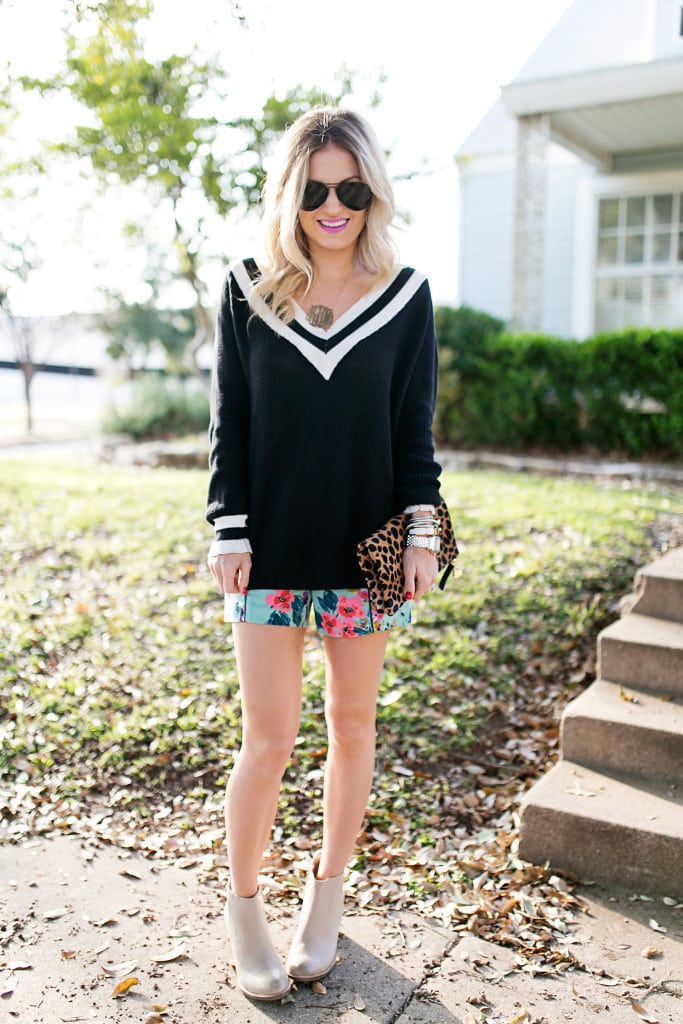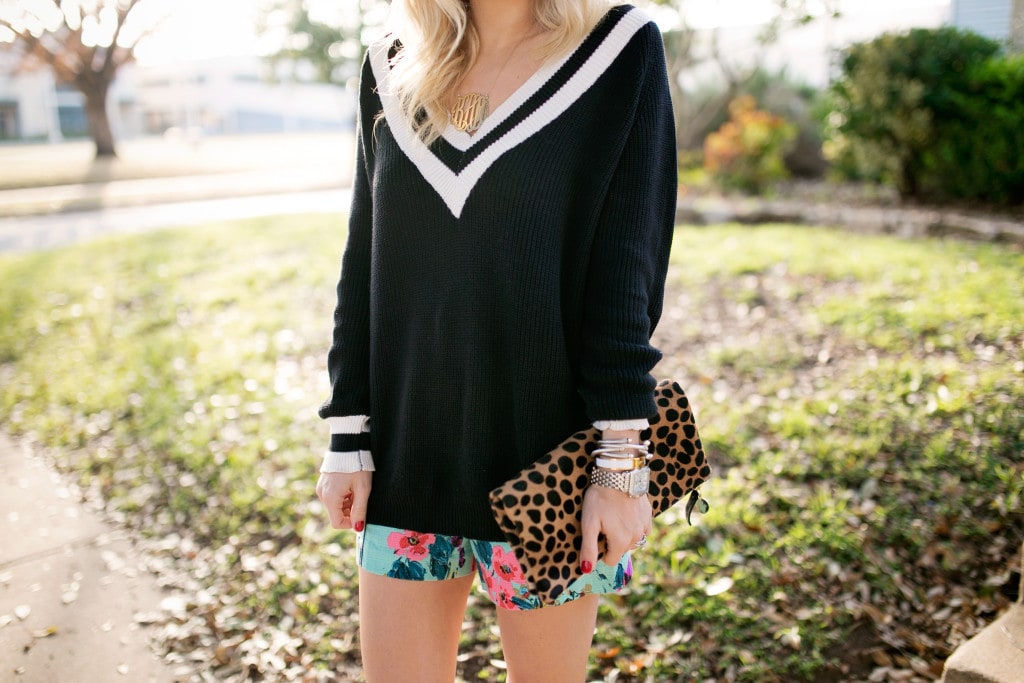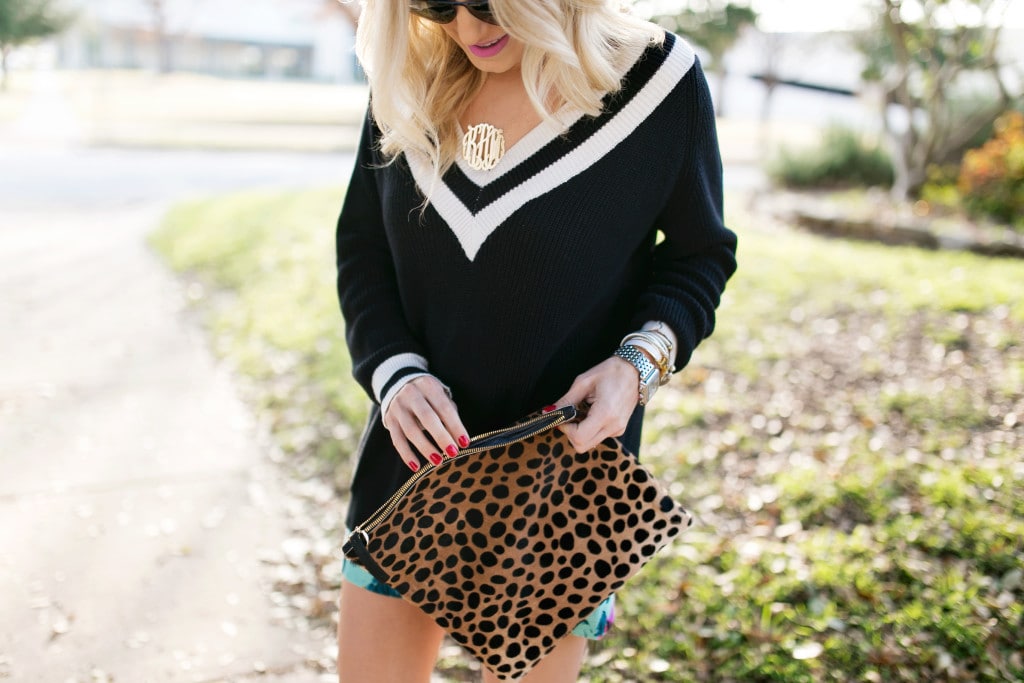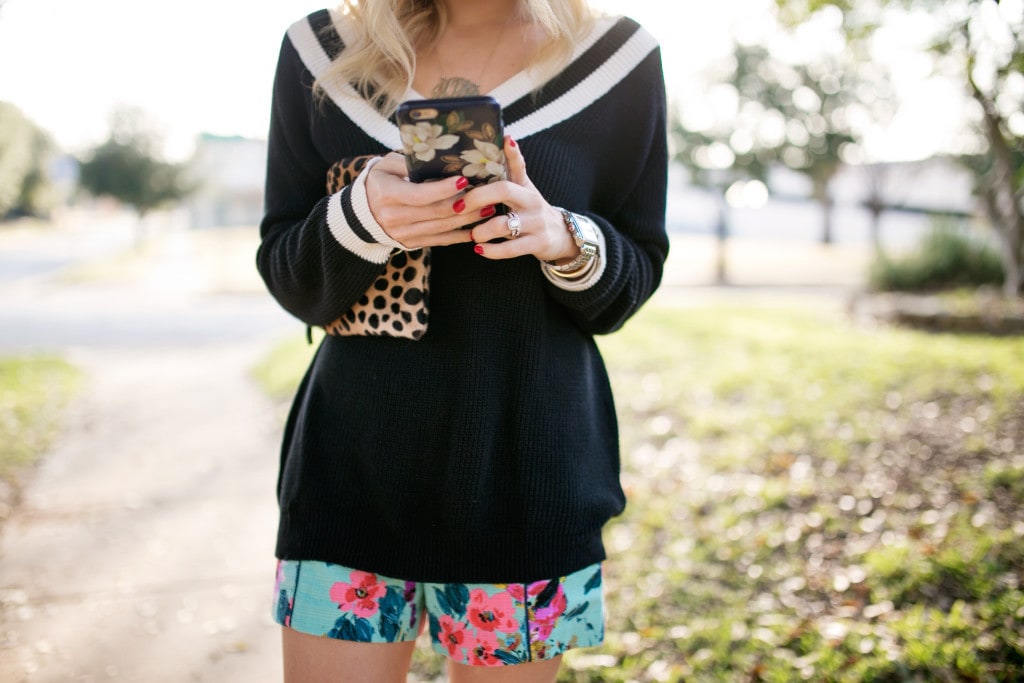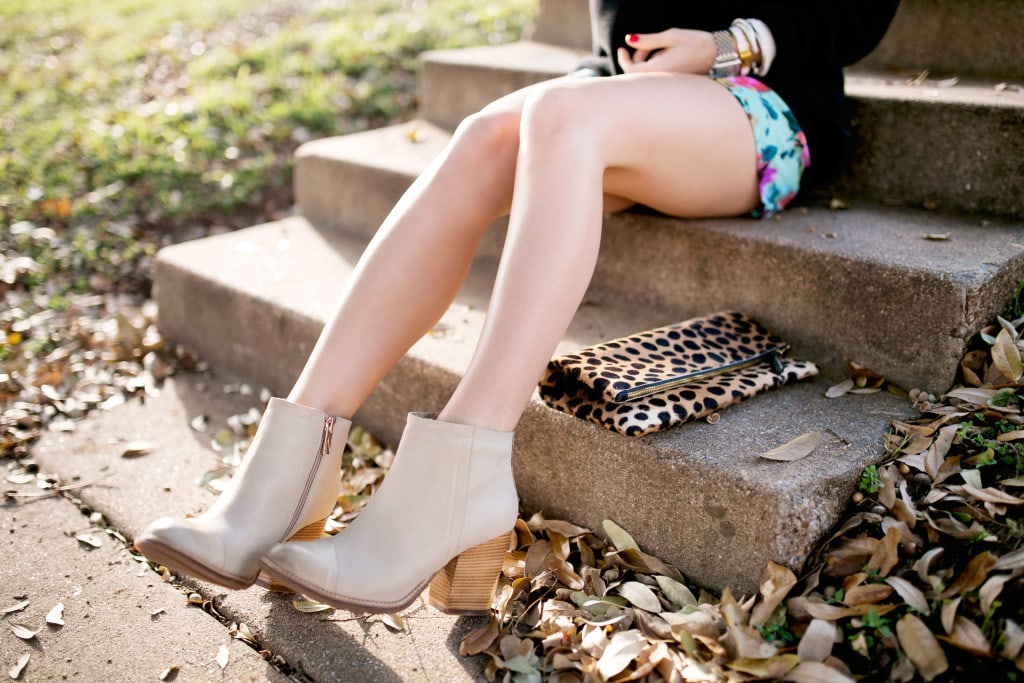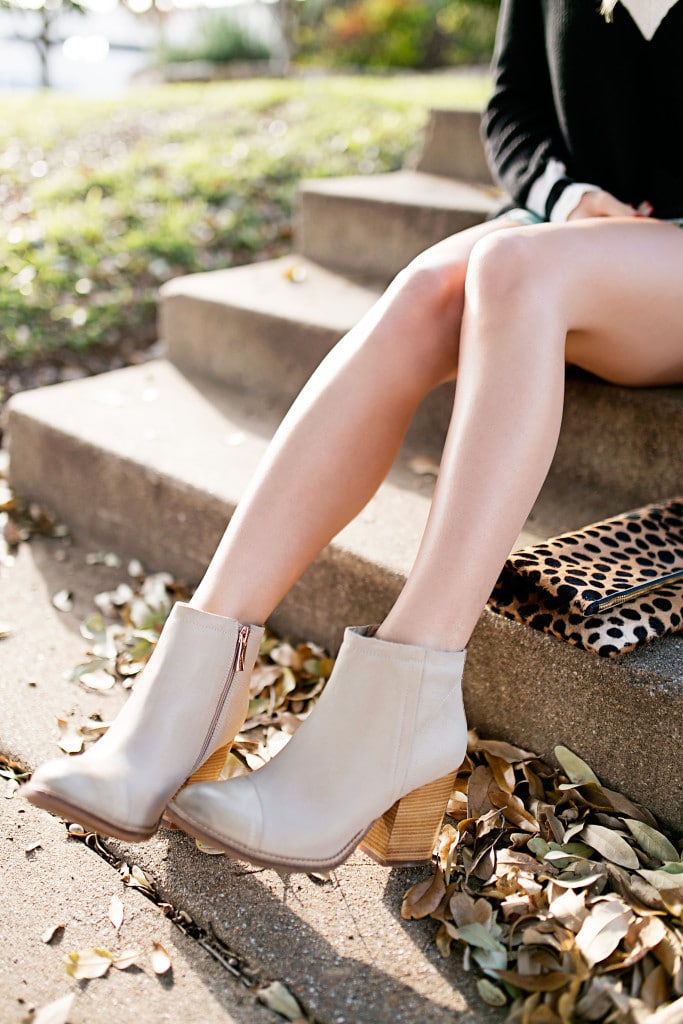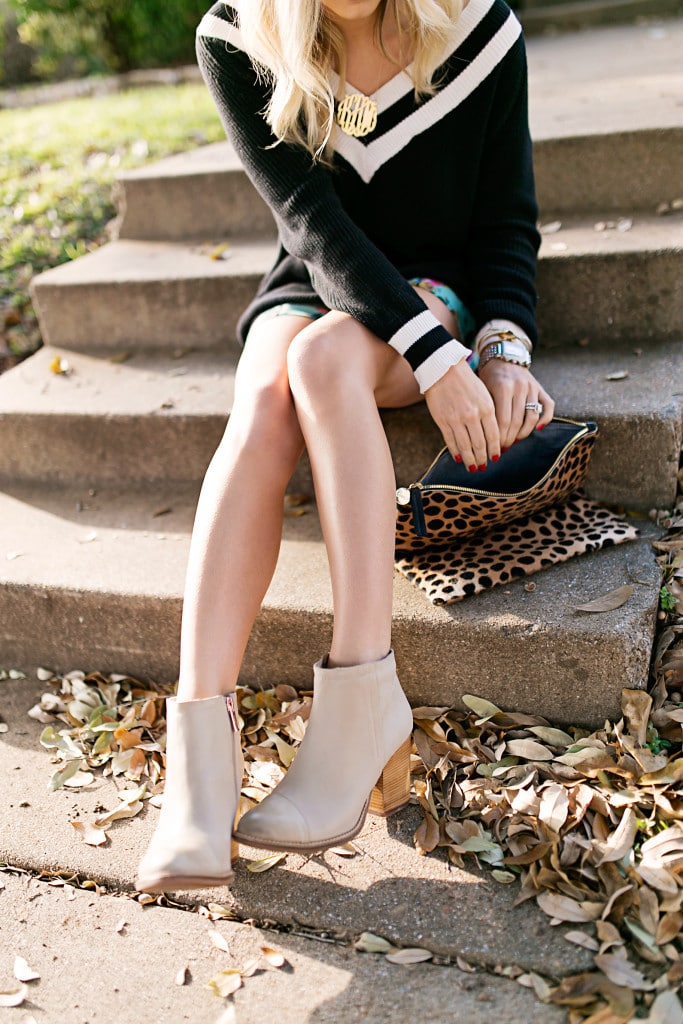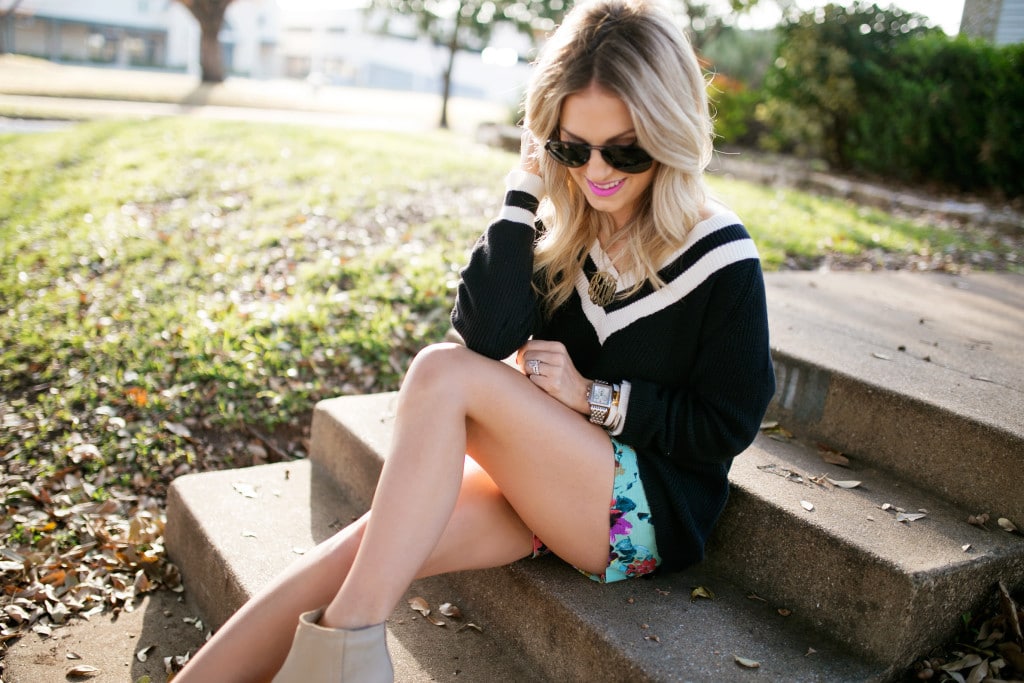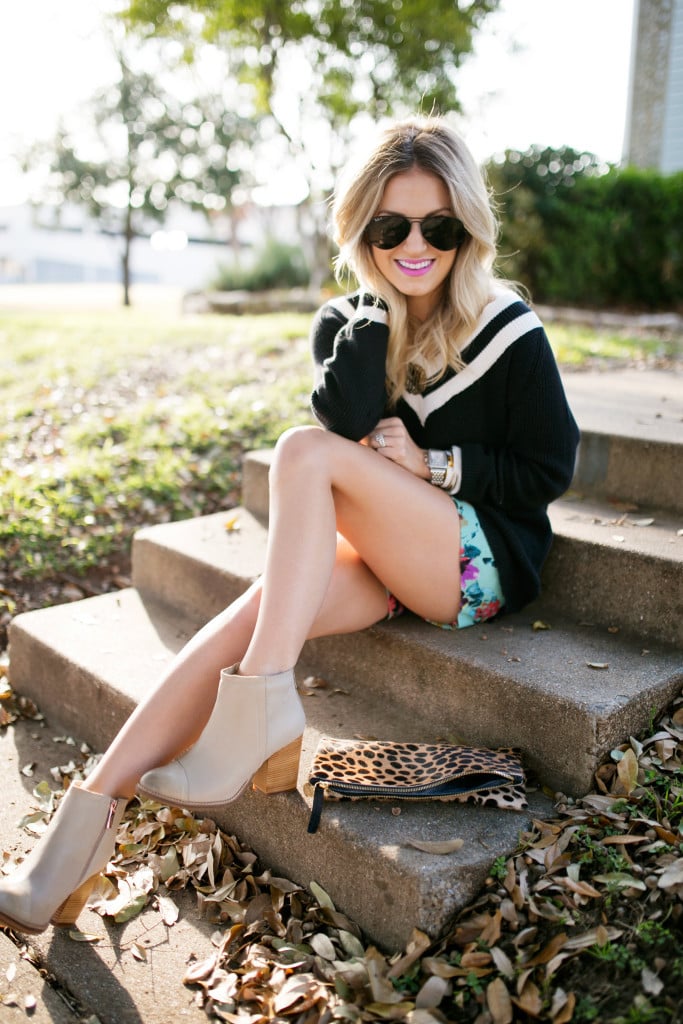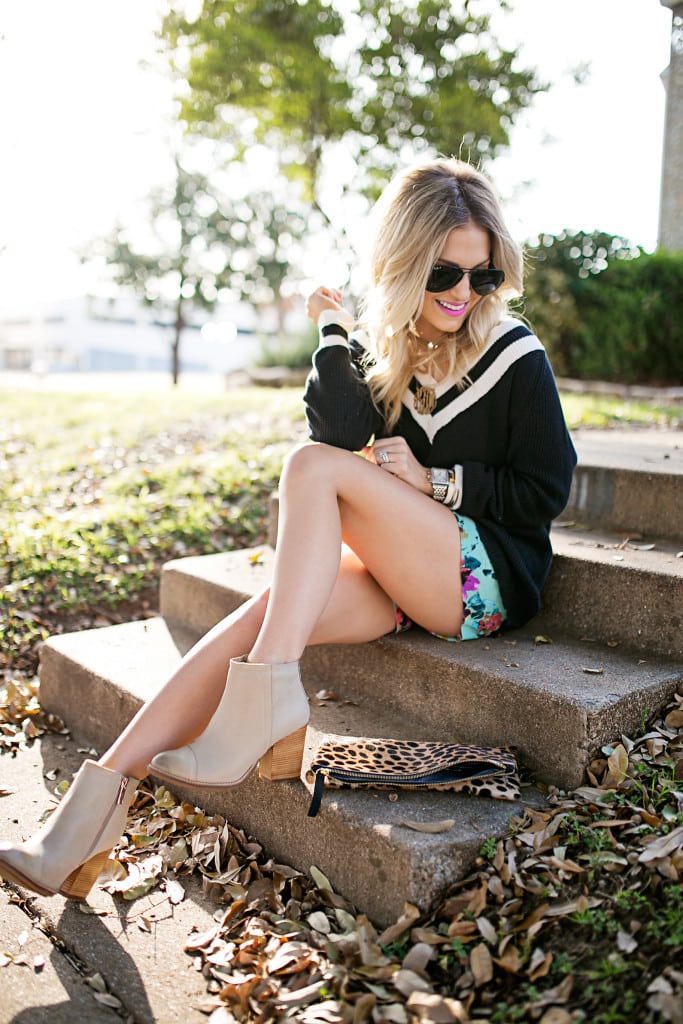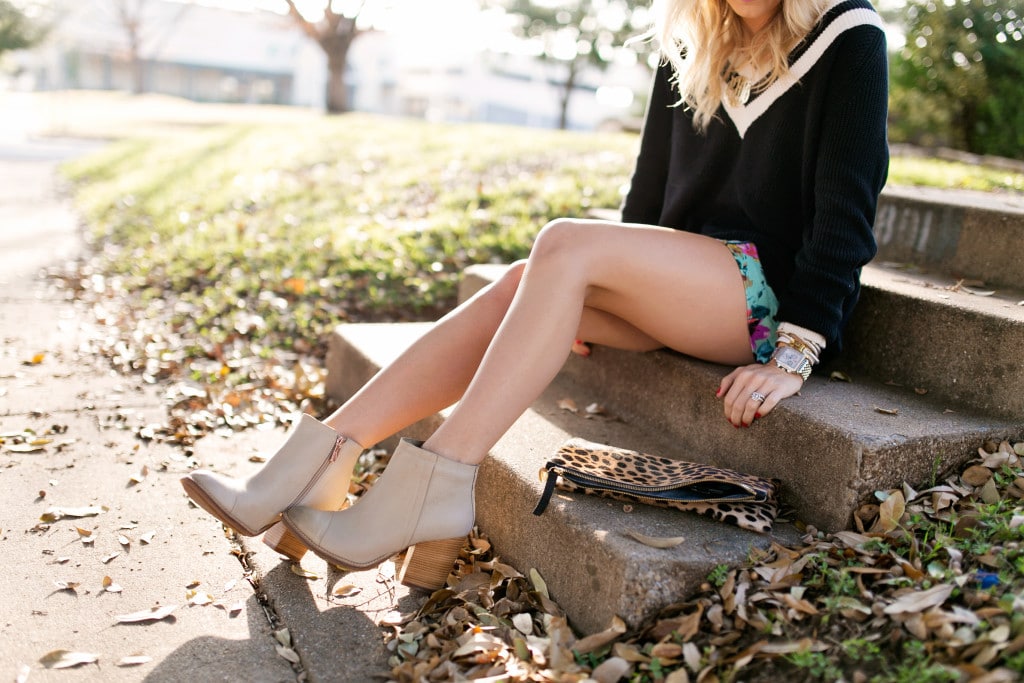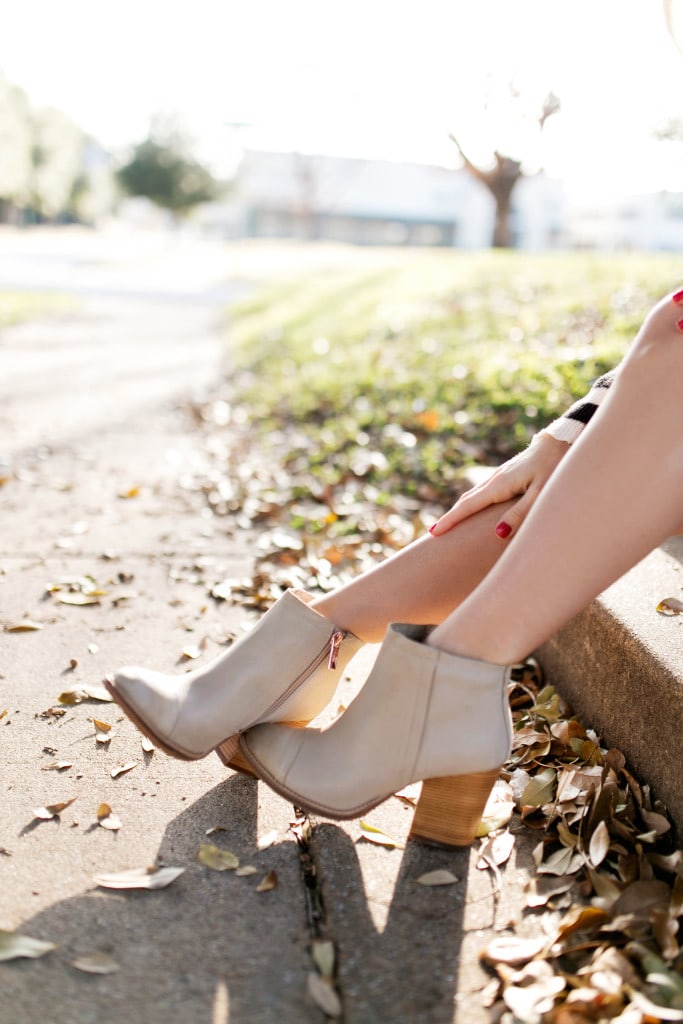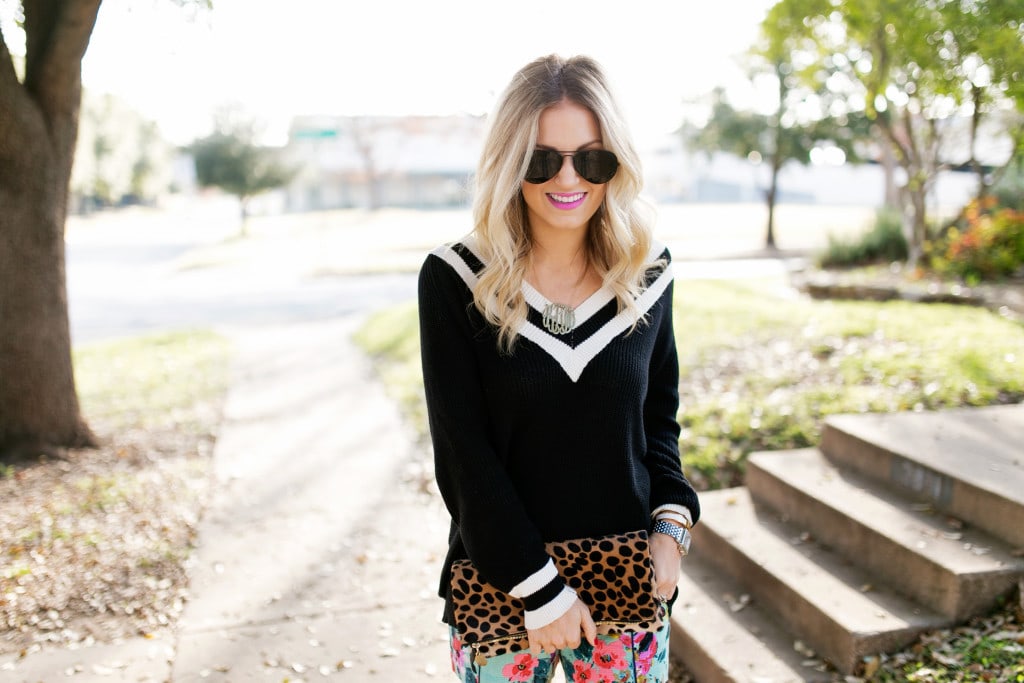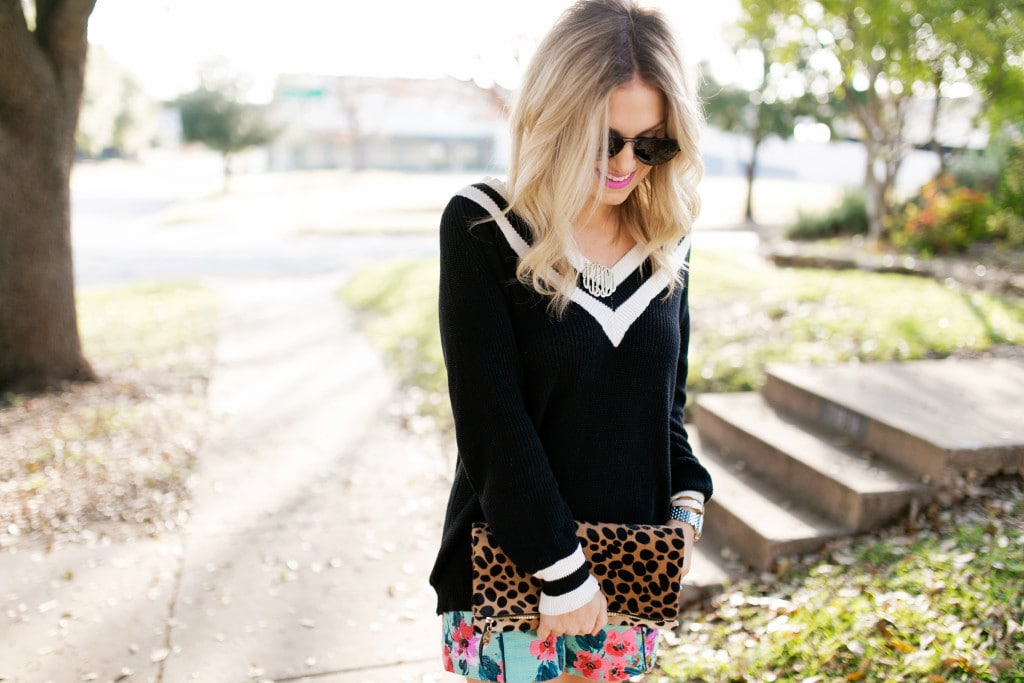 Top: Chicwish | Shorts: Anthropologie | Clutch: Clare V. | Booties: Hush Puppies [c/o] | Necklace: Similar | Lipstick: Lilac | Watch: Michele | Bracelet: Hermes, David Yurman
Photography by: Angie Garcia
---
The older I get, the more I really learn to separate who you are from what you do. In college, it was so easy to get wrapped up in, "I'm a student. I work in PR. I'm happy because I'm doing well at my internships and I'm making good grades." Defining my happiness [aside from my faith] was a little confusing.
Then I decided to leave PR and work in an industry that was basically immersed in my life: my blog. And although so many of us hold jobs that coincide with who are we as individuals [teachers, nurses, writers] it is such a small fraction of our hearts. We aren't our titles, our salaries or even our promotions.
I'm a self-proclaimed "listaholic." I've got a list for everything and one list I like to make every few months is a "what makes Katey happy" list. It's a refreshing reminder on those bad days when I return to the list to see that what upset me isn't even a factor in what makes me happy. If that isn't a catalyst towards my joy, then why should it matter?
Things That Make Me Happy:
1. My Faith
2. Coffee With My Husband
3. Candles Burning
4. Taking Peaches on a Walk
5. Comfortable Shoes [That don't look comfortable! 😉 ]
6. Timehops on Facebook with Sorority Sisters [As cringe worthy as some photos are, I love seeing what we were doing 5 years ago!]
7. Kids [Their ability to embrace joy in every moment is infectious!]
8. Testing out Gluten-Free Desserts with my Mom
9. Advice from my Dad
10. Sharing Books with Friends [my best friend, Taylor, and I always swap!]
11. Work Out Classes with Girlfriends- that always means we get food after! 😉 
12. Sleepovers with my Sister
13. Antique Malls [I never buy anything, but I love to spend a good hour there!]
14. When my Nana or Meme Text Me About My Blog Post [I mean it's cool enough my grandmothers text me, but when they read COF I feel really proud to know they think what I'm doing is good. I admire them so much and want to carry on the legacy of love and grace they both have.]
15. Laughing So Hard I Can't Get Words Out
I mean how simple are these things, and yet when I get upset, what has hurt me NEVER coincides with this list. And when I find myself investing in this list, I find that I don't fall into a trap of comparison, self doubt and worry.
A brand that I love [and you all do too! I styled something of their's here and got so many e-mails. I even had like 8 girls ask me to sell them my pair! haha] reached out to partner and "give happiness" towards this list.
Hush Puppies has a goal to inspire happiness "from the shoes up." I shared before how stinkin' comfortable they are but it's combined with a timeless style, so you aren't compromising whatsoever. International Day of Happiness is celebrated on March 20th [next Sunday!]. Hush Puppies is doing two things to spread that: giving away a pair of these booties and giving back.
 First things first, the booties. The Axelle Dewey are part of their spring collection and I was terrible and wore them in the soaking rain last week. I didn't want to take them off because I liked them with my outfit. #fashionfauxpas. Good news, no damage. So not only are they the perfect spring transition shoe and feel like you're walking on clouds, they are durable. I'd say what I did was stupid, but let's just call it market research?! 😉 We are headed to NYC this weekend and because it's for work meetings I knew I couldn't get away with sneakers the whole time. haha. So these will be on my feet 24/7 running around.
But what really excites me?! Hush Puppies is giving back to kids and my sorority. I was a Tri Delta in college and it's something I'm incredibly proud of. When I was diagnosed with discoidal lupus in middle school, I knew I wanted to give back to kids because of those who invested in me. On philanthropy night when I saw that Tri Delta adopted St. Jude Children's Research Hospital as their national philanthropic partner my decision was made. Hush Puppies knew this was a passion of mine so they have also made a donation to the hospital on behalf of me and my readers.
These are the brands that make me happy. Brands that love to smile at life, spread joy to my readers and spread happiness through giving back. A huge thank you to Hush Puppies for not only investing in style that is functional, but investing in others as well!
I'm pulling a few of my favorites from their spring line below so you can find a few things that spark joy as well! 😉

You can enter below to win the same booties I have and we can twin!
a Rafflecopter giveaway

So girlfriend, what makes you happy?! I'd love for you to write it out for International Day of Happiness, and hopefully you find what hurts you isn't even close to what makes you happy!

In partnership with Hush Puppies. Thank you for supporting brands that support my readers and others!