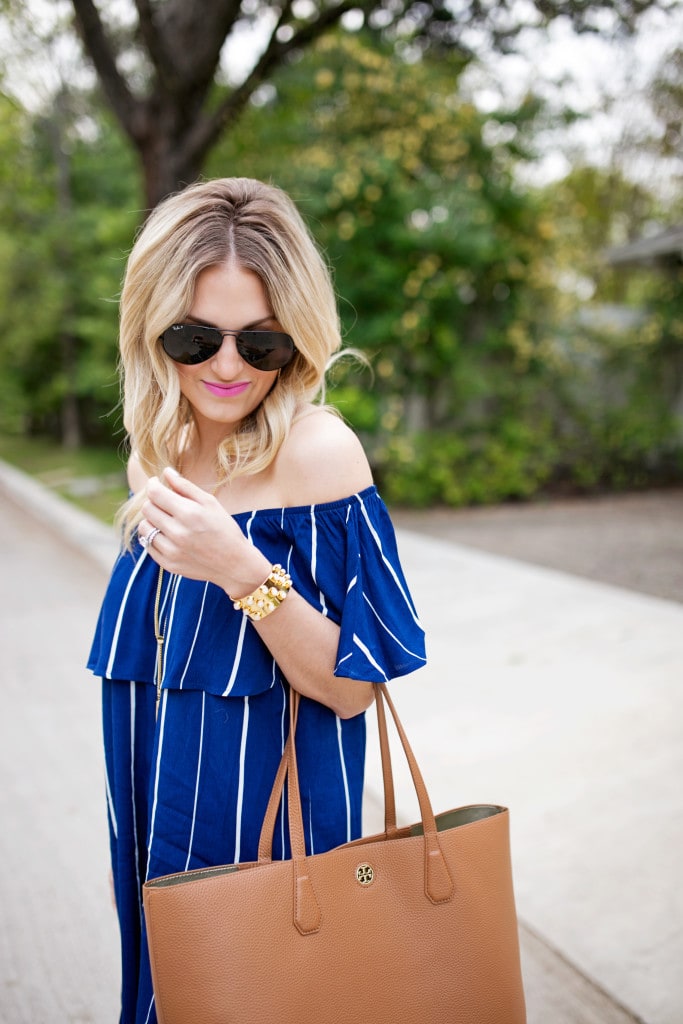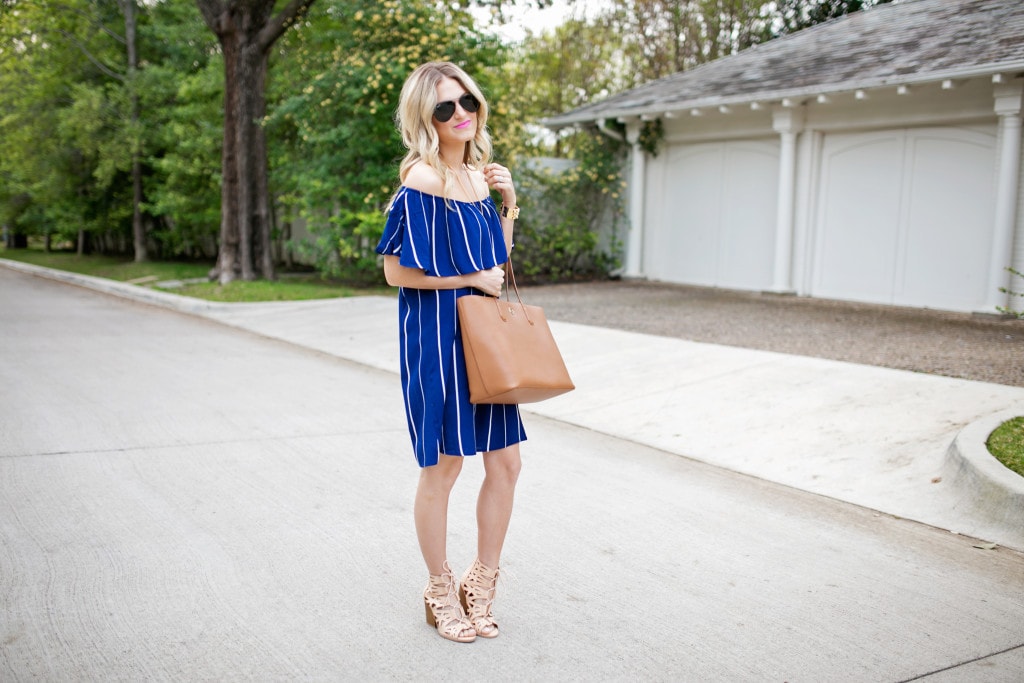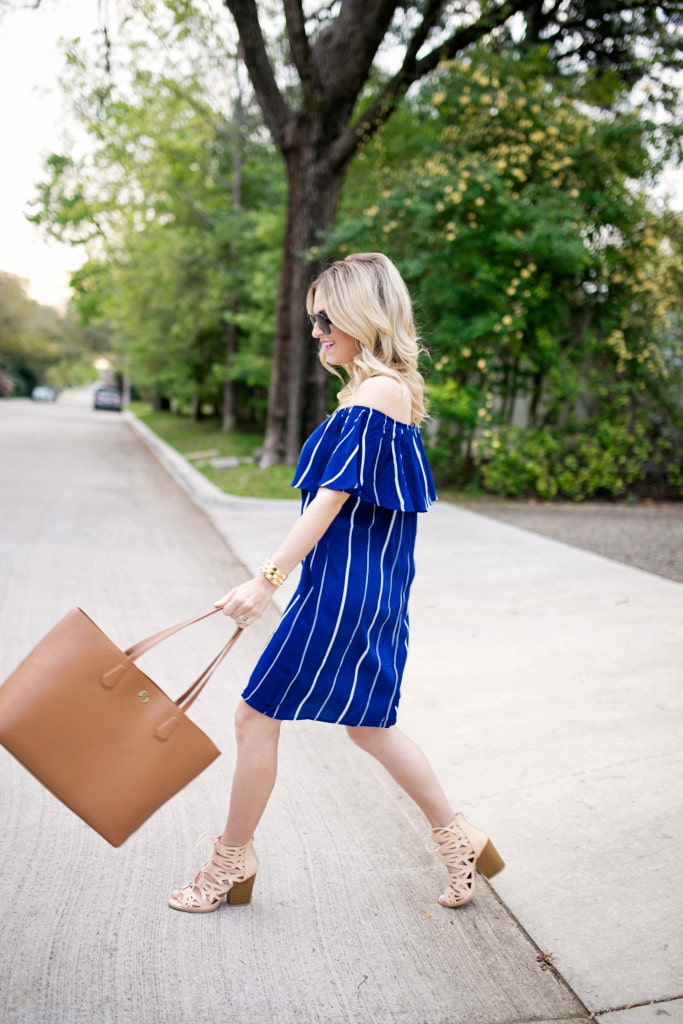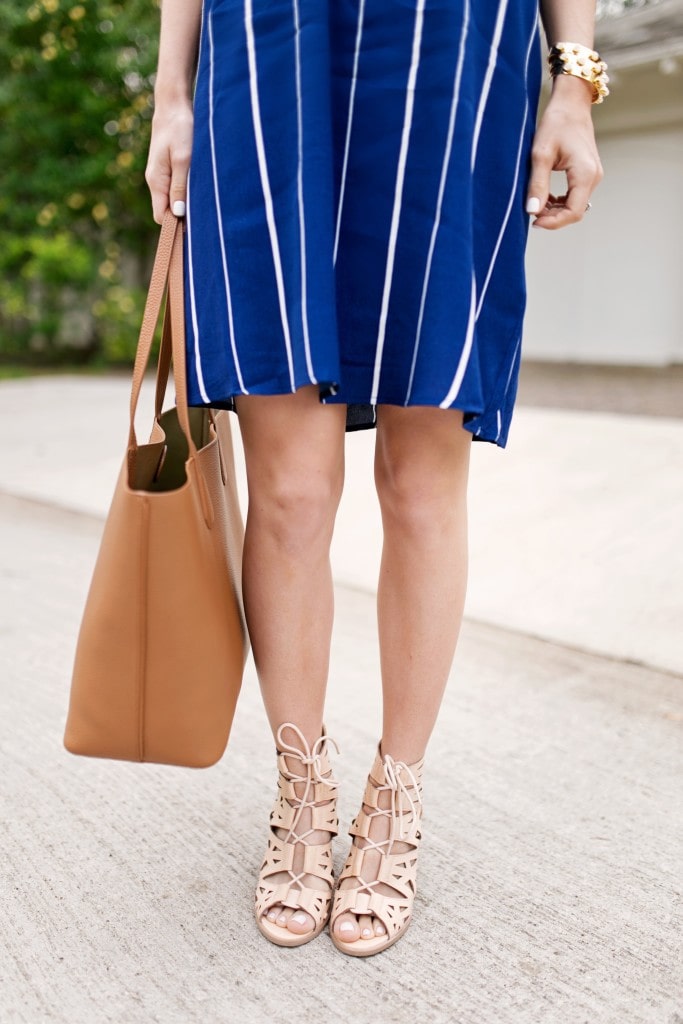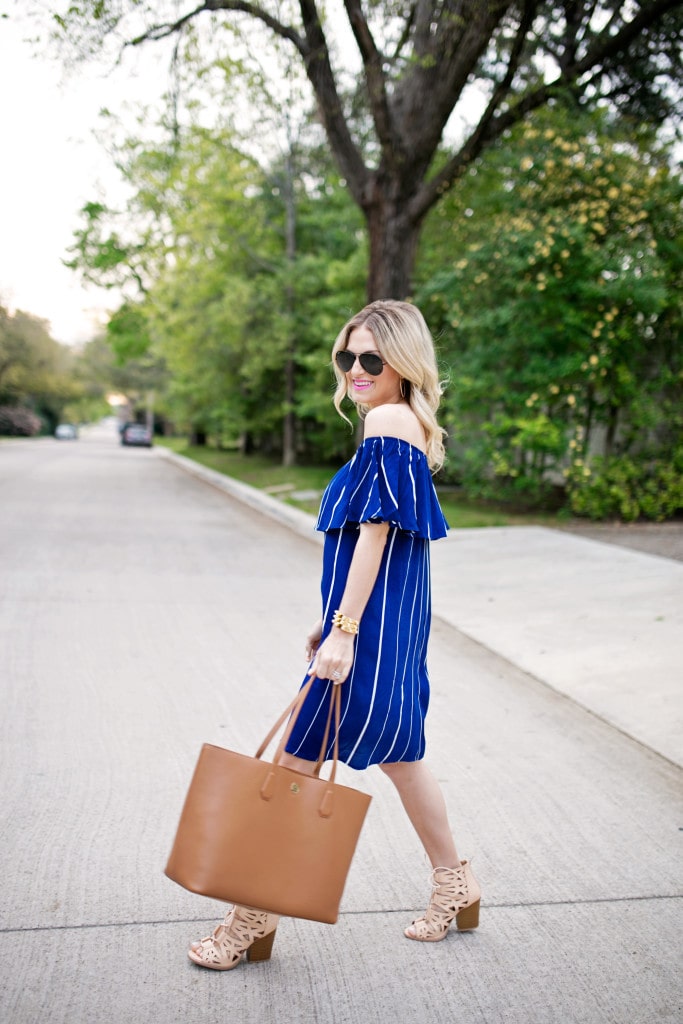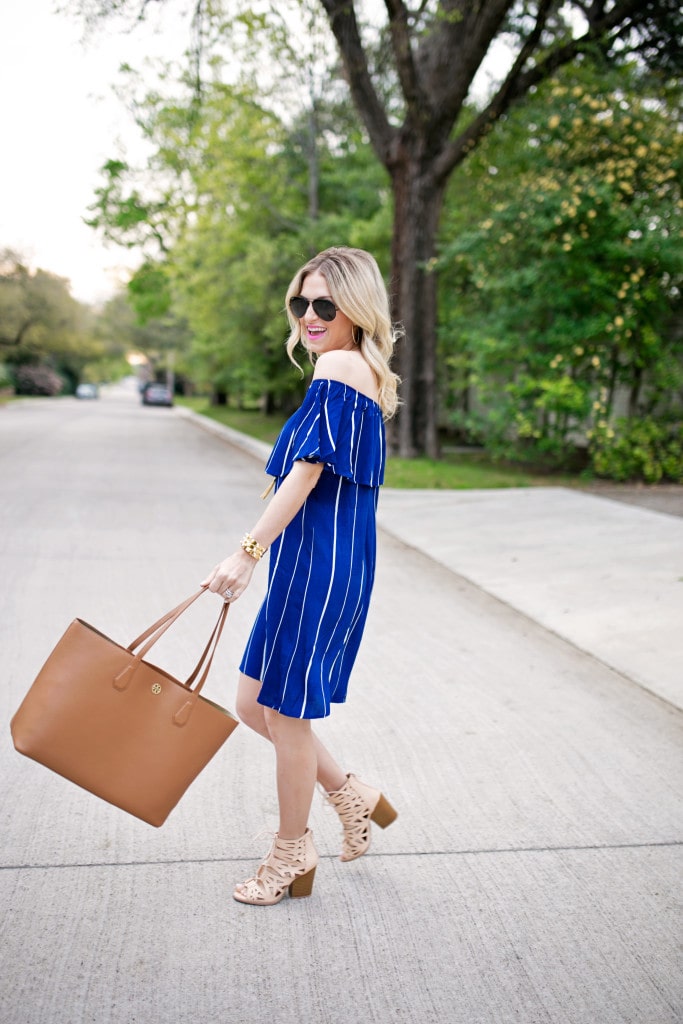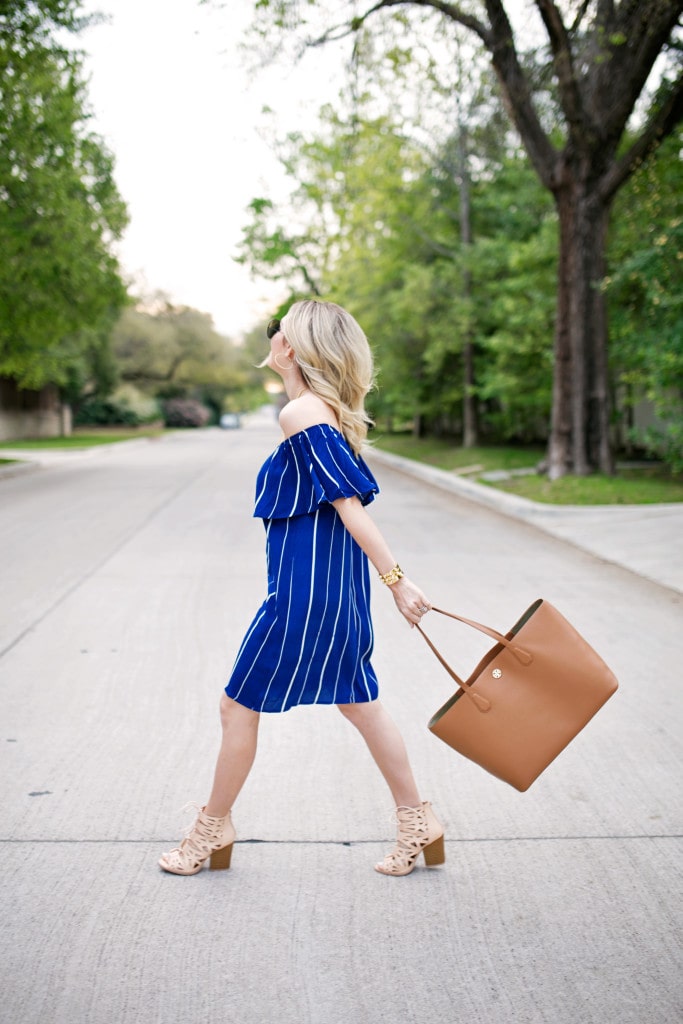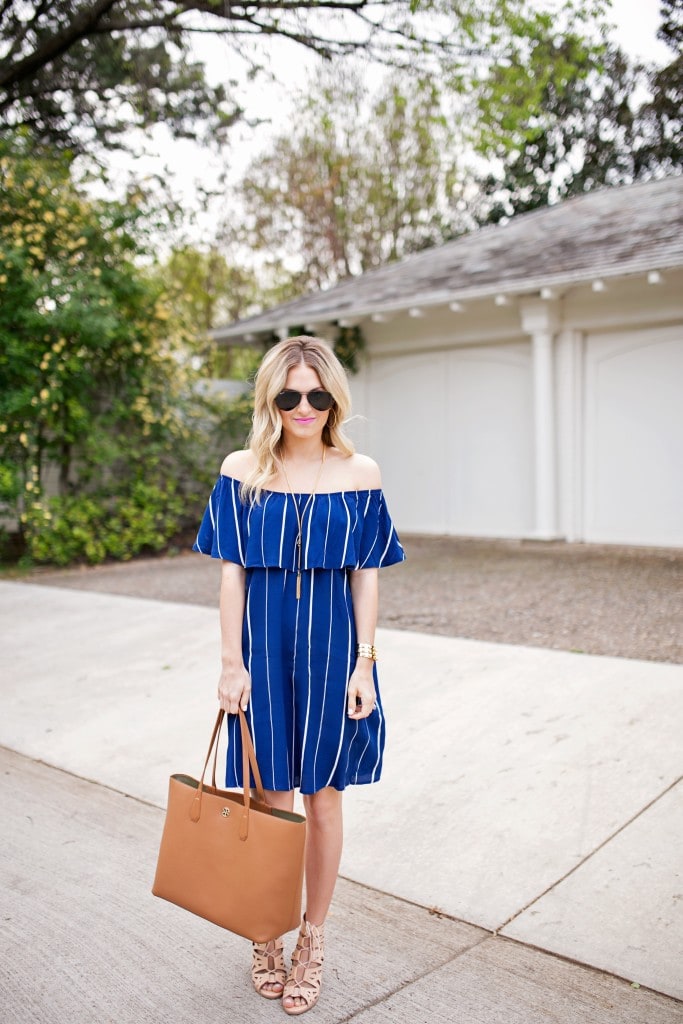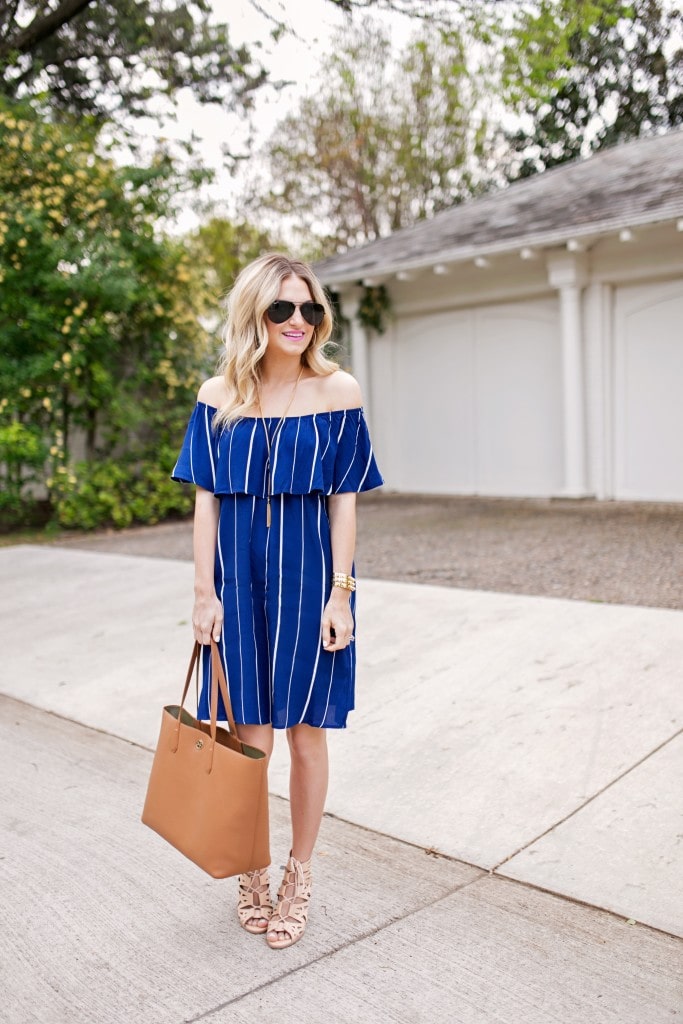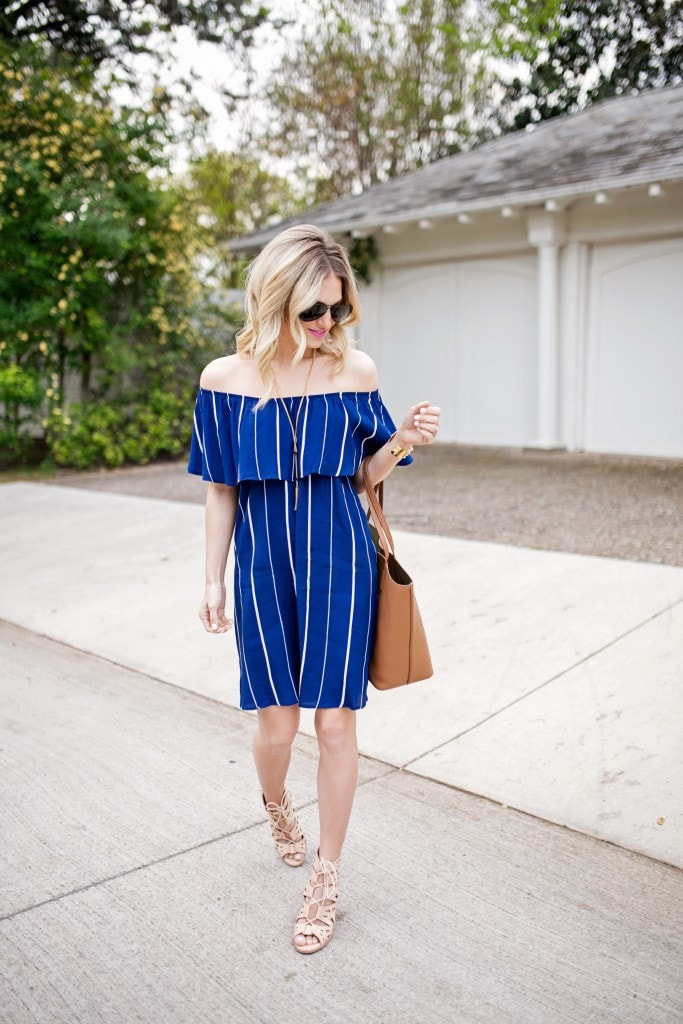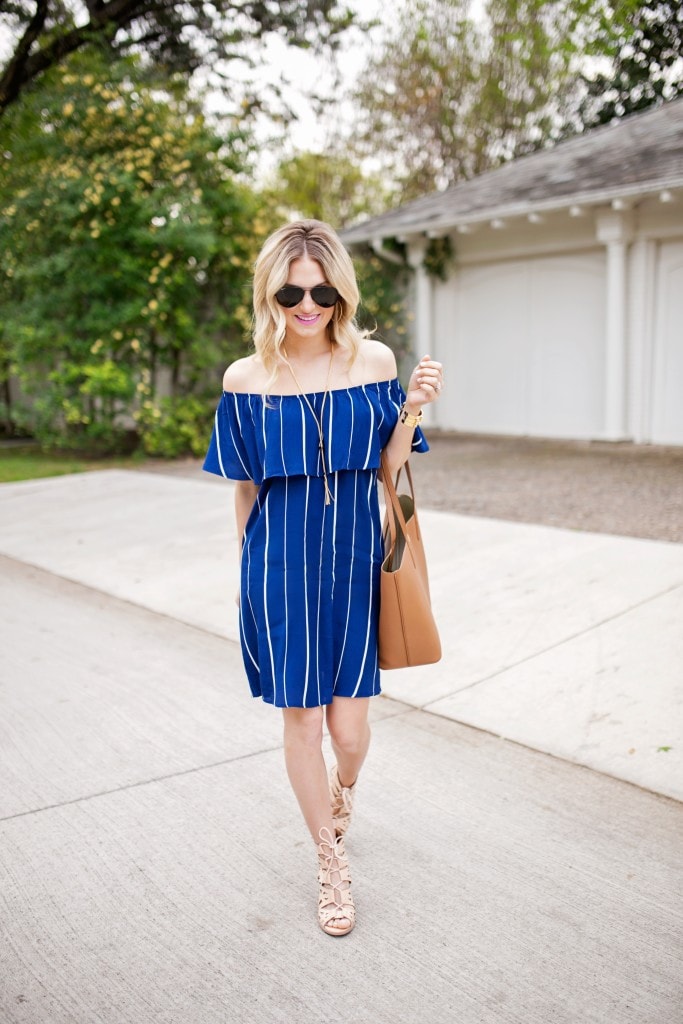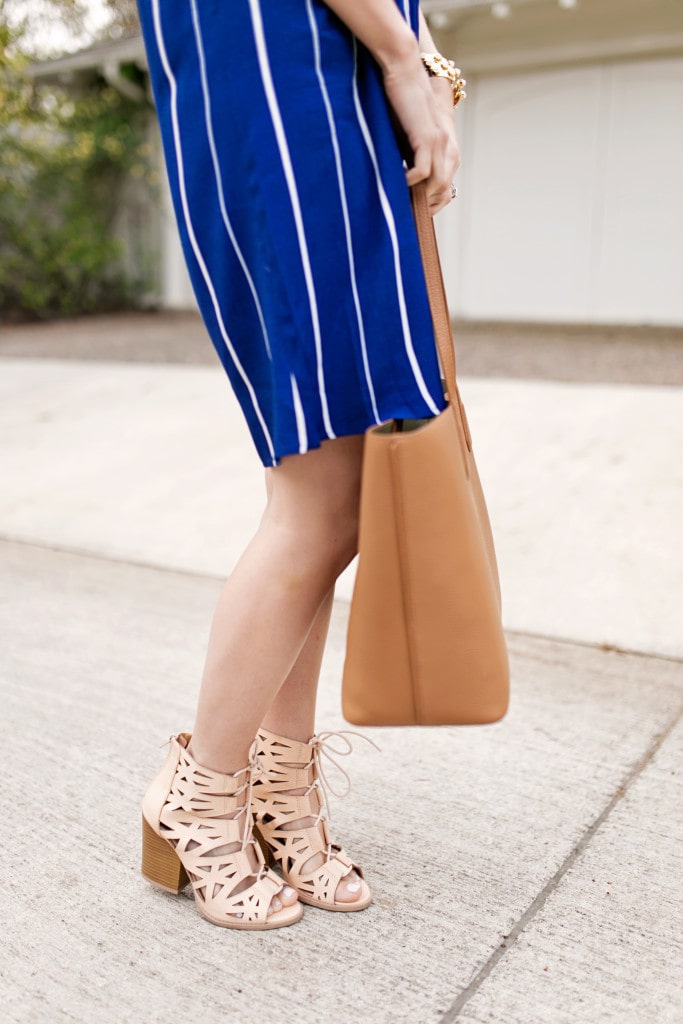 Dress: ModCloth [c/o] | Shoes: ModCloth [c/o] | Bag: Tory Burch | Bracelets: Baublebar [c/o] | Necklace: Similar | Hoop Earrings: Similar | Lipstick: Neon Azalea
Photography by: Angie Garcia
---
When I first met Paul and he told me he was an auditor I had no clue what that entailed. I knew the basis of what he did, but I had no clue as to the hours.
I grew up with a father who works in the defense industry, so he works all the time. Honestly, it would have been so abnormal to marry someone and have them home at 5 p.m. I grew up thinking it was the norm for you dad to be home at 10 p.m. There isn't a right or wrong way to work, and to be honest I never felt like I missed out on having sit down dinners with dad. My dad was so incredibly present while he was there and sometimes I thought I got more from him than had he been home at 5 to do what he wanted to do.
To this day, I can call him at any time, he'll step out of a meeting and talk me through whatever I need. So naturally, as romance would have it, I married someone the exact same way! It's funny how your childhood always prepares you for adulthood.
Tax season doesn't apply to Paul. His work schedule focuses on year ends. So while he works 90 hour weeks December to mid April, he also has to do that in June/July/August. He pulled an all nighter the night before our wedding working, so you better believe I was praying the entire time I was getting my makeup done that he'd not feel sick! haha.
But I've got to brag on my husband, just like my dad, he never makes me feel like I'm alone. From our second date he told me, "We will make this work and I will never make you feel like you're just married to yourself."
I truly think any relationship goes through this at some point or another! Whether you're in grad school, you're working for a start up, you have a family or you are in a long-distance relationship there are so many ways to keep romance alive and not be present 24/7.
Life can be busy, but that doesn't alter your ability to make someone feel special. I thought it would be fun to start spring sharing how we do that, and I'd love to know how you do as well! I am always reading marriage blogs to get new ideas because trying them and seeing how people react to them is a fun way to invest in your relationship.
3 Ways to Incorporate Romance when Life is Busy:
1. Ask One Question
Every Sunday night, my husband and I ask each other, "How can I love you this week?" It seems like a no-brainer question, but it's a great way to share any stresses or worries you have going on. He might tell me it would be a huge help if I made him quick things to eat on the way to work or I tell him I'd love if we could go on a specific date. It's easy to give what we want, I can spoil Paul with my assumptions of love languages and it could not be received well. If his heart doesn't acknowledge the love languages I'm assuming he needs, it could be dismissed. I'm all about acts of service, if he unloads the dishwasher I feel like he is practically flirting with me. haha. Paul loves quality time. If I sit with him while he watches Walking Dead he loves it. Mind you, I'm about to keel over from the blood and zombies, but it means a lot to him. Simply asking your partner how they want to be loved is romantic, because that person is being served how their heart desires.
2. Pick a Spontaneous Goal
Whether you're in grad school or raising your first child, life can get pretty stressful accomplishing goals and implementing current plans. Date nights can get a little cluttered talking about to-do lists and "he said, she said" nonsense from work. I'm Type A, but Paul and I have found we love to throw in a spontaneous goal each season. It could be something as small as signing up for a 10K or something as big as taking a trip. Keep it fun and something you both get enjoyment from, and it's such a warm welcomed break from your season of business. Also, try to do it as last minute as possible! That doesn't coincide with a busy season of life, but romance isn't something that is best planned. Break away from a stressful schedule and just accomplish one thing together. You'll be proud of your relationship, which leads to even more admiration.
3. Dress Up
Don't lie. Men in suits are attractive. When Paul has to dress up for a client meeting, I'm like, "Do you want to wear that to Chipotle next week?" haha! Because I work from home, it can be easy to live in work out clothes. And because I like to work out at night, it's difficult to not fall into the trap of being in sweats, freshly showered when he gets home. And while he doesn't care if I am, I try to dress up as much as possible! Staying awake and dressed up until 2 a.m. might seem crazy to some, but I do it a few times a week so we can have some normalcy. We'll have a glass of wine at 2:15 at our kitchen table and I'll still be dressed from the day. I know he would never go overboard saying he appreciates it [he would never want to make me feel bad about wearing sweats!] but I think he does. One day we'll look back at this newlywed phase of life and I think it will be so sweet to remember dressing up even during busy season!
He loves me in spring dresses, and I feel my best in them as well. When I feel my best, I know I'm treating others even better. So I may be exhausted that late at night, but I've got some energy from knowing I feel confident. I got this dress from ModCloth last week to style and while getting ready for work he kept complimenting it. It's incredibly versatile for spring, but what I love best? The approachable price. This dress is under $60, which can fit a wide range of budgets.
In terms of sizing, it's true to size as well! If you don't like beach coverups [I never do. I'm supposed to eat chips and guac at the pool bar in a fishnet dress? I don't think so…], this is so flowy you could throw it on over a bikini, too!
The sandals are the same price and if I'm being 100% honest, I'm WAY TOO excited to wear them with spring shorts for the Justin Bieber concert next week. It's absurd how excited I am.
ModCloth has a lot of dresses that fit whatever makes you feel romantic: feminine, dainty, fierce or something more vintage. I'll pull my picks below!

What are ways you invest in romance, even when life gets busy?! I'd love to try out your ideas! Thank you so much for reading!

In collaboration with ModCloth. All opinions are my own. Thank you for supporting the brands that allow COF to operate full time.