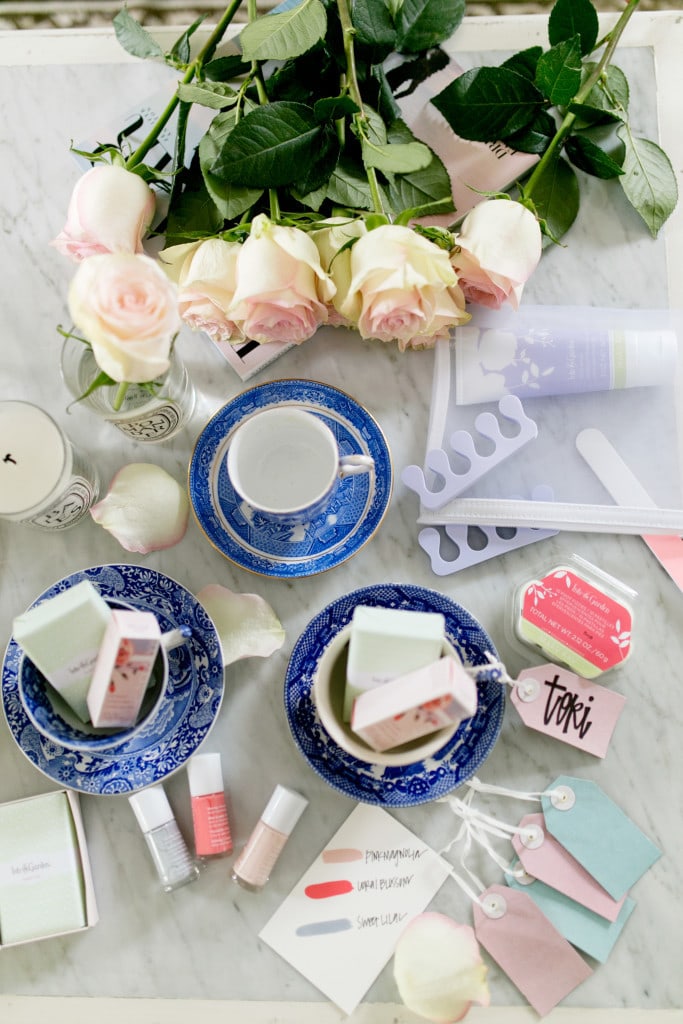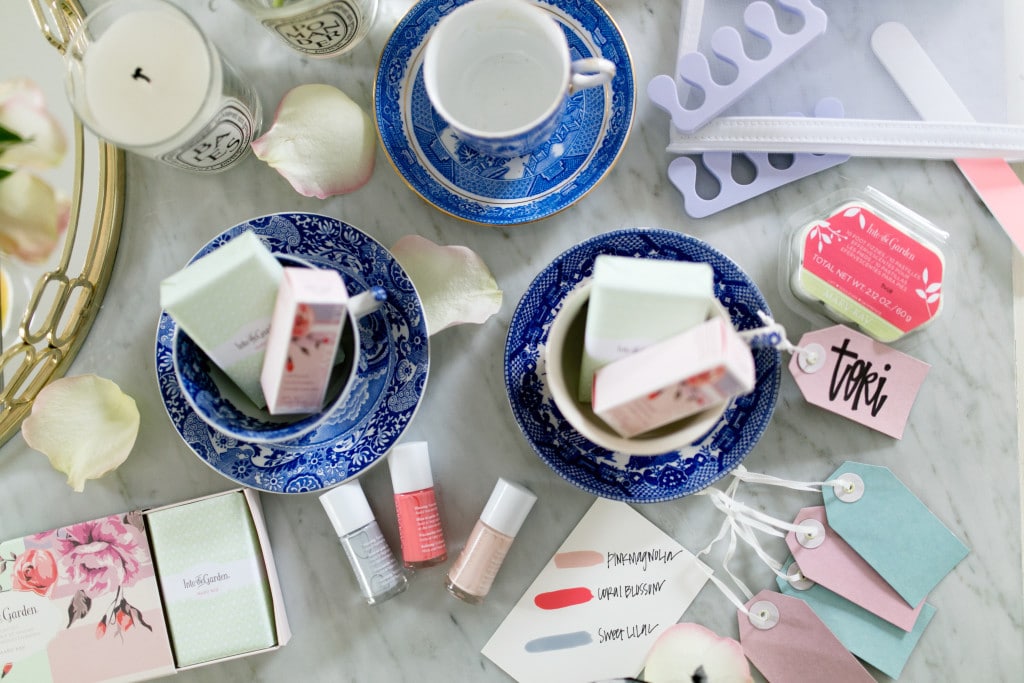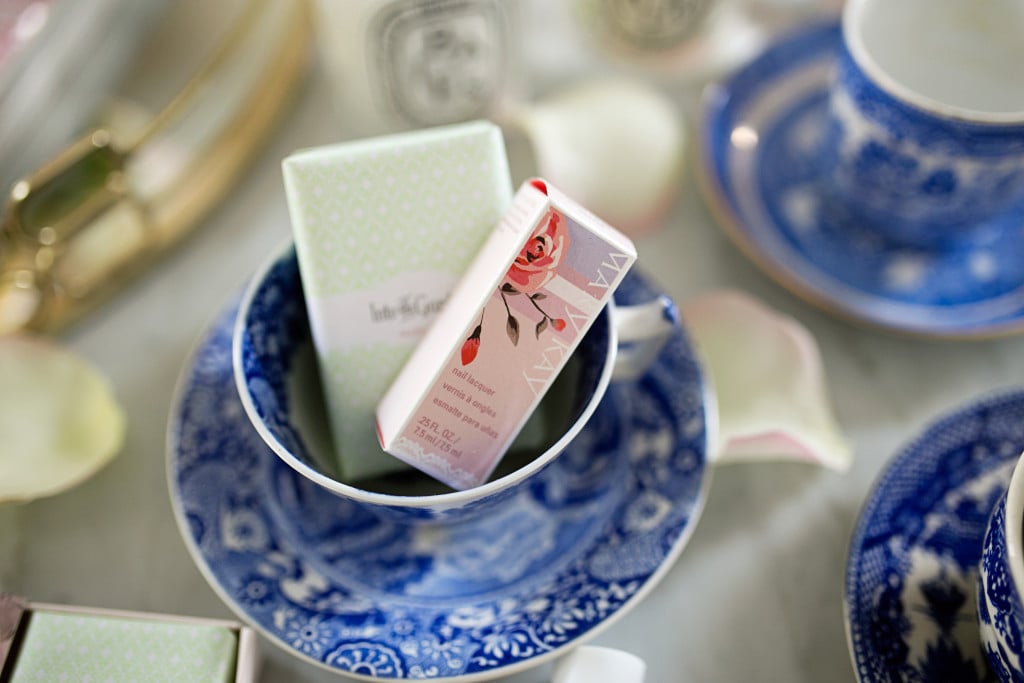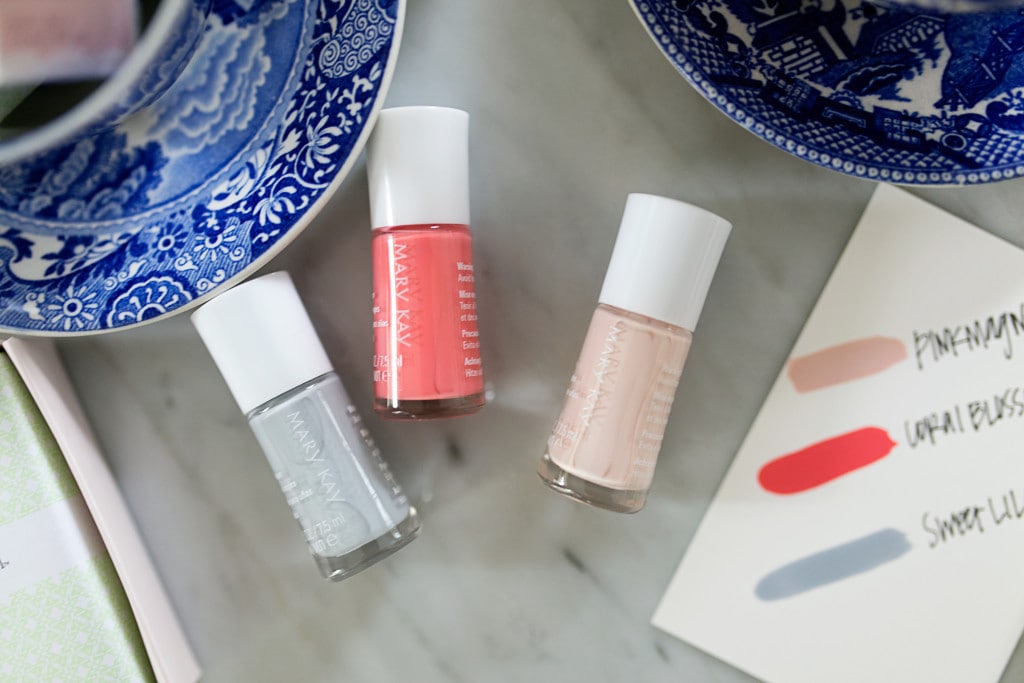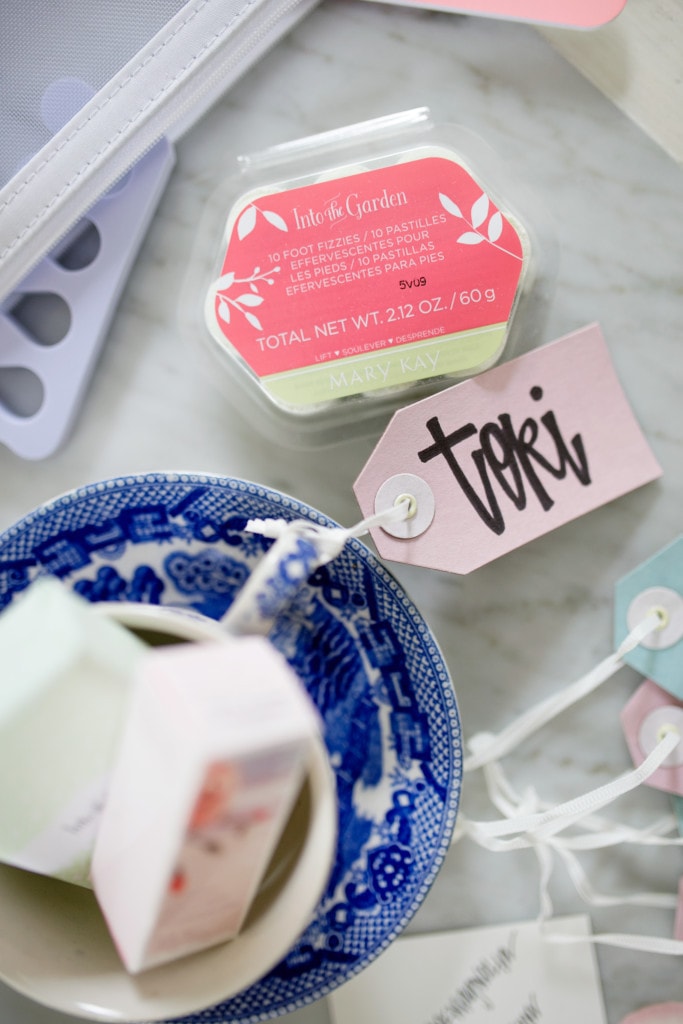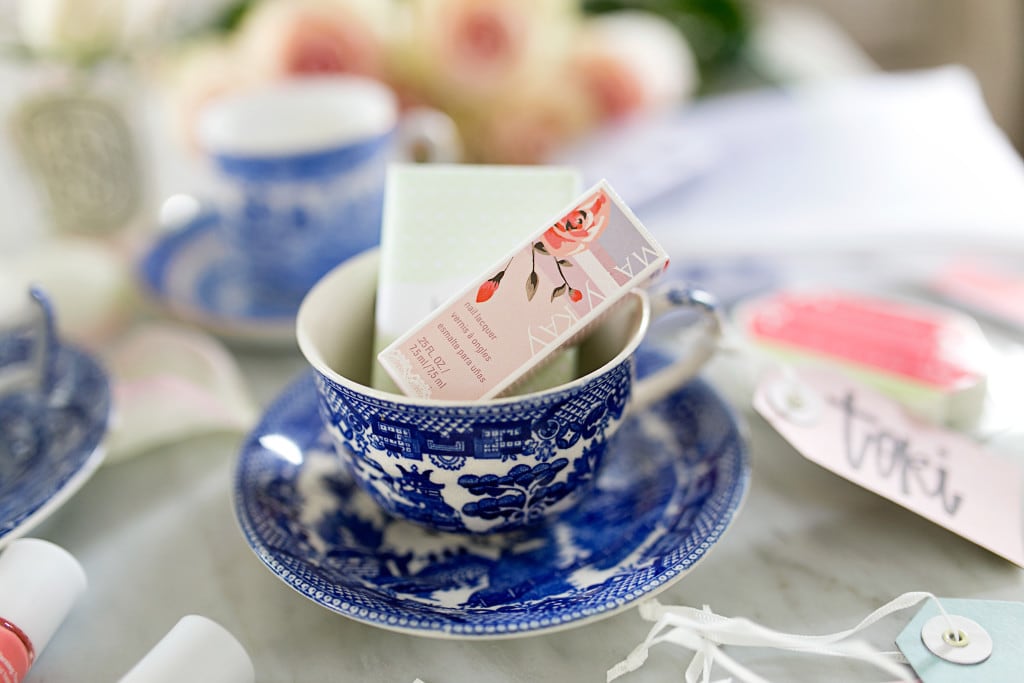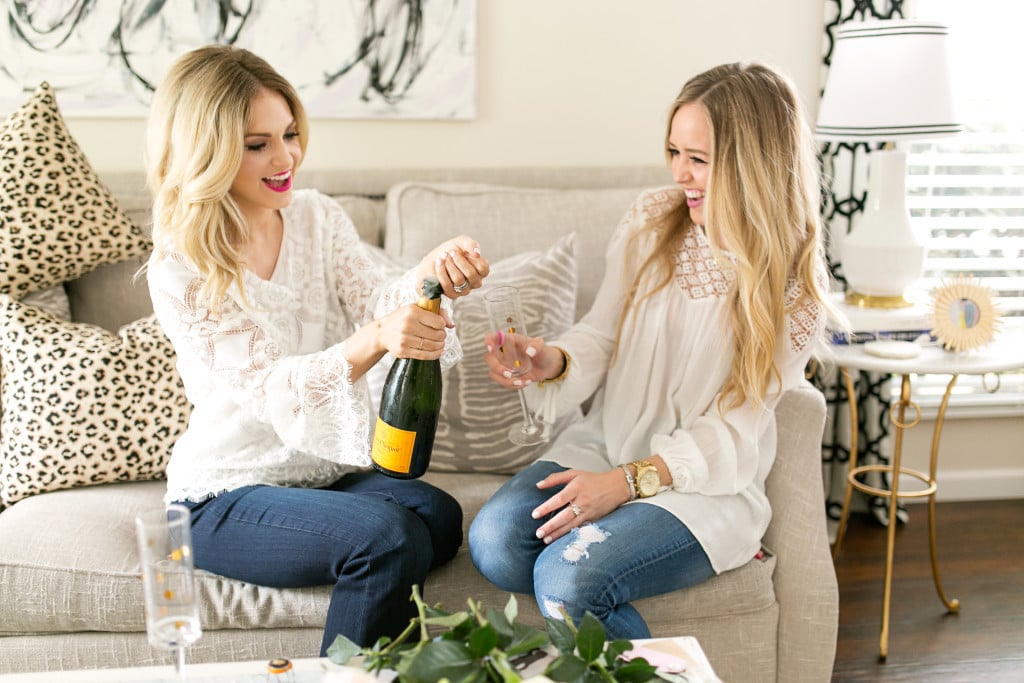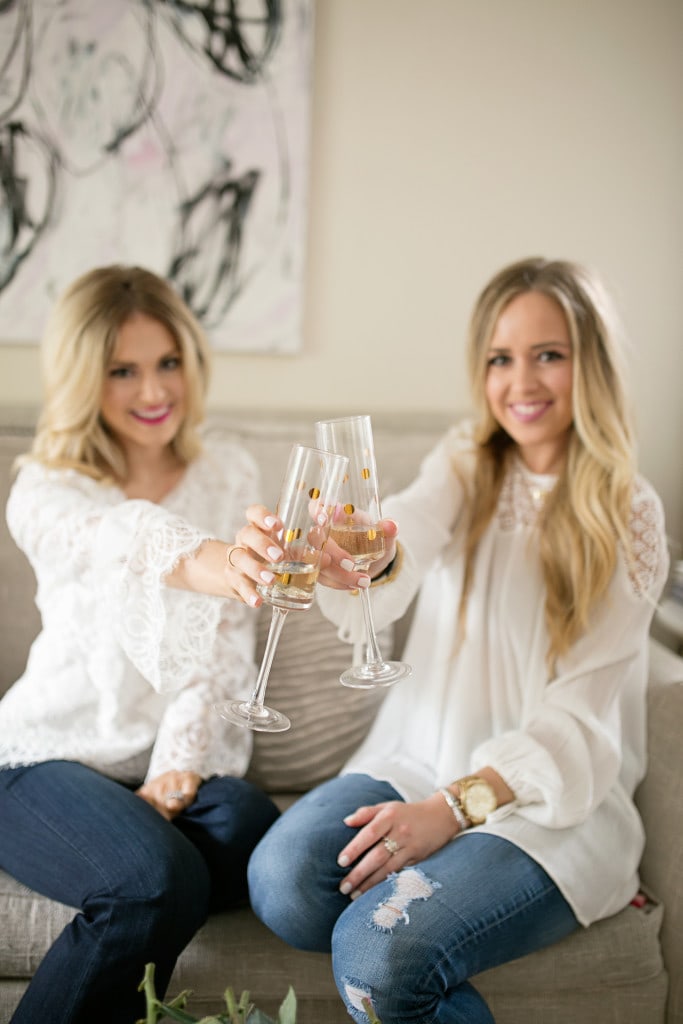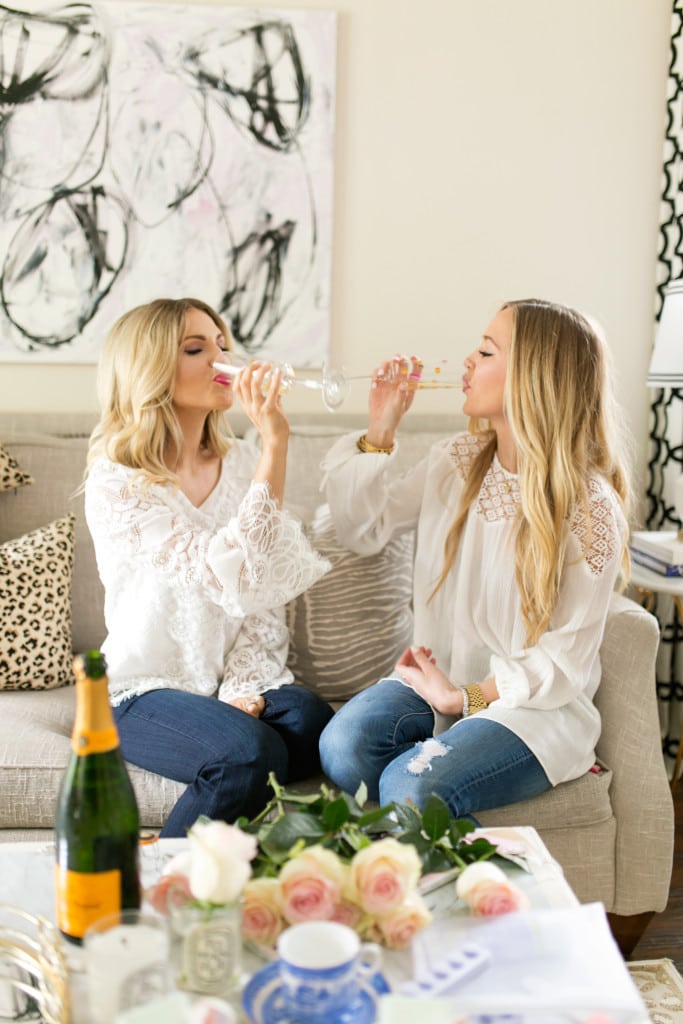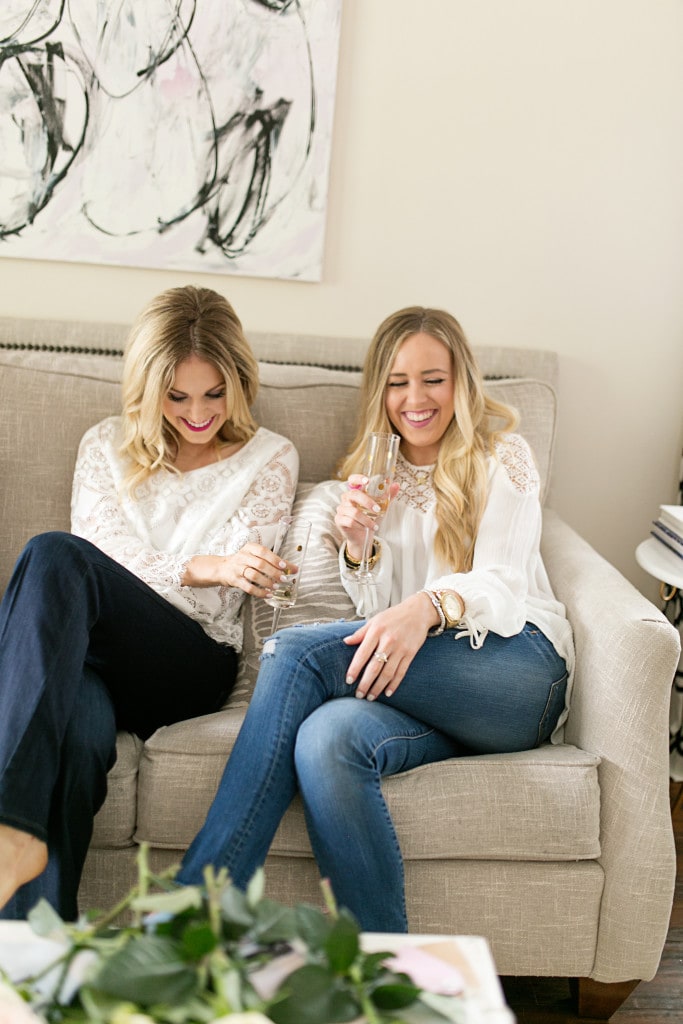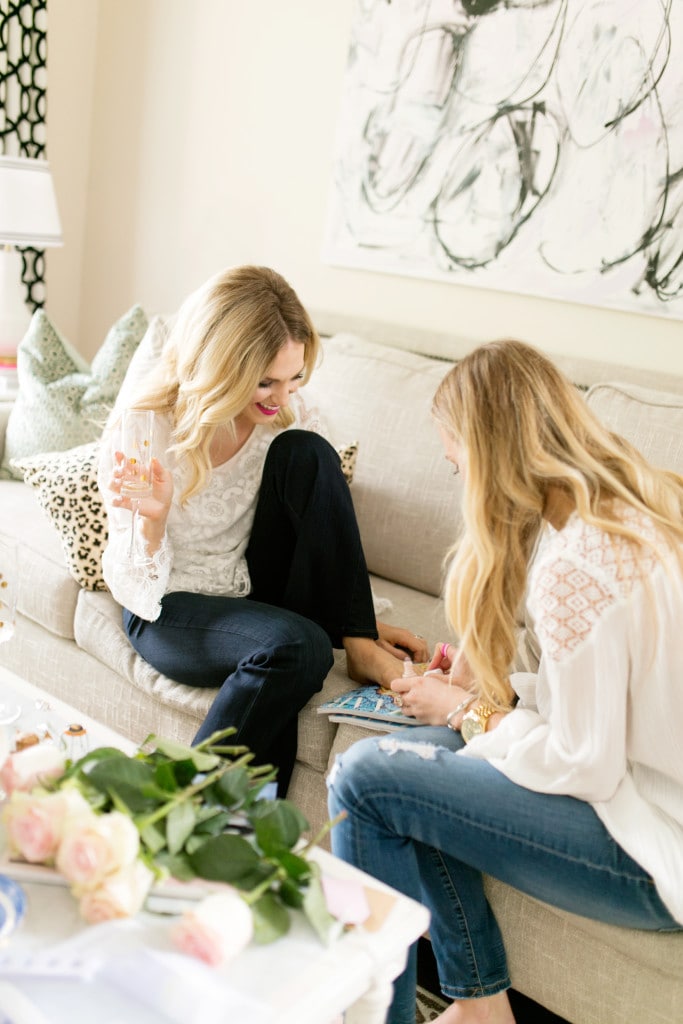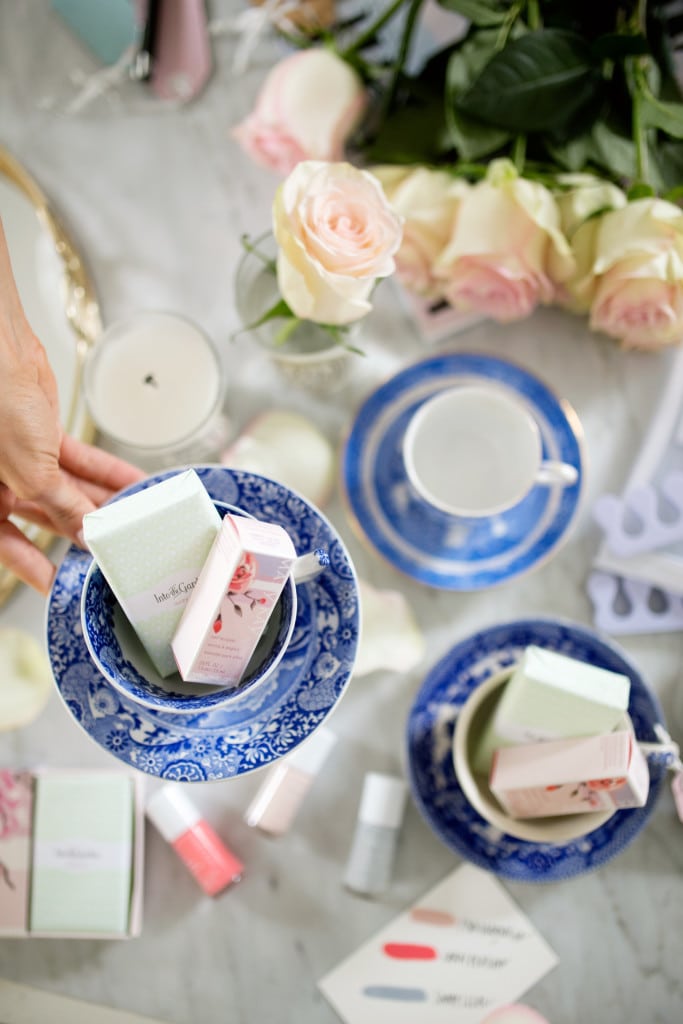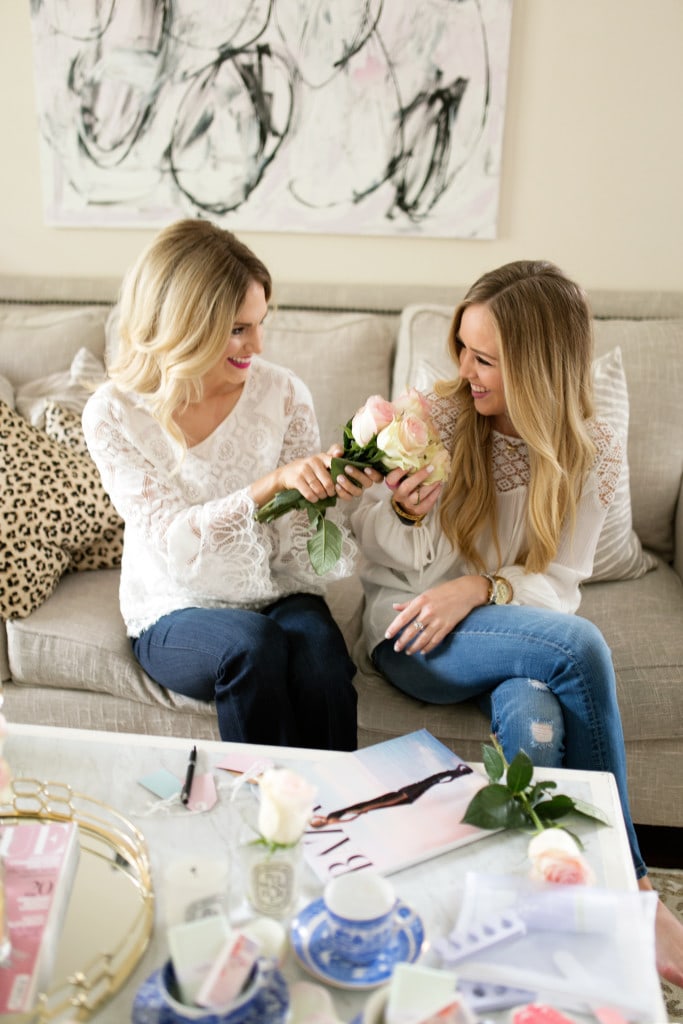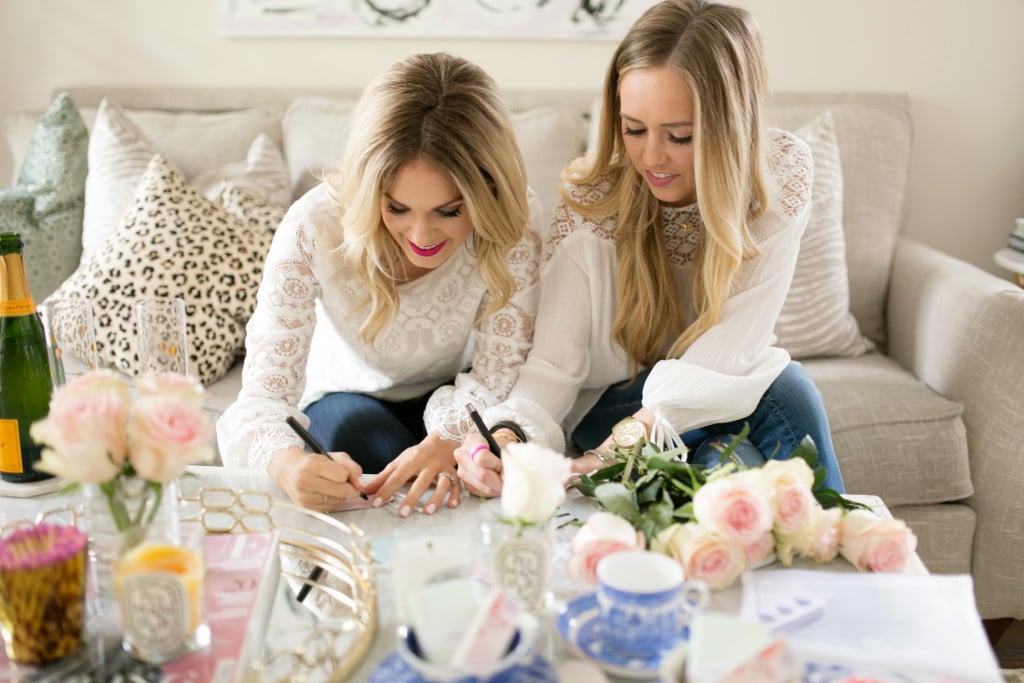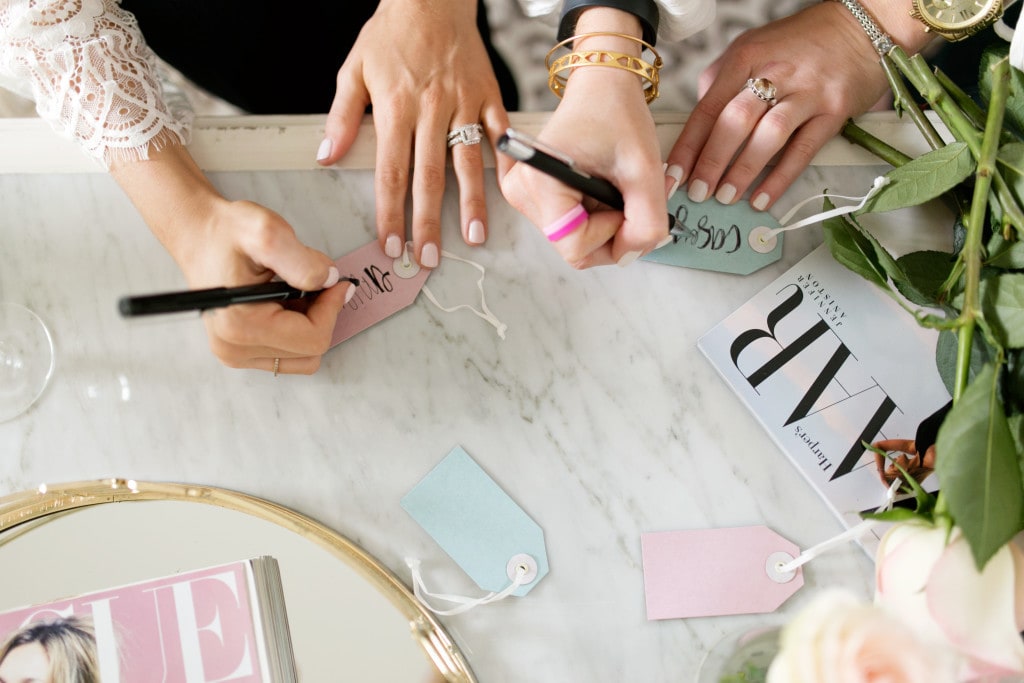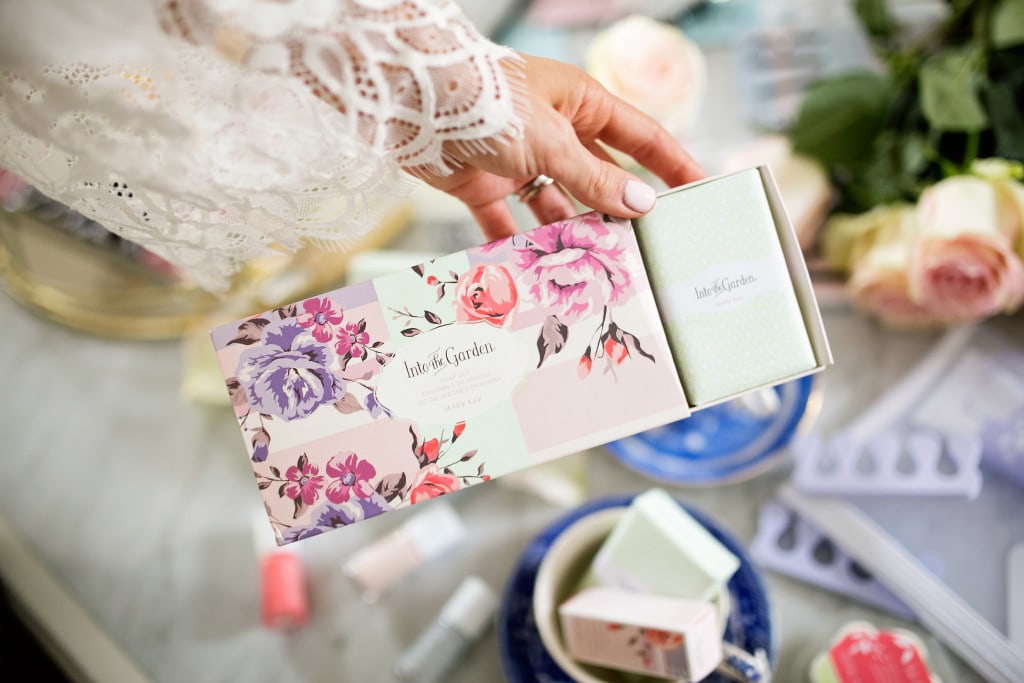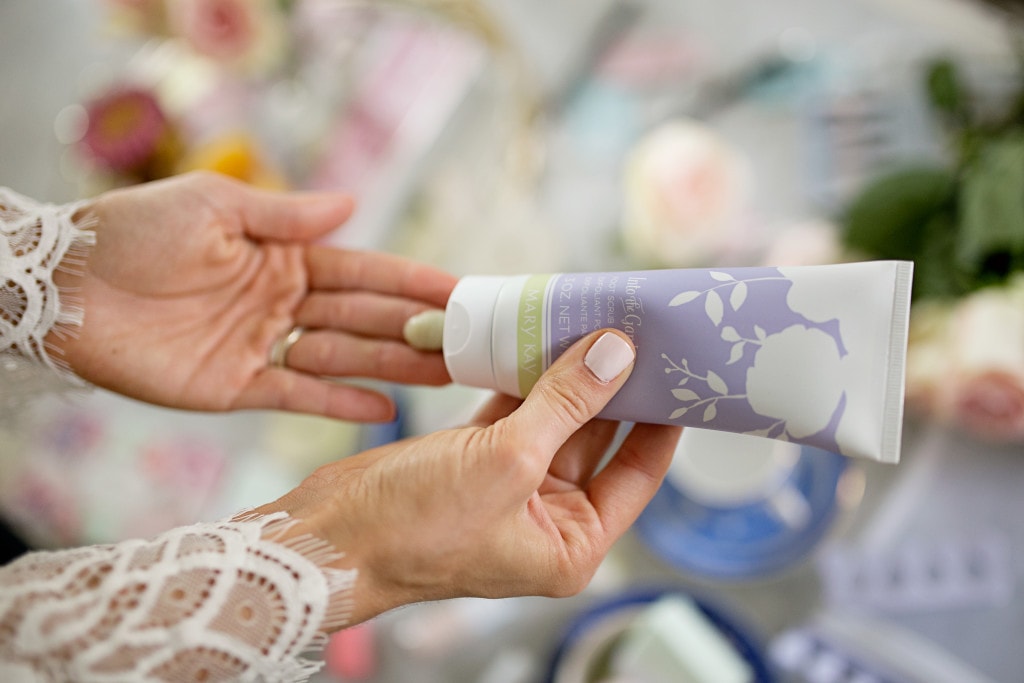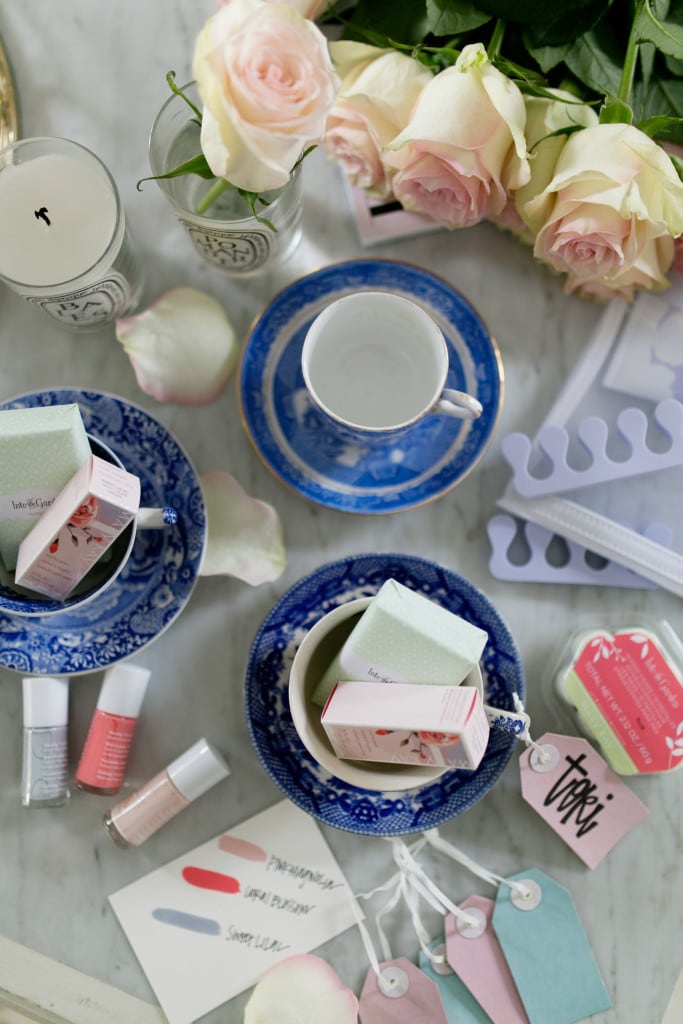 My Top: Vince Camuto [runs larger!] Black Version | My Jeans: Nordstrom | Taylor's Top: Target | Taylor's Watch: Michael Kors | Taylor's Bracelet: Madewell | Teacups: Similar | Candles: Diptyque | Pillows: Arianna Belle | Mary Kay® Limited-Edition* Into the Garden™ Soap Set c/o | Mary Kay® Limited-Edition* Into the Garden™ Pedicure Set c/o | Mary Kay® Limited-Edition* Into the Garden™ Nail Lacquer c/o
Photography by: Angie Garcia
---
One of my favorite events for my wedding was asking my girlfriends to be my bridesmaids. I knew having a Southern wedding that there would be a lot of events and so I was excited to just start the process of honoring them.
I knew I was having 7 bridal showers [#SouthernProblems] and I felt really guilty. I told them all ahead of time they didn't even need to come to any of them, but I knew they would. So I wanted to give them a fun lunch to spoil them and kick off our planning with champagne and presents for all. Sadly, I didn't photograph that day very well because I was just so in the moment with my girlfriends, but the theme was Springtime Chic.
I absolutely love ginger jars! My Meme has so many Chinoiserie touches around her home and so does Paul's grandmother. They both inspire me in so many ways, and so I wanted to bring in a touch of that with this shower. We all wore floral dresses and my wedding planner ordered 50-something ginger jars from all over. She filled each one with peonies spilling over and we had little teacups on each table.
Paul's grandmothers are seriously like my own and I feel really lucky to have 4 women I admire so much. I asked one of Paul's grandmothers [the one who loves ginger jars just as much as I do!] if she had any requests for our wedding. You want to know how I secretly think we were always meant to be related?! Her response was as follows: "Just make sure your bridesmaids have matching manicures. I went to a wedding last week and the sweet bridesmaids all had different colors on their toes! Can you believe it?!" I mean how precious is she?! So I knew in their gift bags I had to include nail polish for all, we went with a really soft pink just because I think it makes every girl's skin tone look so beautiful!
If you're a bride or even a MOH and wanting to help your best friend ask her besties I wanted to help you recreate this look. I recently partnered with Mary Kay® Limited-Edition* Into the Garden™ Collection to test some of the collection. The Into the Garden™ Nail Lacquer in Pink Magnolia reminded me just of what my bridesmaids wore and I think it pairs well with any style from a beach wedding to black tie. Side note, this is the polish I had on my nails two weeks ago and it never chipped for 6 days! Ever. So this is perfect for bridesmaids! Sweet Lilac was my next favorite shade as it matched my wedding dress and I thought it was fun for your toes. Coral Blossom is great if you do a quick change before your honeymoon! Which I do want to preface with, you might if you go to the beach!
Because I wore my pumps all day long on my wedding day and danced all night my toe polish smudged. My MOH, Taylor, came over the next day right before our flight to help us pack and put away wedding gifts [she is a SAINT. Seriously. Everyone needs a Taylor!]. She saw my pedicure was a mess and she seriously helped paint my toes while I was writing out wedding gifts so I wouldn't forget who to send a thank you note to.
To create these gifts for your gals start with a vintage Chinoiserie or floral teacup! I found mine at local antique shops and this is a really fun way to incorporate the mother of the groom or even your mom! Moms love antique stores! 😉 You can grab lunch at the tearoom and then run around finding unique teacups. Place a Mary Kay® Limited-Edition* Into the Garden™ Soap Set in the bottom [these smell so good! I fill my drawers with little soaps to keep everything smelling lovely] and put a polish on top. Then just tie on a card with their name and you can write on the back!
I would include three little points on the card, just because I know bride brain is a real thing I thought I'd share to help!
1.How thankful you are for their friendship
2.Why you need them by you on your special day
3.If they would do you the honor of being your bridesmaid
Here's a little example! I promise y'all, bride brain is real!
"Tori,
You are by far my oldest and dearest friend. I'm so thankful God allowed our moms to become best friends because that means I have never known life without you being one of mine! From learning to walk to learning to dance to learning to drive a car, there is no stage of my life you haven't been part of. I couldn't imagine you not standing by my side as I marry the love of my life. Would you pretty please do me the honor of being my bridesmaid?
xo,
Katey"
I also had 5 flower girls so they came to this bridesmaid's luncheon as well! Three were my sweet little cousins and two were girls I have grown up babysitting. They always love to play in my makeup and give me pedicures. Ryleigh and Reese [the two girls I babysat] gave me a pedicure every Saturday night the entire time I was in college and so I thought little pedicure kits were only fitting! Mary Kay also has one as well in this collection which is the Mary Kay® Limited-Edition* Into the Garden™ Pedicure Set. The entire time they wanted to match "the big girls" so if you got this set it would be cohesive for them as well.
I was so excited Mary Kay allowed me to partner and review this collection because I have been wanting to share a way to ask bridesmaids in a way that was similar to mine, since I was so sad I never took photos!
Grab some bubbles with your MOH and have fun making these little tea cups! I'd love to see how you ask your bridesmaids!
Thank you so much for stopping by!

In collaboration with Mary Kay. All opinions are my own. Thank you.