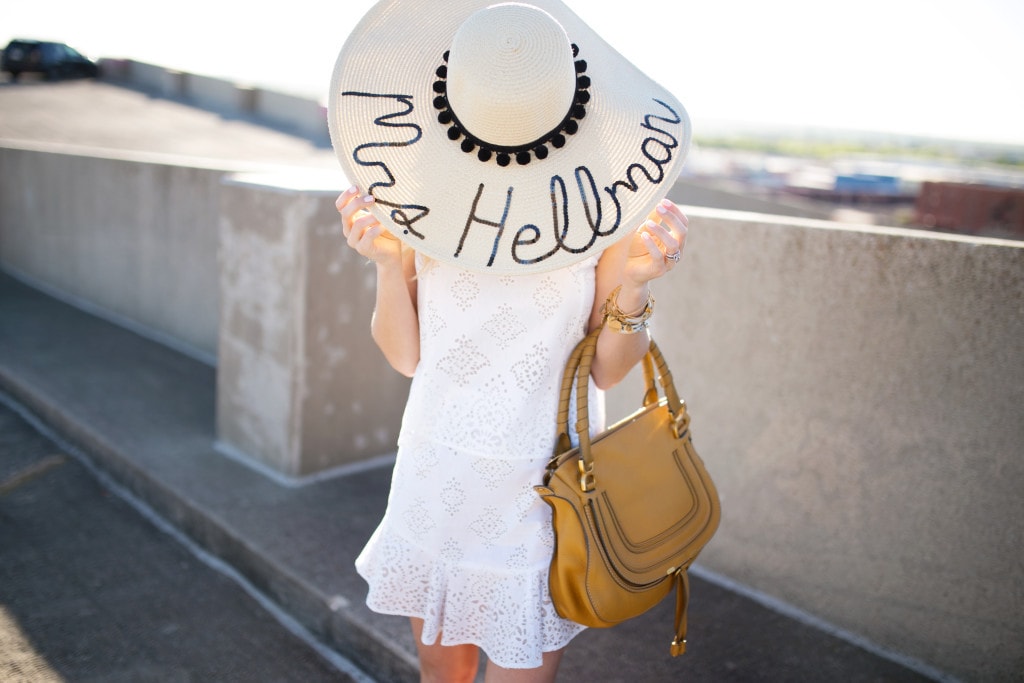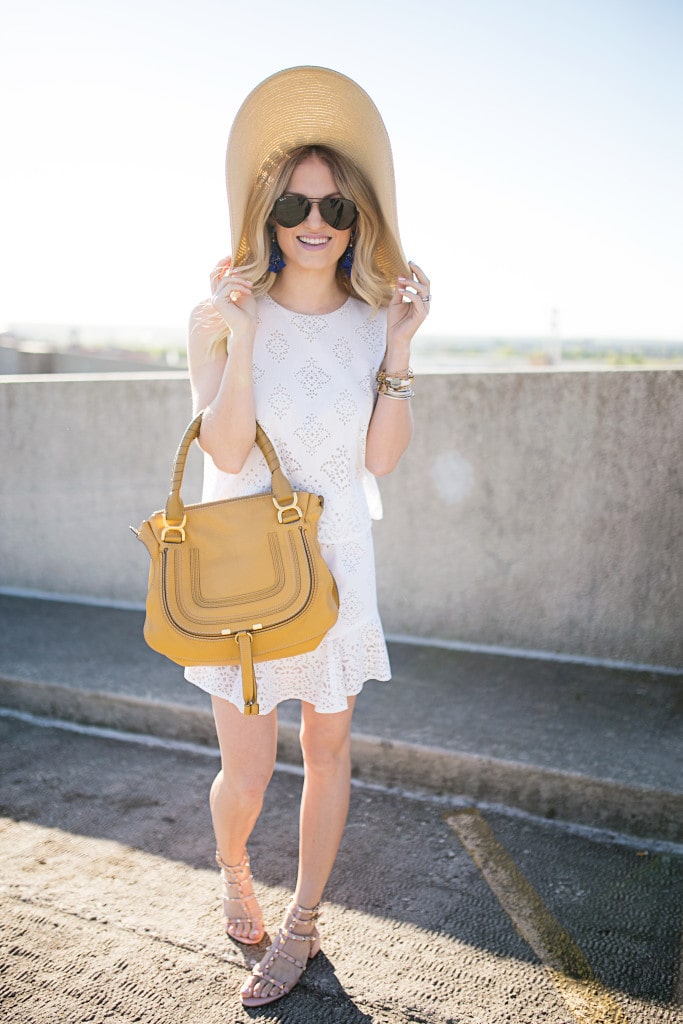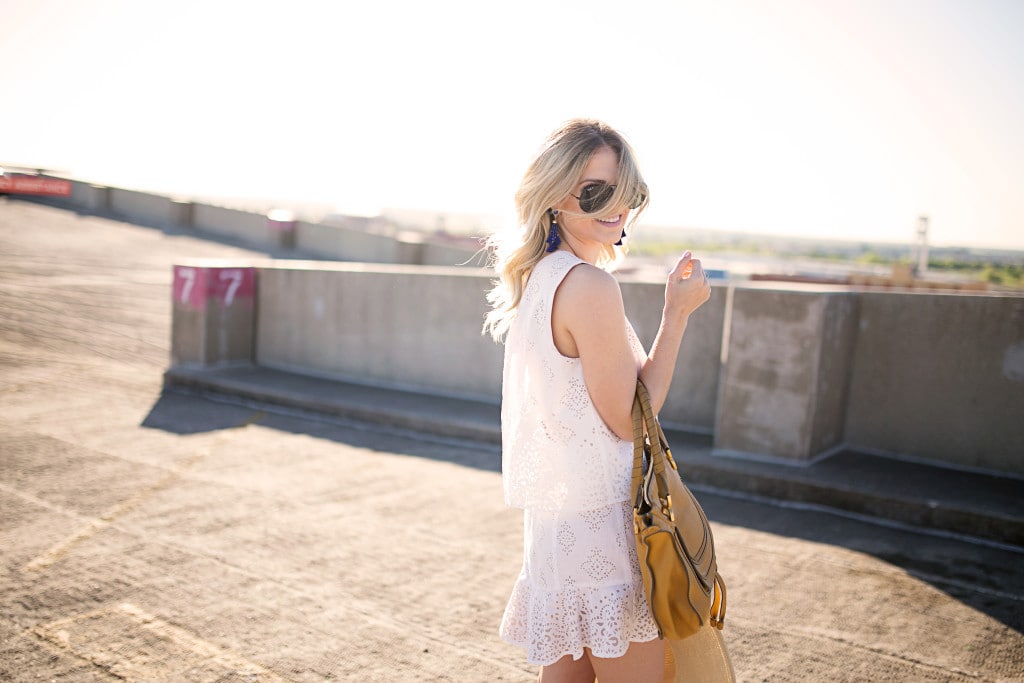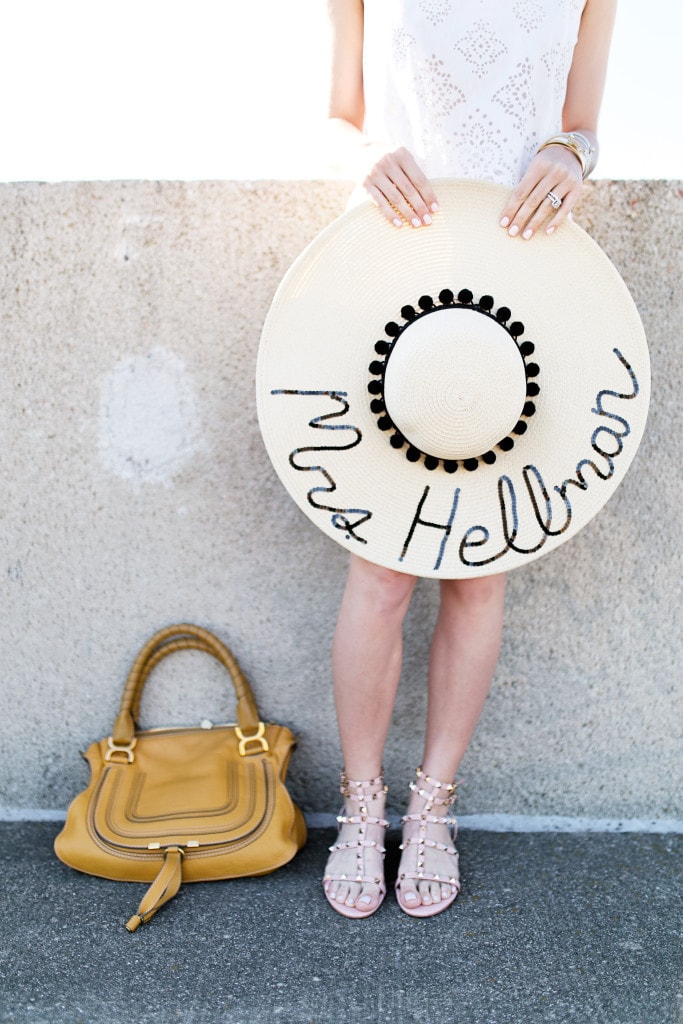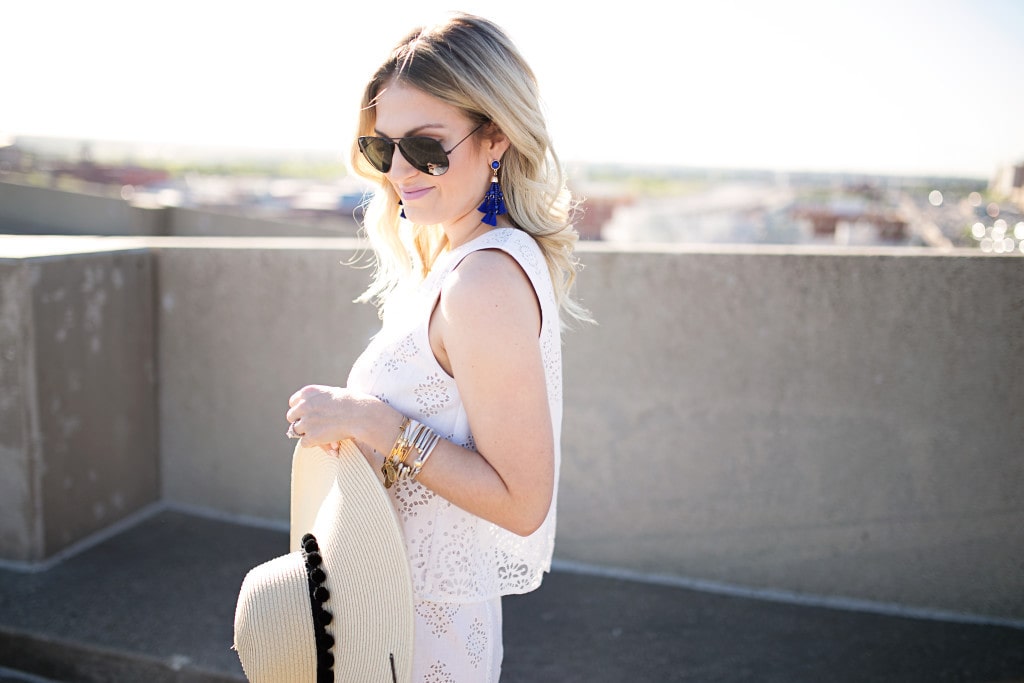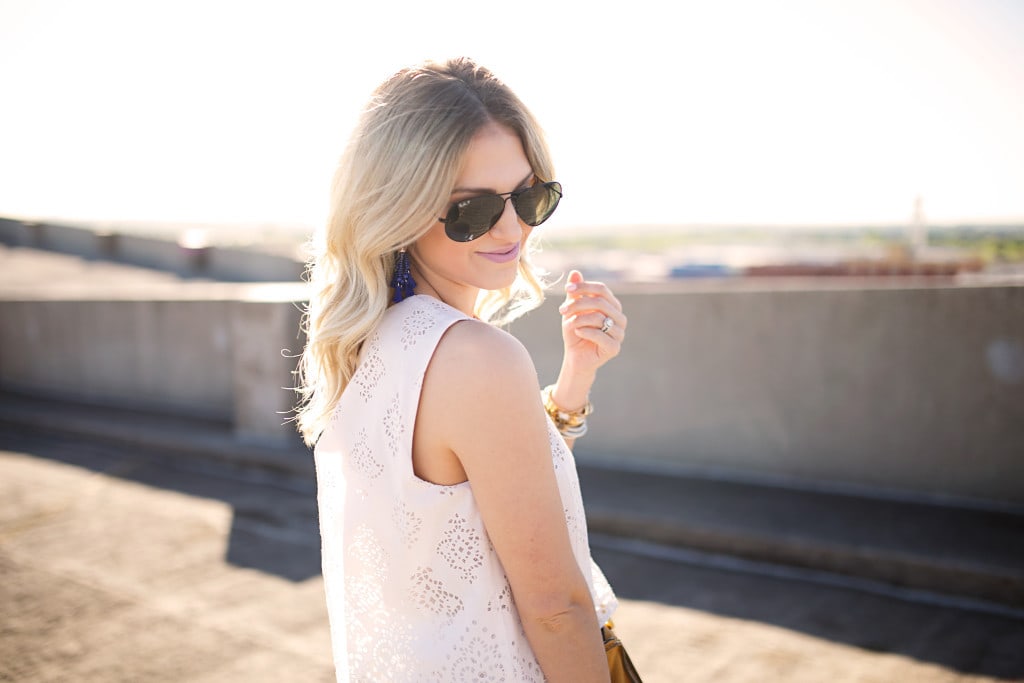 Mrs. Hellman Hat: Hats by Olivia [c/o] | Dress: BCBG-true to size [here] [here]| Earrings: Baublebar-sold out [Pink Version] [Similar]  [c/o] | Shoes: Dillard's, Nordstrom | Chloe Bag: Neiman Marcus, Similar [dupe!] | Bracelets: Alex & Ani, David Yurman | Lipstick: Requiem
Photography by: Angie Garcia
---
I always get questions about my last name.
"Are you going to change your Instagram handle?"
"Are you Katey Hellman or Katey McFarlan?"
"When will you rebrand?"
At first, it wasn't even a question. 90% of bloggers who start their blog before they marry don't change their last name on the blog. There are so, so many reasons from contracts to SEO purposes. I would never assume people even know my name, if anything I think they just scroll on instagram and think, "Oh that's the girl with the dog named after a fruit!" haha. So changing names to the mix just confuses Google AND readers!
And then there were privacy reasons. Do my future kids want their last name plastered on the internet? What if they are shy? My sister is incredibly private and hates me even tagging her on social media. Granted, my readers know my real last name, but the people that quickly scroll through and don't follow. Should they know their last name?
And now, almost 7 months into marriage? Take the business aspect out of it and go ahead and remove the privacy issues, I just like the difference. Legally, I'm Katey Hellman but I also love being Katey McFarlan at work. I started this blog in college and entered into my career with my maiden name. It's a nod to the work ethic my father instilled in me.
I remember he was helping me study for a physics test one night in high school and he looked at me and said,
"When I look at employees I don't look at who produces the best. I look at who works the hardest. If you fail this test tomorrow I'll be so proud of you because you studied harder than anyone else. If you make an A on this test tomorrow I'll feel the same way. I never ask you to produce anything in life, I ask that you work harder than the person next to you."
I took that with me into my college internships and then post-grad career. I always thought in my mind, "I may not know how to do this the best, but I'm going to work the hardest." That's my McFarlan background.
And then there is real life, where I'm Katey Hellman. Katey Hellman is Katey without her phone. Without social media. Without my blog, which we might as well call my first born. Katey Hellman is the introvert that gets so shy at church when people say, "What do you do for a living?"
So as for now, I'm keeping them separate. It isn't to separate my readers from my personal life, in fact I think it almost brings them in more.
Sometimes when I go to write something and I think, "Wait, should that be private?" [like this post!] I realize, "Katey, your personal life is private anyways. This is Katey McFarlan writing, and if Katey McFarlan wants to share, let her!"
Or when I'm out shooting and people say, "Are you that blogger in Fort Worth?" I don't feel embarrassed I just think, "Hi! Yes! I'm Katey McFarlan, so nice to meet you!" When I'm sure they are thinking, "Why are you taking outfit pictures?! Weren't your senior photos like 10 years ago?!" haha!
It sounds so silly, but it allows me to feel so much closer to y'all and makes me much less nervous to click "publish." I never knew how powerful a name was until I got married.
So to my dad, thank you for giving me independence, strength and drive to be Katey McFarlan.
To my husband, thank you for teaching me how to deeply love others as Katey Hellman.
And to my readers, y'all know me by both names so thank you for not thinking I'm ridiculous!  😉
Maybe I'll change it for business on a whim one day. Who knows how I will actually feel once I become a mom. But in the meantime, I'll walk around with monogrammed straw hats and carry both names!
P.S. This hat is a STEAL compared to others I have found and so fun for summer! You can purchase here at Hats by Olivia.