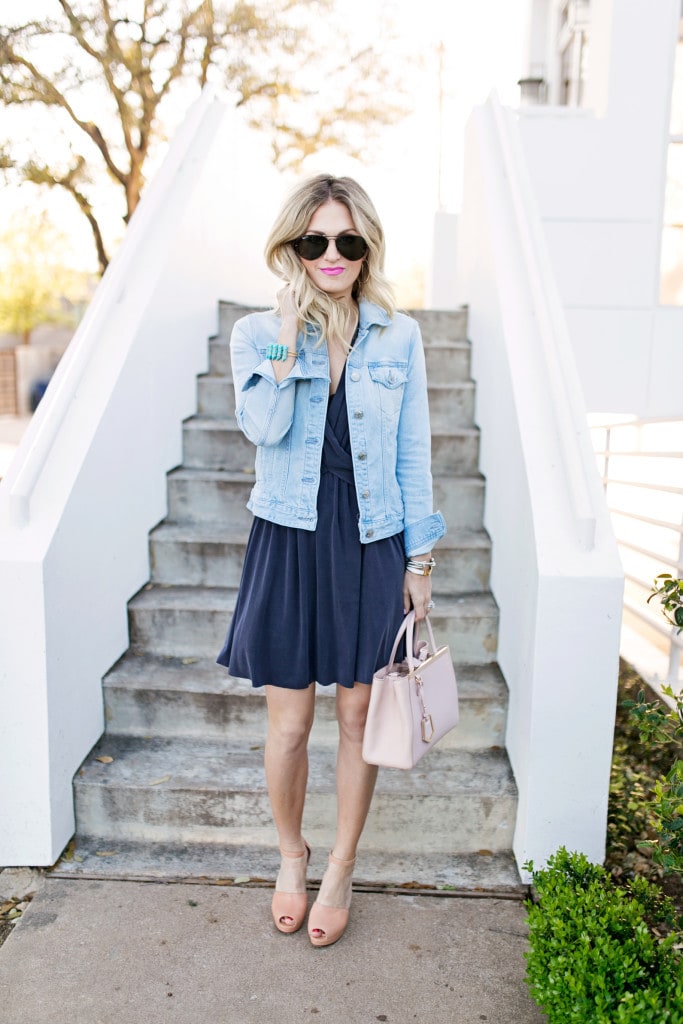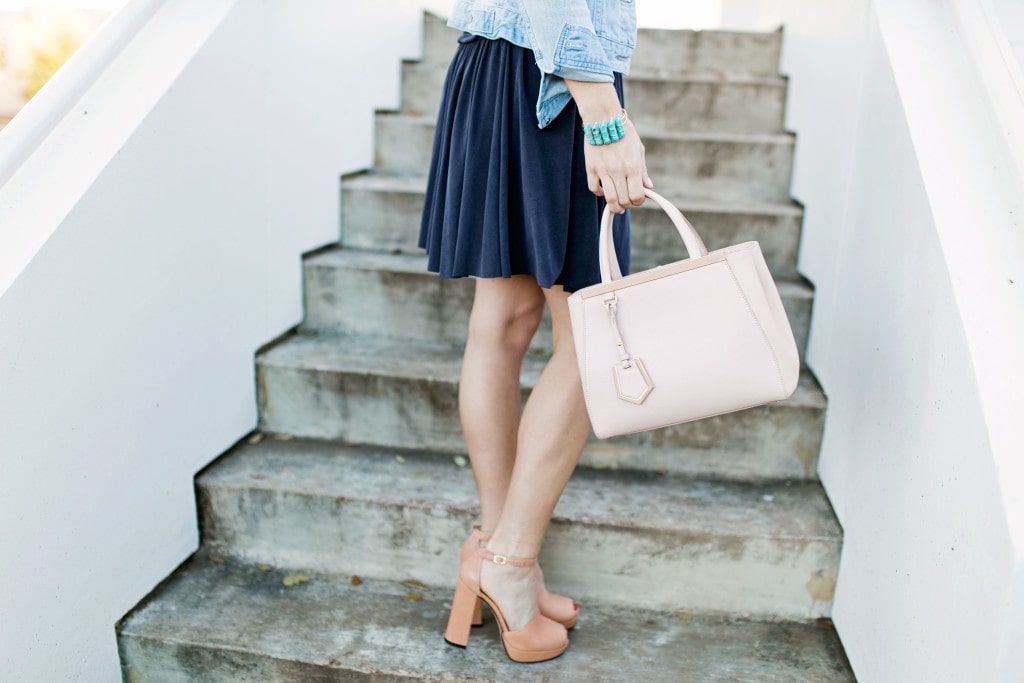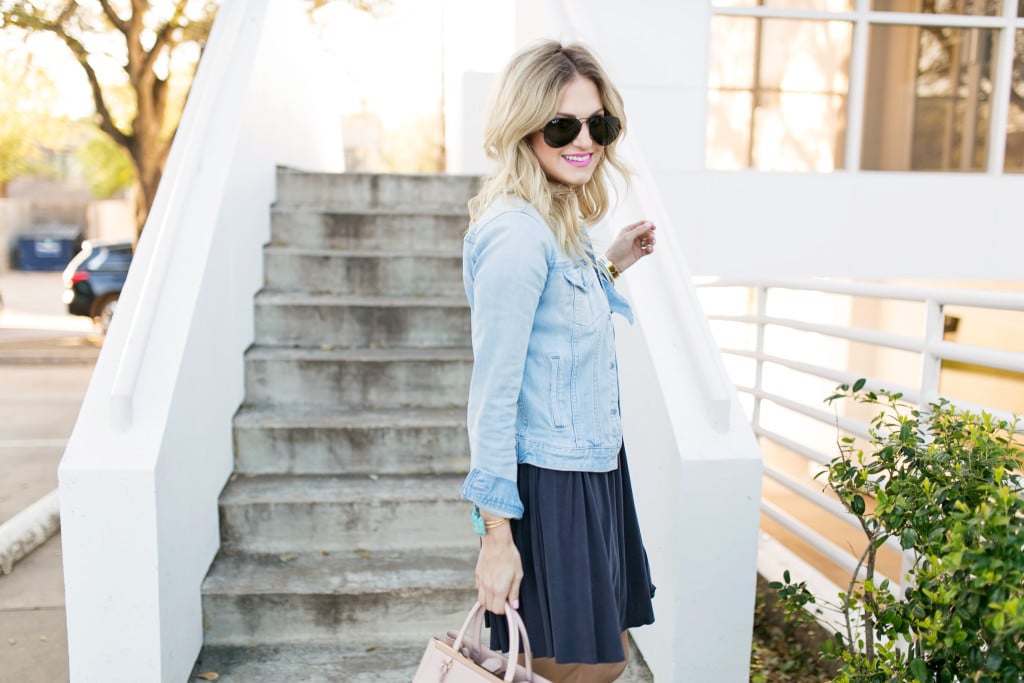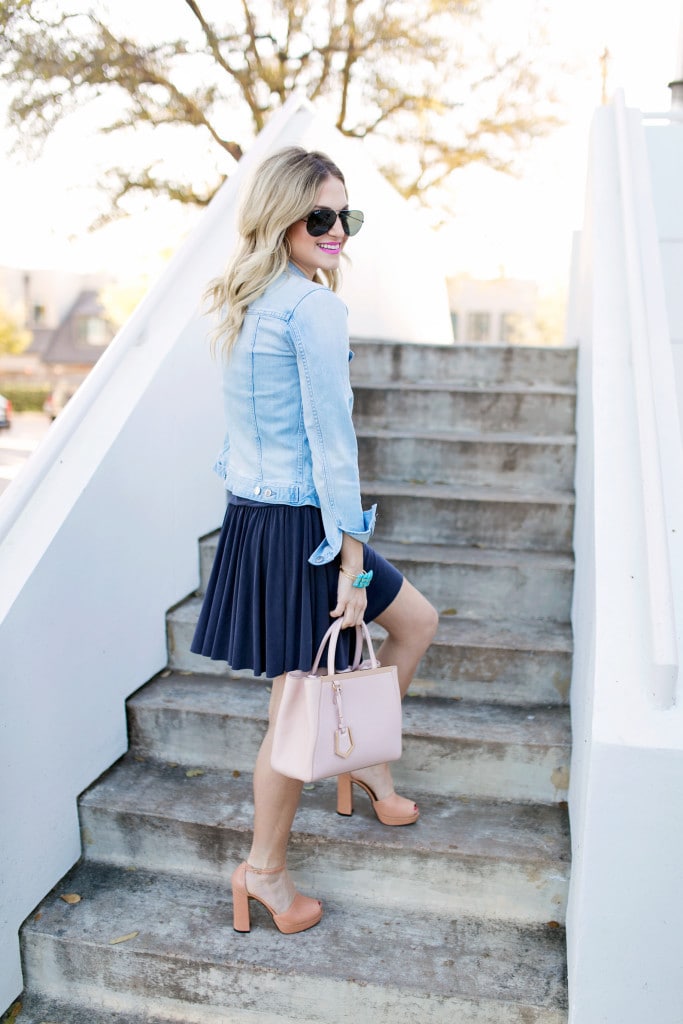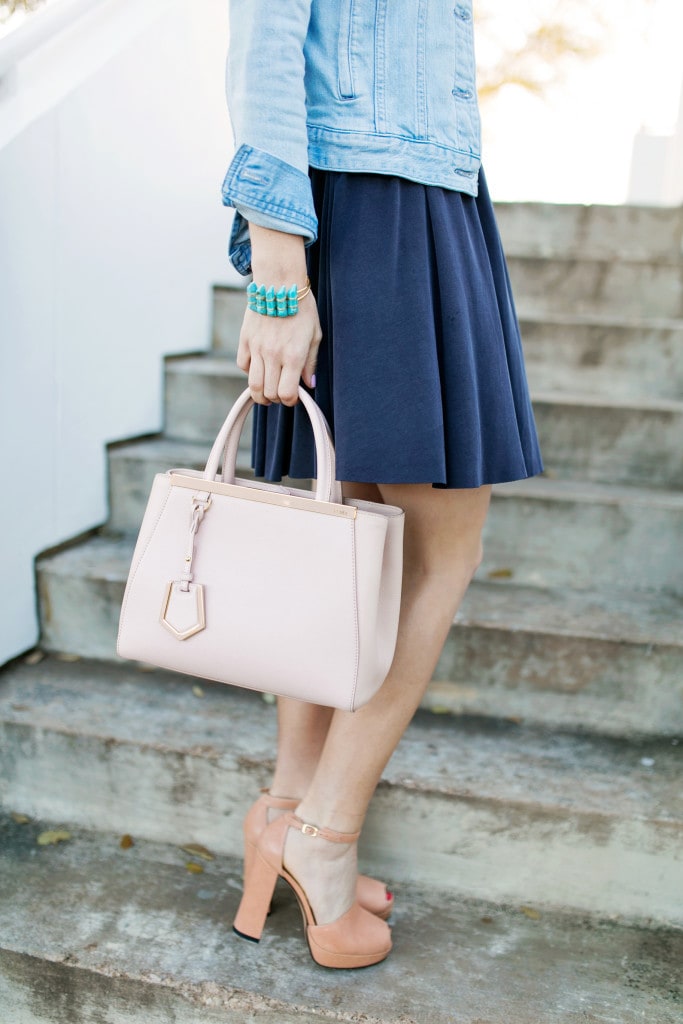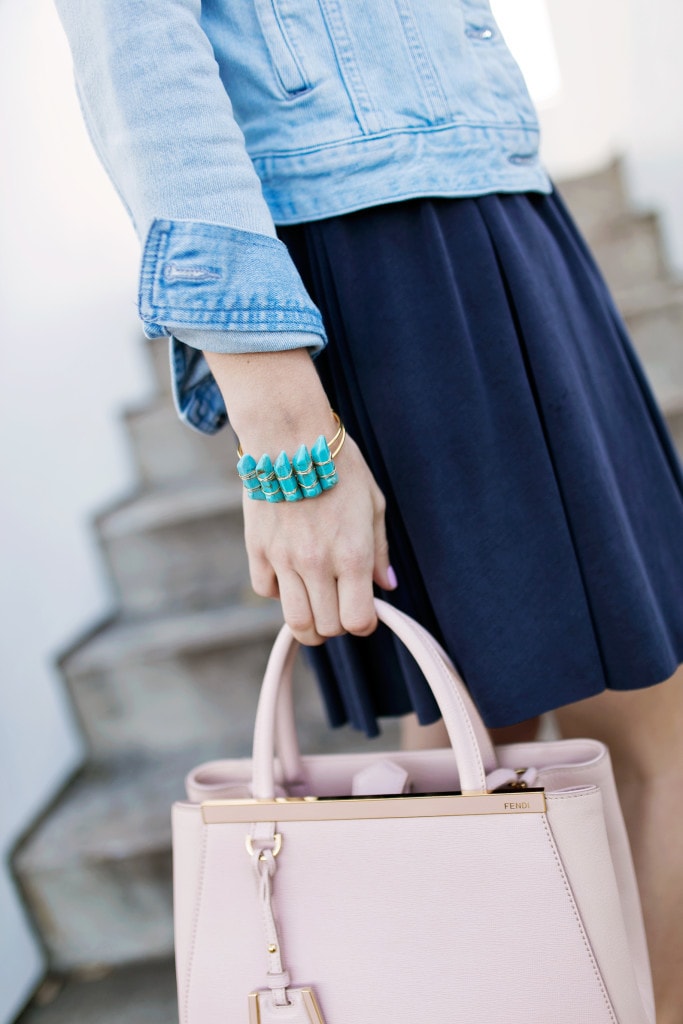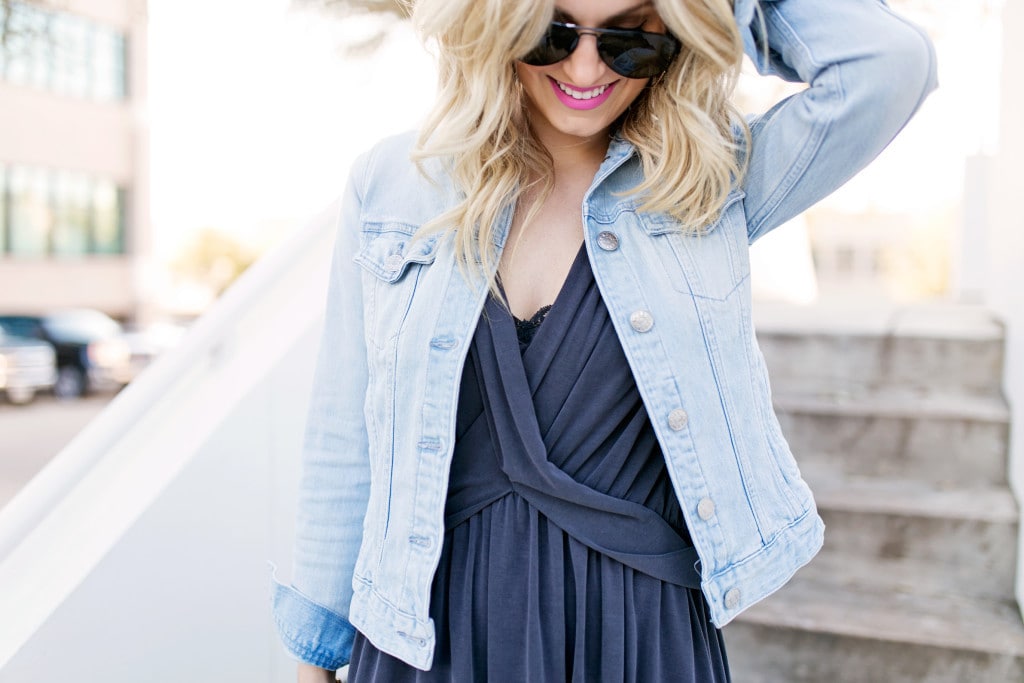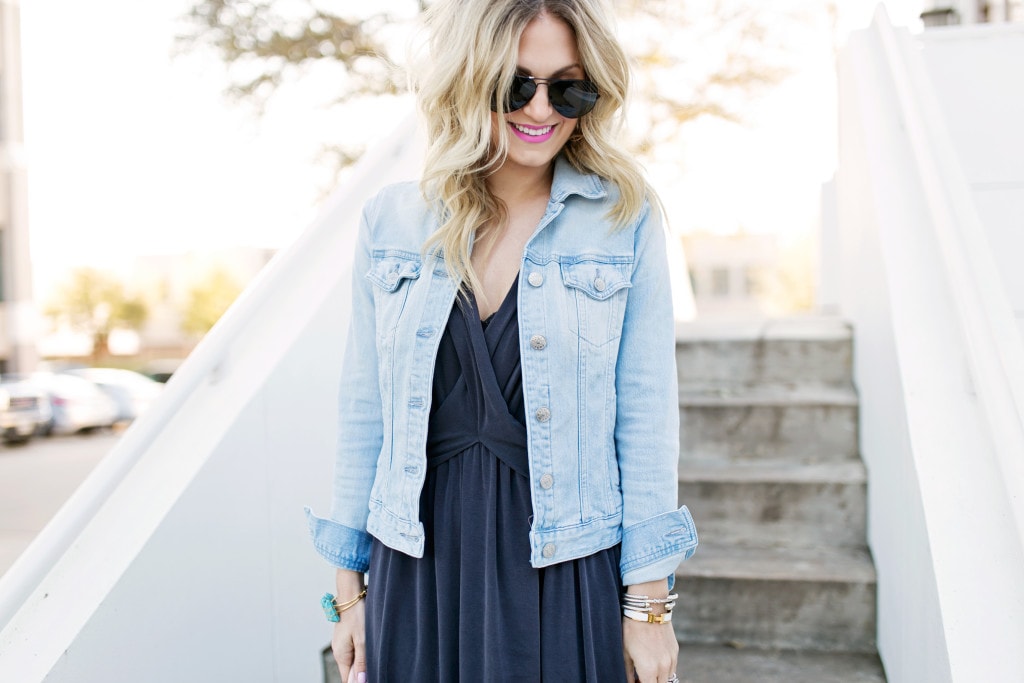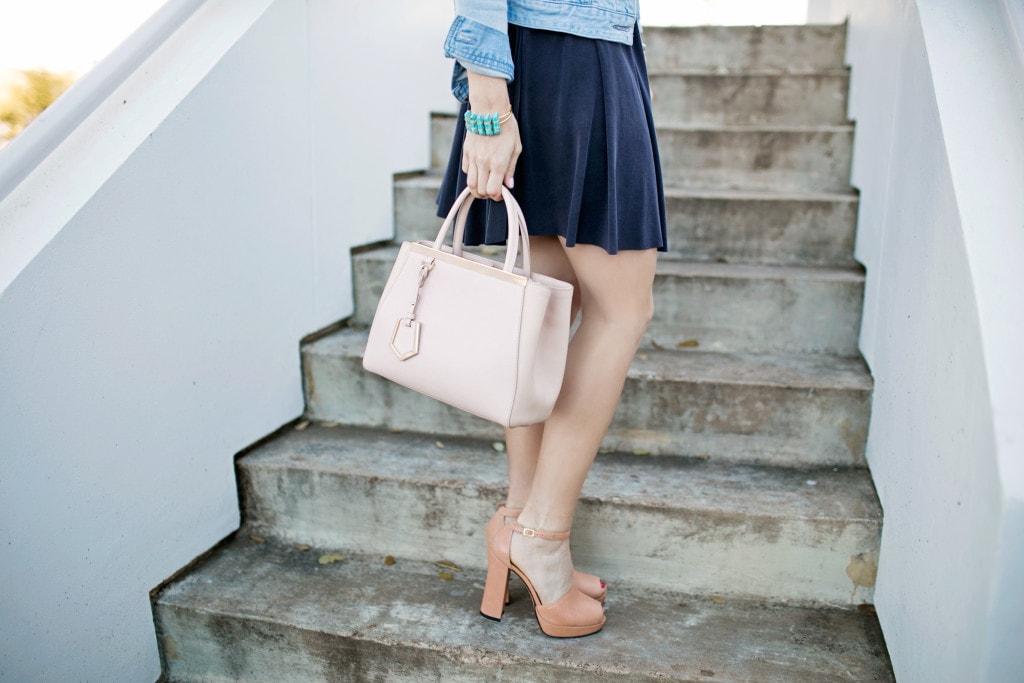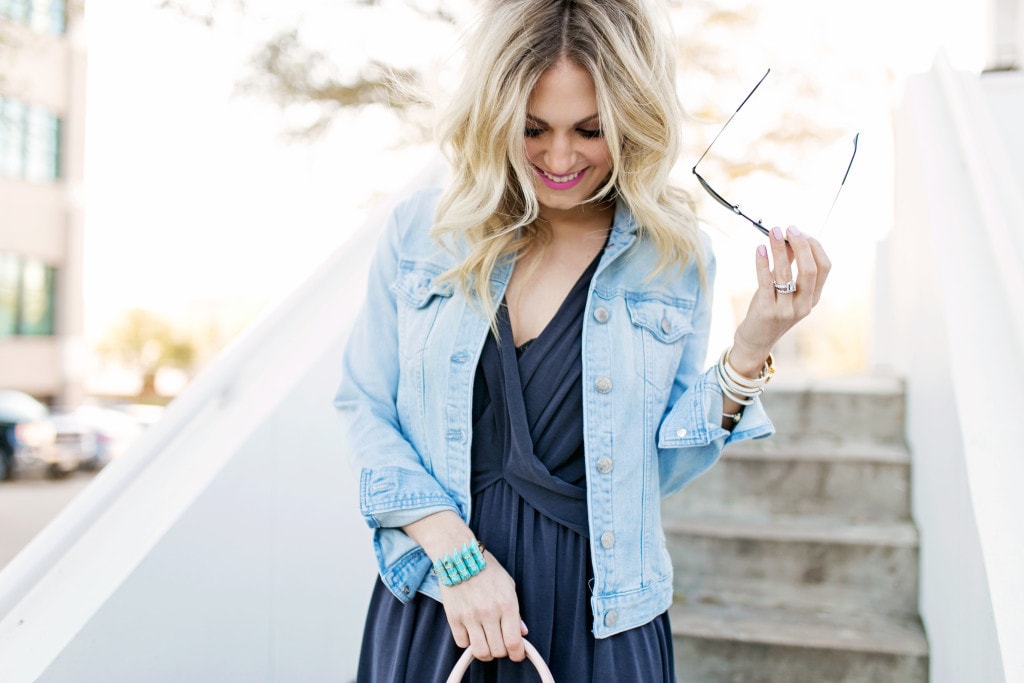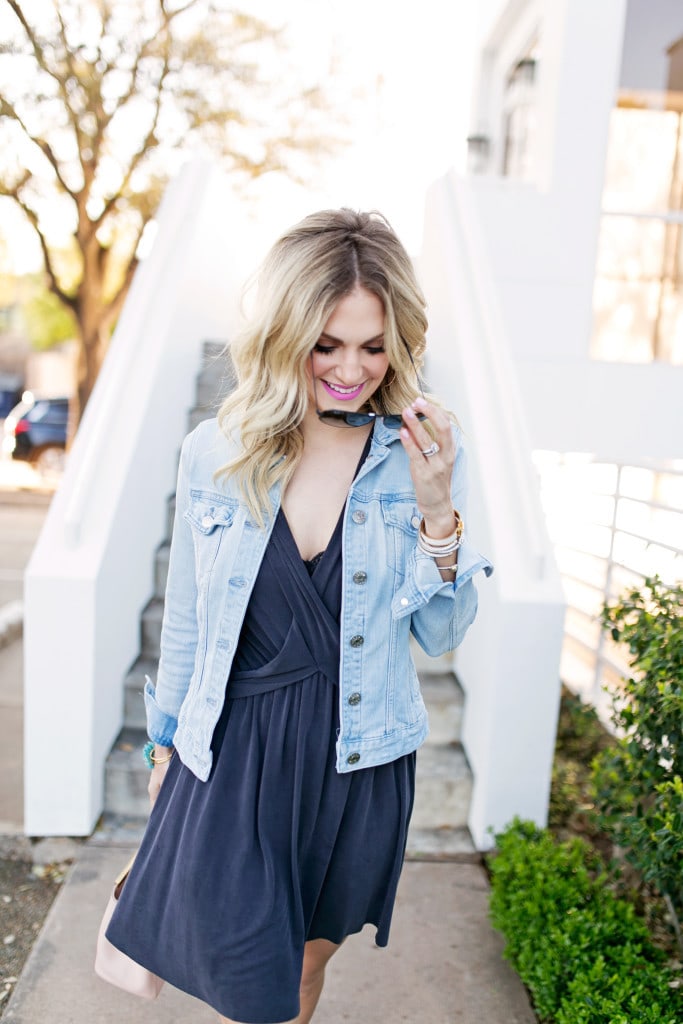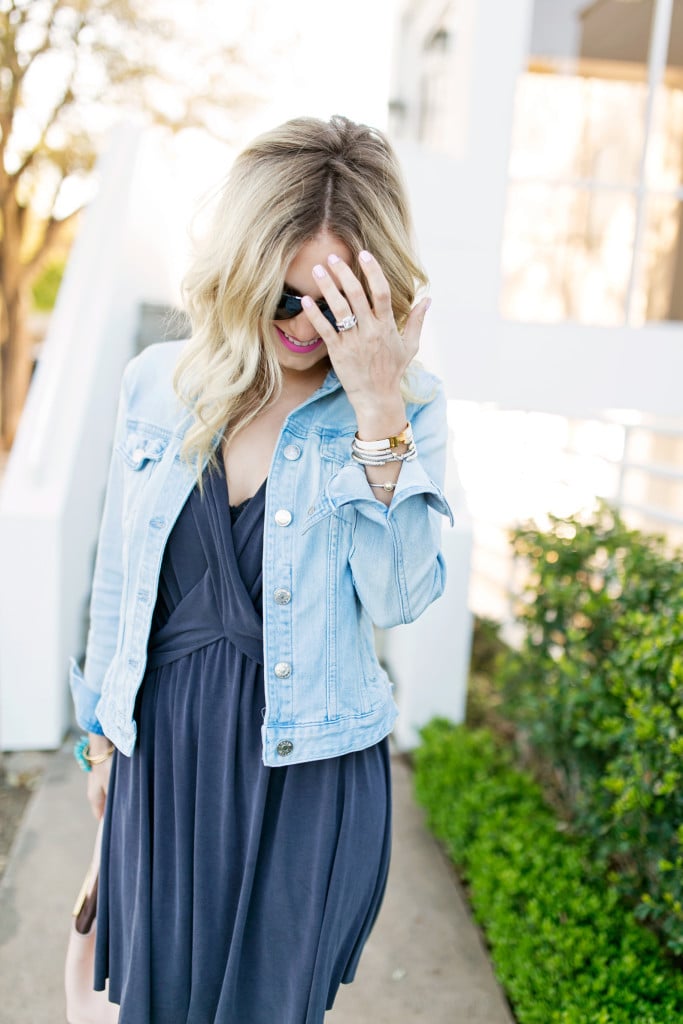 Dress: Free People | Shoes: Stuart Weitzman, Similar | Jacket: J.Crew [old], Similar | Bracelet: Baublebar [c/o] | Bag: Fendi, Similar | Silver Bracelets: David Yurman, David Yurman | Lipstick: Neon Azalea
Photography by: Angie Garcia
---
Happy TGIF! Our conference kicked off last night and so today I'm headed to a full day of meetings and learning sessions. I always come back so motivated after this conference, so I'm really excited about what I will takeaway from it this year! I do research twice a year to get more from y'all on what you want COF to grow into, but while I'm here if you have any requests I'd love to see them in the comments below! More beauty/home/lifestyle?!
This was a must-have dress when it comes to Texas heat. It's so light and I knew that once it was 105 this would be one of the only things I'd want to wear! But for now I styled it with a little jean jacket and some fun pumps for a dressy, spring date!
1.Wildfox Obsession
When you want something soft and you want something playful, every girl typically reaches for Wildfox! I absolutely love their line, however the price is steep. I 100% believe you are getting what you pay for. Wildfox pieces last me for years, they don't shrink and they fit so well! But last week I was on the phone with my girlfriend, Ashley, and we were talking about Wildfox prices. We knew Saks off 5th sold Wildfox for half the price, but normally the selection is pretty low. Something is in the water, because right now they have so many great ones! We both ordered some and I wanted to share with y'all! You can shop all of them here.

2. Skincare
Last week I basically went through and tossed every cleanser that wasn't TULA. I had two terrible experiences in a month, so I figured it was time to come to terms. Y'all know I've been using the cleanser religiously since before I got married and then two months ago a girlfriend of mine gave me a cleanser [if you follow me on snapchat you know which one!]. I just thought I'd try it because part of my job writing about products means I need to test competitors. I broke out within a week. I don't really struggle with breakouts [knock on wood!] so I knew it had to be the cleanser. I went back to my TULA all was well. Well then I was trying to declutter our bathroom and I thought I'd use up some samples I was sent in the shower. I put a new cleanser in the shower and what happened? I broke out again. Thankfully, I just used this mask and it went away. My girlfriend, The Teacher Diva, told me to apply a thin layer under makeup and leave it on all day and it worked like a charm!
I'm not sure about you, but anytime I do have a blemish I go to war sanitizing everything. I Cloroxed the bathroom counters 14 times. I cleaned my makeup brushes and I cleaned all my makeup with rubbing alcohol. I knew my beautyblender [my favorite way to apply foundation!] had to be filled with nasty bacteria but because it is only a month old I didn't want to toss and be wasteful just yet. I found this article on how to properly clean it and I felt like it really worked. I've tried the beautyblender cleanser before, and I liked this method much more!
3. New Coffee Table
You might have seen on instagram last week that we got a new coffee table! I swear, y'all. I'm NOT crazy! I just love to decorate! It could be worse, right?! I think that's what happens when you move in a house before your husband does! I decorated it, he moved in, I saw how we lived in it and have had to change things. Next time we move I'll just slowly decorate to see how we will live in that space.
One of my girlfriends who is an interior designer told me that our first year of marriage I'd rearrange so many times because I'd be learning how we live together, and I now know no truer words have been spoken.
Because our house is smaller, we live in our living room. That's a lovely way of saying, we live in 1100 sq. feet and do everything on the couch. From work to folding laundry to eating take out. I love flash sales, One Kings Lane is my go to. I went a longer time without a coffee table and you might remember I returned a few because I couldn't find what I wanted. I got frustrated and went for a mirrored, gold table during a flash sale. Paul warned me and said, "I think you're going to hate having a mirrored coffee table. You're too Type A. You'll go through a bottle of Windex a week."
Clearly, I couldn't hear him because I ordered the coffee table. It ended up being smaller than we would have liked and I was going mad cleaning it. I'm not sure what it was with the exact glass but if Peaches sneezed you saw it. It showed everything!
So we'd been saving because we knew this table wouldn't last, but didn't really have any intention of doing anything soon. Our old coffee table worked, this was just thinking for the future. Last Friday I was having a really long day with work and he told me I needed a break and we should go get some coffees and walk around somewhere. One of our favorite little shops in Fort Worth to walk around is by our house and so we did that. I found a marble in-lay, French white coffee table and he looked at my eyes coming out of my head and said, "So can you say I was right about the glass coffee table?" I told him he was right and was so happy we found this piece! It made the space to light and airy, and added more of the Southern touches I like mixed in with my eclectic prints. I'll be sharing it on the blog soon, but wanted to give you all the backstory! You can see a picture here and I linked similar ones!
4. Cinnamon Sugar Banana Bread
I made this as muffins for our neighbors last Sunday and it was do delicious! I made another batch for us to eat at home because I couldn't not eat one, haha! I'm not a big banana person, I'll buy them to put in smoothies but ONLY because I know they are good for you. The texture. The taste. Gives me nightmares. But this doesn't really taste like banana at all, and if I don't watch myself I'll eat the entire loaf. So it's safe to say banana haters will enjoy it! 😉
5. Summer Sandals
I'm working on a post for summer sandals, but wanted to share a few I have my eye on! If your area has warmer temperatures you can certainly pull them out now with jeans and little dresses! I have a feeling I'll be splurging on a few more flatforms this year. 😉