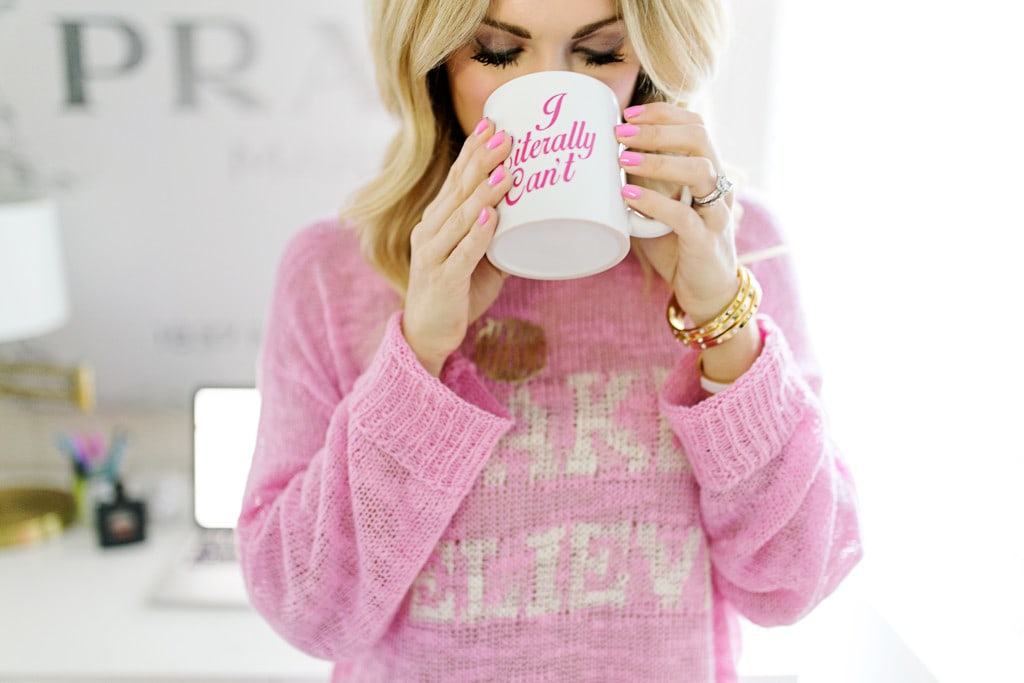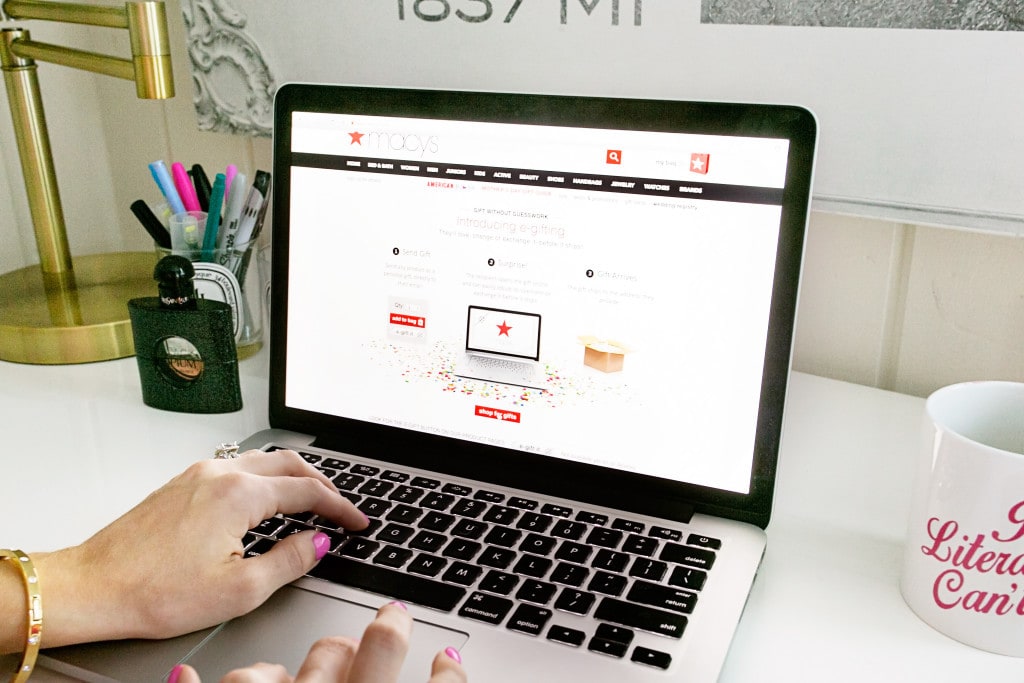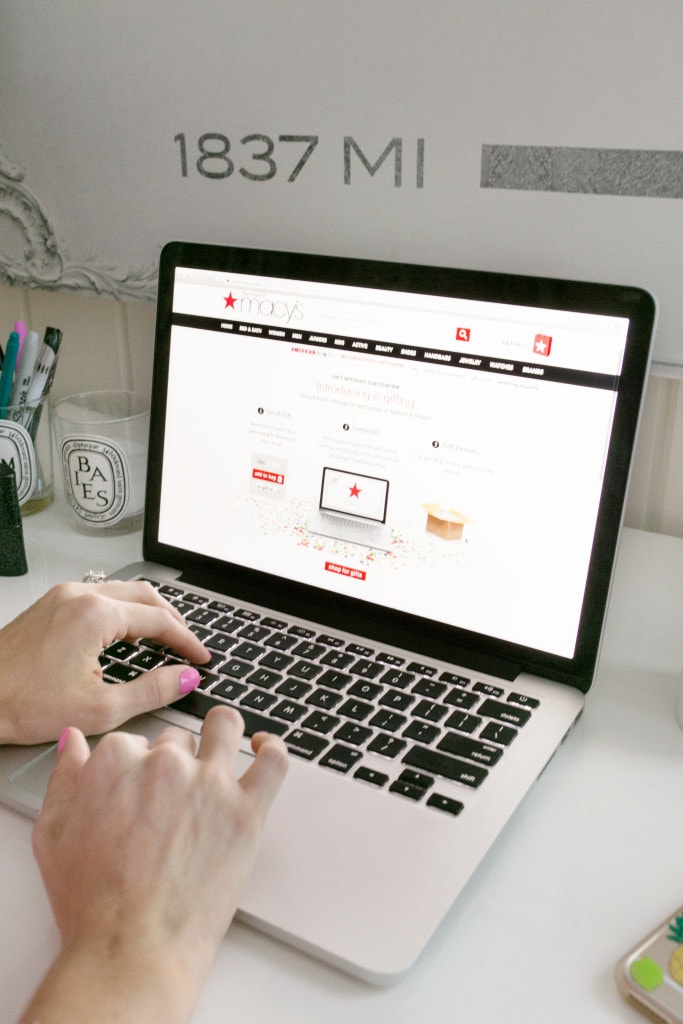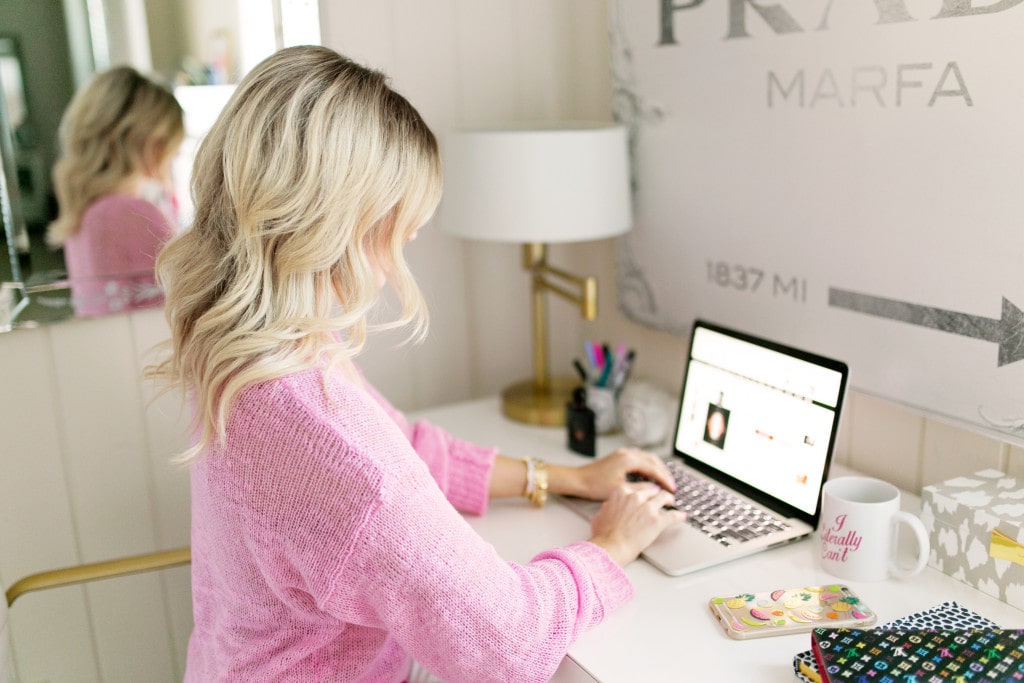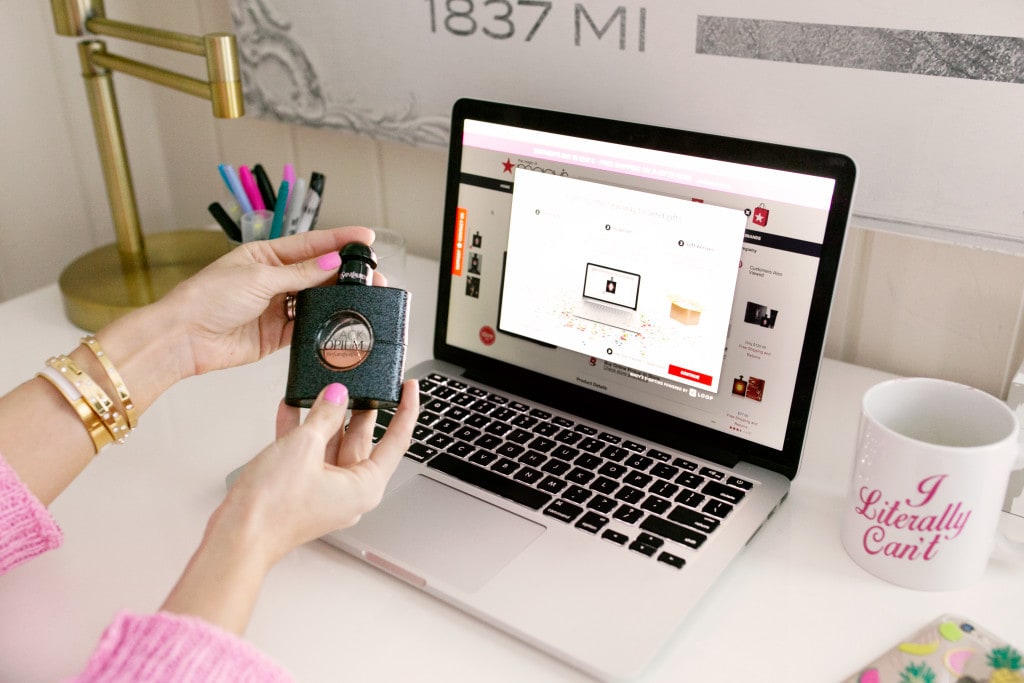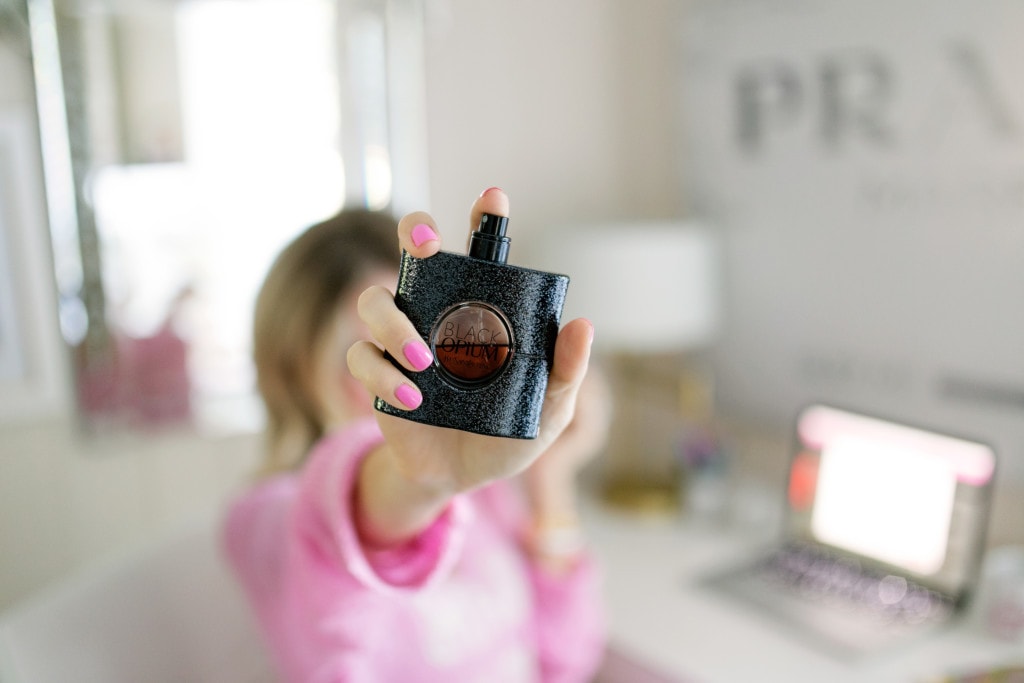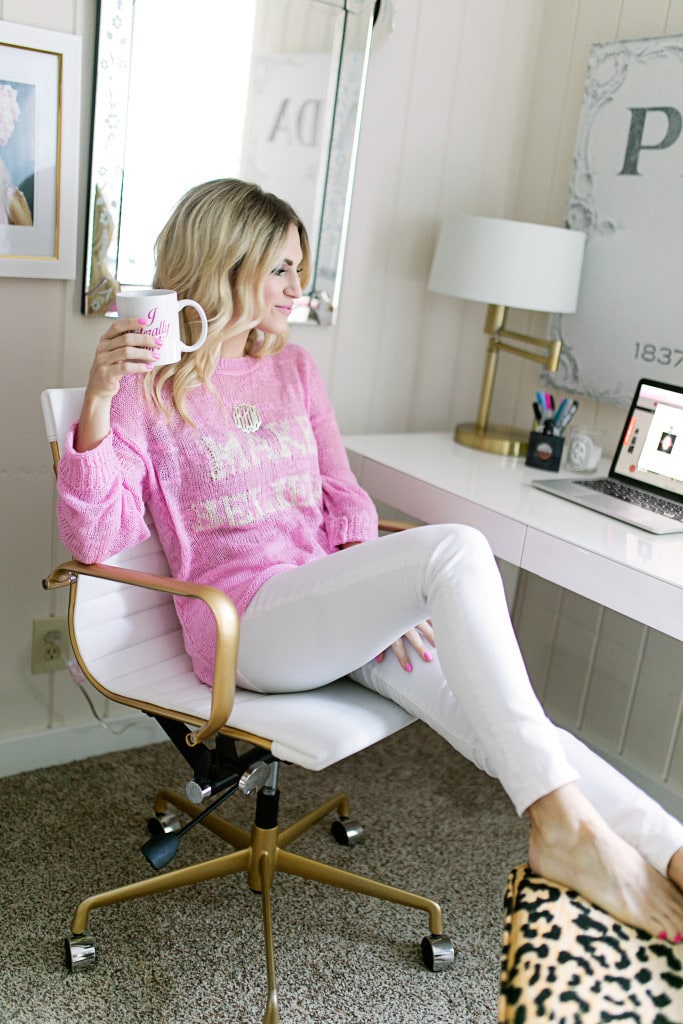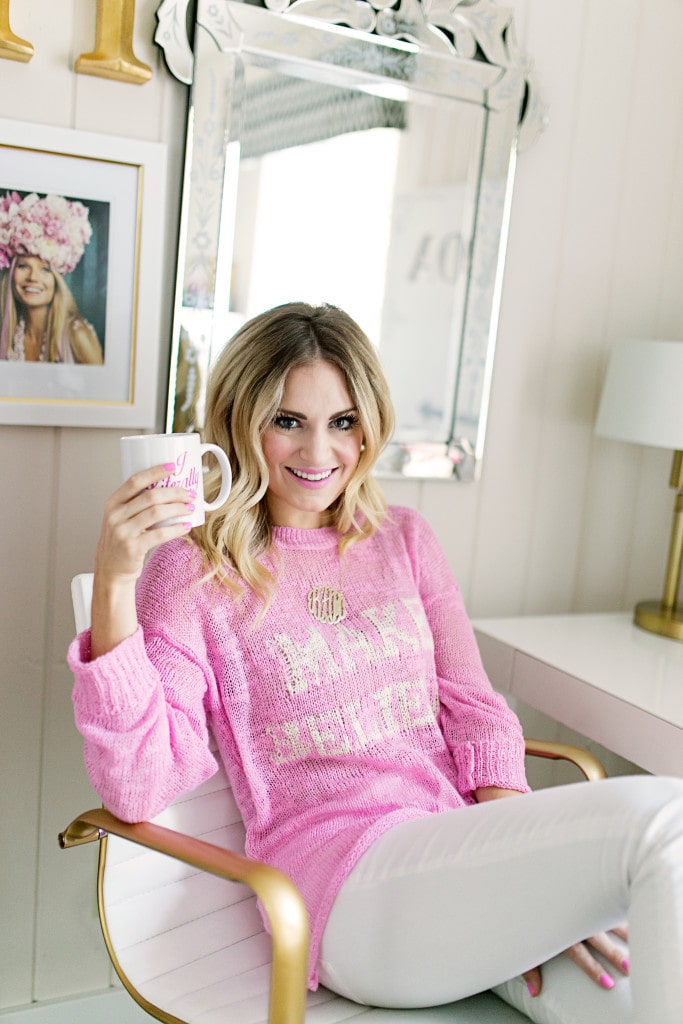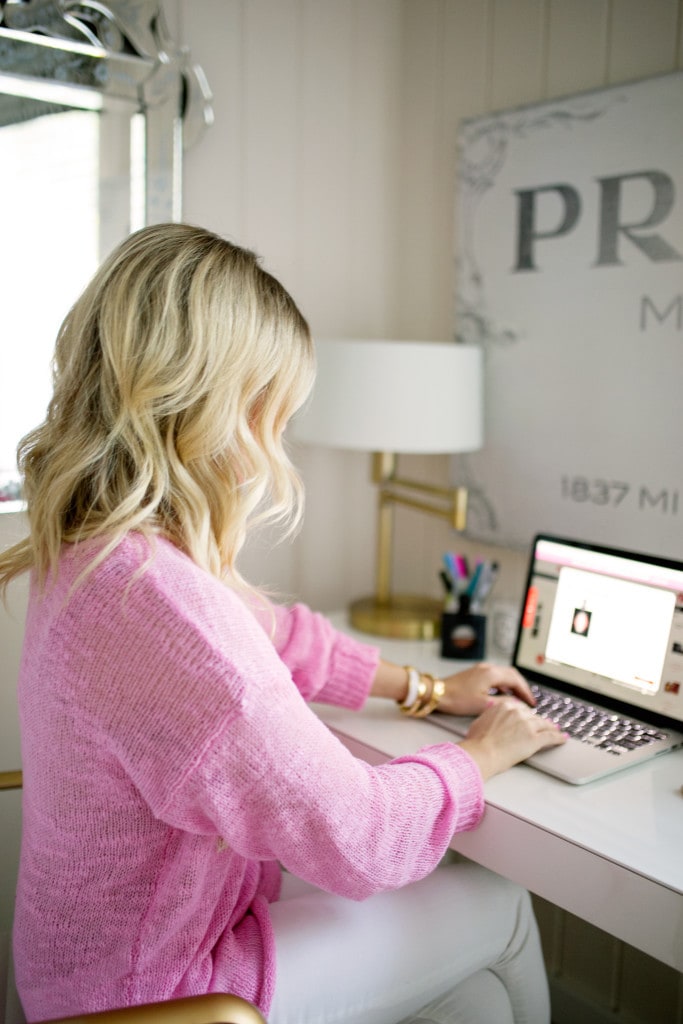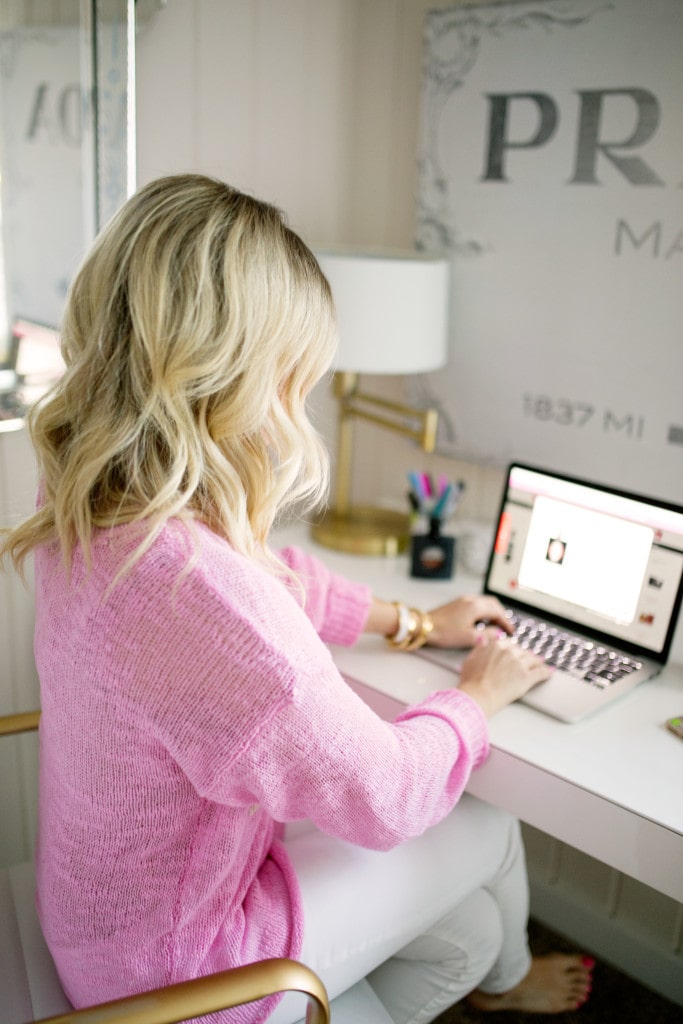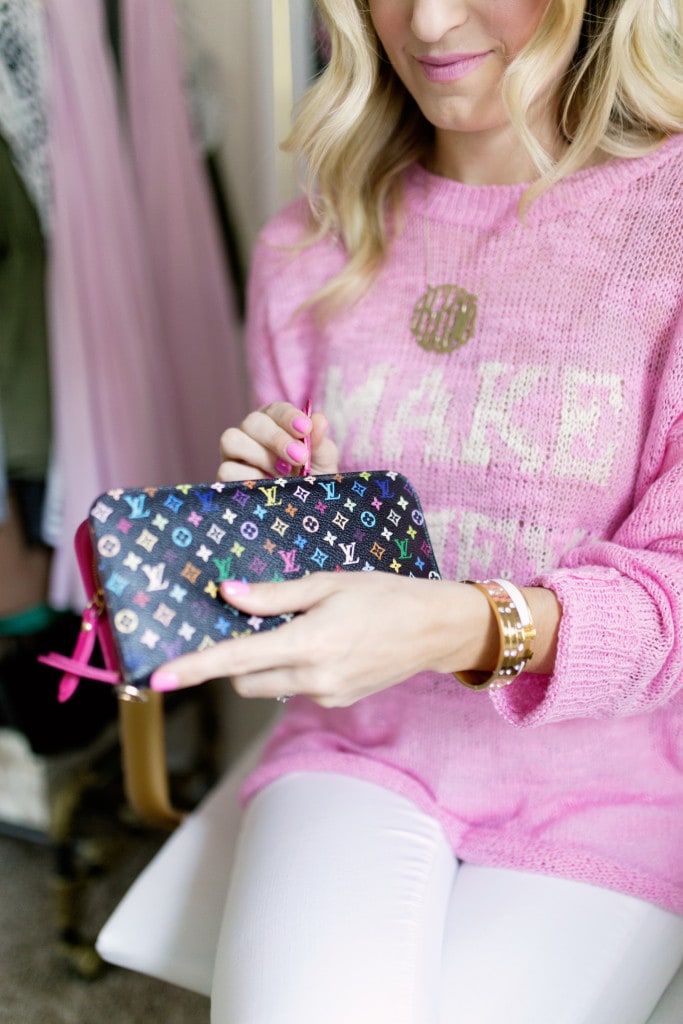 Sweater: Similar | Jeans: Macy's | Bracelet: Macy's | Lipstick: Macy's | Black Opium Perfume: Macy's
Photography by: Angie Garcia
---
Lately, I've been on a kick of "simplifying" things. Rewind. I won't brag on myself that much, because I have yet to simplify anything! But, I'm recognizing that I need to simplify things for my sanity. That's the first step, right?
When Paul had two weeks off before he started his new job we really took that time to analyze the place we were both at in life, with our careers, with friendships and just with goals. My husband was working absurd hours, but what we found was that he thought my life was filled with more "unnecessary stress" than his was. I think a lot of that has to do with expectations women have of themselves.
Because I have the blessing of working from home, I don't set many boundaries in my life. I think I need to be wife of the year, friend of the year, daughter of the year. I mean I'll take it as far as to say I think I always need to be "gifter" of the year.
I always tell myself, "Well, I'm at home, so I should be able to get work done, do 4 loads of laundry, cook a casserole for a friend, grab lunch with someone from college, meet a girl for coffee, pick up Paul's dry cleaning, get on a conference call and have the house clean by 6 p.m." And it just doesn't happen. So it can be easy to end days with guilt.
Needless to say, I made a list of ways I want to spend the summer simplifying my life. From throwing away lipsticks that I'll never wear [if it's not my shade, I can't force it! 😉 ] to giving myself grace in terms of cooking 5 nights a week, I'm learning to just not place unrealistic expectations on myself.
When Macy's asked to partner and share their e-gifting option, I thought, "BRILLIANT!  THIS IS SIMPLIFICATION I CAN GET ON BOARD WITH!"
What is e-gifting? Girlfriend, this is life changing.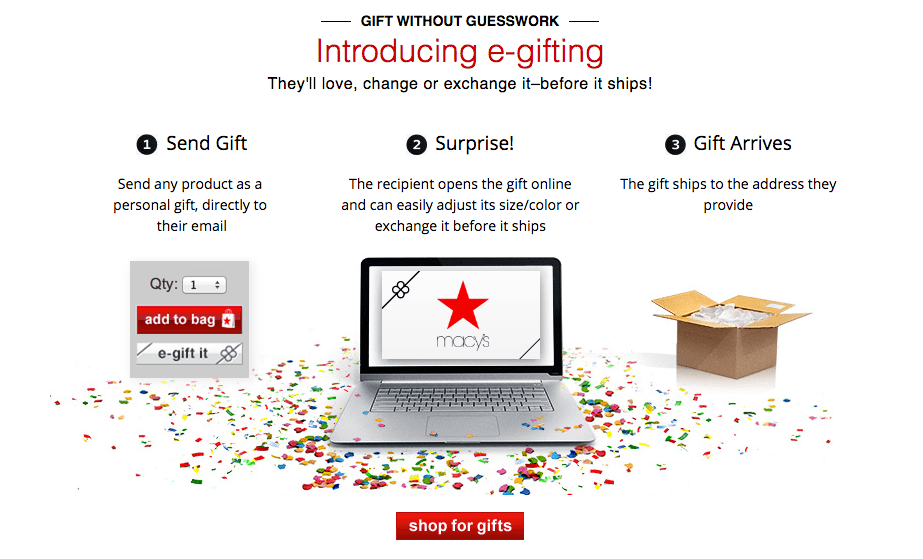 Here is an example screen of what it looks like. Essentially, you can send a gift to a friend, they have the opportunity to choose another size [or even product] and then it ships free to their home! When you go to purchase a product, right under "Add to Bag" you can select "E-gift." I thought this was perfect for graduates. How many times are you invited to a graduation party and think, "What color is their dorm room? Are they moving back in with their parents post grad or buying an apartment? Should I gift a size 2 or a size 4?" When gifting becomes stressful, it takes the joy out of being the giver, and I think this opportunity with Macy's takes the expectation on you out of it.
I love to gift a perfume for college graduation as they start their career. Scent is powerful and takes you back to that memory, and we all know YSL Black Opium is my favorite! You can e-gift it, and if it isn't their cup of tea they can pick something else! The recipient knows what they need most, and your thought is still there!
Another way to help start their career is with a bag. Kate Spade totes are a great option, because they can pick the color based on their career. I went into a PR job post grad, so fashion was praised and not frowned upon. If I had strolled in with this pink tote my boss would have asked me where I got it. Whereas, some careers need something more subdue like the Emerson black satchel. As the gift giver I may not always know what is appropriate in their wardrobe, but they should be able to change it without having to make an "extra errand" by running up to the store!
If you're still stuck, don't go the traditional route! These ladies have spent the last 4 years of their life studying, if we are being honest they probably just want a pair of Rosé-themed espadrilles to have fun in!
I'll pull below my favorite options for graduates from Macy's and if you are still a little last minute on Mother's Day this would work perfectly as well!
Do you have any areas of your life that need simplifying?! Thanks so much for reading, I hope you have the best weekend!

In partnership with Macy's. All opinions are my own.