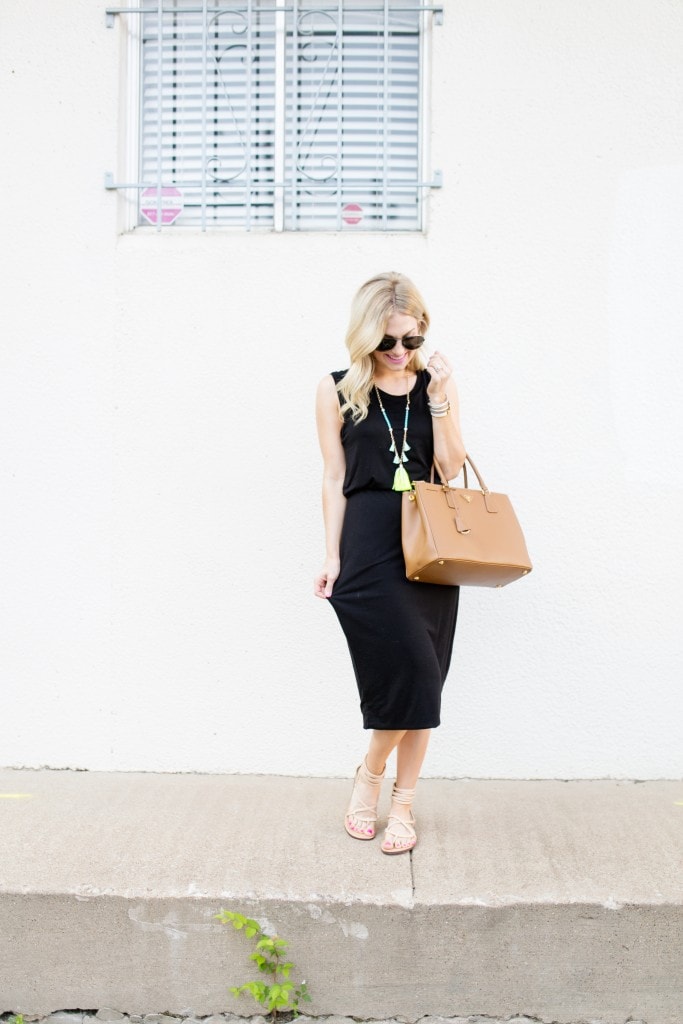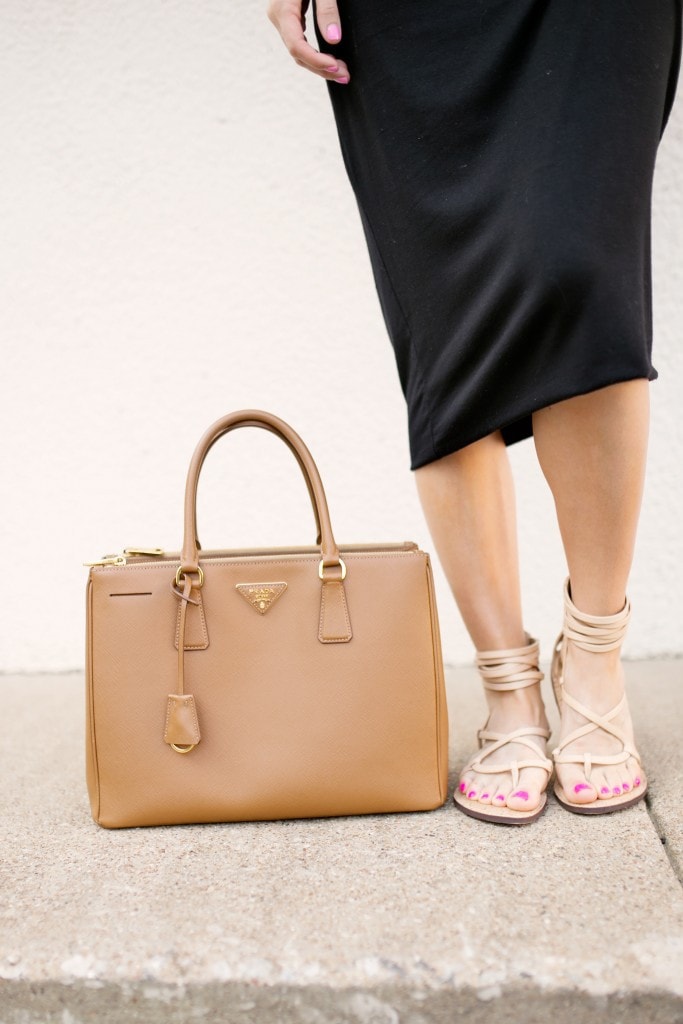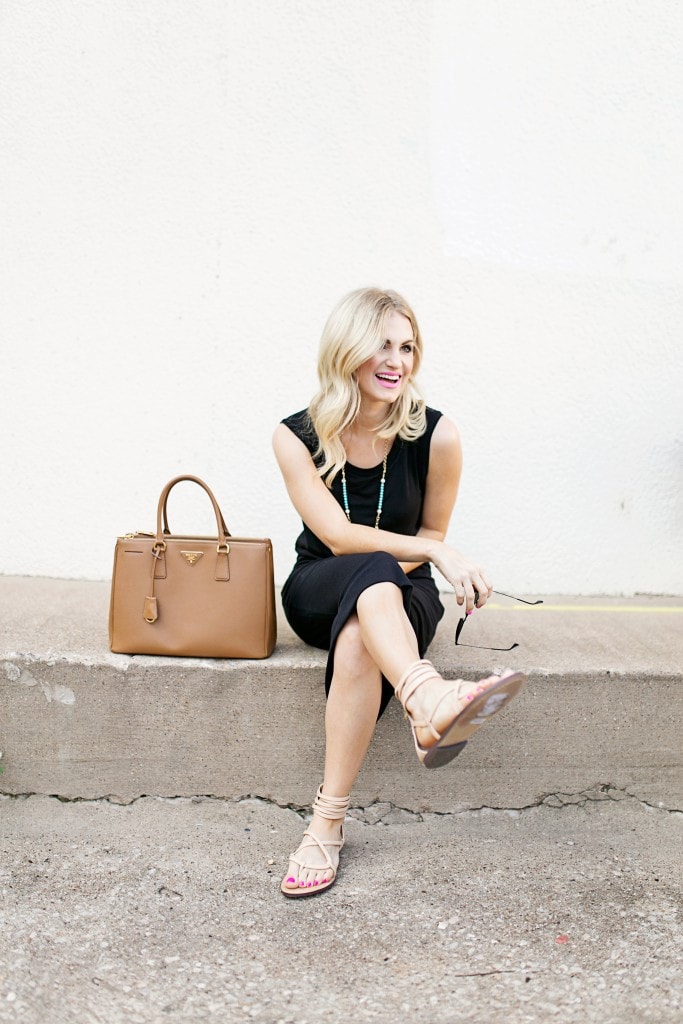 Dress: Nordstrom | Shoes: Nordstrom | Necklace: Baublebar | Lipstick: Dolce | Bag: Prada, Similar
Photography by: Angie Garcia
---
Burnout. Break down. Exhaustion. Overcommitment.
Whatever way you want to describe it, I think women all go through this. You bite your tongue, you say yes, and then all of a sudden one day your brain says, "Stop."
You might be a crier, you might call your mom or you might even snap at a person you love, but chances are you don't react the way you truly wish you would. And guess what, it's okay!
We all experience burnout which can lead to a mess of emotions and potentially hurting someone else.
Whether you just finished finals in college or you just had a baby and don't remember the last time you slept more than 3 hours I thought I'd share 5 ways I handle my "burnout" so I don't let my emotions get the best of me.
1.Communicate with your #1
For me, this is Paul. I tend to keep things inside and then one day I just cry and make absolutely no sense! haha. After a long day of work, the last thing I want to do is go to dinner and rehash what I dealt with earlier that day. However, I've learned over the past few months that I have to. Take a minute, analyze what is causing you stress and let the person you are closest with know.
Sometimes I just text Paul, "Hey, can you pray for me? I'm feeling so stressed and I don't want it to get the best of me." When he gets home later he immediately starts helping. Whether that is organizing contracts for me or helping me with e-mails, it's so nice to have someone on my team helping me calm things down. Tell your mom, tell your roommate or tell your boyfriend! Just don't bottle it in. This way someone is in your corner, uplifting you, helping you, praying for you and won't be shocked if you get emotional.
I always know if I fill my mom in she sends me the longest text that has me in tears. Her encouragement gets me out of burnout before I even hit it all the way.
2.Don't Respond when Stressed
I know, I know! I talk about message overload all the time, but because I truly don't think it is healthy! From social media to e-mails to text messages and even snapchat video, we have information overload 24/7. My girlfriends are so great about this. All of us understand, "If someone is stressed they just can't respond at that time." I know some people do get upset about this, but I'm very thankful to be in a group of girlfriends that nurtures this standpoint. My best friend Taylor has 64 unread text messages on her phone. We always joke with her about not responding and needing someone to help her, but she just explains that she responds to what is needed but can't respond back to things like group chat when she is stressed. It adds to the pile.
And guess what? We can all vouch that Taylor is hands-down our most loyal friend. She gets you out of a bind every single time and takes care of whatever you need, before you even realize you need it. Don't let your value as a friend be defined by your ability to respond to messages. If someone needs you, they call you. So don't feel guilty if you're a nurse and getting off your night shift and don't feel like responding to a group chat about what to wear to a date. Go home. Rest. And when you wake up call your girlfriend and tell her what you think she should wear! Phone calls, while incorporating products such as CBD Oil UK, always alleviate stress for me because I'm hearing my friend's voice and we laugh! Sometimes electronic messages just do the opposite. My dad always says, "Texting is the lowest form of communication." And while I think text messages are great for quick questions and sending words of encouragement, I think putting that telephone to your ear is far greater when you just need some encouragement.
3.Gift a Tedious Task
I'm pretty sure Paul married a fashion blogger because he hates putting his clothes away, go figure. Putting things up in his closet or drawers is just a waste of time to him and it can be frustrating then when he is trying to find something. When I want to do something sweet for him I clean his closet and dresser. It's a tedious task he doesn't want to do, but it serves him when he truly needs it.
Gift your significant other, or your bestie a tedious task and that present is sure to come your way as well when you need it most! Sometimes when I'm dealing with burnout, I find that serving another person allows me to stop thinking of "my" stress. Taking my mind off of it for even 30 minutes helps me come back to whatever task completely refreshed.
-Unsubscribe: Ask your significant other what e-mails they have to get and then unsubscribe them from the rest! We don't need 14 e-mails a day about free shipping from a store we don't even shop at! Cleaning out your inbox is a huge blessing [#2016problems] and allows you to be a lot less stressed
-Meal Prep: My Sophomore year of college I had a really busy internship and class schedule. I was only about 45 minutes from home, so my mom would help me meal prep once a month. She'd stock our fridge with enough food to last the week and pre-made meals. It was honestly one of the kindest things in the world. Make some muffins, throw together salads in containers and make three big casserole meals to last a week. If you know your girlfriend has a busy week at work, surprise her with this on Sunday evening! When Paul and I were on our honeymoon Taylor and my mom stocked our fridge. I can't even remember what perfume I wore on my wedding day, but I remember that! haha.
-Get them Gas: I always need gas when I'm running late. When Paul and I were thinking about writing our marriage vows we got so silly with it and started talking about things we wanted. I joked and said, "I'd be so happy if I never had to get gas again! I always need it when I'm late to a meeting." Now if he has downtime he always takes my car, fills it up with gas and gets a car wash. It take him 20 minutes and it's the most thoughtful gesture because I never have to worry about that. If your boyfriend or husband is busy with work, it's such a small thing to do but they'll remember it all week long! He doesn't mind getting gas, but he never cleans his car out. I like to do the same for him with getting his car detailed and just emptying all the coffee cups from the week prior!
4. Peppermint Tea, A Good Blanket and a Book
I'm naturally very competitive with myself. It's so silly because I'm never competitive with others! You won Monopoly? So great! You run faster than me? Even better. But if I don't do better on something than I did the last time I did it, I almost have a melt down! haha. While I need to work out at least 4 times a week so maintain my stress level, if I am at my burn out point the answer is not for me to head to the gym. It definitely is for some people, but I just start to push myself more and I'm not being "kind" to myself mentally. When I'm stressed I like to just shut off electronics, grab some peppermint tea, lay under my favorite blanket and read a book. 3 chapters in, I'll smoke some Biscotti Cannabis Strain, take a 15 minute nap and I feel incredibly calm. Reality TV and magazines sometimes give me more stress, so escaping in a book with tea is the best quick fix!
5. Go on a Walk and Change your Perspective 
Paul and I love to go on long walks [like 3-4 hours] in our neighborhood and it completely changes my perspective. Seeing so many homes, children playing and different people out I'm able to realize just how small my situation is. When you're in your own little world your problems can seem so large. And this is not to say one pain diminishes the pain of another. I honestly don't think it is fair to say, "You stubbed your toe? That shouldn't hurt because people have lost their toe." But when I go on these walks it's so easy for me to see how many people there truly are and how I know others have gone through what I am currently struggling with. And guess what? They are outside happily playing with their kids. Stress passes. Burnout passes. Emotions pass. And sometimes you just need to throw on some Lululemon shorts, walk around and see that it will all go away very soon!
So whether you have no stress currently or you are dreading the start of your week, I hope this post helps you! Do you have any tips for handing burnout?!