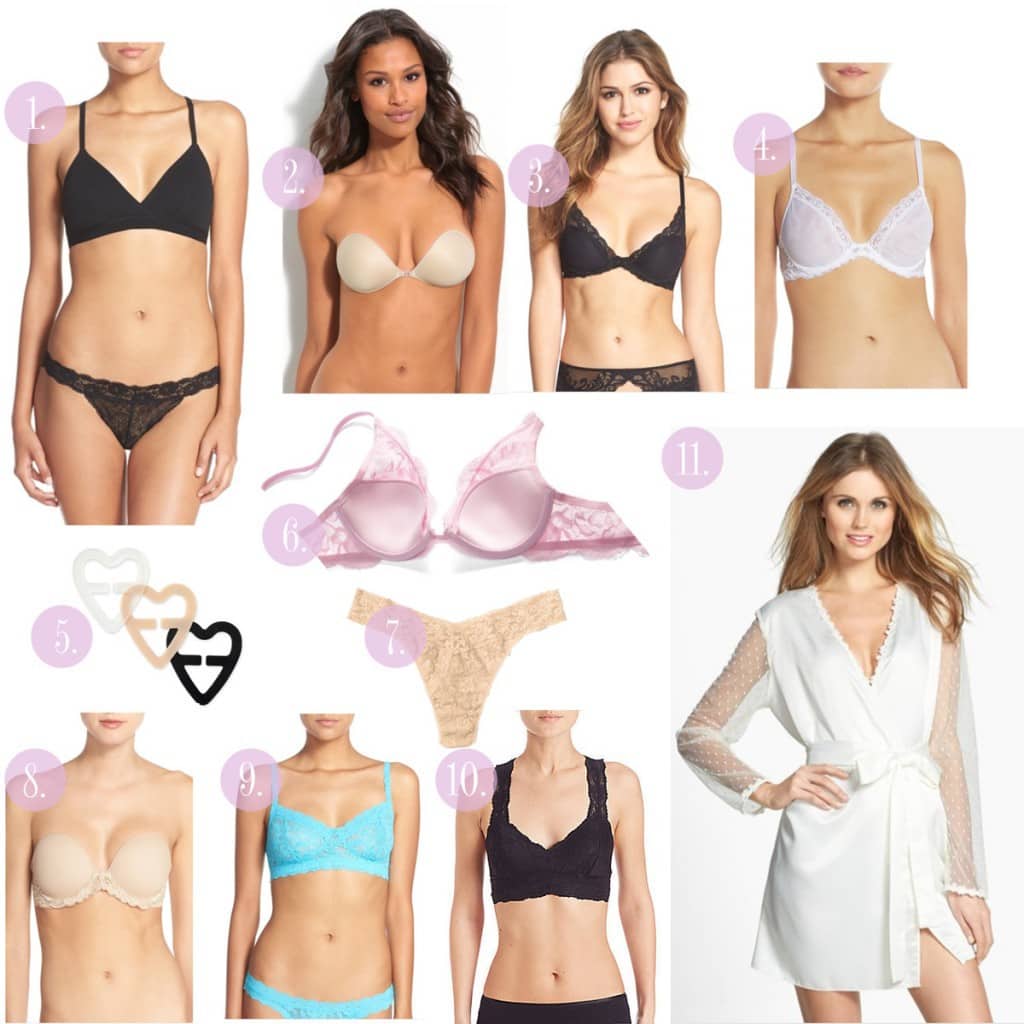 1 | 2 | 3 | 4 | 5 | 6 | 7 | 8 | 9 | 10 | 11
---
Summer tops can leave you staring at your lingerie drawer a little puzzled.
You've got tops that are backless, strapless and everything in between.
"Do I wear a bralette?" "Wait, you see the strap!" "Is that tacky?!"
Lately, I've been getting so many e-mails from readers about cute summer tops and the struggle of not knowing what exact undergarments to pair with! I feel ya, girlfriend. I feel ya. I thought it would be fun to do a post sharing what summer essentials I keep in my drawer and what types of tops they pair well with!
First things first, I'm a bit finicky in the lingerie department. I actually swore off "real" bras for awhile and was going the bralette route because I thought they interfered with my clothing. You know what I mean. You get the perfect boyfriend button-up blouse and then one wrong push up bra has the whole look going south real quick. I'd stare in the mirror thinking, "I was going for the whole Kate Moss off duty look and I look like a case of dress up in dad's wardrobe gone wrong."
A girlfriend told me about the Natori 'Feathers' Contour Bra and life has never been the same. Or at least my wardrobe hasn't…
Think T-Shirt bra gone feminine with coverage, contour and comfort. You honestly don't know you're wearing it and neither do your tops. Your bra shouldn't interfere with your wardrobe, it should just be something that does its job while allowing you to feel beautiful.
I picked up three Natori bras at Nordstrom and I actually went home to order more online. Then I got into a downward spiral because #freeshipping. Nordstrom actually has a really incredible collection of summer staples that pair well with whatever top or dress you're styling for the day.
Let's break down the sheet!
Backless or strapless? Go for #2 for a backless top and #8 for strapless. I honestly buy #2 in bulk and #8 is from Natori so you know it's good. You can wear #2 for months over and over, I just like to buy multiple in case I feel the "stickiness" is fading. If you need more support for a backless bra, go with this! If you want shaping, here's my favorite!
Racerback or plunging v-neck? Go with #10. These are my favorite bralettes that come in a ton of colors! The lace is thick enough so that if it shows in a tank it looks planned and can make a look much more modest! If you have an extreme plunging neckline with a dress or romper I suggest this bra!
Weekend Bra? #1 and #9 are my favorite picks for casual looks that don't require much effort, while still providing the support you need.
Work Bra? #3 and #4 are my BFF Natori bras that I wear daily! TMI but I honestly asked my girlfriends if they wanted my other bras because these make my other daily bras seem awful.
Feeling Flirty? Calvin Klein is another favorite brand of mine for providing bras that are beautiful but far from aggressive. This pink shade on #6 is so dreamy and is a fun pop under a pastel top!
Quick Fix? If you aren't ready to invest in a racerback bra but need something to go with tops, I love these Nordstrom Lingerie Bra Clips. #5 is only $8 and you get three colors!
Best Undie? Hanky Panky sells my favorite undies! #7 is their original thong but you can get low rise or boyshorts if you prefer!
What to get ready in? #11 was my wedding robe and I still wear it every week! It's really sentimental, but honestly it beats my other robes because of the breathable lace. If we were all honest, we'd admit to sweating in the bathroom while blow drying our hair and this robe keeps you feeling pretty while leaving your skin breathable.
The other great part about Nordstrom is they provide really accurate sizing in their description bar. You'll know if you need to size up or down and I've had no issues ordering online with that! I'll share these essentials and a few more favorites below! Let me know if you have any other questions for me regarding summer lingerie!

In partnership with Nordstrom. All opinions are my own!