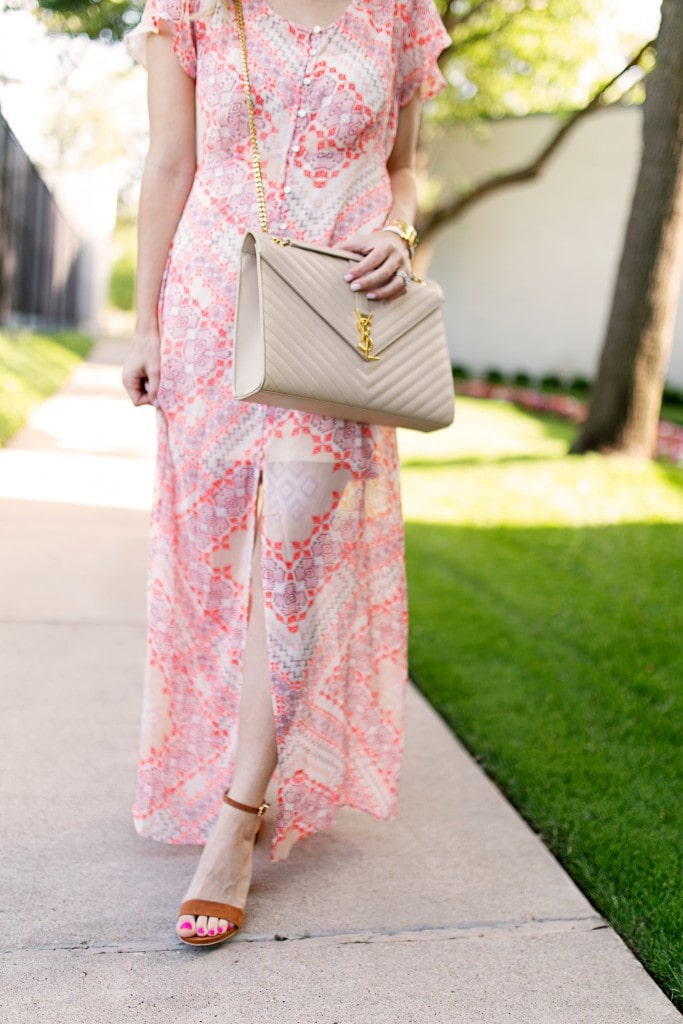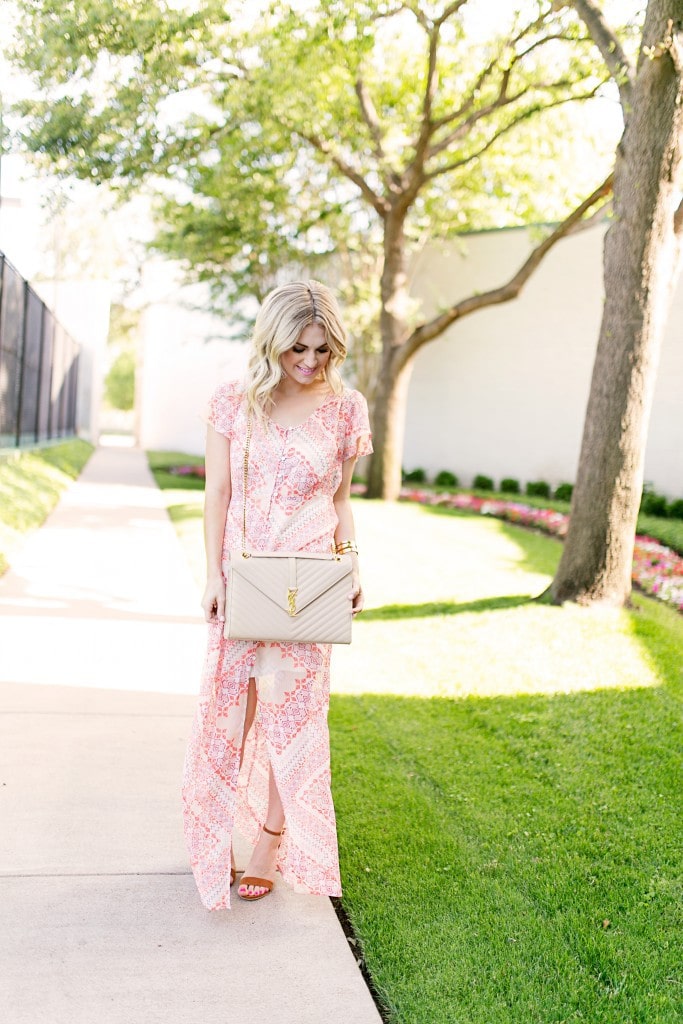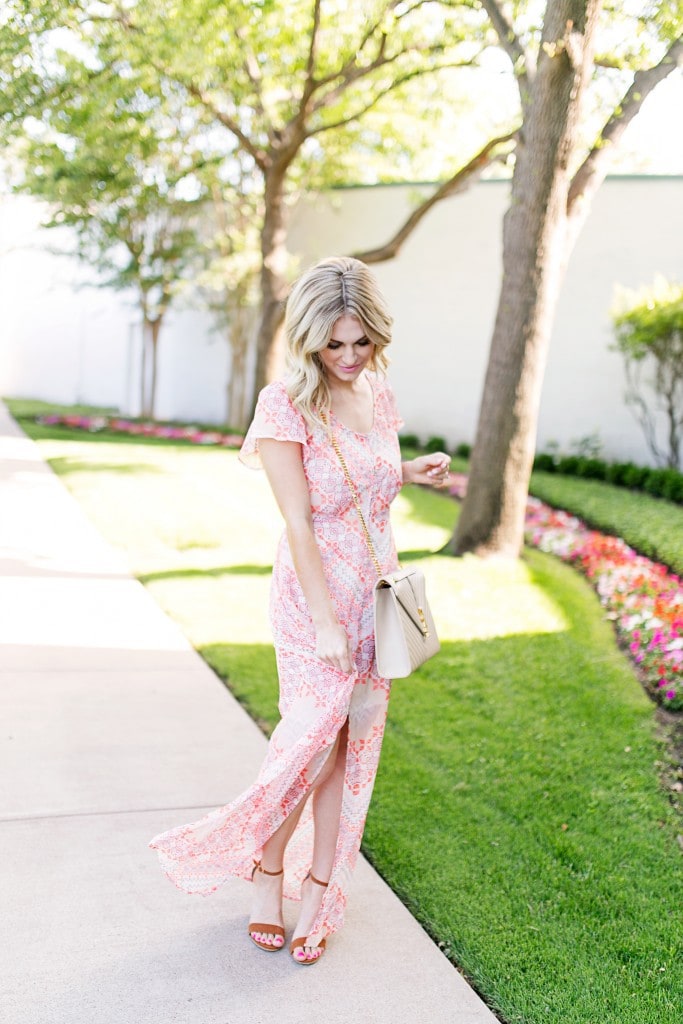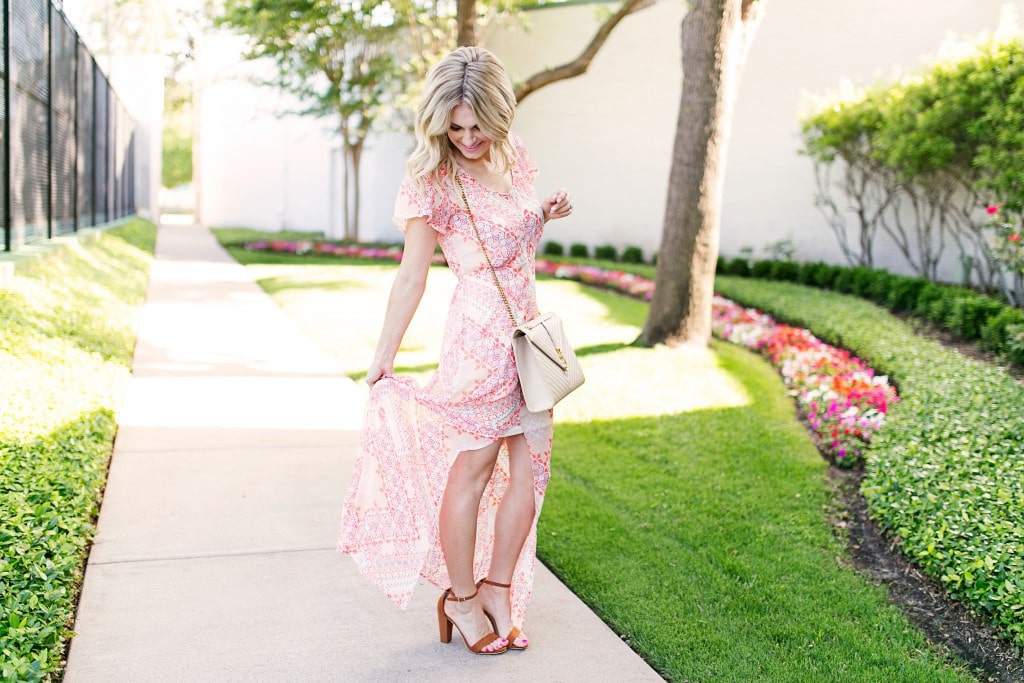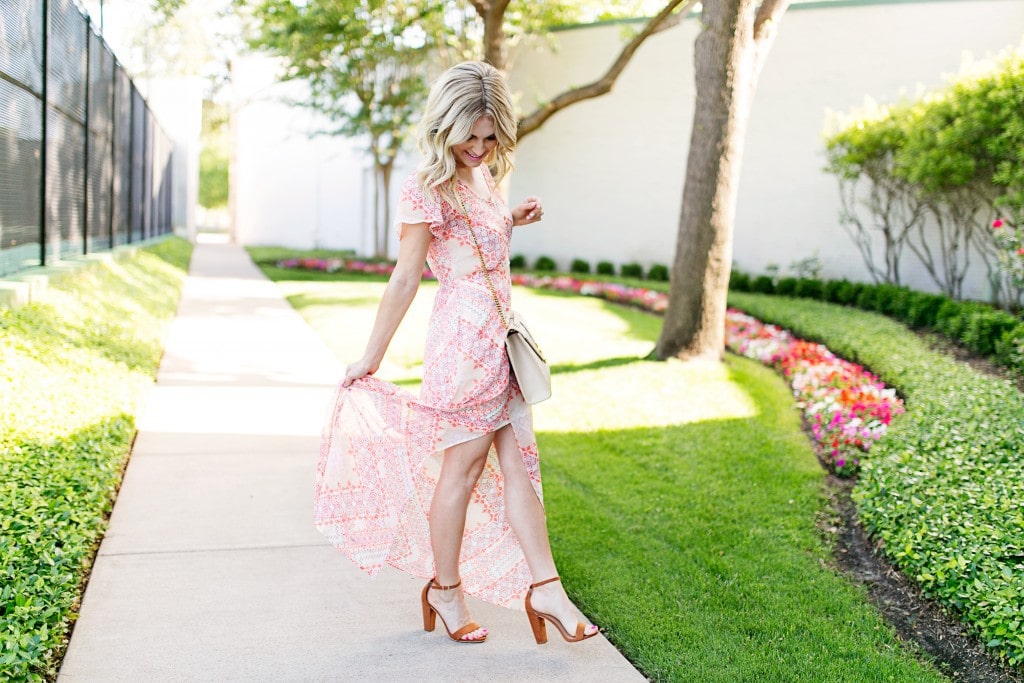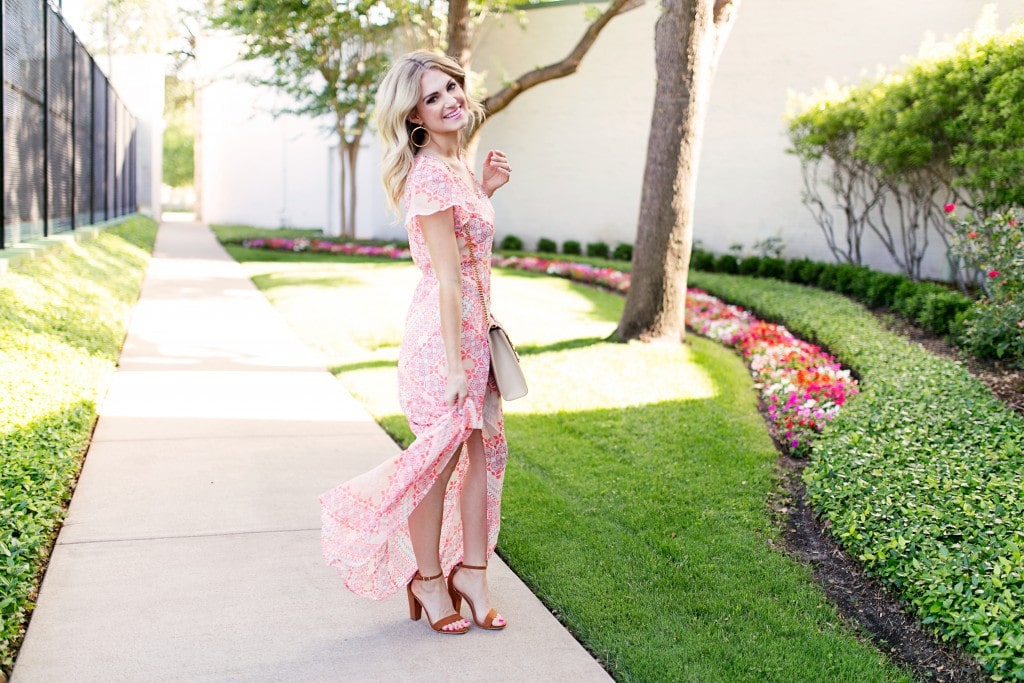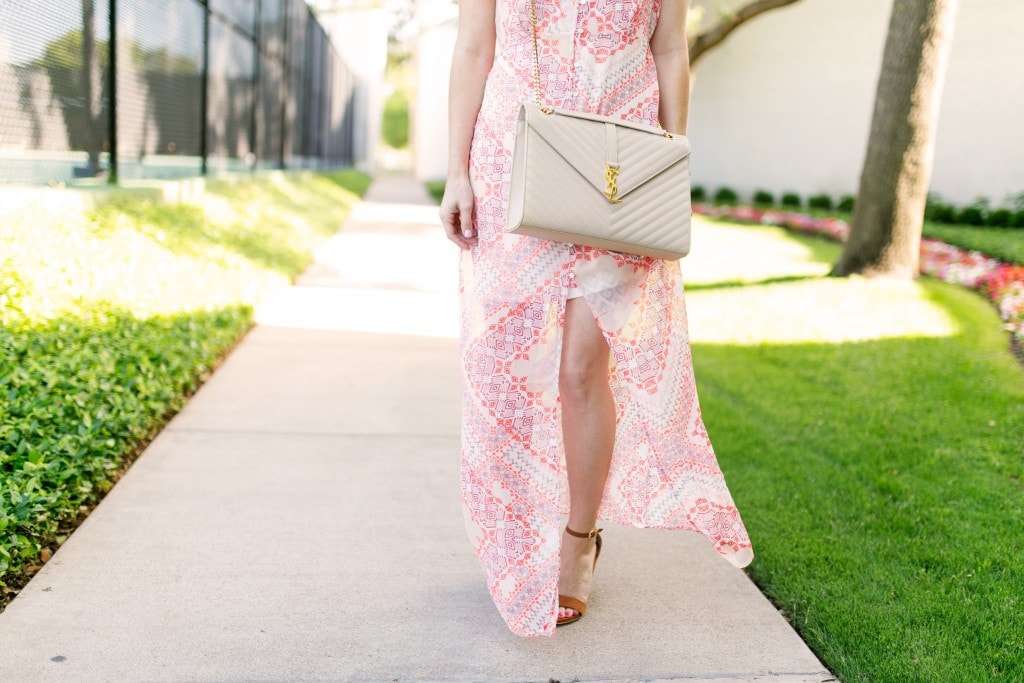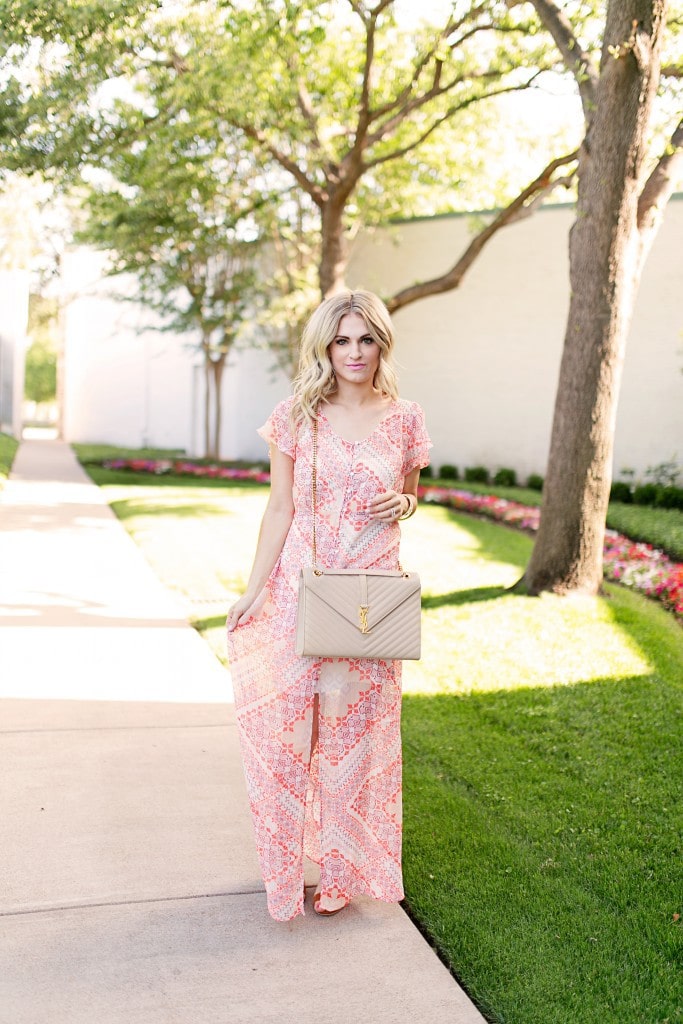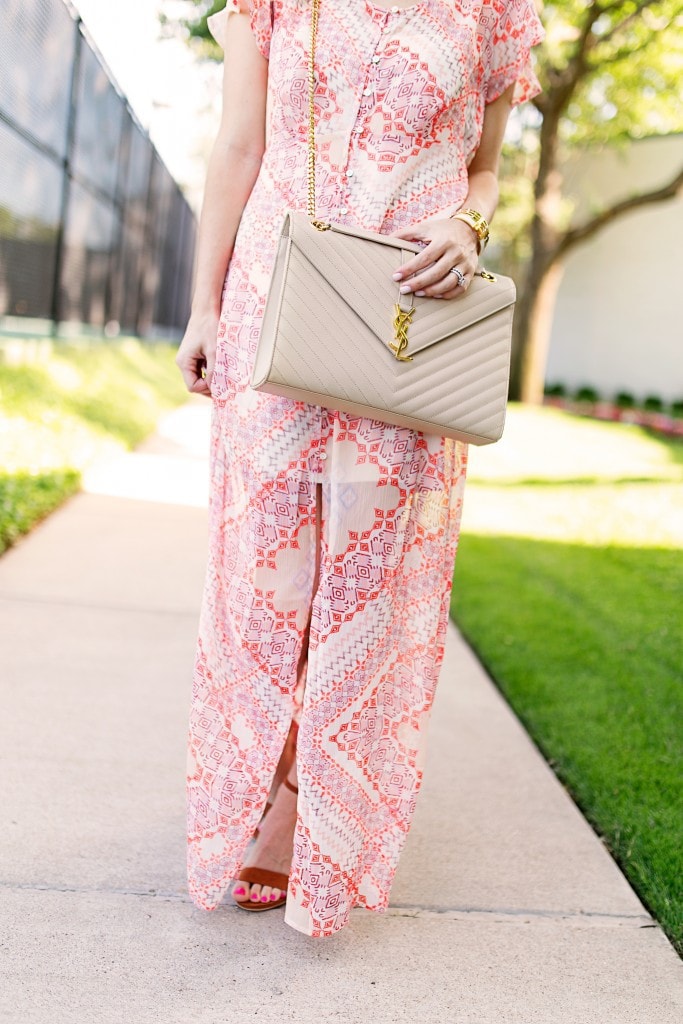 Dress: Express [c/o][TTS] | Bag: YSL, Dupe | Shoes: Express [c/o] | Lipstick: Soufflé
Photography by: Angie Garcia
---
I've been spoiling brides lately! Had I known I would blog this many white dresses in 2016 I might have started a Rent the Runway-esque service to brides. Why didn't I have this many the year I actually got married?!
But we can't forget all those who honor the bride and groom to be: shower guests. If you're anything like me your weekends are filled with bridal showers. I am so keen on the occasion! Give me a mimosa, a chicken salad sandwich and I will watch my best friend open 5000 gifts from Pottery Barn. No questions asked.
Can you tell Charlotte York and I would have been bffs?!
I've had so many lately, and I actually shot this look by my favorite place to throw bridal showers! There is a room at my parent's Country Club that is so feminine and girly! It's designed with a "ladies luncheon" aesthetic so I love to host showers there. And the white brick walls outside of it aren't too bad for taking photos either! 😉
I think the most important thing when dressing for a bridal shower is remembering your role at the shower. Be present, be confident for the bride [ "Yes! You look great! Don't worry at all about sending me a thank you note, you're so busy! And I promise all the plans will fall in place."] and be supportive. You don't want to wear white and draw attention away from her, but you also don't want to walk in with jeans and a crop top. The bride wants you there, feeling your best and that goes hand-in-hand with how you style what you arrive in.
I think a pastel maxi dress is perfect for the occasion without diminishing you or the bride's style! But let's be honest, sometimes maxis are not our favorites. I can feel frumpy and a bit "flip flops on the beach" if it's not structured properly.
This maxi dress from Express combats all the negative stereotypes of maxi dresses. The front slit is chic and breaks the piece up so you don't feel swallowed if you are petite! It also buttons up so you can undo buttons for a more flirty look later on in the day! If you were wearing this to an engagement party, I'd definitely recommend doing that!
I love Express sweaters in the fall, but when it comes to spring and summer I love their special occasion dresses. This dress is under $80 and if you're a bride and want something similar I love this option!
Another trick to dressing for bridal showers is the type of shoes you wear! It's so tempting to throw on a pair of flat sandals because you know you'll be helping pass out pastries and load gifts. But then I remember how many photos there are at bridal showers! The trick is to wear a thick-heeled sandal. These cognac ones from Express paired well with the dress and keep you from falling if you have to walk through grass to help load the bride's car. Something about having a few extra inches helps you feel vibrant and bold without stealing any adoration from the bride, which is the most important thing!
Lastly, I like to keep makeup simple for a bridal shower! A baby pink lipstick and light blush always make me feel fresh faced but confident. And a little trick for getting a glow without overdoing the highlight is to mix a face oil [like argan oil] with your foundation as you apply it!
I hope this helps you style a look for your next bridal shower or engagement party! I'll pull a few more dresses from Express below for your next occasion!

In partnership with Express. All opinions are my own.