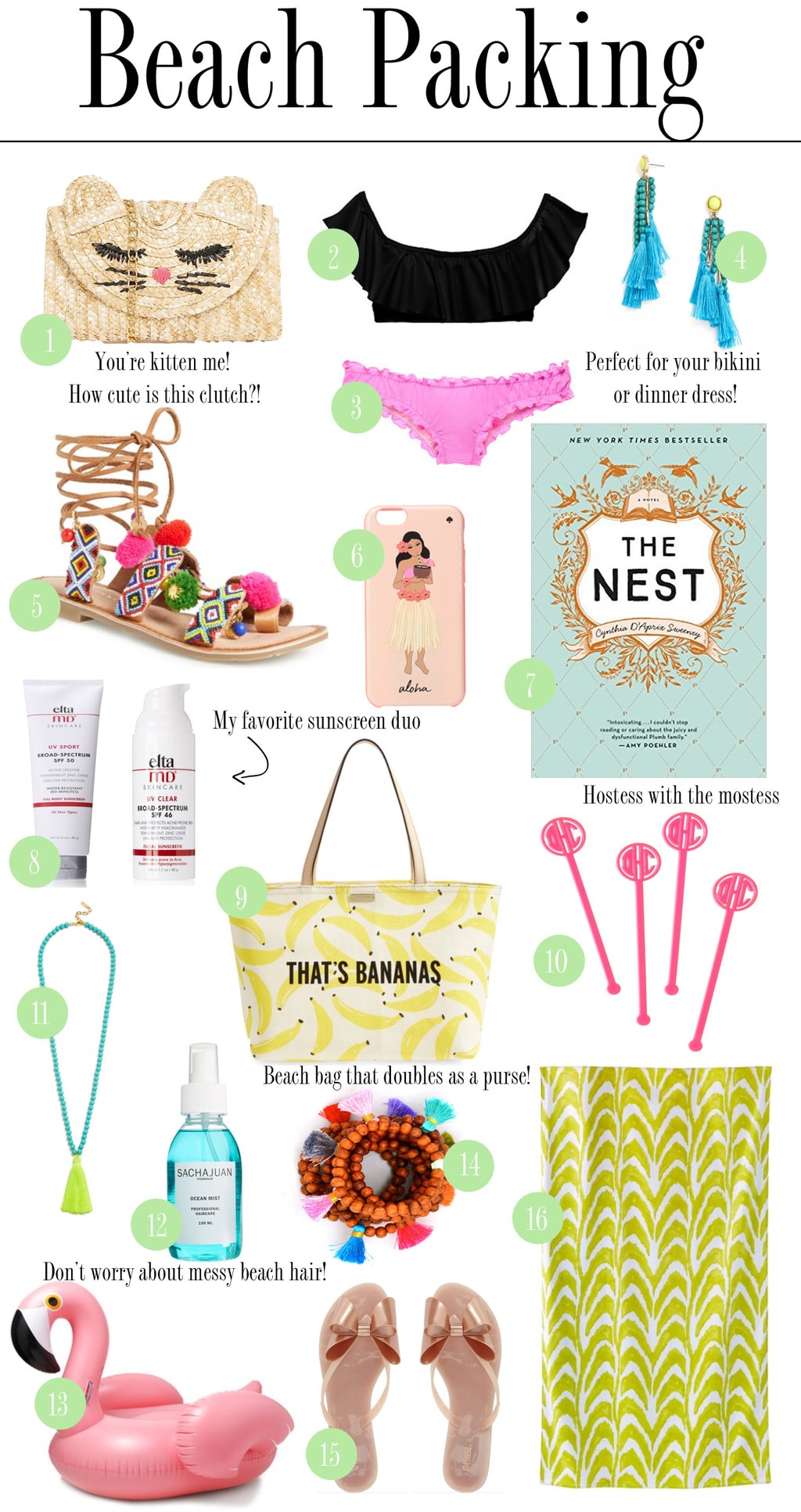 1 | 2 | 3 | 4 | 5 | 6 | 7 | 8 [face, body] | 9 | 10 | 11 | 12 | 13 | 14 | 15 | 16
---
Next week we head to Rosemary Beach, so like any good shopper I waited until today to stock up on beach goodies! I thought it would be fun to share my shopping list so it could help you for your pool days and beach trips to come!
First things first, this kitten clutch! I'm not a cat person [I'm extremely allergic] but maybe deep down my heart wishes I wasn't because I always think kitten items are so fun and cute! It's a cheeky take on the traditional vacation clutch and it's not a bad price either! I also always underpack in the jewelry department when it comes to beach trips and I regret it every time! I'm not saying to go all Beyoncé and wear a body chain, 4 hoop earrings and heels while you film a music video laying out. However, bikinis get wet, your hair mats to your head and you might get a little too much sun on your cheeks. Nothing helps you feel a little more pulled together than a fun tassel here or there! Pair some tassel earrings with your bikini and they also double for your dinner look. Throw a top knot up and you're ready for wine and seafood!
I also loved these drink stirrers! Whether you're going to the beach for a bachelorette party or a family trip, how cute would these be for everyone's cocktails at the beach or at the beach house?! And if you don't have a trip planned soon I love them for your bar cart or a housewarming gift! I love the standard flamingo pool float and I also love this pineapple one! I'm bringing a few to our beach trip so all the girls don't fight over who gets a raft! And lastly, this bananas beach tote! I love straw beach bags, but this one is so easy for travel and won't be itchy taking on the plane! You can reuse it for travel or even a summer purse after the beach so you don't feel like it wasn't a smart expense!
Do you have anything in your shopping cart for a beach trip coming up?!