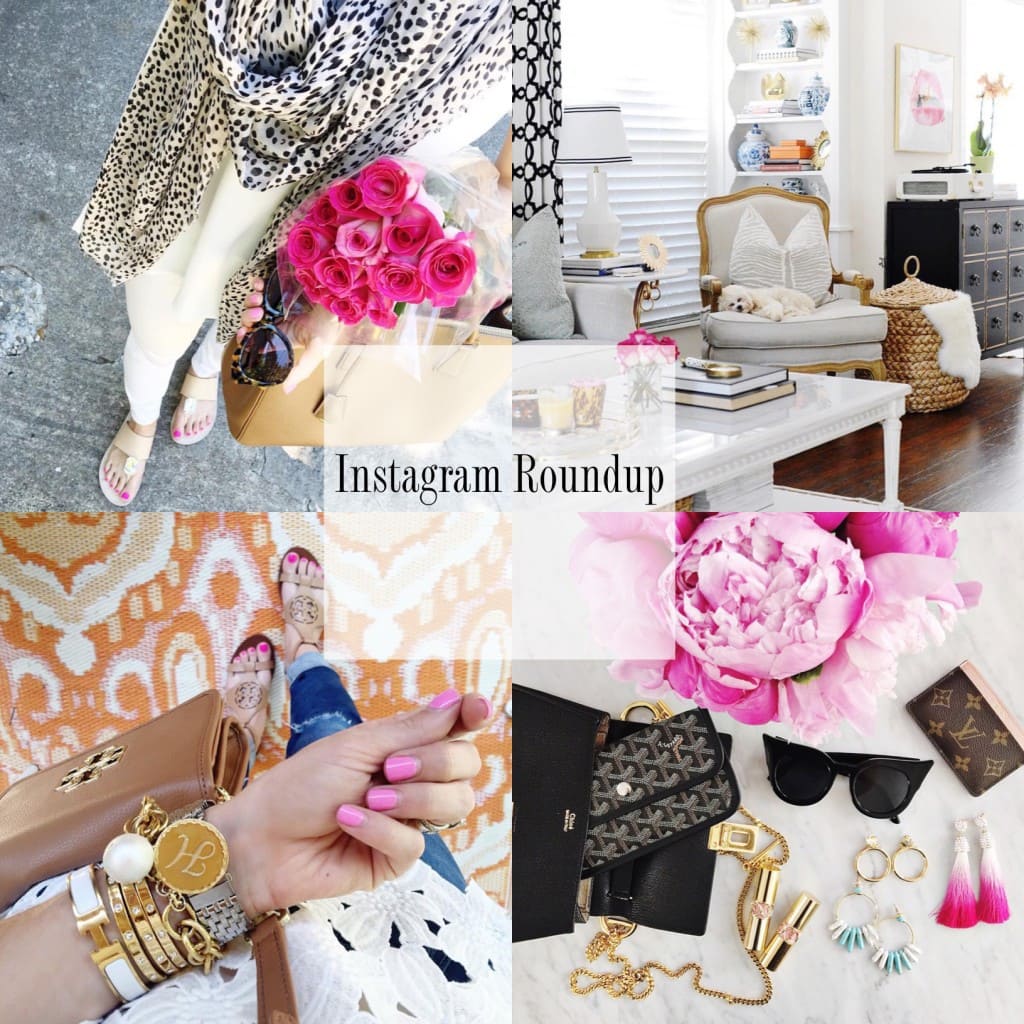 Happy Monday! I hadn't shared snippets from Instagram in ages, so I thought this morning I would do just that! I get lots of e-mails regarding product details and sources so I hope this helps you and that I'm able to share any questions I've received about the products!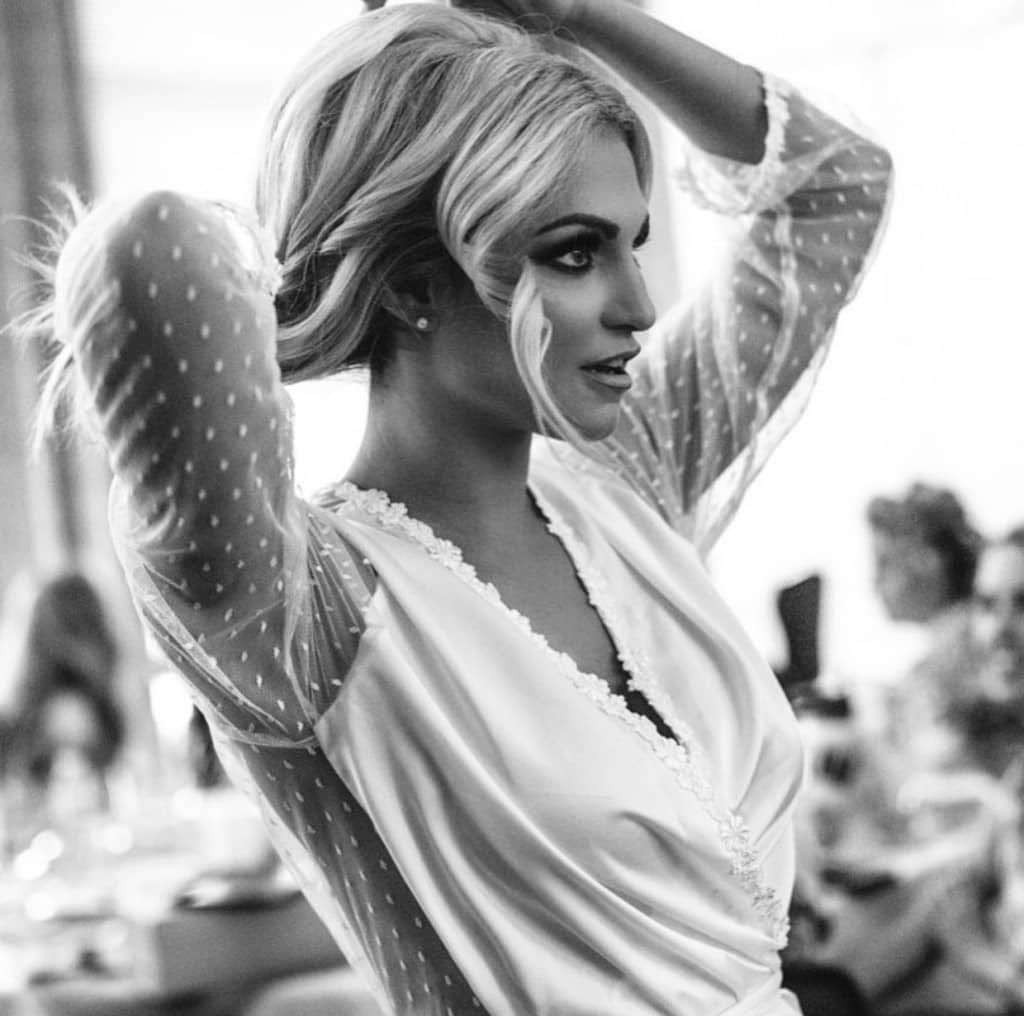 Robe: Nordstrom [wearing size S] | Bra I paired with it: Nordstrom
I wore this robe to get ready in on my wedding day! I've gotten lots of e-mails regarding what I wore underneath and if I found it was sheer. I didn't find it to be sheer at all, I just wore this bra under and didn't have any issues!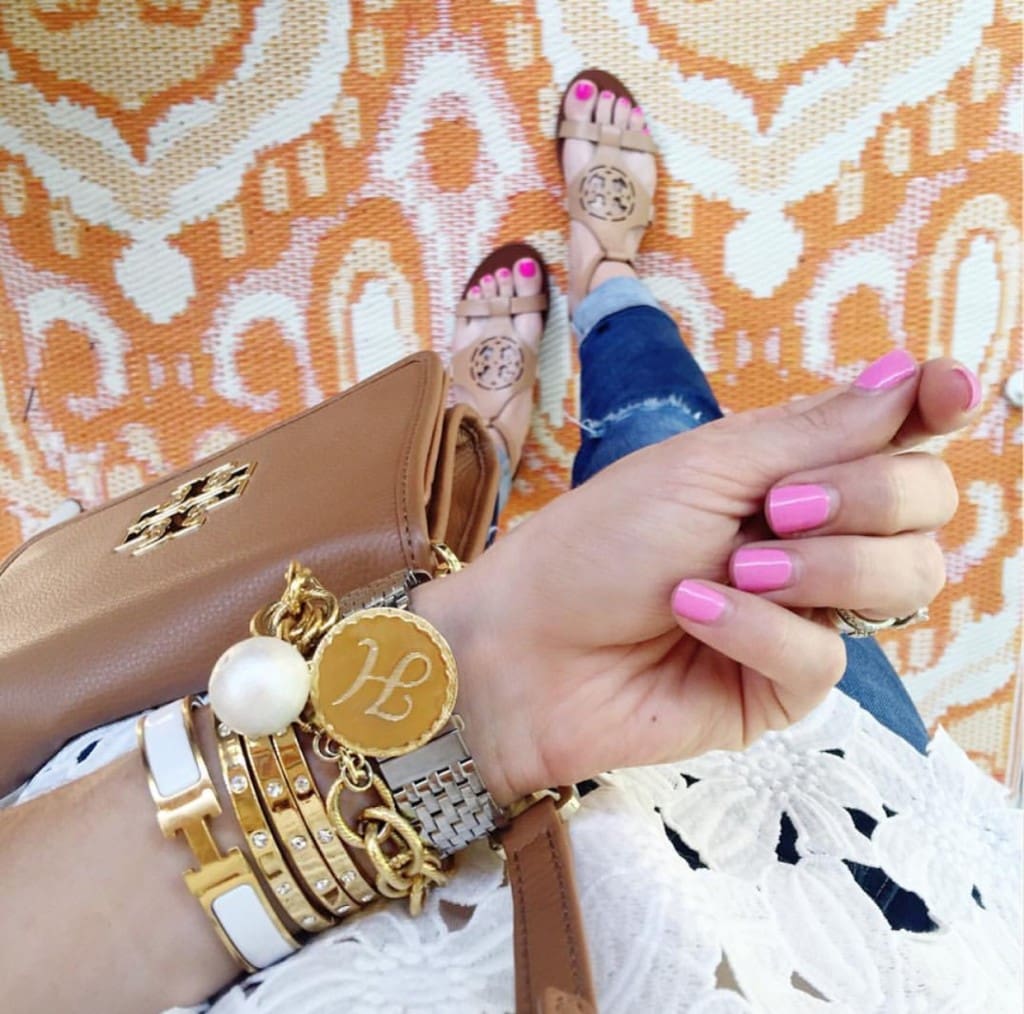 Rug: World Market | Top: Similar, Similar | Jeans: Nordstrom | Bracelets: Moon & Lola, Kate Spade | Shoes: Tory Burch | Bag: Tory Burch | Nail Polish: Gel
Our back patio has been so difficult for me! I have yet to really want to dive into landscaping our backyard as we honestly don't know how long we will live in this house. We are very, "Eh, if the right house came long we'd move, if not we love it here!" I say that because our home is so small and we have put so much into it [#oldhomeproblems] that it really doesn't make any sense to keep investing when we won't be here longterm. However, with summer coming I've "tried" [using that term very loosely] to spruce it up a bit. I got this outdoor rug for under $20 and some chairs from Homegoods. And I'm calling it a day with that area of the home! haha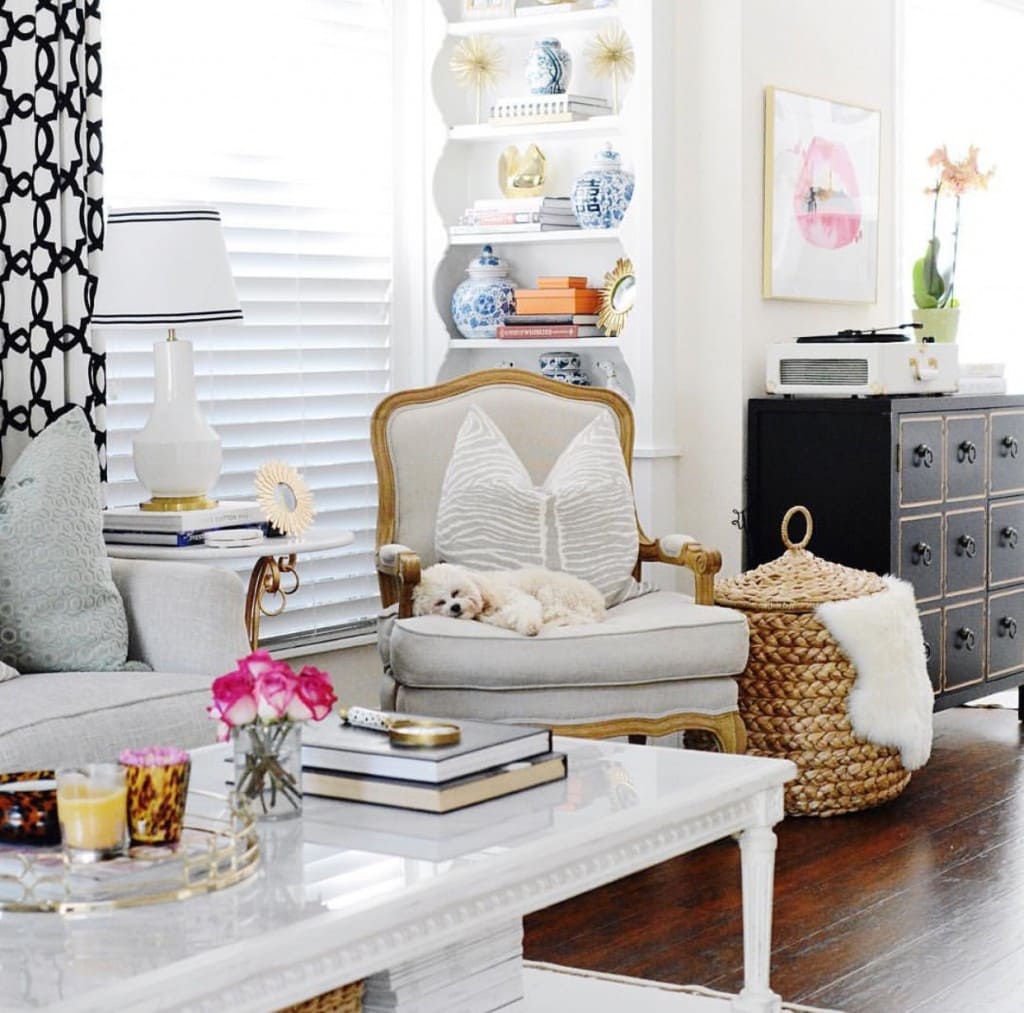 Print: The Aestate | Chair: Kathy Kuo [c/o] | Basket: Pottery Barn | Table: Safavieh | Record Player: Urban Outfitters | Pillows: Similar, Similar
I mean is there anything sweeter than a sleeping pup?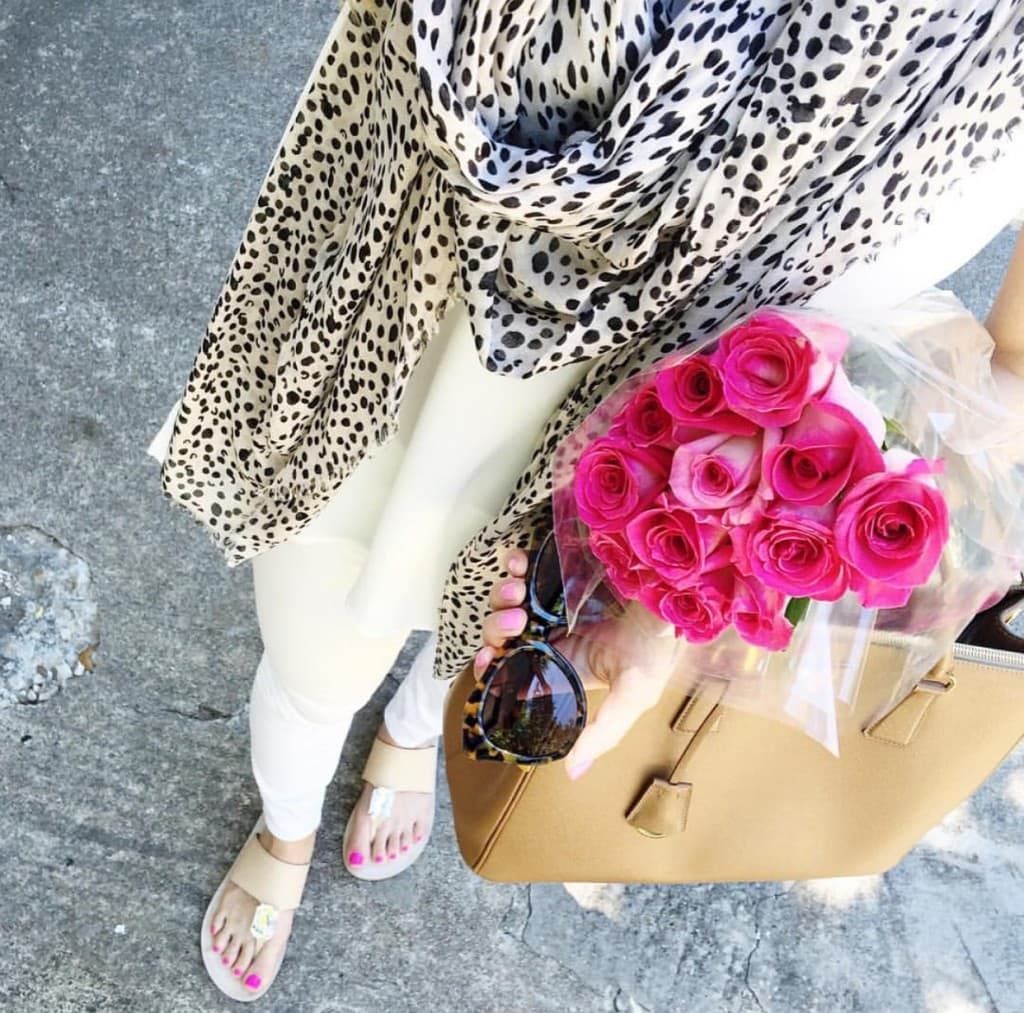 Scarf: Nordstrom | Top: Nordstrom | Jeans: Nordstrom | Sandals: Pedro Garcia | Sunglasses: Karen Walker | Bag: Prada, Similar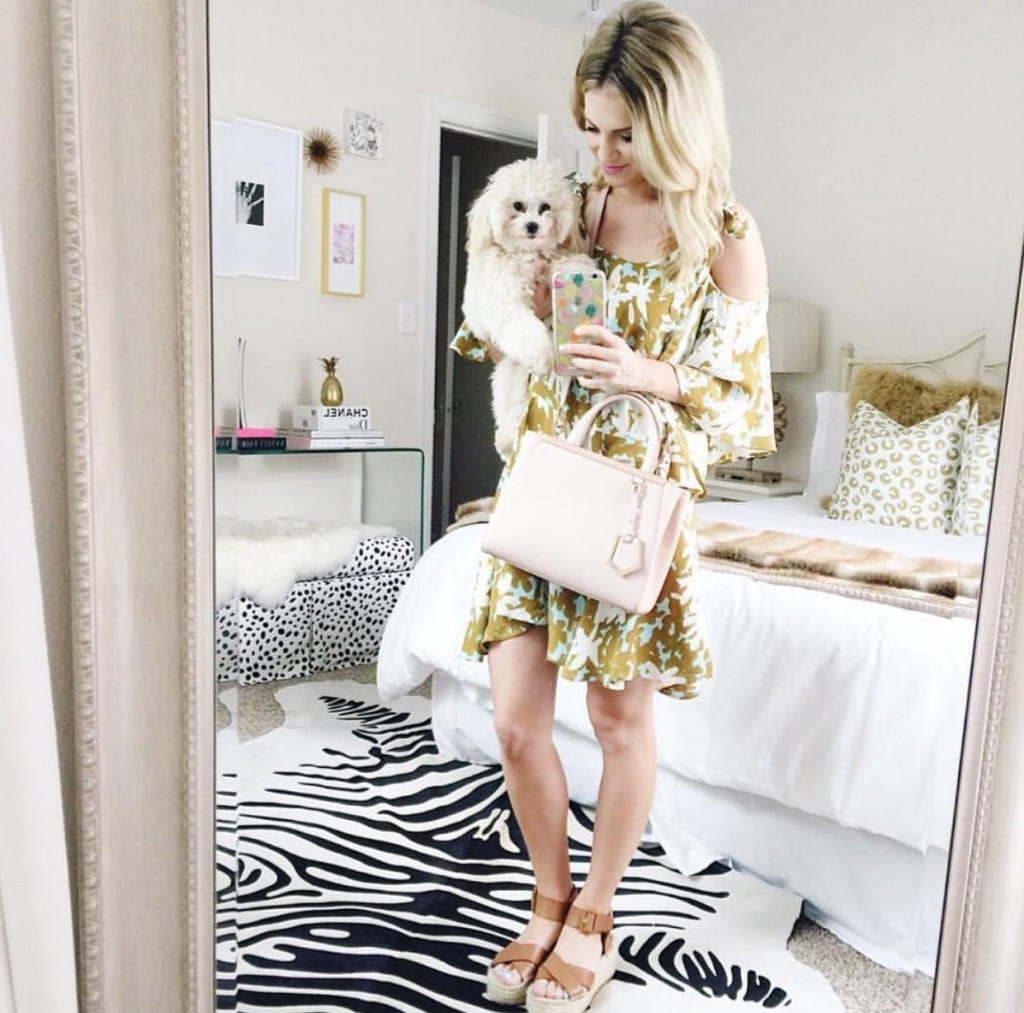 Dress: Free People | Rug: Wayfair | Shoes: Similar | Bag: Fendi, Dupe | Pillows: Minted [c/o] | Earrings: Gorjana
Here is a little snippet of our new guest bedroom! There are still a lot of things to change and add this week but I thought I'd share a few updates with this photo! I can't wait for the big reveal!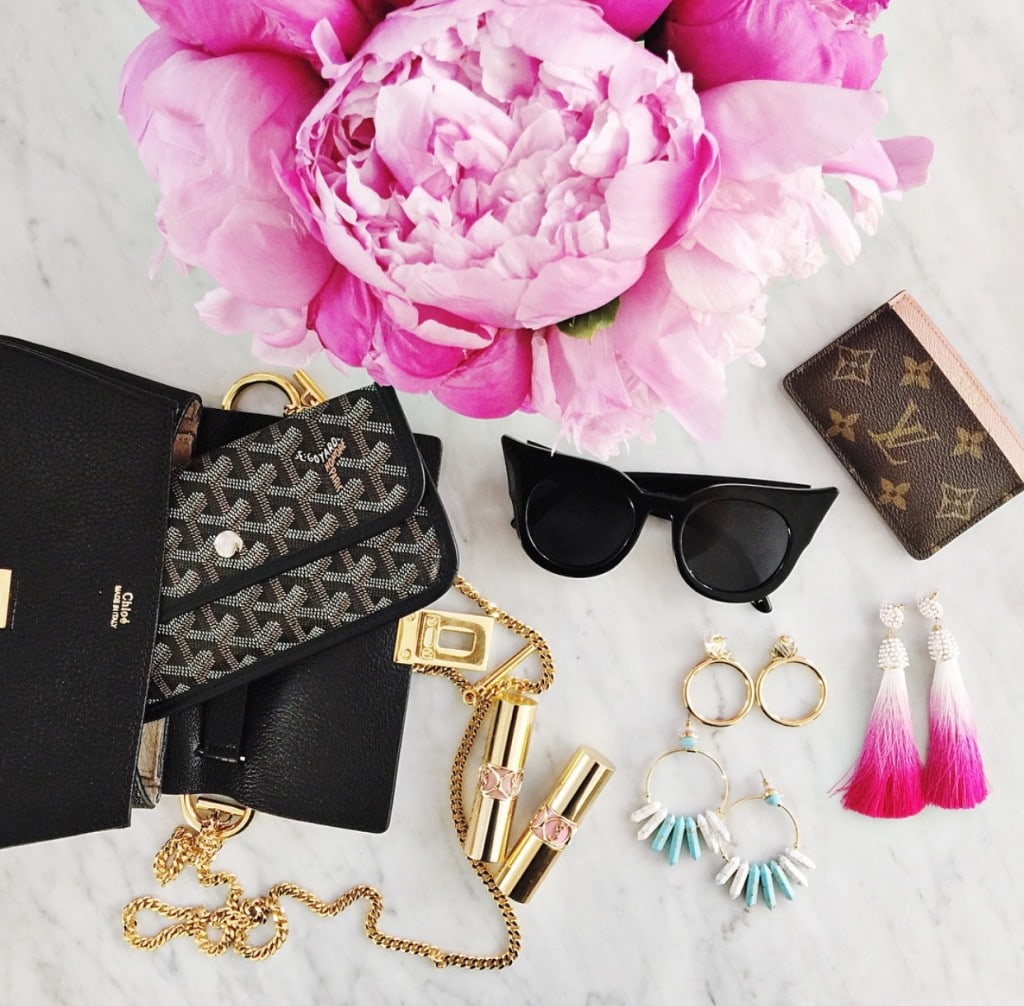 Sunglasses: Nordstrom | Gold Earrings: Baublebar [c/o] | Pink Earrings: Baublebar | Turqoise Earrings: Baublebar | YSL Lipstick: Nordstrom [shades 7&1]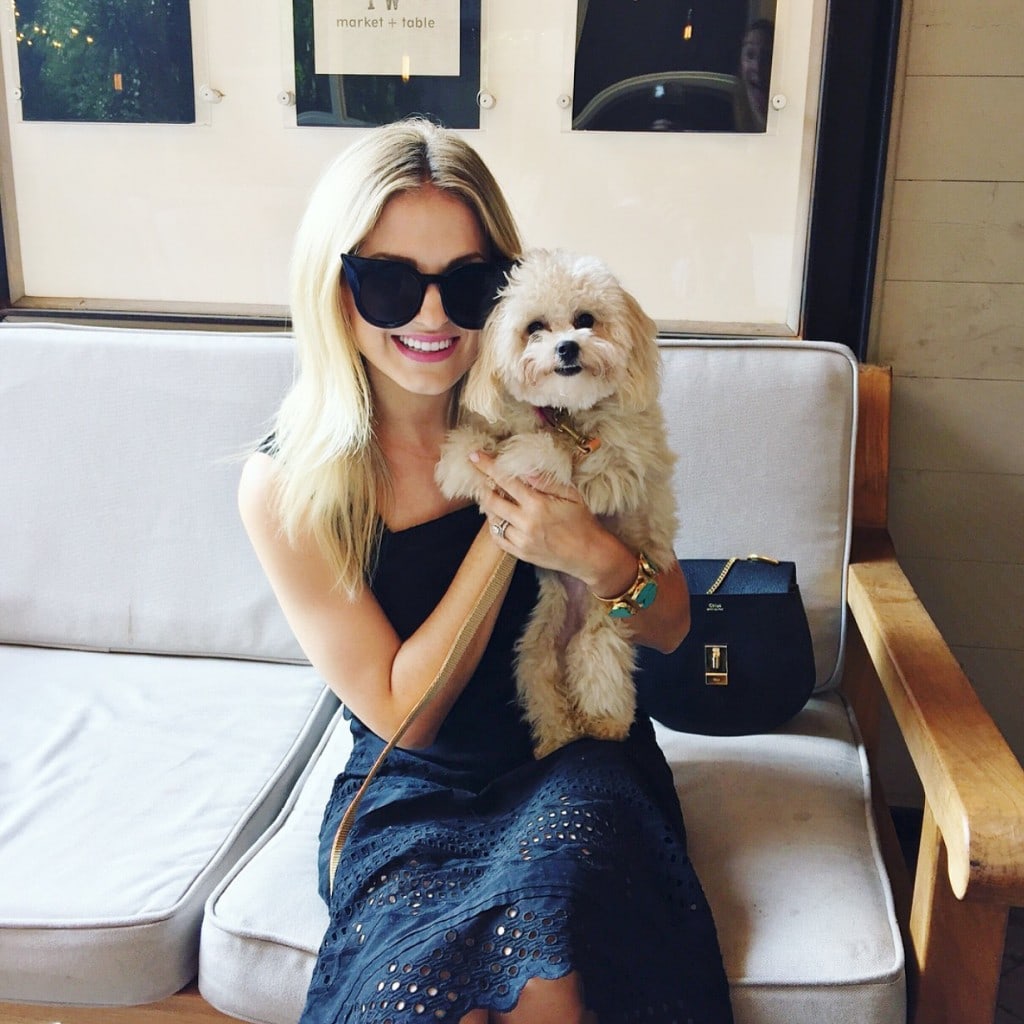 Dress: J.Crew [go down a size!] | Bracelet: Goldenstrand [c/o] | Sunglasses: Nordstrom 
My girlfriend Daniela came and stayed with us a few weekends ago and we took Peaches to Happy Hour! Y'all, she loved it so much! She was a little upset she couldn't have a lavender mojito 😉 but the waitresses spoiled her so much that I don't feel one bit bad for her! haha. She soaks up so much attention! I mean look at her smiling for the camera…..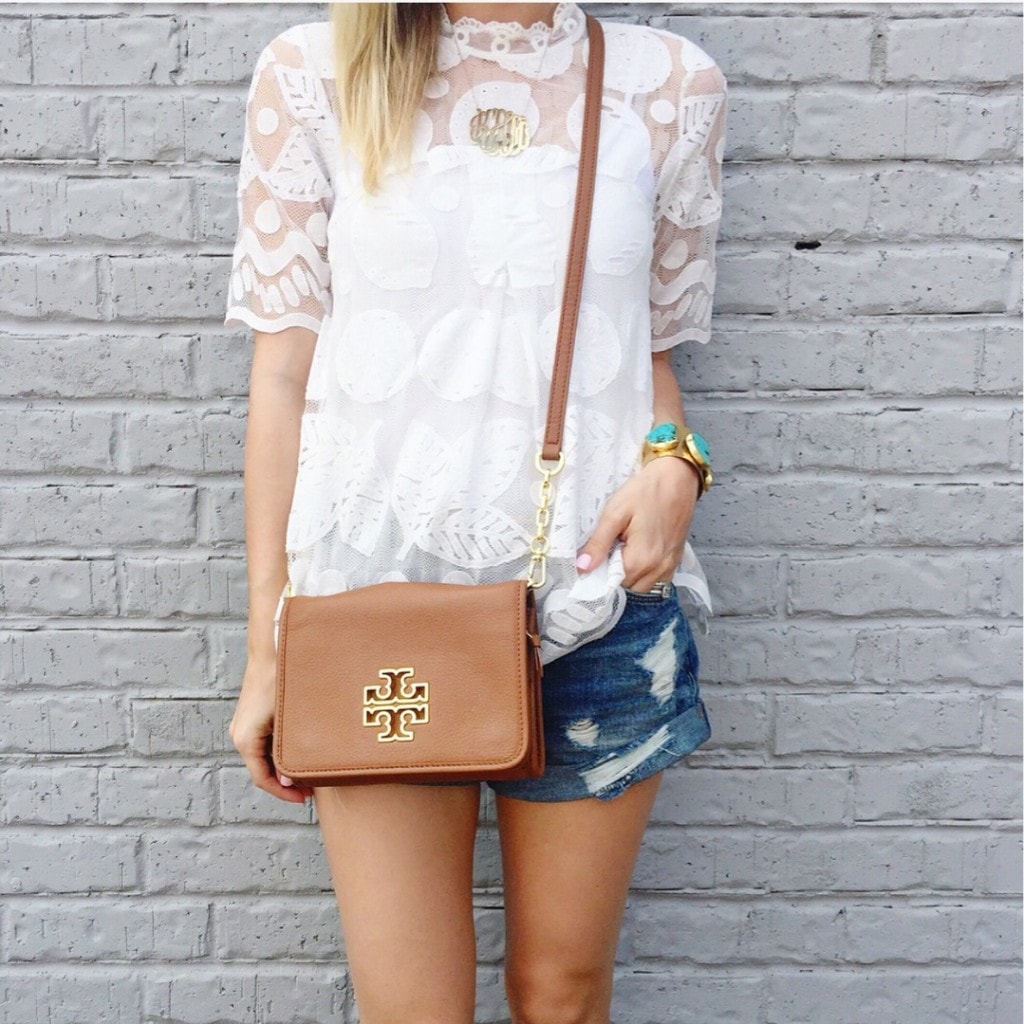 Top: Anthropolgie | Shorts: Nordstrom | Bag: Tory Burch | Necklace: Similar | Shoes: Nordstrom | Earrings: Moon & Lola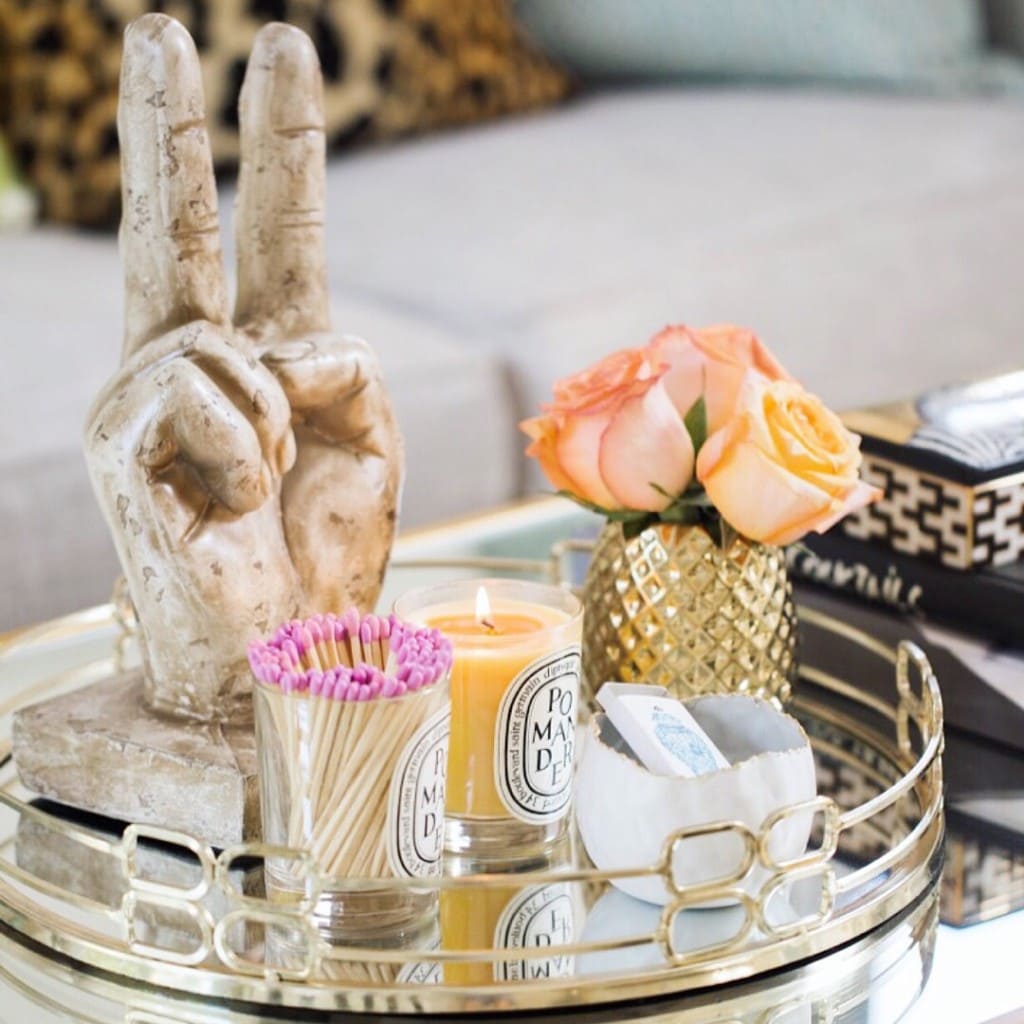 Peace Hand: Overstock |  Ginger Jar Matches: Design Darling | Pomander: Nordstrom | Pineapple: Anthropologie
Last week I shared a post on my favorite home decor items under $50 [read it here] and this is one of my favorite snapshots of our home. I truly think you can make smaller pieces define the style of your home, without making it feel cluttered! It's all about balance! Instead of 14 picture frames in a corner, maybe try three with two candles and a fun set of matches. It looks purposeful and not overpowering!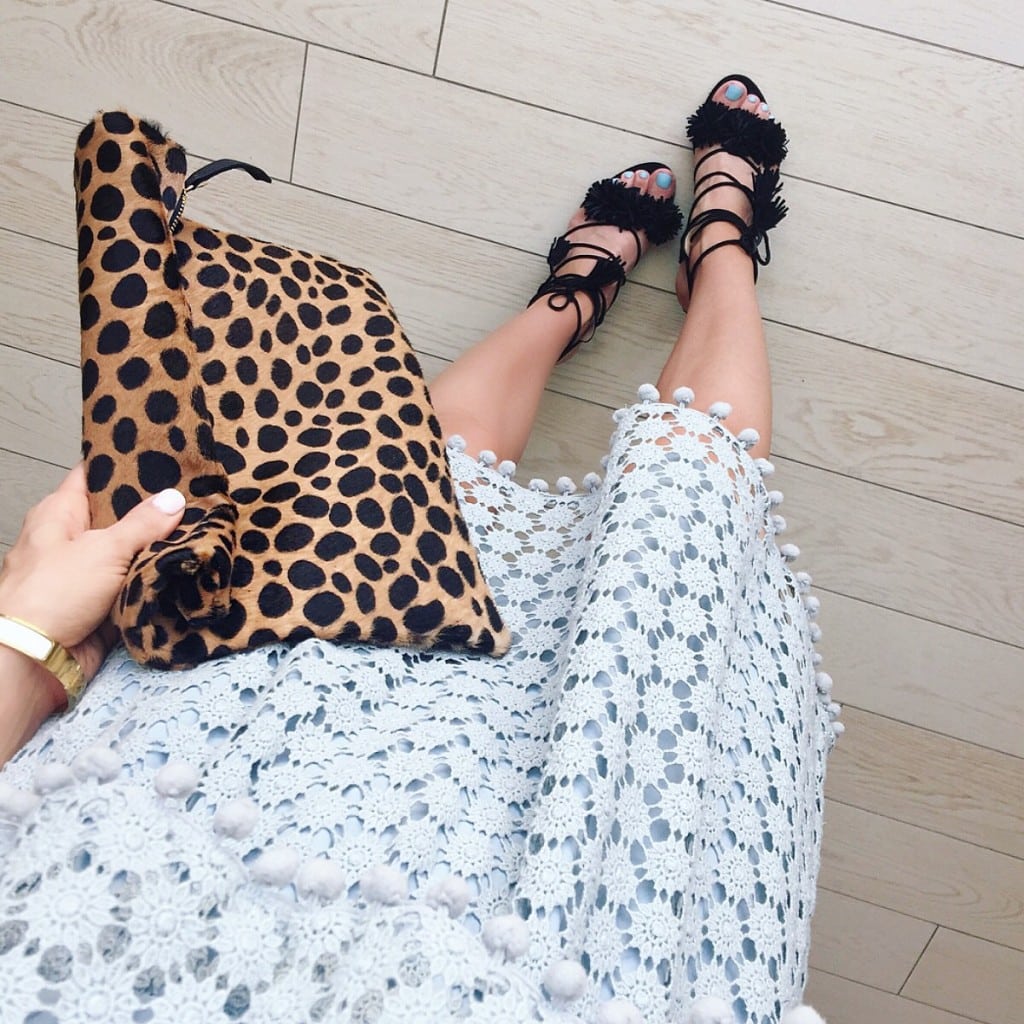 Dress: Tularosa | Shoes: Similar | Clutch: Clare V. | Lips: #17 | Earrings: Furbish
I wore this look to our friend's wedding over the weekend and it was perfect for the beach! It fits TTS and I felt so comfortable in it! We stayed at Secrets of the Vine resort in Cancun and I would seriously go there again! I got a lot of e-mails from readers asking about the resort for their honeymoon and 100% YES! It's the perfect honeymoon spot and really romantic! If you go do the hot stone massage, I got one and it was by far the best spa treatment I've ever had! And the Italian restaurant was our fav!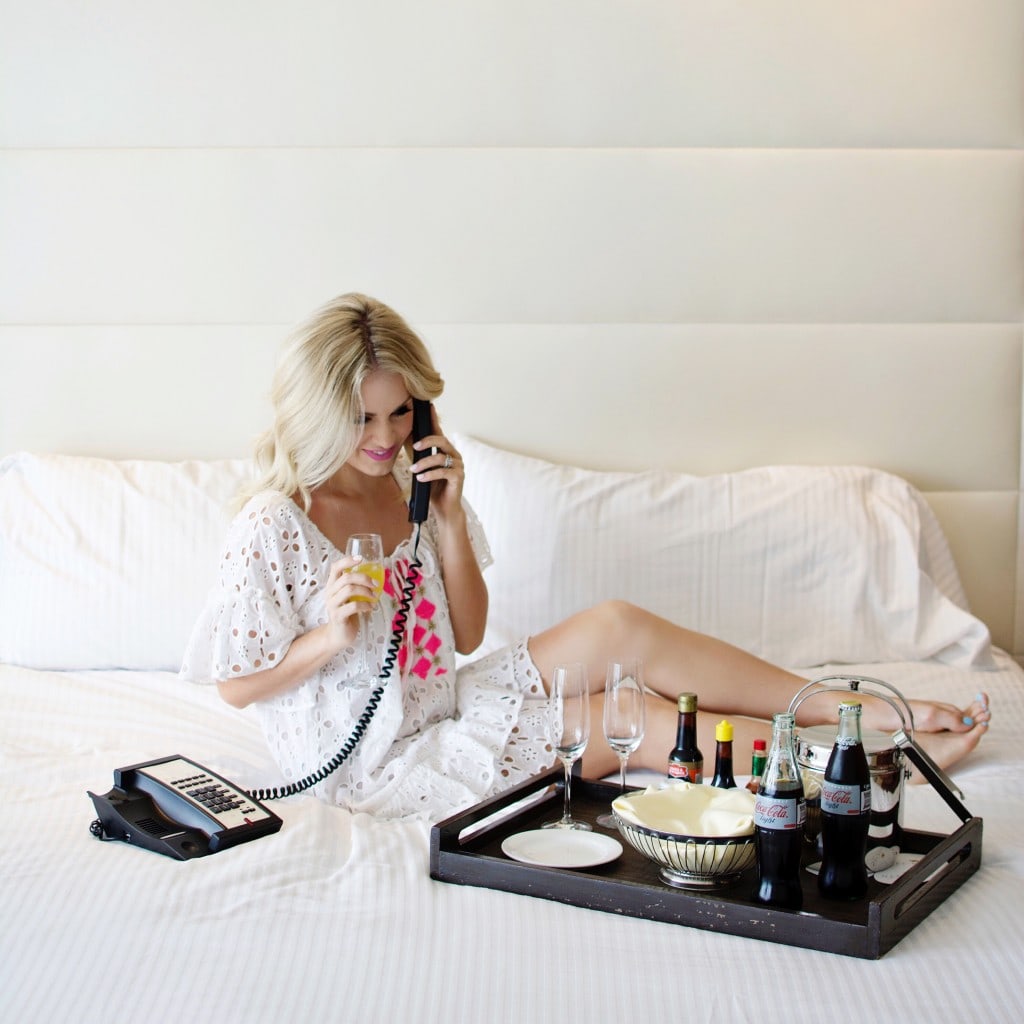 Dress: Sundress [c/o]
I went a little crazy with room service over the weekend! But. It. Was. Free. Y'all. Room service is so much fun for me and I loved that it wasn't $70 for fries and a Diet Coke like it usually is! hah

Do any of you all have fun plans this week or this weekend?! I'm throwing a baby shower this weekend and have gone a little overboard with all the fun girly touches!