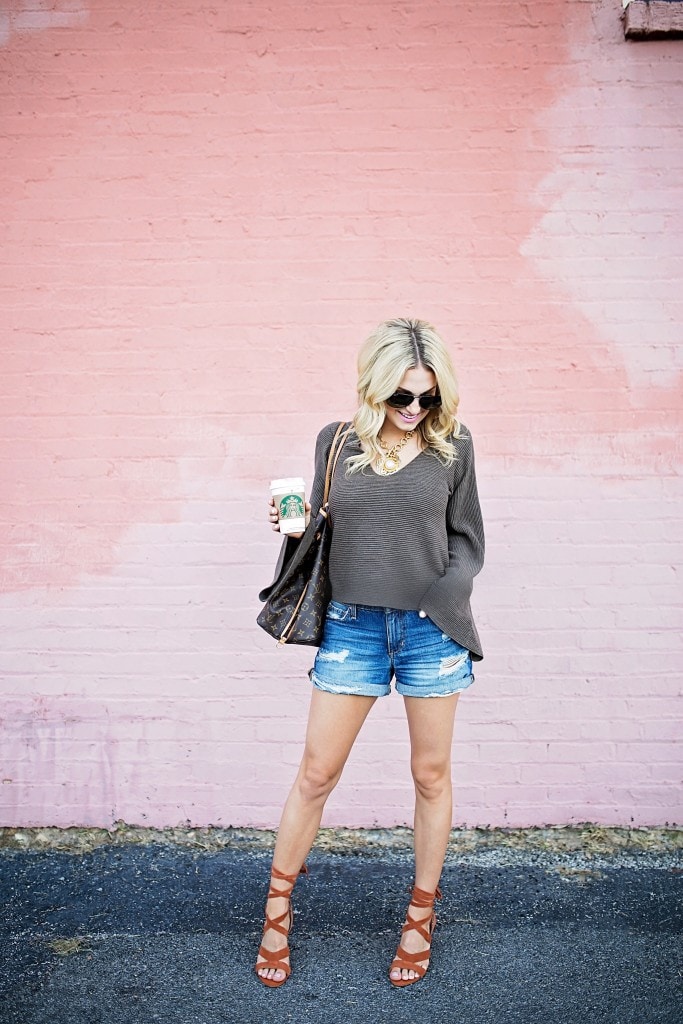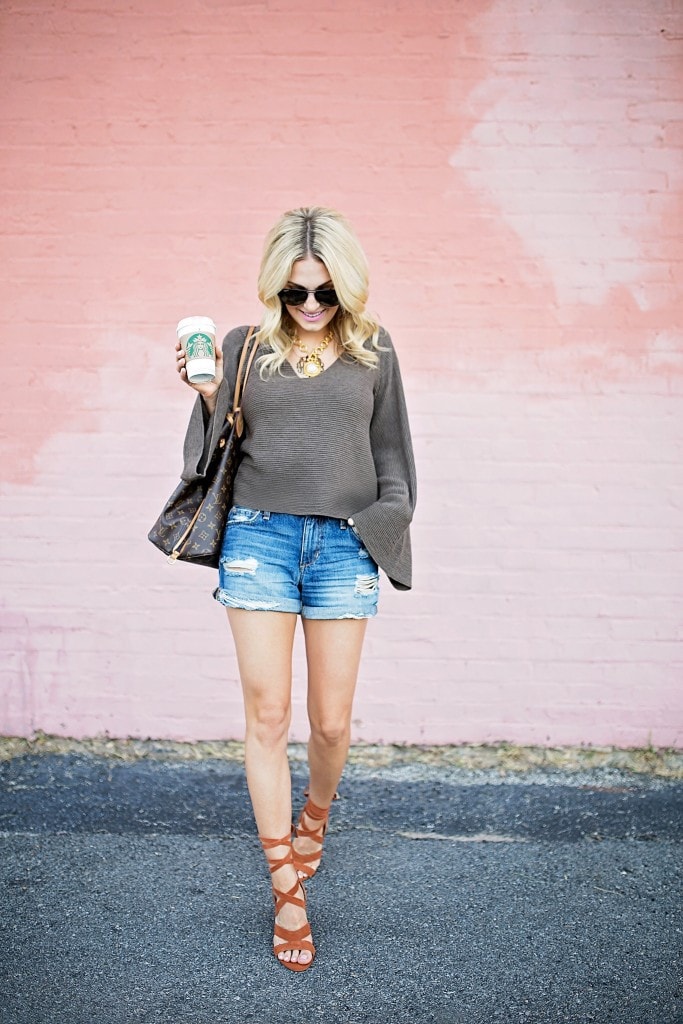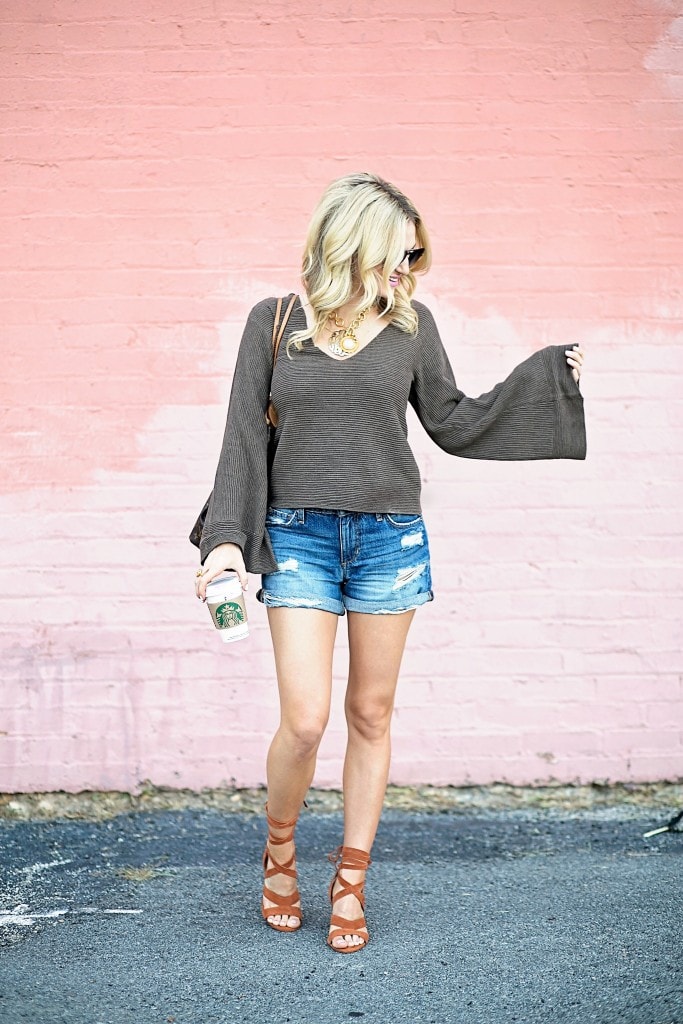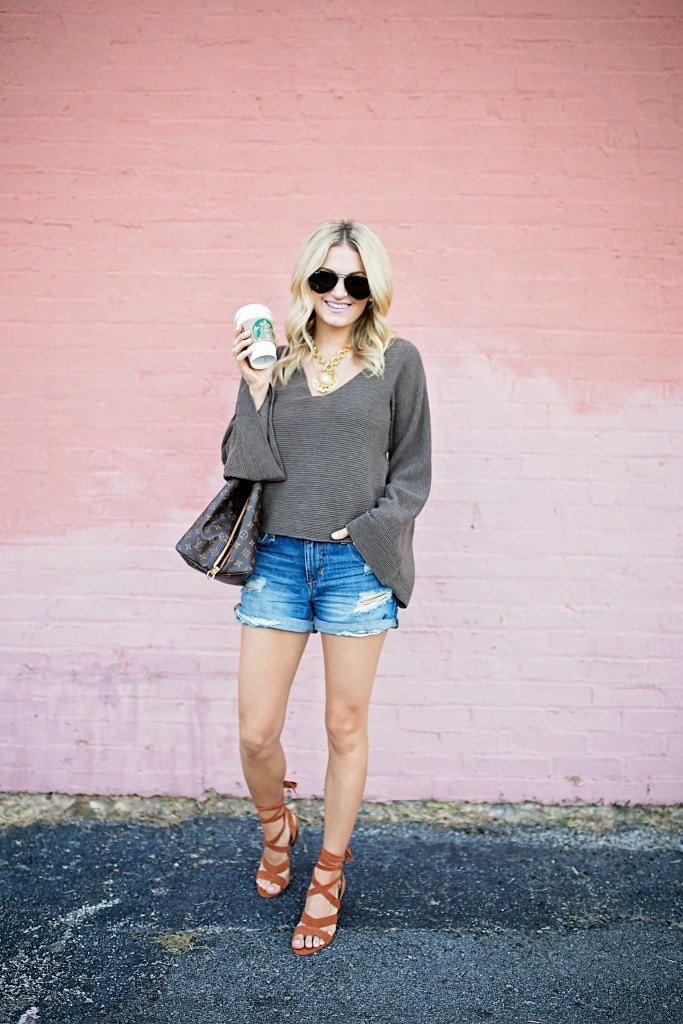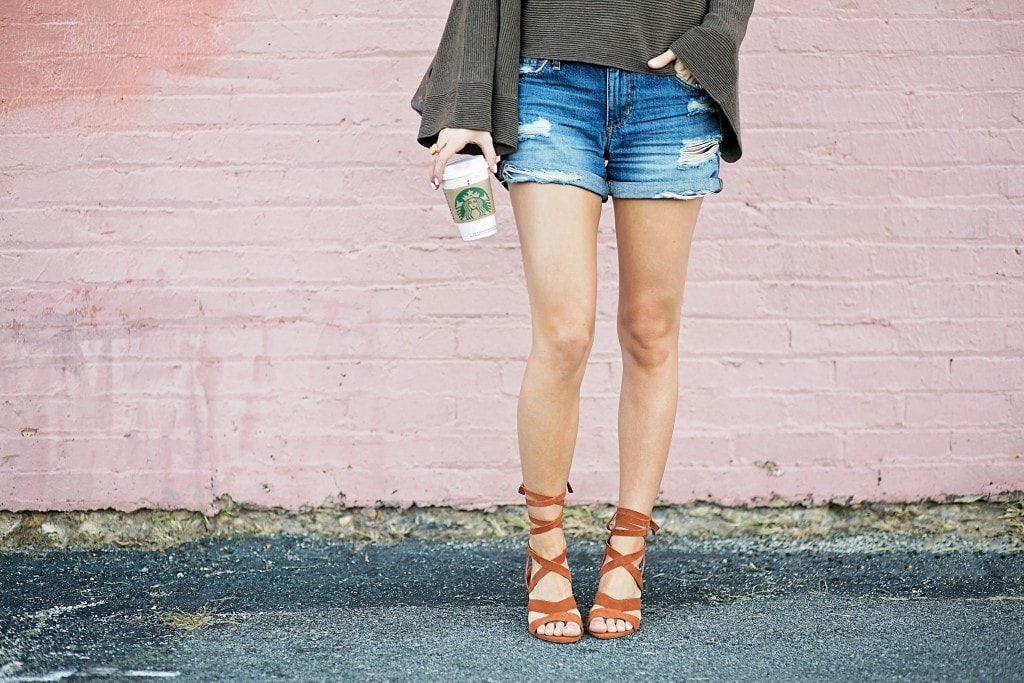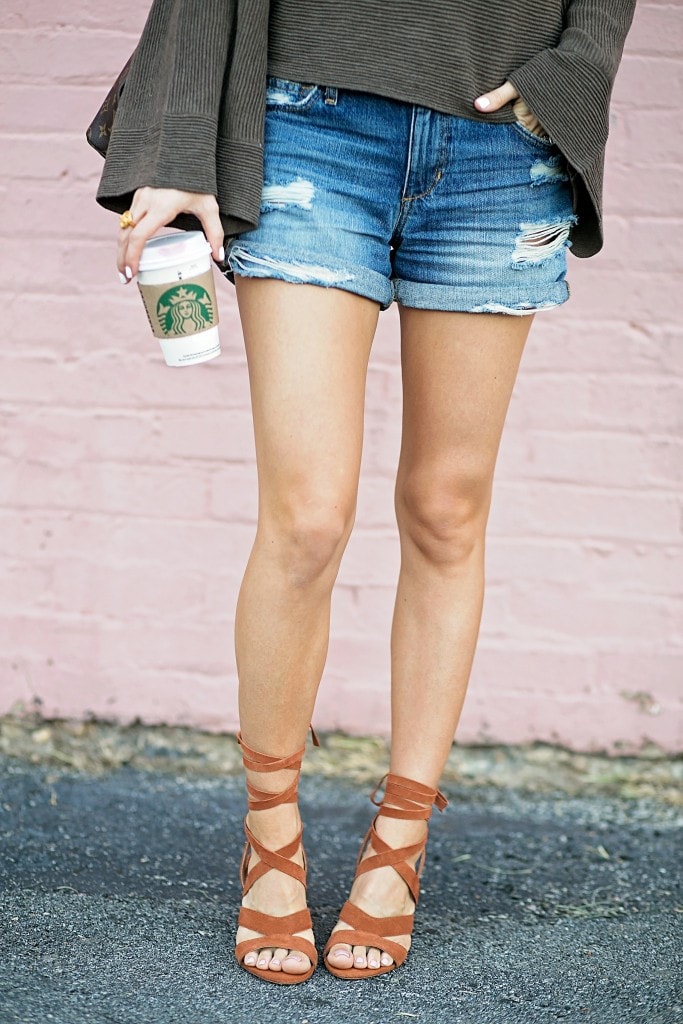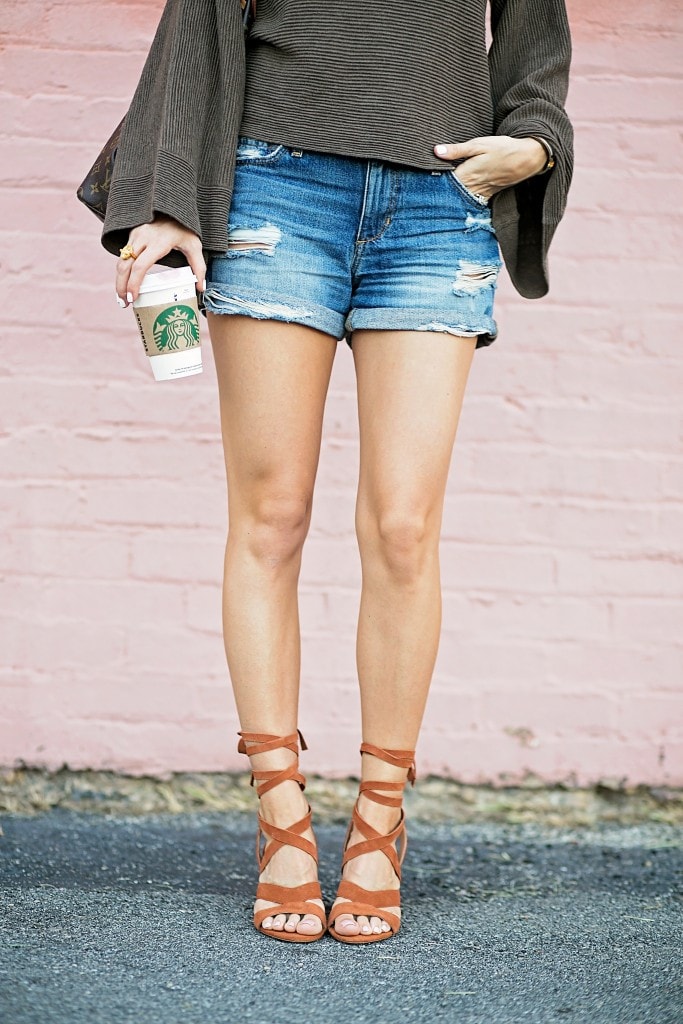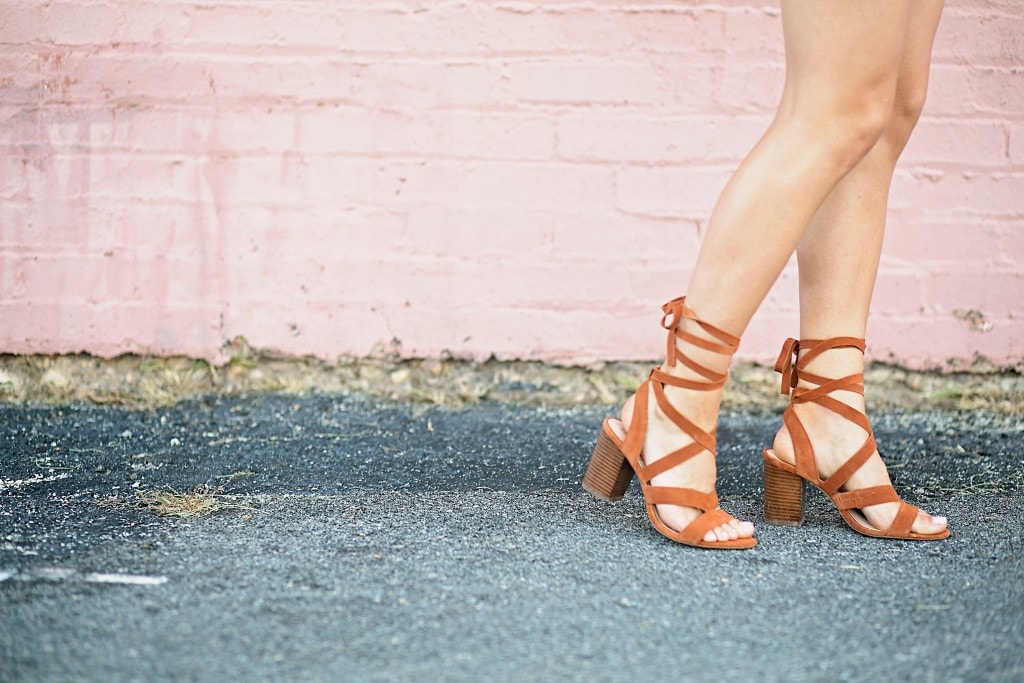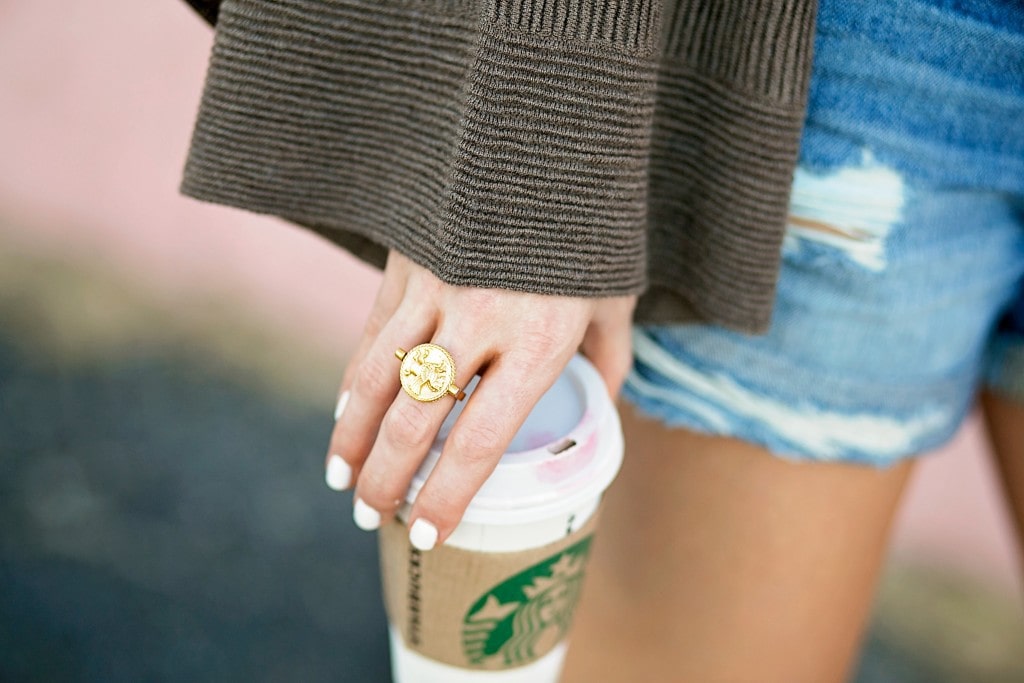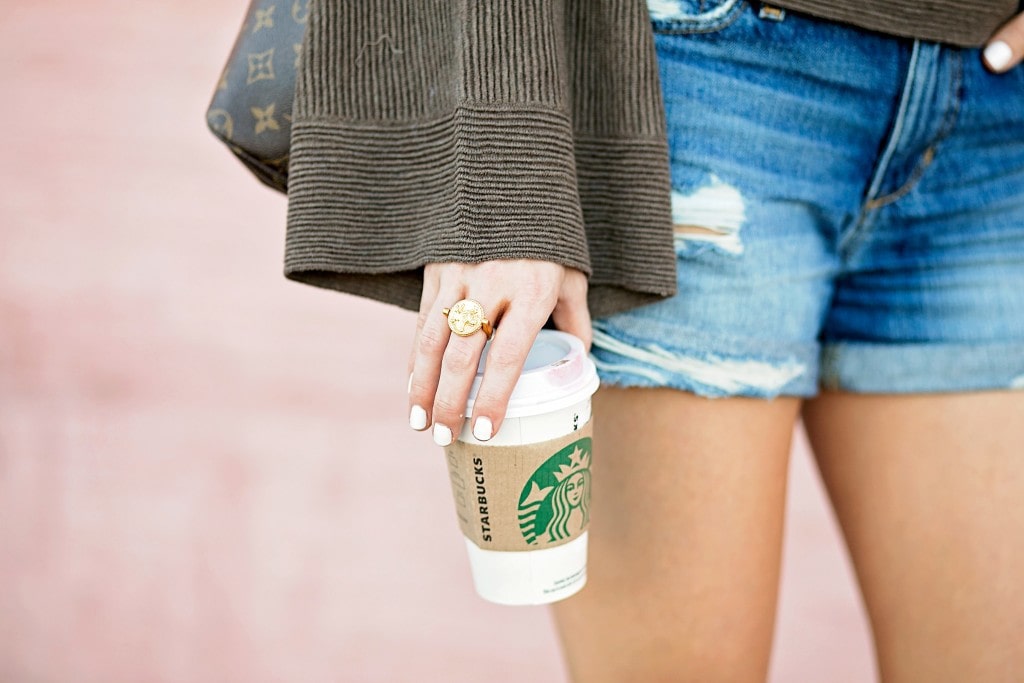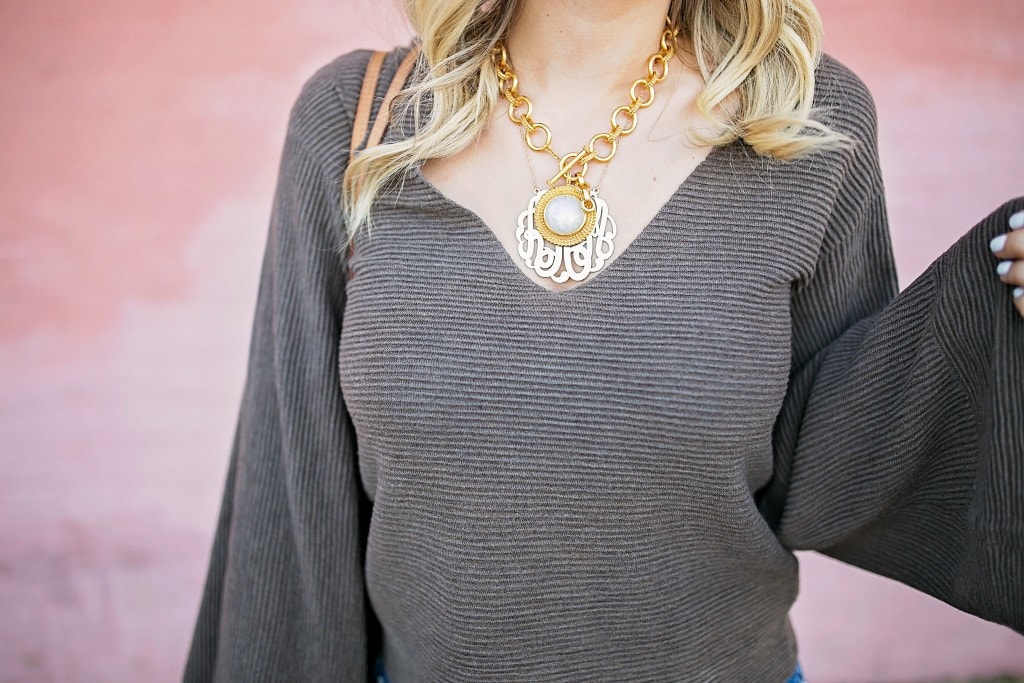 Sweater: Revolve | Jeans: Shopbop | Shoes: Sole Society [c/o] | Bag: Neverfull GM, Similar | Ring: Julie Vos [c/o] | Necklace: Baublebar [c/o], Julie Vos [c/o] | Lipstick: Nymph
Photography by: Angie Garcia
---
Nothing makes me happier than shooting by a pink wall while sipping a hot chocolate! Hot chocolate is such a guilty pleasure of mine [I know! I know! Liquid sugar.] so I though today might be fun to share a few of my favorite guilty pleasures and you could share yours!
1. Hot Chocolate > Coffee
I have chosen to give up traditional caffeine [I know there is caffeine in chocolate, but I'm talking coffee, tea, soda] during pregnancy. I know you are allowed to drink a certain amount a day and I also know I could ask for decaf. But I drink my coffee black, I don't like cream or sugar in it, so decaf black coffee just isn't very appealing! haha. I only drink it for the caffeine. So now when I go to coffee shops I'll ask for hot chocolate with no whipped cream and skim milk, and it is SO good. It's such a guilty pleasure to sip on it while I do my devotionals in the morning. I don't feel super awake after, but I definitely enjoy it more than a cup of black coffee! 😉
2. The Bachelor
I know it's so cheesy and can be viewed as disrespectful on different levels. But when you can look at it for what it is: entertainment, it's hilarious! I've watched every season since it first came out and I don't even know why I like to watch it! Having watched every episode, I think I could quote it word for word, no matter what season we are on. It's all the same verbiage and dates, just different people. But it's so relaxing to just turn my mind off after work and watch it! Last week I didn't feel too hot [still vomiting at 15 weeks!] so I watched Bachelor in Paradise. And y'all, that looks MISERABLE. A vacation with a ton of people that are constantly drunk? I think that is my personal version of torture. But for some reason it was such a guilty pleasure while dealing with morning sickness! I watched a few episodes and I was like, "I'm so glad I'm vomiting here in Fort Worth, Texas and not stuck at a resort with Chad." haha!
3. TJ Maxx/Marshalls
The reason I call this one a guilty pleasure is because I go constantly for no reason at all! I seriously love shopping centers that have a TJ Maxx or Marshalls and a Chick Fil A combined. That's heaven. It's such a guilty pleasure to go in between meetings or appointments and just aimlessly browse for nothing at all. It's a terrible habit because $20 later I come out with a new candle and coffee mug, but I also find true gems! I've found some designer dupes and unique home decor items! I just need to stop going for no reason at all.
4. Following British Accents on Snapchat
One of my mom's best friends lived in London for many years, so she always jokes with us about how Europeans don't care for American accents! And here I am obsessed with other accents! I seriously will follow bloggers with accents just so I can listen to them on Snapchat. I will listen to them go on for 20 minutes about one certain foundation because their voice is so lovely! haha. Add buynowbloglater on Snapchat. She is from London and currently lives in Dubai. She could talk about dead cockroaches for all I care, and her voice is so soothing I will still creep her story all day long.
What are yours?!