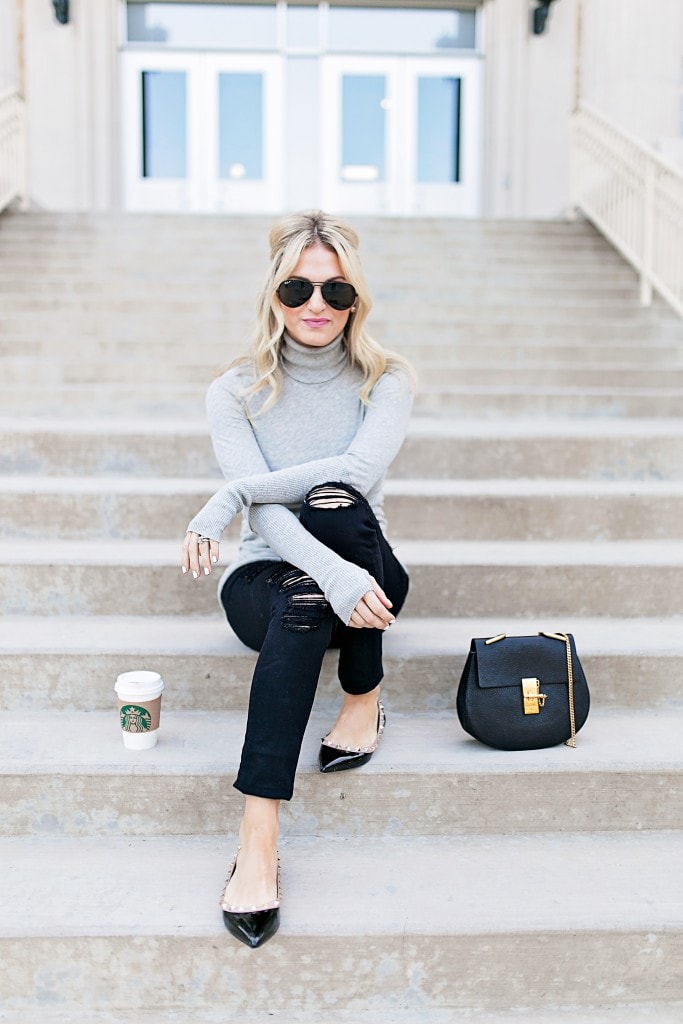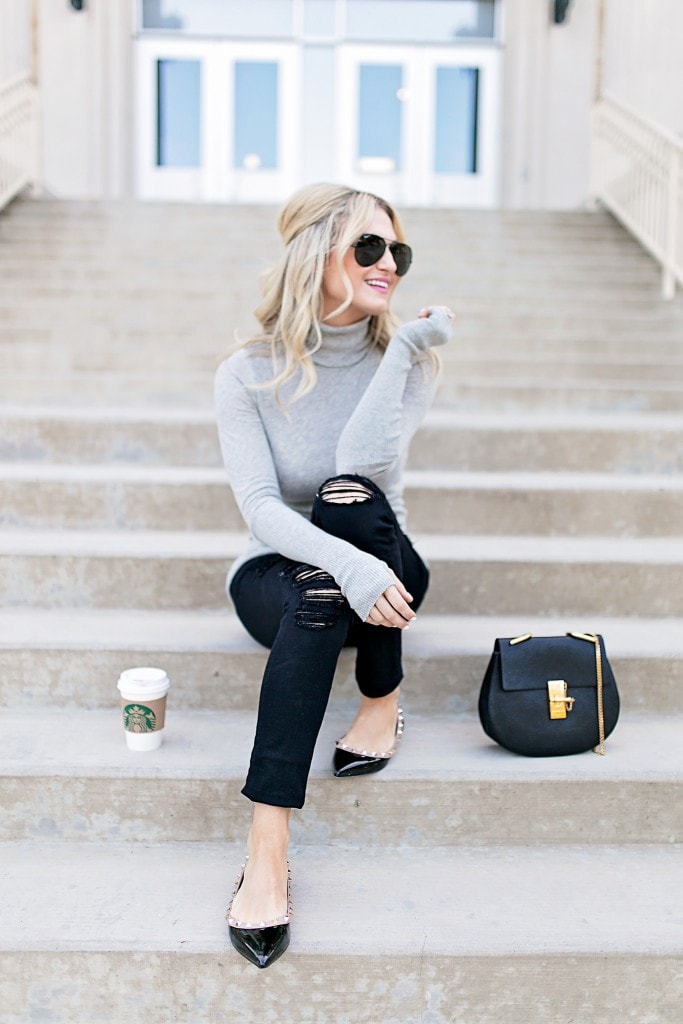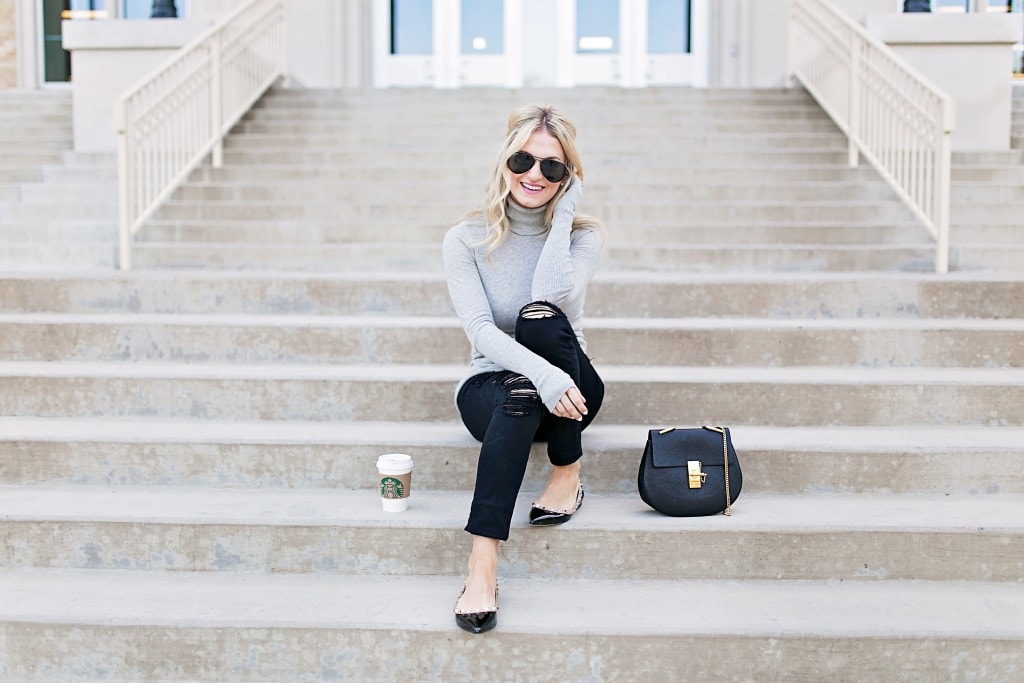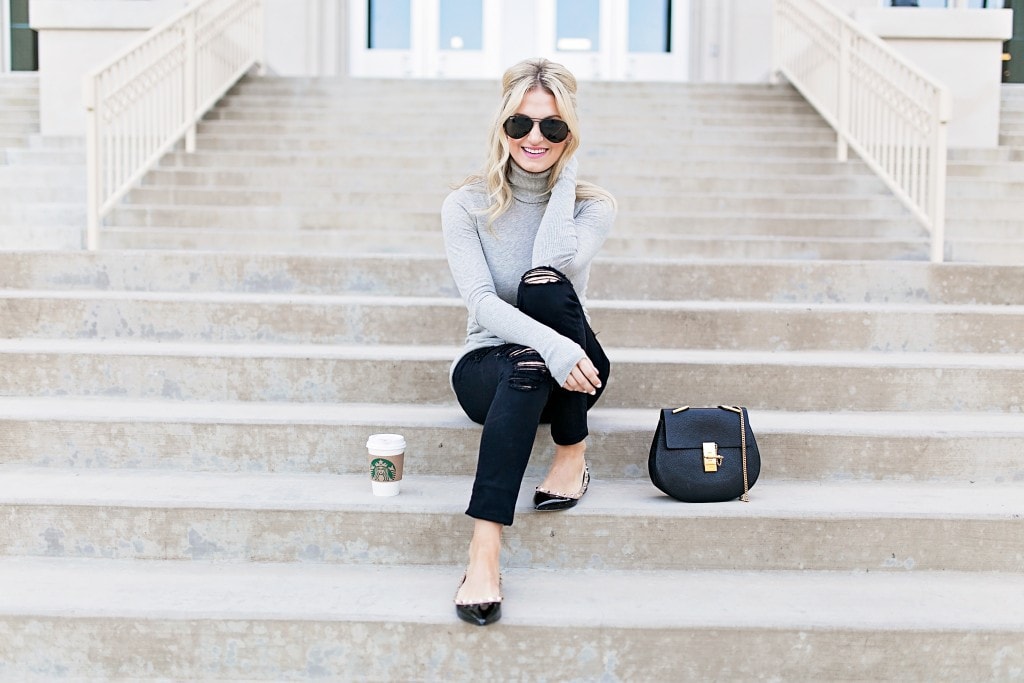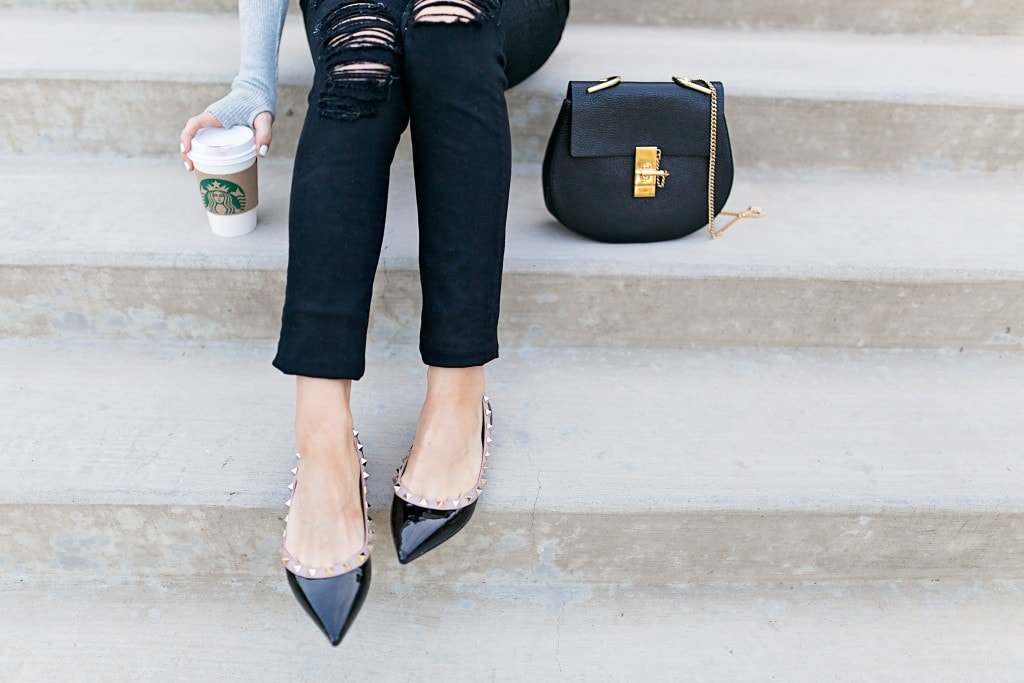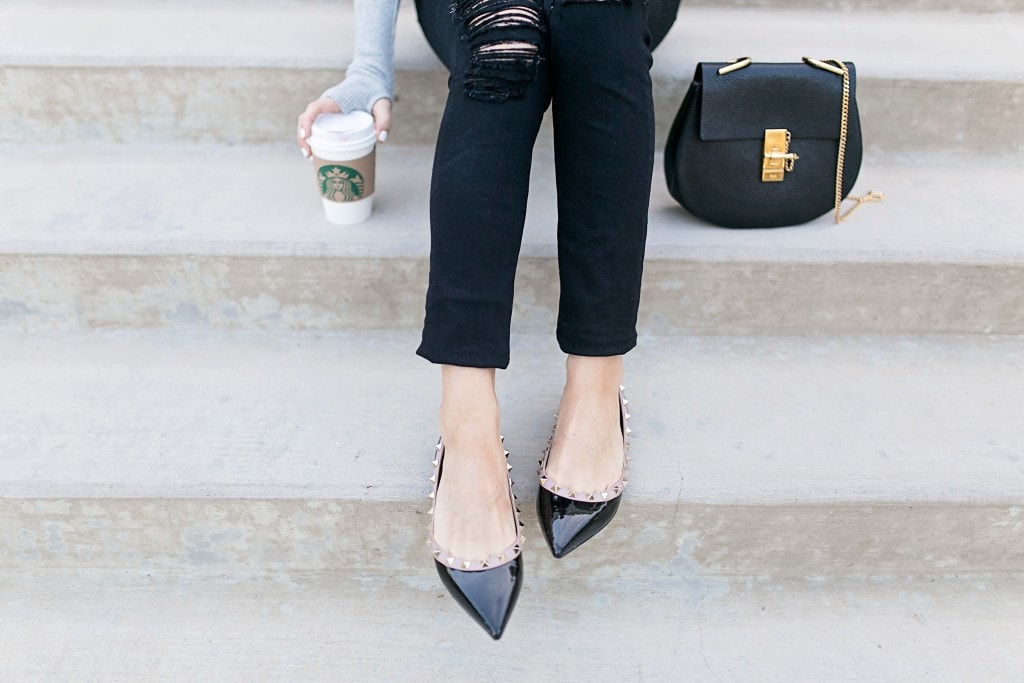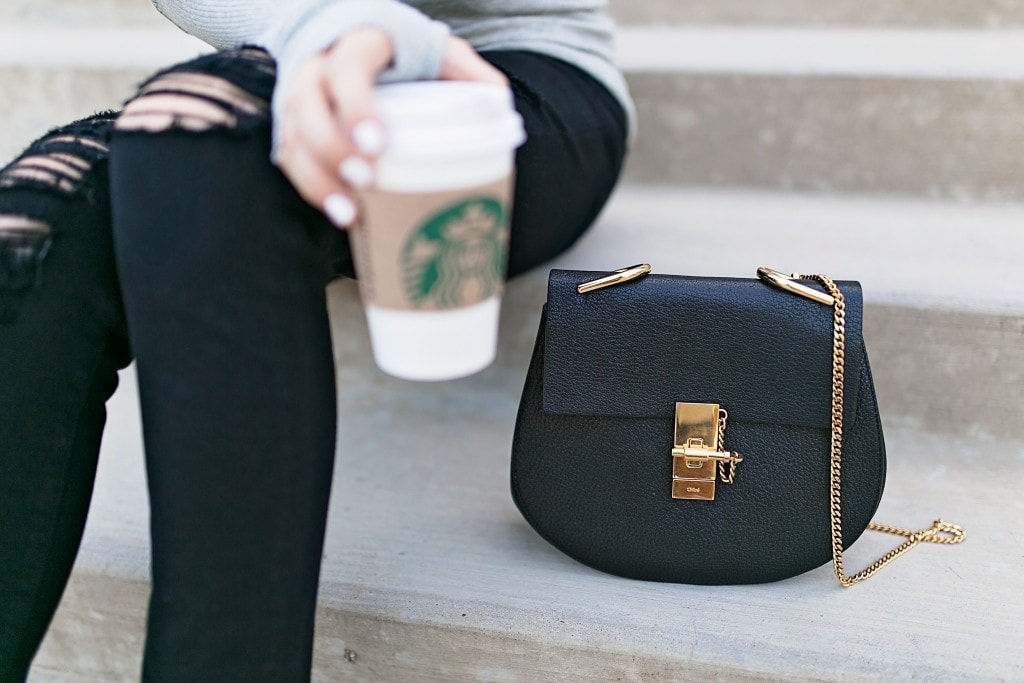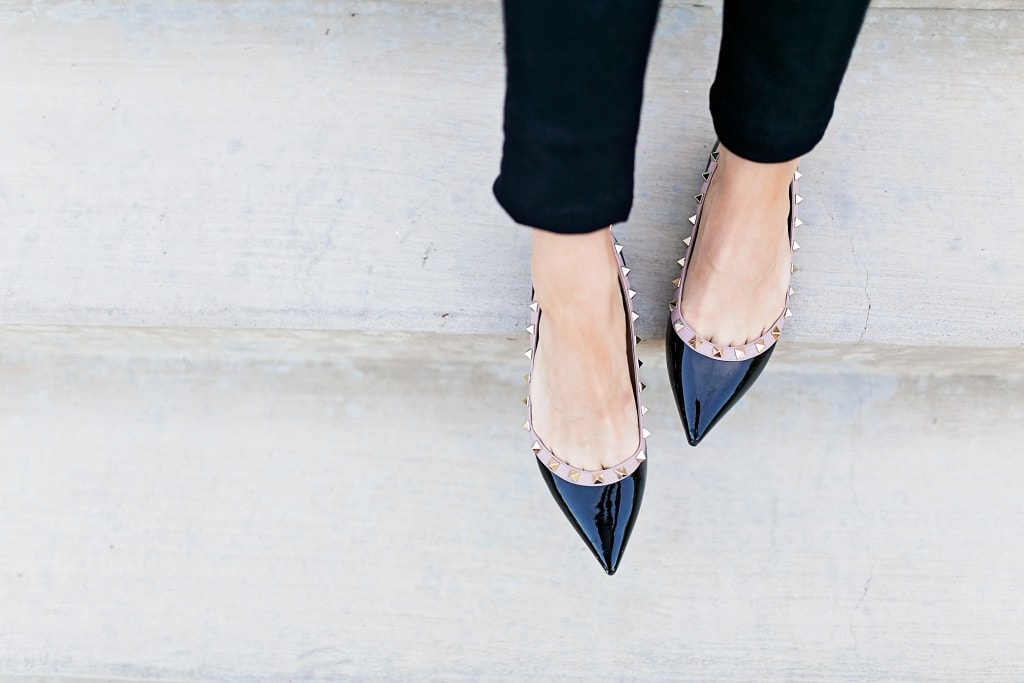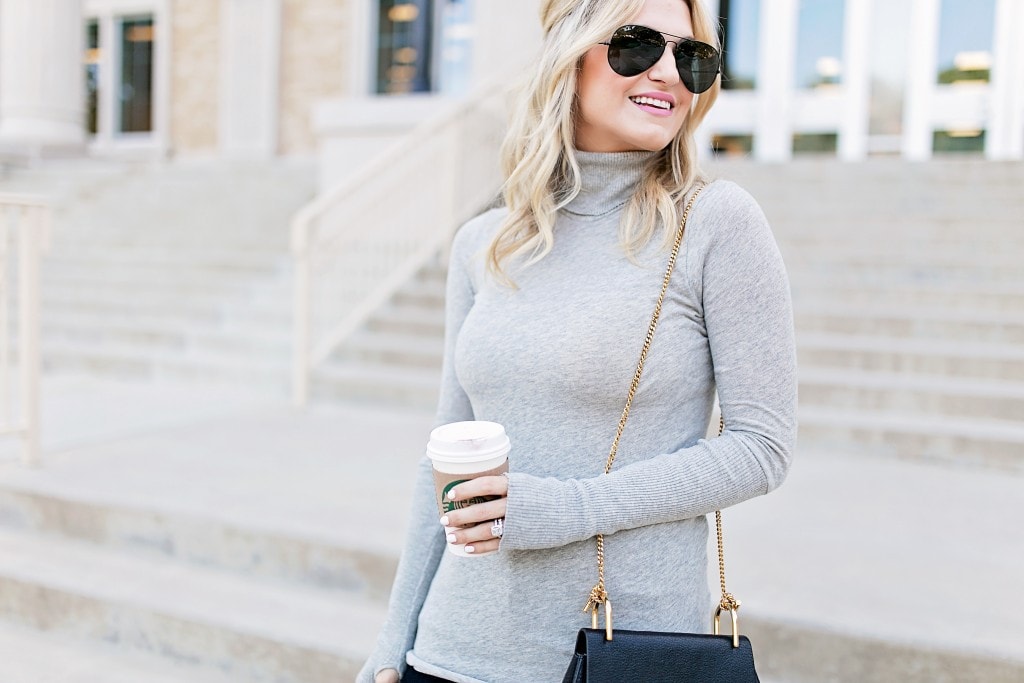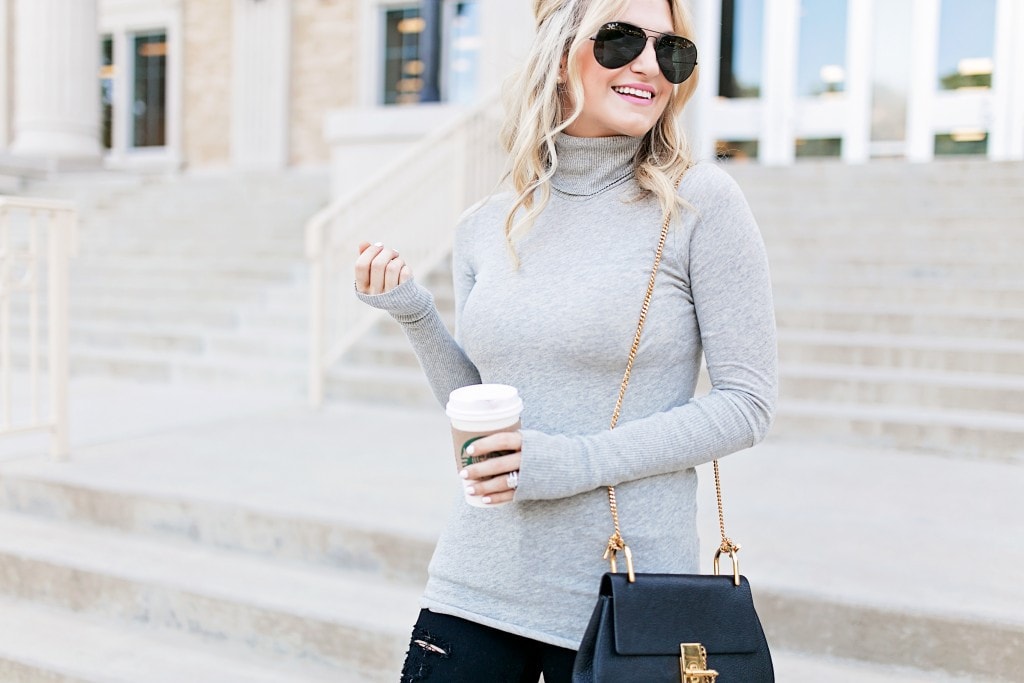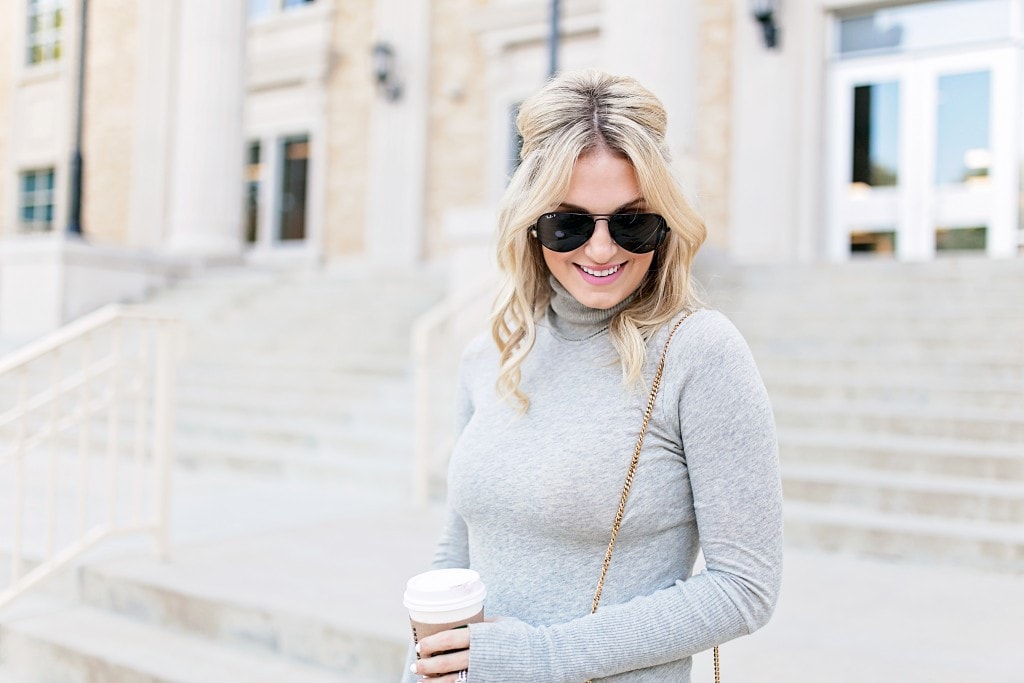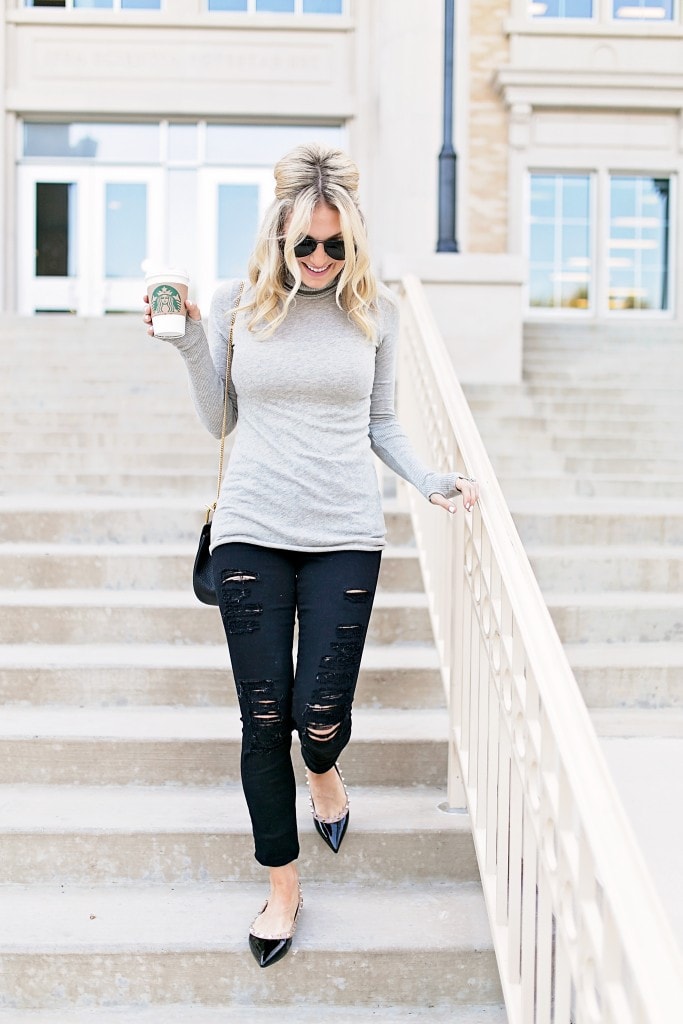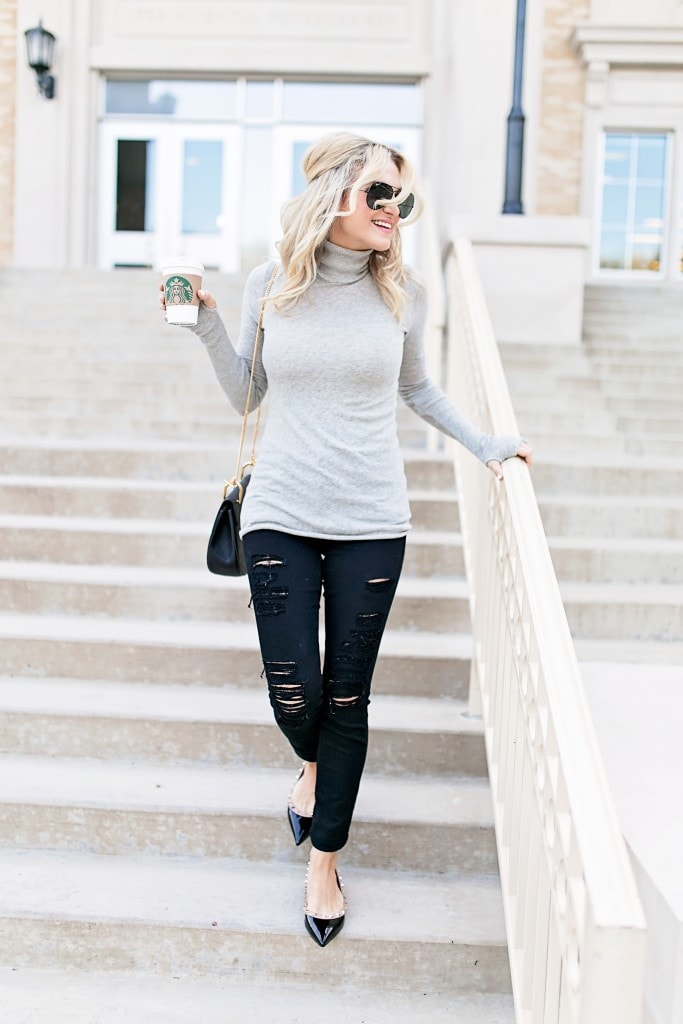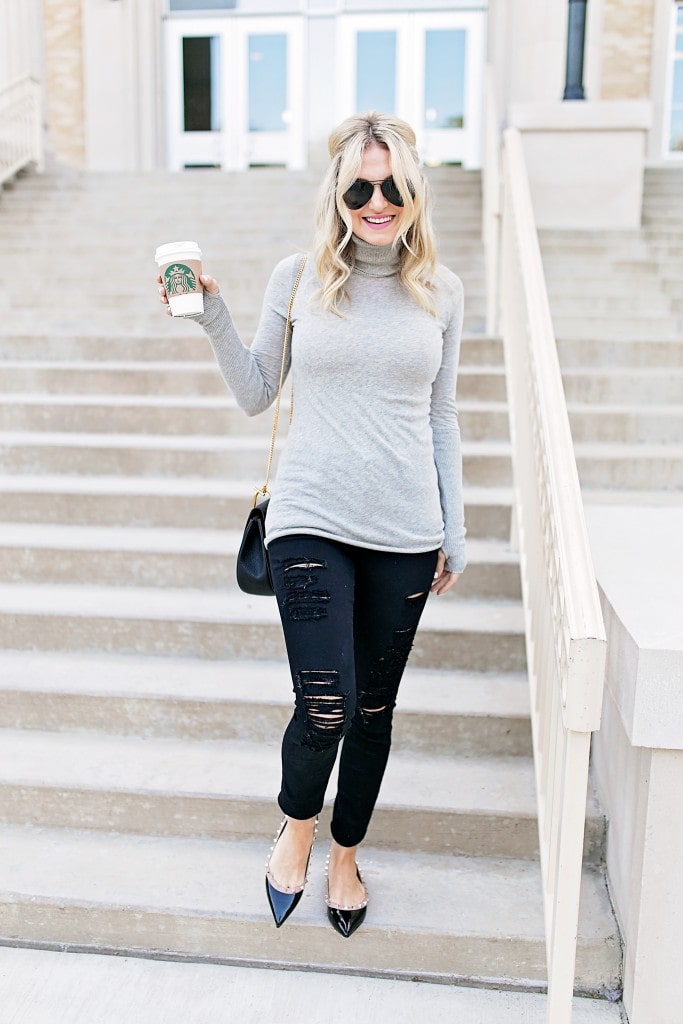 Sweater: Nordstrom, Similar | Jeans: Nordstrom | Flats: Valentino, Similar | Bag: Chloe, Dupe | Lipstick: Pussycat
Photography by: Angie Garcia
---
I've gotten lots of requests to start sharing some fall basics to purchase, and before we whip out our faux fur and scarves of every color, I always say to reach for denim! I thought today it would be fun to share an easy way to put together fall outfits, and not have to stand too long in your closet thinking, "What works?"
Denim can sometimes be an afterthought while getting dressed as you think, "Which jeans pair best with this sweater?" But sometimes I like to center my look around specific jeans! Certain jeans allow you to front tuck, layer or wear oversized pieces, so sometimes it's easier to pay attention to them first. Then you're able to reach for the perfect top that balances your denim or pants and not have to worry about if the textures are bulky or colors are heavy.
Divide your fall denim up into three different categories, and based off of your wardrobe colors you can develop off of that! I've shared my favorite brands from Nordstrom and the contemporary/trend section under each category so you can easily browse.
1. Light Wash [I don't love light wash, so I let this count for gray, whites and medium washes!] 
This allows you to pair darker hues and lots of layers without a look feeling too heavy!

2. Dark Wash
Dark wash denim is perfect for a simple white tee tucked in or this gray sweater.

3. Fun & Distressed
I love distressed because you can honestly pair it with any top, but I try to make sure there isn't too much texture going on such an embellishing. 

These jeans by Frame count for the distressed pair and they come in white or black depending on what you think you would wear most in cooler temperatures. And yes, you can wear white jeans all year round! 🙂
When it comes to stocking up on denim I get all of my jeans from Nordstrom in the trend department here. They price match, have free shipping/free returns and give great sizing recommendations. As much as I love to shop, I really don't love to shop in store. My trick is to invest in a cloth tape measure, and you can easily compare size charts online without having to leave your glass of wine! 😉 Then once you become comfortable with 3 brands of different denim, you'll always be able to find a new pair and safely know the correct size! My favorite brands from Nordstrom trend are: J Brand, Frame and BLANKNYC-they make the BEST pairs under $100!
Now onto everyone's favorite part of a look, the top. Because these jeans make a statement, I kept the rest of the look neutral and added a fitted turtleneck. I wore a fitted turtleneck the night Paul and I got engaged so I'm definitely a little partial to them, but they pair well with denim, skirts and faux fur vests in the fall. My other favorite part about fitted turtlenecks is that you can pile on jackets or layers without feeling bulky in the winter. The one I blogged today is selling out so quickly, but this one is nearly identical from Nordstrom and has more color options!
I shared last week in this post ways I like to build my wardrobe for the season. While this sweater was another "new-to-me" designer, I loved the simplicity of it, which felt very chic when paired with textured items on the bottom [my jeans and flats]. So many pieces in the trend department can be simple and make a statement, so I'll compile those tops below! These can be considered basic building blocks to your wardrobe and won't have to be repurchased season after season, like some "trendy" items.

Now, after you've played with texture and colors for balancing your fall denim with your fall tops you get to have fun with accessories. I'll pull my favorite trend accessories below and I kept them all under $50 to be budget conscious for all the fall pieces you may want to add to your wardrobe! I really don't overthink accessories. I do play by the rule, "Allow one statement either earrings, bracelets or necklace," but I don't take anything else too seriously. I think as long as you balance your other pieces in the look well, this is really the time to express what makes you you! For this look I let the wild shoes be my statement, but here are other pieces I would add to my wardrobe or already own.

Thank you so much for reading, I'd love to know how you style your fall looks! I hope you have a wonderful Thursday!

In partnership with Nordstrom. All opinions are my own!