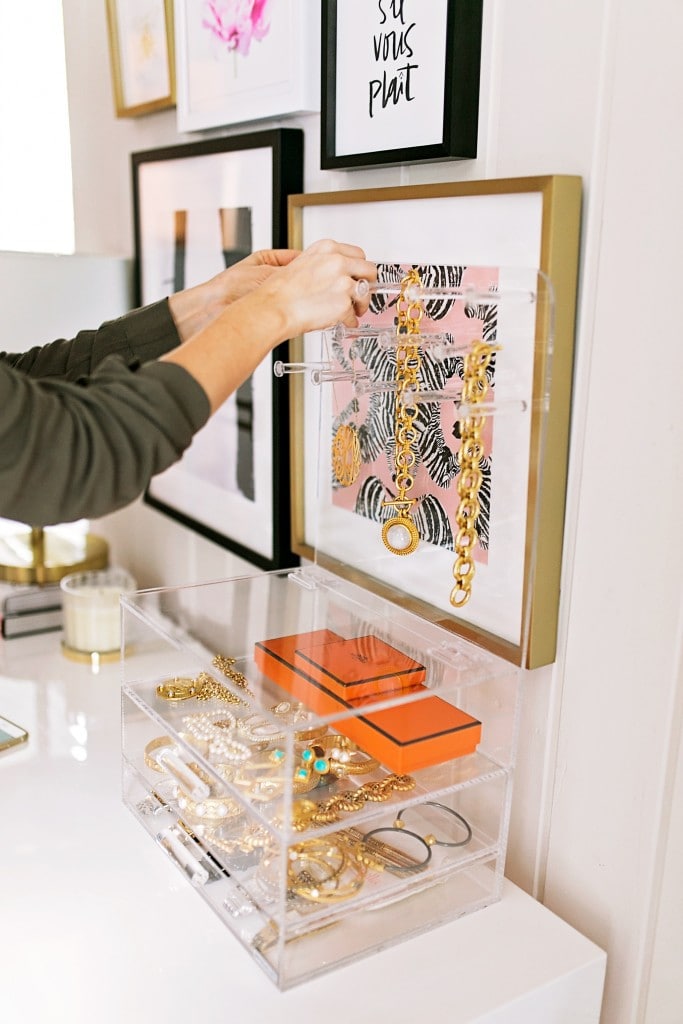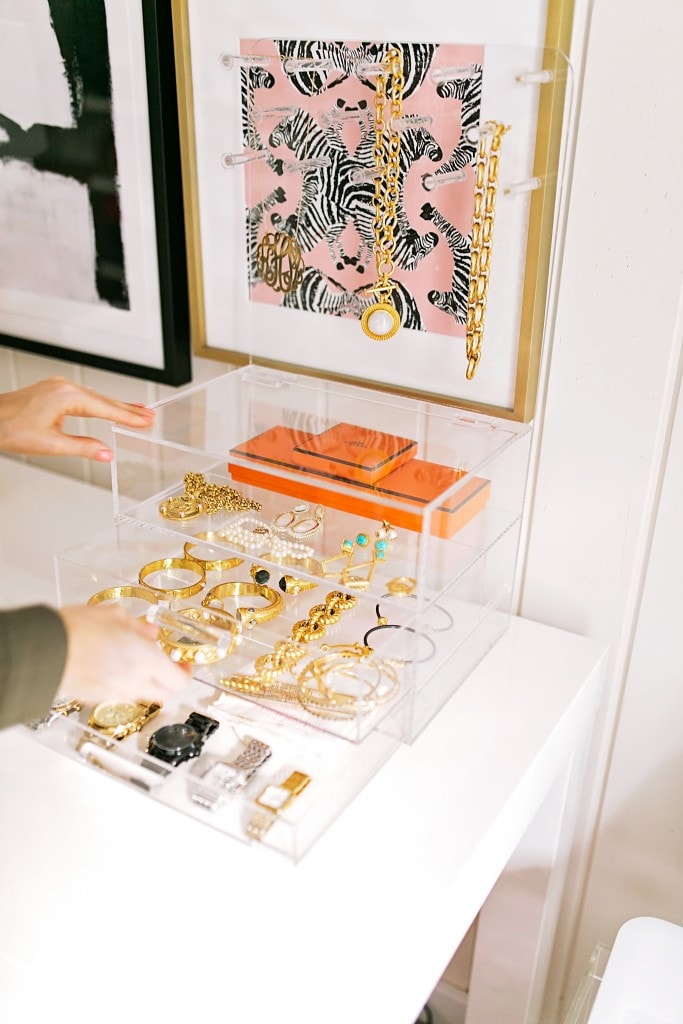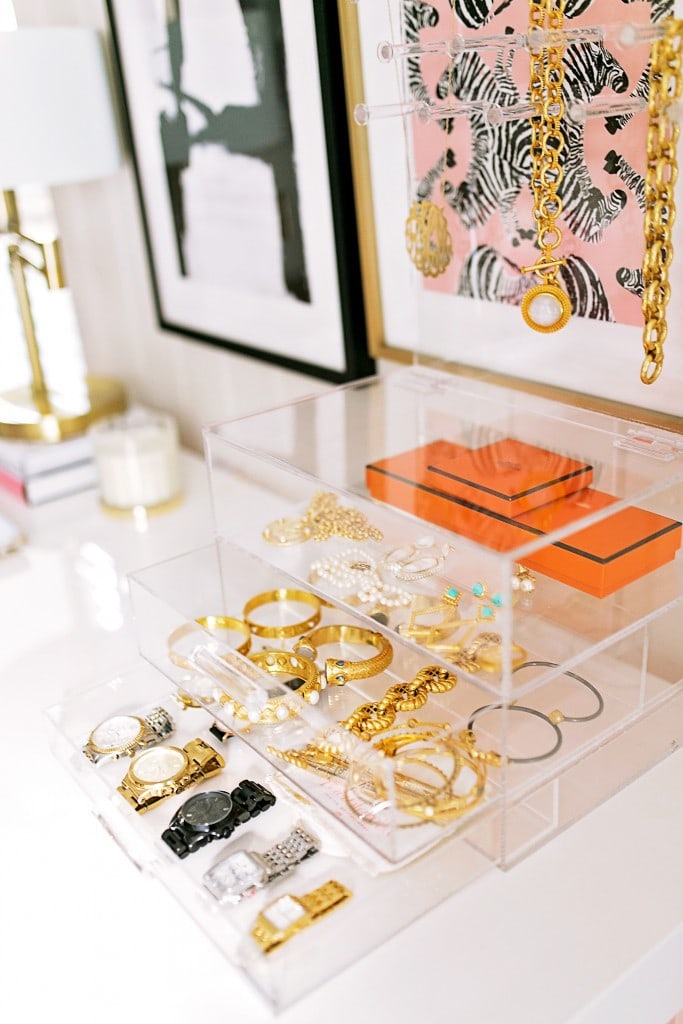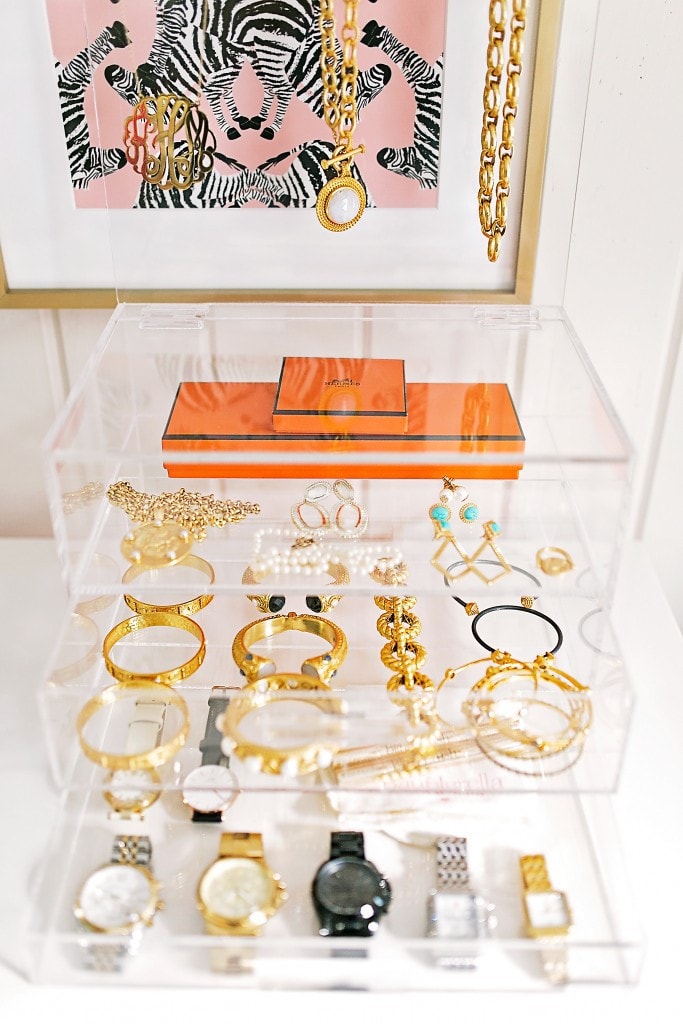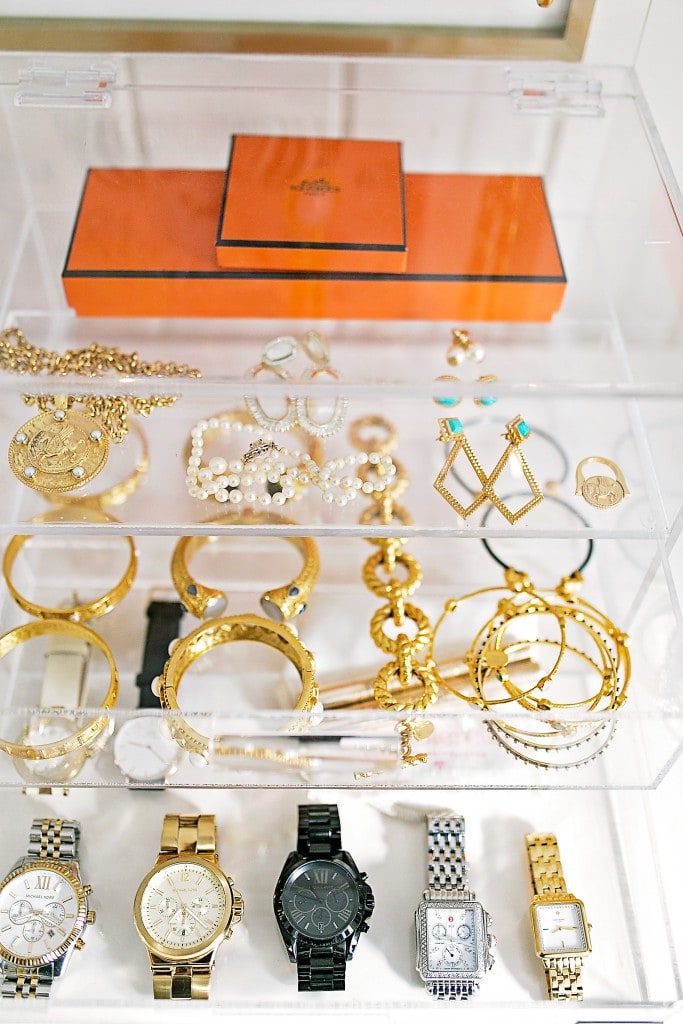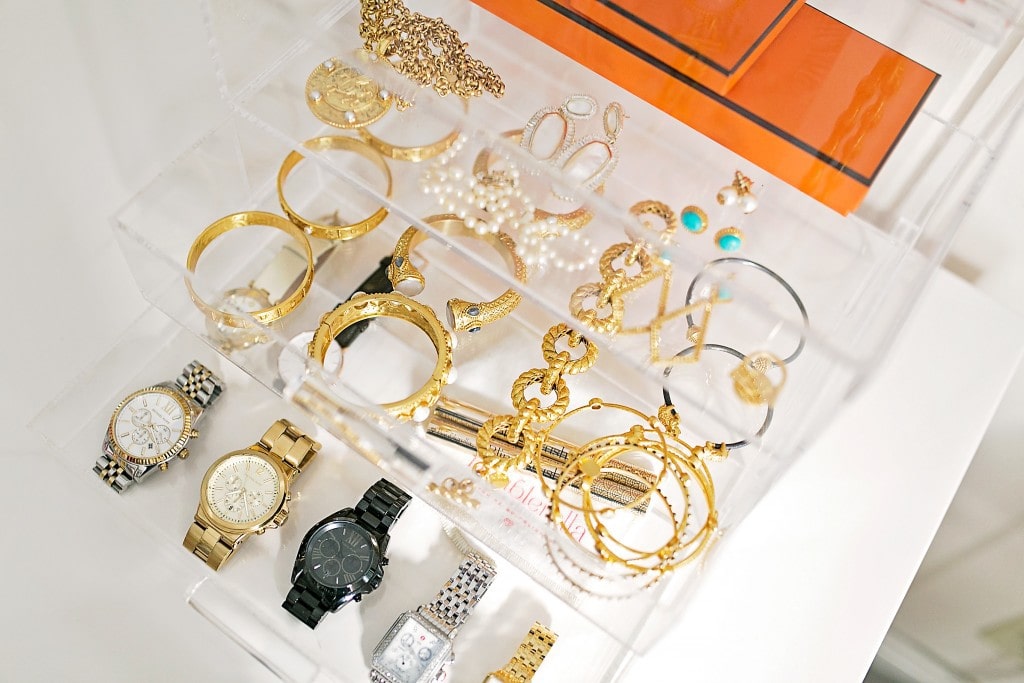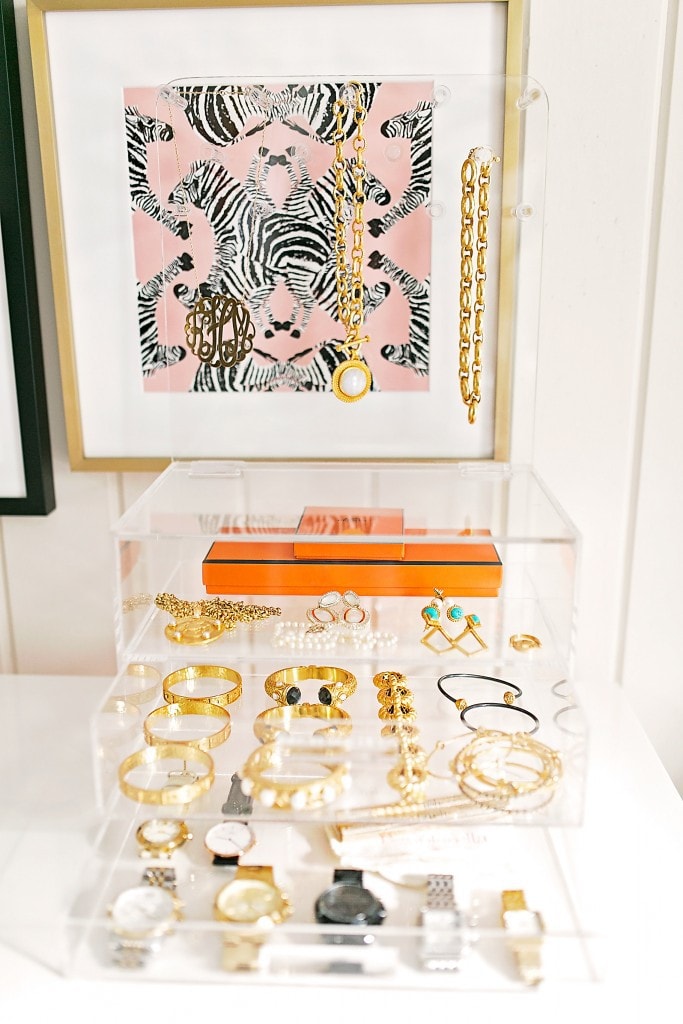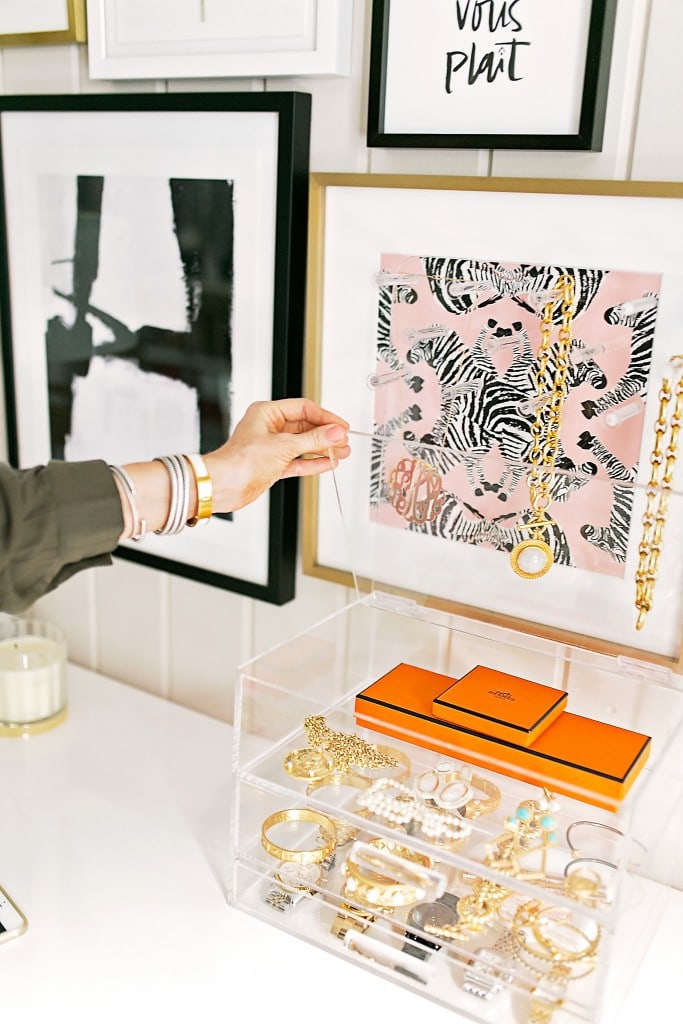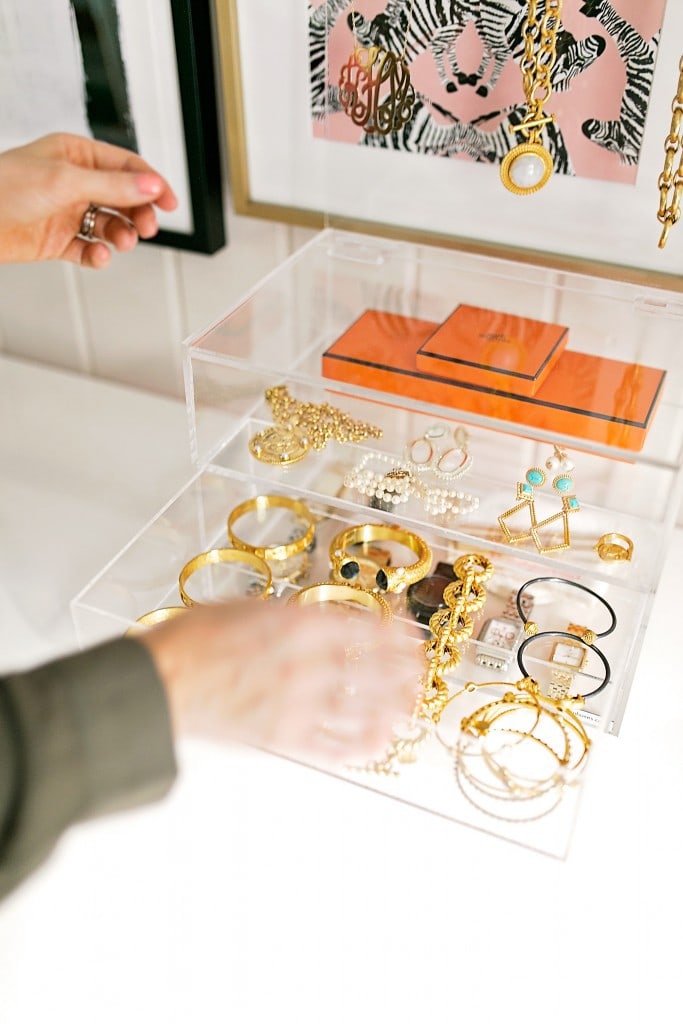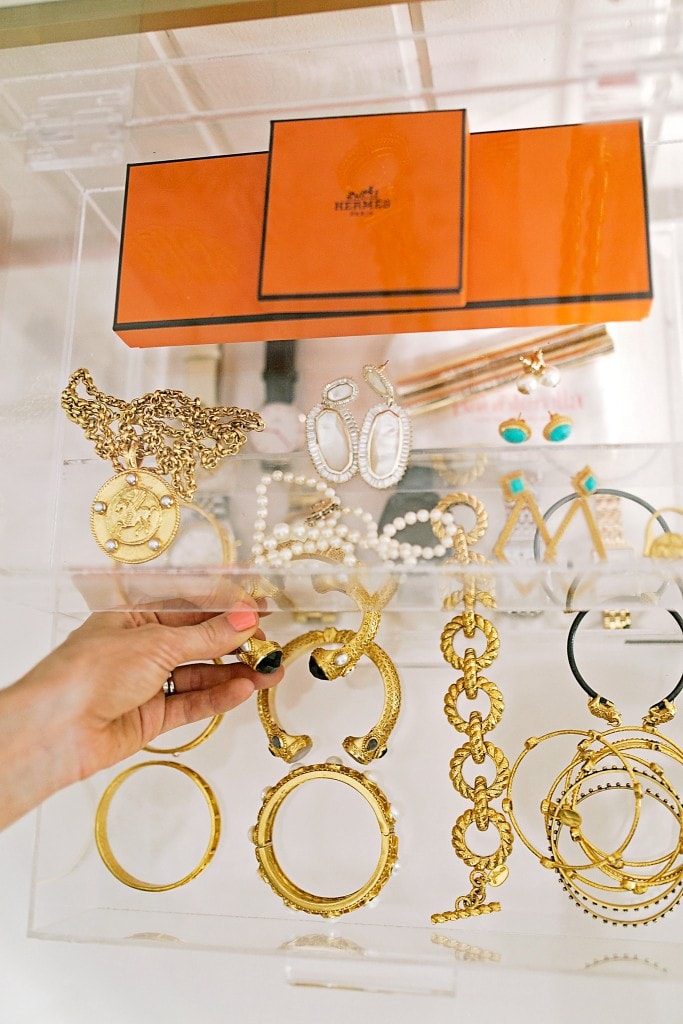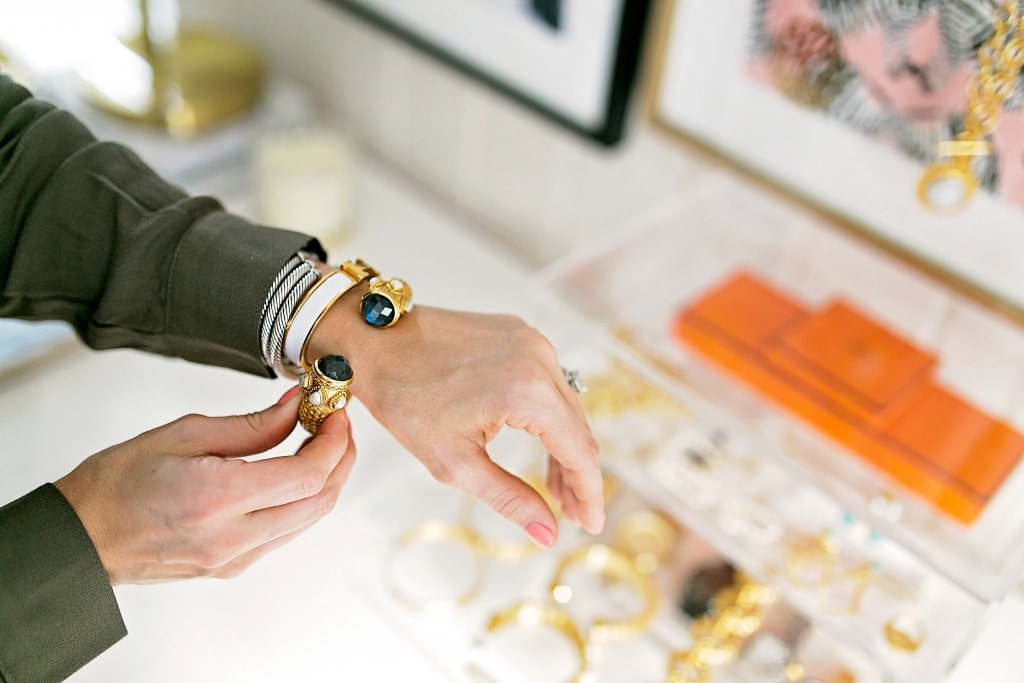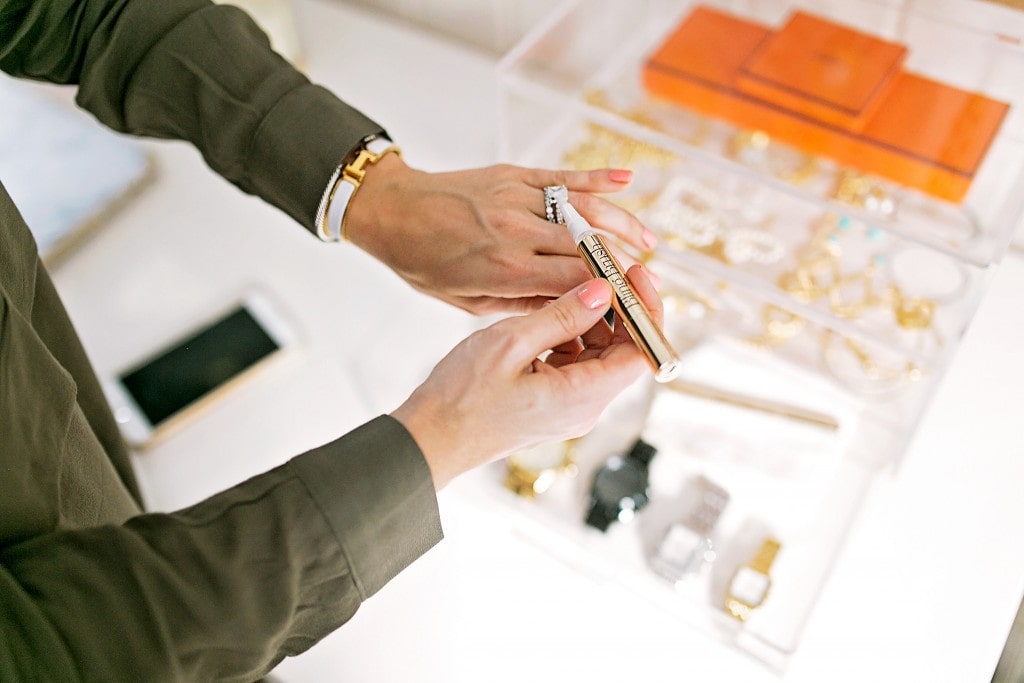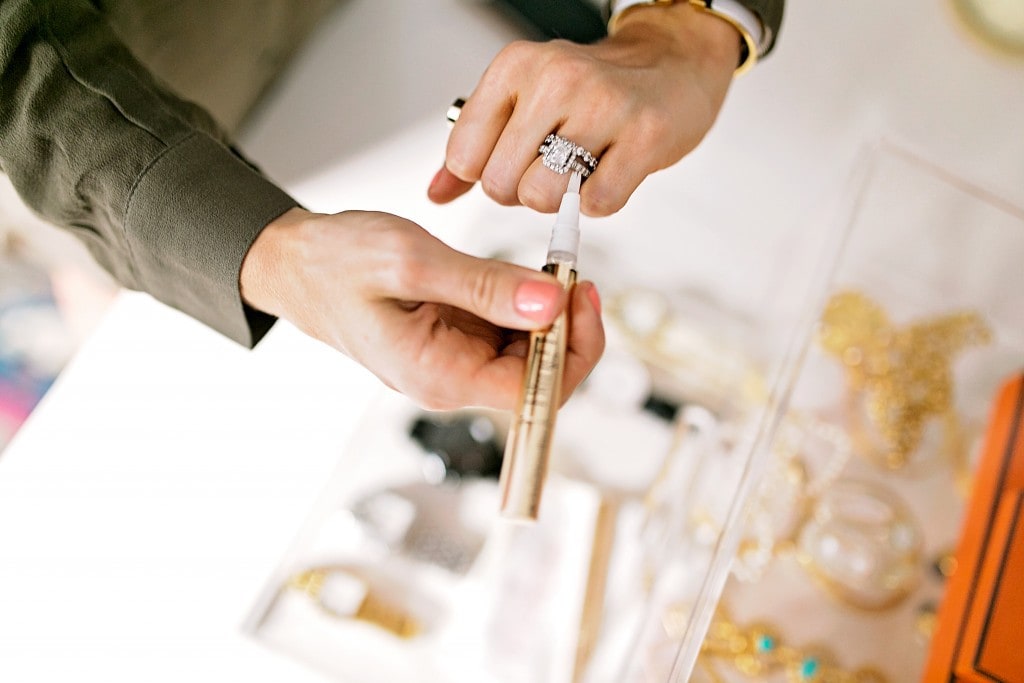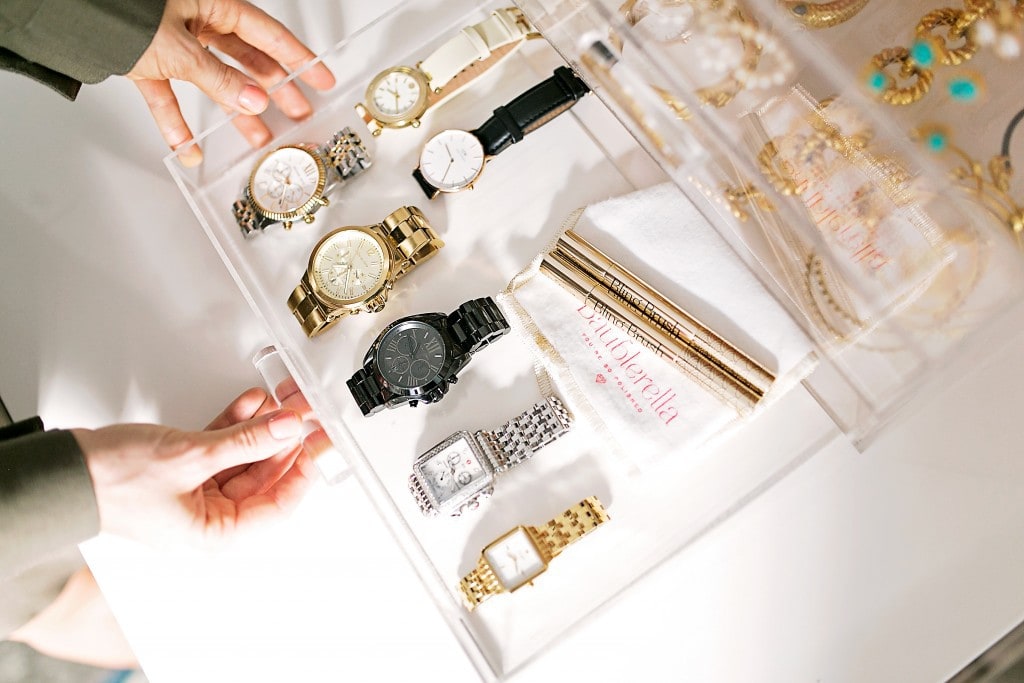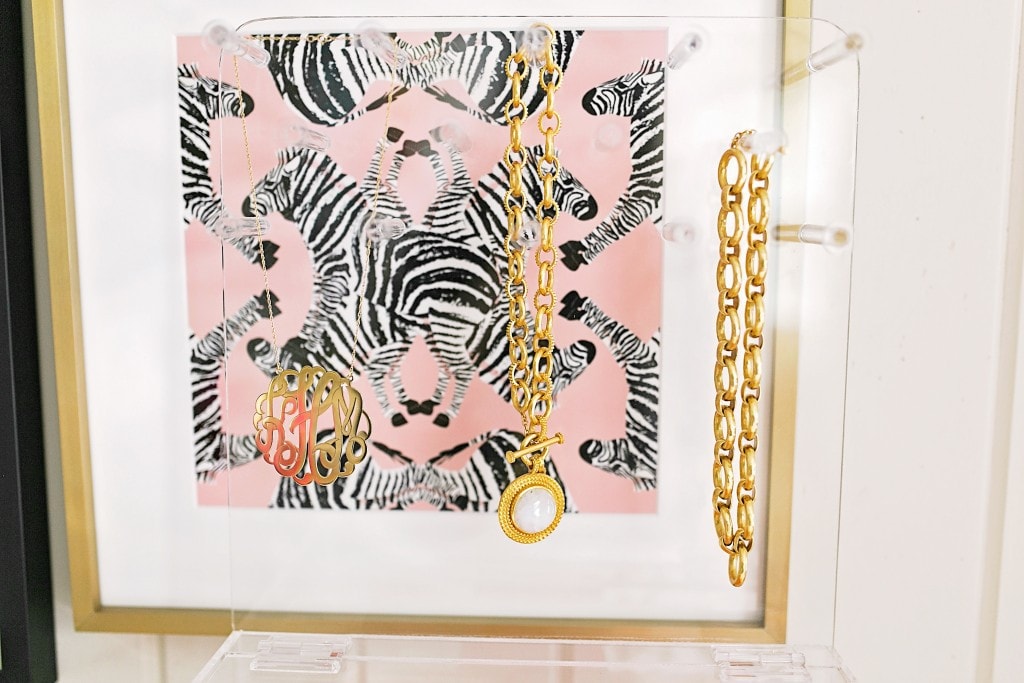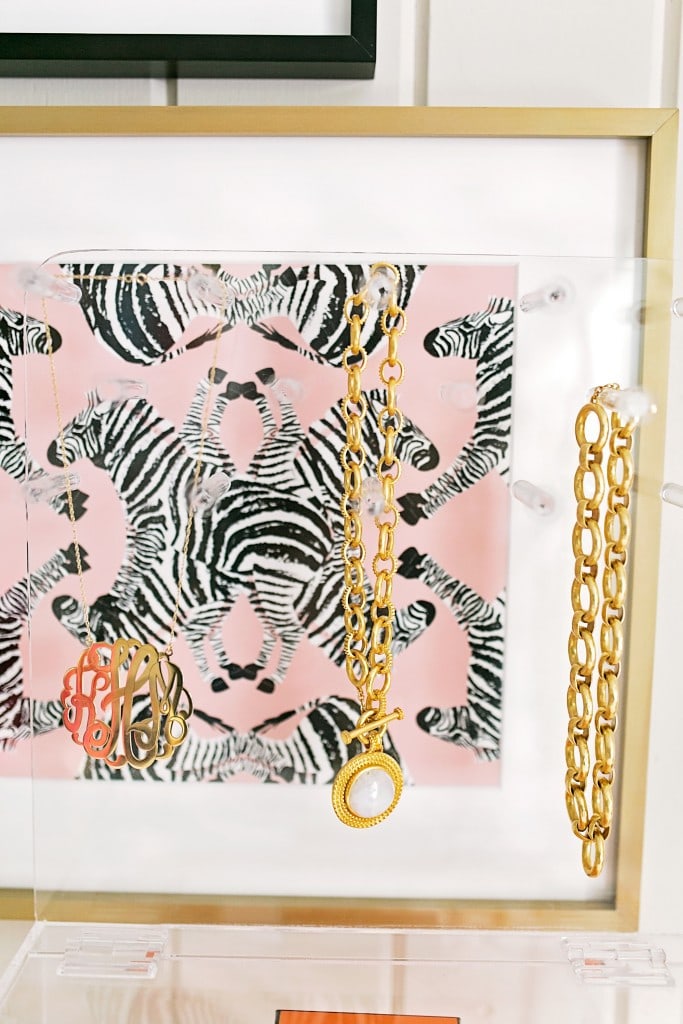 Zebra Print: Minted [c/o] | Jewelry Box: GLAMboxes | Monogram: Baublebar [c/o] | Pearls: Vintage | Wedding Earrings: Kendra Scott [old, not sold anymore] | Long Pendant Necklace: Julie Vos [c/o] | Link Necklace: Julie Vos [c/o] | Cairo Pendant Necklace: Julie Vos [c/o] | Pearl Earrings: Tory Burch | Turqoise Studs: Julie Vos [c/o] | Statement Earrings: Julie Vos [c/o] | Ring: Julie Vos | Bangles: Julie Vos [c/o] | Pearl Bangle: Julie Vos [c/o] | Light Stone Cuff: Julie Vos | Dark Stone Cuff: Julie Vos [c/o] | Link Bracelet: Julie Vos [old] | Mixed Metal Bangles: Julie Vos [c/o] | Watches: Tory Burch, Daniel Wellington, Michael Kors mixed metal, Michael Kors gold, Michael Kors black, Michele, Kate Spade [c/o] | Cleaner: Glitzy Glove, Bling Brush [c/o]
Photography by: Angie Garcia
---
You wear your jewelry more consistently than most pieces in your wardrobe and whether you recognize it or not, people slowly start to associate you with it. I always associate my mom with two wrists full of bracelets. She will wear a dozen at a time! I associate my meme with her big clip-on earrings as she doesn't have her ears pierced. And I associate one of my best friends, Emily, with a necklace that she has of her daughter's name.
To me, jewelry can be just as frivolous as clothing, but always feels more sentimental. Each morning as I slip on my bracelets or rings, I think of who gave me each one or why it was purchased. It's a ritual just like taking off your makeup and getting ready for bed, but one that makes me feel complete, like I'm ready to walk out the door.
I chat a lot about wardrobe basics: denim jeans, v-neck tops, plaid blouses and the perfect wrap coat. But today I thought I'd talk about jewelry basics, and how you can build a jewelry box! I narrowed it down to one brand that I think really encompasses all the basics you need: Julie Vos! It's also a brand that lasts a lifetime, so you can feel confident with these being gift purchases for yourself or others. I thought it would be fun to share basics from her line to really show what I think helps build a jewelry box as I combine it with my personal and family pieces.
Second-Skin Necklace: When I first heard Refinery 29 refer to this as a second-skin necklace I thought it was absolutely brilliant! You wear this necklace day-in and day-out and rarely take it off. I mostly think of girls with a little diamond dot necklace [which I adore!]. For me, it is my monogram necklace. My mom got it for me back at the beginning of college [maybe even end of high school!] and I remember wearing it before anyone else had them.
"Katey, that's so big!" "Do you wear that with everything?"
I remember people always asking those two questions, but for me this necklace was just like my second-skin. I still wear it daily and layer pendants and links all over it. Of course I've gotten a new one as my name has changed, but it always feels "me." You can get mine here. I have the 16″. I would link a look where I style this piece, but honestly, what look on the blog have I NOT been wearing this piece?! haha.
Pendant Necklace: I only recently added a pendant necklace to my jewelry box, but I thought it would come in handy as I can't imagine I'll want too many long necklaces hitting my bump as I walk every single second! haha. I wore this necklace in this post back in August! Of course I layered it with my monogram and for some reason, the necklace just felt like a grown-up glam look. I think this necklace would be perfect for work attire, too!
Link Necklace: I wore a link necklace almost every day to my internship my sophomore year of college. I remember loving that thing far too much! But then it tarnished and left my neck with a lovely green film. I replaced it with something that wouldn't damage, this Julie Vos link necklace. You can see how I styled it here!
Long Necklace: Every jewelry box needs one long necklace that can be used for layering! These are perfect for the fall with sweaters as they can really be seen over any texture. This Julie Vos Pendant is one I always wear! Here is one way I styled a similar one from her line last fall.
Every-Day Rings: For me, I don't personally wear a lot of rings. I'm not even sure why! I always admire girls when they stack rings all over their hands. Maybe it is because I wear so many bracelets instead? Regardless, I just have two rings I wear regularly: my wedding ring, of course, and this pendant ring from Julie Vos. I remember seeing it in New York and I couldn't take my eyes off of it. Something about it felt so unique and yet easy to layer with other jewelry as well. For a lot of girls this ring might be a stone ring that was a gift from a family member or it might be delicate gold stacking rings. Overall, these are rings that you feel comfortable enough to continue to work with, not something like a cocktail ring.
Family Heirloom: I think every jewelry box wants to be filled with a family piece. My pearl necklace is a gift from my meme and my papa bought it for her to wear on her wedding day. I wear this for special occasions like weddings and holidays. I layer it with my monogram necklace for an eclectic look and I love how it makes such a classic, beautiful piece feel modern as well!
A Piece That Represents Love: For me, the piece that represents love in my jewelry box are my wedding earrings. I got these Kendra Scott Khaki Earrings for my wedding day and knew I would wear them with my dress before I even had my dress picked out! They aren't sold anymore and I have had so many brides e-mail me and ask if they can buy them for their wedding day. As much as I would love to 'sisterhood of the traveling pants' these statement studs, I truly can't part with them! My mom put them on me on my wedding day and it was the moment I finally felt "all ready."
Studs, Unique Studs, Statement Earring: Studs are another thing I don't purchase too often, because I find them to be like denim. When you find your favorite pairs, why branch out? On repeat I wear my pearl studs and these turquoise studs from Julie Vos. I love a good statement earring, but if you just want one in your jewelry box to start, I suggest that they have the metal you wear most [gold, silver, rose gold] and a color that blends seamlessly. For me, turquoise goes with any and everything in Texas! It's like hot sauce, you just throw it on everything, you don't ask questions! These Cairo statement earrings from Julie Vos scream fall to me! I keep envisioning a girl with a messy ponytail, a camel sweater and these earrings. So if you get cool weather before we do, please style that look! You'll look amazing!
Bracelets [bangles, cuffs, & layers]: Bracelets are definitely what I am most drawn to! I follow my mom's lead with this and stick to "more is more!" Of course that isn't everyone's cup of tea, but I'm all about it. There are so many different options you can go with and when purchasing bracelets, you really want to think of what look you are going for. I've run in a store one too many times and bought a bracelet that either can't be layered with another or simply doesn't look like "me" when worn alone. Those end up in the sell or donate pile and never find a permanent home in my box!
Bangles: Bangles are probably the easiest bracelets to stock up on! These Julie Vos bangles can be layered, or worn alone. However, what I love most about them is their uniform design allows them to feel really cohesive and not overdone. You can see how I style them here.
Cuffs: The Julie Vos Baroque Cuffs were actually my first Julie Vos piece I purchased from a local Fort Worth boutique! They are probably one of my favorite designs she has and can easily be worn with a watch or another bracelet. In fact, they actually suggest you wear it with one of their bangles, and I pair mine with the Sienna Hinge Bangle in pearl! You can see how I style that look here and here!
Layers: I always call bracelets that you can mix and match with "layering pieces." These can be the bracelets you love to wear every day and don't have to be the same style at all! You can also mix high and low-end designers for a really curated look that seems eclectic and gives a "model off duty" vibe! One great example of layered bracelets are these Julie Vos mixed metal bangles! I styled them a lot this past summer and you can see an example here! It fits in with my one party girl + one part edgy dress theme.
Watches: Watches are really personal pieces [they have to be comfortable and true to your personal style] so I don't necessarily have any rules of thumb when it comes to them! However, I will say if you are just starting your jewelry box look for three styles: classic, oversized and rectangle. My Daniel Wellington would count as classic with the round face and leather strap. My Michael Kors watches are always oversized! And I love the rectangle face of my Michele and Kate Spade watches.
Cleaners: Lastly, keep a cleaner in your jewelry box as you spend money building your box! Because your jewelry is worn so much, it goes through a lot of damage. We wash our clothes frequently and yet rarely touch our jewelry for upkeep! Two pieces I love are the Bling Brush and Glitzy Glove by Baublerella. You can see a more in-depth review here!
Because I chose one brand to help review my jewelry box [and make it easier to break down the styles] they were so kind to give COF readers free shipping for this post! Just enter code: COFreeship at checkout! 🙂 I hope you enjoy!
Thank you so much for reading, what are your favorite pieces in your jewelry box?!