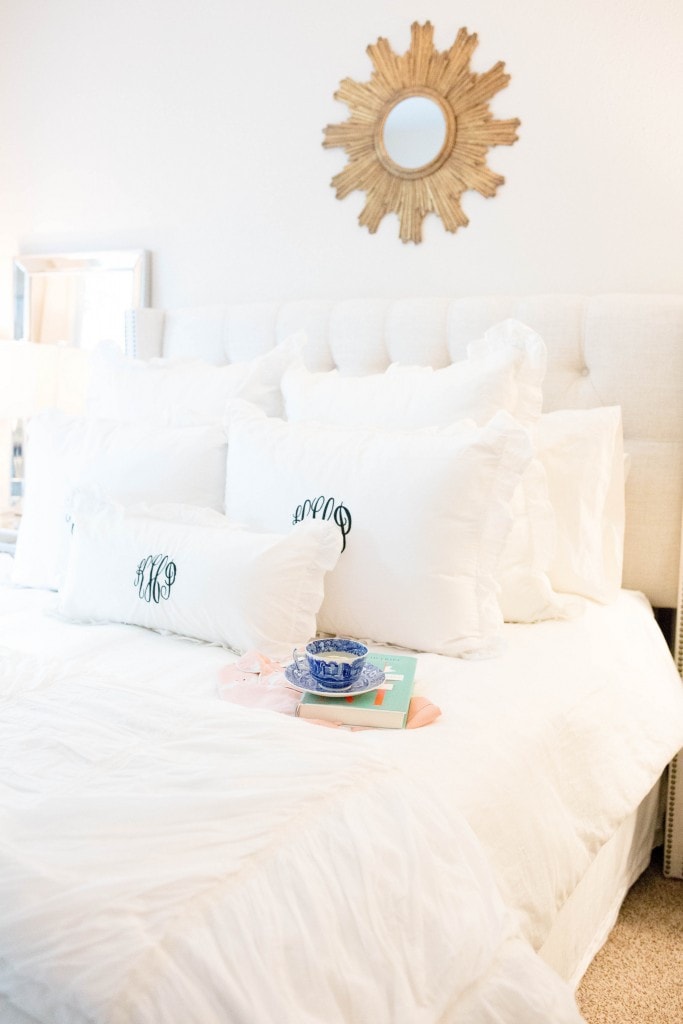 I haven't done one of these posts in years and my schedule has changed so much and yet not all that much in the almost 3 years I have blogged full time! Because blogging is such a new industry, there are of course so many misconceptions to it. I'll be the first to say I love my job more than I can say and I hope it can evolve with me over a lifetime into whatever that may be, but I also don't want to put on a facade and not share the typical tasks. 99% of the time my job is doing what any other small business owner is doing: I'm doing every little task to keep it running. I play secretary. I play accountant. I play advertising team. I play photographer. COF has been one of the greatest blessings in my life as have my readers and so I'm really thankful I get to work behind the scenes to keep it up and running for you all!
Today I thought it would be fun to share my schedule and maybe normalize this industry a bit or at least make my job a bit more relatable to you! It's the best job in the world [to me!] but my tasks are also super normal and what the everyday girl does at her job as well. 🙂
6 Wake Up
I used to wake up at 5, but the only thing that has kept me afloat this pregnancy is Diclegis, which is a fancy medicine that is just unisom and B12 combined. Not sure how a sleeping pill and a vitamin can help with nausea, but it truly does and it makes you so stinkin' tired. You take two before you go to bed, so it just makes me feel like I'm taking nyquil each night! haha. I joke with Paul it makes you so sleepy you can't even tell if you're going to vomit or not. I still wake up at 5 on shoot days, but any other day 6 is about the earliest I can get up.
Right when I get up I try to lay really still and see if I can feel the baby move or not. I just started to really feel her move last week and I can feel her kick right by my hip right before I go to sleep and about 15 minutes after I wake up. I can't even explain that feeling! I love her more than anything in the world, but when I feel her kick my heart completely swells and I'm just thinking, "I hope you know how much I love you!" I can't even imagine how I will feel when I see her for the first time!
Then I get up and make some hot water with lemon. I quit coffee when I got pregnant, but I still like the ritual of having something warm when I get up in the morning and this is a great kickstart to your metabolism as well.
I grab my phone and make sure my blog post e-mail went out, as well as respond to any pertinent e-mails. I'll scroll through and see if I missed any social media questions, too.
I get up and make a quick protein shake. I use almond milk, ice and then this protein. Then throw on gym clothes and head to the gym. If I don't go to the gym that morning, I'll take it a little slower and study up on my devotionals. If I head to the gym, I do my devotionals right when I get back. Right now I'm in between devotionals and I really want to start the new Beth Moore study! She always has my favorite bible studies and gets me so addicted to studying the word. If you need something to really kick start your desire to study the word, I recommend any of her studies! If you're looking for a new devotional, here is my post on my favorites!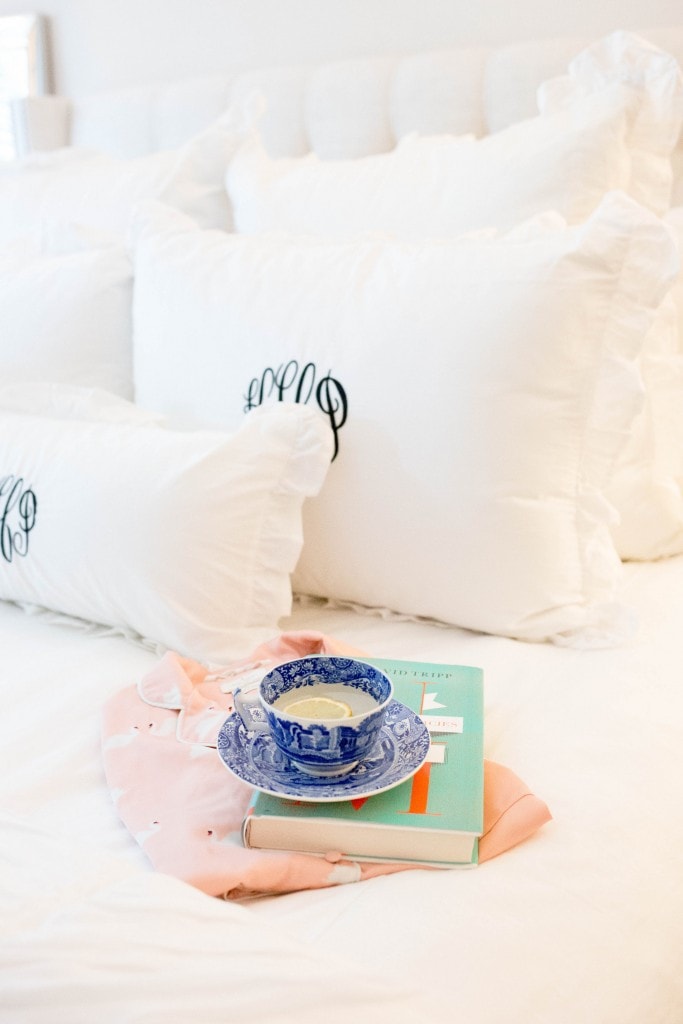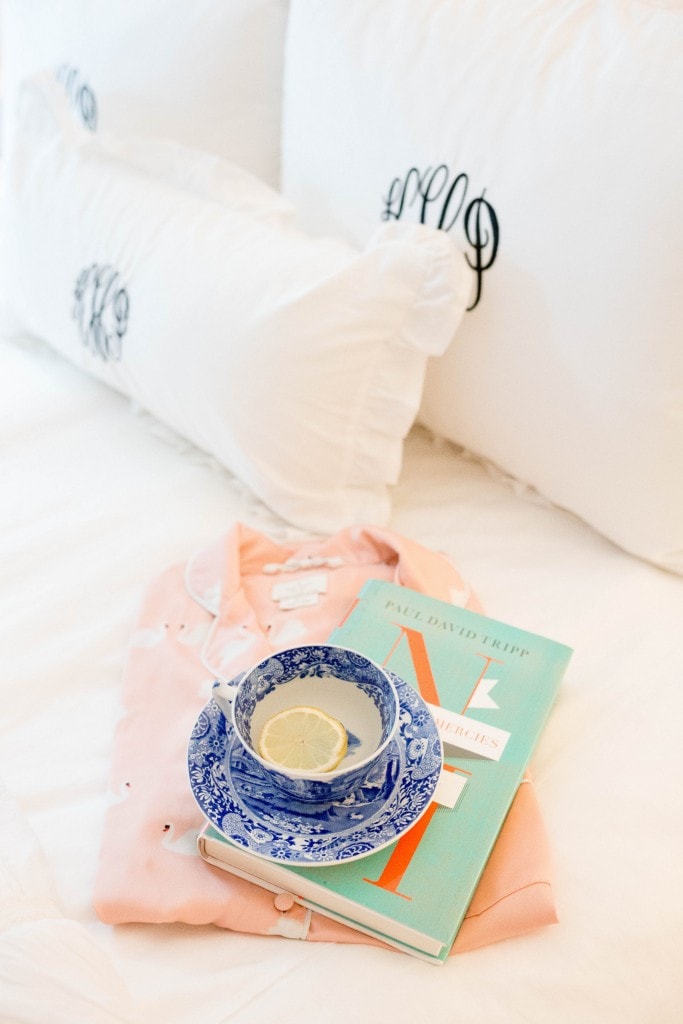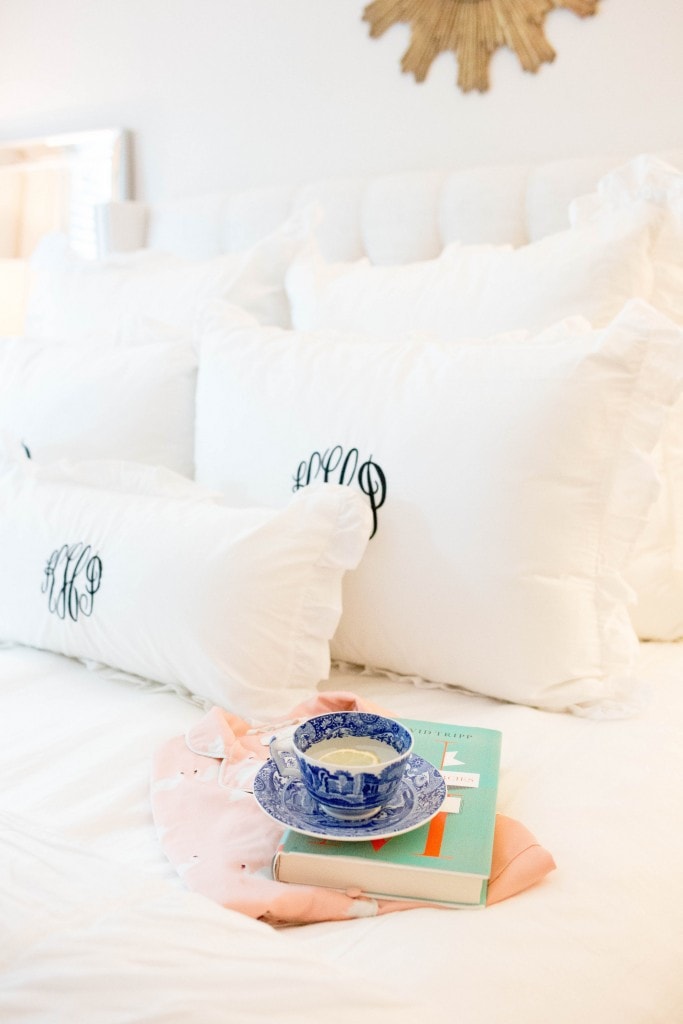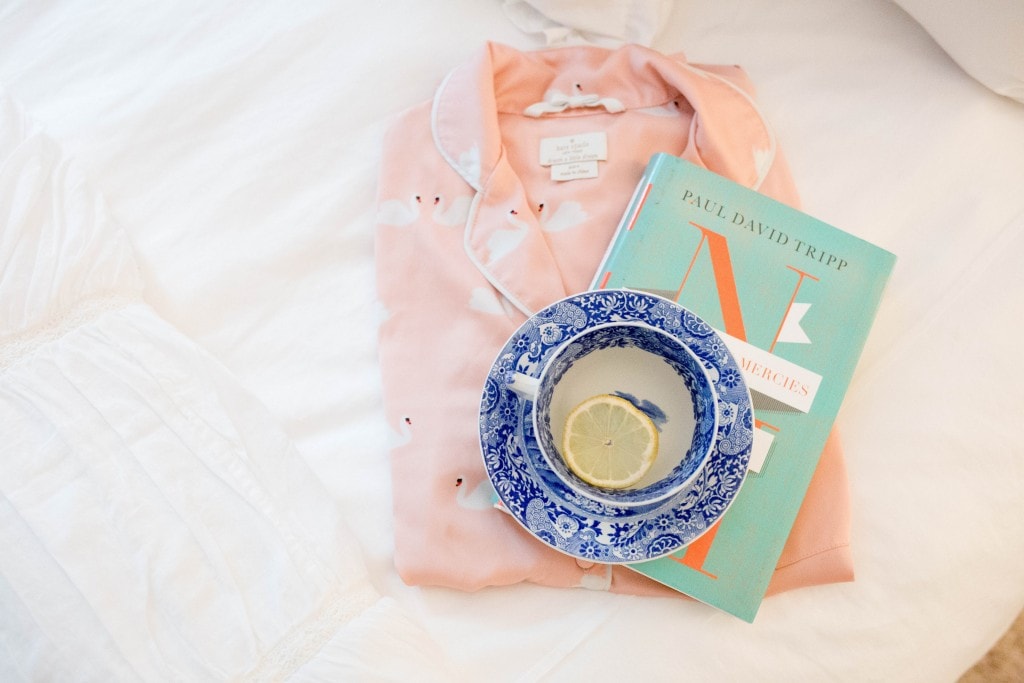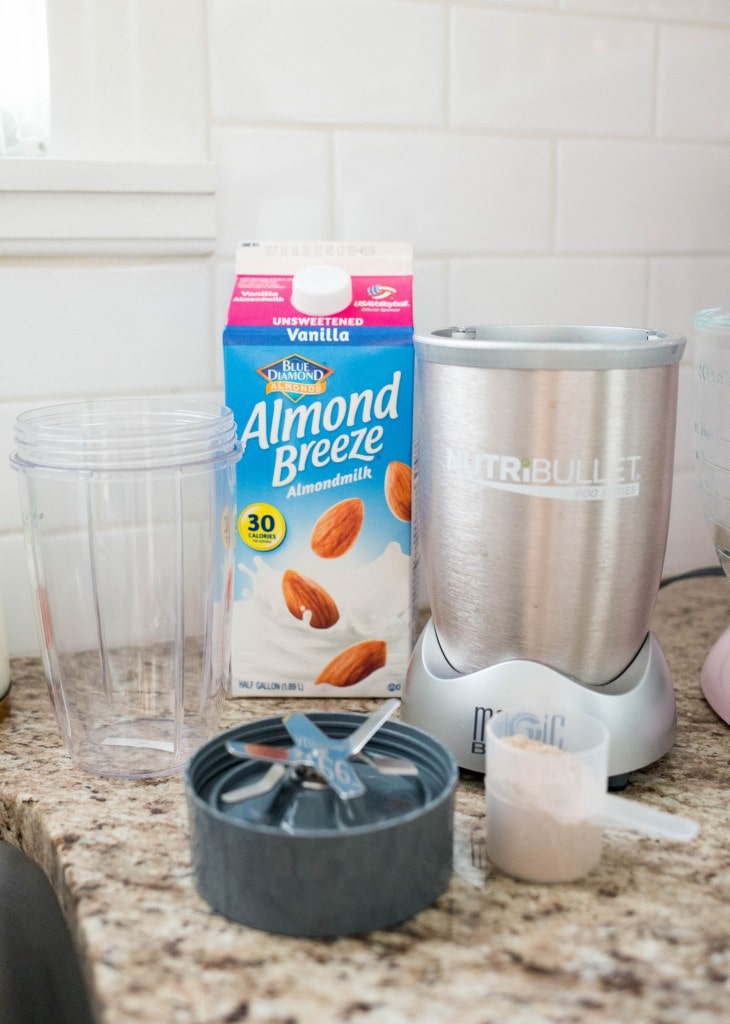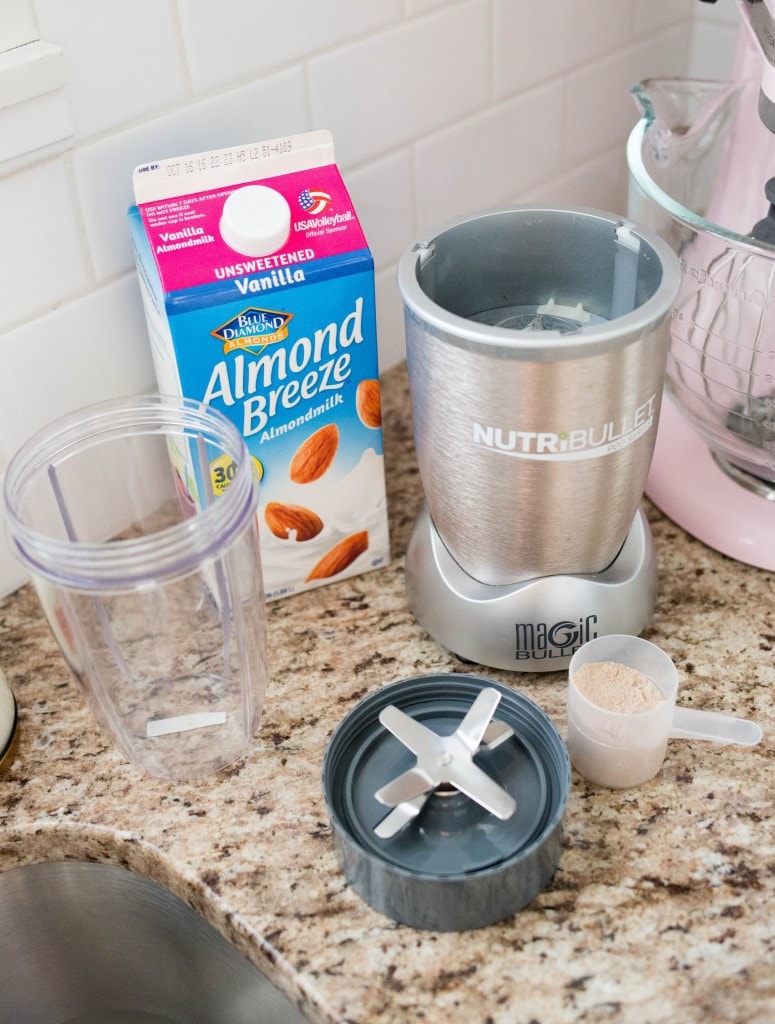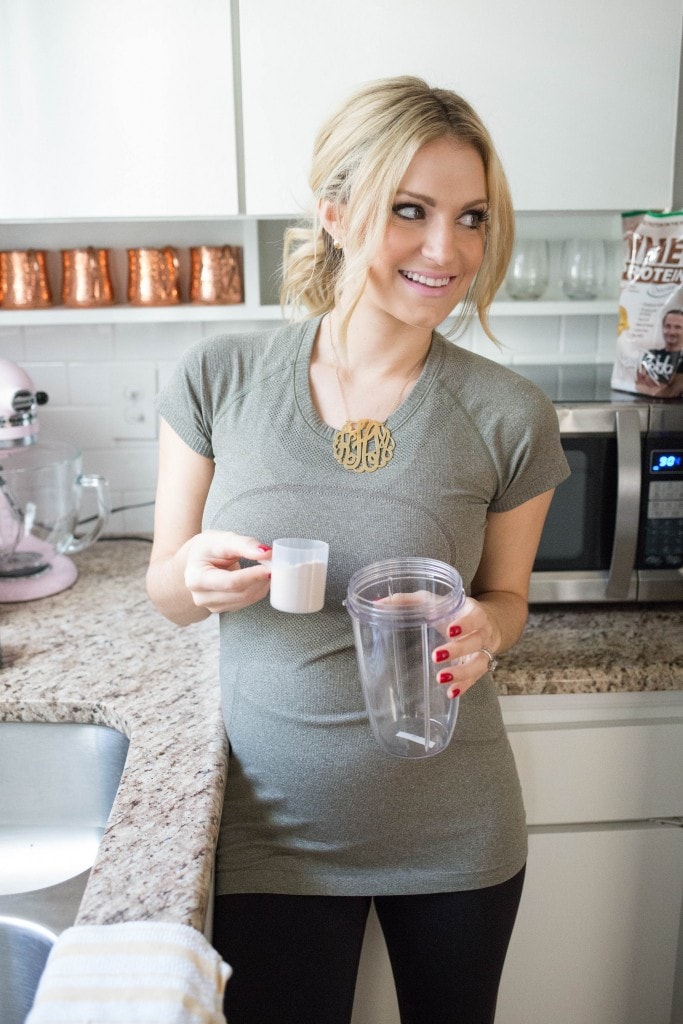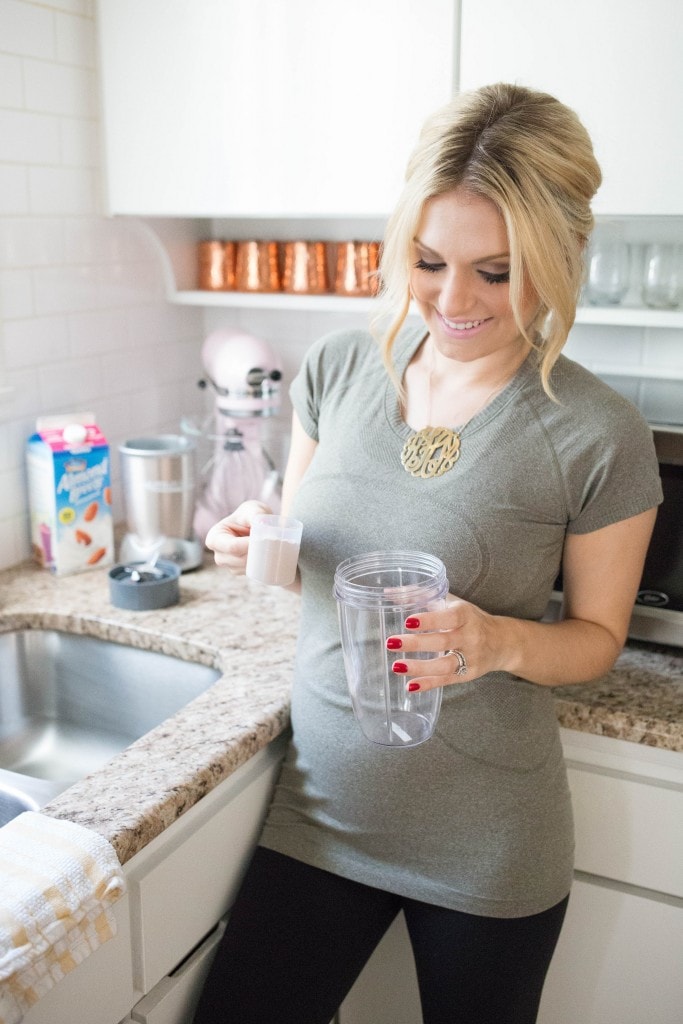 [And I don't wear makeup to the gym! haha! We shot this post out of order due to lighting so these were actually the last photos we took after my makeup was finished! 😉 ]
7-8 Work Out
Right now, I just do treadmill interval workouts! I'll run, walk on an incline, walk at a normal pace, repeat again. I recommend just searching Pinterest for them. I mix it up with different workouts, but I still enjoy what I'm doing. Sometimes I'll take a bar class, but I had to take a break from spin. When we were trying to get pregnant I took a break from spin classes because I had to have endometriosis surgery. When I got pregnant I wanted to go right back to spin. My doctor told me I had taken too much time off, so I'm excited to be able to go back once the baby is born!
I seriously love being on the treadmill at this hour because no one else is there AND I get to watch Good Morning America. What do y'all watch in the mornings? I try so hard to get into the Today show because it's on longer than GMA, but I can't do it! I need my old friends in the morning! haha.
My gym has a pretty large locker room, so I grab a tote and bring it with me to carry water bottles, a jacket if I need it after the gym and a Larabar! This St. Anne Tote by Barrington Gifts matches my Belmont Cabin Bag from this post here! Y'all loved that travel bag so much, so I wanted to share this matching tote option as well. I'm still having some morning sickness, so I have to keep bars or almonds on hand because I can go from hungry to vomiting in 5 seconds. haha. It's quite the talent! 😉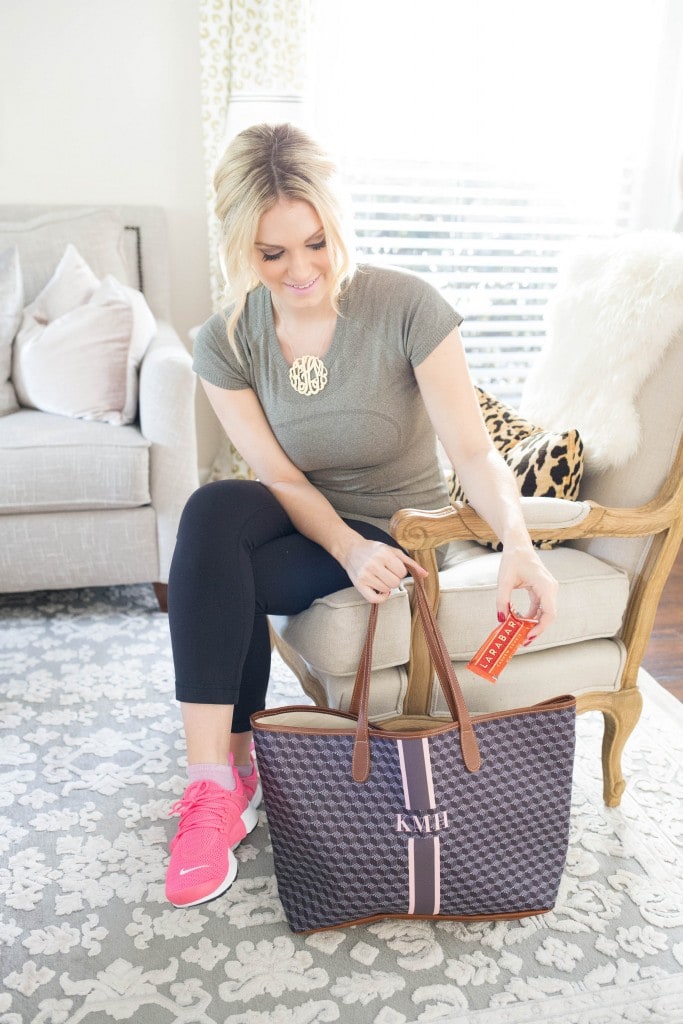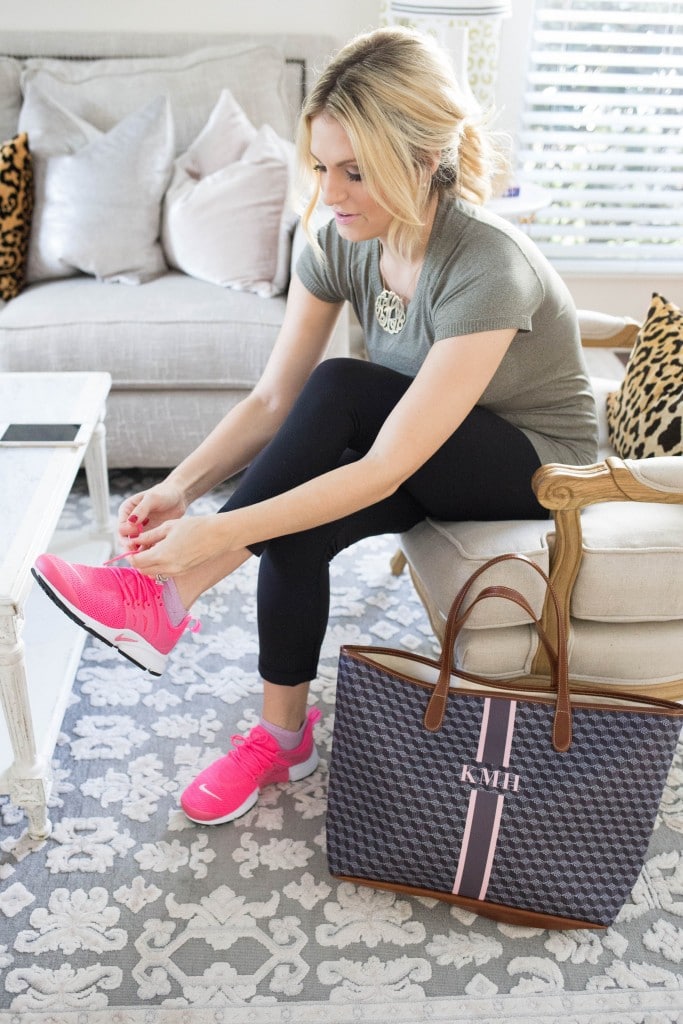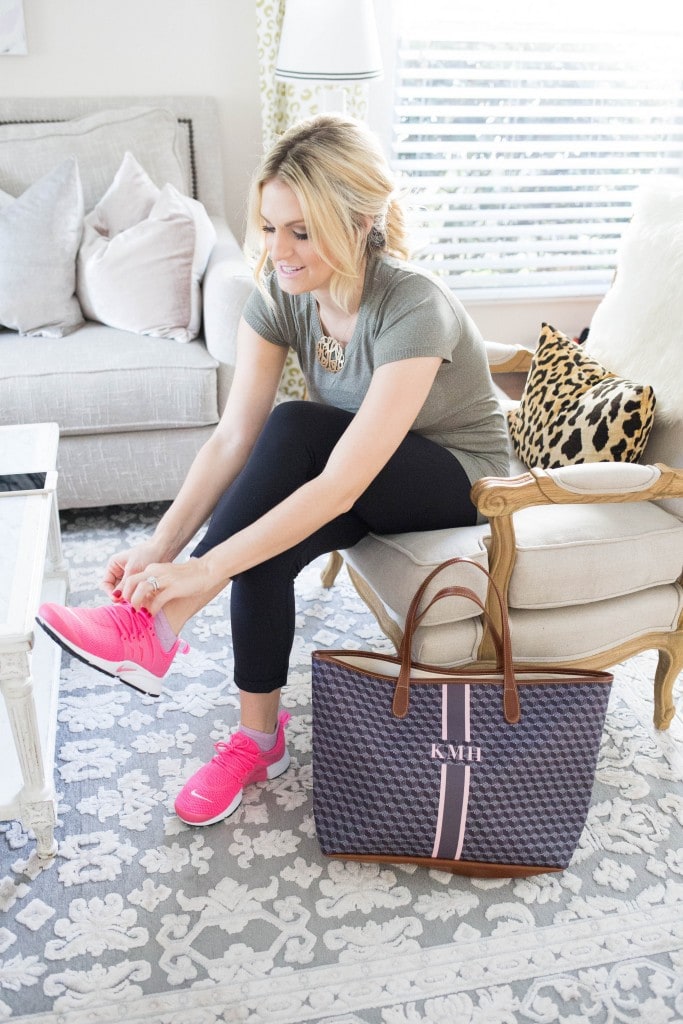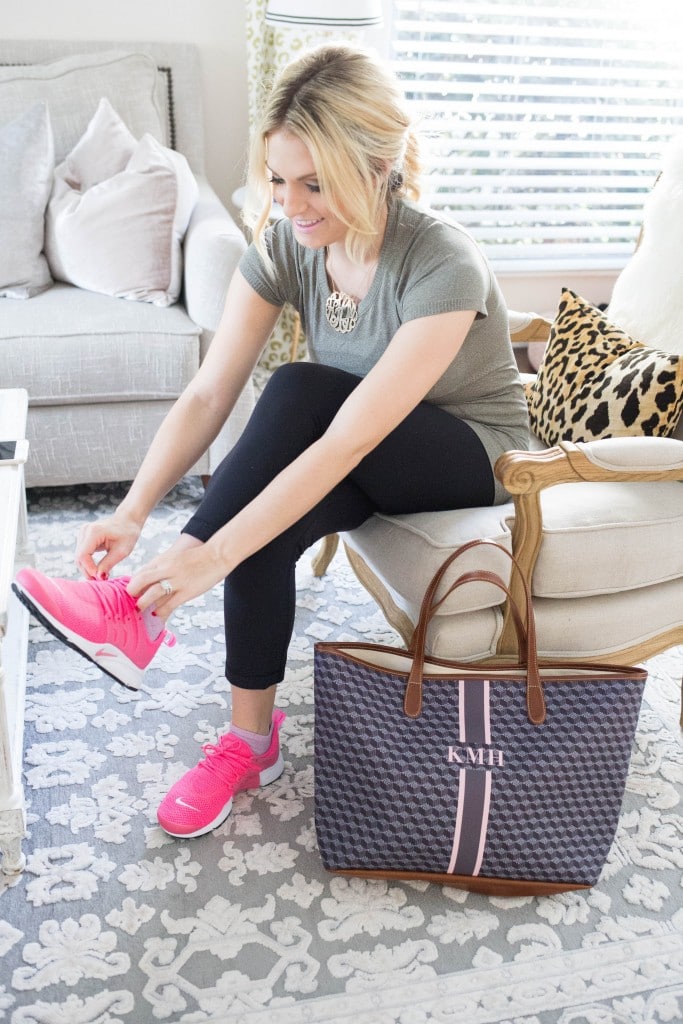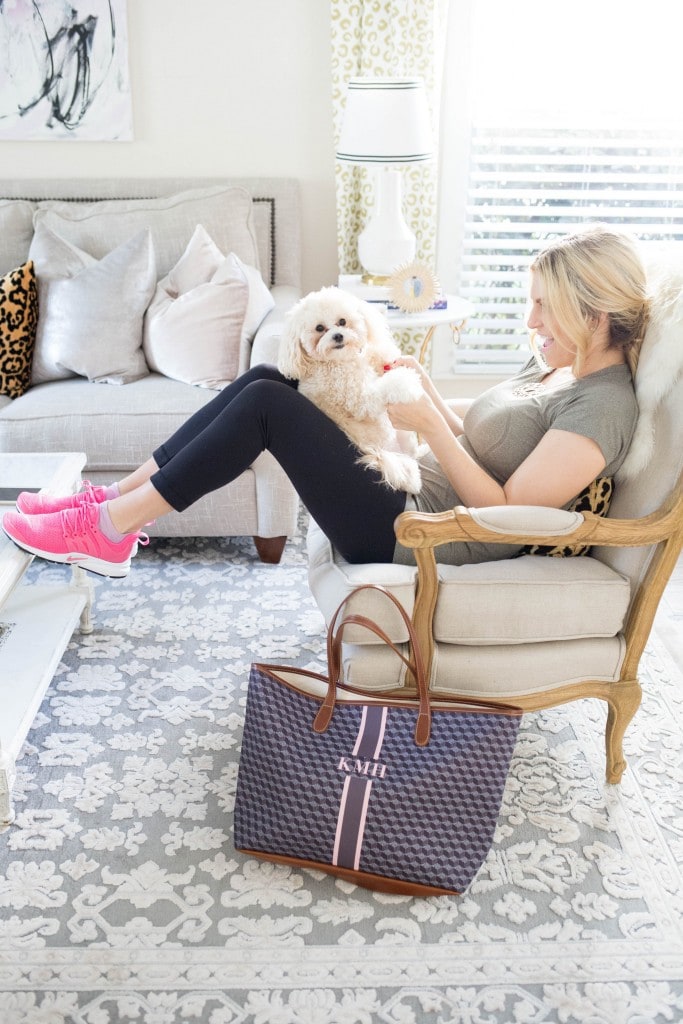 8:15 Shower & Get Ready
I'll run home and shower and get ready for the day. But don't let instagram fool you. 3 out of 5 work days I'm in no makeup and workout clothes. I like to give my face and hair a break from all the products I use while shooting. But if I do style my hair fully, here is a tutorial on quick, beachy waves I do! Sometimes I miss dressing up and going to an office, but when I do have to dress up and "go to the office" I'm going to places like fashion week so who can complain?!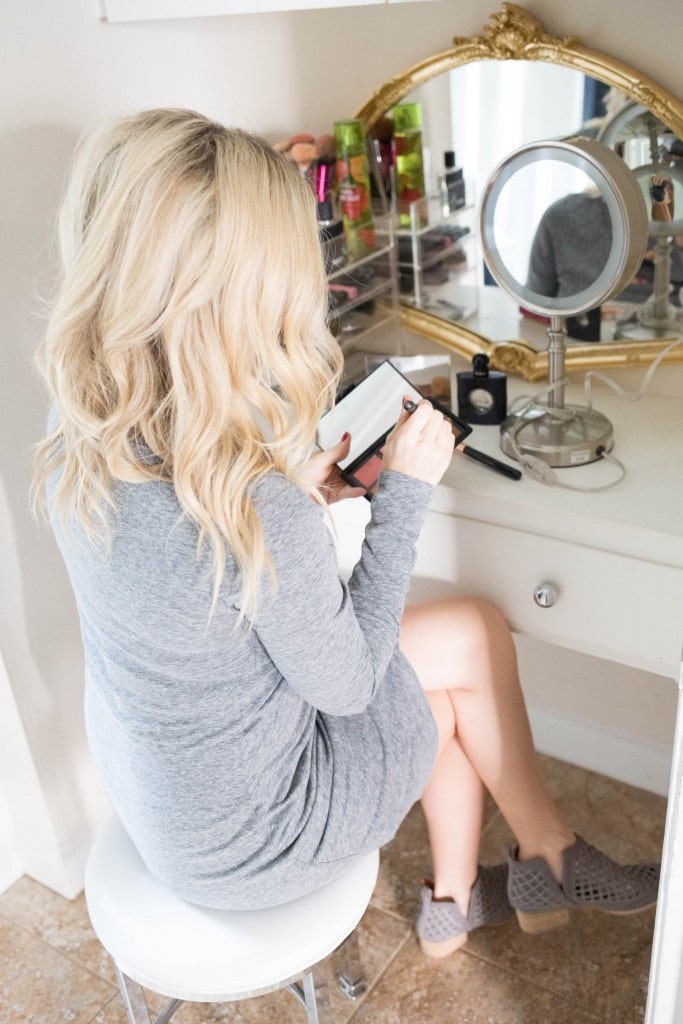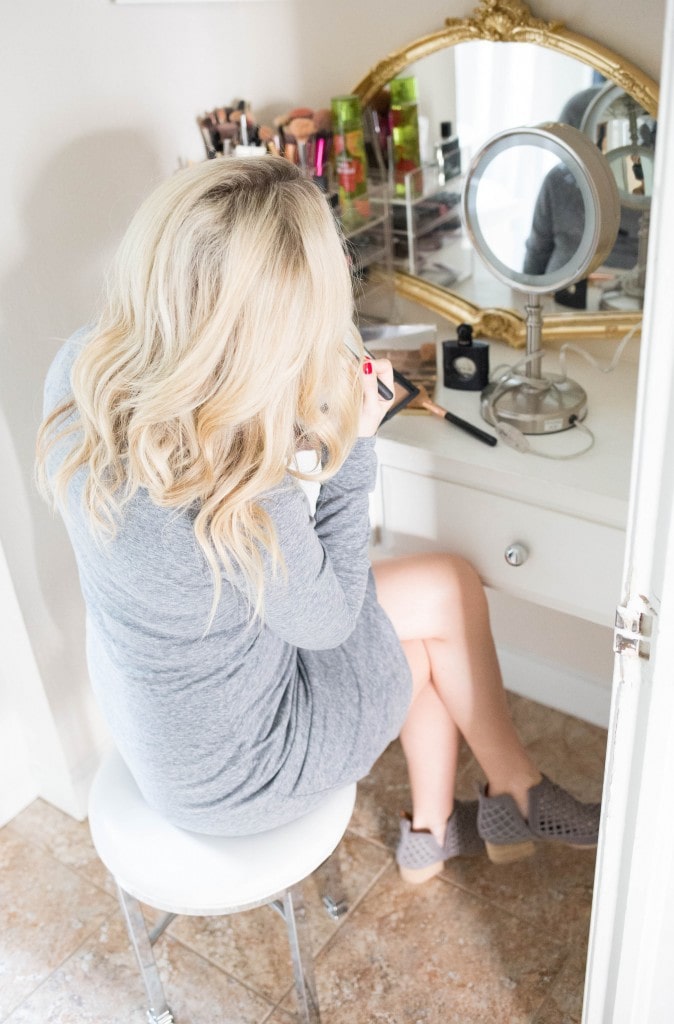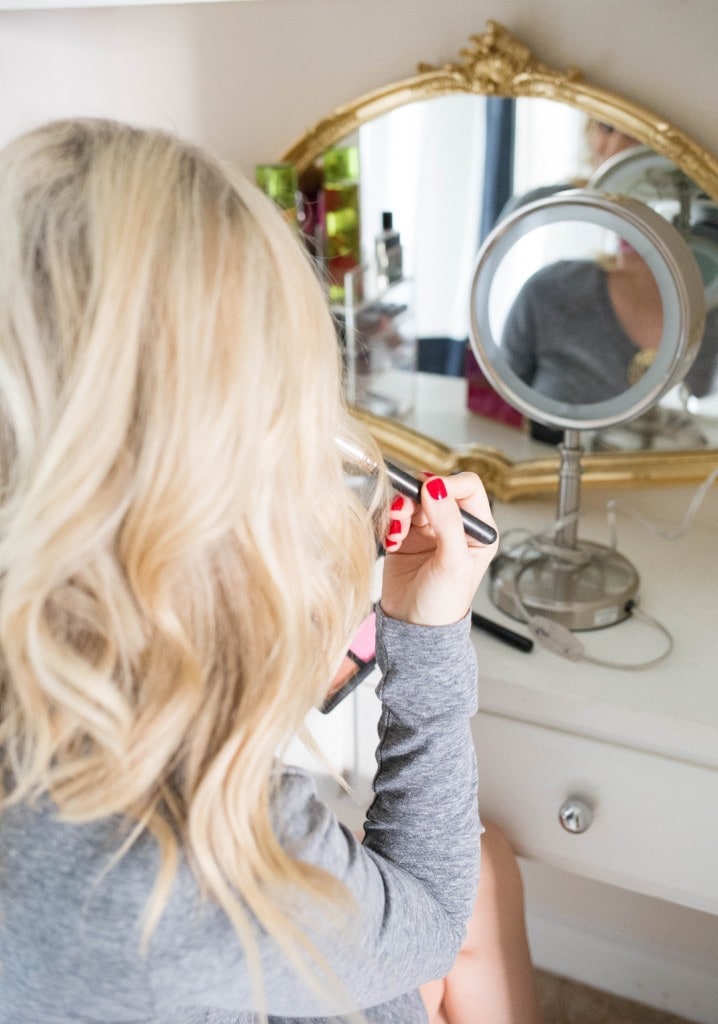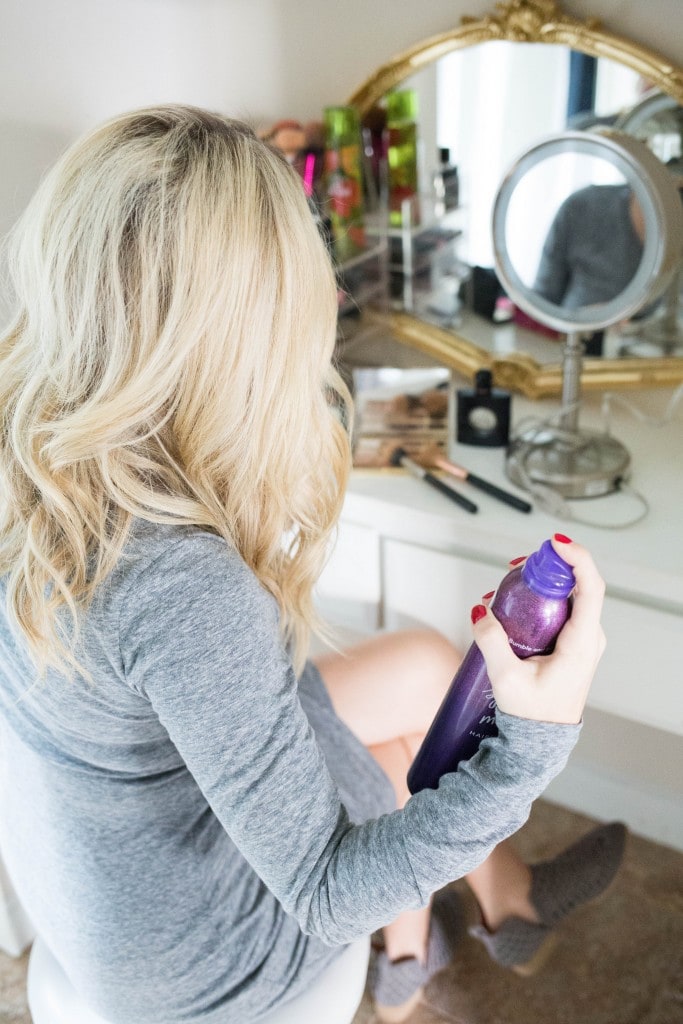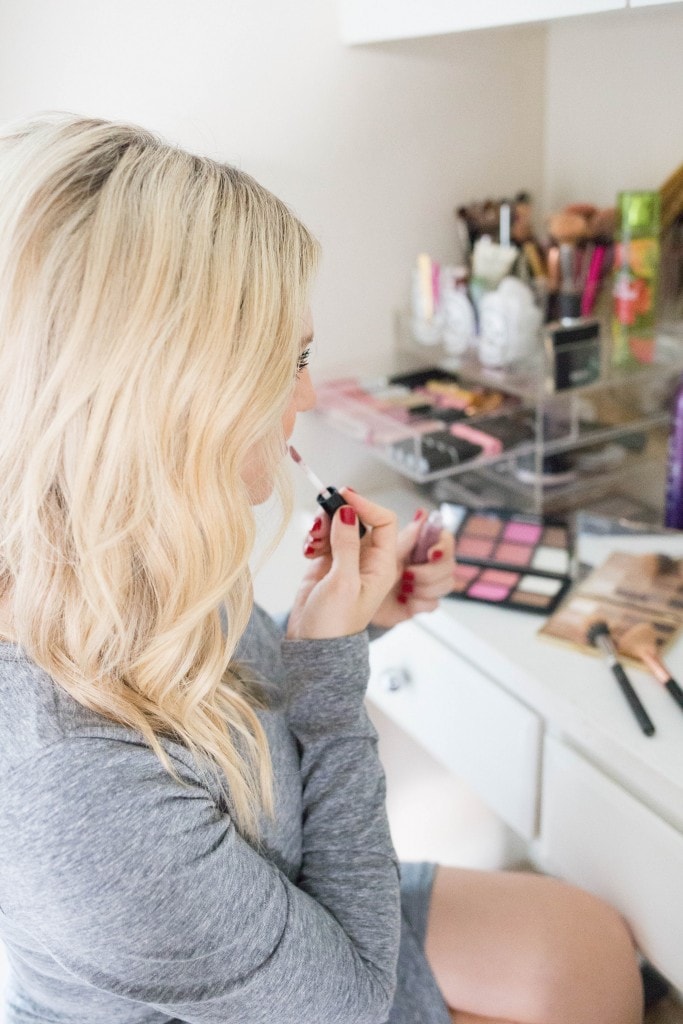 9-12 E-mails
I spend a lot of my work day responding to e-mails. During this time Peaches is always asleep next to my desk, on her back, legs sprawled in the air! haha. You've probably seen those ridiculous snaps on Snapchat. I try my best to respond to every single e-mail I receive, whether it be from a brand, PR firm, agency, reader or just curious husband wondering what to get his wife! In the beginning this was really easy to do and I had a 24-hour response time. Now as my inbox influx has grown, I can get upwards of 300 e-mails a day and things get lost! They go to spam. They go to the wrong COF inbox [I've had a few from interns over the year]. Etc. This has been one area of my life God is working so hard to teach me grace with.  I'm pretty nuts about responding because I correlate it to just simply being kind and I want to respond to everyone! If someone has a question, why shouldn't they receive an answer? However, the Lord is seriously showing my heart and teaching me that I am imperfect and I will miss things. Cue the lessons on humility.
I think the best part of owning your own business is that you learn what best suits you in business, your personality and your life. Your business is constantly evolving and so are your solutions. Of course when my little girl is here I'll either learn a really great e-mail organization system or I'll just learn to give myself a lot of grace. Maybe I'll hire the perfect person [however, right now I'm not hiring as I take a lot of care that I'm the one answering the e-mails]. Maybe I'll be okay with e-mails taking awhile to respond to. Or maybe I'll just learn I'm one human being and I can't do it all! But either way, I'm excited to see how much this little girl is going to change my heart, my mind and my adaptability.
In case you're curious what my e-mails mostly pertain to:
Brands and I discuss, finalize and implement campaigns. We measure metrics, and response from readers. I follow up on business payments. I book campaigns for the future. I respond to PR firms about events and new business opening up so I can let my readers know. I schedule meetings to meet with brands and designers. Scheduling travel for meetings. Accounting. Responding to readers. Responding to a representative that helps schedule my blog campaigns and ambassadorships.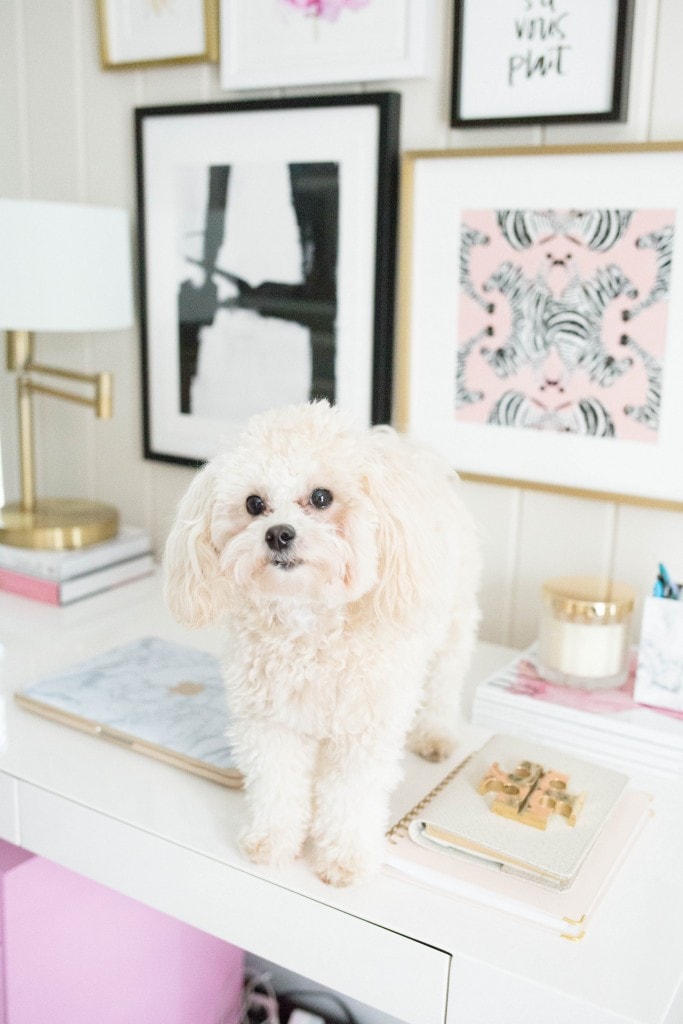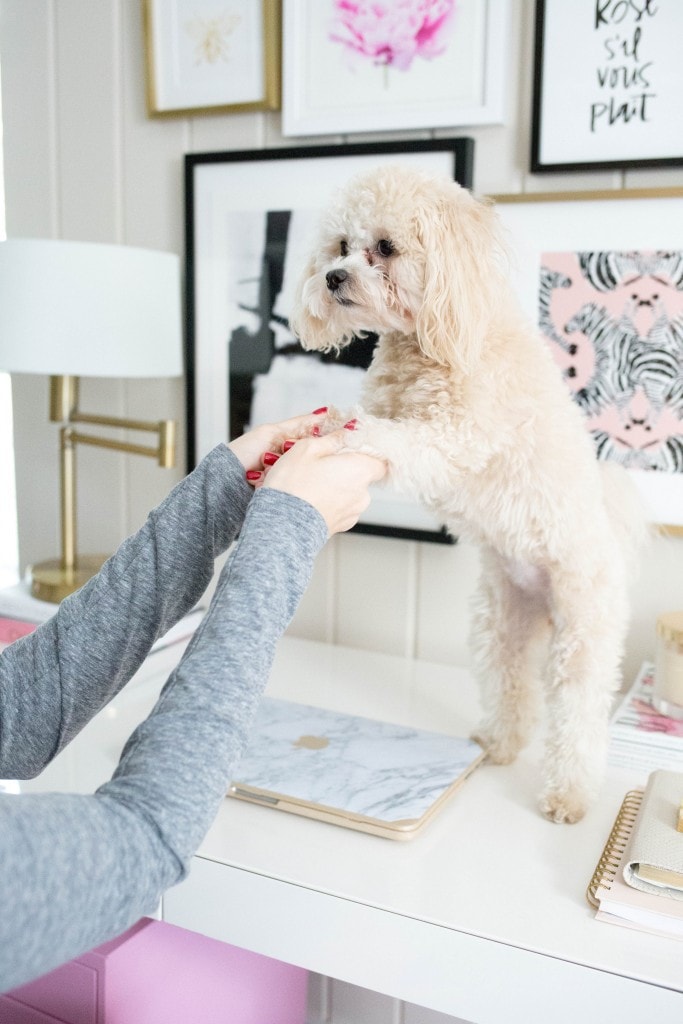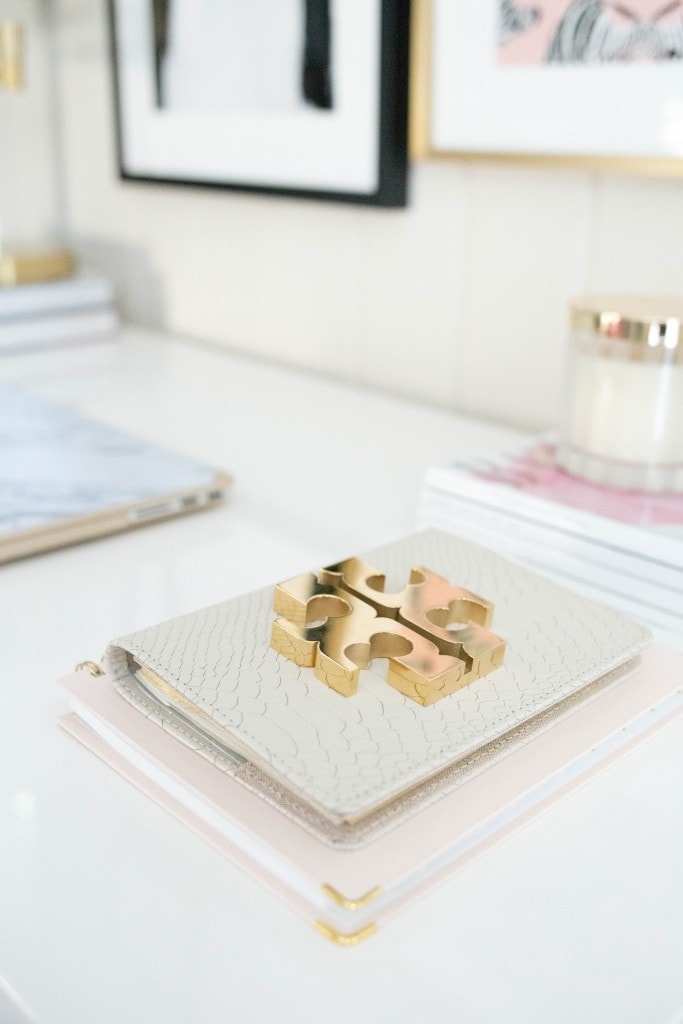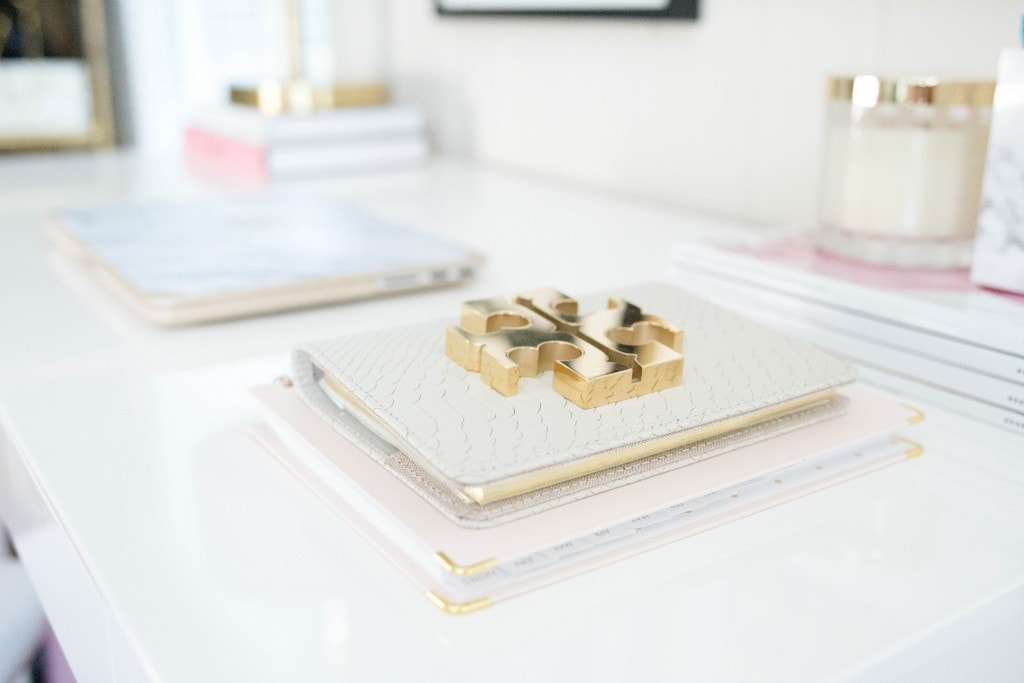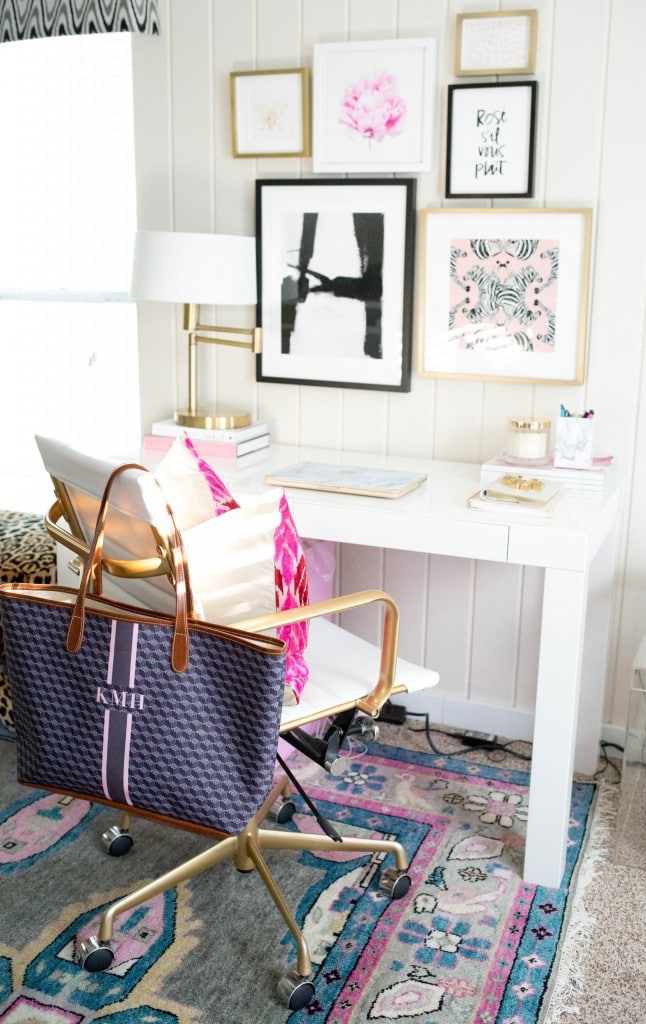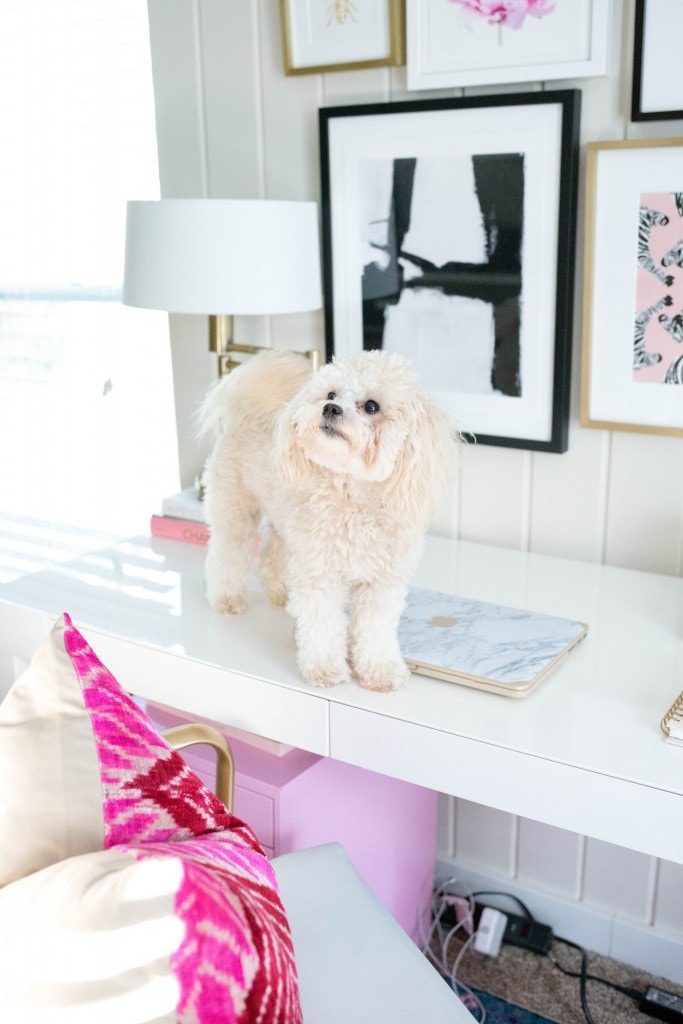 12-2 Blog Content
From 12-2 I write my blog posts. In a dream world, I would contribute 98% of my work day to writing blog posts! This is probably my favorite part of my job along with interacting with you all. Connecting with readers and writing out my thoughts is what makes me fall so in love with this blog! During this time I'll also send out my social media posts and snap a picture for Instagram.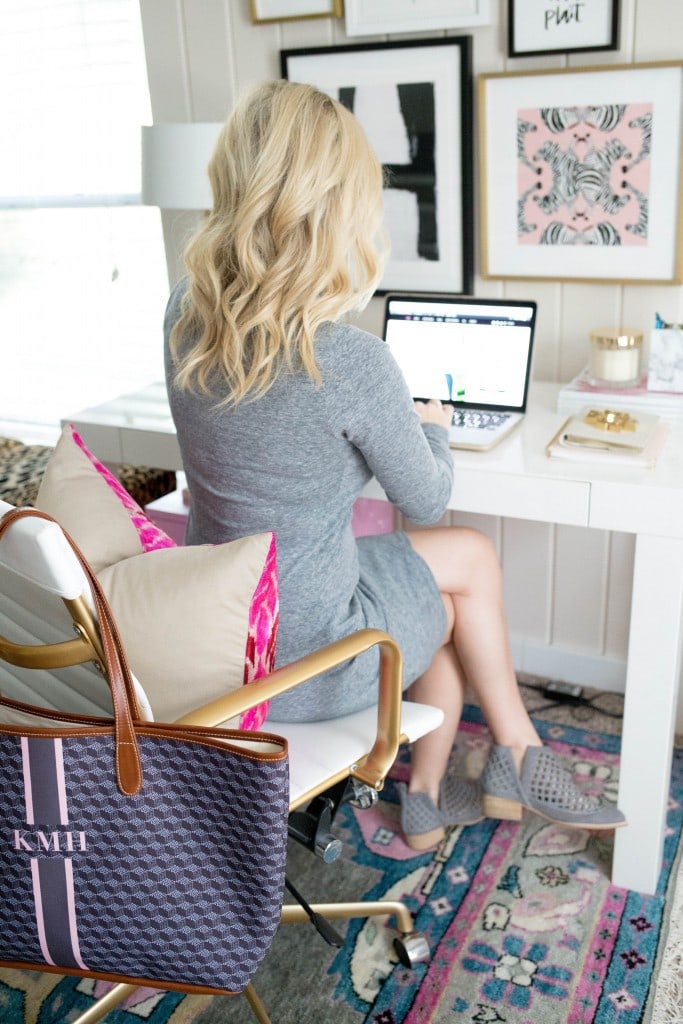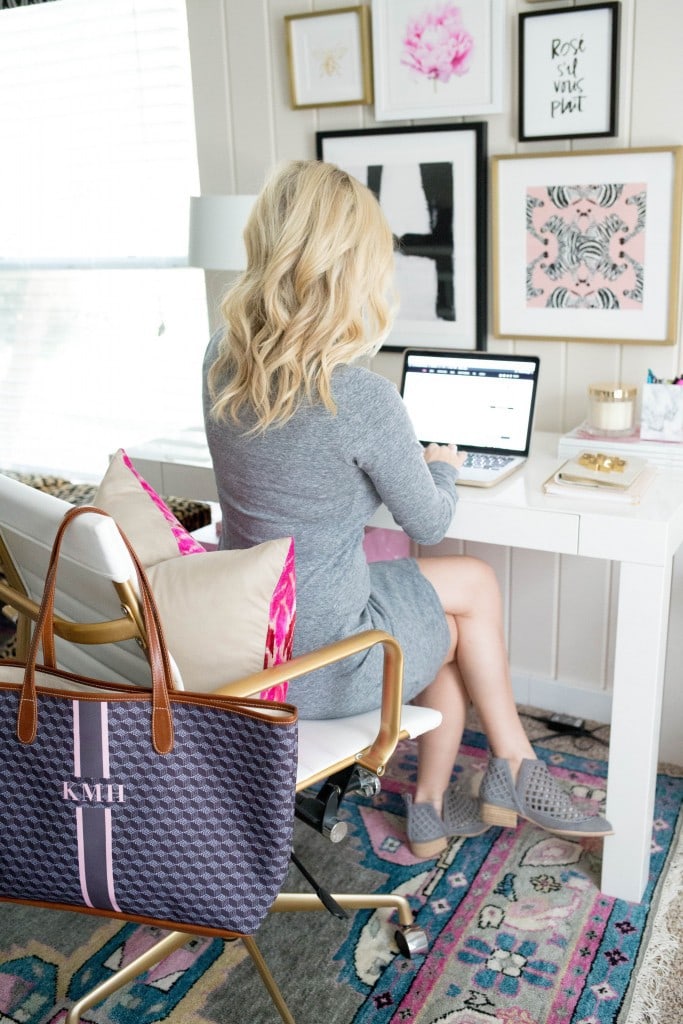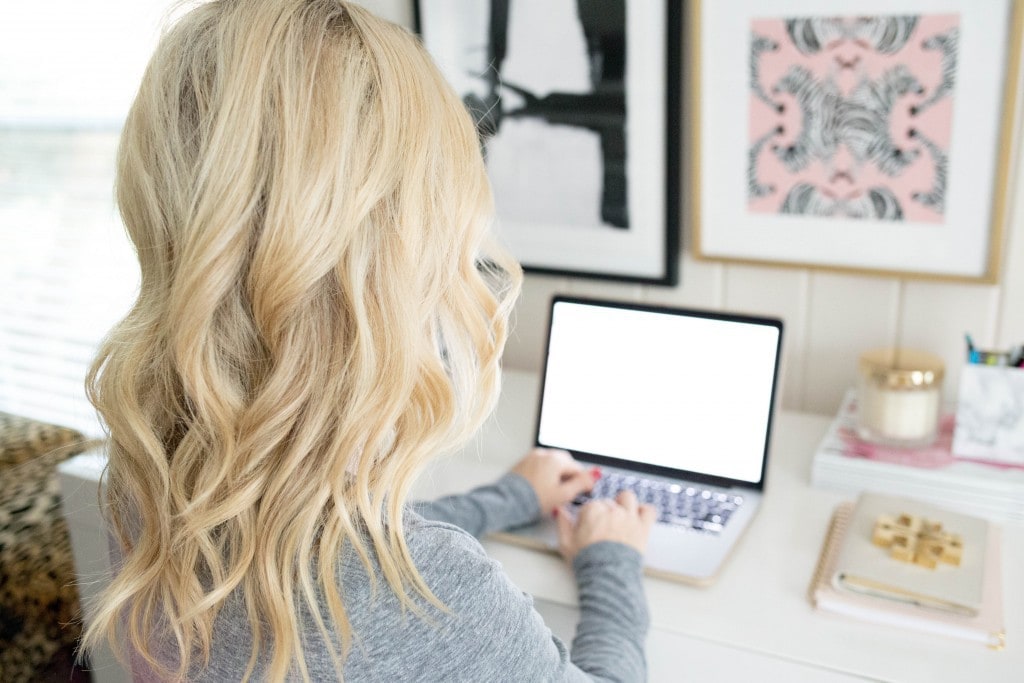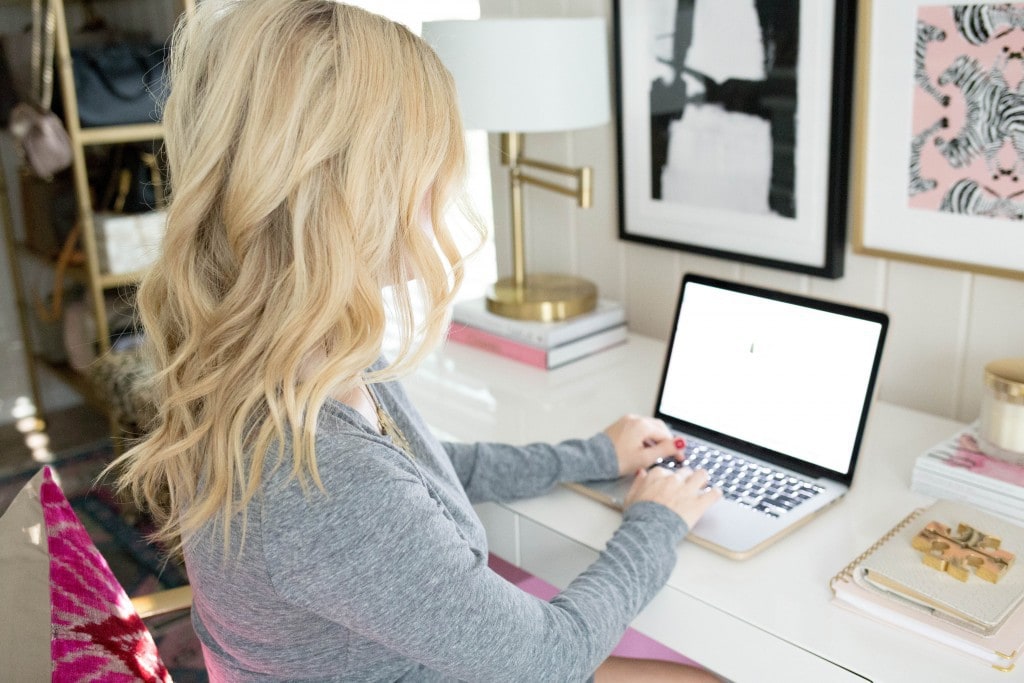 2-3 Accounting/Meetings
I keep up with receipts, track expenses, bill brands, collect invoices and plan out business expenses for the following week. If you are starting a blog soon, be sure to keep track of everything! Also, find the best paystub maker to make accounting easier if you have employees. I'm always hearing my friends that are bloggers say what their accountants told them about business expenses and write offs. And they are always told opposite ends of the spectrum, because I think some CPAs are really familiar with the industry and some aren't as it is so new. So I know that might be kind of a silly thing to say, but Paul always tells my friends that as he is a CPA and plenty of people he works with aren't familiar with what I do.
Once a week I'll go to Dallas for a day filled with brand meetings. However, on a day-to-day basis I will schedule my conference calls during this time as well. This can be with my representative that helps schedule my collaborations, a brand to get to know my readers or a PR firm to discuss a future campaign.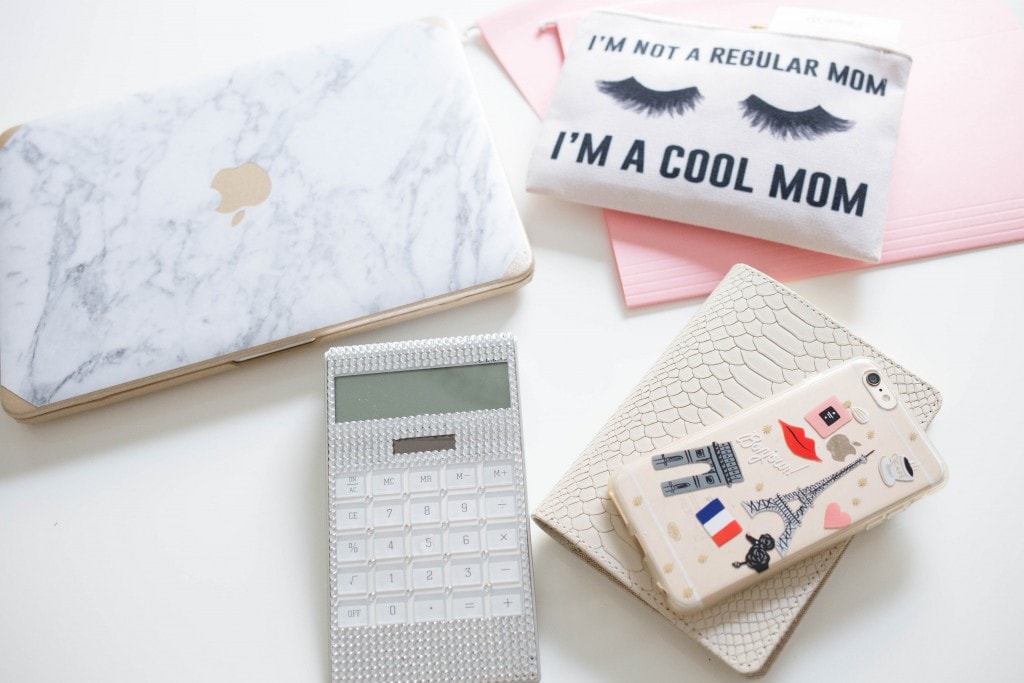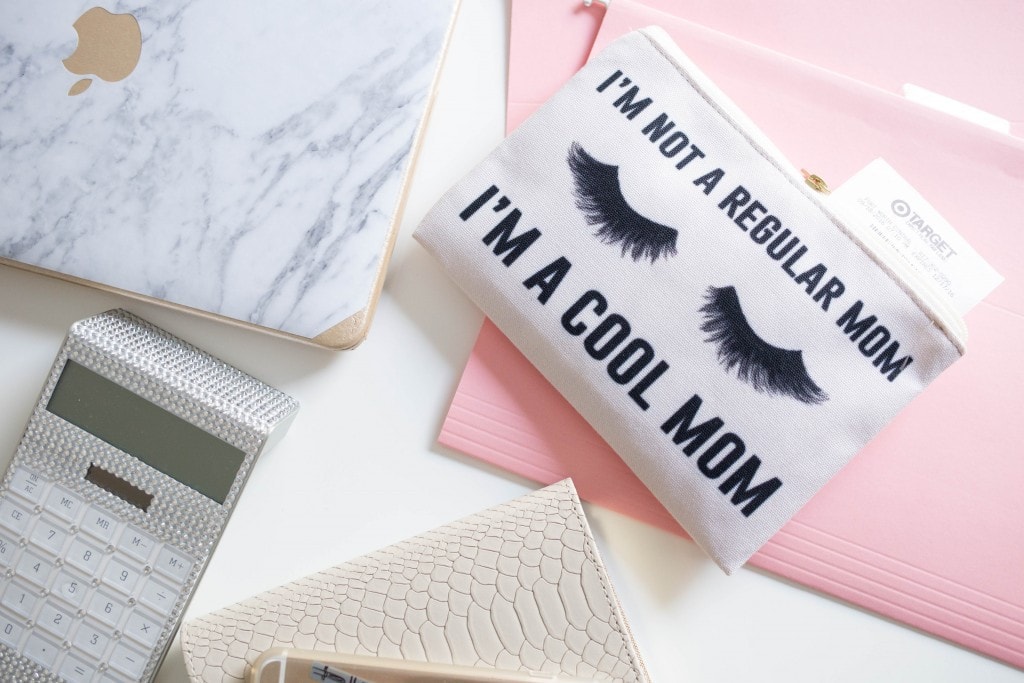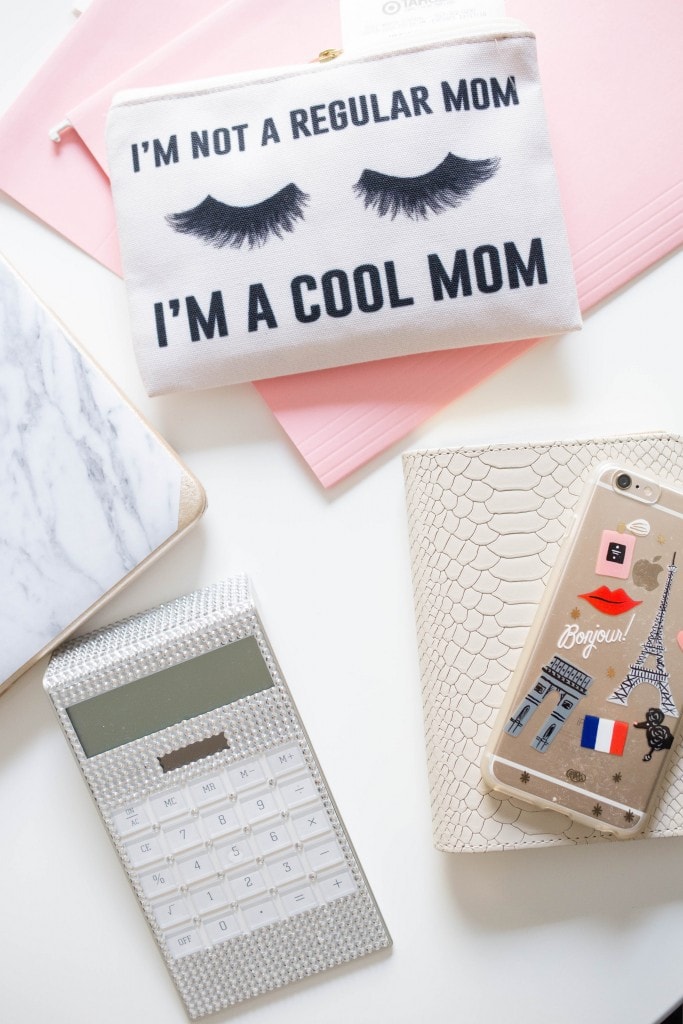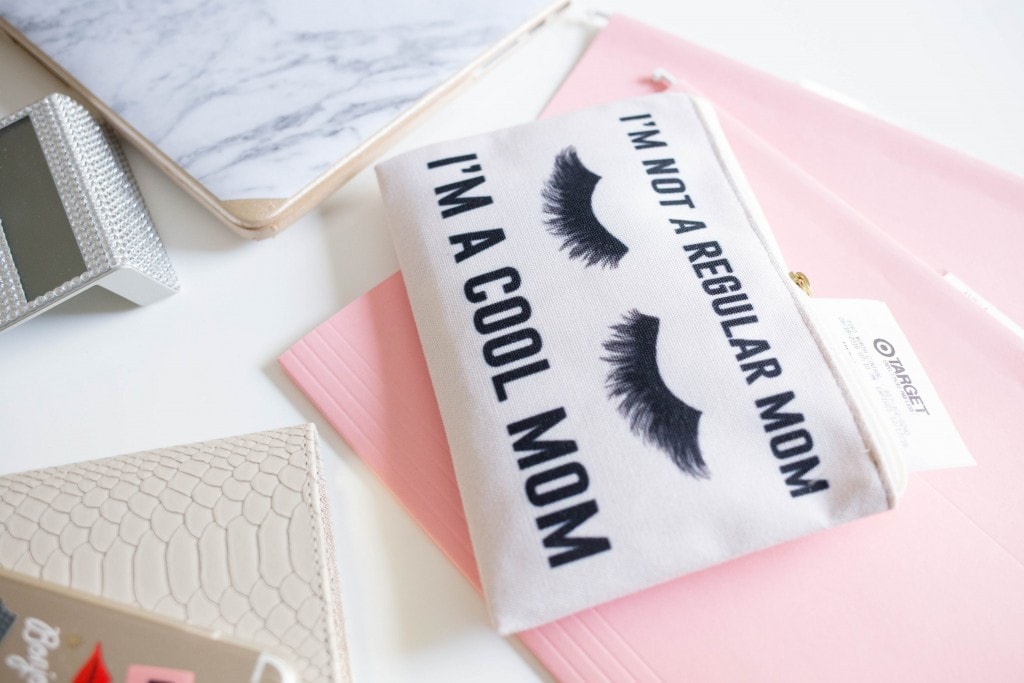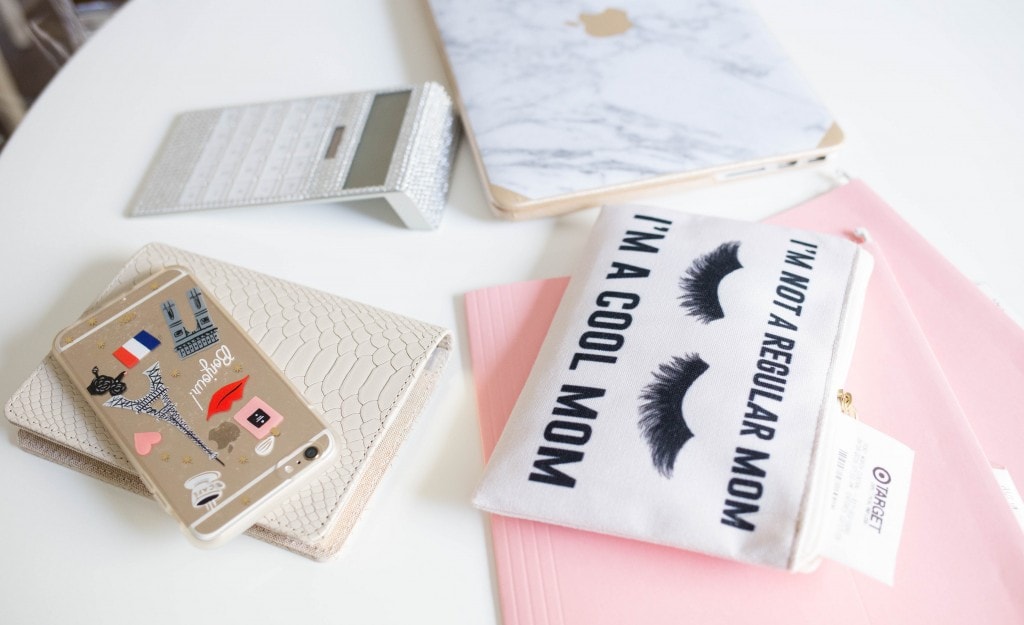 *This mom bag was a gift from a friend! Not sure the brand*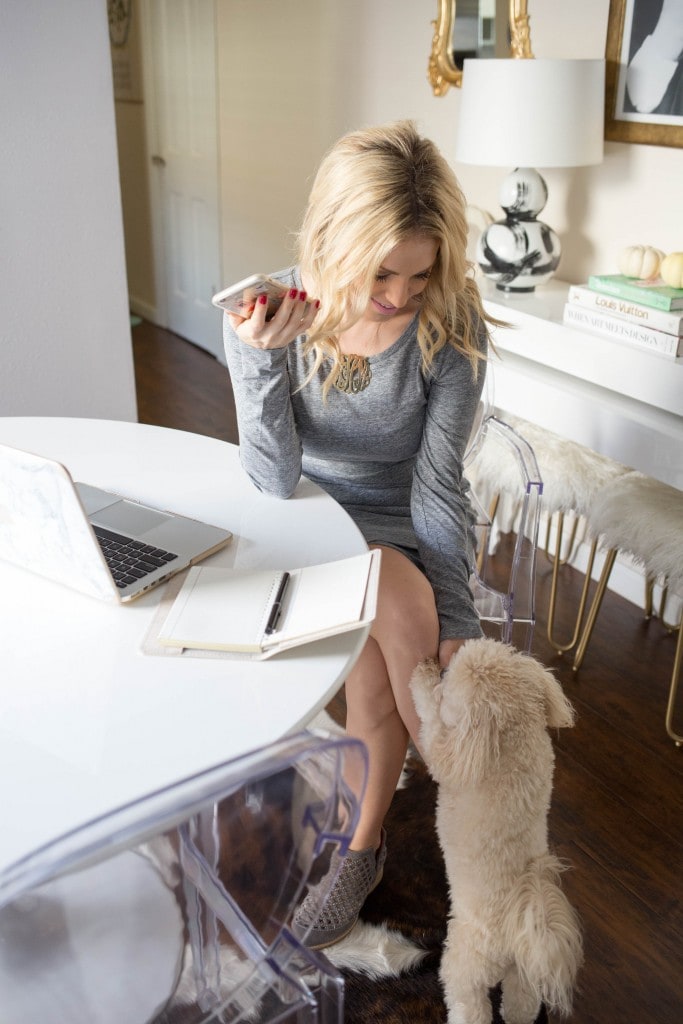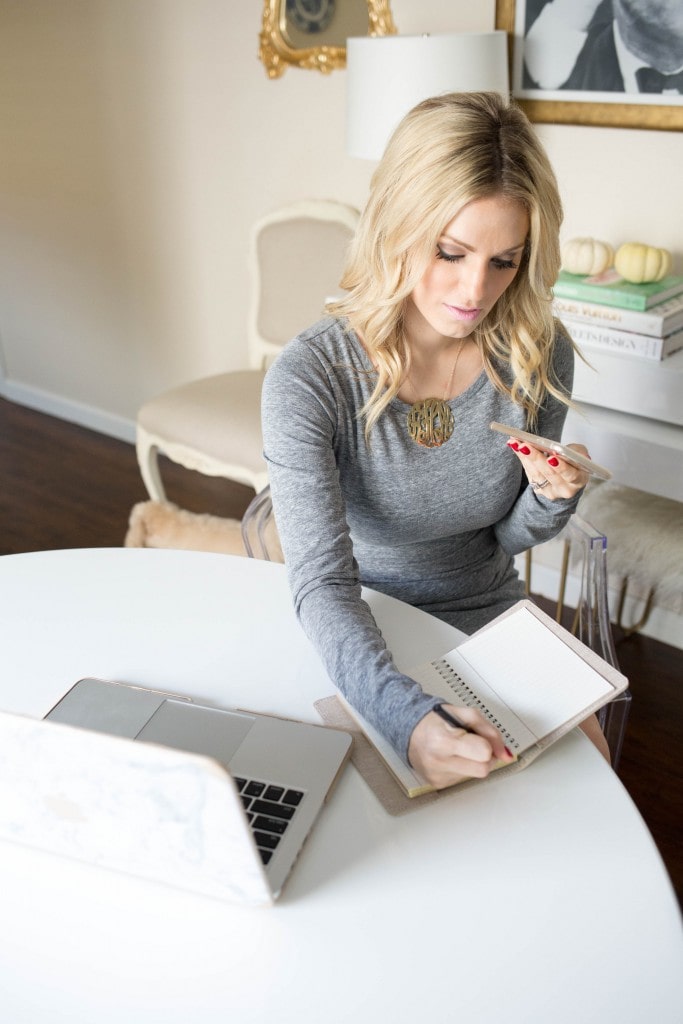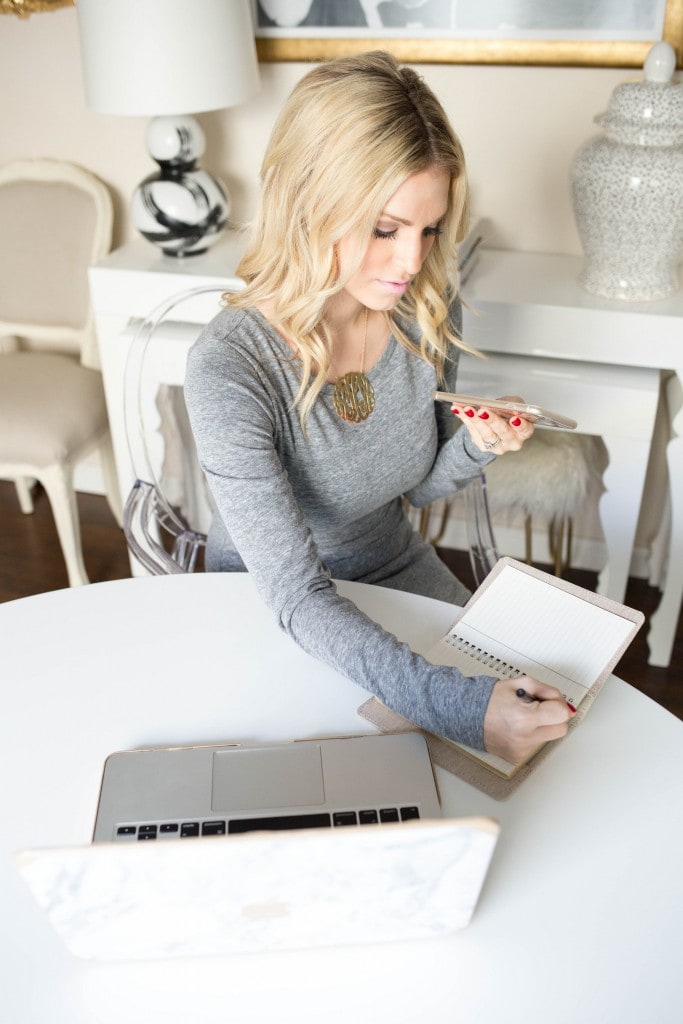 4-5 Prep for Shoots
On Tuesday mornings I shoot from 8-9 and on other days I shoot at around 5! At this time I prep for my shoots or the day before. I go through my contracts and editorial calendar to see posts that are coming up. Then I get to do the fun part of styling looks, steaming clothes and packing up everything in my car! The one thing that makes prepping so easy is having a clothing rack! I seriously recommend it if you are a blogger. And I know, that's SO cliché to have as a blogger. But there is a reason we all have them. I'm able to keep items that were sent for collaborations, borrowed pieces, or pieces that are still in stock online that I can link for you. I can easily line up all the looks I'm shooting, pair accessories, steam and then bundle to put in my car. Once I'm finished shooting a look I'll just put the clothing back in my closet, so I don't get confused on what is next on my editorial calendar.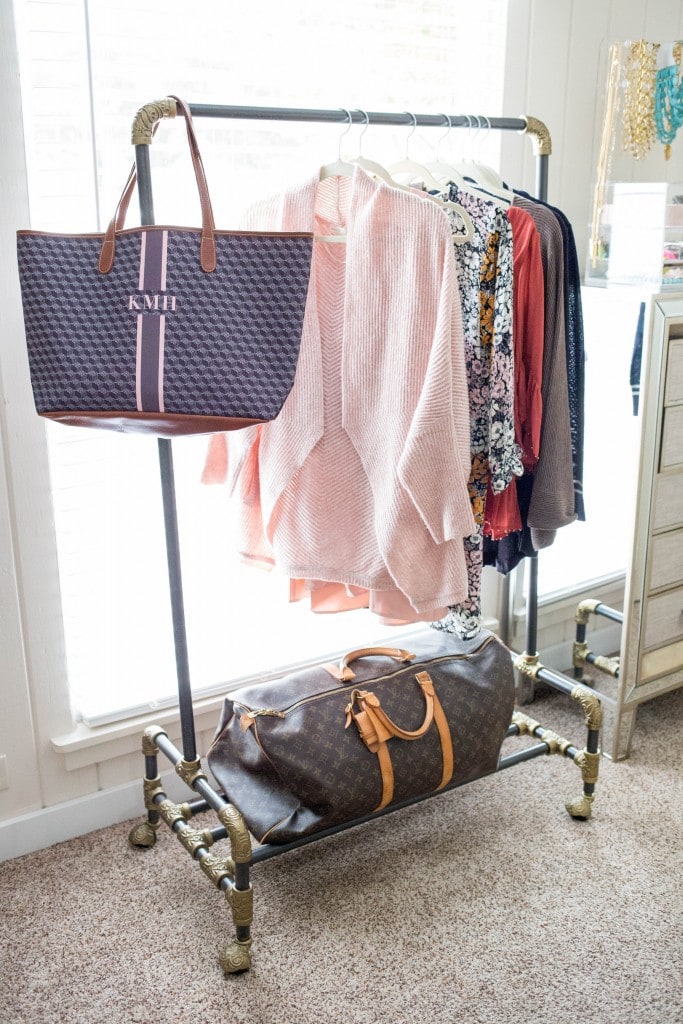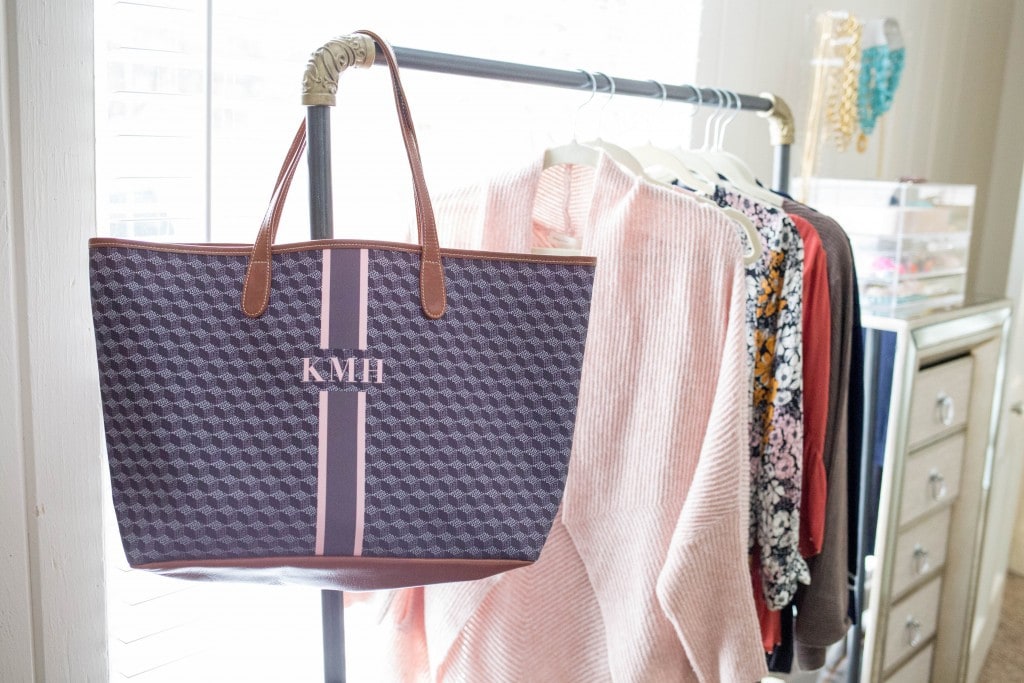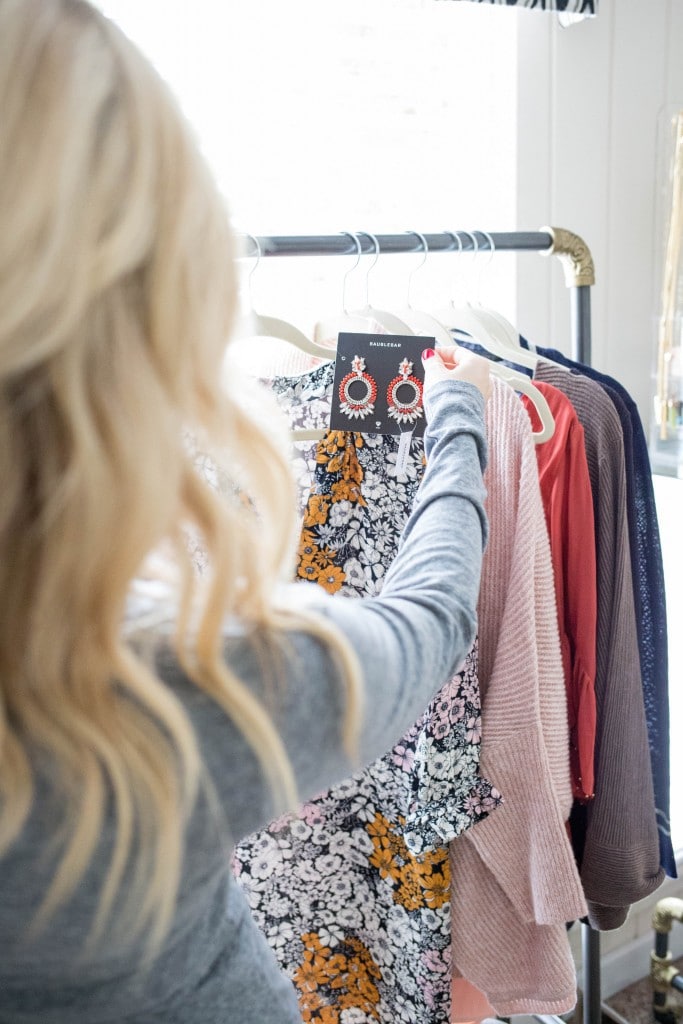 5-6 Shoot
I can typically get 4 outfit looks done in 1 hour, but if it's a shoot like this, it can just take an hour to shoot one longer post! I shoot with different photographers based on what they enjoy doing [some like indoor shoots, some like beauty shoots, some like fashion, etc.] and I also shoot with Paul! We really enjoy doing that together, however, I don't like our weekends to be filled with "work projects" so I try to keep it to more lifestyle shoots or just quick looks before we grab dinner. If you're a blogger starting out that is my biggest advice! It's so easy to stress over shooting [I do it every week!] but when you treat it as a fun way to document what you're going to do [running errands, picking up dinner] it is much more enjoyable!
Another tip for shooting is after prepping my looks I hang them up in my car and make sure to grab a tote like the Barrington tote! In that, I keep ziploc bags and label each look I'm shooting and throw in jewelry, lipstick changes or whatever I may need for each look in those bags. I'm always flustered changing in my car to shoot because it's so hot, and cramped and I'm trying to finish quickly! So if I didn't have all my ziploc bags organized in my tote I would completely forget what accessories go with each look!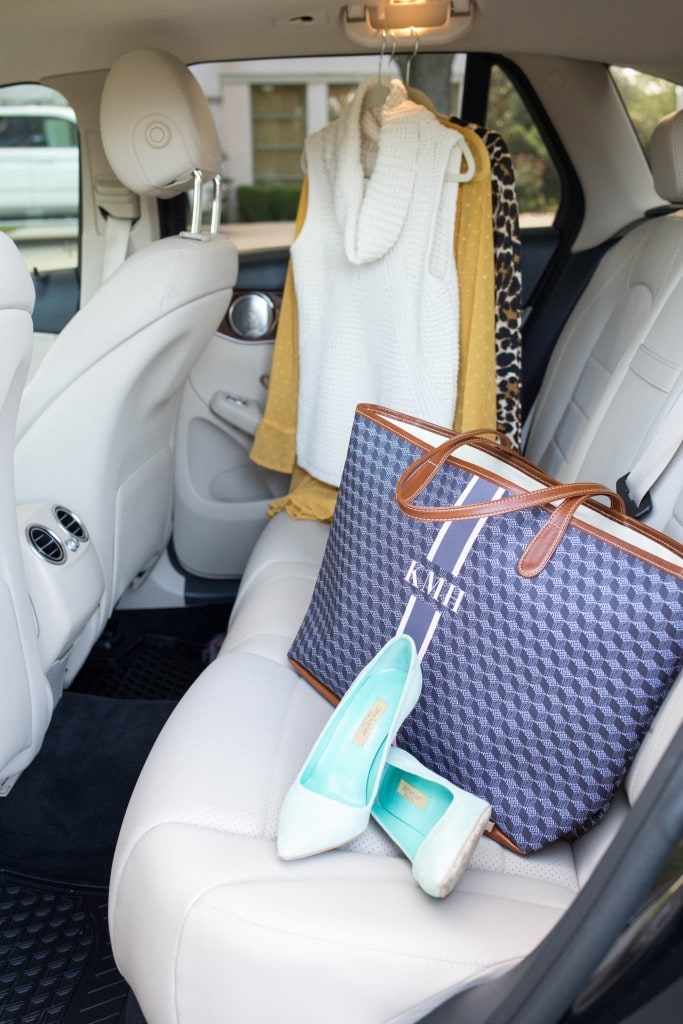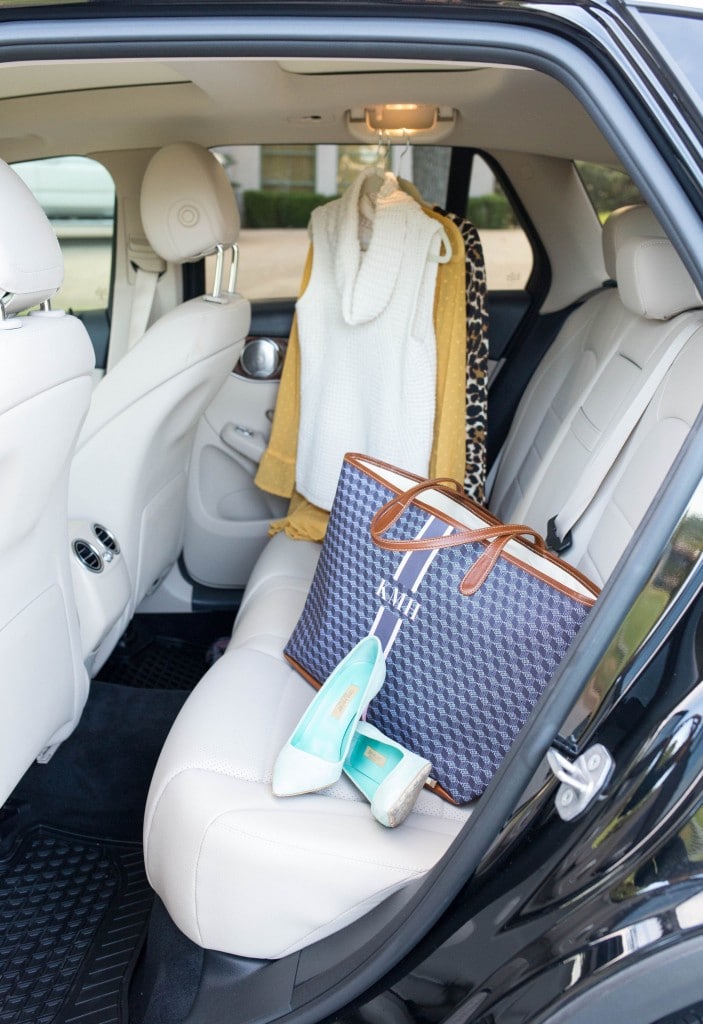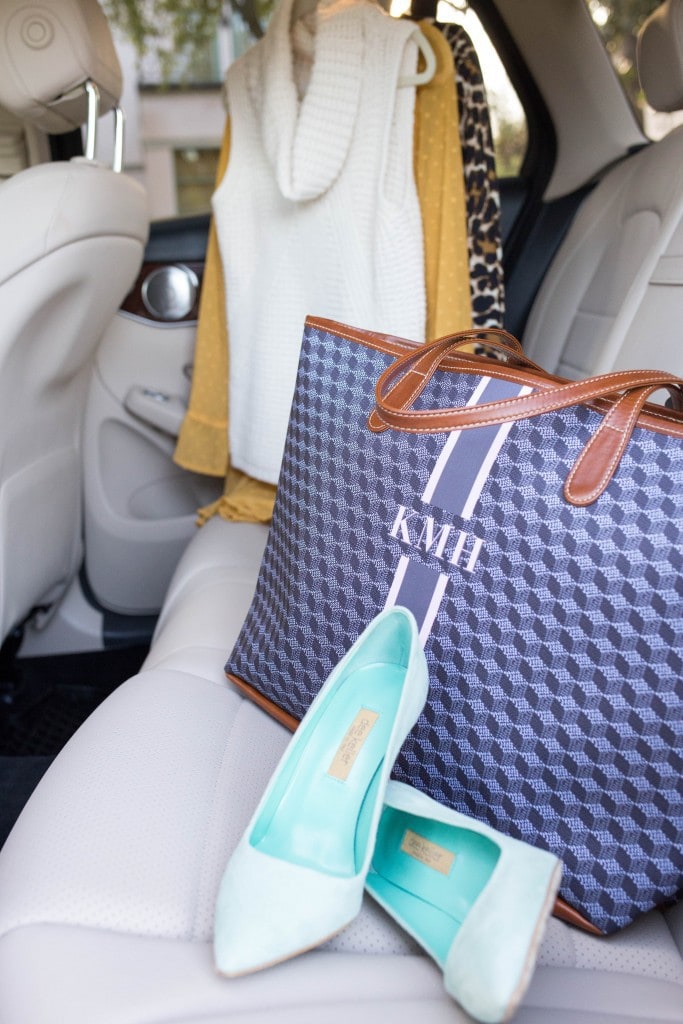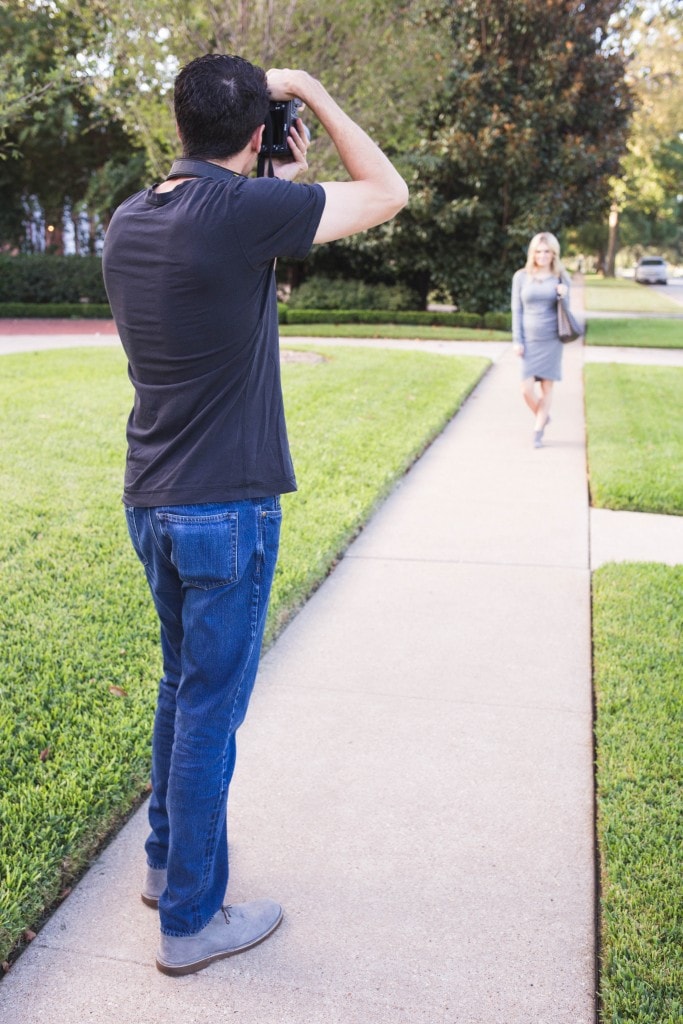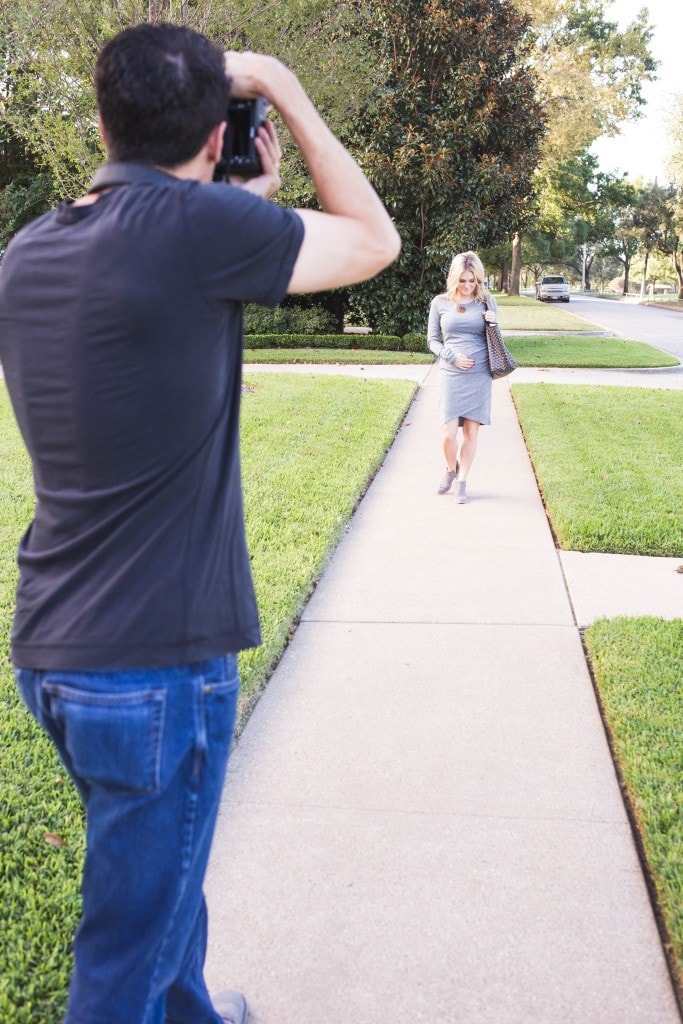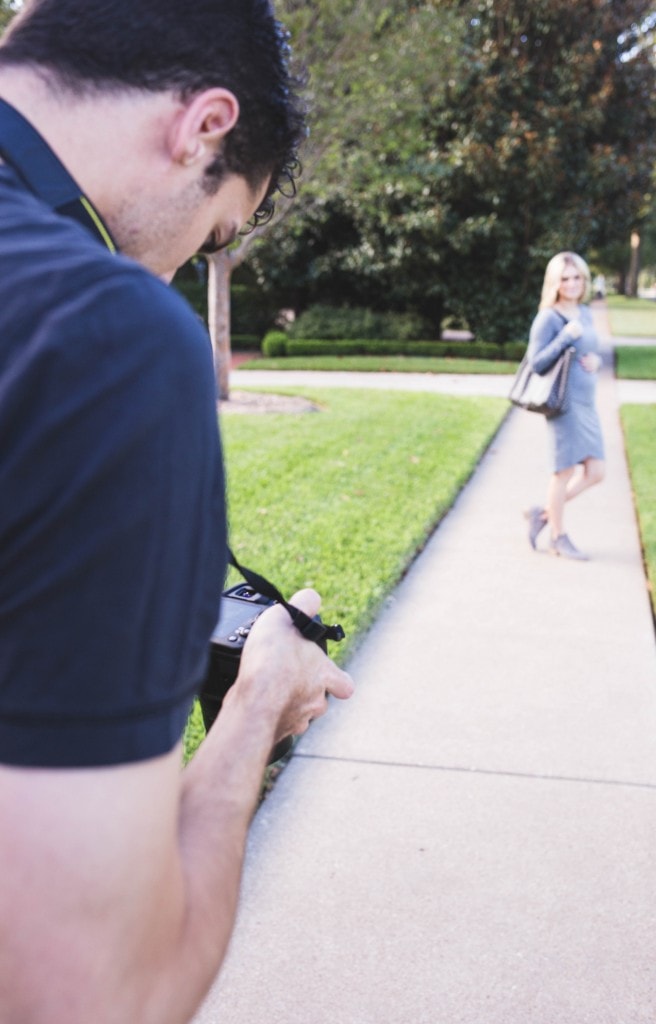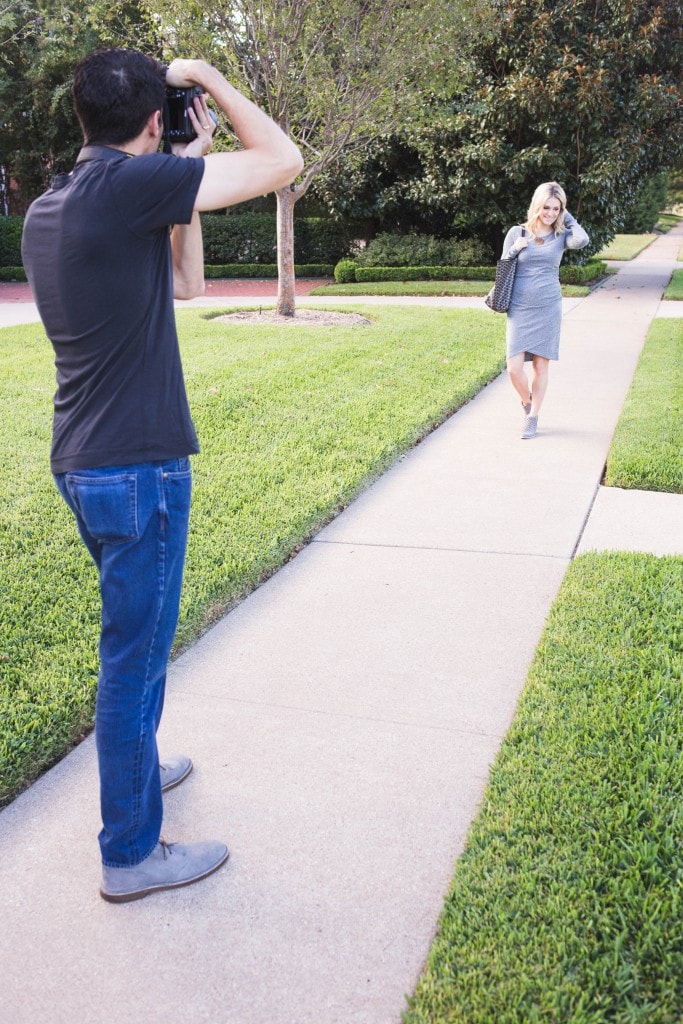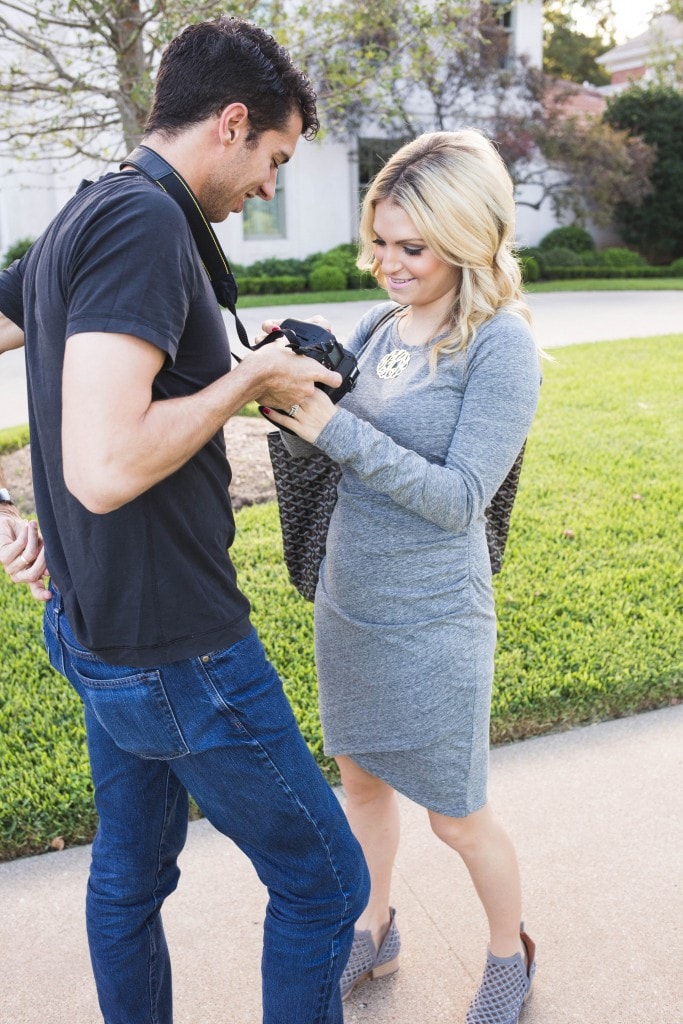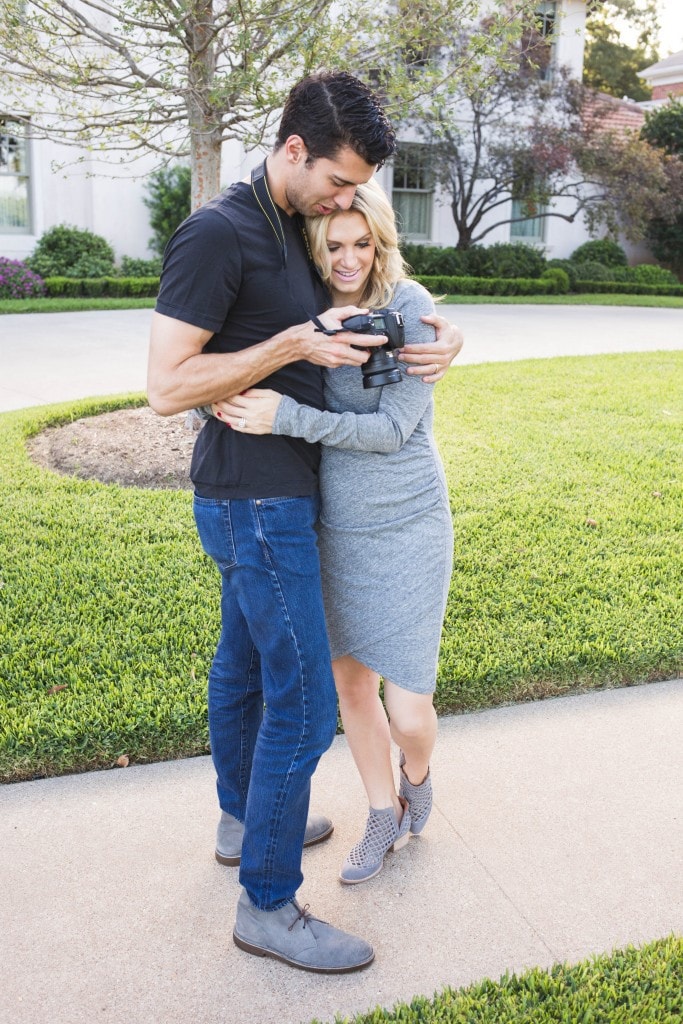 6-8 Dinner
At this time I'll cook dinner for Paul. It's become one of my favorite parts of our day, just unwinding. I also try to get things cleaned up around the house at this time as well.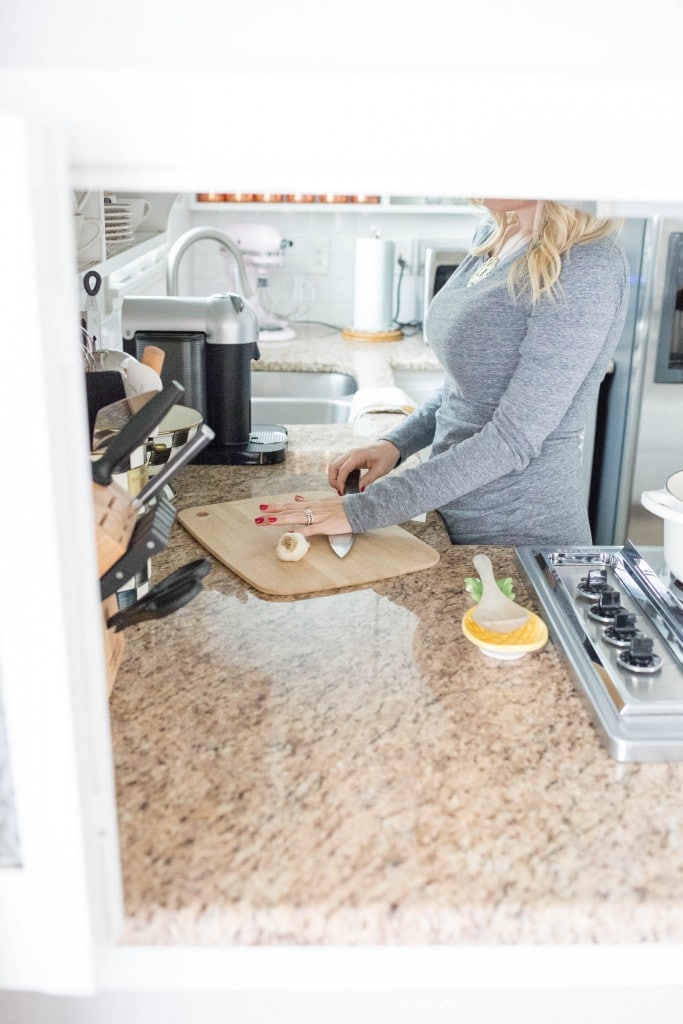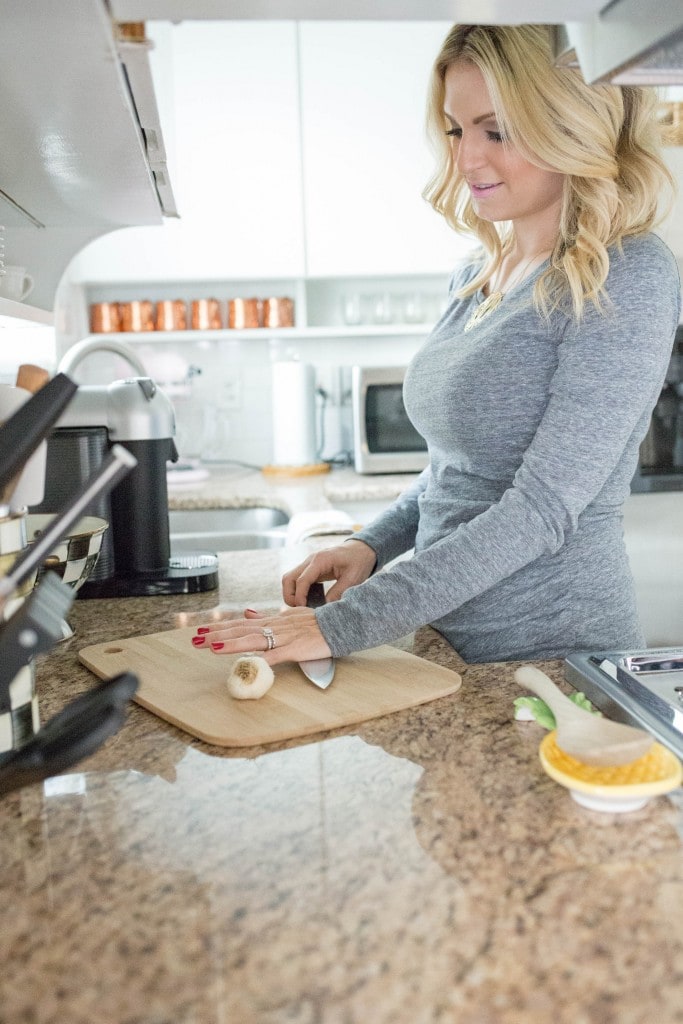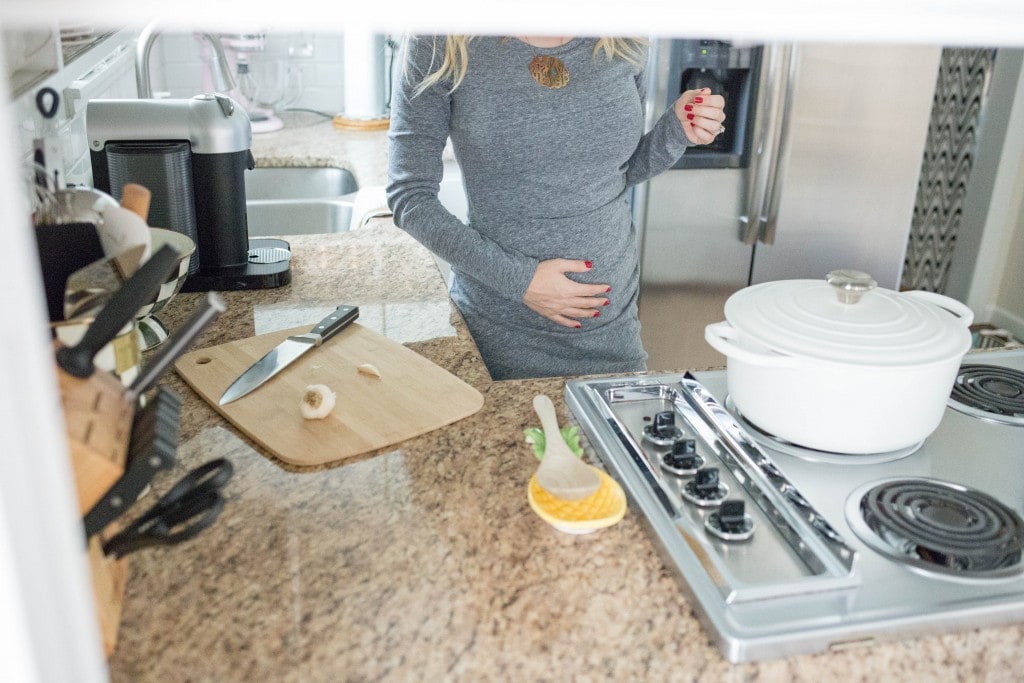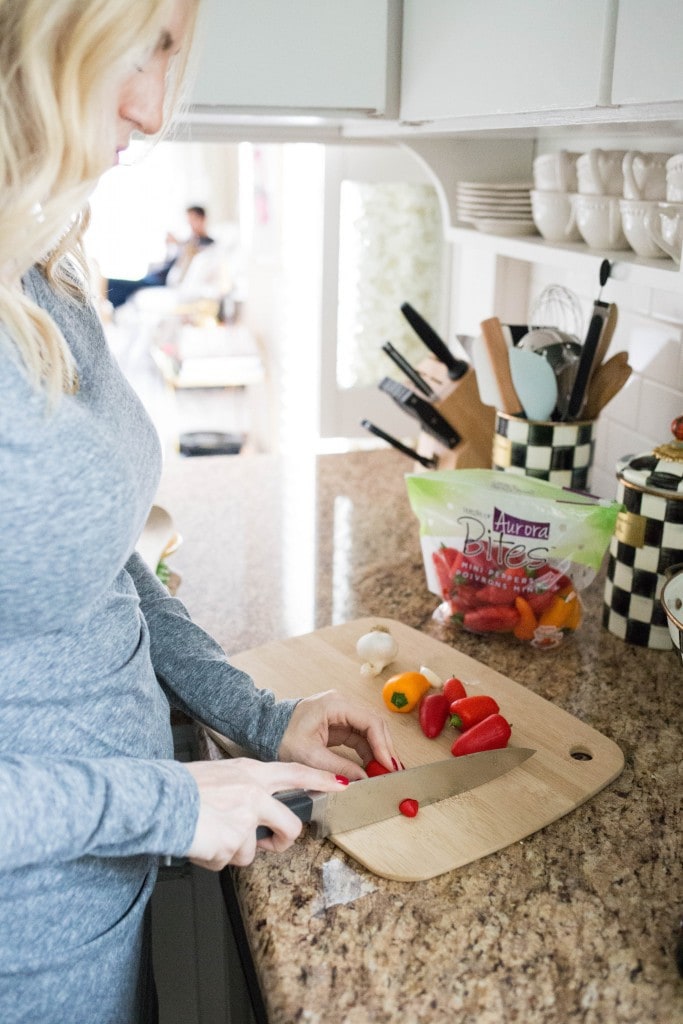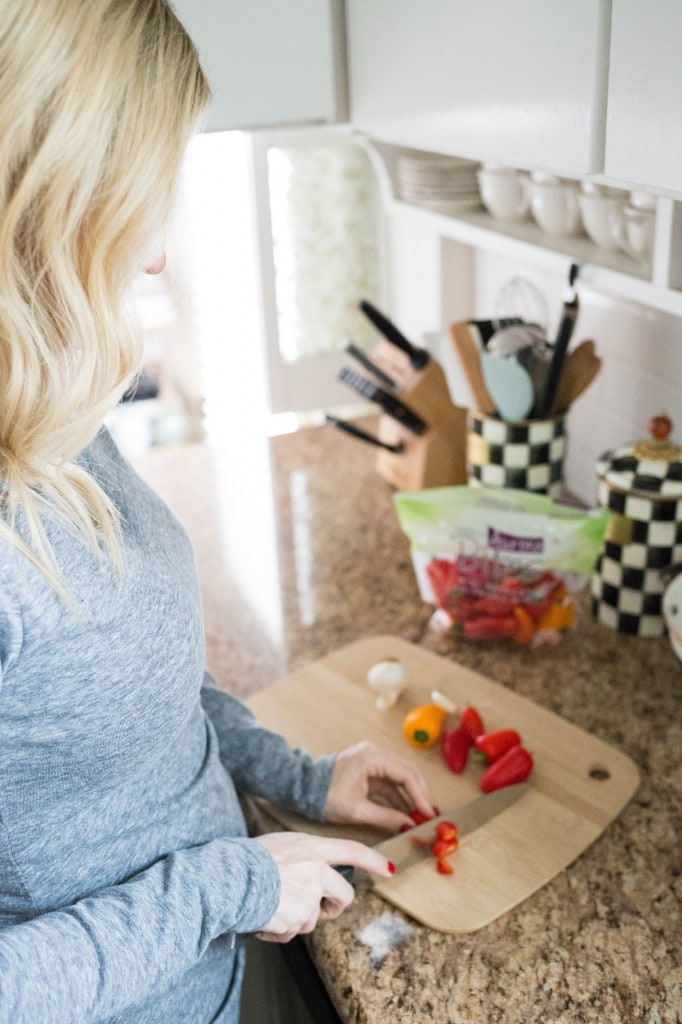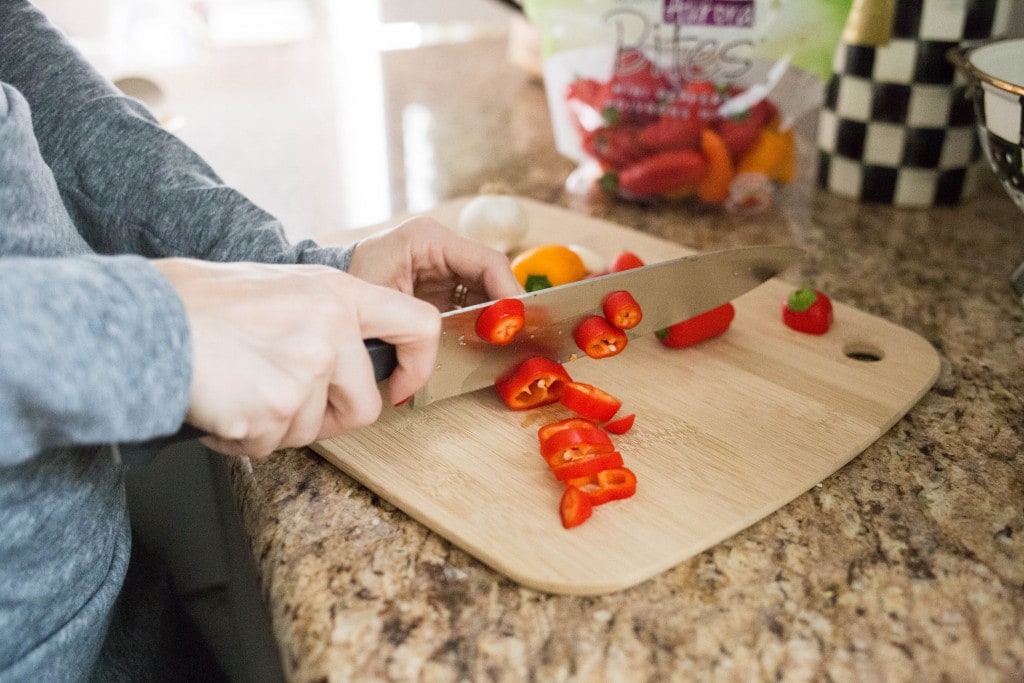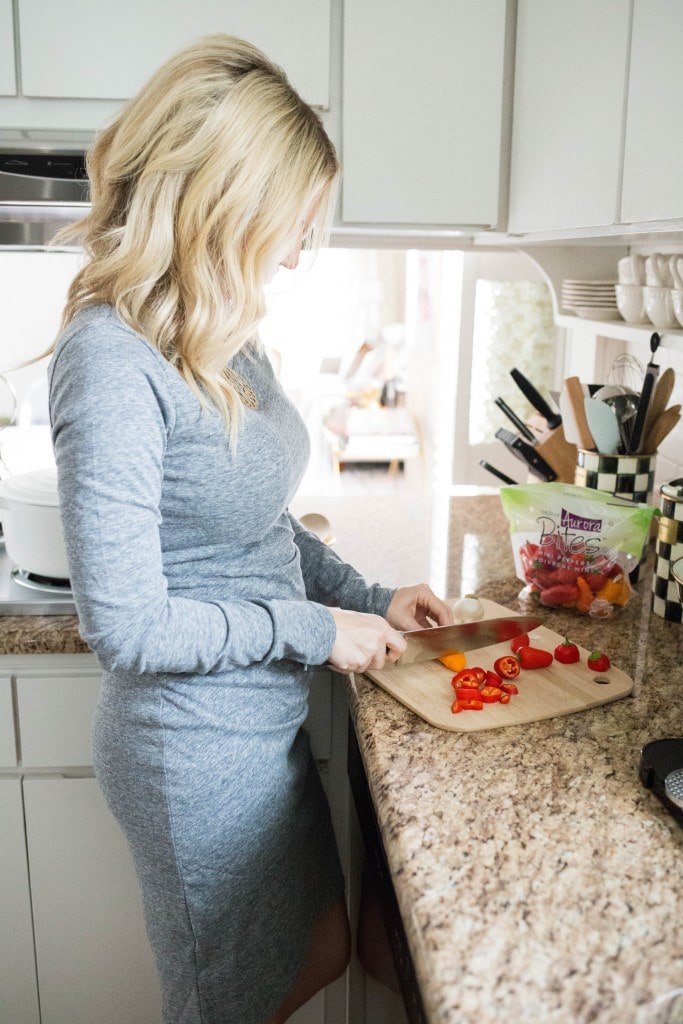 8-10 E-mails
At this time I'll crawl in bed with Paul and Peaches and answer more e-mails. Of course, some nights I skip this if Paul isn't working. But thankfully, both of our jobs function like this, so neither of us mind. During the day I normally have to respond to campaigns, brands and contracts first because I'm on a timeline, so this is the time that I typically get to respond to readers and have those heart-to-heart conversations I cherish so much! So if you get an e-mail from me at 10:05 p.m. I apologize! 😉 I just e-mail at odd hours! haha. During this time I also catch up on shows! For fall I'm watching Designated Survivor, How to Get Away with Murder and Law & Order SVU! What's on your TIVO for fall?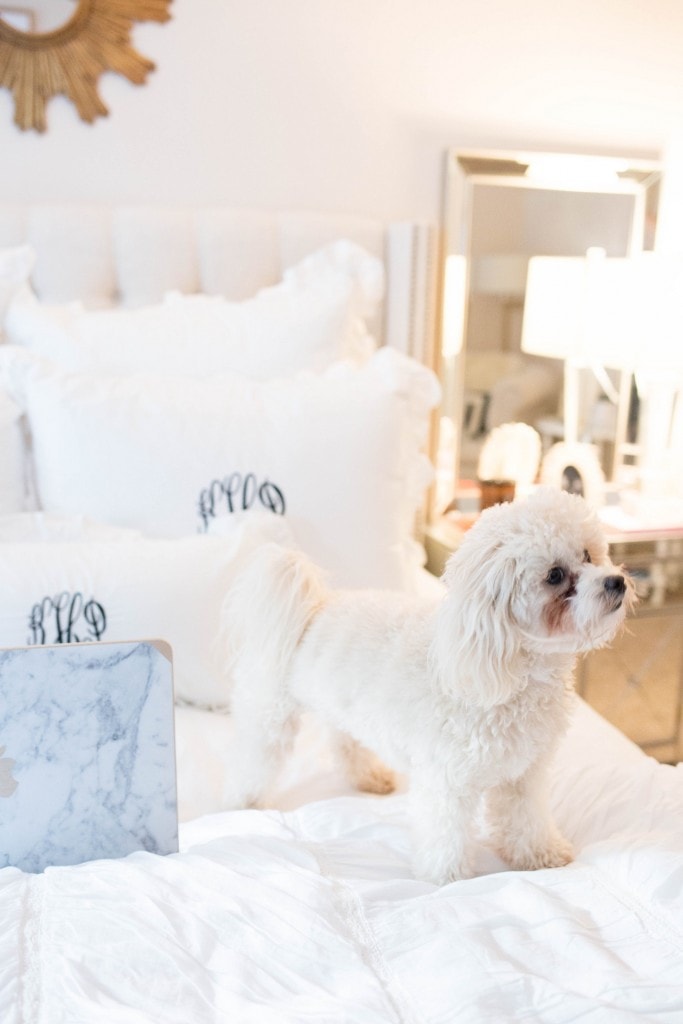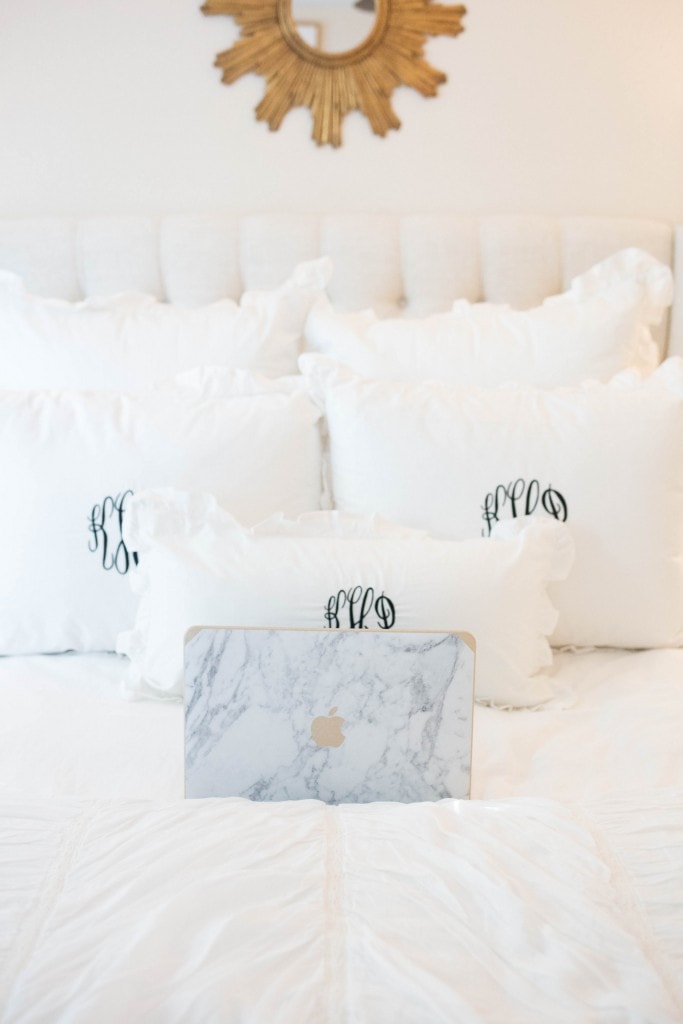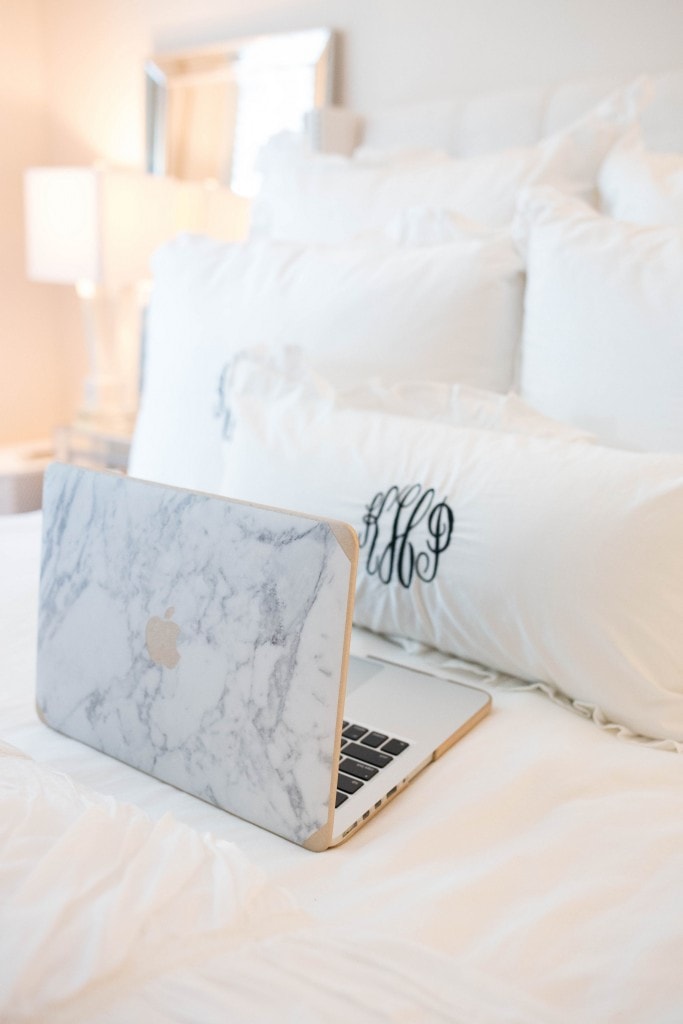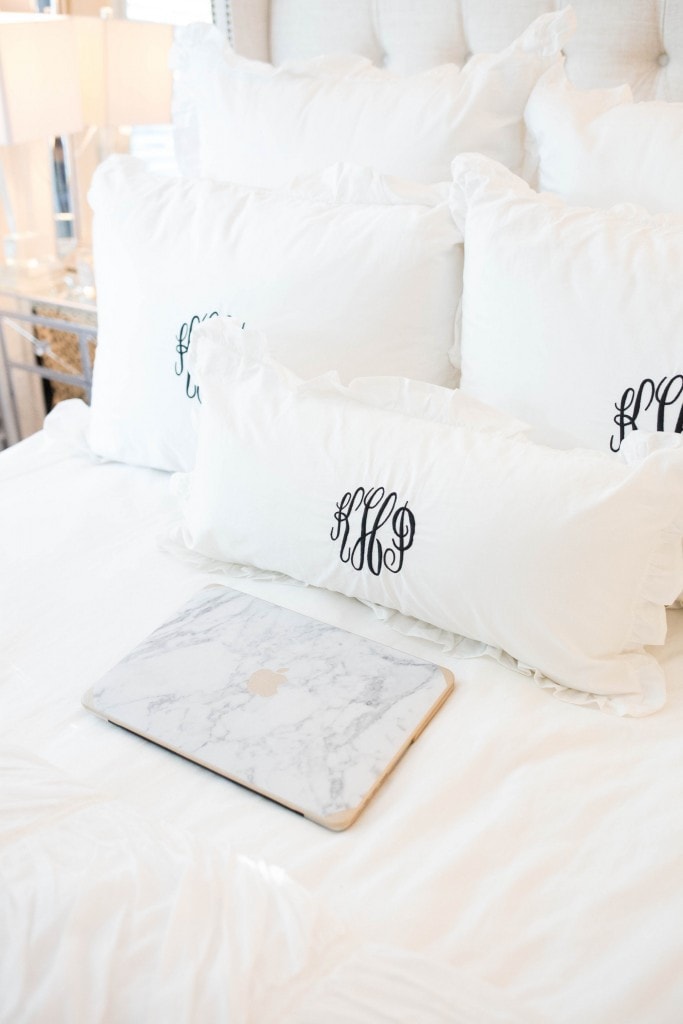 Dress: Nordstrom | Booties: Jeffrey Campbell | Lipstick: Blankety | Red Earrings: Baublebar [c/o] | Tote: Barrington Gifts [c/o] | Headboard: Wayfair | Laptop Case: Etsy | Monogram Necklace: Baublebar [c/o]
I hope this was an interesting [albeit maybe boring 😉 ] peek into what I do during the day! Does anyone else work from home or have a job with a schedule like this?!

Photography by: Madison Katlin
In collaboration with Barrington Gifts. All opinions are my own!