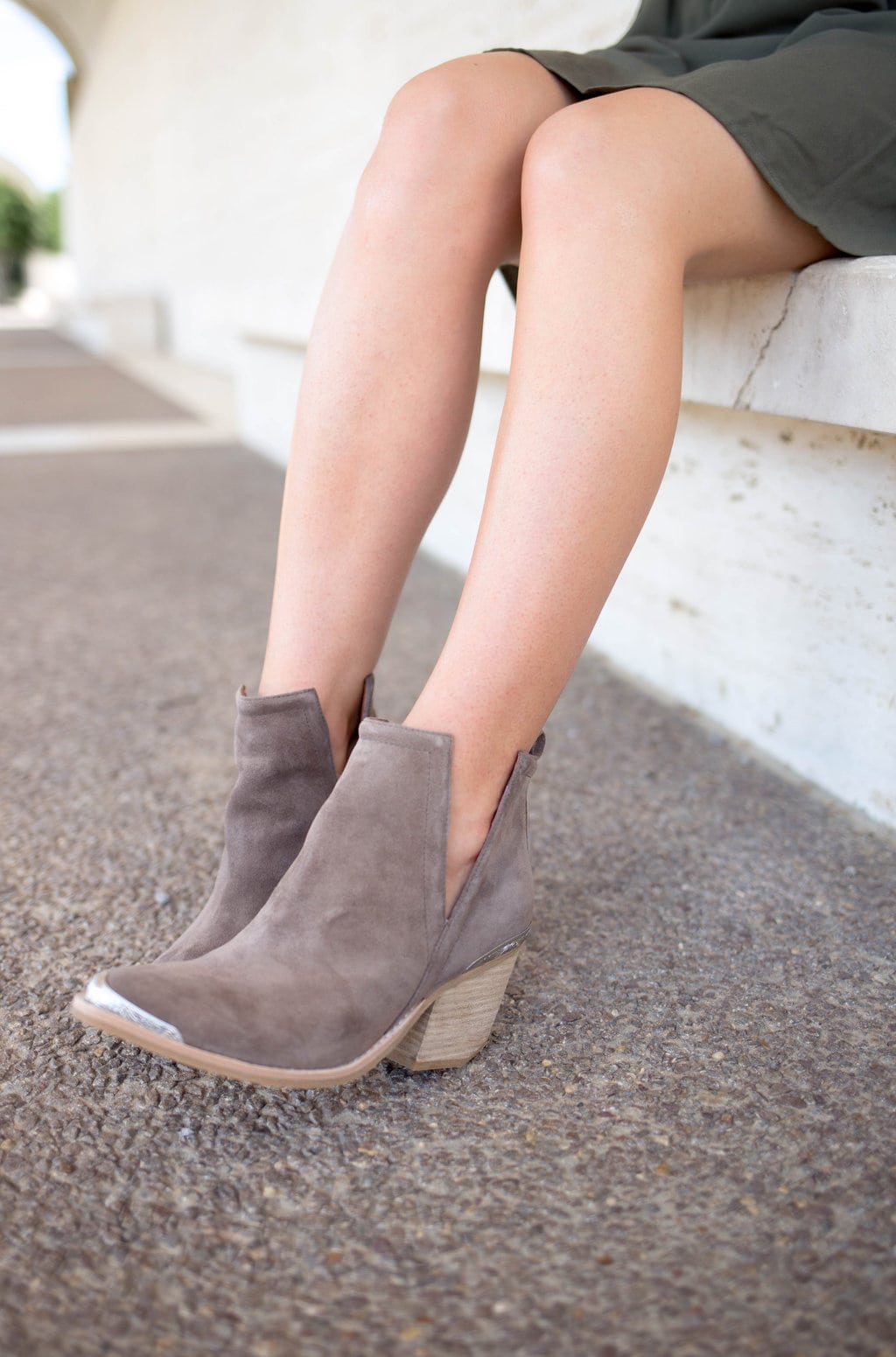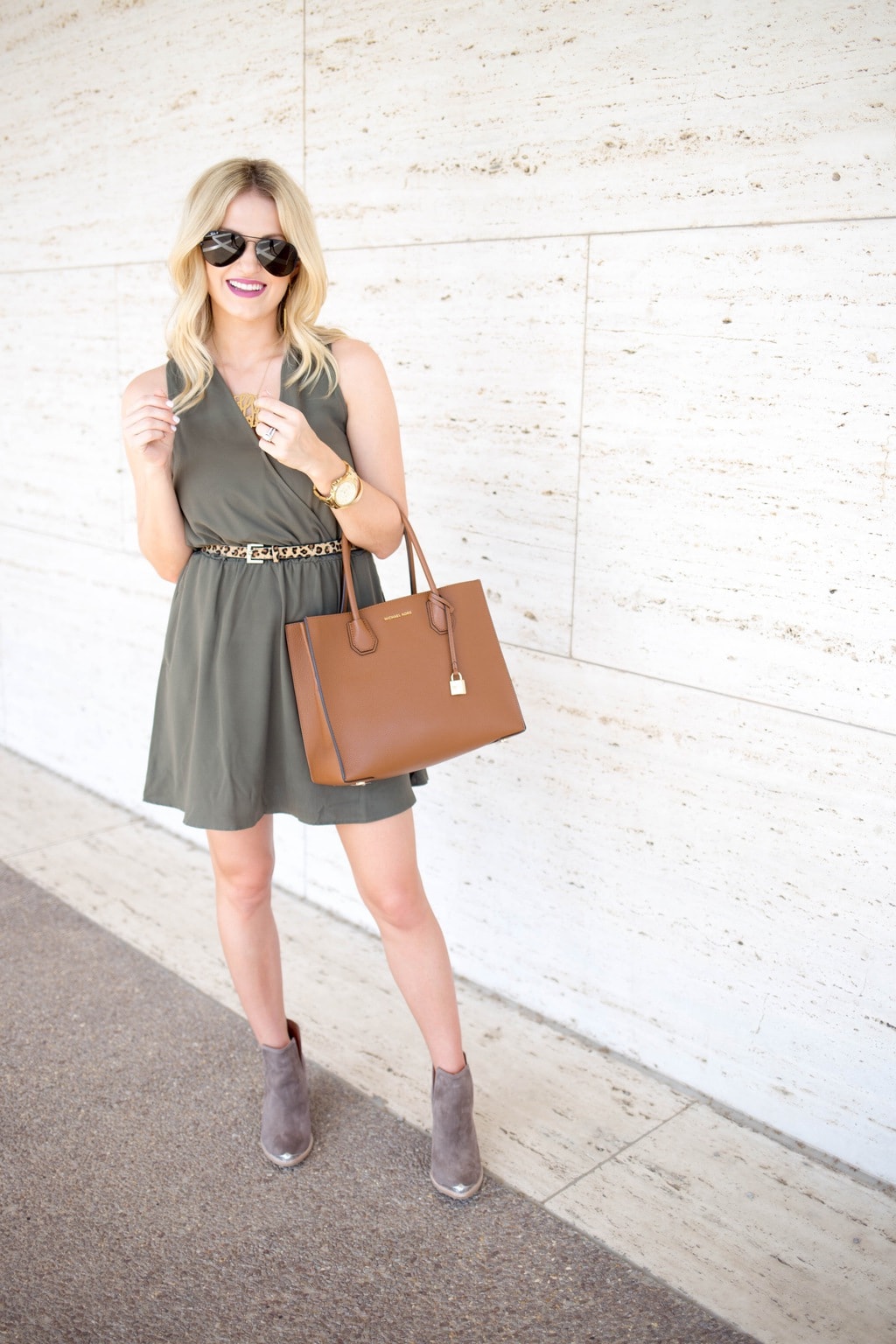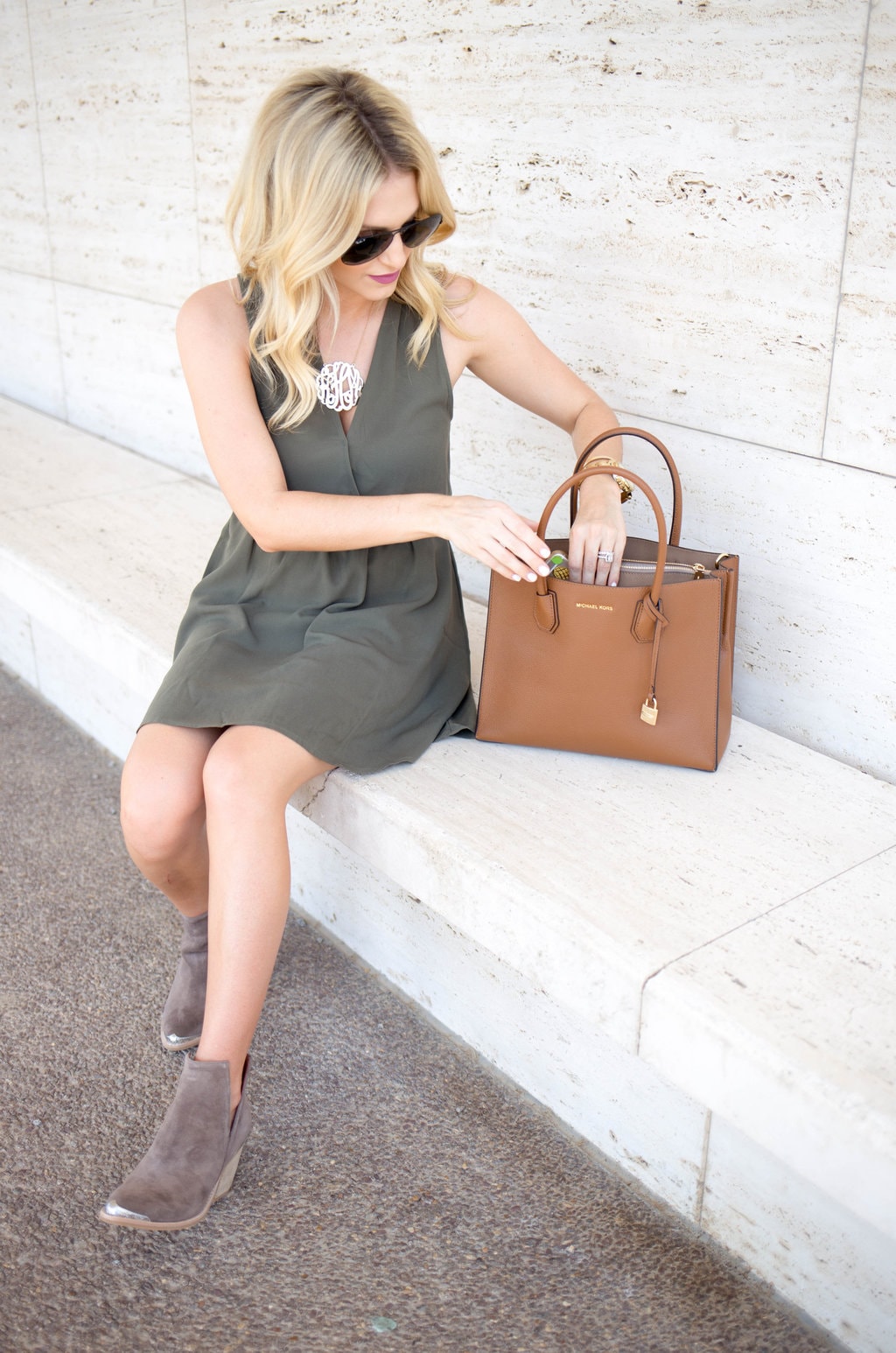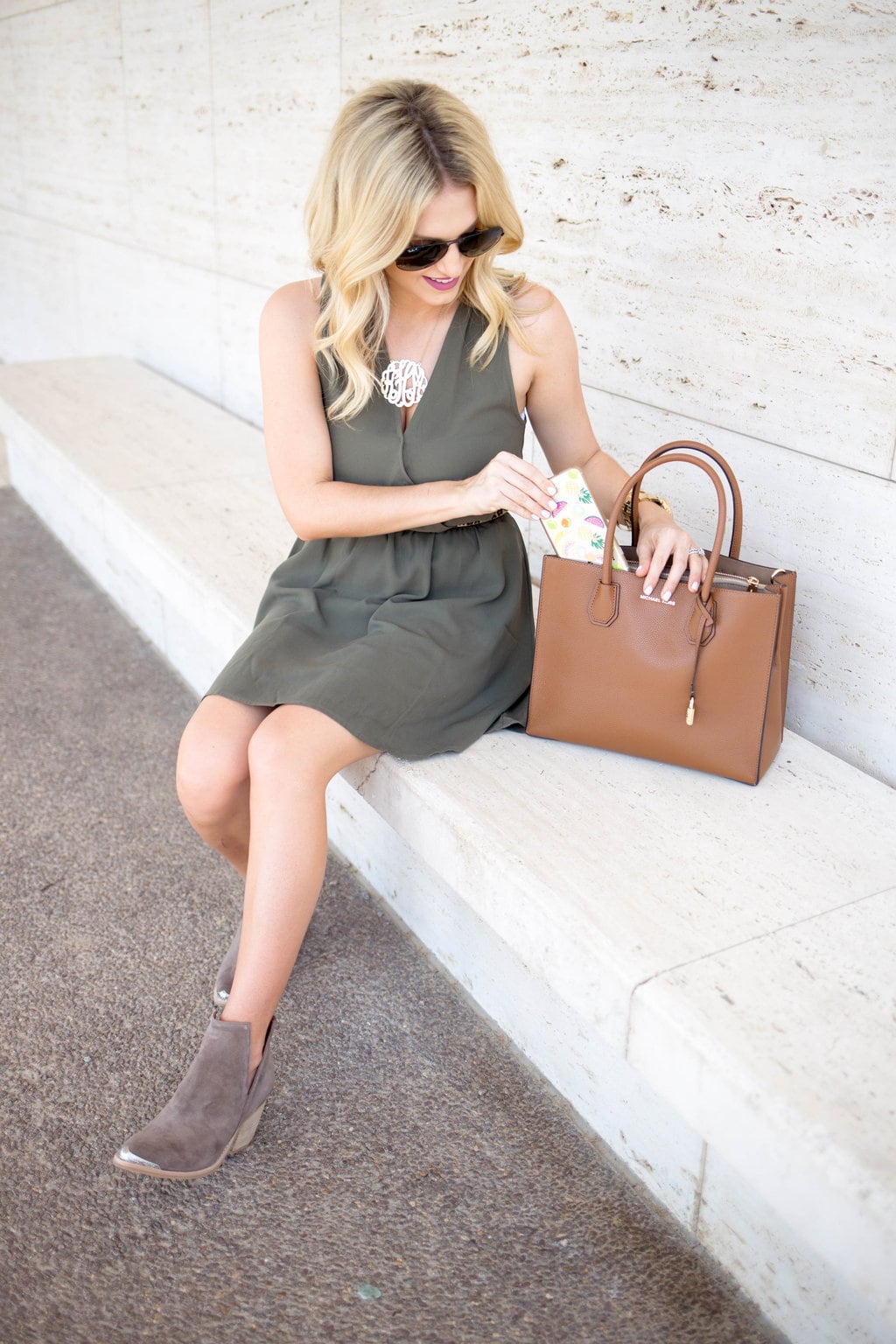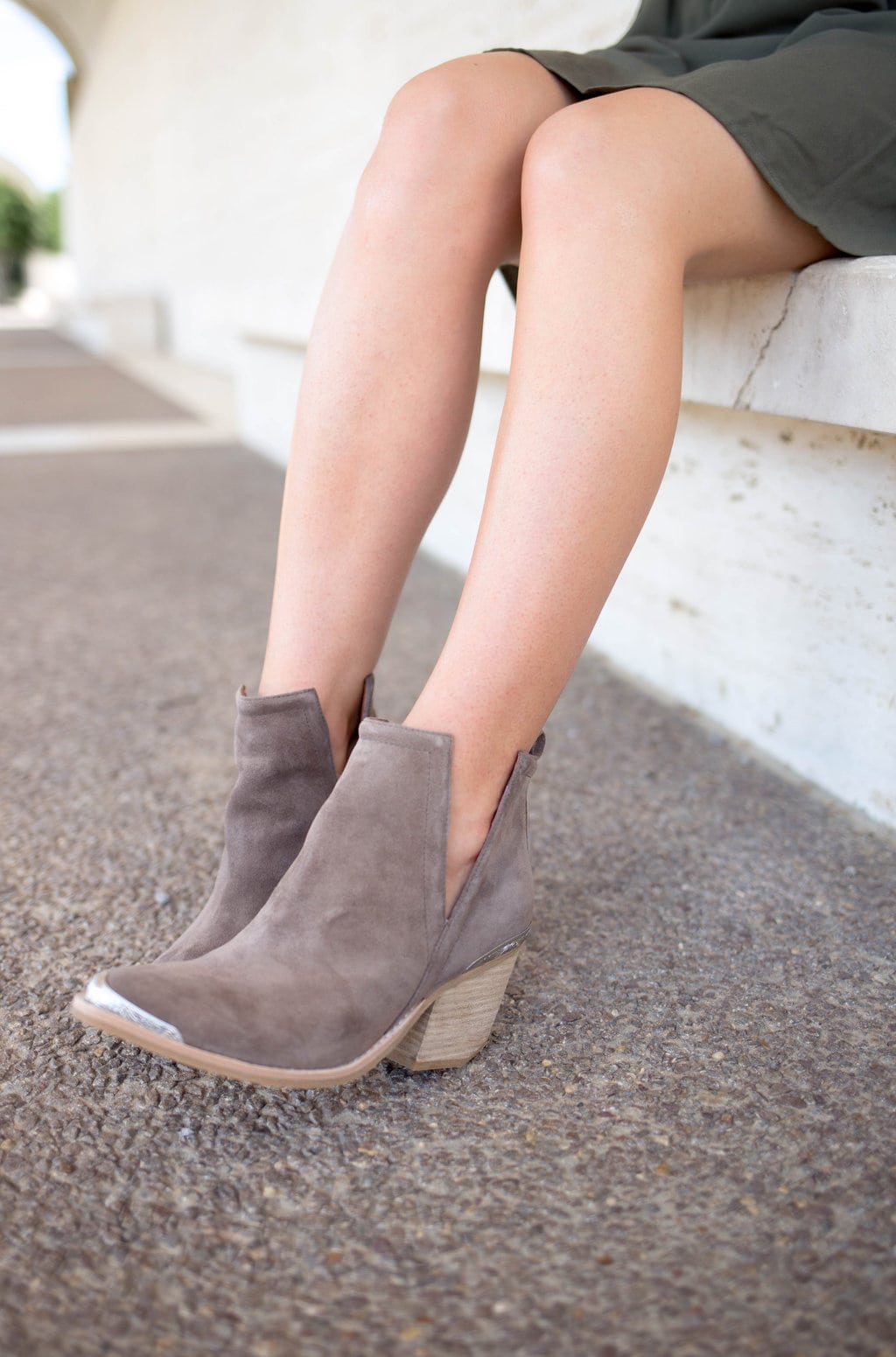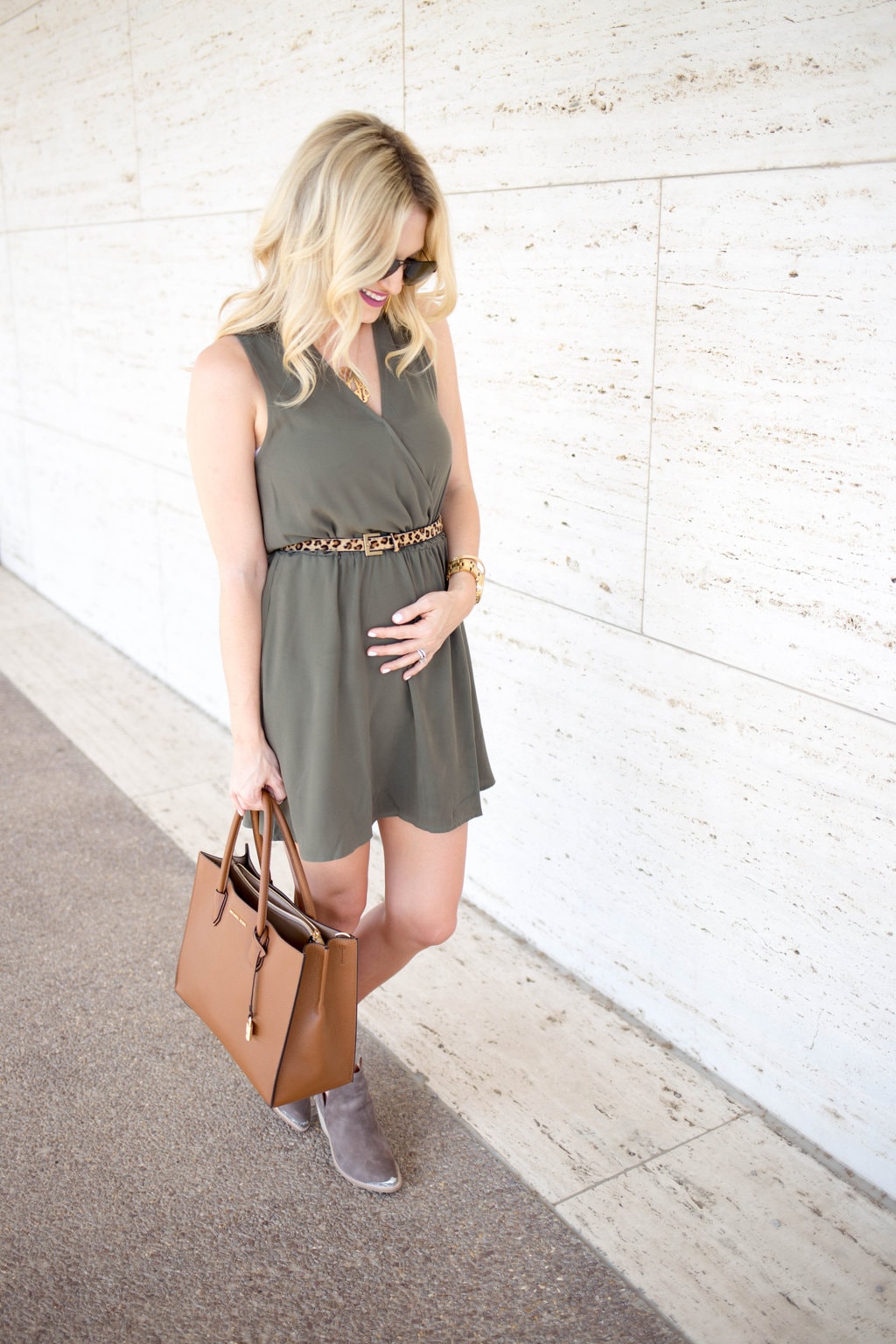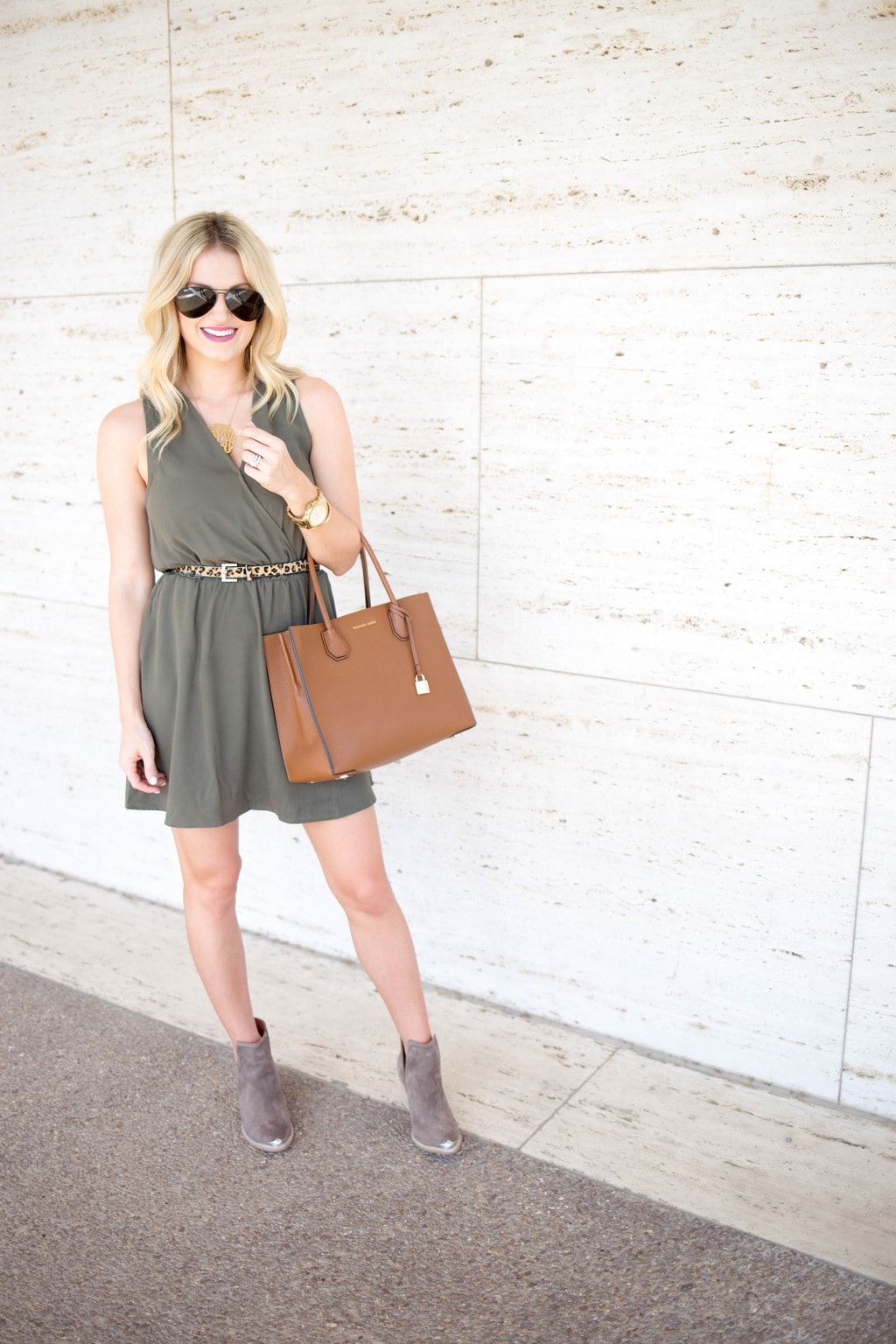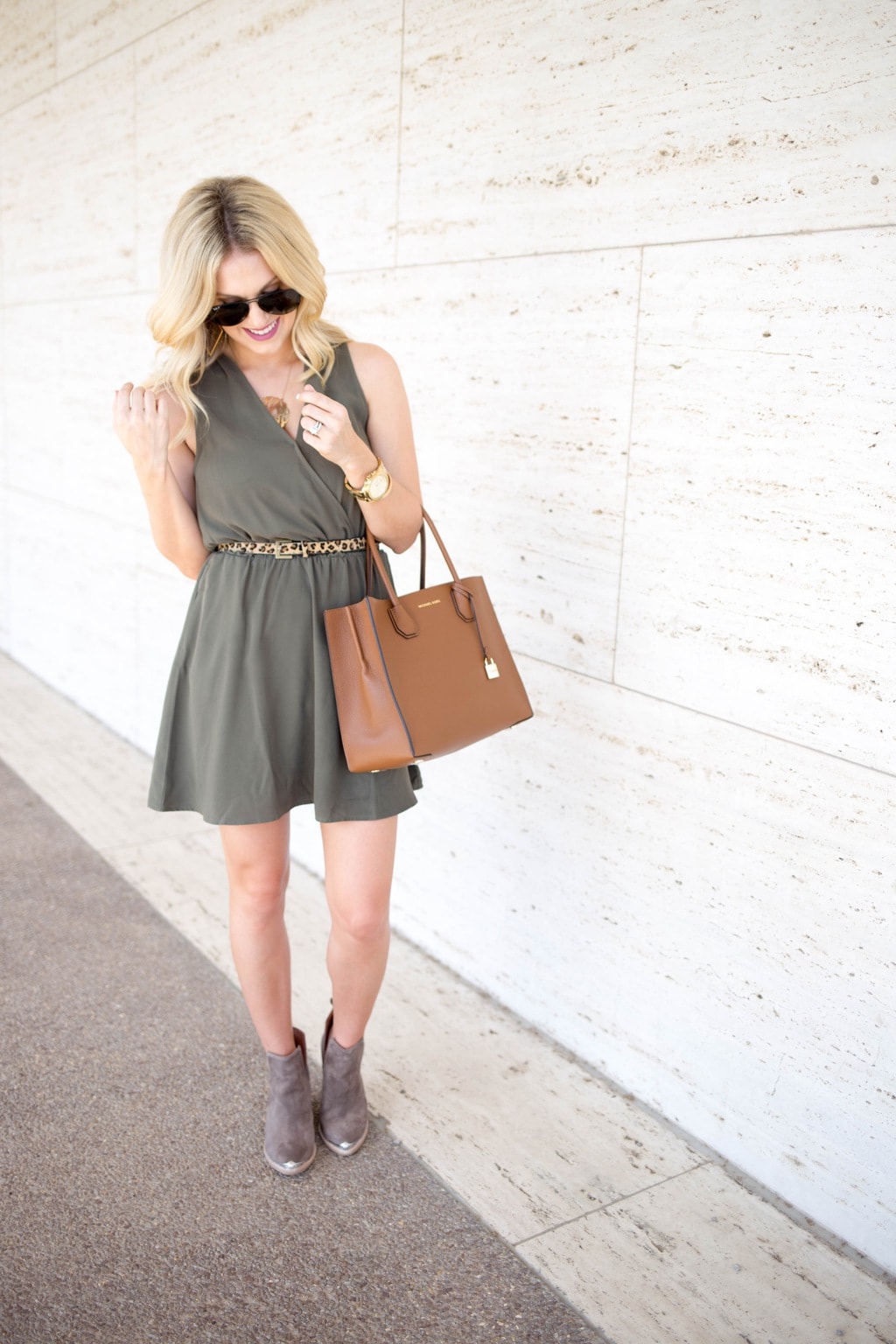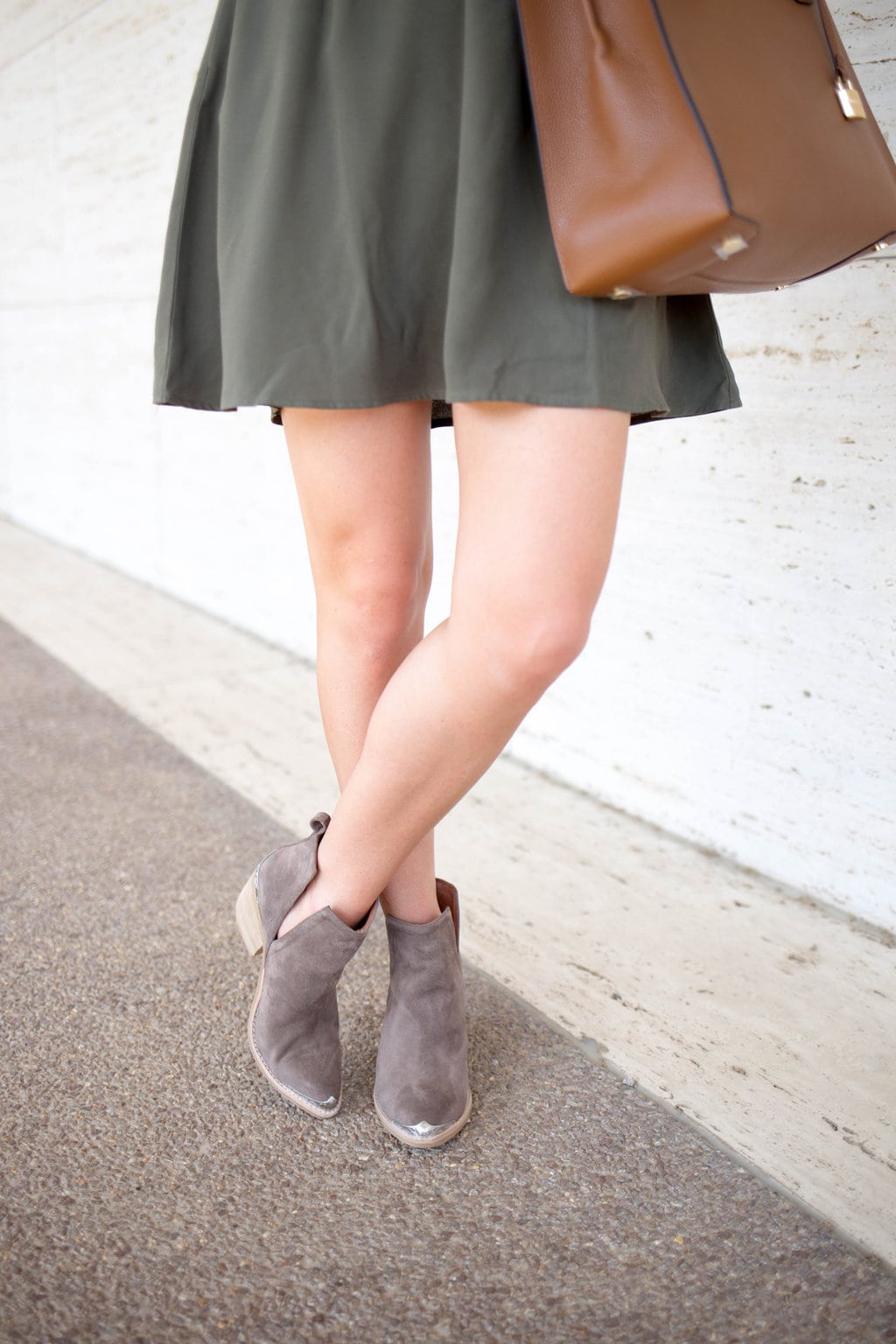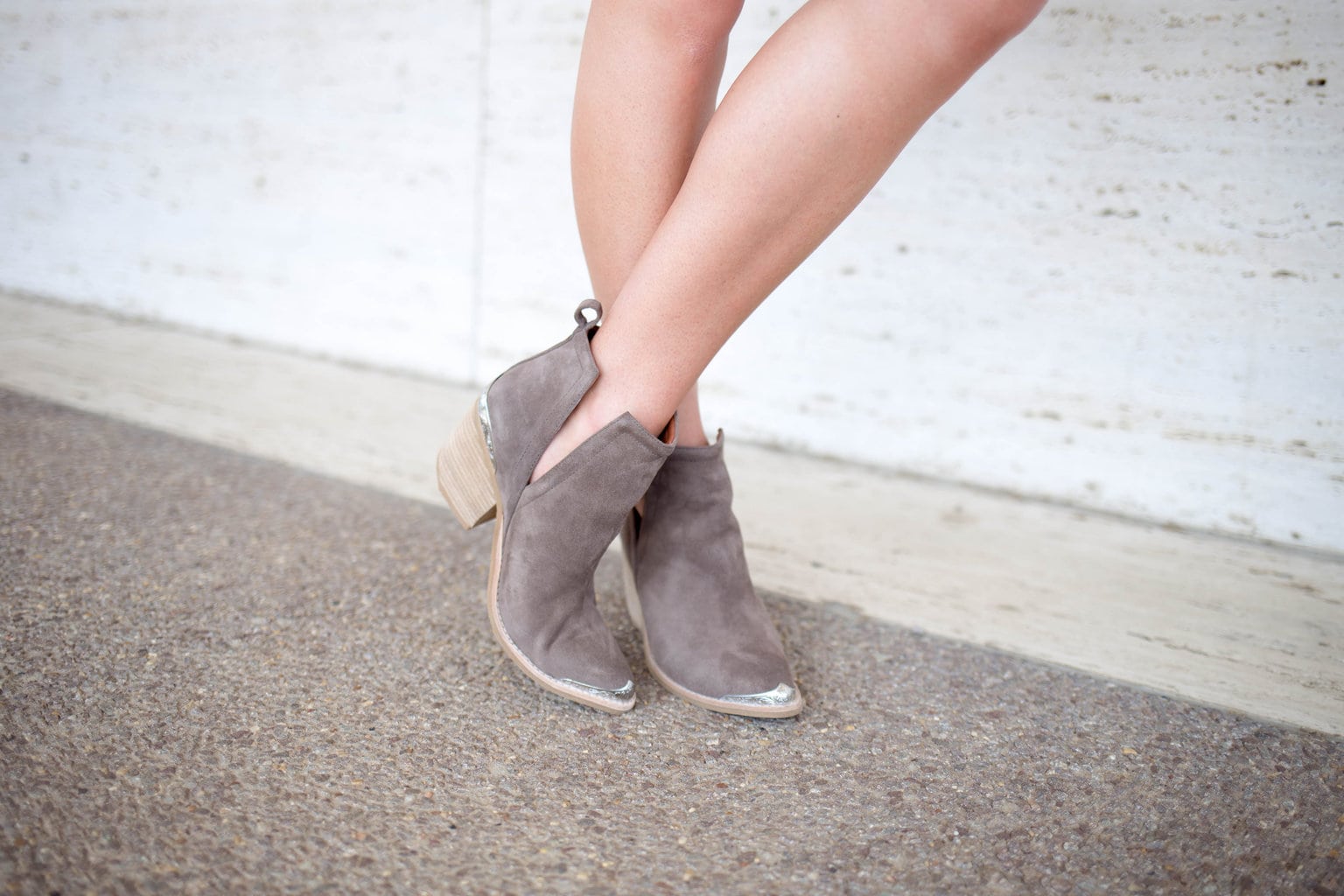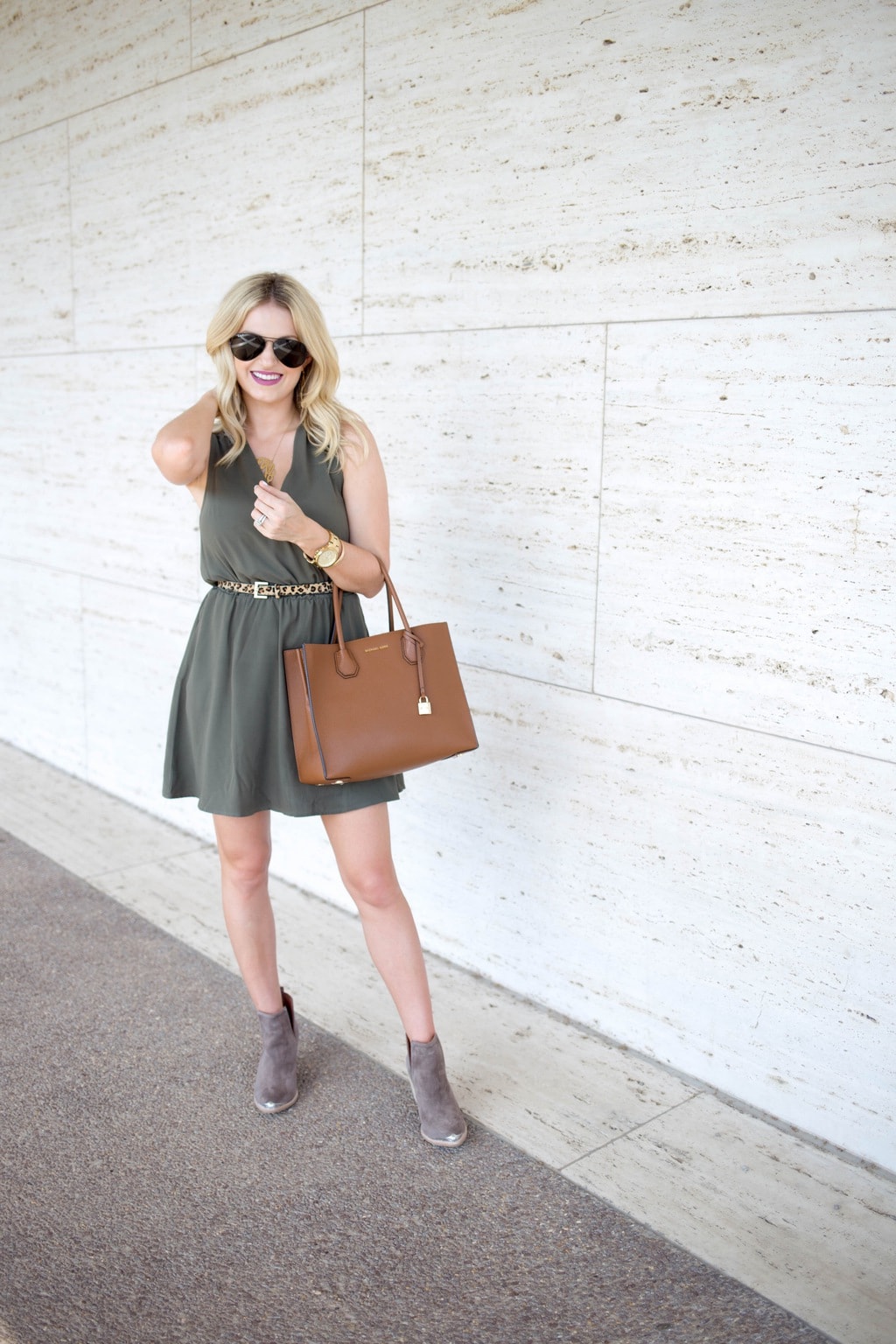 Booties: Nordstrom | Dress: Nordstrom | Bag: Nordstrom |  Watch: Nordstrom [newer version] | Lipstick: Goddess | Earrings: Nordstrom | Phone Case: Nordstrom
Photography by: Madison Katlin
---
I've got Bath & Body Works "Leaves" burning on my kitchen counter and for all you pumpkin spice lovers, you can officially get your latte as of yesterday! So, I'm thinking that's just enough reason to share my fall boot guide! 😉
Fall is my absolute favorite time of year so I apologize if I get a little eager beaver on you. But I live in Texas and so if it isn't 100 degrees with 90% humidity, I'm celebrating, no matter how early!
Booties are one of the best ways to start transitioning your wardrobe for fall. I'm still wearing dresses as can be seen here in these photos, but I'm putting my hot pinks back on the rack and pulling out olives and taupes. These booties from Nordstrom are seriously so comfortable and have just enough height to give you Elle Woods confidence when Warner asked if she really was at Harvard. #girlpower
Today I thought I'd share the 4 types of boots I recommend perusing for fall from Nordstrom. They have a huge selection with so many sizes, so I thought I'd break it down selecting my favorites and what to wear with them so you aren't overwhelmed. Also, be sure to go by the Nordstrom size guide! Typically, stores just say what size the model is wearing and that's just no help at all to me! I don't know this model. I don't know how tall she is. And I don't even know how similar our body types are. But Nordstrom will say if you need to go up or down a full or half size when ordering and I've always found it to be incredibly accurate! Also, try to stock up as soon as you can. By end of September selection and sizes have really been picked over and I know how difficult it can be to find the perfect pair if you are fighting for your size.
---
Transitional Booties
I think I just made these boots up in my head, but I ordered a few pairs and these are just what I would call them! You can wear them year-round as you transition in and out of seasons, but they don't scream one season in particular. That is how I would classify the boots I'm wearing today! Casual enough to wear in the summer in the right location, but easy enough to wear tailgating in in the fall. I of course, wouldn't wear them in the winter snow, so that's why I call them transitional. These boots can easily be classified as boots with cut outs or anything that makes them more breathable.

---
Booties
These are my favorite types of boots to add to my wardrobe just because there are so many variations! You can have a fun print, you can go with suede, you can have them with a flat heel or something to give you lots of height. These are also the most affordable of the batch and you can find a lot that are wonderful under $100. If you have never invested in booties before, I recommend going with a traditional taupe or light tan color so they will pair well with anything from denim to faux leather leggings. These are also the shoes I pair skirts and tights with! 

---
Over-The-Knee Boots
If booties are my favorite boots to purchase, over-the-knee boots are my favorite boots to wear! I get e-mails from readers all the time asking if you can wear OTK boots or not if you are petite! You totally can! Look to Kourtney Kardashian, who wears over-the-knee boots in the most amazing ways. It's all about what you pair the look with. I would stay away from thick layers such as denim because that can make you look a little shorter. I prefer to wear OTK boots with dresses or faux leather leggings! I have the Stuart Weitzman Lowlands and they are my favorite but the great thing about this classic pair is that there are a ton of dupes!

---
Riding Boots
Riding boots are the most classic type of boots to invest in and are probably the boots you have been adding to your wardrobe for the longest! I have had the Sam Edelman Penny Boots for years! I think I purchased them when I was a freshman in college and they look like they just came out of the box each season. I can't ever bring myself to replace them because there is no need. However, I do want to get that perfect shade of brown this season as I don't have that. The Tory Burch Ashlynn Riding Boots are known for being the perfect classic shade. Here are a few more of my favorites! 

---
I'd love to know what your favorite boots are for the season!

In partnership with Nordstrom. All opinions are my own!