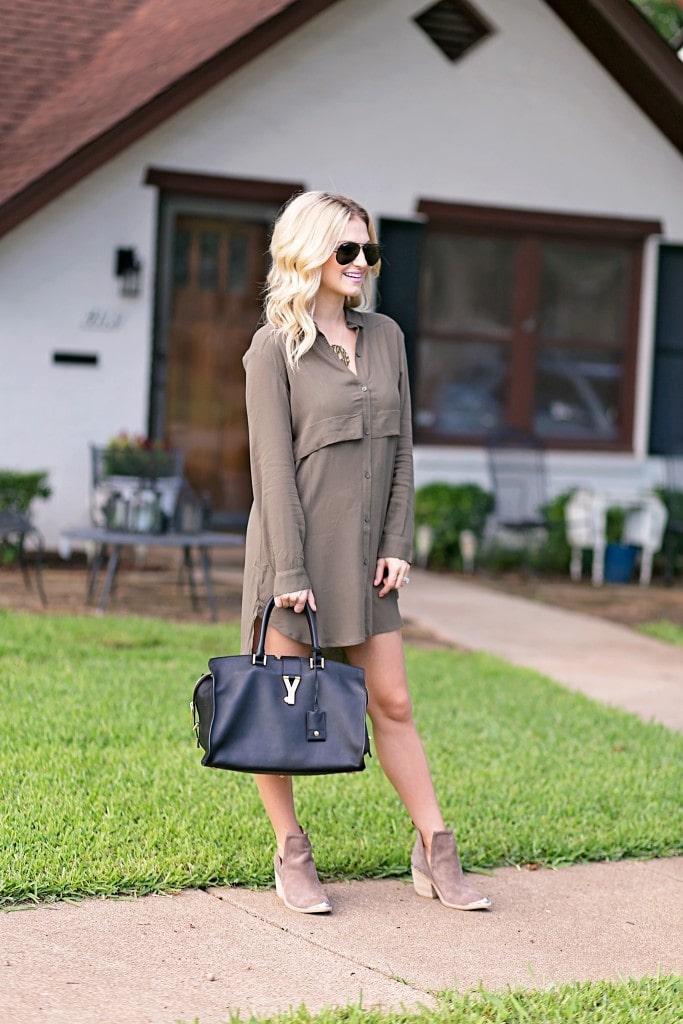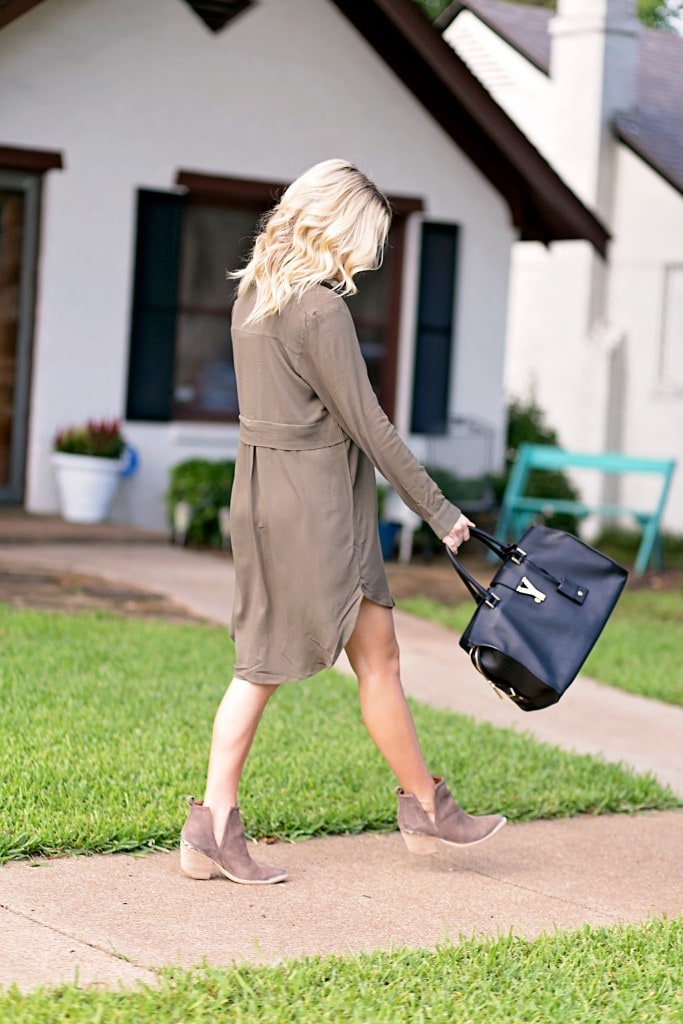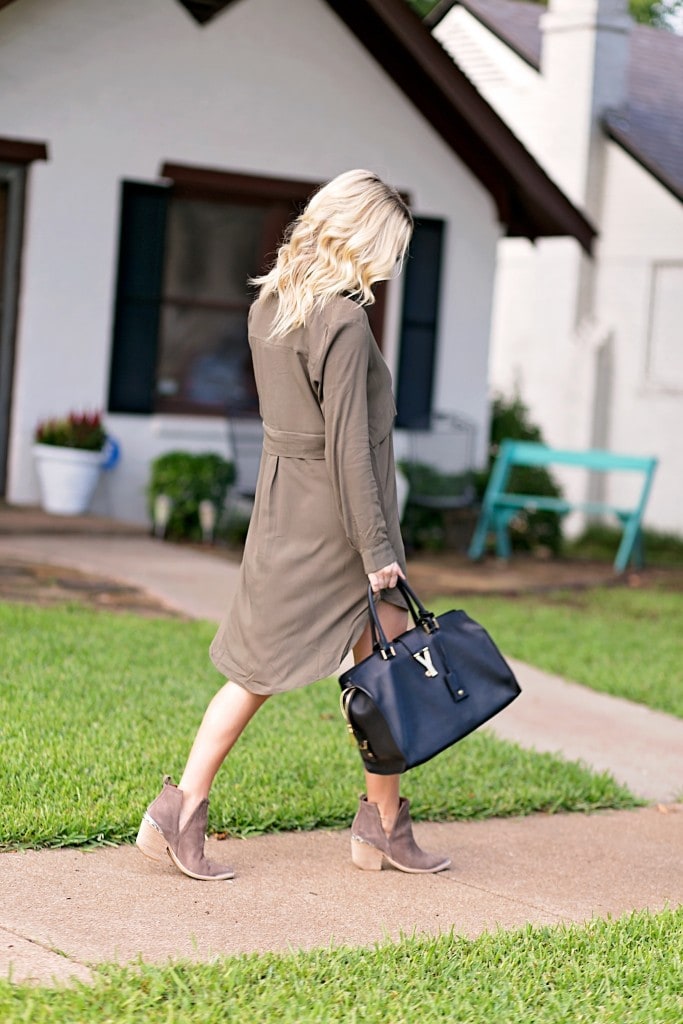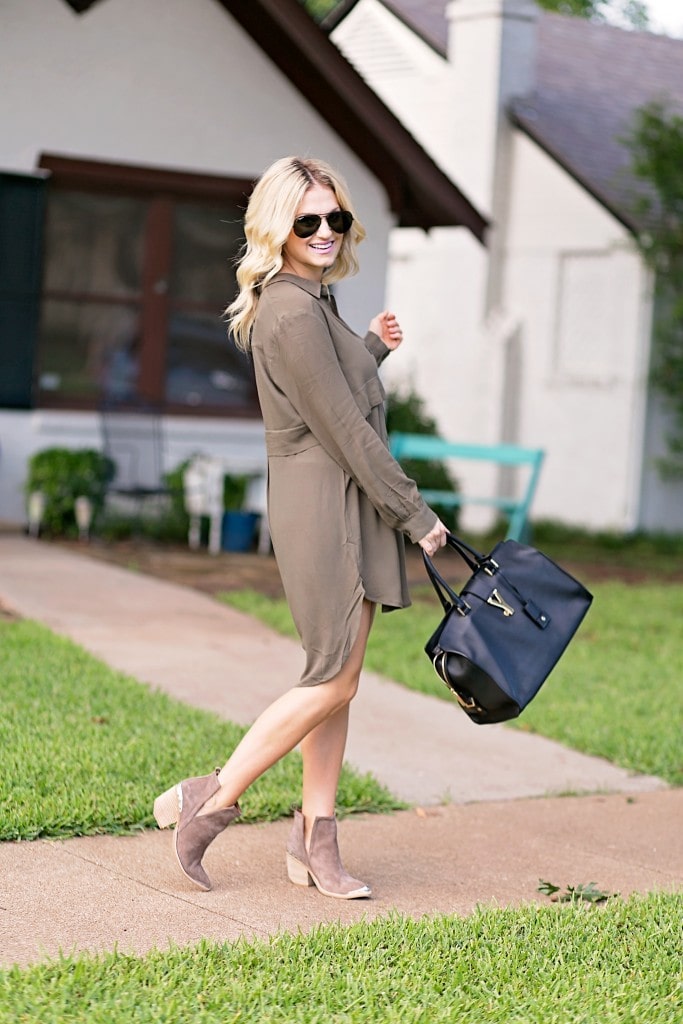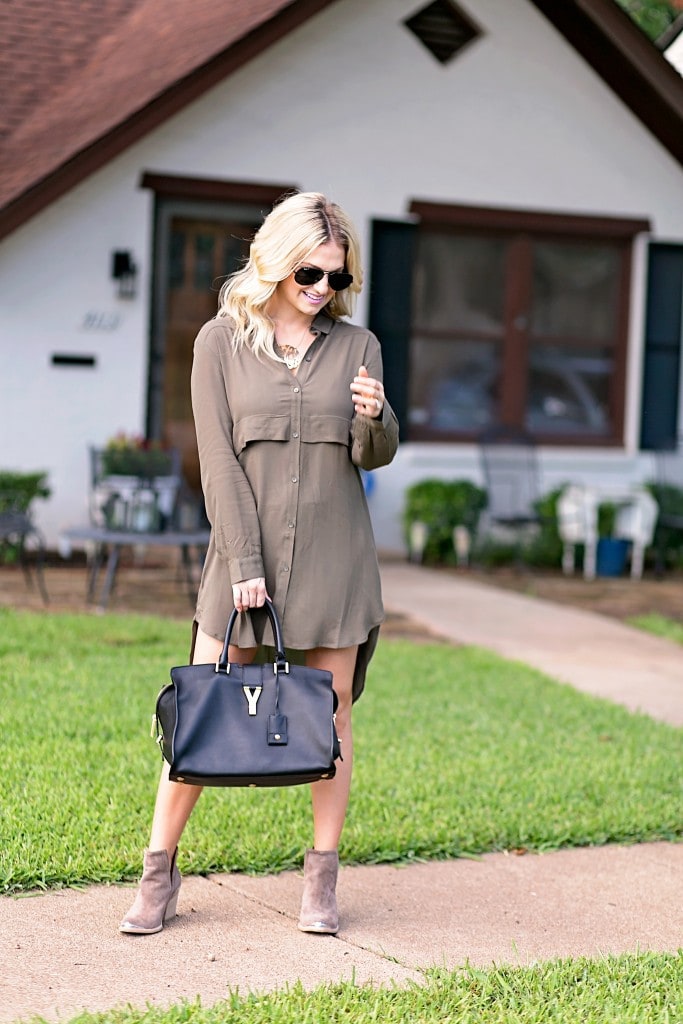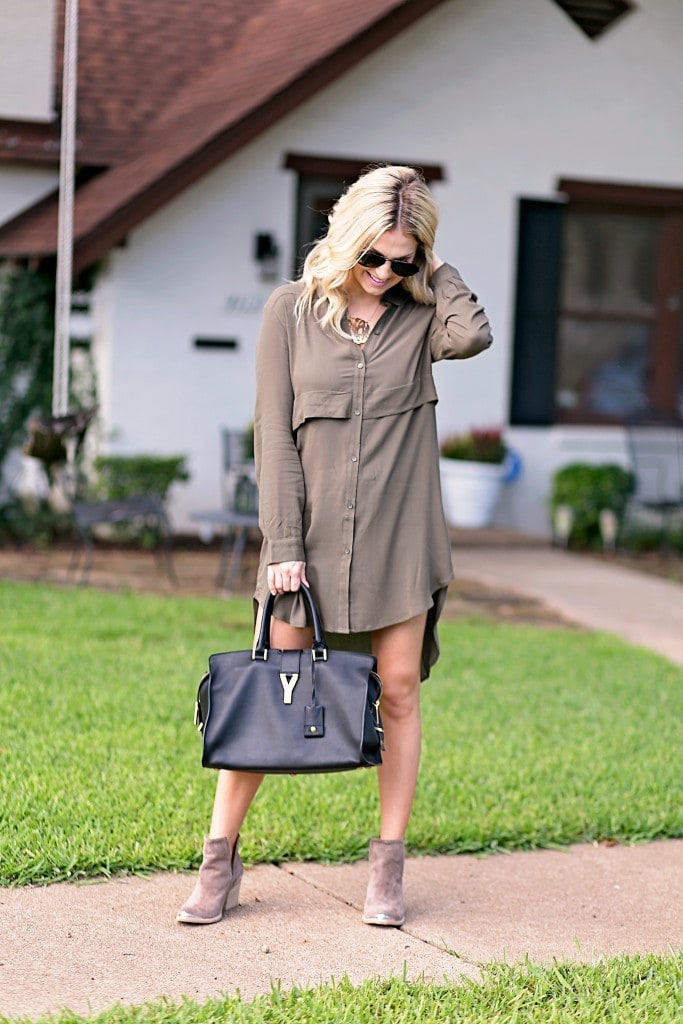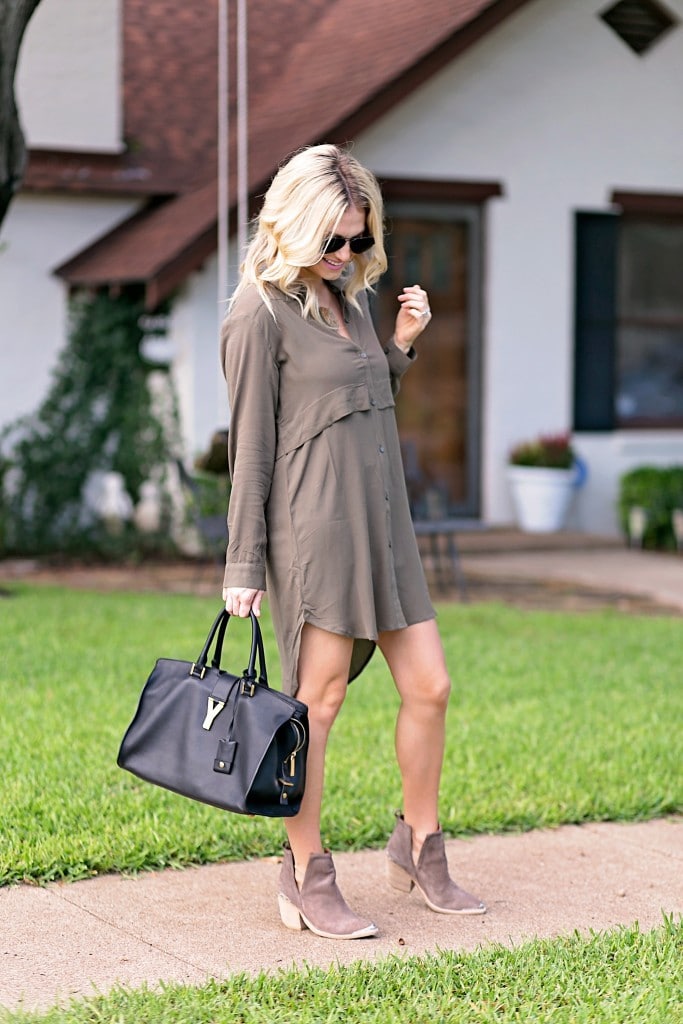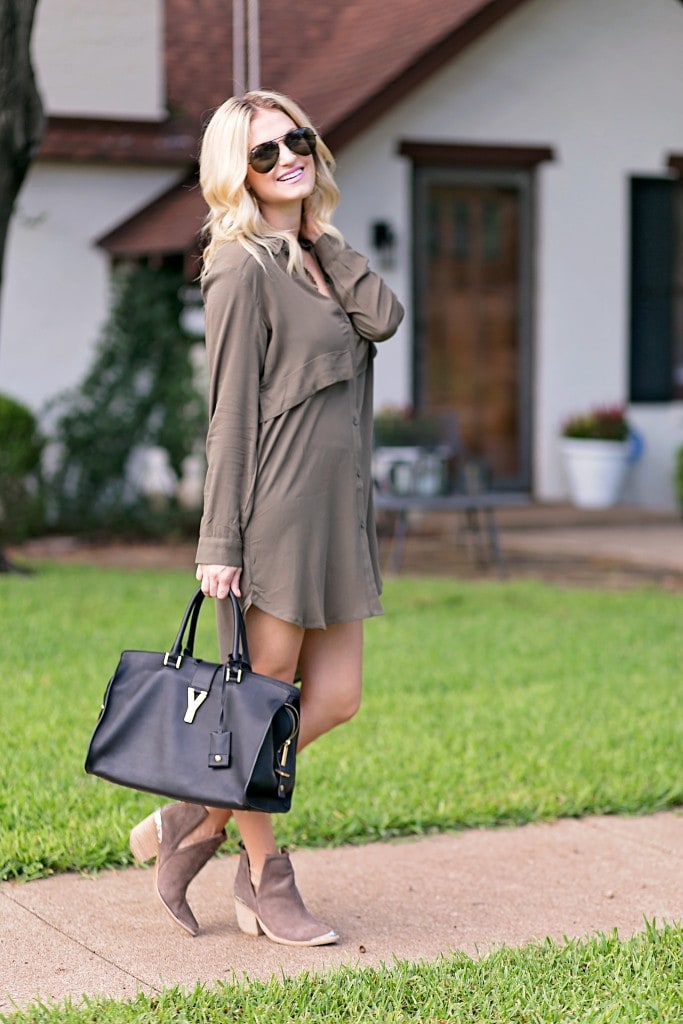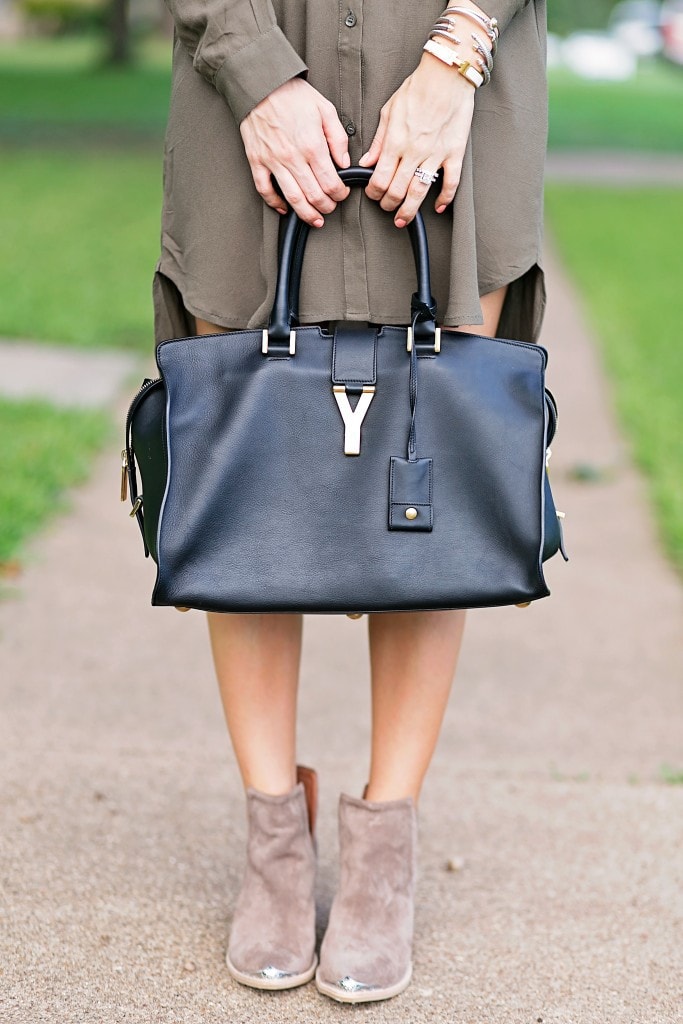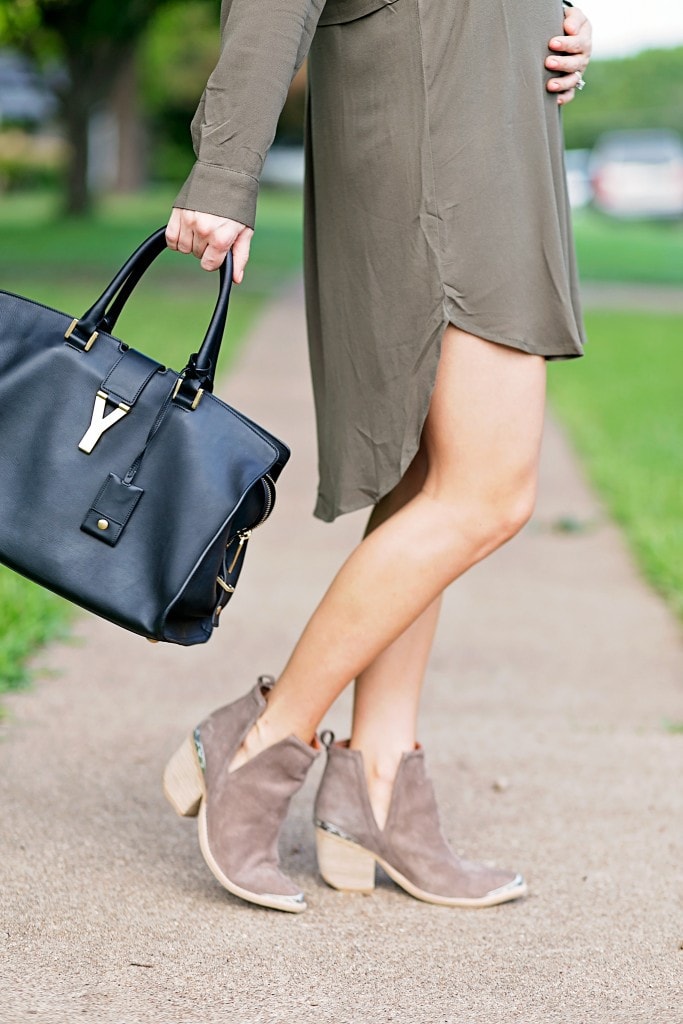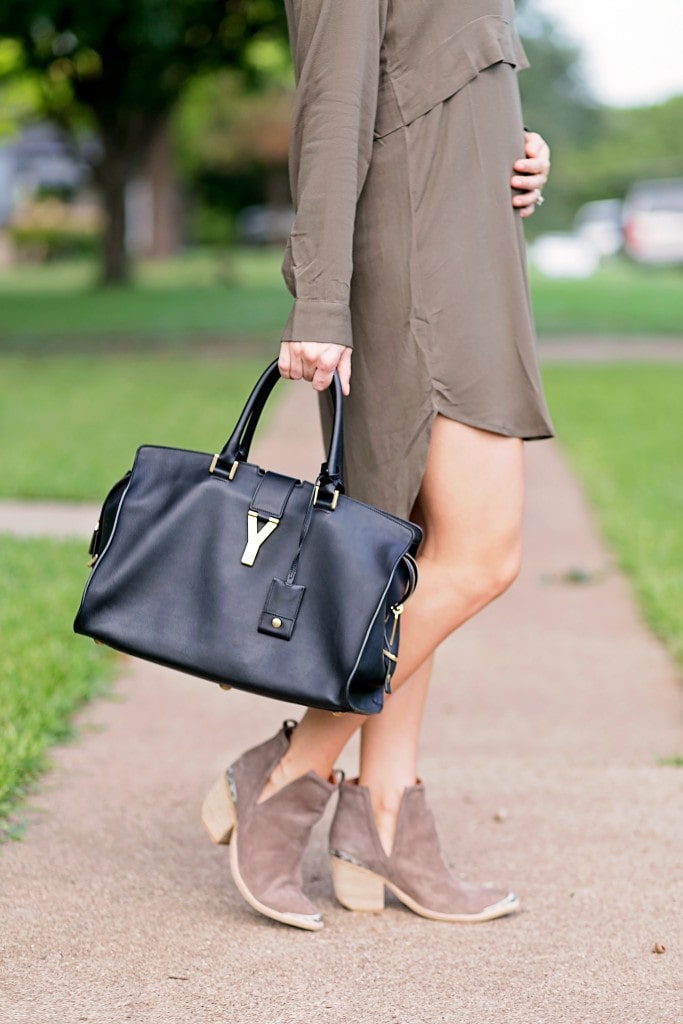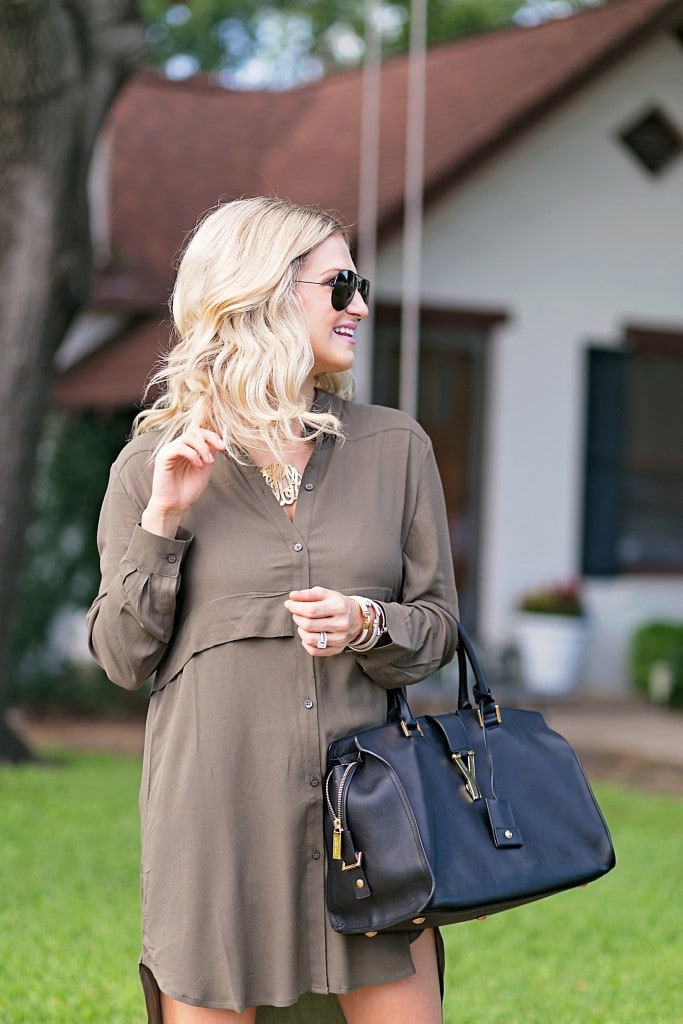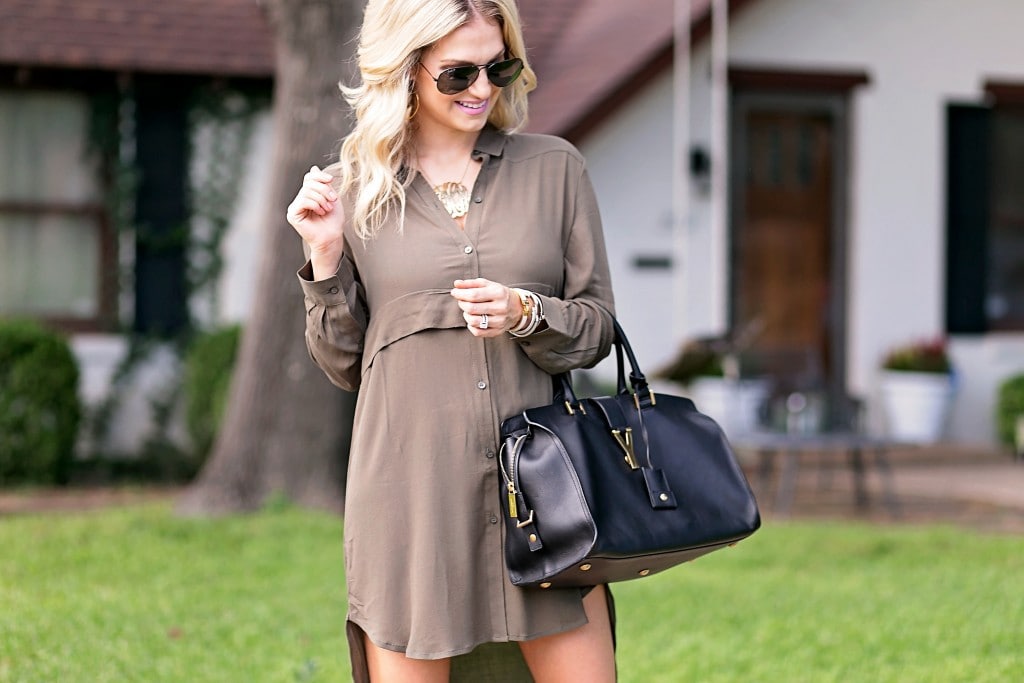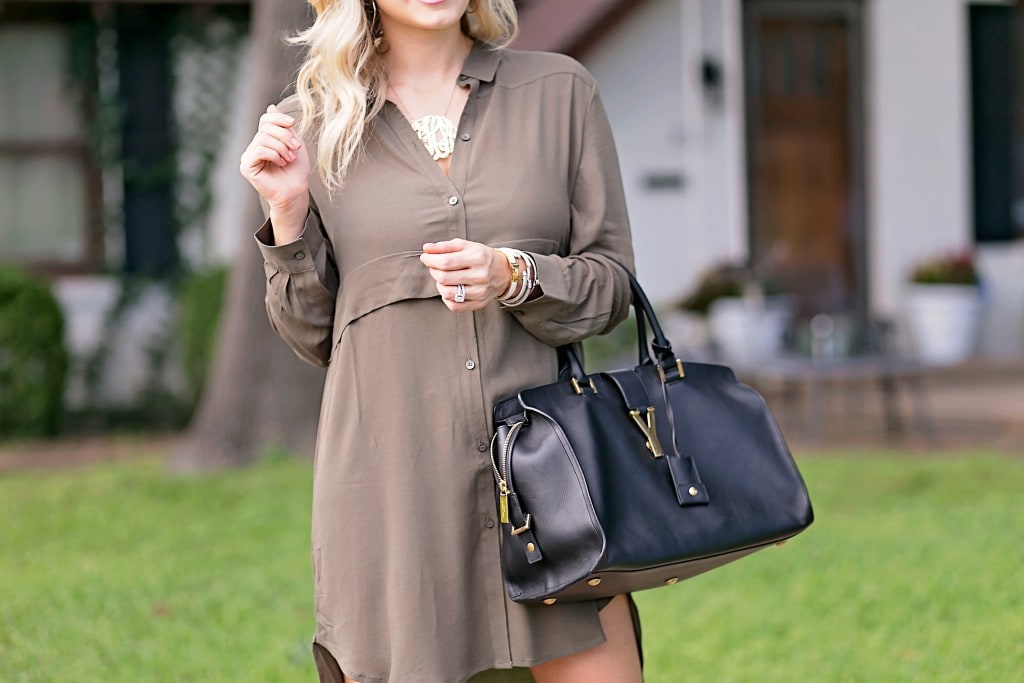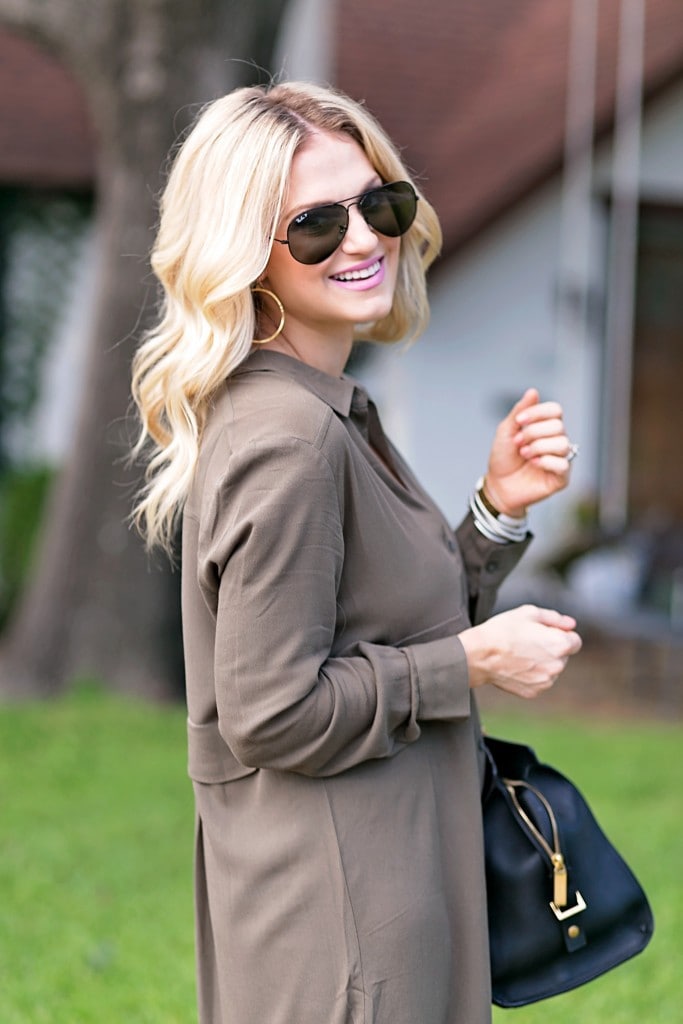 Tunic: Nordstrom | Shoes: Nordstrom | Bag: YSL, Dupe, Dupe | Earrings: Gorjana | Lipstick: Snob 
Photography by: Angie Garcia
---
Two Sundays ago, Paul and I ran to Nordstrom after church because I needed some dresses that I could wear now and in the fall with my bump! Things are starting to fit a little differently [thank you hair tie trick with jeans 😉 ] and so getting dressed has been interesting to say the least. haha. When you use the hair tie trick you can't really wear a fitted top just because then it looks like you have an outie belly button where your jeans button. It's hilarious. I even caved and bought one nice pair of maternity jeans that were from one of my favorite designers thinking I could wear a fitted top with it and y'all, why are those jeans so huge?! I even went down a size and it's as if they think I'm going to gain 50 pounds in my ankles. I've never seen anything like it! haha. $250 down the drain. So I ran into Nordstrom on the lookout for dresses that could easily transition and this longer tunic fit the bill perfectly!
I'm wearing a size S and it works as a dress now with my favorite Jeffrey Campbell booties! One issue that we always run into in Texas is, "Do you dress for the weather or the season?" My mom always told me to dress for the season but keep the weather in mind. This olive color is perfect for autumn, but I'm not dying of a heat stroke by 2 p.m. 😉
When cooler temperatures arise just add these faux leather leggings and these over-the-knee boots and finish it with a faux fur vest. Leith is one of my favorite brands from Nordstrom because of the quality you get at the price. I actually wore this dress from the brand this weekend for brunch and have worn it countless times since I picked it up on my girls' trip to the Woodlands this spring!
Since I've started to notice changes physically from being pregnant, I thought today would be perfect to share a little bumpdate!
---
How far along: 18 weeks this week!
How I'm Feeling: I'm a lot less nauseous! I still do get sick and I can't keep fish down if you paid me a million dollars too, haha! But I am able to function normally and not lay in bed sick for hours. Around week 16 I had some pretty intense back pain, but after a prenatal massage I'm feeling much better.
Cravings: First trimester I wanted fruit, hard tacos and lemon water. I'm still loving lemon water, but I have officially gotten my crazy cravings! So far, I felt as if my cravings were just what I liked to normally eat, but a bit more intensified. There are two things I have been craving that I would never eat. I want a McDonald's Happy Meal with ketchup and pickles only and a Subway sandwich. I got a Happy Meal once because I was a little lower on weight gain from being sick and my doctor told me to splurge on anything that sounded good. And it was absolutely delightful! haha. That's how I know it's a craving, I don't think I've been to a McDonald's since I was 14 and I never thought I'd go eat it again. I'm trying to only cave to a bad craving like this once a trimester just because I definitely don't want to be eating that more than two or three times this pregnancy. I know I could technically get a Subway sandwich toasted, but being a first time mama that worries me, so I'll just resist the craving for now and keep daydreaming about it. 😉 I also am loving sour patch kids and cereal! I joke with Paul that for my first meal post-labor I want a Subway sandwich with turkey and 100 pickles on it! haha.
Aversions: I still don't want sweets. I've had sweets a few times with friends like running to get ice cream and the whole time I eat it I'm like, "Why am I doing this to myself?!" It's so funny because sweets were what I wanted most when I was on Whole 30!
Weight Gain: I've gained 3 pounds. I feel like my body has changed SO much, so it's just incredible what all your body can do with weight not really fluctuating. I'm always like, "I feel like I've gained 15 pounds!" haha. But I really am not worried about the weight gain. I work out and am trying to eat as healthy as my sickness will allow. Whatever I gain, I'm not worried and I know I'll lose it. I also don't want this blog to set unrealistic expectations. So I'm actually looking forward to styling looks for all different stages of my body. The fact that my body can change so much in a year is such a miracle, so I'm not dreading it by any means.
Physical Changes: The bump is growing, but it still hasn't popped out above the belly button. I'm still in the phase of, "Is she pregnant or did she just eat an entire casserole?" I'll be honest, my chest has gotten a lot bigger and if anything I think that makes it a giveaway that I'm pregnant even more than my bump. That's made a lot of my clothes just not work.
Gender: We will be sharing Baby Hellman's gender next week! I wanted to make sure we had told all of our family and friends before we announced on the blog. And with baby brain, I completely forget who we have told vs. who we haven't told.
Purchases: We received our diaper bag as a gift, which I'll share closer to their arrival! Last week we also purchased their glider for the nursery and my parents have asked if they could paint the nursery this week while we are in NYC for fashion week. They are so excited about being grandparents and really wanted to do it, and I can't be around the paint fumes, so we are so grateful! I've also purchased so many sweet baby outfits, but would you expect anything different? I would love to have everything finished before Christmas so we can enjoy the holidays without a to-do list but I know nesting will probably kick in around the holidays and I'll be doing projects like crazy.
Favorite Apps & Books: I've gotten a lot of questions from readers about my favorite apps and books for pregnancy! My favorite app is the Ovia Pregnancy app! I love the videos they have and daily reminders about the baby's growth. They also have a section that you can type in any food and they will tell you if it's okay or not okay to eat. The What to Expect app is really common because of the community boards and discussion groups. I follow along to see how other women that are as far along as me feel, but I don't recommend it. Because it is such a popular app thousands of people are on it, and it definitely turns into all the negativities of social media. Lots of misinformed medical statements about pregnancy, people talking negatively to one another and drama over baby names. They also rarely give baby growth updates on the app, so it just kind of seems like an overly dramatic app.
In terms of books I love Bringing Up Bebé. It's a book on French parenting and it's such an interesting read. I definitely have found that I prefer parenting books as opposed to traditional pregnancy books. What to Expect When You're Expecting ended up being a waste of money for me. With the Ovia app you get the exact same updates [for free!] and if you've ever had a pregnancy friend, been around a baby or taken a nursing class before you kind of already know everything the book is going to tell you. However, if you feel like this is unknown territory, I recommend getting it but from a half-price bookstore! I definitely want to read Happiest Baby on the Block, Babywise and a few other popular books on sleep for babies. I've found that with these books I don't take 100% to heart, but I think the best form of parenting is just being really knowledgable about different methods and once the baby is here, I'll know what to apply and not apply to them for their demeanor.
Thank you so much for reading, I can't wait to share more fall purchases!

In collaboration with Nordstrom. All opinions are my own!