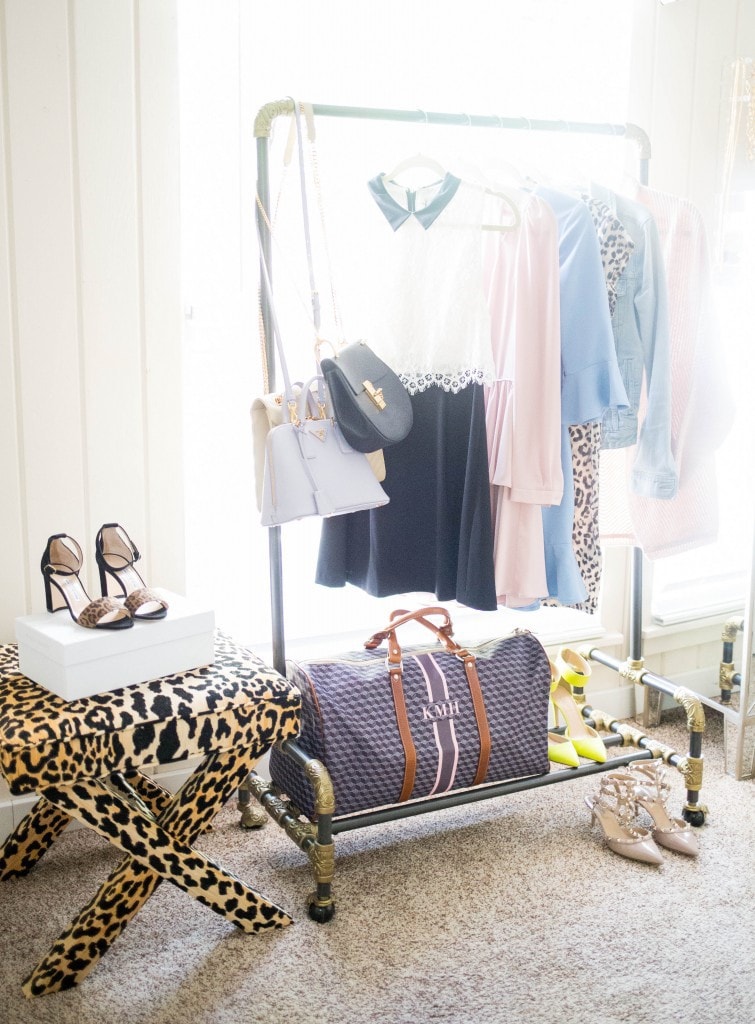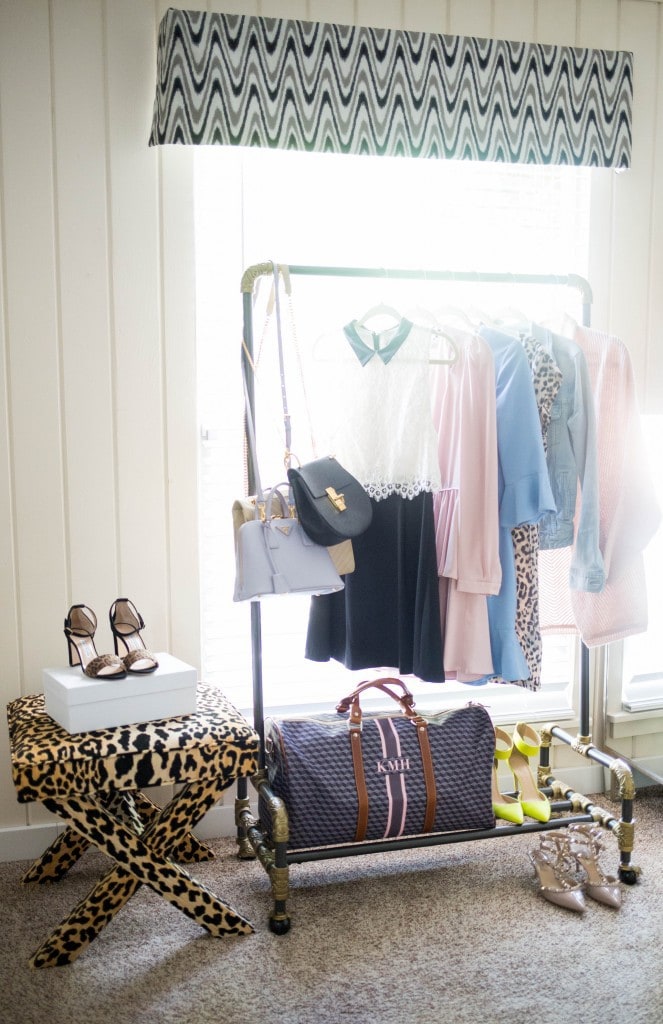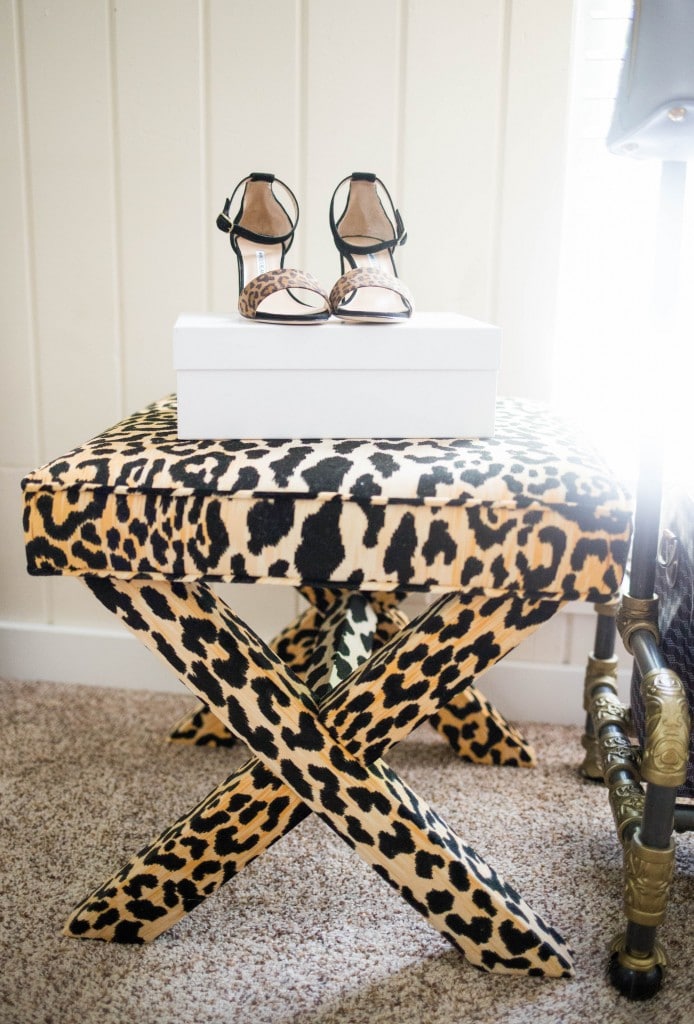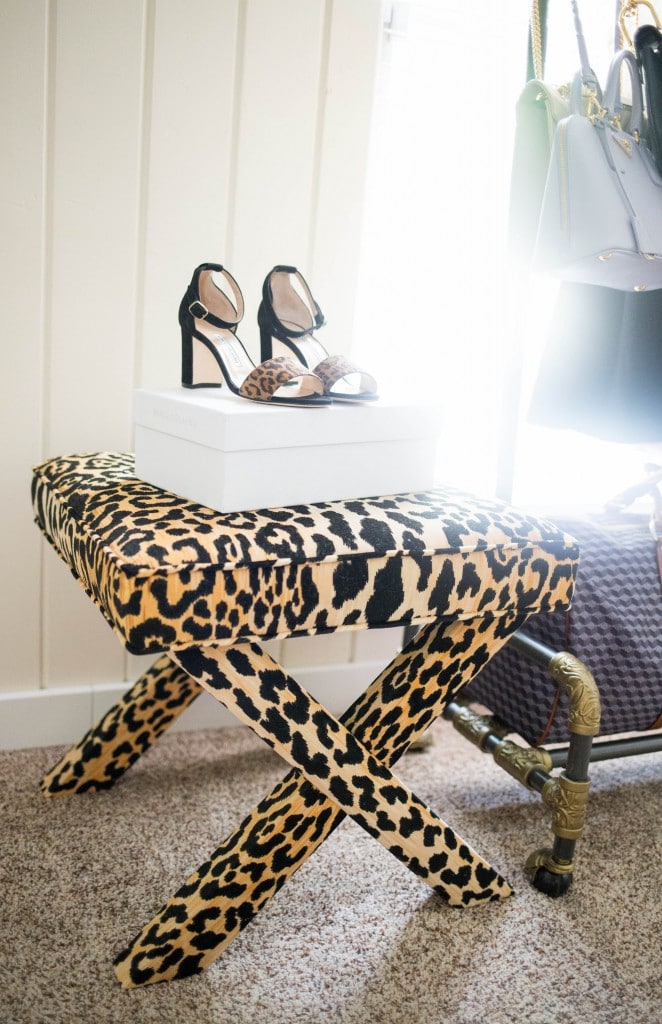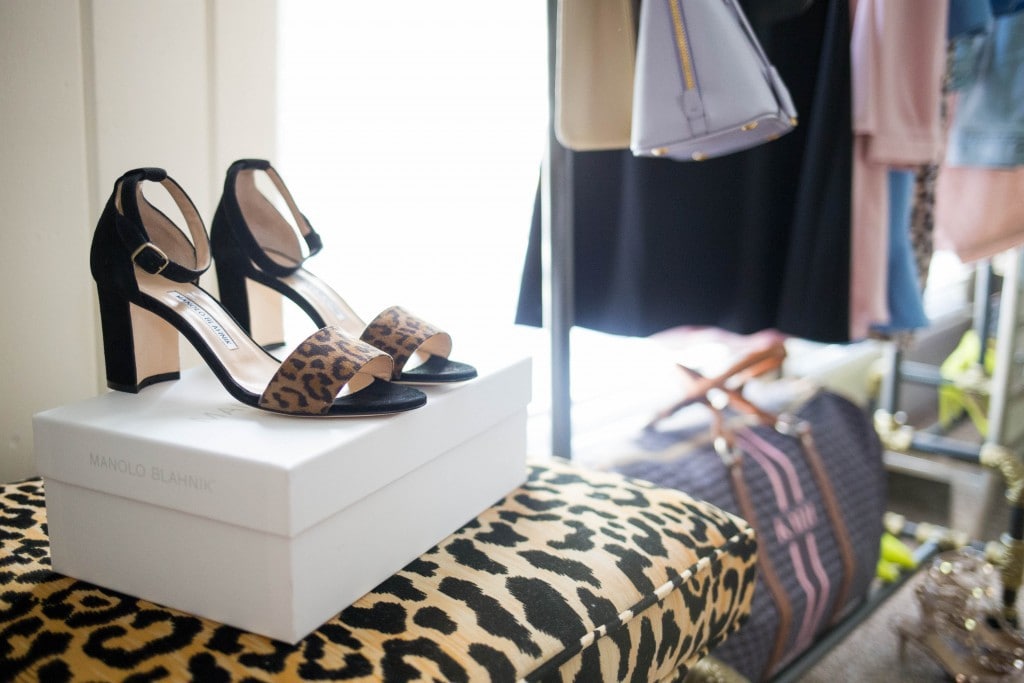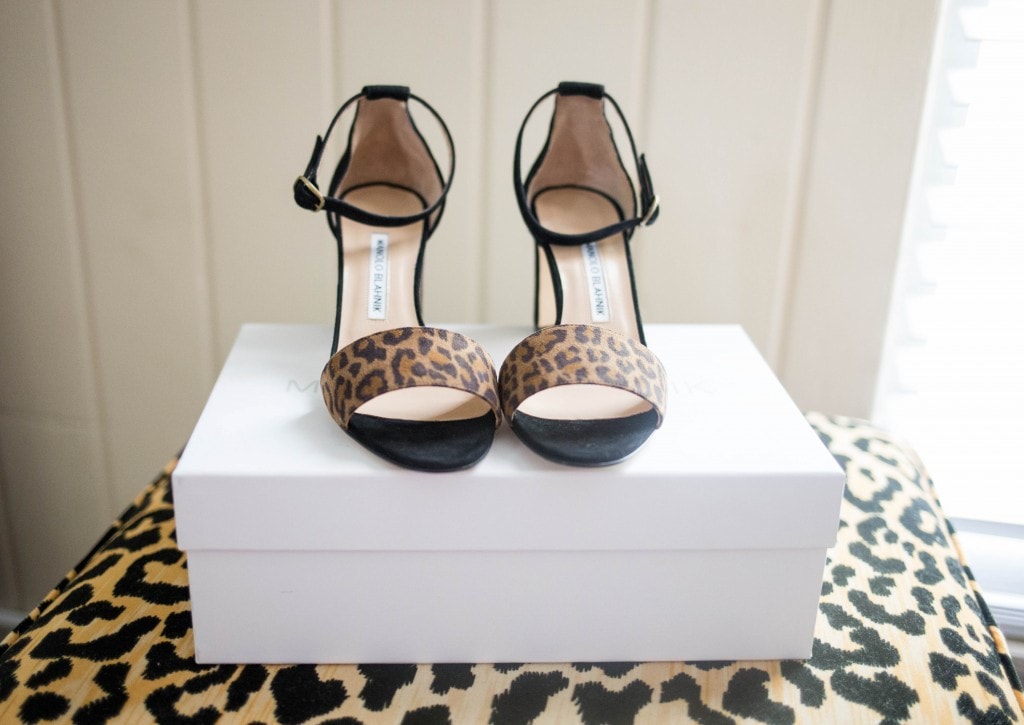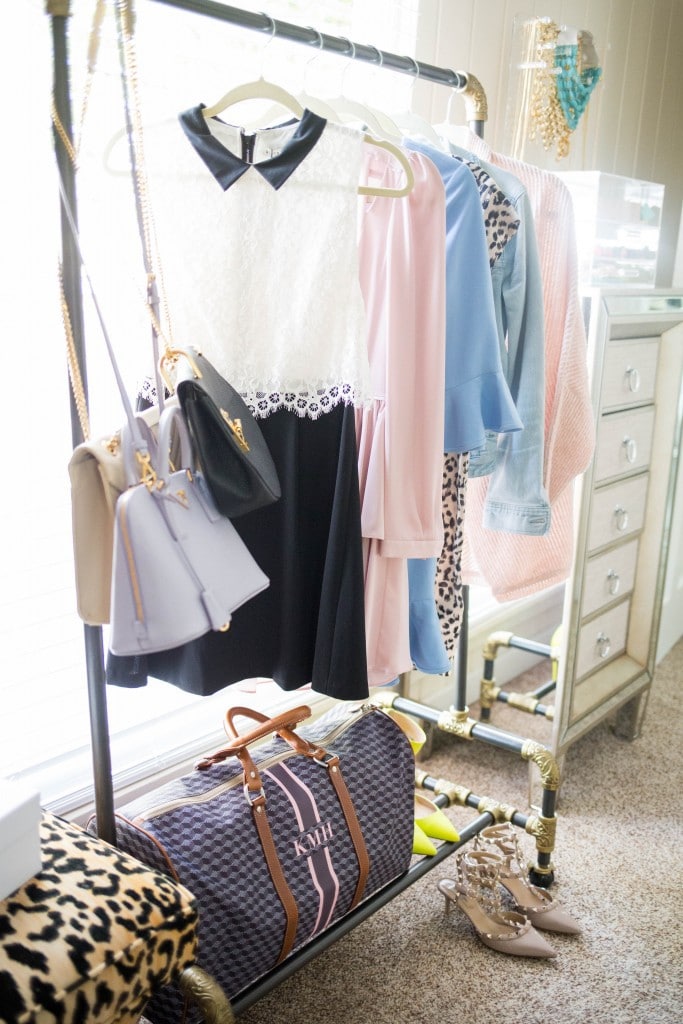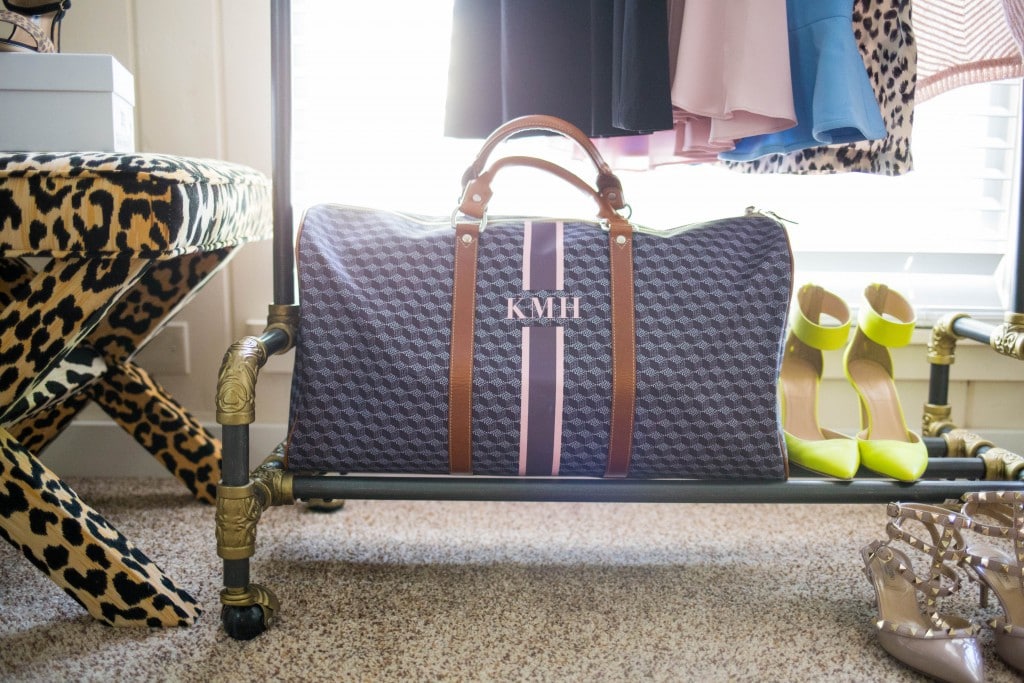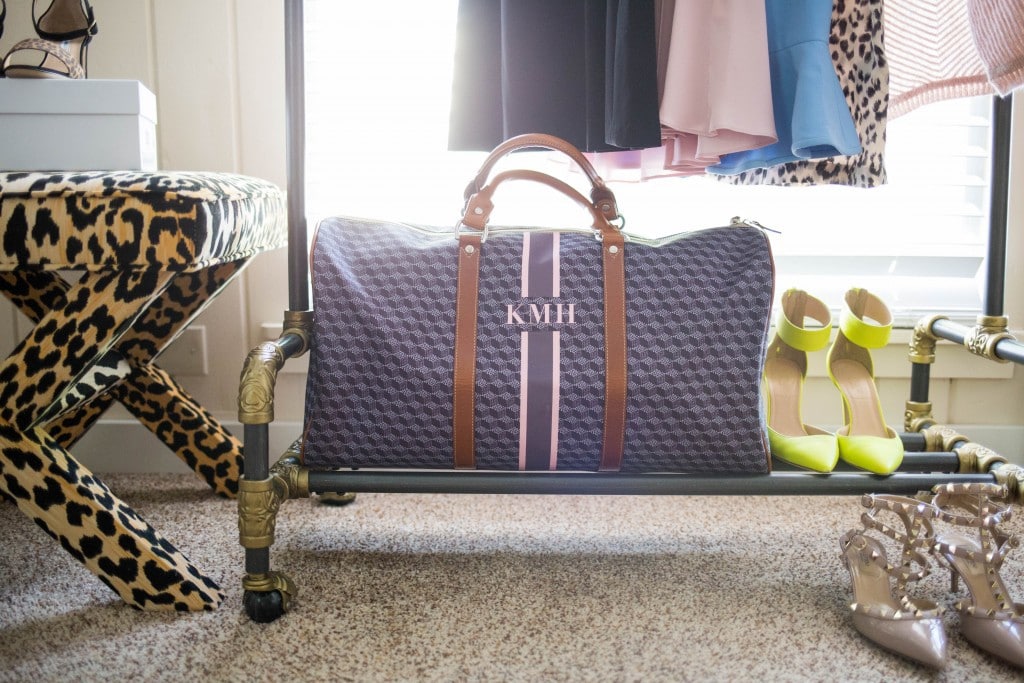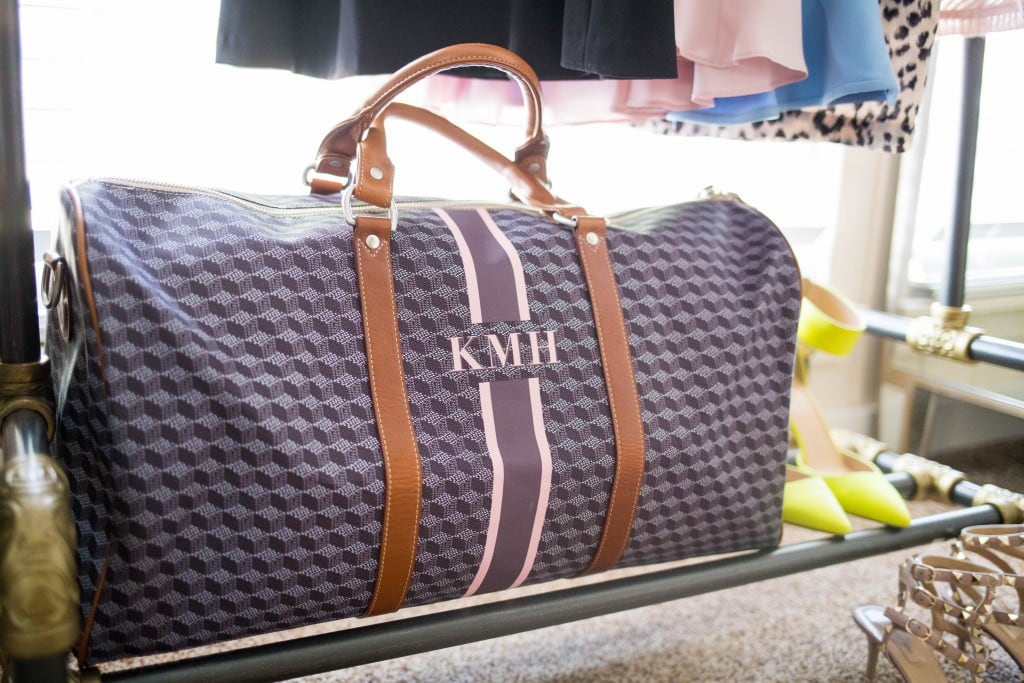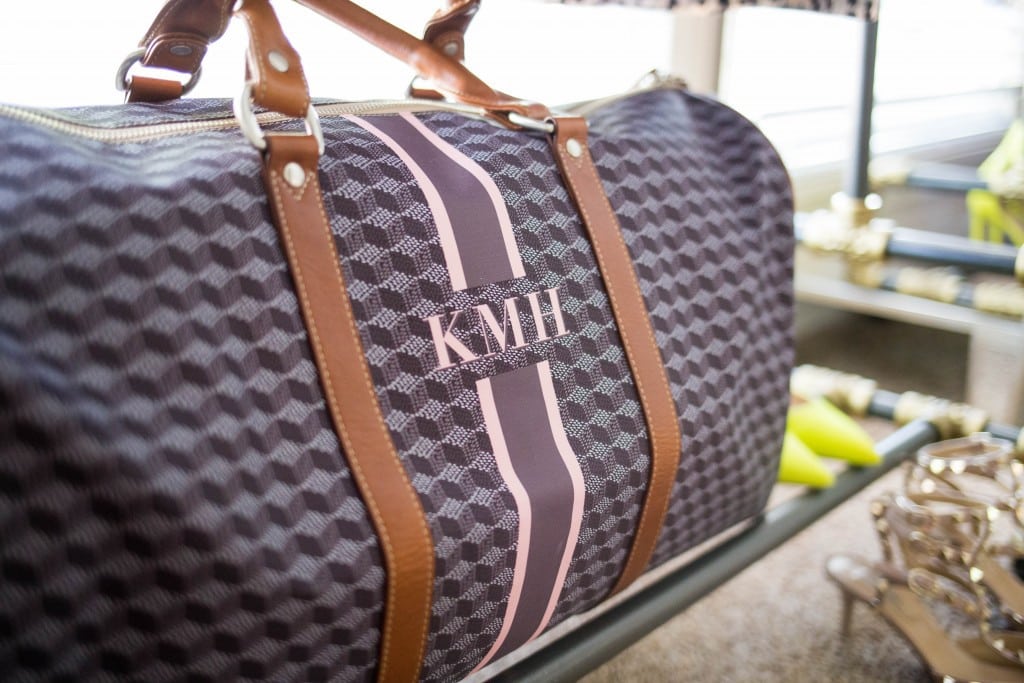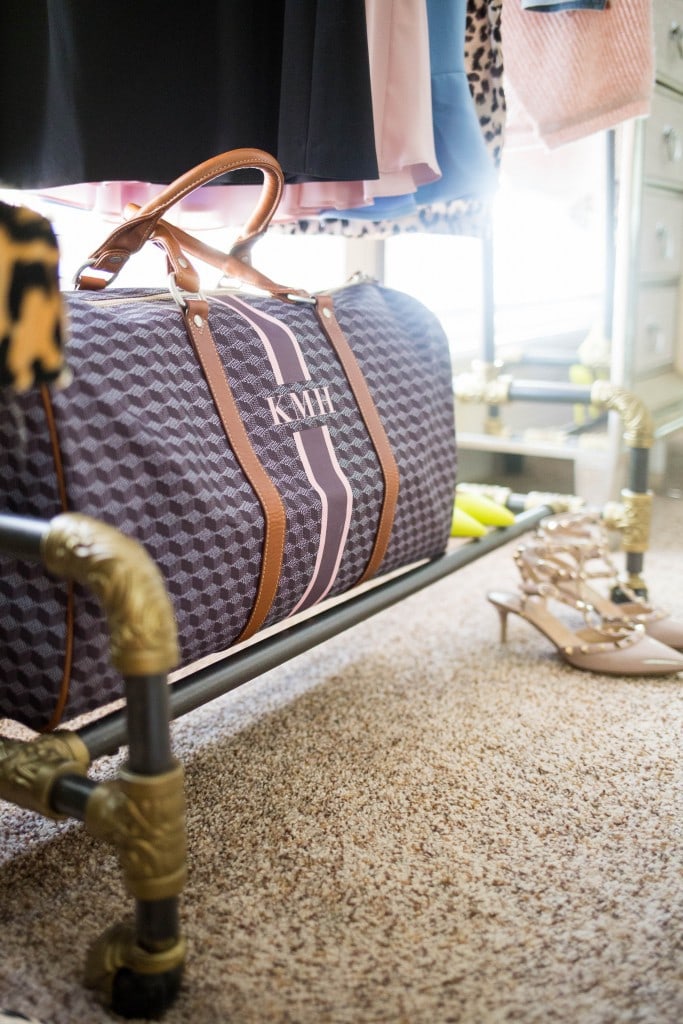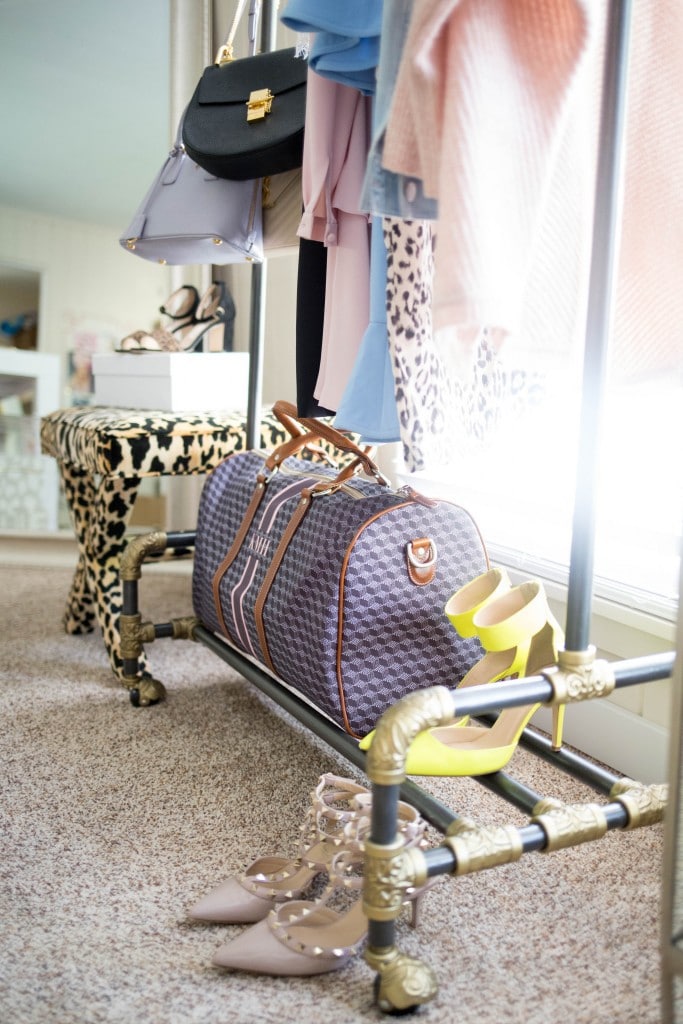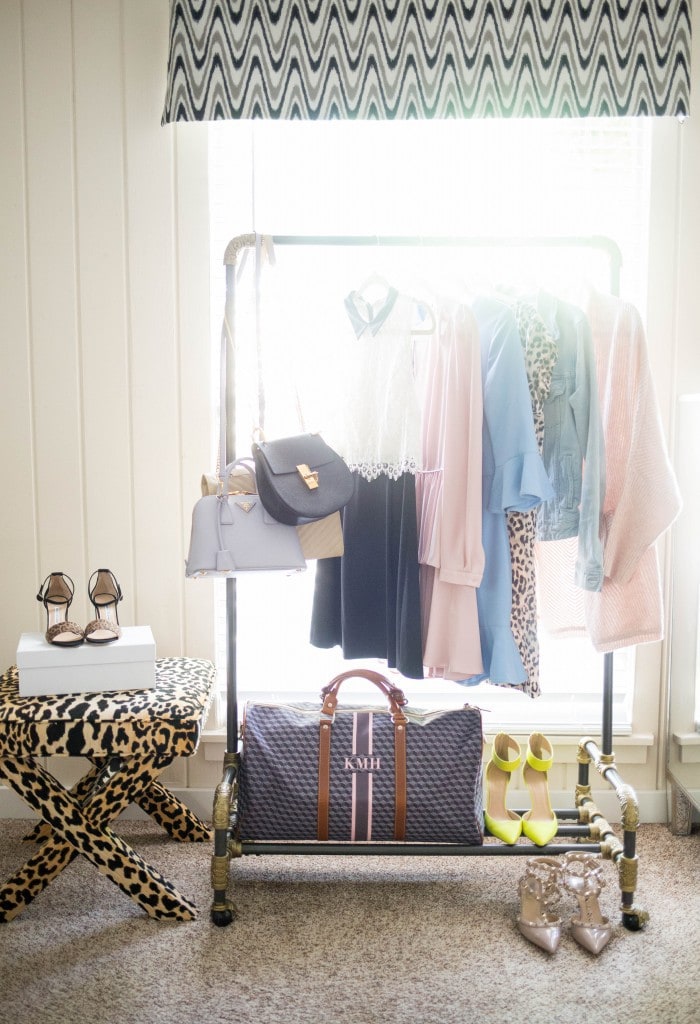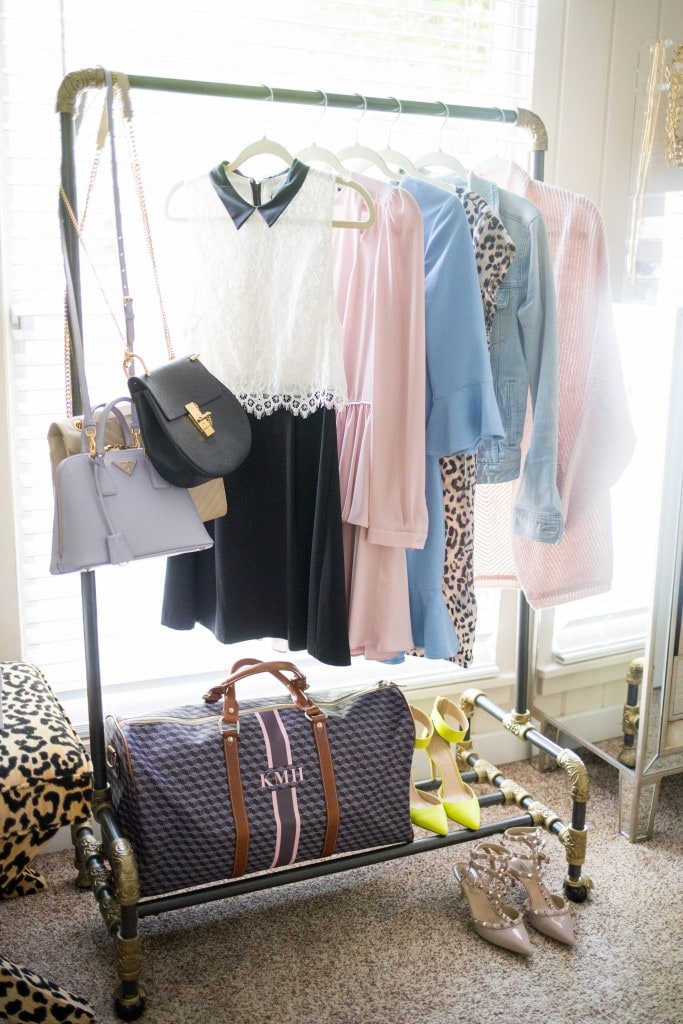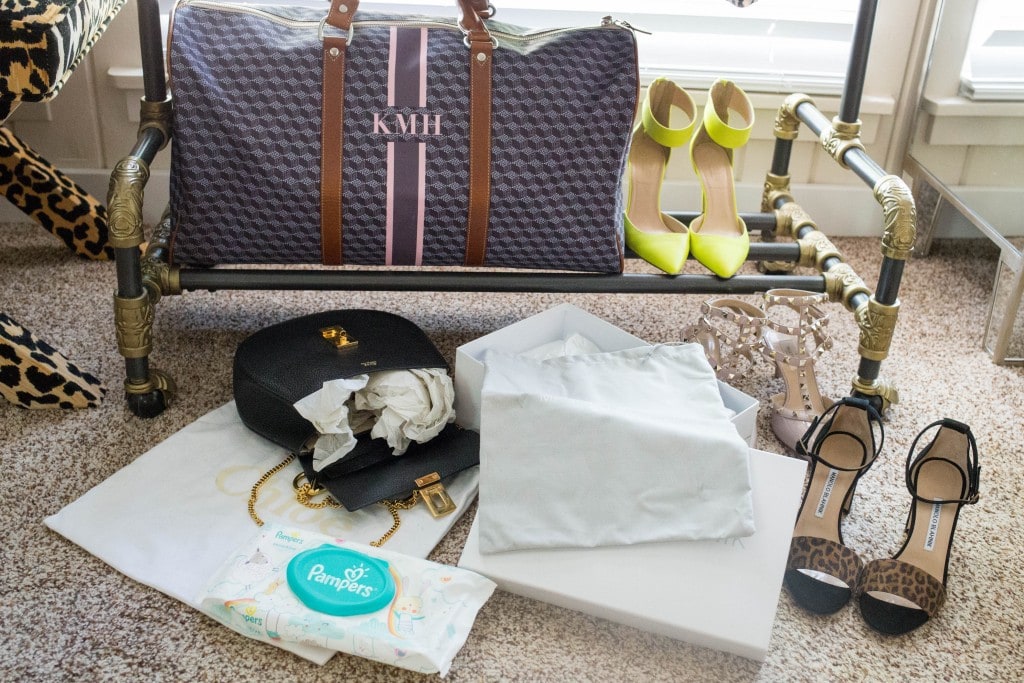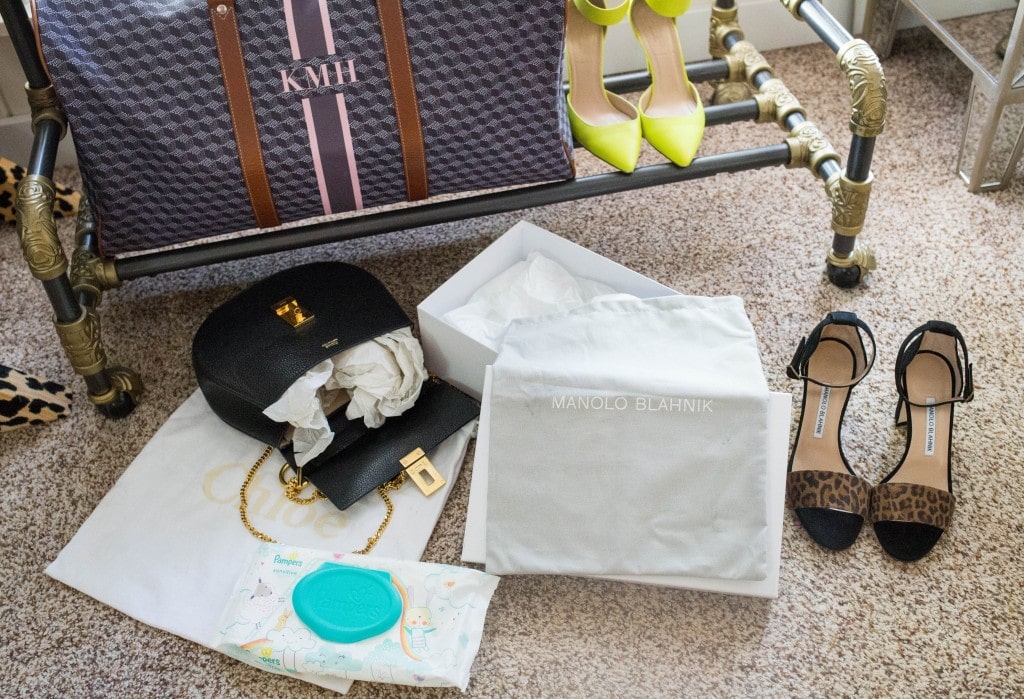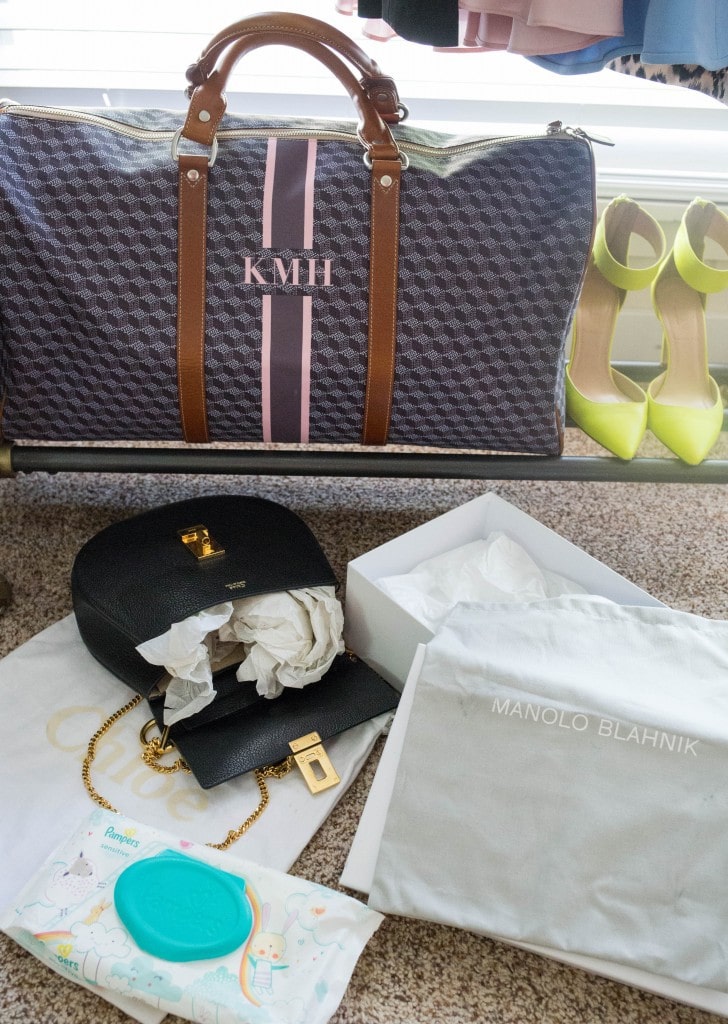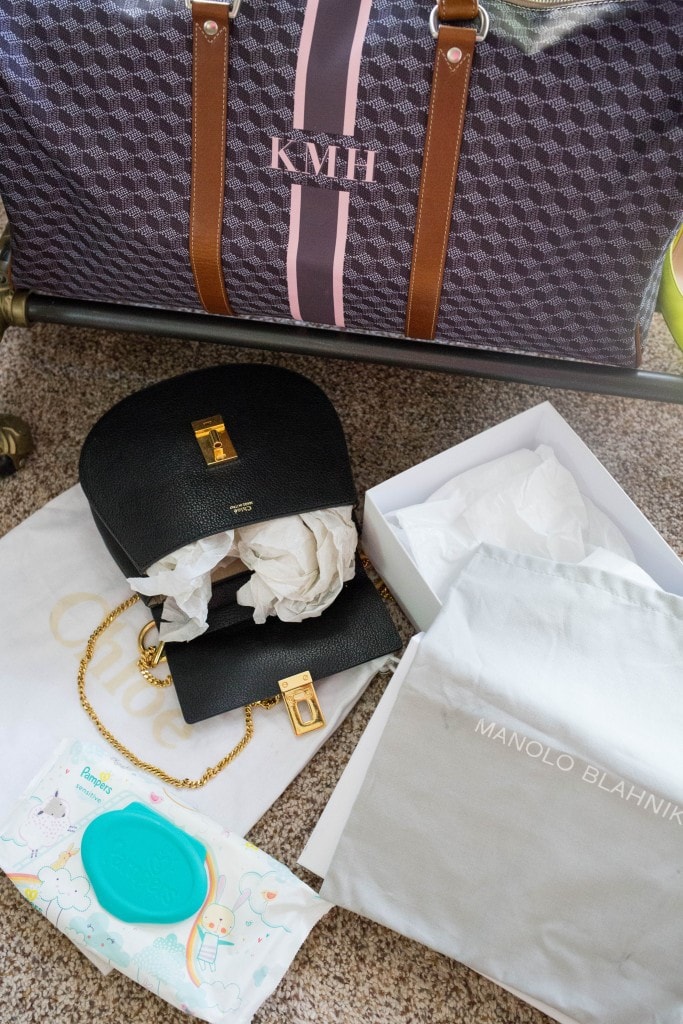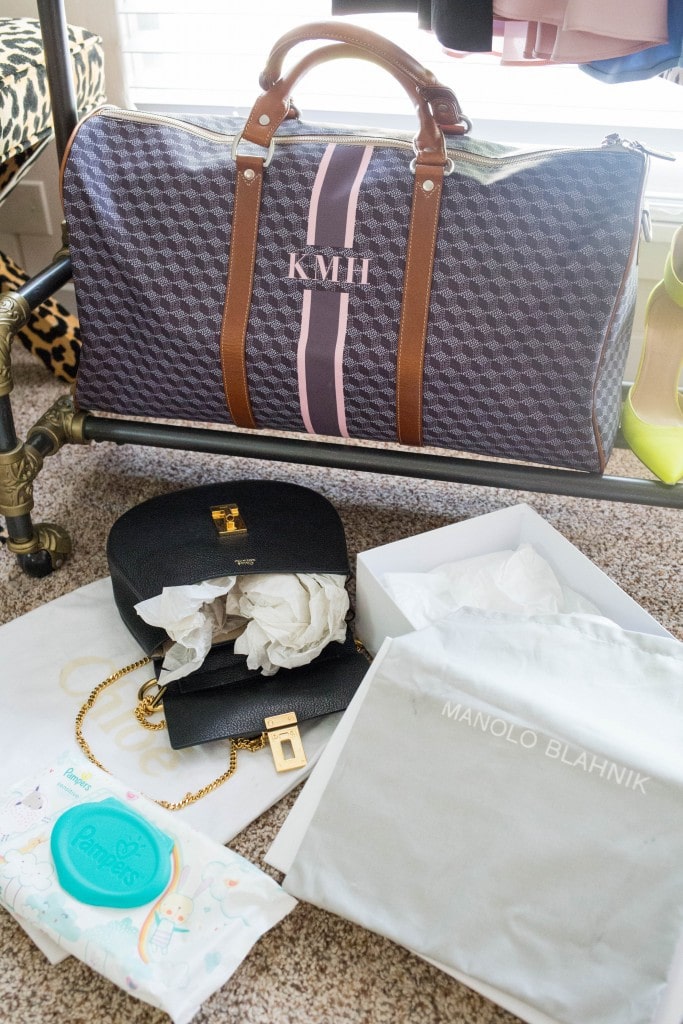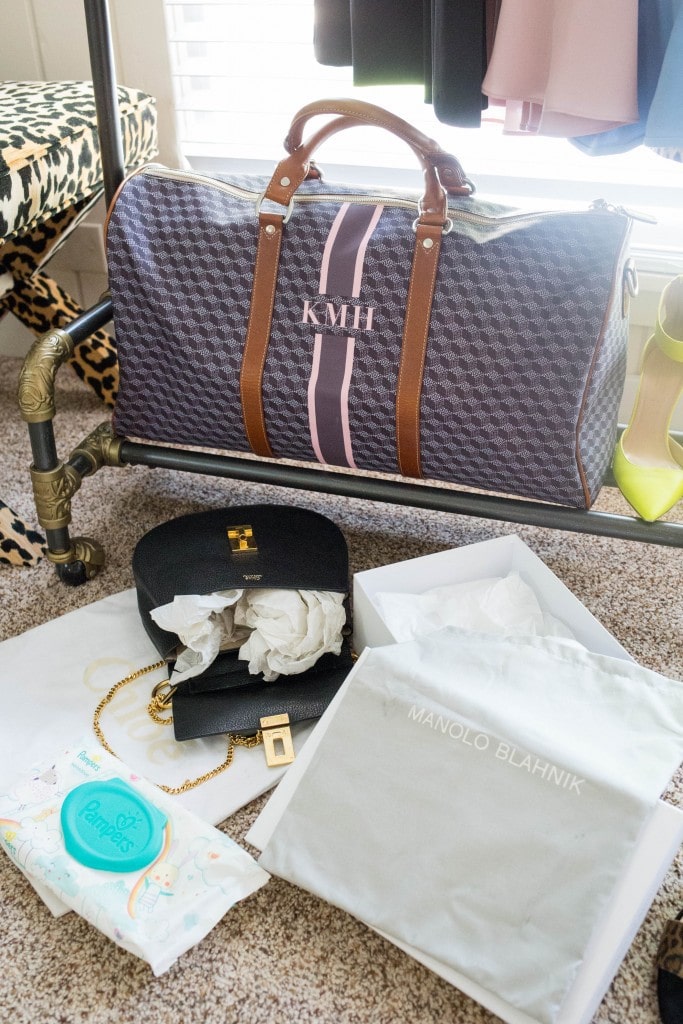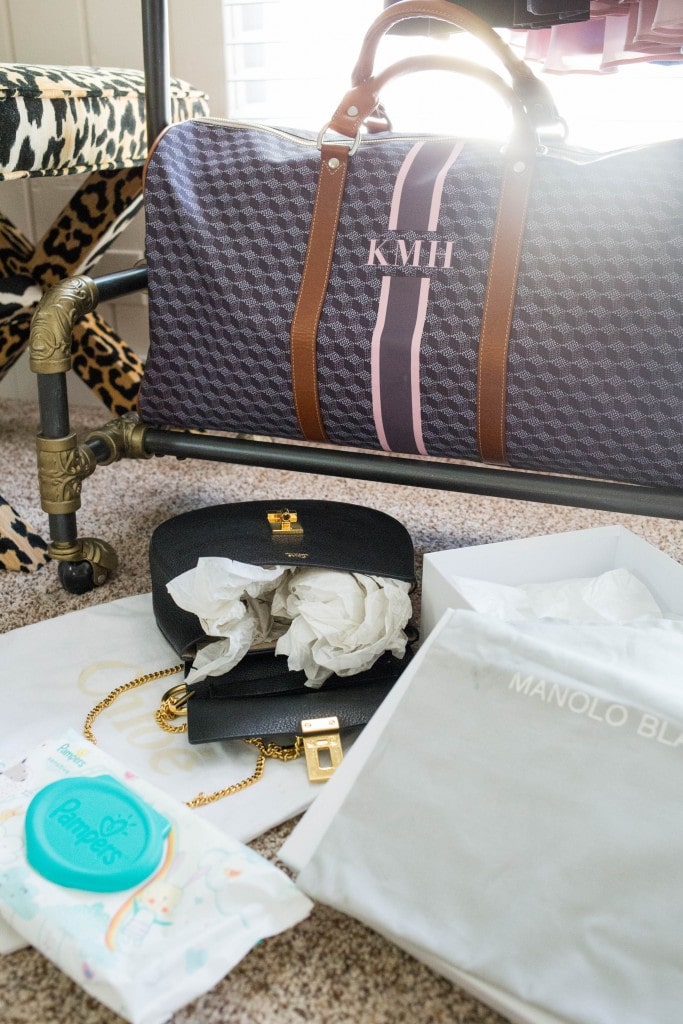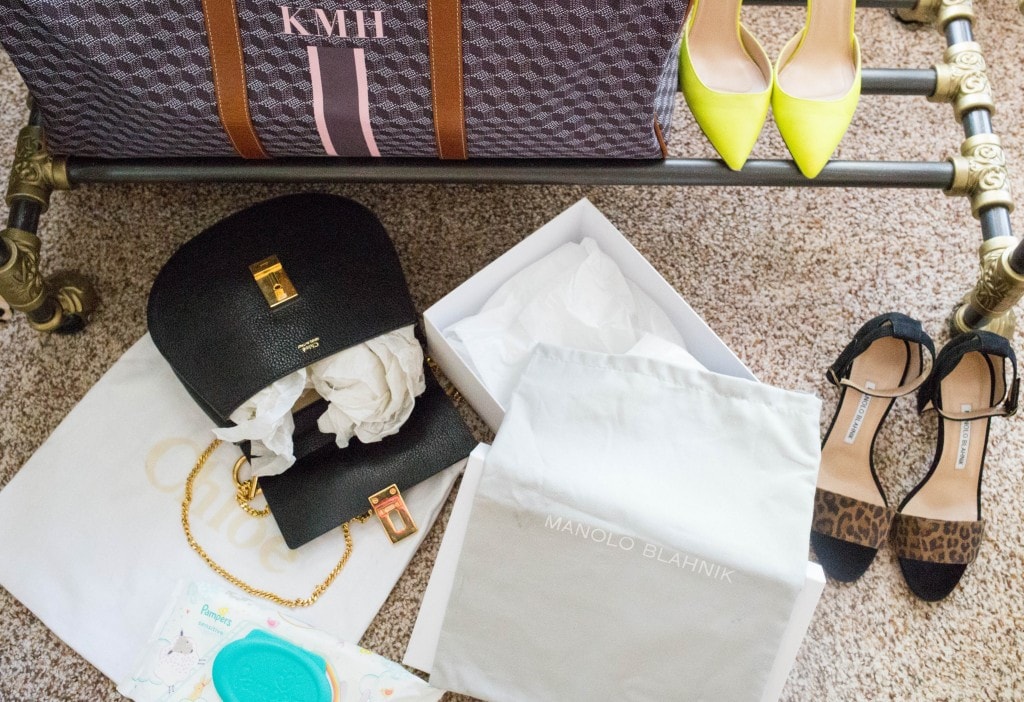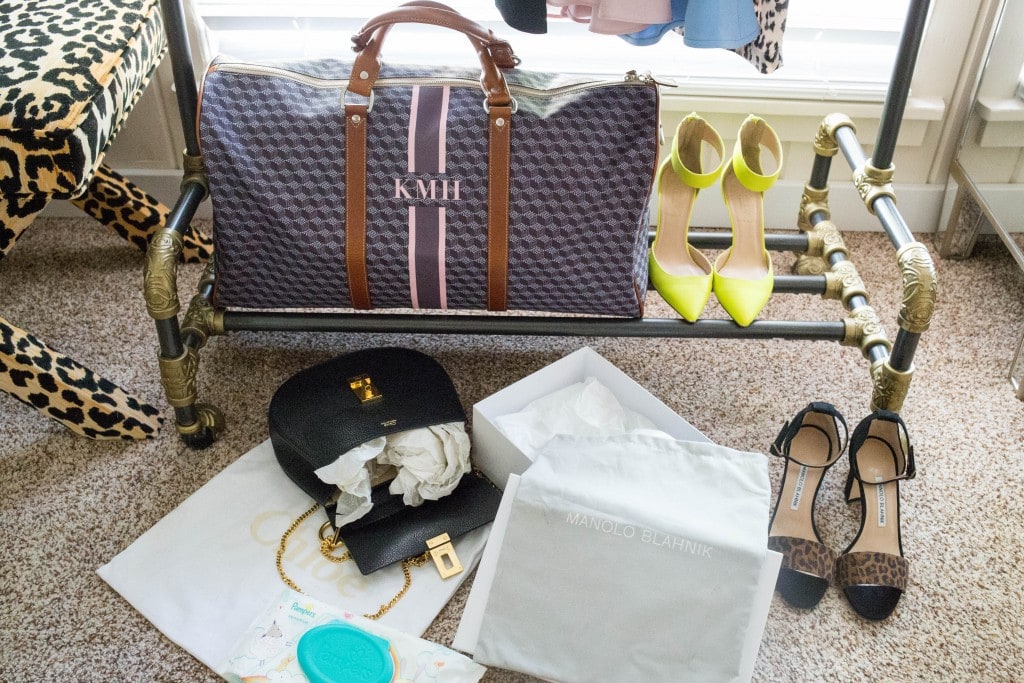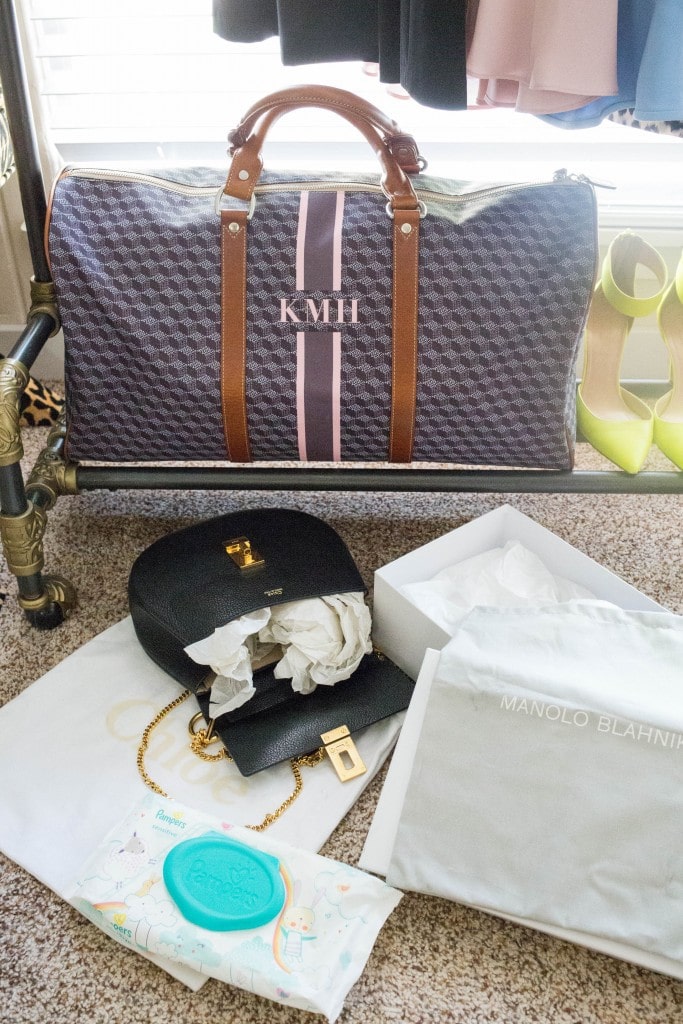 Bag: Barrington [c/o] | Clothing Rack: PB Teen | Black & White Dress: Alice & Olivia | Pink Dress: Rebecca Minkoff, Here Too | Blue Dress: Black Halo | Leopard Dress: Joie, Here Too | Jean Jacket: Old | Sweater: Anthropologie | Leopard Shoes: Manolo Blahnik, Similar | Leopard Bench: LivenUP Design [c/o] | Black Bag: Chloe | Purple Bag: Prada | Nude Bag: YSL | Valentino Rockstuds: Nordstrom, Dupe | Green Pumps: J.Crew [old], Similar
Photography by: Madison Katlin
---
Before I went to fashion week for the very first time, I had so many misconceptions about it! I envisioned taking 4 suitcases, changing outfits 3 times a day and walking around with all my girlfriends in between shows. While a lot of that is true, you're still going to New York and you've got to be realistic to some degree! Between your meetings with brands, fashion shows, presentations and showroom appointments you barely have time to catch a cab, much less change, and you can't be dealing with blisters at night. It's busy. It's hectic. It's crowded. And I love every single second of it!
I personally, never have a lot of time to change in between events. My first fashion week I brought up to 3 looks a day and it was comical, because I think I wore 3 looks total while there! If I do have time to change, I'm more interested in running in a bakery, grabbing a croissant and checking in on my phone to chat with my mom or sister for a few minutes. Because of this, I really try to make sure I bring my absolute favorite items that can transition from morning to night, and not leave me uncomfortable in my shoes by 4 p.m. I thought today I would share what I bring and how I keep my designer items in great condition while traveling.
I'm definitely not the girl that just throws her shoes wherever and hopes for the best! You spend money on your items, so I definitely try to keep them nice and minimize the wear and tear. To do this while traveling, I make sure to check one bag and always bring one carry on. For traveling, I love to bring my Barrington Belmont Cabin Bag. I have shared another one I have back in this post and this continues to be one of my most common questions! Y'all are always asking about this bag and for good reason! You can completely customize it with whatever pattern or monogram you want! In this bag, I pack one change of clothes, all of my bags, all of my shoes and all of my jewelry. I can easily purchase an outfit if a bag was lost while being checked, but I would be so sad about shoes or a bag as I always try to buy them for sentimental reasons! The Valentino pumps were my wedding shoes and the Prada bag is one Paul got for me on our honeymoon since it looked like my wedding dress! 😉
While packing this bag, I always stuff my bags and shoes with tissue so that they don't shift during flight and lose their shape. If you didn't keep the tissue you were given when you purchased the bag, don't worry! Regular, white or neutral, gift tissue paper works just fine. I don't recommend Newspaper as this could dye the fabric or leather. Then, I store the bags and shoes in their dust bags they came in. If you didn't receive a dust bag when you purchased your bag or you lost it, you can easily buy these on ebay or amazon here.
Lastly, I bring Pampers Sensitive Wipes while traveling! These wipes are really thick and mild, so if my shoes get scuffed or dirty while running around in the city, I can clean them off before I put them back in the bag. I always wipe down my bags and shoes after I wear them and I really think this contributes to their longevity. My friend Megan Runion also does this trick!
Life is meant to be lived, so I'm definitely not one to say, "I should only wear these shoes for a special occasion." I mean, what if special never happens?! Wear your shoes. Wear your bags. Love them. Let them age. But definitely care for them when they are put back up, especially while traveling!
When it comes to caring for your leather goods, I always use a leather cleaner that the designer recommends every few months. Even if you buy a bag that was previously loved, you can always call the store directly, speak to a sales associate and ask what product they recommend.
If you are curious about the dresses I packed for fashion week [I'll be sharing full looks of them on the blog soon] here is a quick overview!

The most important thing about fashion week is dressing to represent your brand. If you are the queen of street style, wear sneakers with your dress. If you are really feminine, wear some Chanel flats with a pink skirt. And if you love dresses like me, live in them while you are there! There are really no rules, the most important thing is to just dress like yourself. There is one blogger who seriously always wears chambray top sand denim to almost every event. I always think she has the best style because she stays true to it, no matter where she is.
I hope these tricks help keep your items in great condition while traveling! I'll list a few of my other favorite Barrington bags you can customize below. Thank you so much for following along!

In partnership with Barrington. All opinions are my own!