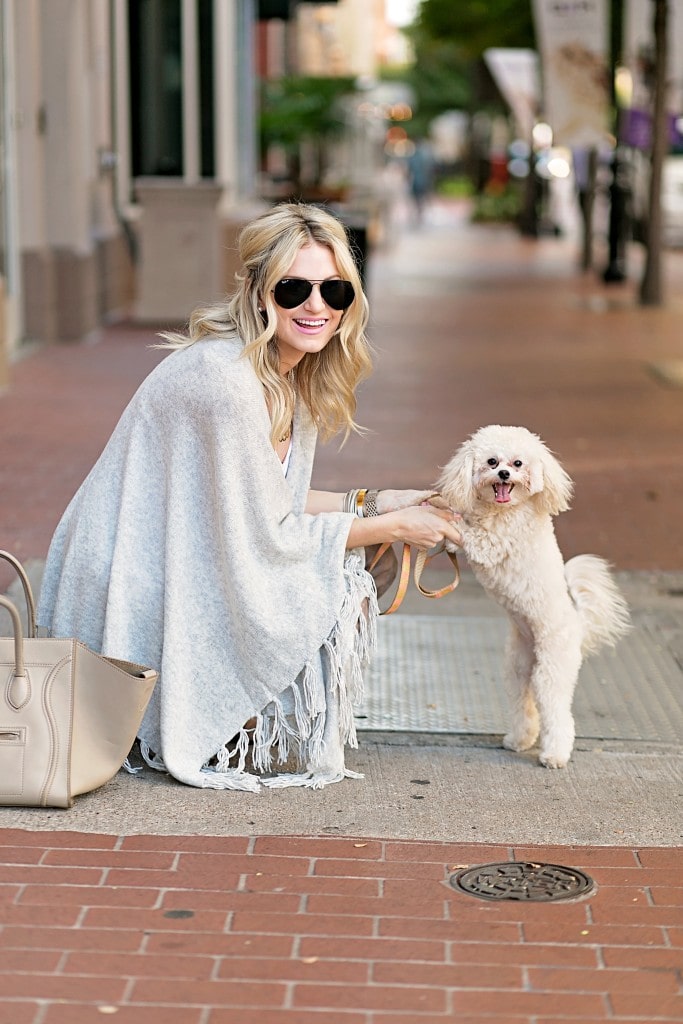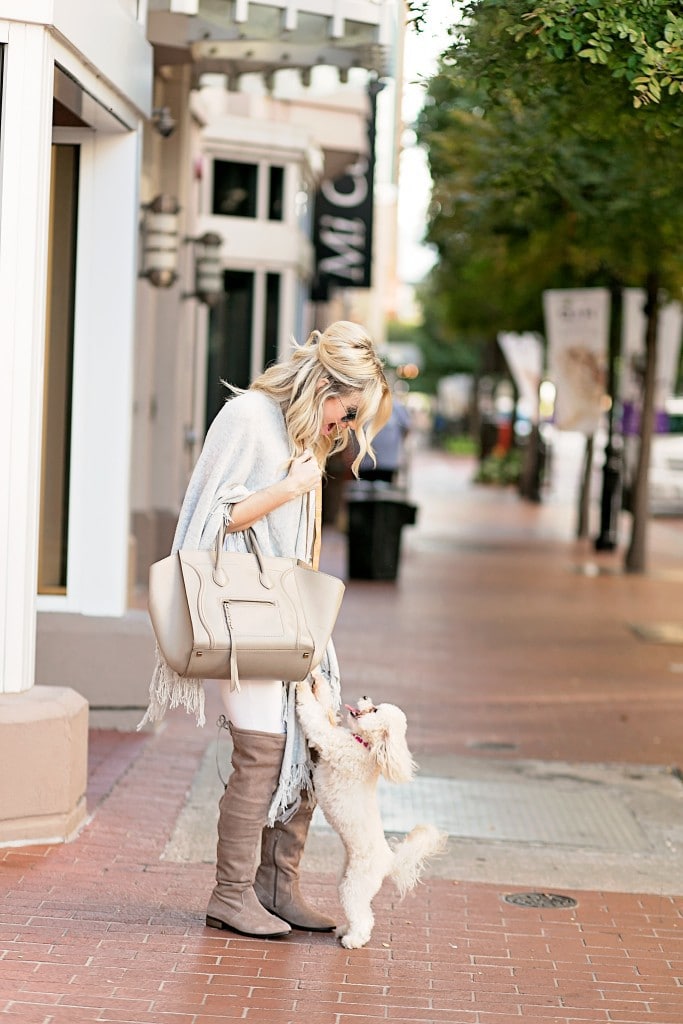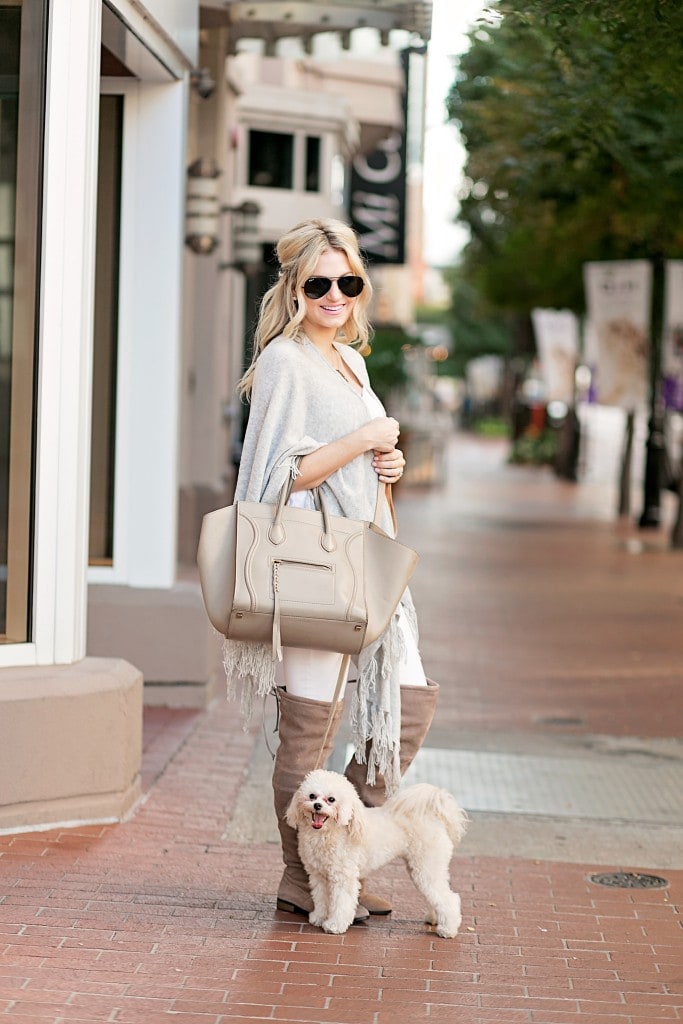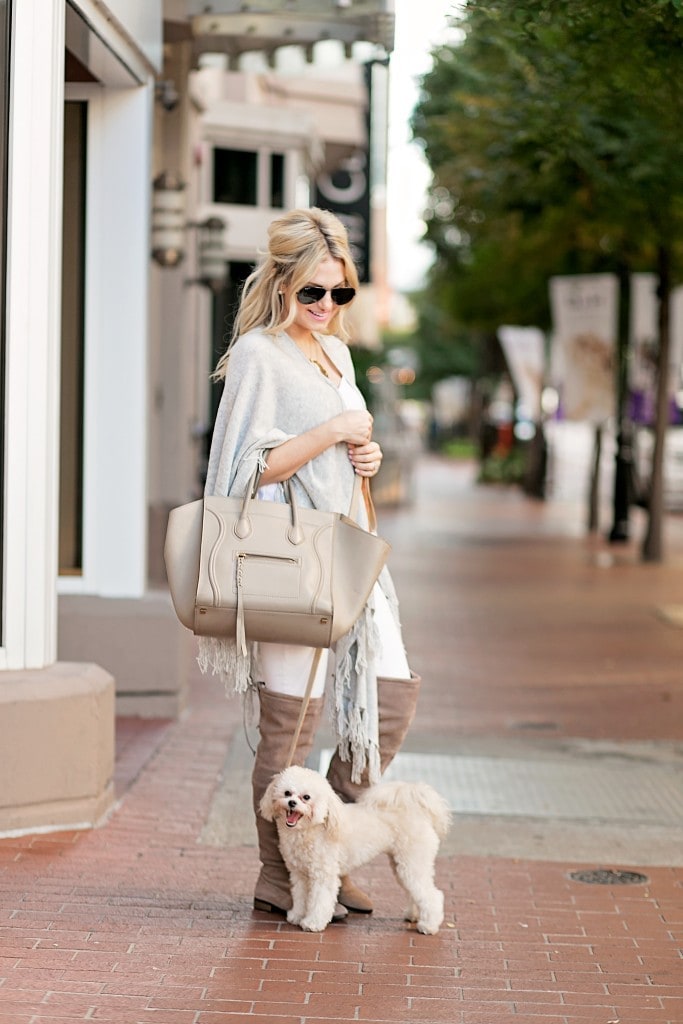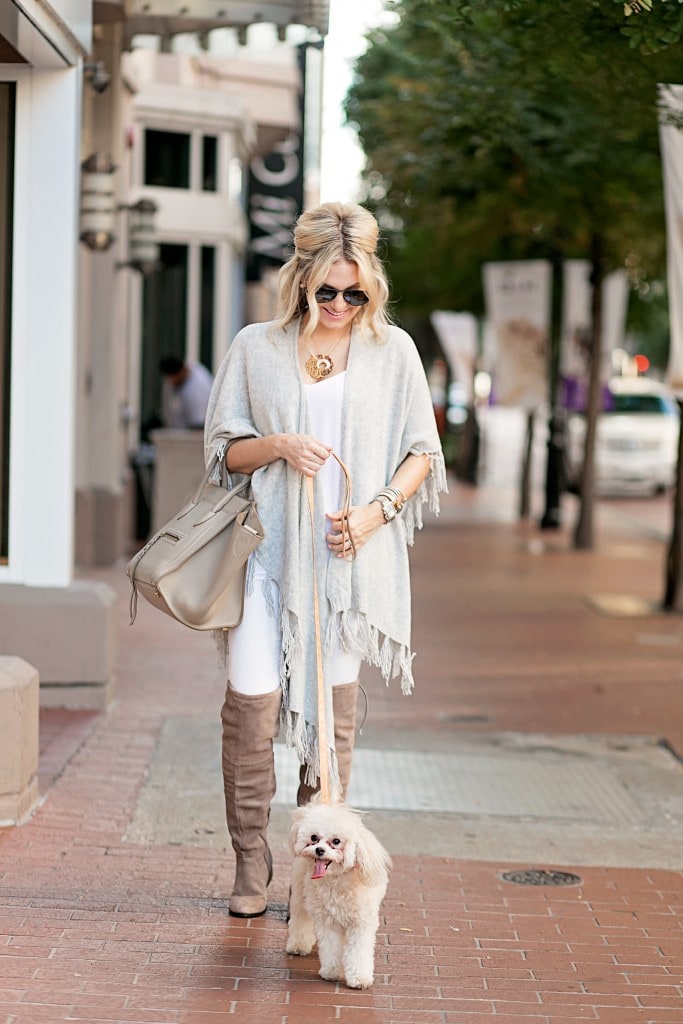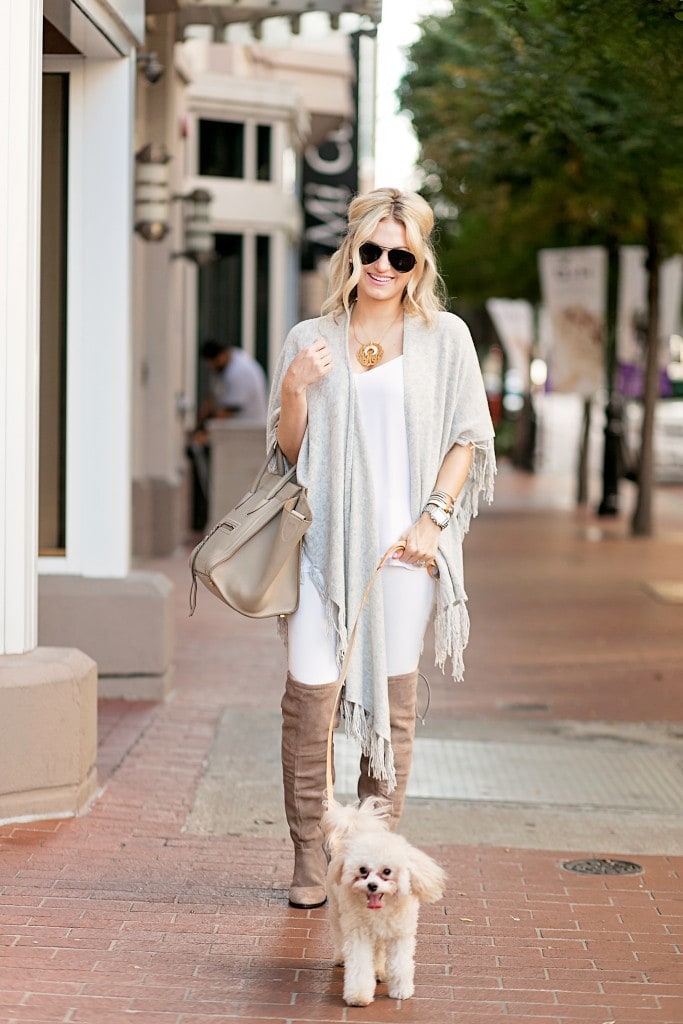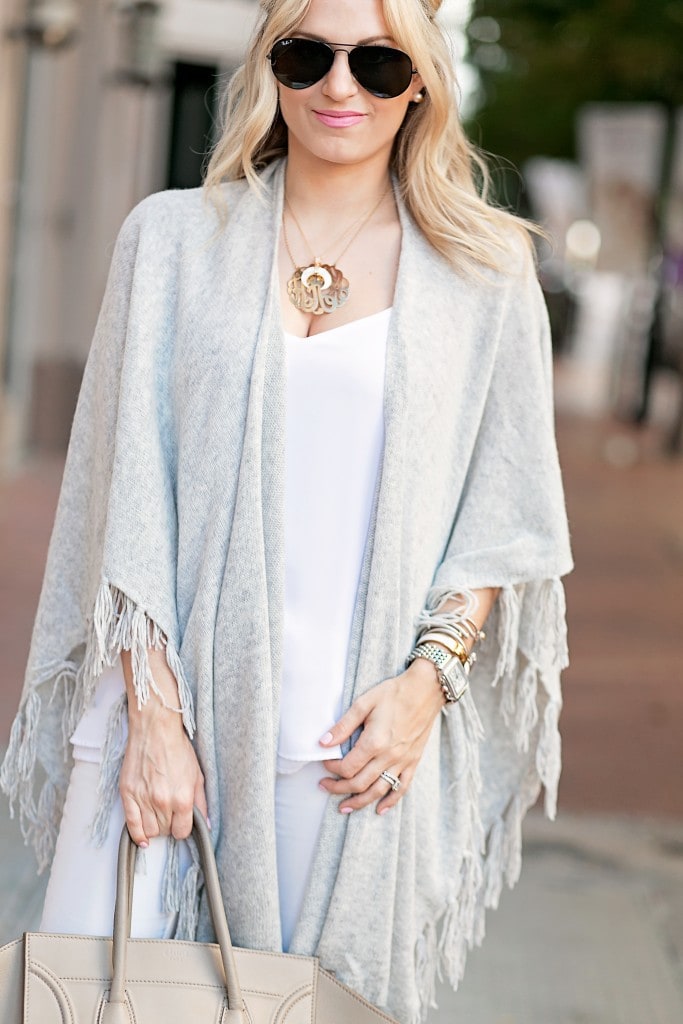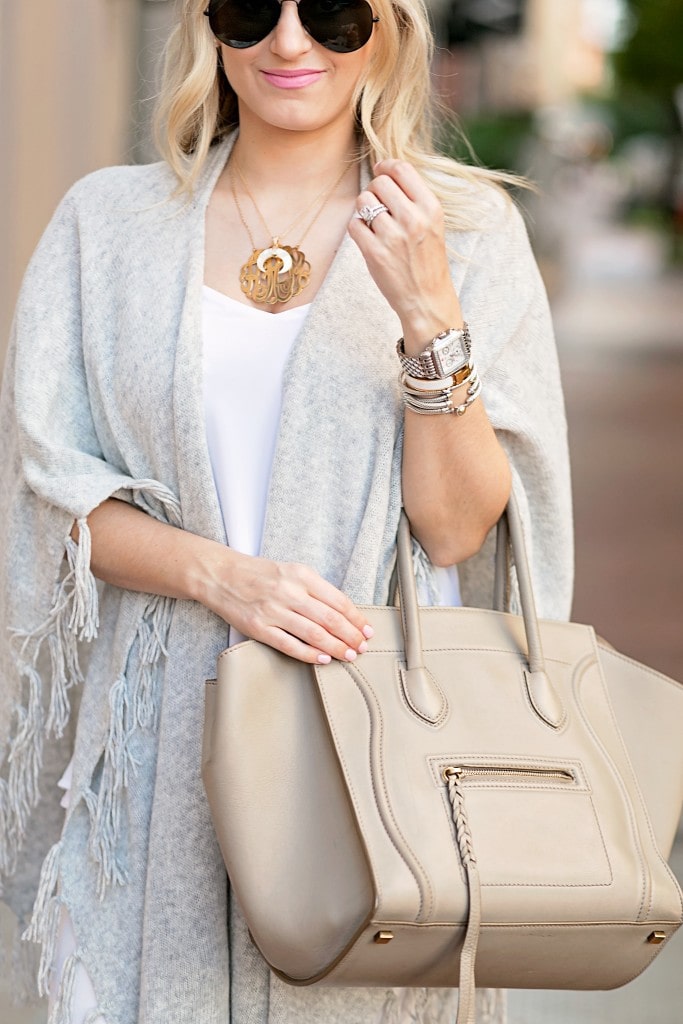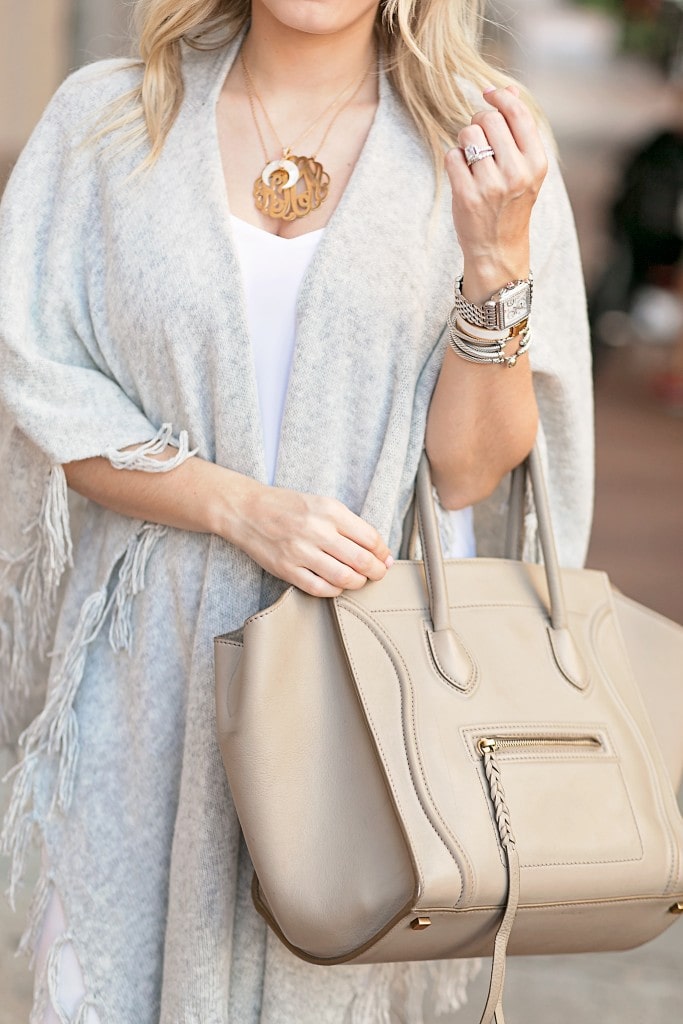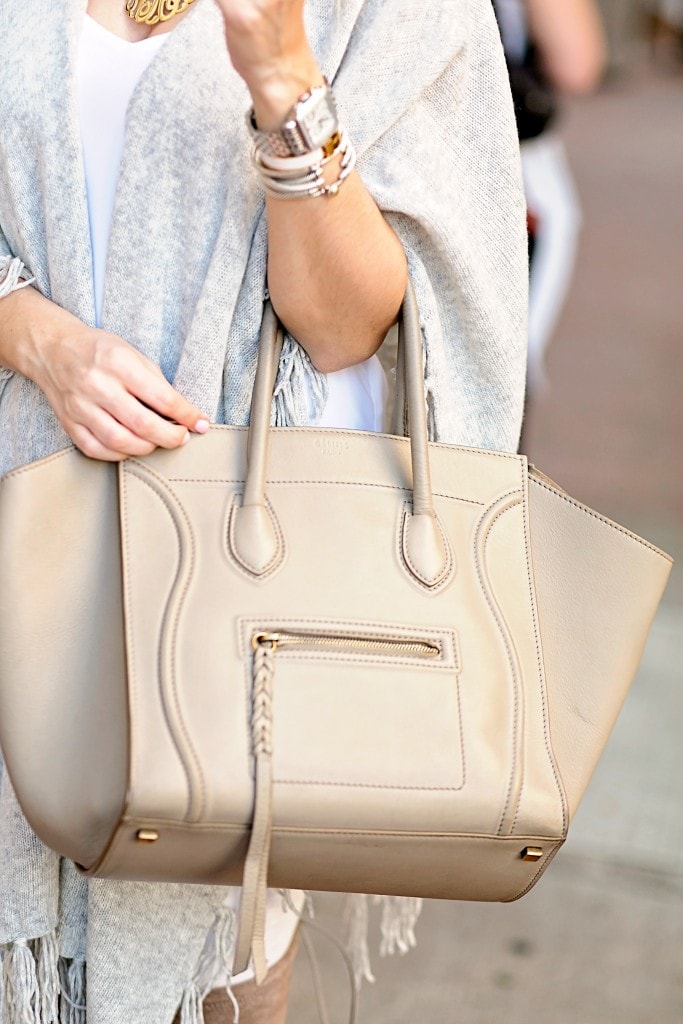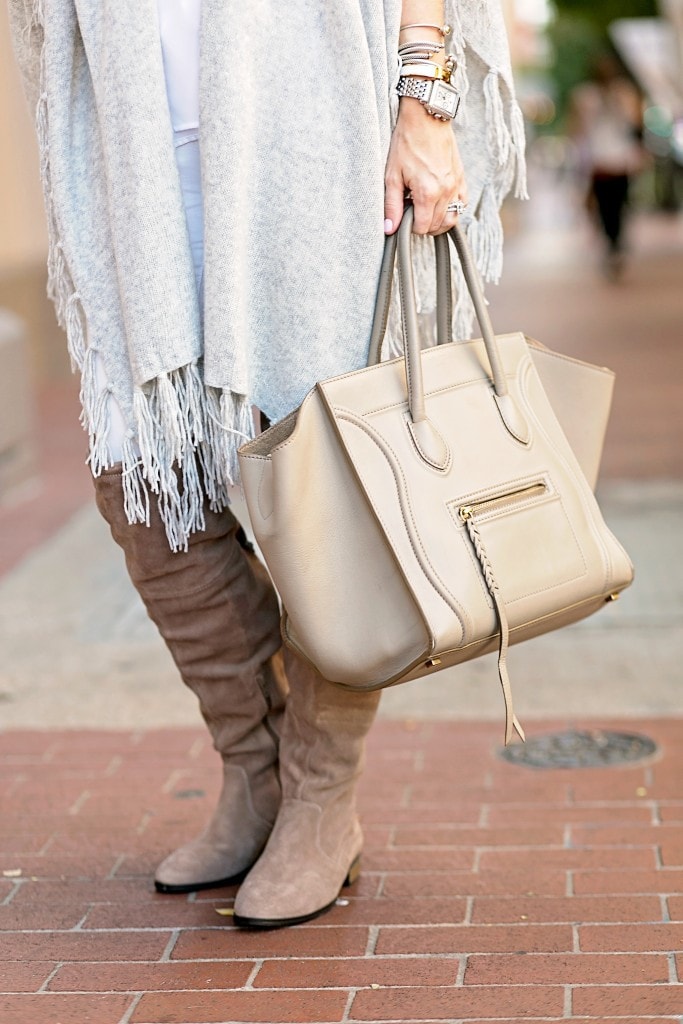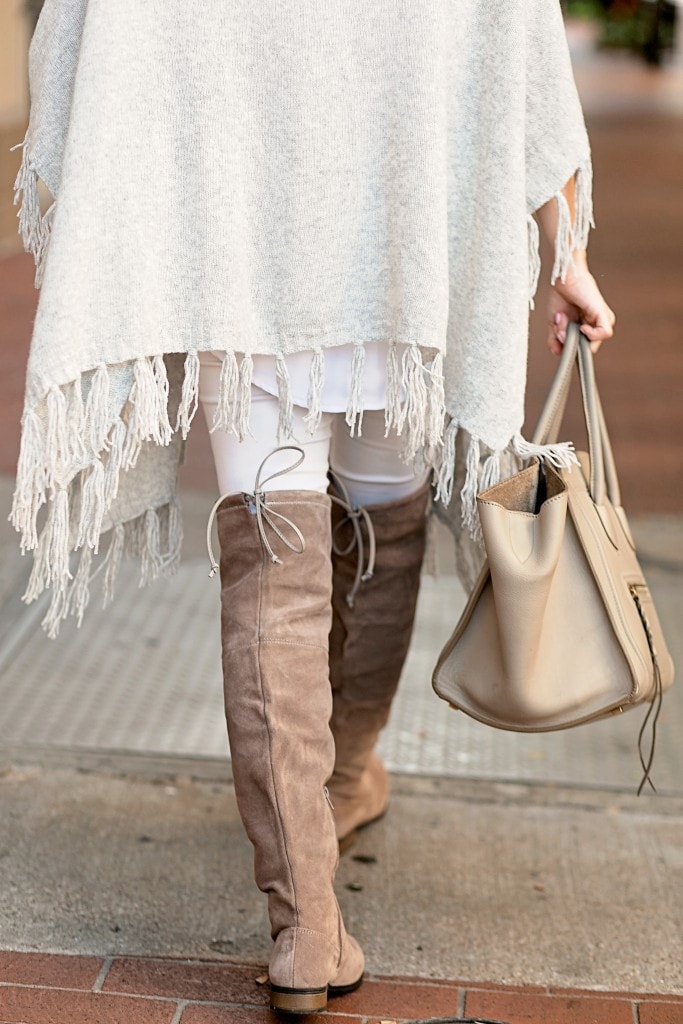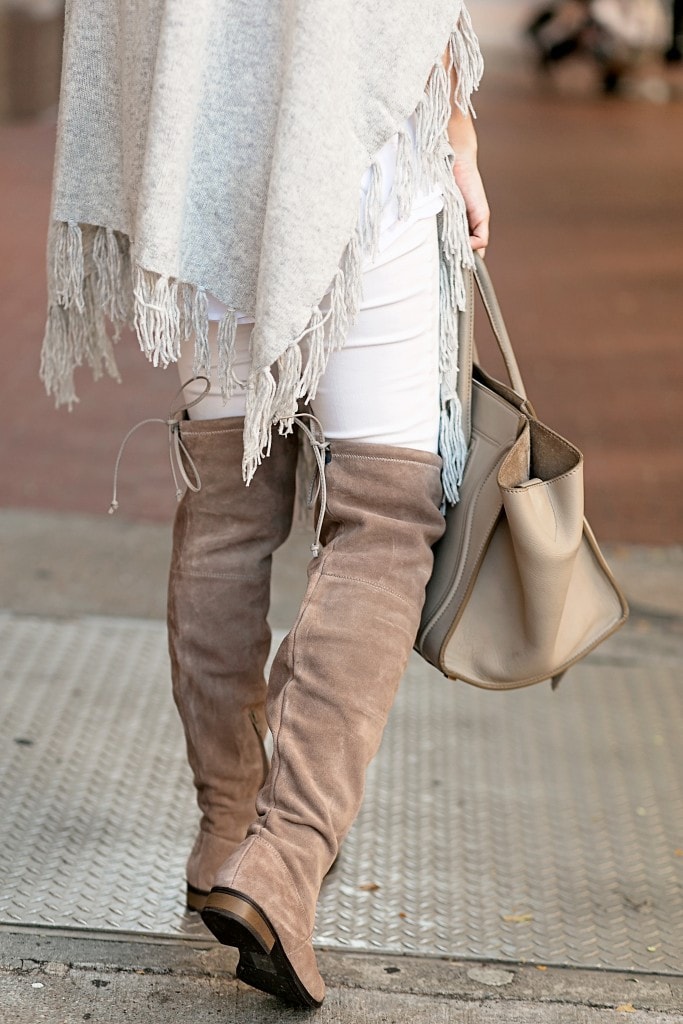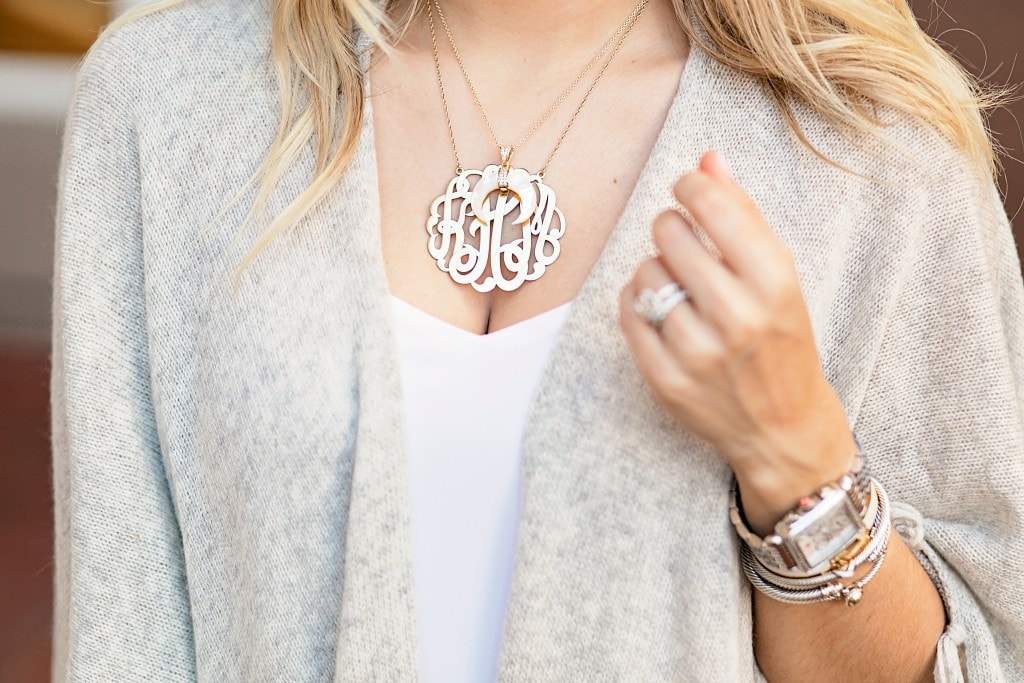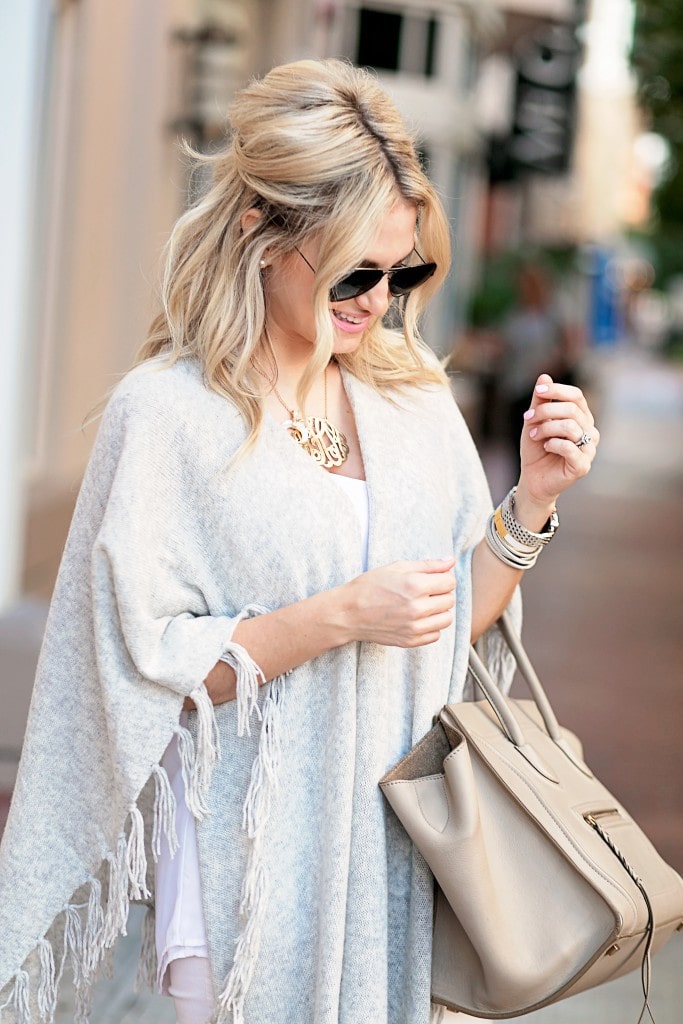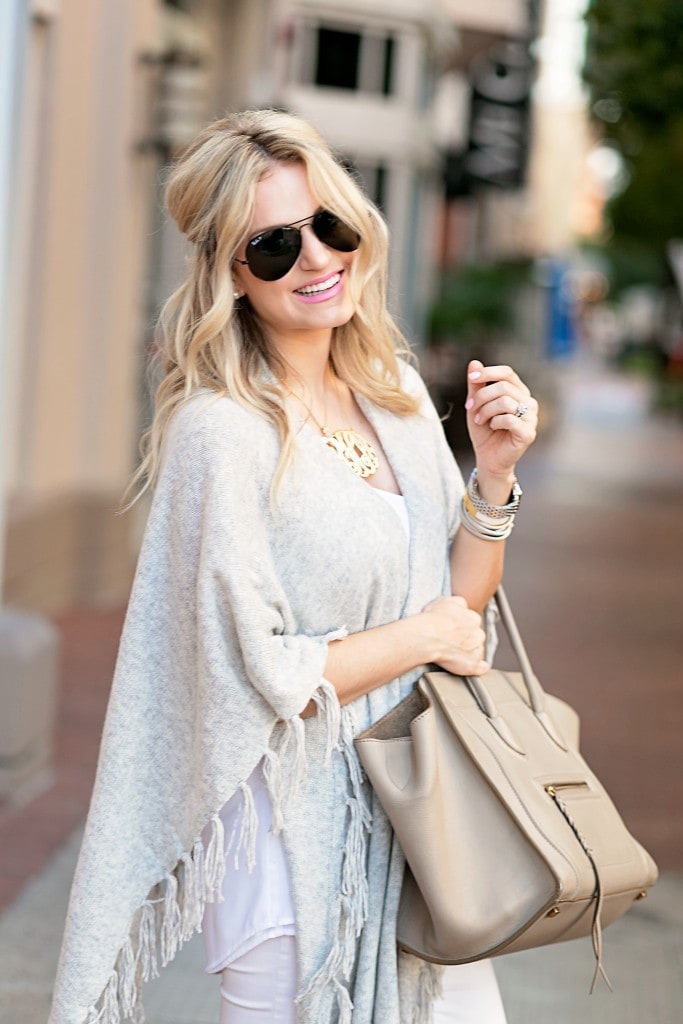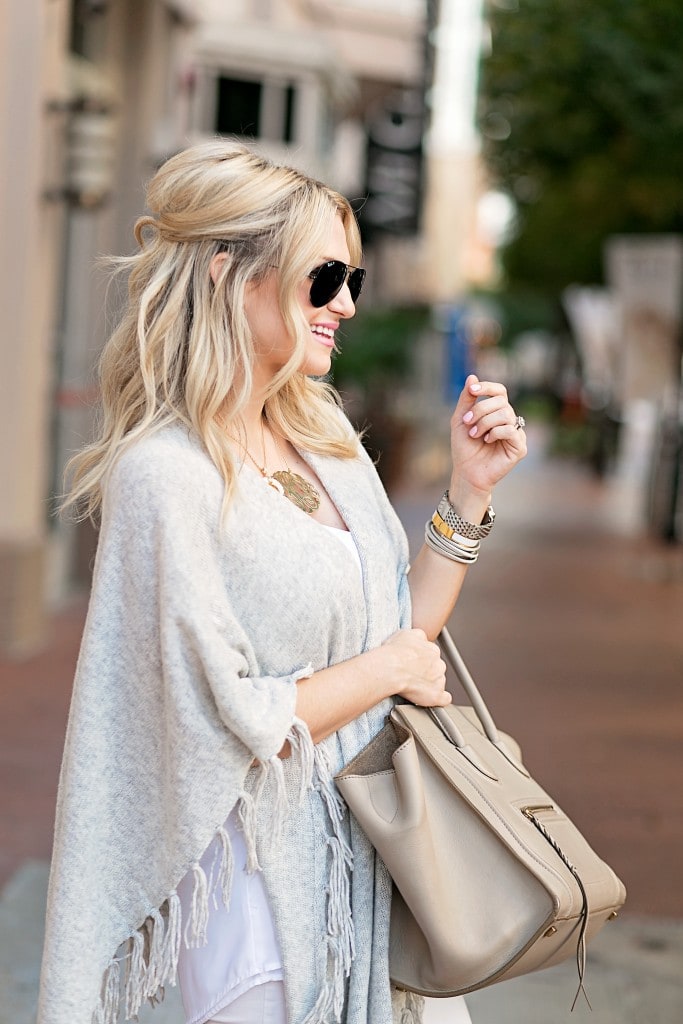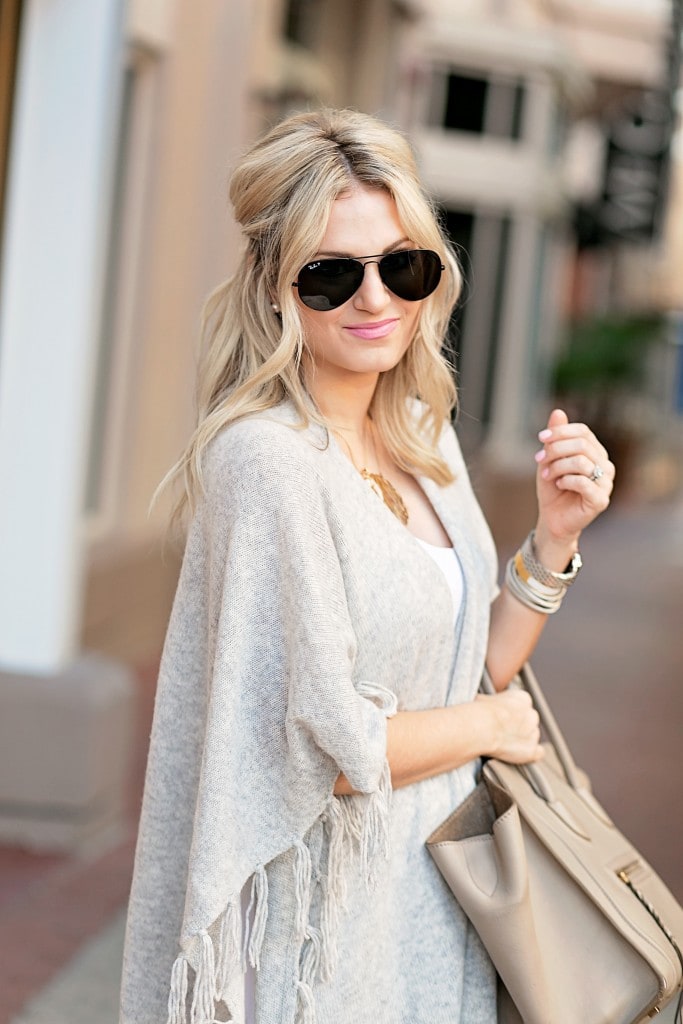 Fringe Sweater: Sole Society [c/o] | Top: Express | Bag: Celine, Similar | Boots: Sole Society [c/o] | Jeans: Nordstrom, Similar | Necklace: Sole Society [c/o] | Earrings: Tory Burch | Lipstick: Bite The Bullet
Photography by: Angie Garcia
---
First things first, thank you all SO much for your kind words about our little girl! I've been watching my tongue SO much each time I'm on snapchat because I have almost let it slip a dozen times! haha. So being able to finally share and just feel so celebrated by you all was the most perfect way to start our weekend. I'm always blown away by your kindness.
How is it already Monday?! We had the busiest weekend! My sister was on homecoming court, so Friday evening we celebrated her at her school's football game. Saturday was filled with lots of blog shoots, a baby shower and a birthday dinner. Sunday we got the house together since we were finally catching up from being out of town! I feel like this morning I'm finally sitting down for a breather. haha.
The weekend was also filled with lots and LOTS of baby brain. First things first, I lost my license. I went to go buy some champagne for a bar cart shoot and when I went to check out and she asked for my license I start frantically going through my bag and ripping everything out of my purse. The lady checking me out curtly said, "I mean, how do you not have your license?" I said, "Ah! I don't even know. I was traveling to New York, I probably left my ID in the security bin. I have baby brain. I'm pregnant." Which isn't the thing to say when you are buying champagne. #DuhKatey
So then I'm even more frazzled and embarrassed and I said, "I mean, the champagne isn't for me. It's for a photo shoot." Which probably just confused her more….
Thankfully I had my passport in my purse and handed her that.
On Saturday we went to shoot a blog post that I was already a little nervous about for a few reasons [date changes, etc.] and so I got up at 5 to make sure I would have everything. I got ready. Ate breakfast. Double checked I had everything for all the looks. Even triple checked. We get in the car to head to Dallas [about an hour drive] and I'm thinking everything is going perfectly. We show up to the shoot location and I asked Paul if he would get my shoes out of the back for the first shoot.
"Um, babe. There aren't any shoes." 
I started to tear up because we had tried to shoot this post numerous times and things kept changing and I just felt like the biggest idiot! haha. So thankfully we were able to shoot my other looks. We drove back to Fort Worth. Got my shoes that were somehow left on the kitchen table. Drove back to Dallas. Shot the look. And drove back to Fort Worth. Thankfully, the photographer I was working with was SO kind about the whole thing. It was my first time working with her and I kept saying, "I'm so sorry. I'm the most Type A person you'll ever meet! I've done this for 3 years and never once forgot anything!" She just kept laughing and was like, "Girl, I'm a photographer! Do you know how Type B I am? It's fine!" And I'm so lucky to be married to a guy that doesn't mind driving 4 hours for a blog shoot! Paul is seriously the most go with the flow person in the world and I know he will be the best father because of it.
So anyways, I thought I would share those funny little stories because I know Monday can be a bit frazzling and at least you can laugh at my weekend to make Monday seem a little less rough! 😉
But one thing that doesn't make Monday rough is a good designer dupe! Two years ago I treated myself to some Stuart Weitzman lowland boots. And let me tell you, I have absolutely cherished them! They have been worth every penny and I know I will have them forever. However, they are quite pricey and each season I try to find a dupe. Nothing truly has ever fit just quite like them or felt like them. Every other pair I've tried I could tell were a couple hundred less than the Stuart Weitzman. So while partnering with Sole Society, I saw boots that looked identical. I was excited to try a dupe again and see how they held up. I wore these all day running around downtown with Paul and Peaches and they felt exactly like the other pair! Bravo, Sole Society. Bravo. These Valencia OTK Boots come in three shades and I went with Taupe because I love how you can wear winter white jeans with this shade! They ran 100% true to size for me and I paired it with a light grey knit wrap. I can't wait to wear these boots with a fall dress to brunch. Please, Texas, stop being 99 degrees like you are today. Please.
I'll share a few more tall boots I'm loving this season below! I hope you had a wonderful weekend and had a much sharper mind than I did! 😉

In partnership with Sole Society. All opinions are my own.