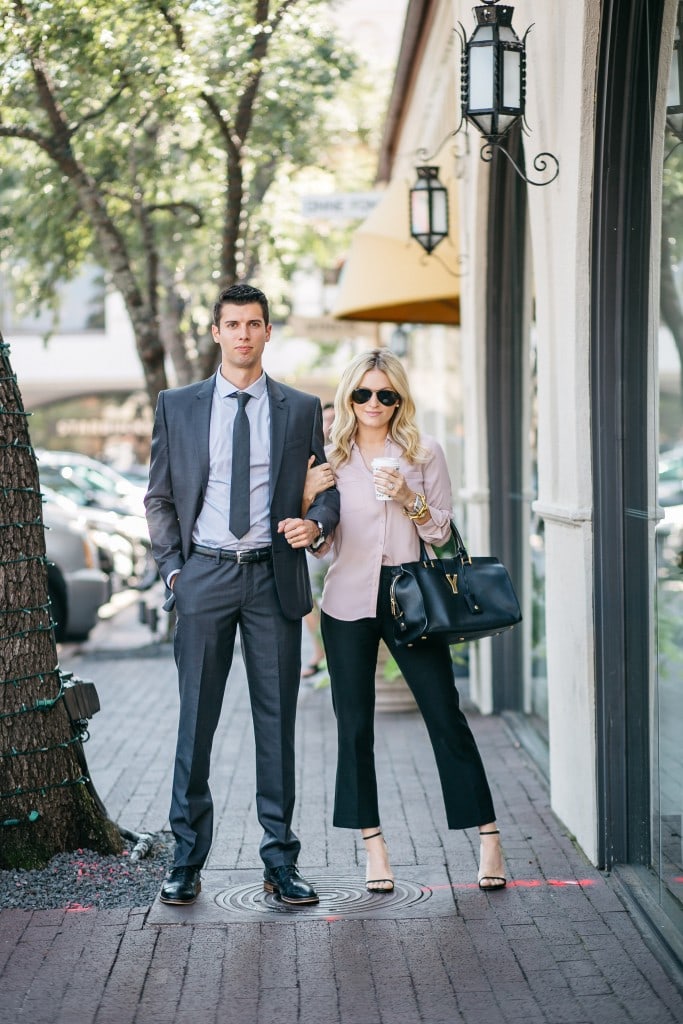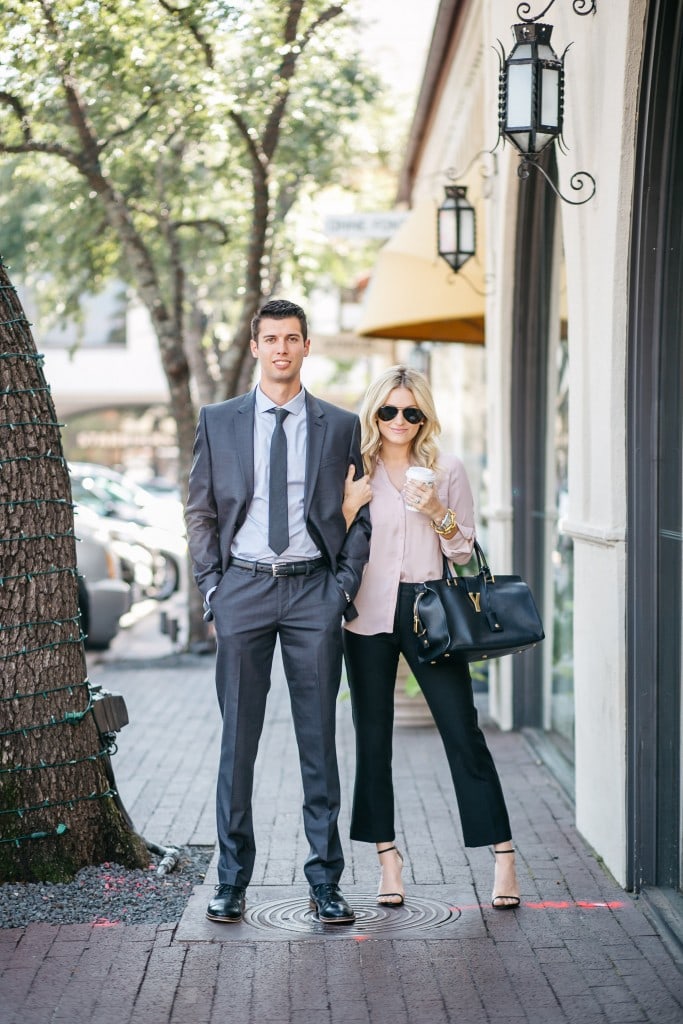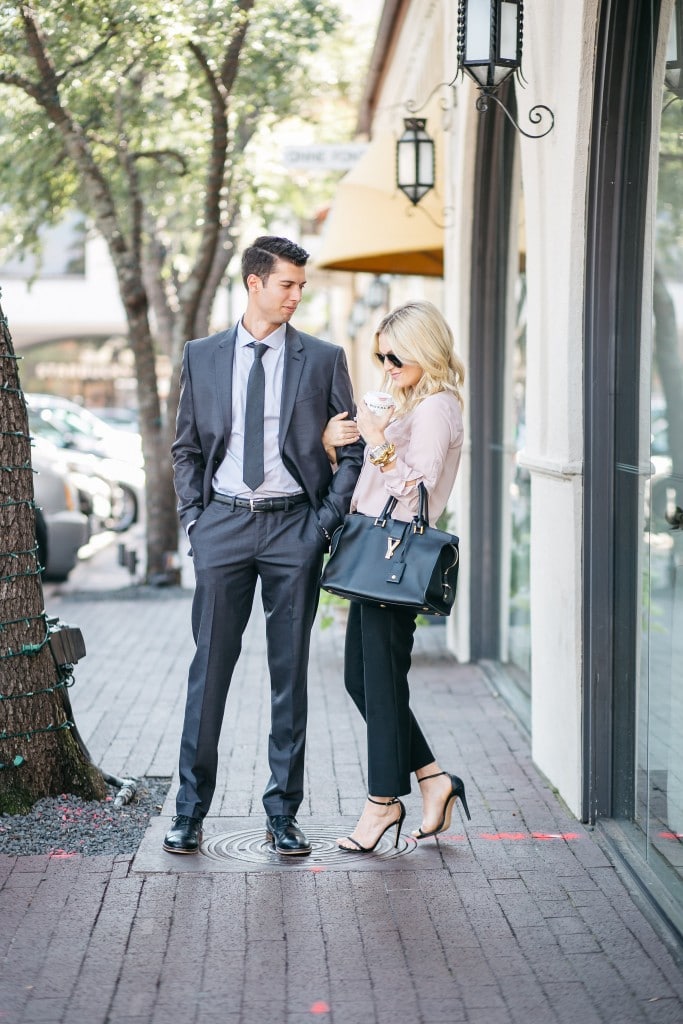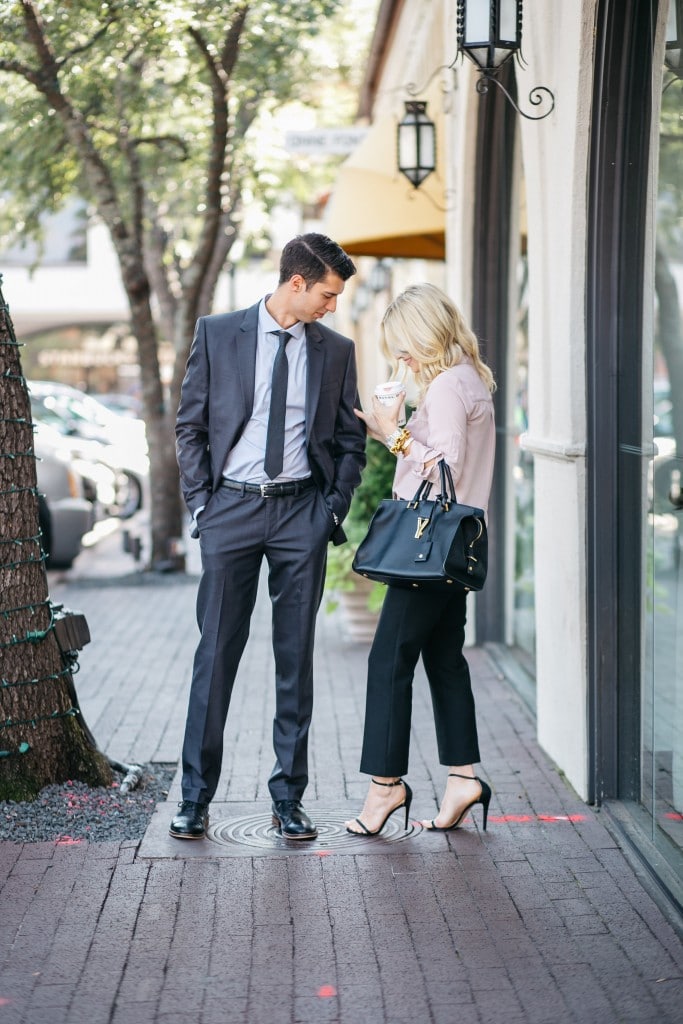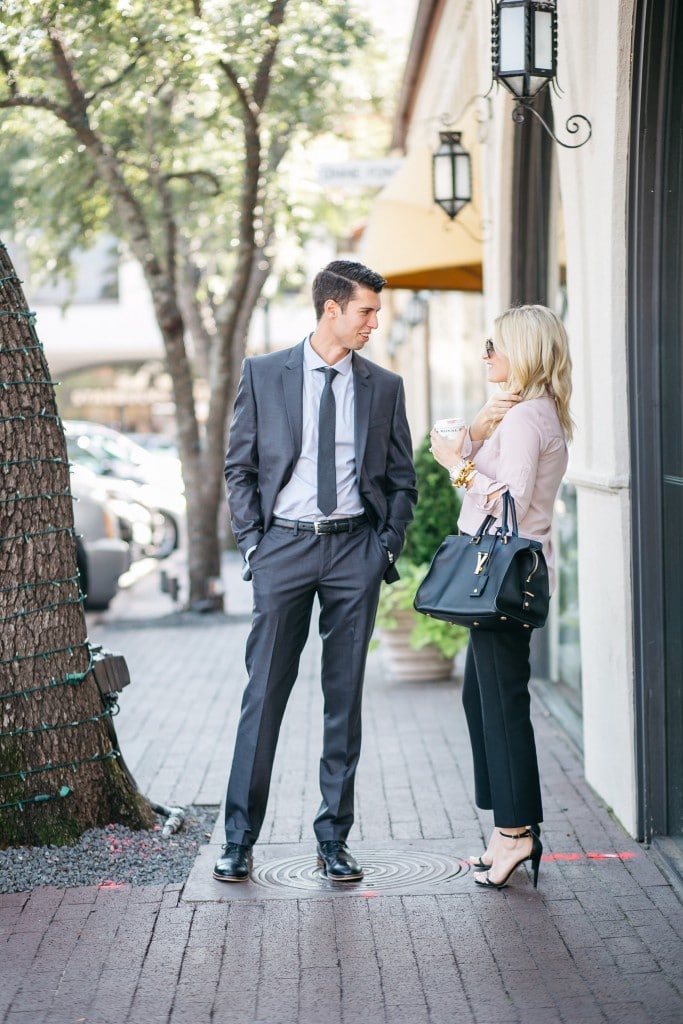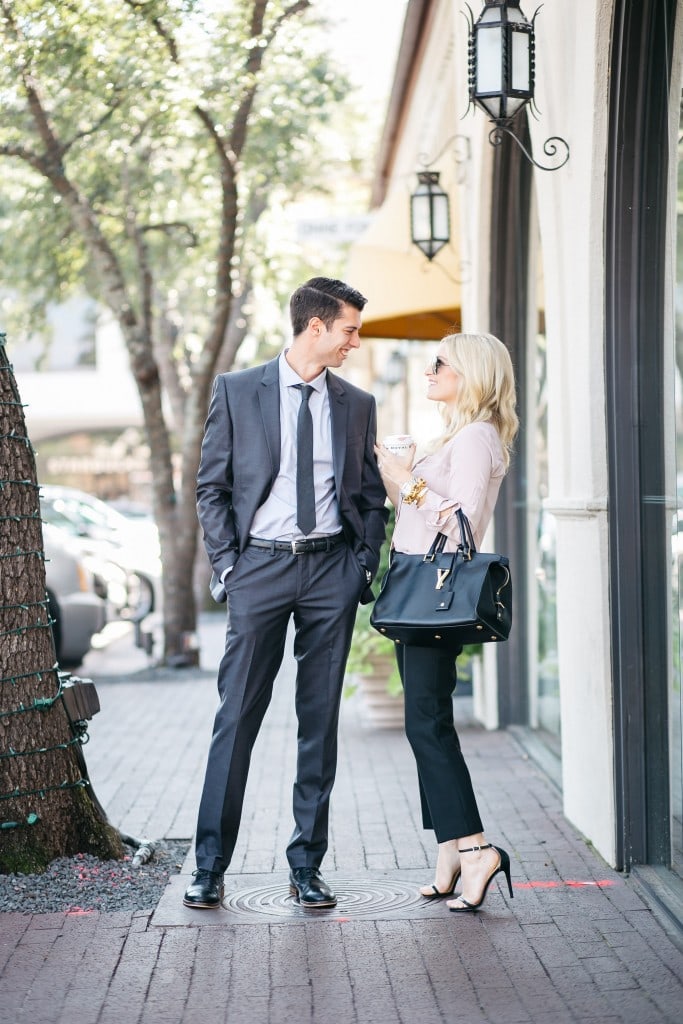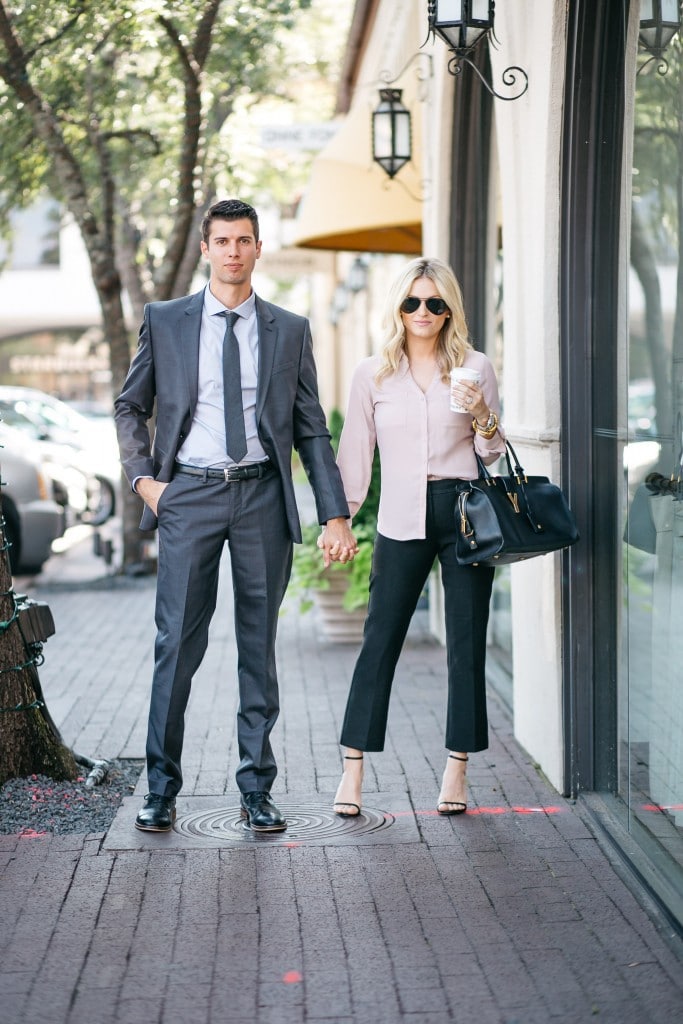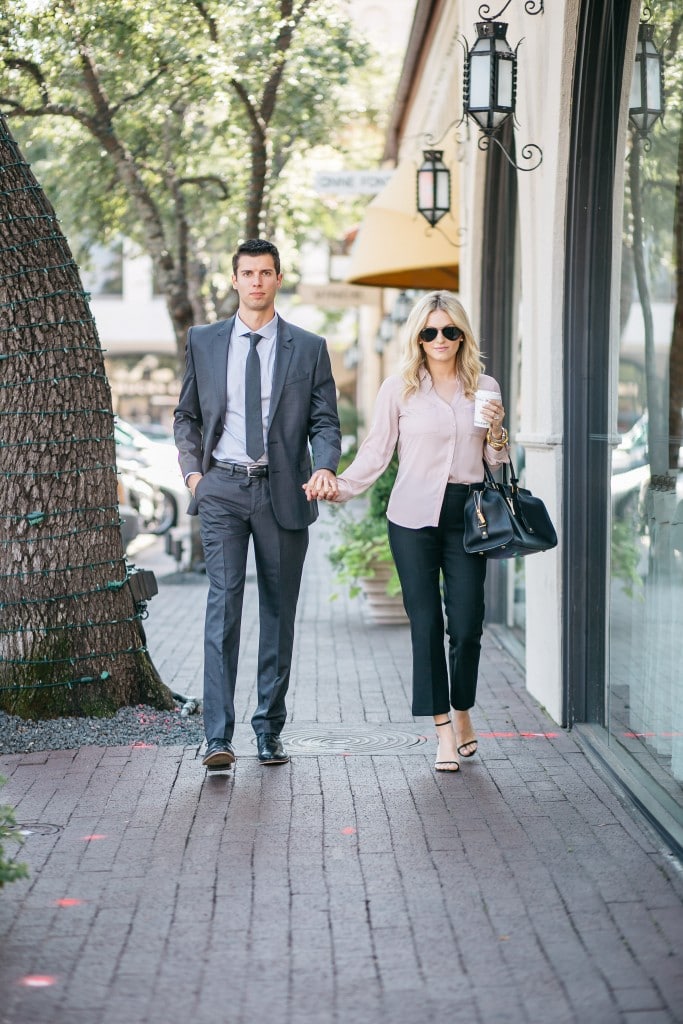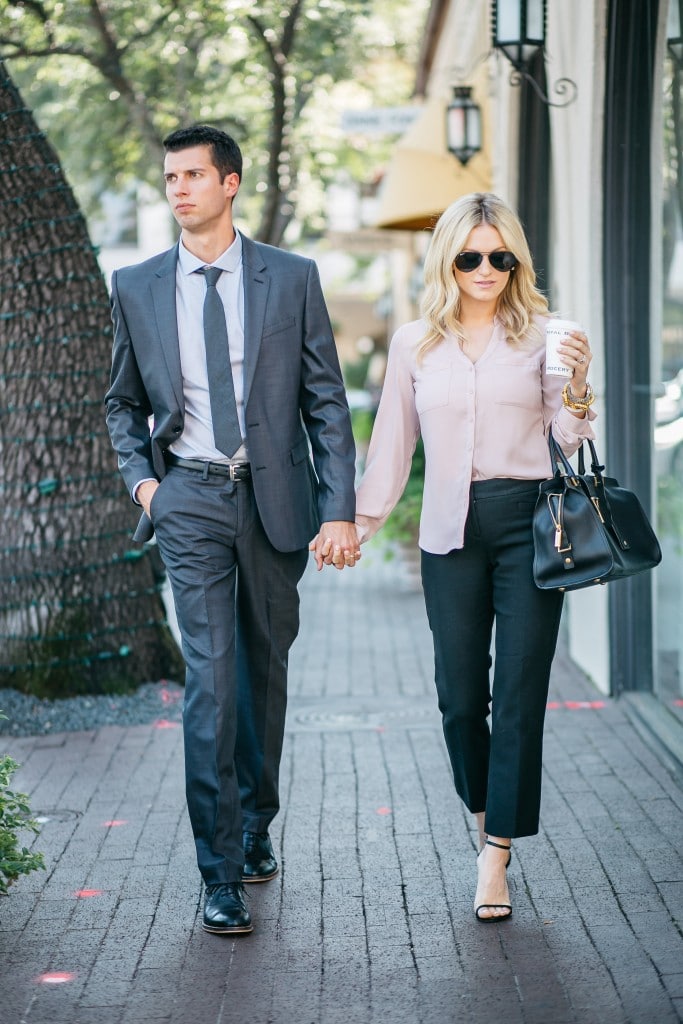 [hello baby bump! 😉 ]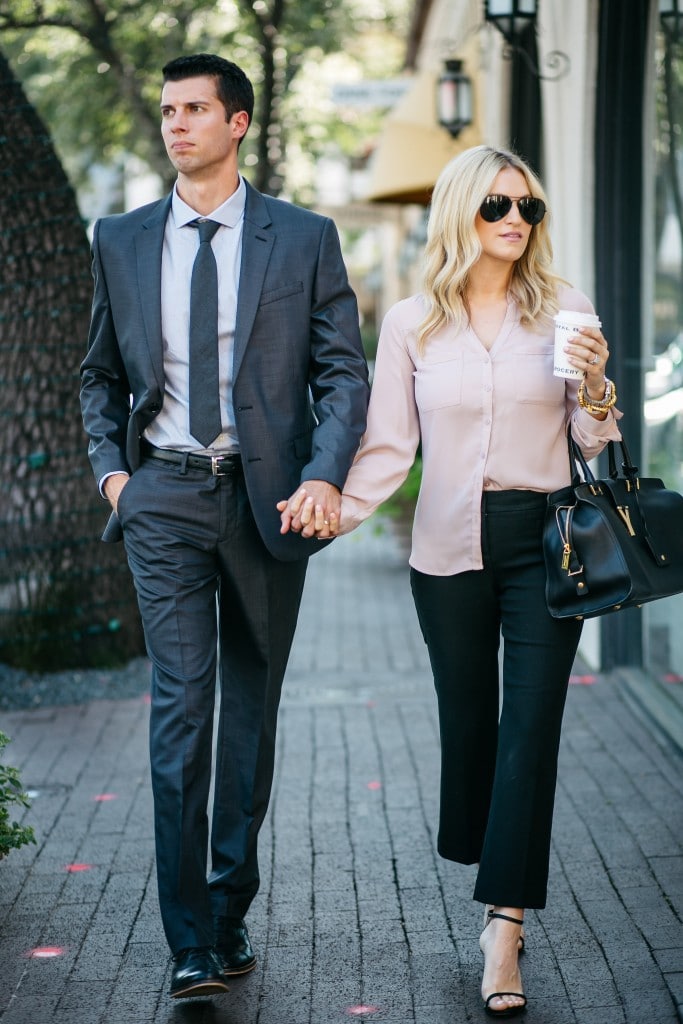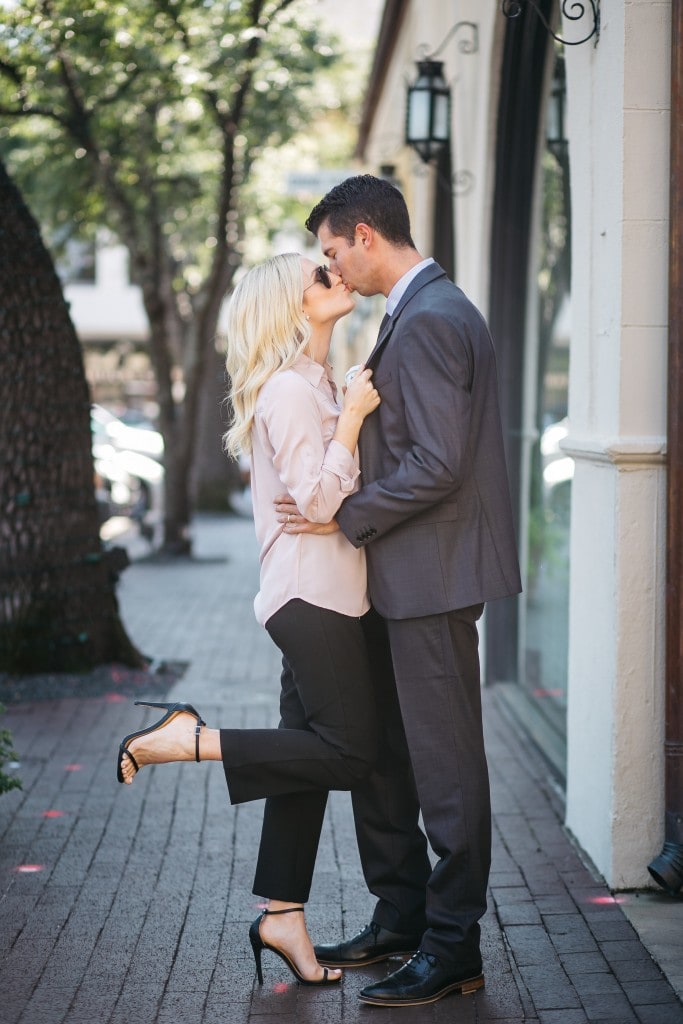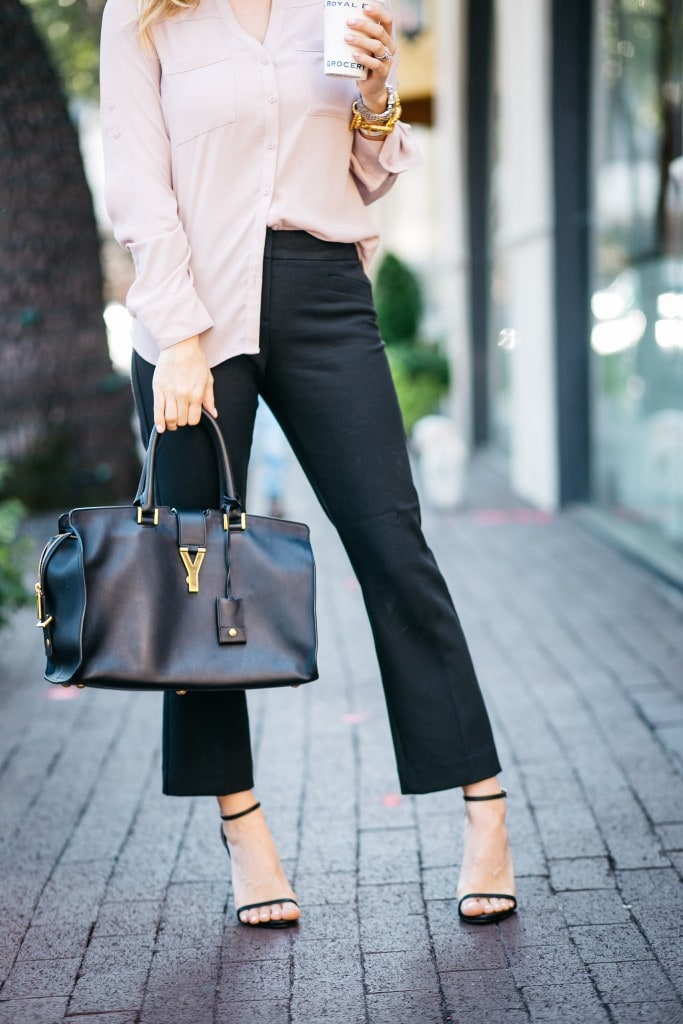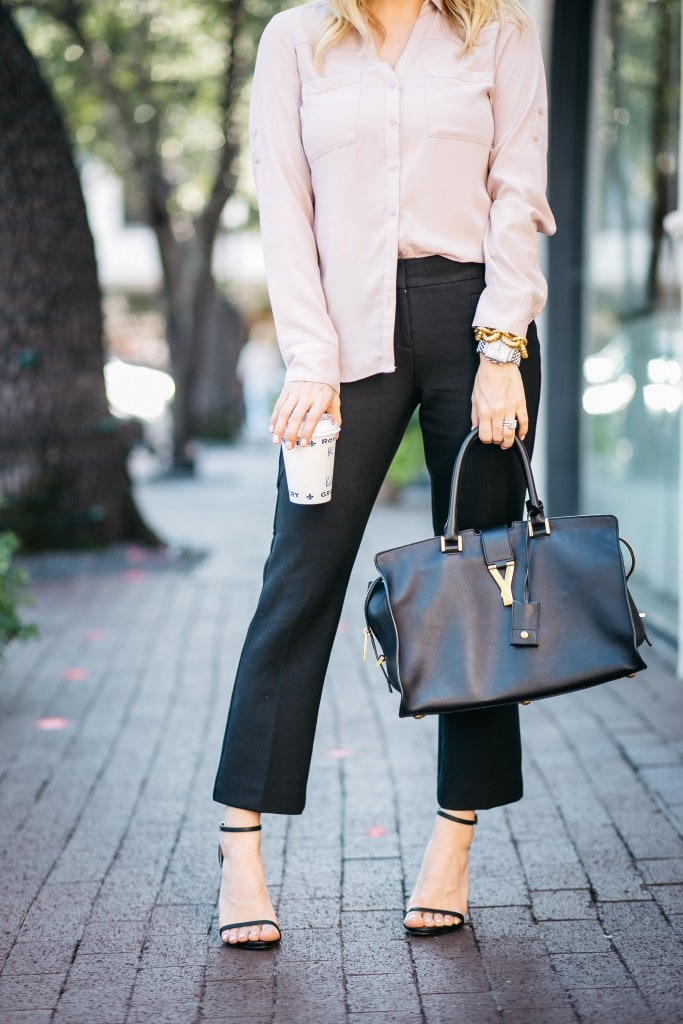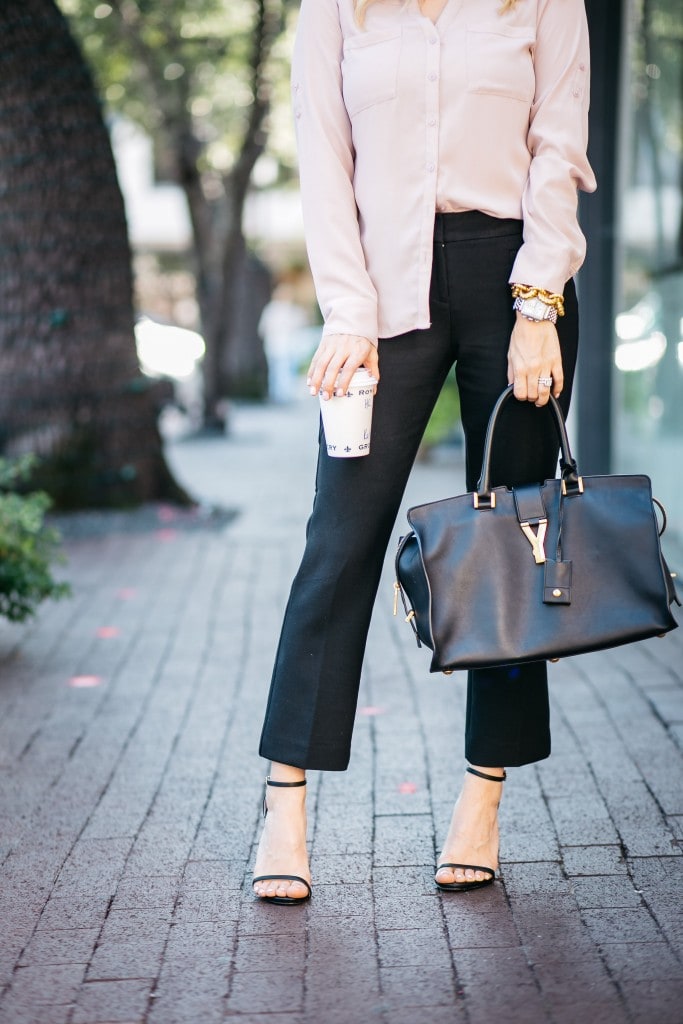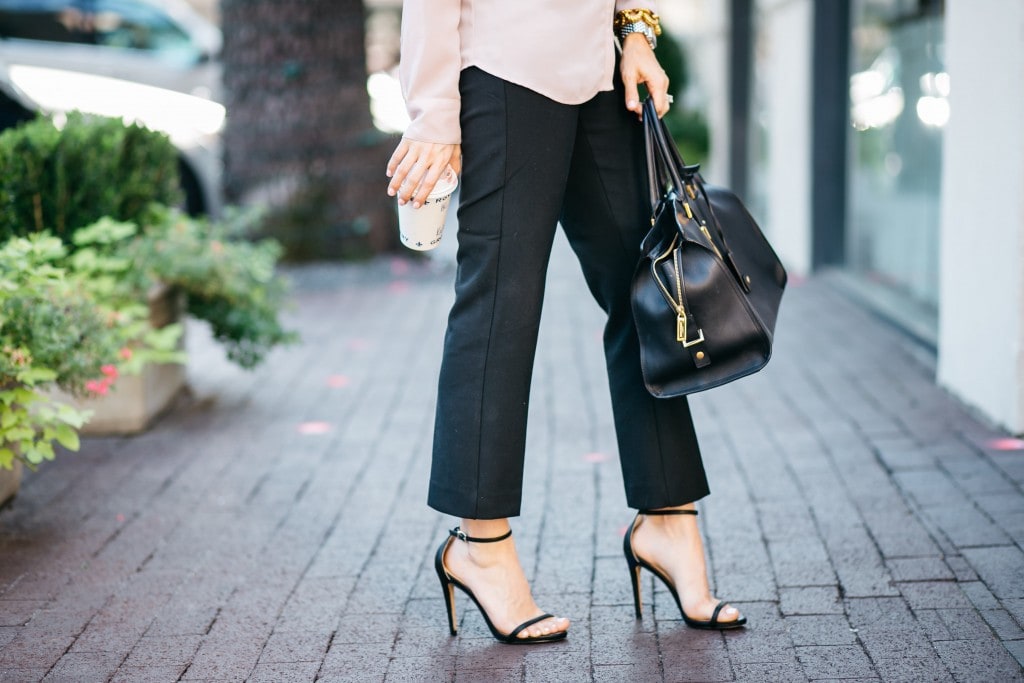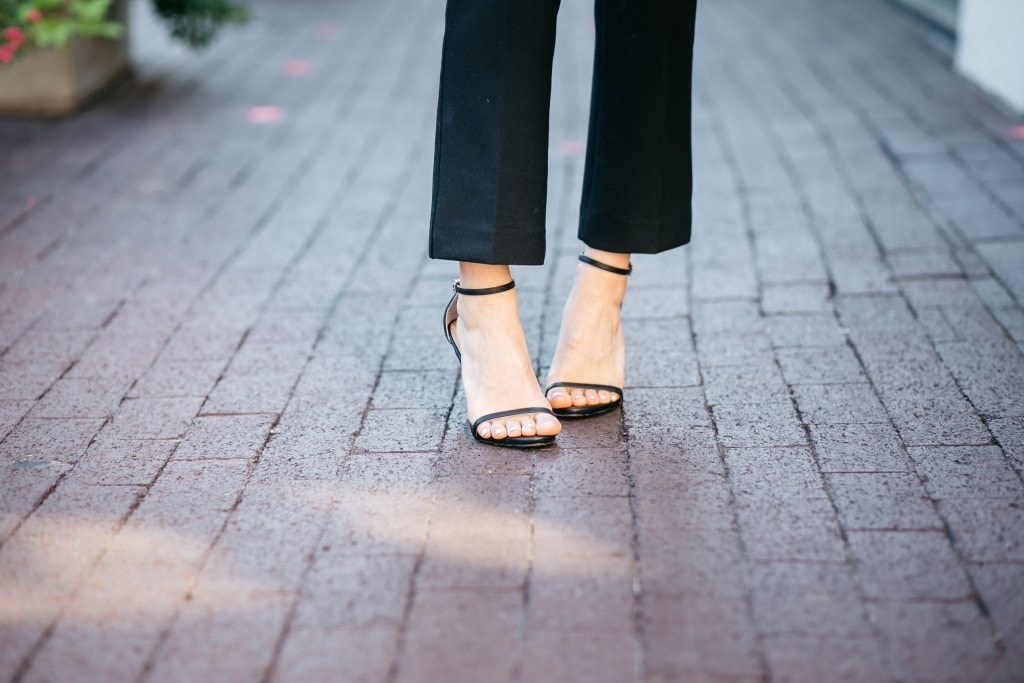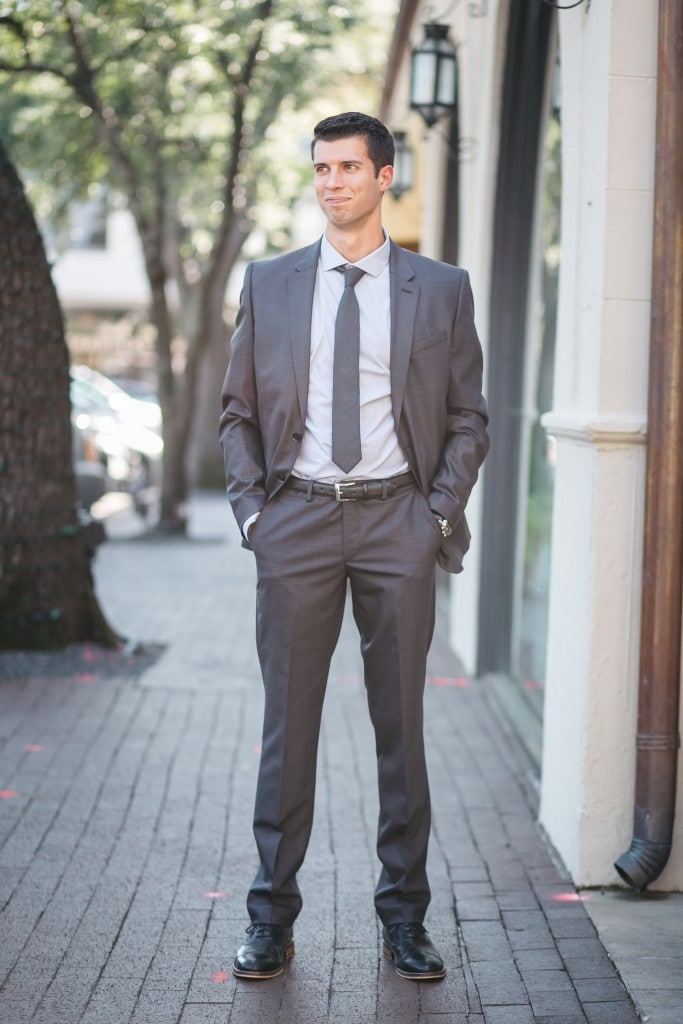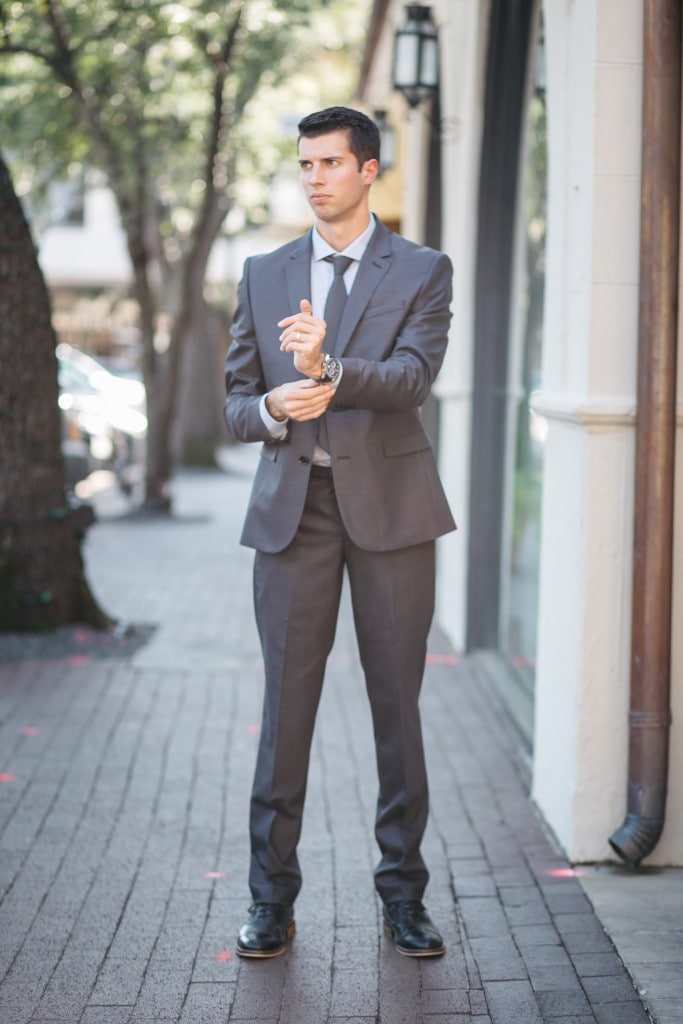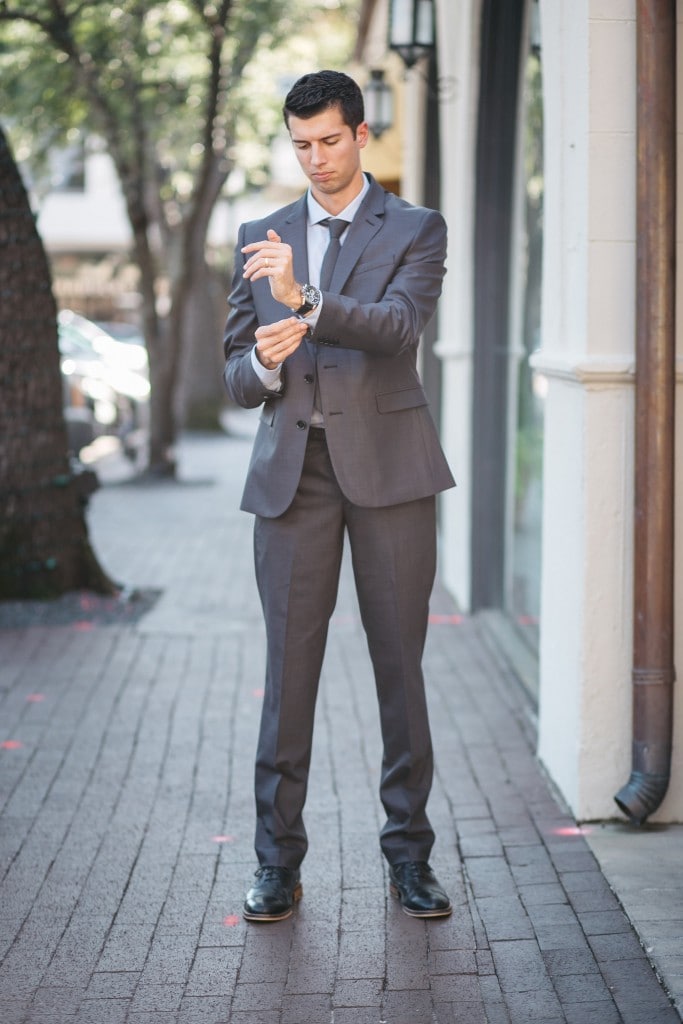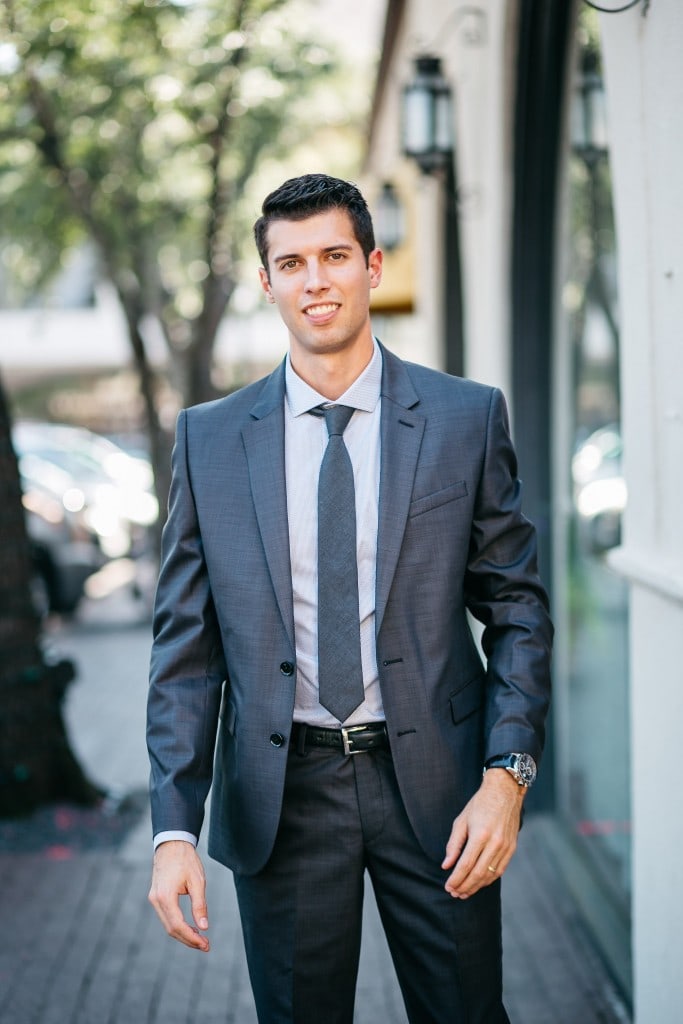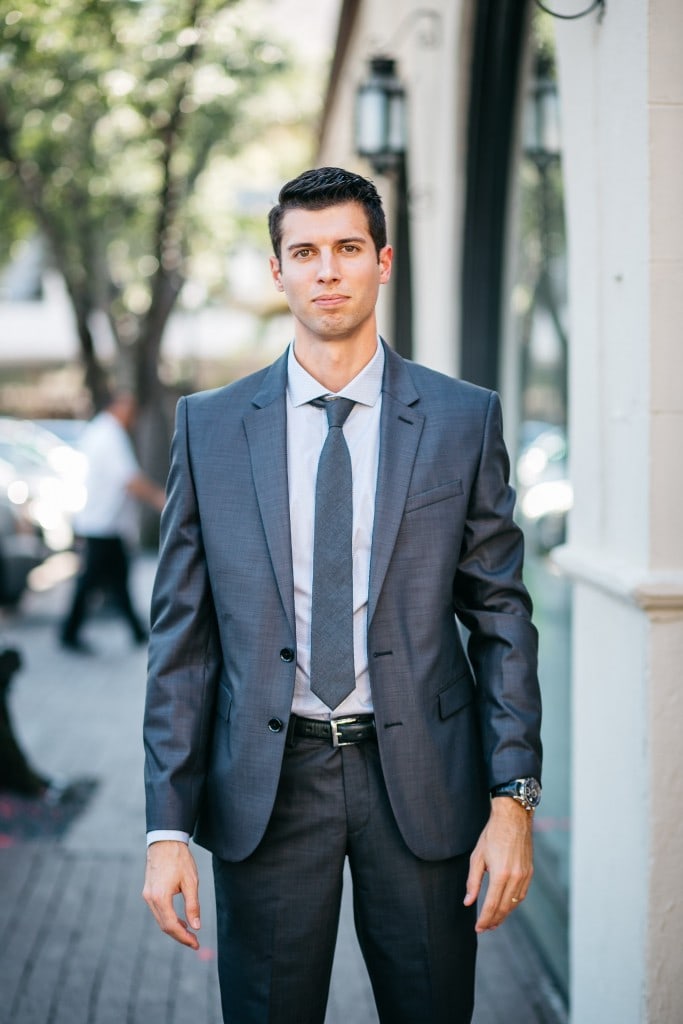 Katey: Pants: Express [c/o], Top: Express [c/o], Shoes: Express [c/o], Lipstick: Child Star, Bag: YSL
Paul: Suit Jacket: Express [c/o] | Shirt: Express [c/o] | Suit Pants: Express [c/o]
Photography by: Beckley Co
---
Ask a girl to grab her favorite look in her wardrobe and 9 times out of 10, it normally isn't that she wears to work. Thirty percent of your human life is spent working, so why can it be so difficult to find something that is not only polished, but personal to your own style? I think it's important to find work wear that you love, not for pure appearance reasons, but for how it makes you feel. I know when I'm in an outfit that I don't love or feel like myself in, it stays on my mind all day! Not in the "I need to go home and change now!" sense, but enough that I think it subconsciously messes with my confidence. I'll pull at my top, or straighten my skirt and still feel a bit, well, awkward. I'm constantly looking at other girls and saying, "Why didn't I wear what she is wearing? She looks comfortable in the look she chose."
But I think sometimes, when looking at a work wardrobe, we overlook the most important part. It can be so easy to get caught up in what you "can't" wear that we forget what we can do, which is hone in on fit. Nothing makes me think a woman looks more chic than when the fit of her clothing is perfect. It says that you own the outfit and the outfit doesn't own you. The fit of your workwear can take your confidence from little girl in a dressing room to a powerful woman in a conference room, so let's talk about it!
First things first. Let's just state the obvious. My sweet little girl is having my body change and most looks are so easy to conform to it, except for pants!  Pants have driven me crazy. I'm not frustrated by any means, I'm flat-out confused. I just can't find a pair of pants that fits my bump as well as my legs. I haven't changed in my legs, so finding something that can fit both has been a challenge, which is why I either wear leggings or a dress. I've been wanting to share a work wardrobe post for you corporate girls, but how could I do that when I couldn't even find a pair of pants I genuinely liked? I would come out of the dressing room at a store and it might have fit in the waist but the legs looked like I was playing dress up in my dad's closet. I didn't feel confident, I felt silly. And silly is the last thing you should ever feel at work because of your clothing!
Express asked me to partner on work wear and I got nervous. I lived in Express pants when I worked in an office doing public relations, so I was anxious that they wouldn't fit now and I would just feel discouraged that this post wouldn't happen. Women in the work place get pregnant, and bodies change over time, so how could I not find pants to fit?!
I decided to opt for a cropped ankle pant to play on features that aren't currently changing and ordered 3 different sizes. Yes, you read that right. I ordered 3 different sizes because in my mind I thought, "Well, maybe I'll just have to get them tailored?" I knew my pre-pregnancy size in Express work pants because I've accumulated quite the collection since my first job at 16. Oh yeah, this girl was a hostess at Chili's back in the day. I'll tell you all about the build-your-own fajitas. And right when I got my first job black Express work pants would only do! Or that's what I told my mom my boss said… 😉 When the box came in the mail I stared at the pants and thought, "Well, which pair will fit me?" It was so funny trying them all on. But just as I was at 16 before my first job, when I slipped them on I felt confident. Express got it right. For any of you pregnant girls, I just went up one size and the rest of the pant fit perfectly, which has yet to happen with pants. A few other options include wide-leg pants and skinny pants. I normally grab a skinny pair, but I branched out with these ankle pants and love how different shapes can make you feel like you aren't even wearing workwear. Playing with silhouette is just another option for mastering the best fit for you and ultimately creating your work wear style.
I was so excited to do this post with Paul as we both represent opposite ends of the spectrum! Paul works in a corporate environment as he is a senior financial reporter for an energy company. I worked in PR and while I work in fashion now, these pants are still perfect for meetings. I work in a creative environment, so wearing these skinny-heeled sandals is one way to show your personal style without adding any unnecessary frills to the look. However, for most other work environments you can add a chunky-heeled pump and you'll still get the same effect, in a more conservative fashion! And you can tuck your entire shirt in as well! I just wanted to show a creative option as with my work, I can easily play with proportion like with ankle pants and a half-tucked Portofino Blouse and it's a really quick way to add a personal statement.
Paul loved this suit as he is really tall and slender and he went with the Express slim-fit suit. However, if your husband doesn't have that build they have so many different style options to cater to sizing.
I hope this gives you some work wear inspiration no matter what type of girl you are at work, whether you are a corporate gal, a creative gal [like me!] or a trend setter!

Thank you to Express for partnering on this post! All opinions are my own.