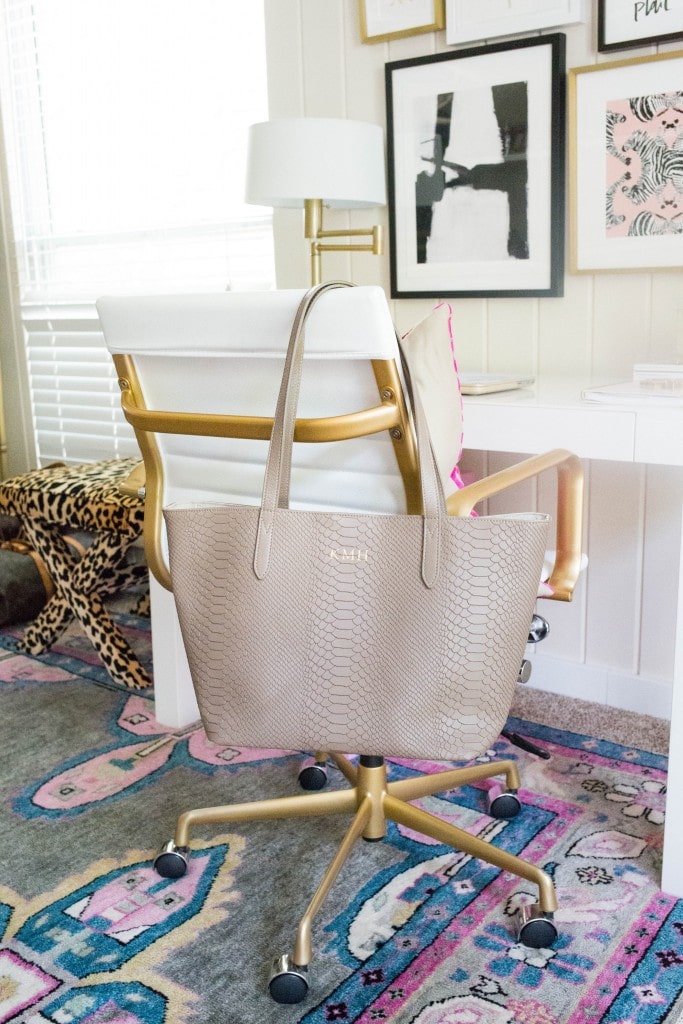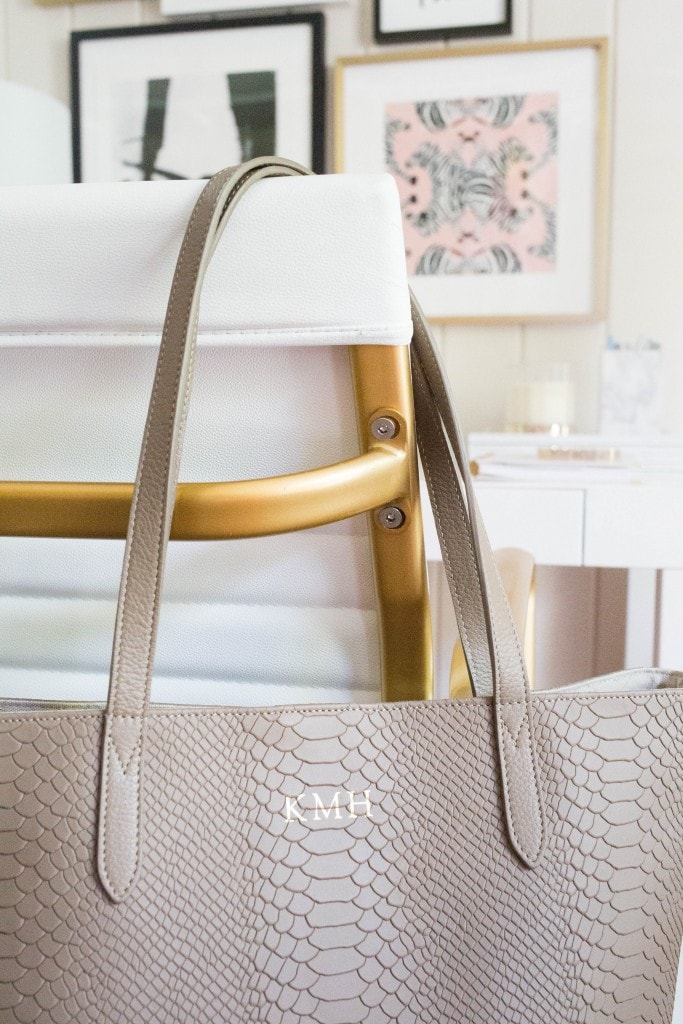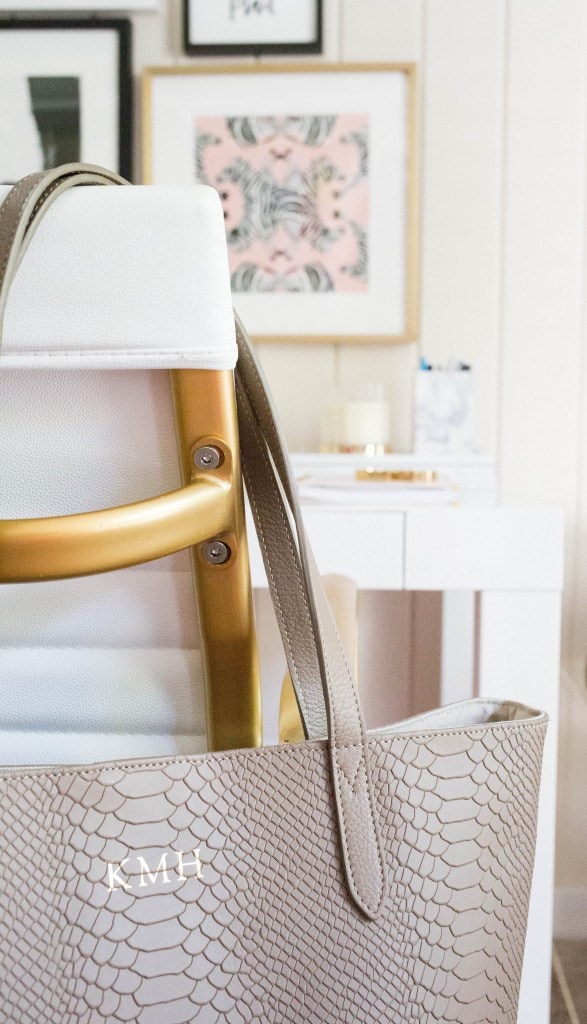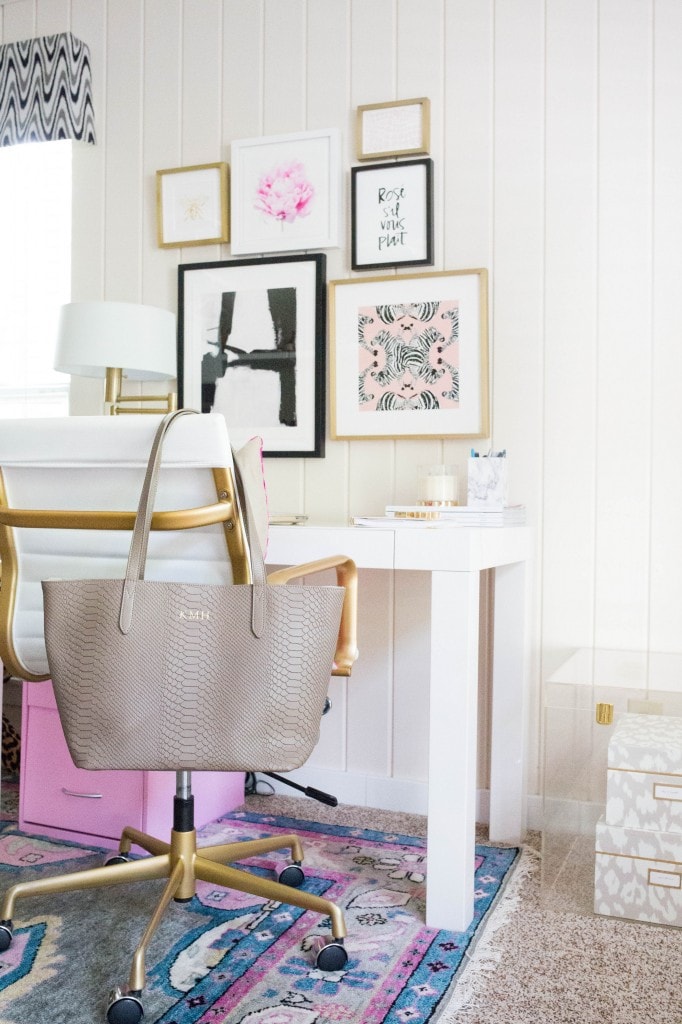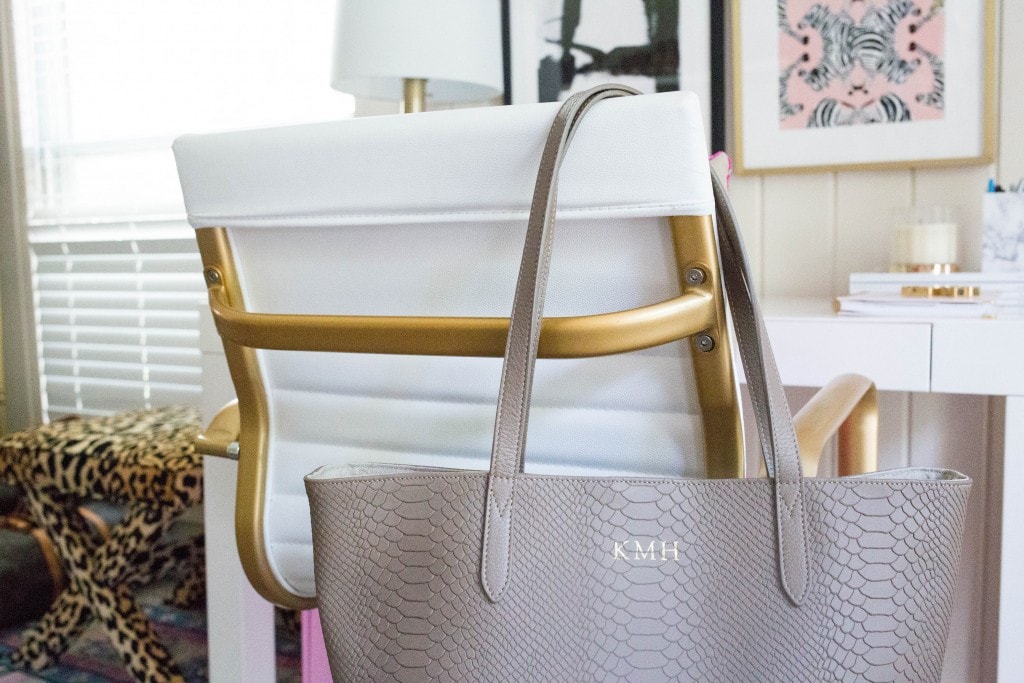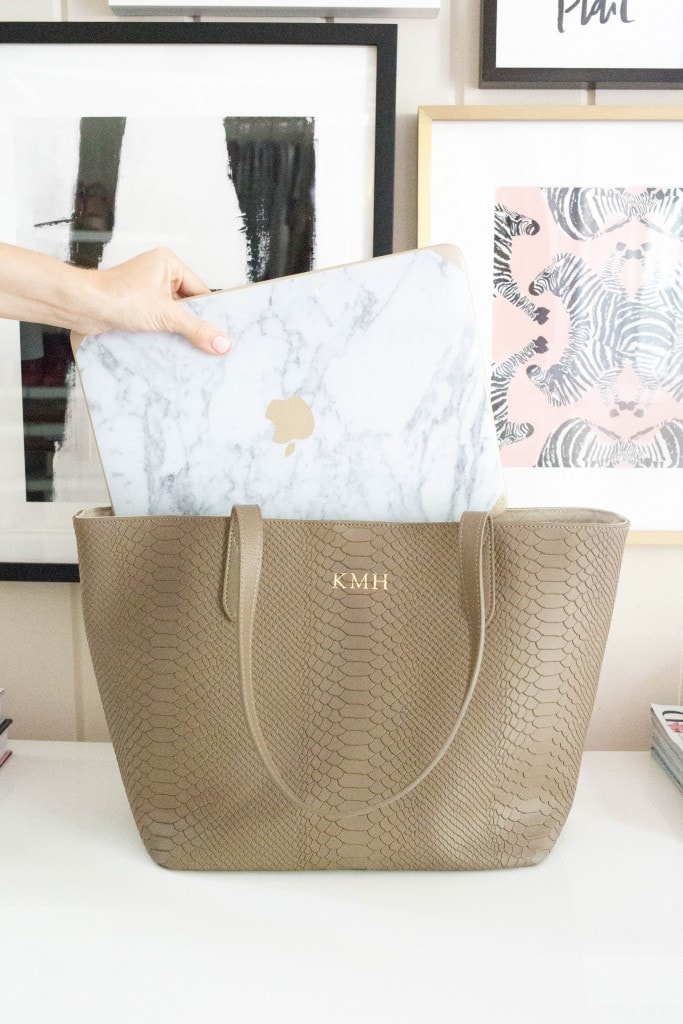 All Desk Details: This Post | Tote: Gigi New York [c/o]
Photography by: Madison Katlin
---
Before I worked full time on COF, I worked in a boutique PR firm in Dallas. Because we were a boutique agency [a smaller firm that specialized in lifestyle clients: fashion, beauty, entertainment, restaurants] I got to have a lot of fun in my work wardrobe. Of course, I had to follow what was work appropriate but something like a pink pencil skirt was welcomed!
However, I remember the frustration of finding a work tote. I grabbed an inexpensive one right before I started my job and it had torn a few weeks in. Then I grabbed one at Target and I was always switching it for the weekend because it looked like it was part of my work uniform, and not true to my personal style at all. Then I splurged on a Neverfull and loved it, however, there were no pockets for organization. I also get a lot of e-mails from girls about finding a work tote that has a bit more of an attainable price. So this has been in my mind for months for a post!
I have found the perfect work tote and I must say, I copied it from my wedding planner! I remember she had a Gigi New York Python Tote with her initials and I loved how it felt structured and luxe, yet it was under $300!
I've carried this to and from meetings for about a month or so, so I felt really comfortable giving a review and wanted to share why it's my favorite! And what better way to explain my love for something than to make a list?
1. You Can Personalize It
Follow Reese Witherspoon's lead as she says, "If it's not moving, monogram it!" Little details like gold embossed initials make something so chic, yet personal. I always find it a conversation starter. When I see a girl with personalized luggage or bags I think, "Was this a gift?" "How long have you had it?" "Are these your initials or was this a family gift passed down?" You can personalize this bag for $15.
2. Protective Hardware
To match the personalization, the bag has gold hardware and feet. When you walk in a meeting you don't want to seem fussy and look for a spot for your bag, but after lugging it around for months you don't want it damaged. The little feet on the bag will keep the bag looking new and considerably lessen the damage.
3. The Color
I chose this bag in the shade "driftwood" because I thought it paired beautifully with the three workwear shades: black, brown and navy. It doesn't pull too strongly towards one or the other and sometimes I can find that happens when I purchase a black tote. It also feels very Lauren Conrad on the weekend paired with denim, ballet flats and a tucked-in white blouse. Because it is an embossed python pattern, it isn't simple by any means, but the color keeps it classic! Look for both trendy and classic details in bags because it means that it will last for years to come.
4. Dimensions are: 13.5″W x 11″ H x 6″ D
I have a 13″ Macbook and it fits perfectly! This bag seems so much deeper than it is because I'm able to fit my laptop, paperwork, notepad, makeup bag, wallet, keys and phone and still have extra room. However, it doesn't look like an overly large bag at all! The length of the handles also help take weight off! Being pregnant now heavy bags bother me so much due to my back taking on extra weight.
5. It Has Pockets
You know when you put a dress on and it has pockets and that automatically becomes the BEST thing about the dress?! haha. That's how this tote is! It has one large interior zipper pocket in the middle , two slip pockets on each side and then a center divider pocket so you can divide your bag between your work items [laptop, folders, etc.] and your personal items [wallet, protein bar, water bottle, makeup].
While making this post I also saw you can get 10% off if you sign up for e-mails from Gigi New York, so that takes a bit off the price as well if you choose to do the personalization!
I seriously missed this bag so much while I was at fashion week because my other bags felt heavier that I walked in the door and switched my bags before I did anything else! haha. Can't wait to show you a few snaps of how I style mine on instagram soon. I just need to kick this morning sickness and not live in my robe before I do that. 😉 I spoke far too soon last week when I said it lightened up, because it came back so strong the other day. But who knows, maybe I can make no makeup, dirty hair, robe #ootds a thing?! haha!
I hope you have a wonderful rest of your day, thank you so much for reading! I'll link a few other items I have purchased from Gigi New York and their other company Graphic Image that I get a lot of e-mails about from readers! This also includes the bride gifts I shared on snapchat this weekend.