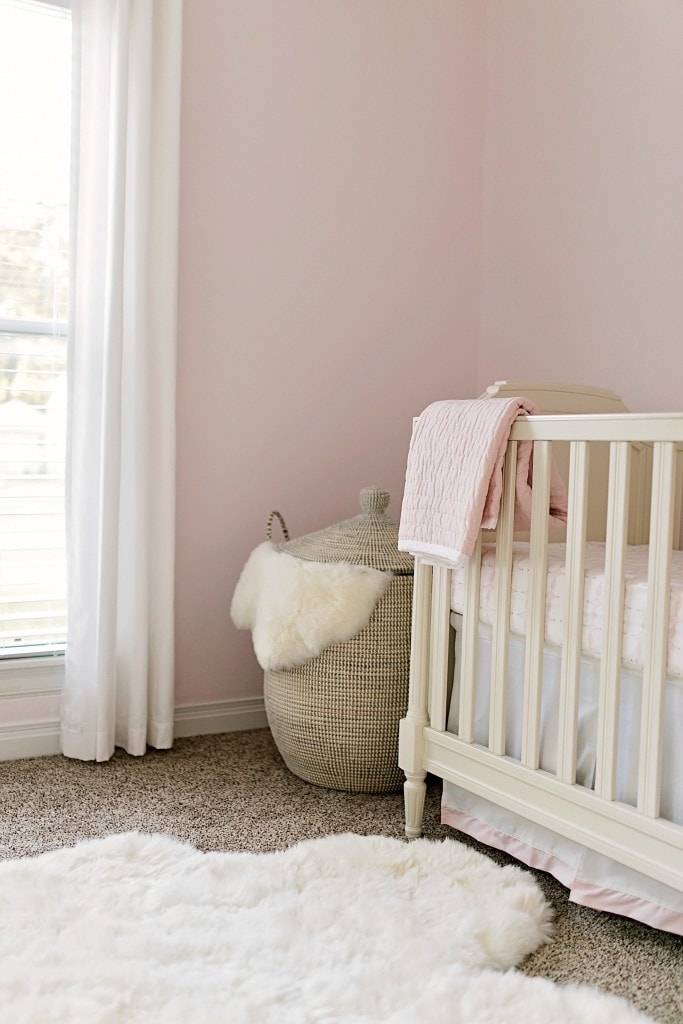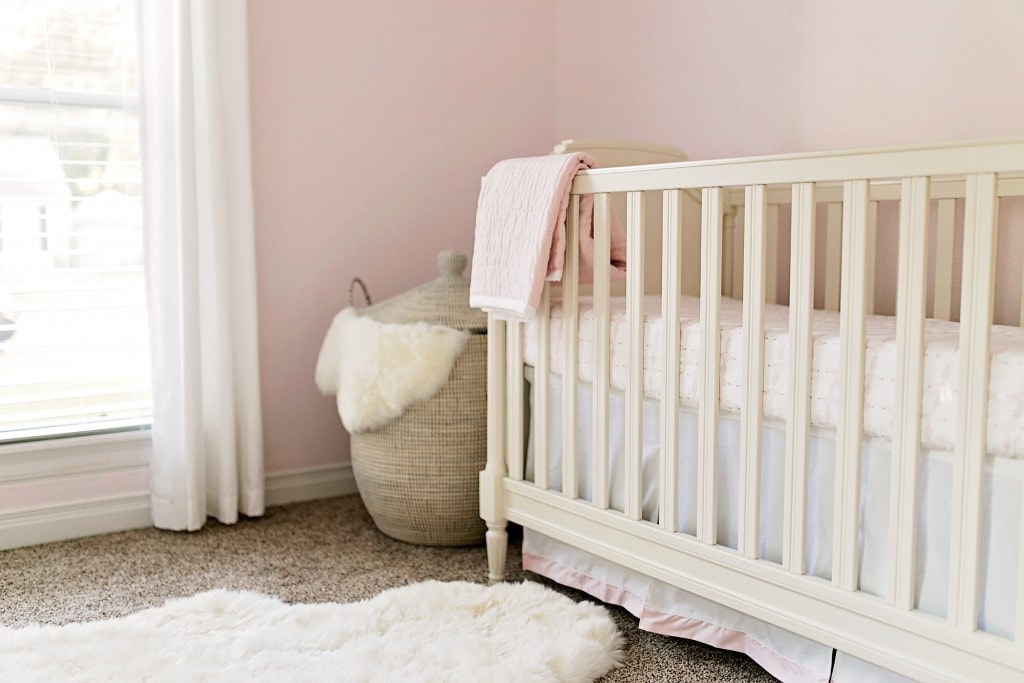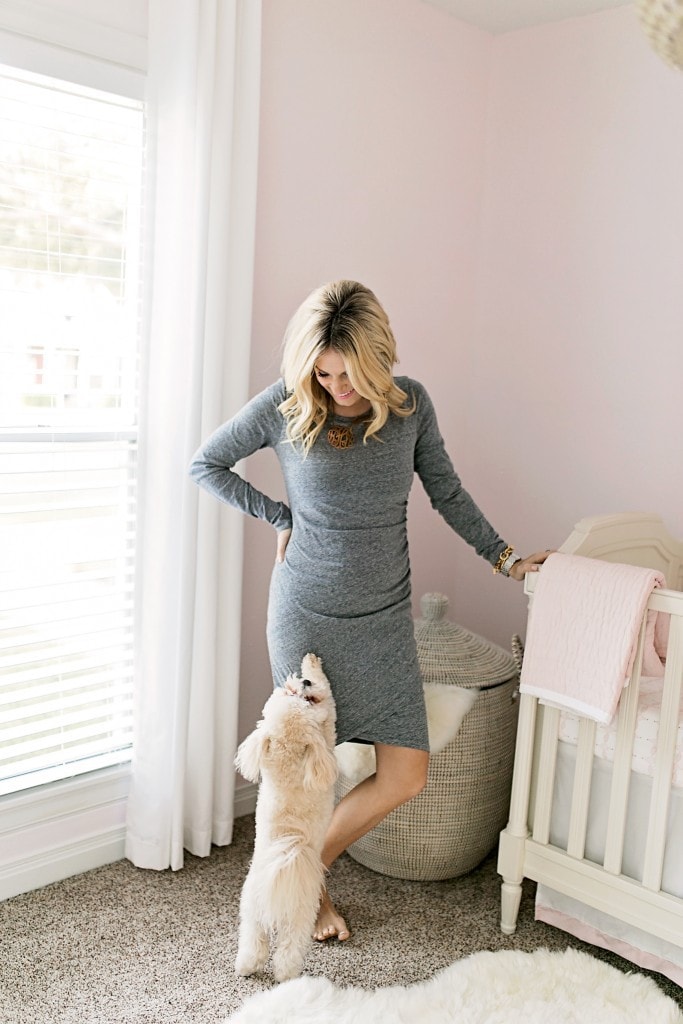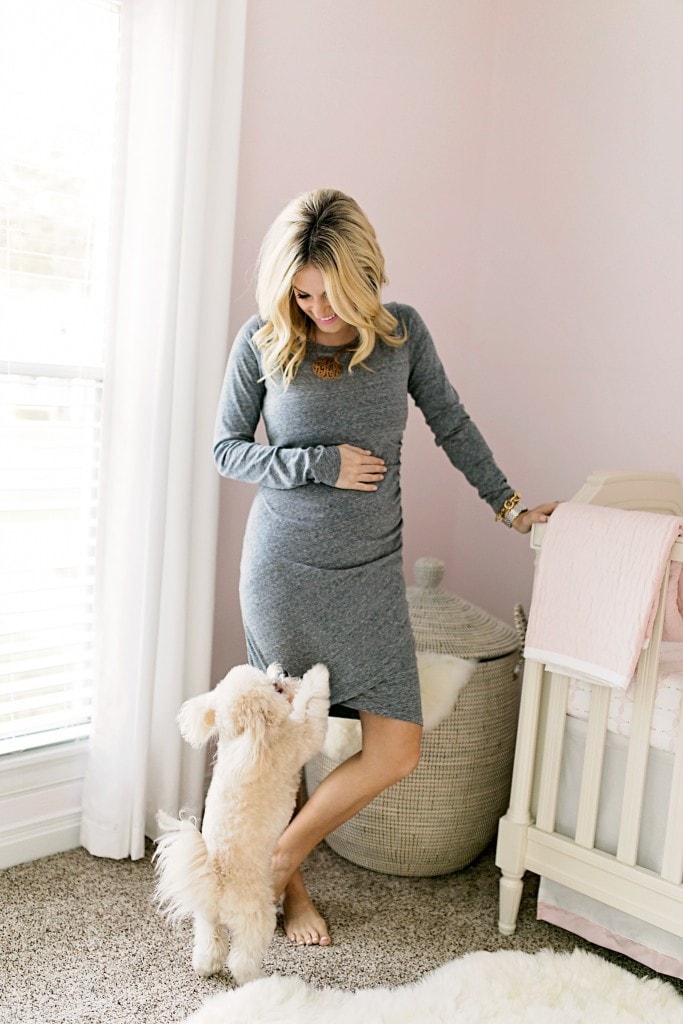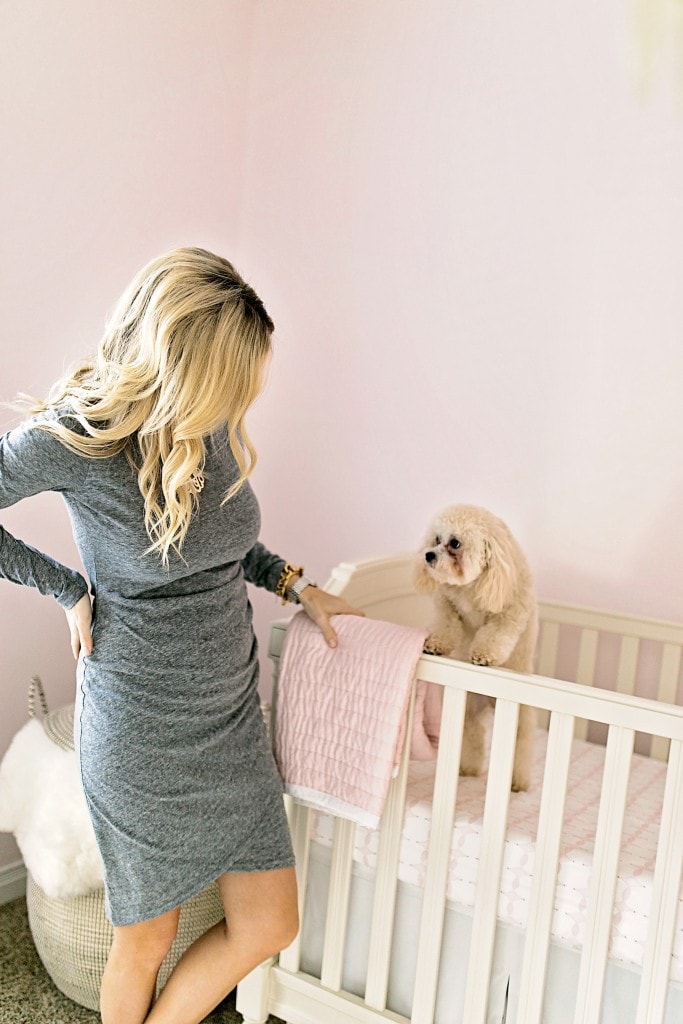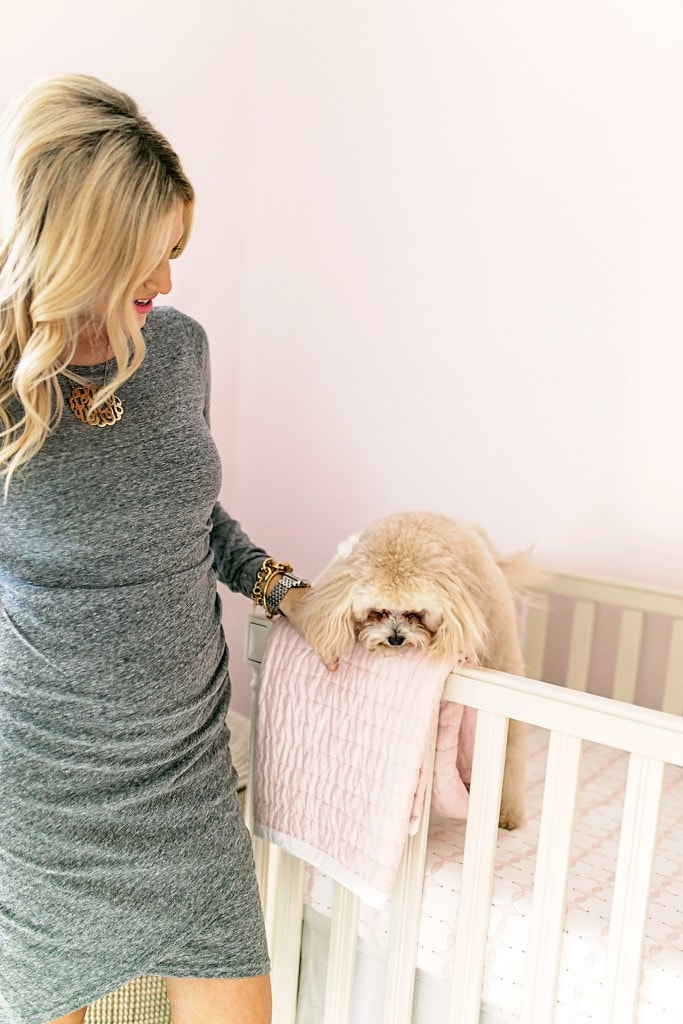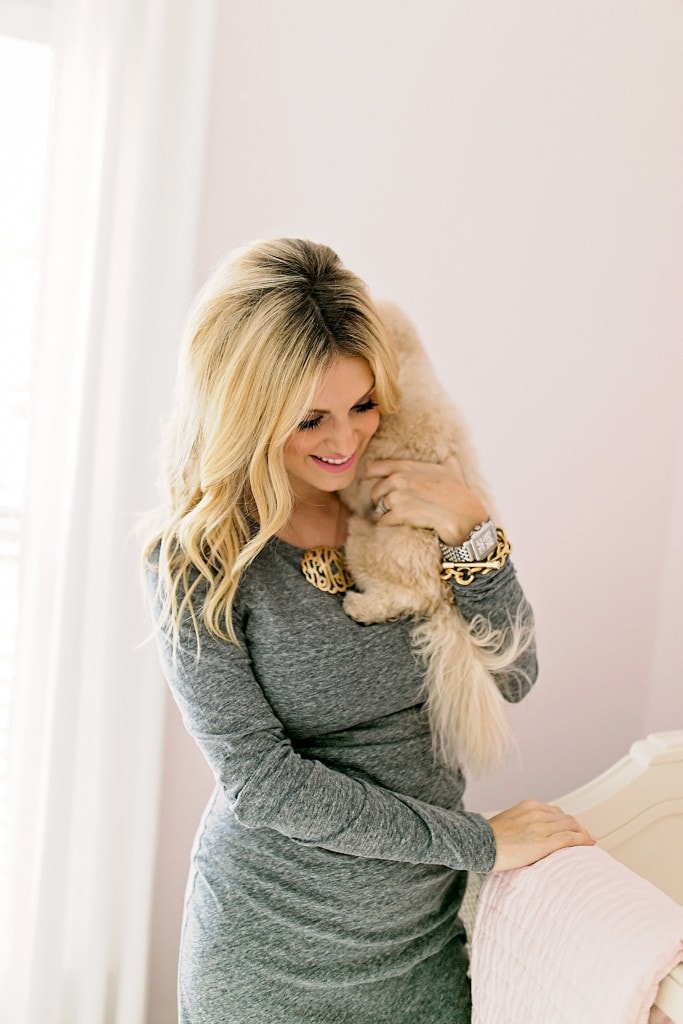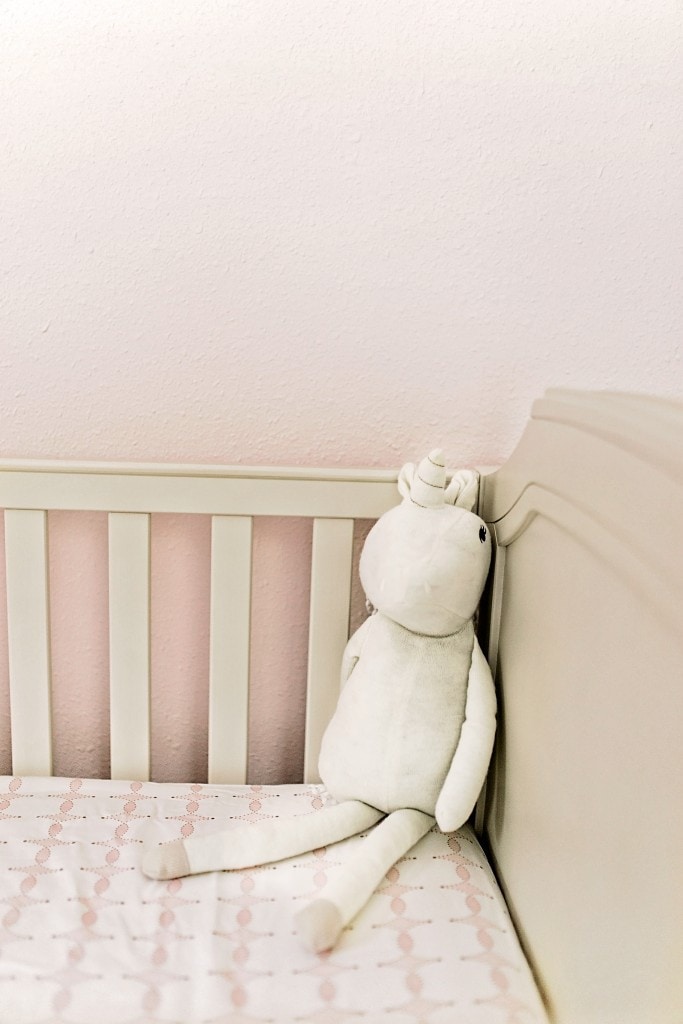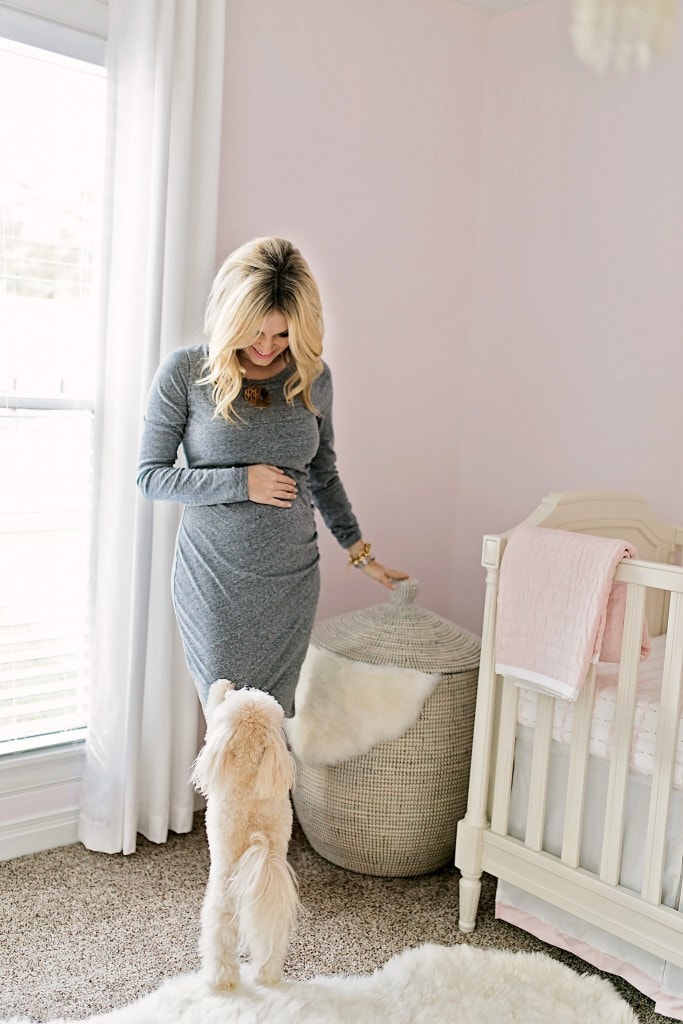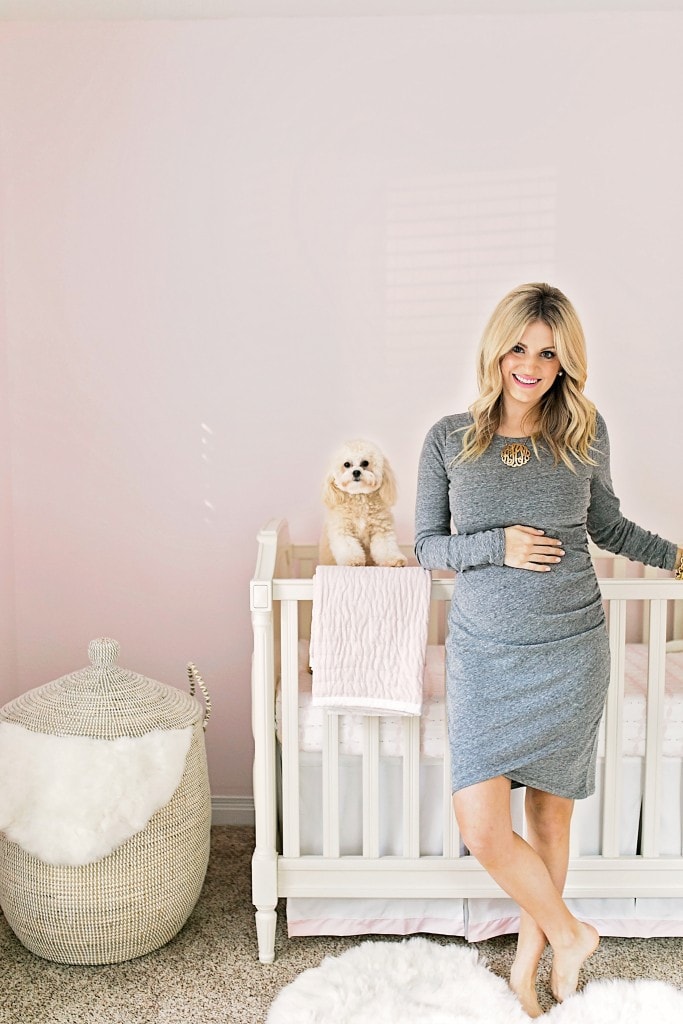 Dress: Nordstrom | Necklace: Baublebar [c/o] | Lipstick: Girl Next Door | Rug: Hayneedle | Basket: Serena & Lily [size L] [c/o] | Bed Skirt: Serena & Lily [c/o] | Sheets: Serena & Lily [c/o] | Quilt: Serena & Lily [c/o] | Crib: Pottery Barn Kids | Throw: Serena & Lily [c/o] | Bracelets: Baublebar & The Styled Collection [c/o]
Use code GETCREATIVE at Serena & Lily for 20% off!
---
How am I 6 months pregnant?! It truly goes by so fast! I thought for today's bumpdate I would show you a peak at her nursery since it is my favorite room in the home and I've had so much fun researching all the products to register for, etc.
How far along: 24 weeks!
Name: We actually had her full name picked out before we knew she was a "she." However, we have just chosen to keep that private until she is here.
What are we most excited about next: We signed up for our hospital tour, Infant CPR classes and birthing classes. I met our pediatrician last week and she is incredible. She has such a warm demeanor which was really important to me. I know you can take classes/read books and prepare all you want, but at the end of the day every child is so different and requires a different set of bendable rules. However, I feel really excited to just get these classes taken and feel more confident in Paul and I's parenting/care styles.
What are we least excited about: Call me crazy, but I'm not that nervous about labor. I know I WILL get more nervous as it approaches just because it is so unknown. Everyone has such a different experience, I've had friends say it was the worst experience of their life and I've had friends say they LOVED it and it really wasn't that bad. I don't want to stress about an experience that could go either way. My OB is so encouraging. She is like, "You've had endometriosis for years and emergency ovarian surgeries, you will not be in shock at the pain!" Maybe she is just being nice, but I'll take whatever encouragement she provides! haha. But I'm terrified of post labor! Everything from the healing to the massages they do on your stomach. I'm seriously hunching my shoulders just typing that. haha. I know I have my fears all sorts of backwards [isn't everyone scared of labor and doesn't think about the aftermath?!] so I'm hoping this calms down.
Movement: I think I'm growing Gabby Douglas. It's like a gymnastics routine in there 24/7. She moves all the time and it is seriously the best feeling! I'm such a night owl now because she will start moving a lot around 10 p.m. and I don't want to go to sleep because I don't want to miss anything she does.
Belly button: I have an innie still! And I haven't gotten linea nigra [the dark line on your stomach] so we shall see what happens.
Size: She is 1.5 pounds! 🙂
Sickness: Sickness is like Christmas now. Not that often, but pretty over the top. haha. I still throw up/get extreme nausea about once a week but it's pretty intense when it does happen.
Cravings: The sweet tooth prone to little girls has arrived! And it does not mess around. Thankfully I don't buy sweets to keep in the house and I really only have them if it is Sunday and I bake or we have lunch at a bakery. Otherwise, I'd want them 24/7. But overall I crave cookies, cereal and basic foods as I have all pregnancy. Give me a peanut butter sandwich for lunch and I'm happier than if I were to have a 5-star restaurant.
Aversions: I can't stand fish or Chinese food. I normally love this little spot by our home that has the best sweet and sour chicken. We went once a I will never forgive myself. haha. I also don't like "grilled" meat. I can eat chicken if it is in a casserole or a taco or something mixed. However, Paul has tried to grill a few times and I get so incredibly sick from it. I feel as if I can taste the charcoal!
Weight gain: About 10 pounds so far!
Physical changes: Y'all keep saying I'm glowing, but it's just my self tanner! I'll tan and the next day on snapchat everyone is so incredibly kind and says, "You're glowing!" And then I just feel embarrassed because I'm like, "I wish! But it is St. Tropez, not St. Baby Hellman." My bump feels like a real bump now and some clothing just will not work any longer. I have so many baby hairs it is hilarious and my nails grow so fast!
Workout: I shared my workouts I'm doing in this post! In the past two weeks I can tell I'm starting to get more tired and workouts feel a little more difficult than they used to!
Nursery: I wanted to go with a soft and sweet southern nursery. Think light pinks, more traditional furniture and monograms. We have a smaller home and with that I wanted to keep as much clutter at bay as possible. I went with bed linens from Serena & Lily. Don't worry, I will wash all the bedding since Peaches was in her crib! 😉 I just wanted her to really explore everything in the nursery so she wasn't freaked out when she saw a new room. Dogs don't do well with change, especially small dogs! She was so nervous and freaked out when we took all the furniture out. So I let her go in there and play during the day so she loves the room. I also loved this basket from Serena & Lily because it's so deep and can hide hundreds of stuffed animals! I added a little throw on the side to give it texture and I know she can do tummy time on it as well. Her changing table is coming this weekend and that is a piece I'm thrilled about. I wanted to frame my wedding dress in her nursery but it was just too heavy to be hung up. I got to incorporate it somehow with the changing table so I can't wait to share. Her glider and ottoman were delivered last week, her bookshelf will be delivered next week and her art is being made. After that I just need to get a few more pieces for the walls.
A few more purchases and gifts:
We got spoiled with a few Rikshaw Design bibs and I can't wait to get them monogrammed! We also got this quilt for our room to put on her bassinet. Of course it won't be in her bassinet while she is sleeping, but I'm having a winter baby so I'm indulging in all the soft blankets allowed! 😉
I'm terrified of trimming her nails. When I found this on Amazon I thought all my prayers had been answered so I'm really hoping that it's as good as all my mom friend's say!
I registered for a Dockatot so I might have Santa bring me this as well.
I went with an Ubbi diaper pail. It's the one that all my girlfriends told me I had to get and the fact it came in pink was more than fine by me! I'm sure if we have a boy next I'm going to be kicking myself for not being very gender neutral! But I'm going to live in blissful ignorance for now.
This bassinet should be here any day now to go in our master bedroom. I'm shooting a master bedroom post this weekend so I'm hoping it gets here by then!
You might have noticed this bag was added to my closet a few days ago. You get so many differing opinions on bags with babies! Some mamas only carry a diaper bag. Some mamas just carry a big tote with their contents and a diaper bag. And some mamas want their own separate bag. I'm not sure how I'll operate once she is here, but I do know I wanted something really small to throw on for church when the nursery has her diaper bag or when she is with my parents if Paul and I have to go somewhere. I didn't want to constantly be switching bags!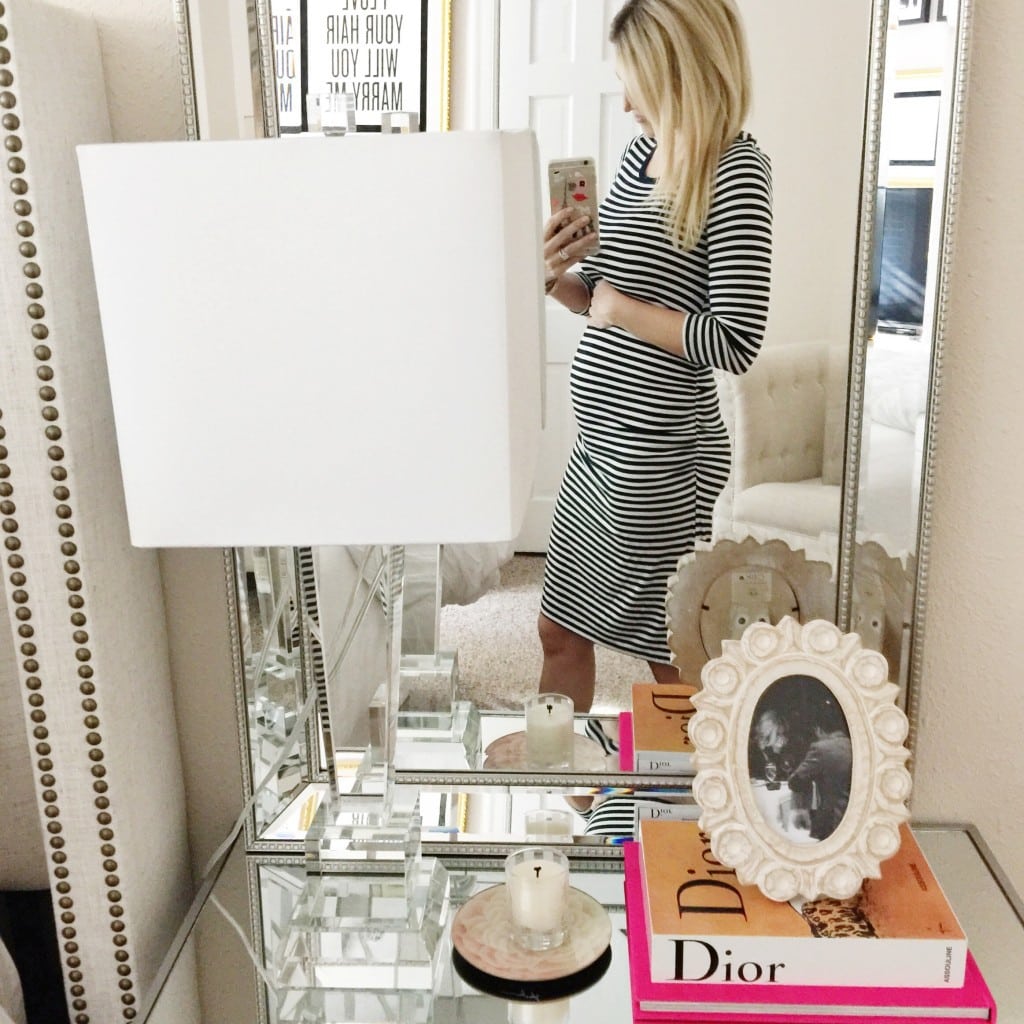 Sorry for the blurry iPhone picture! Here is a recent bump pic and I'm obsessed with these maternity dresses from Target! I'm wearing an XS for reference.
Thank you all so much for all your kind words during this pregnancy! We were at our small group the other night for church and one girl in it said, "Katey, your readers have been so nice about pregnancy!" And it was something Paul and I of course realize, but having others notice it too was just even more special. It just really means so much to Paul and I that we have people all over celebrating this special gift with us and I hope you know how grateful I am!
Thank you for reading and I hope you have the best day!