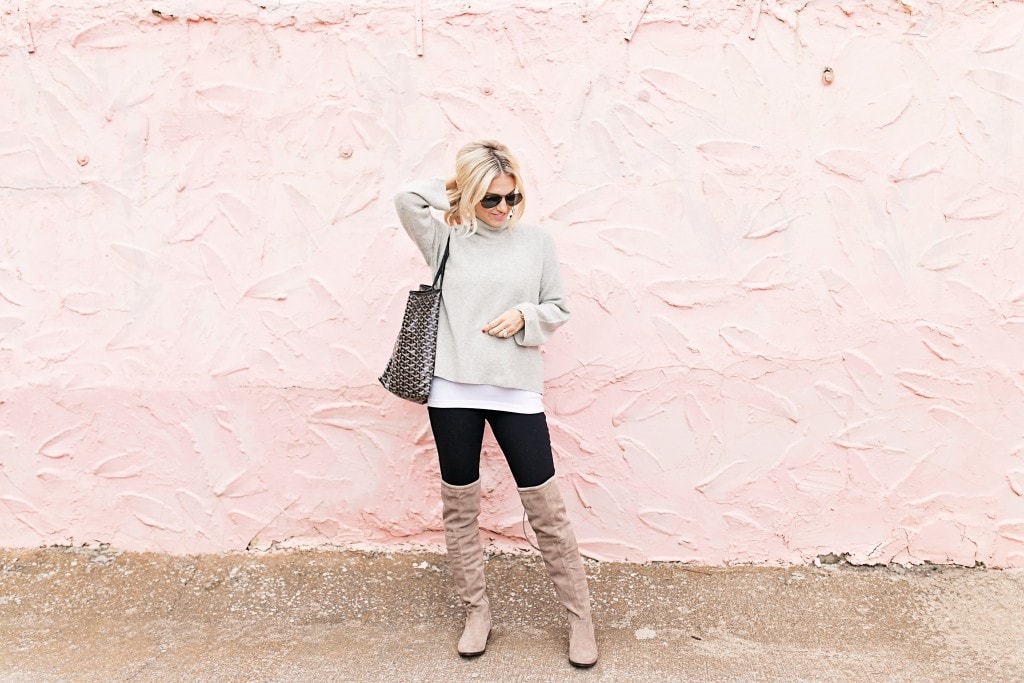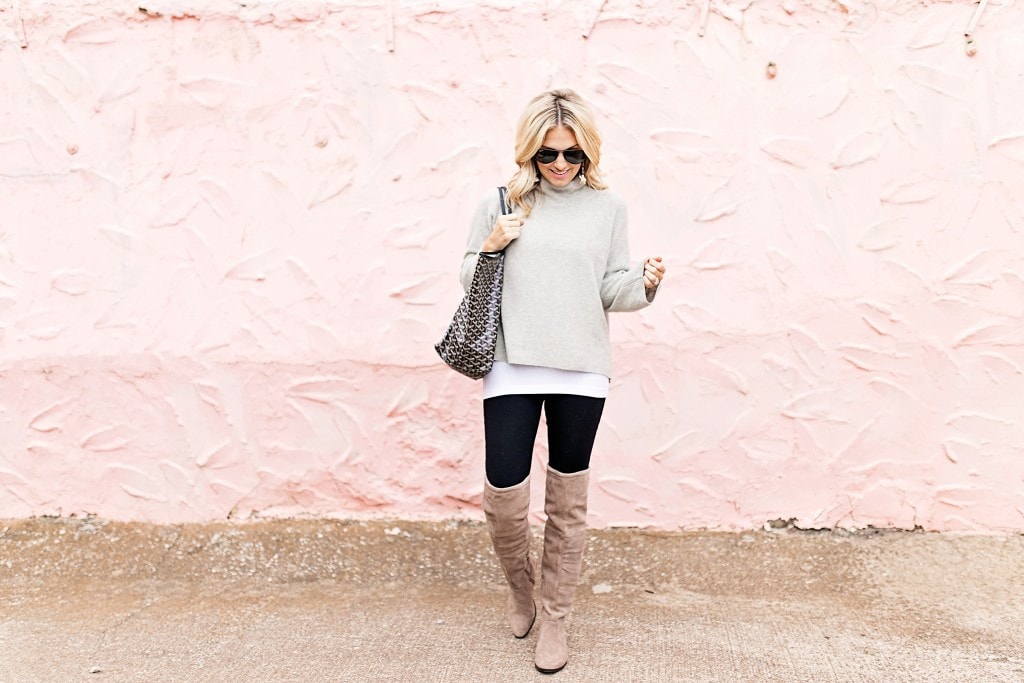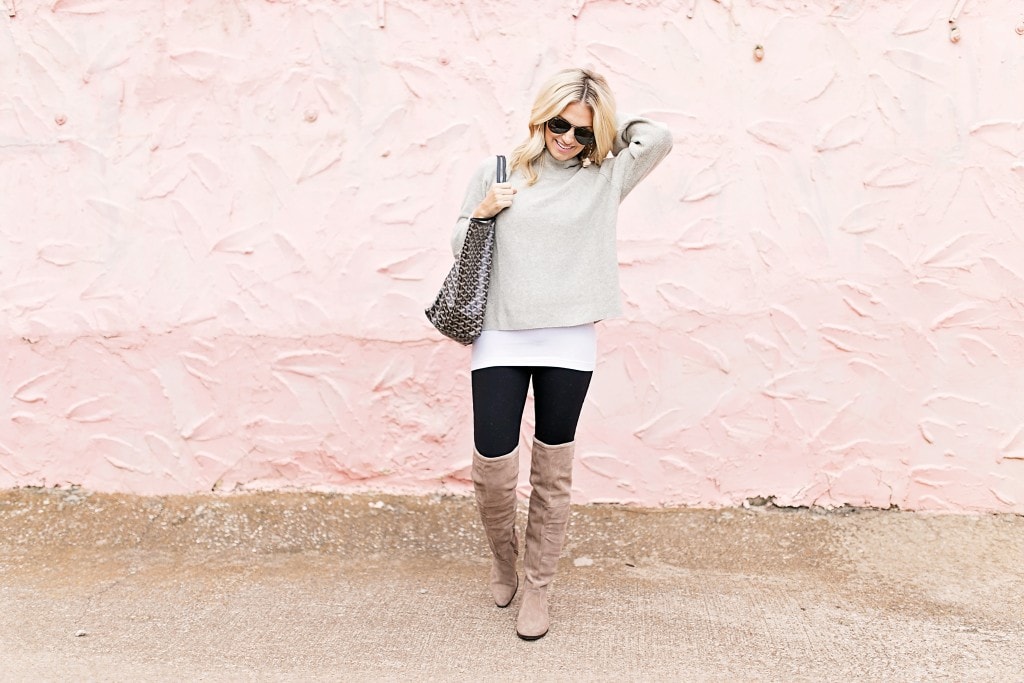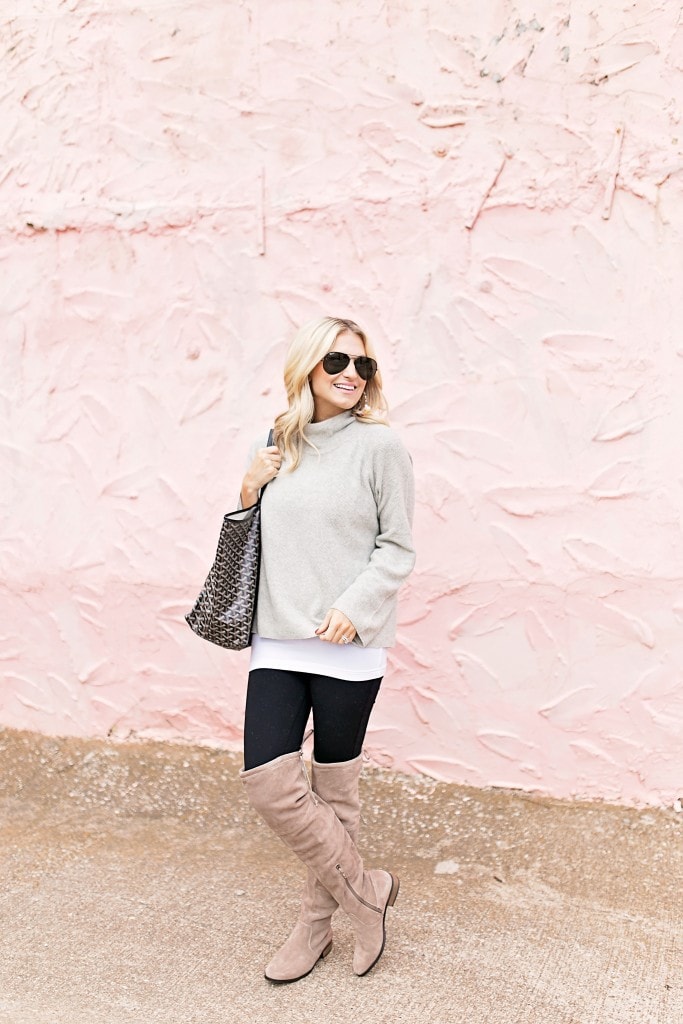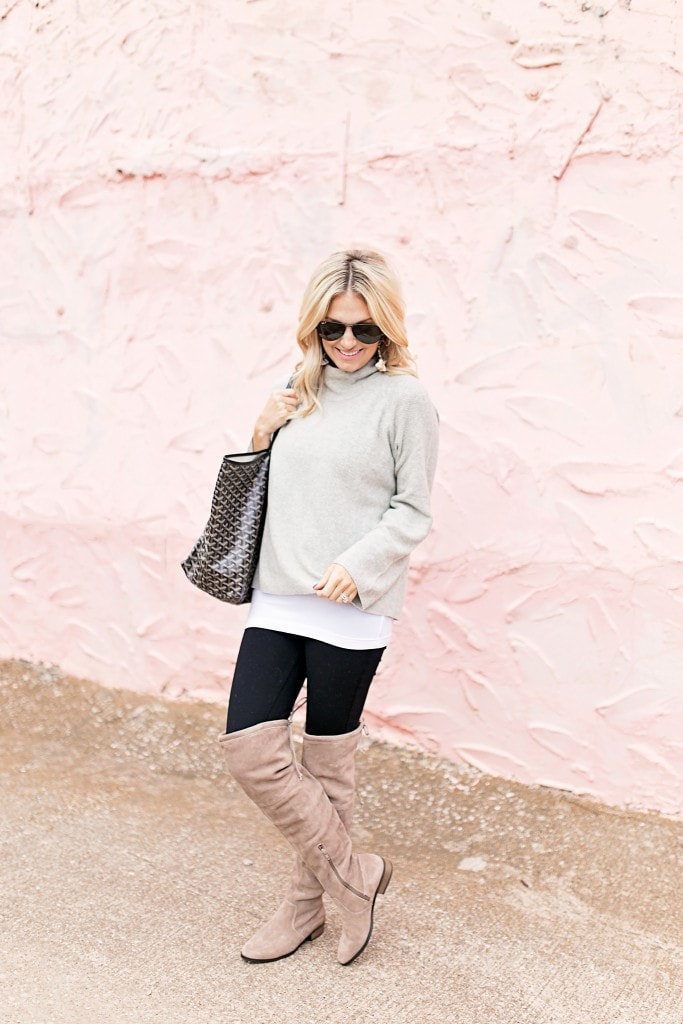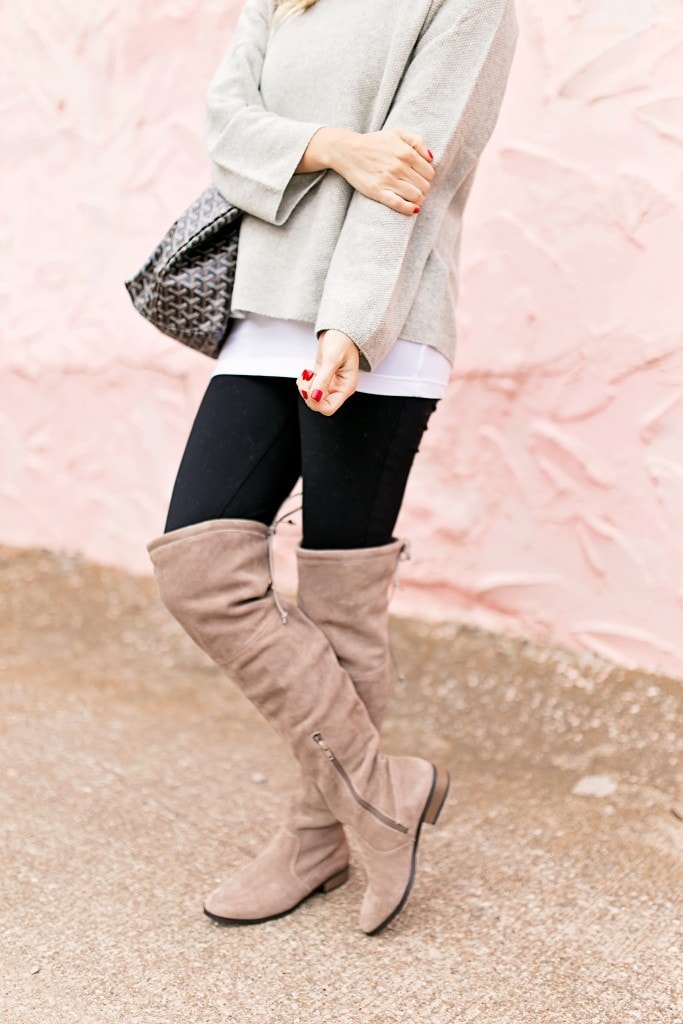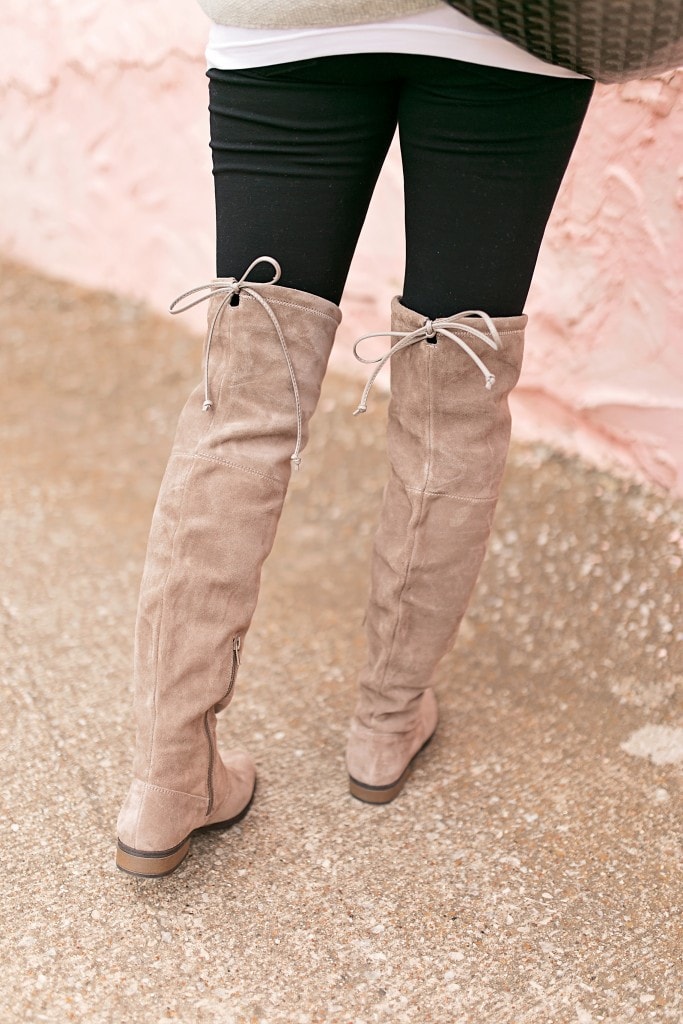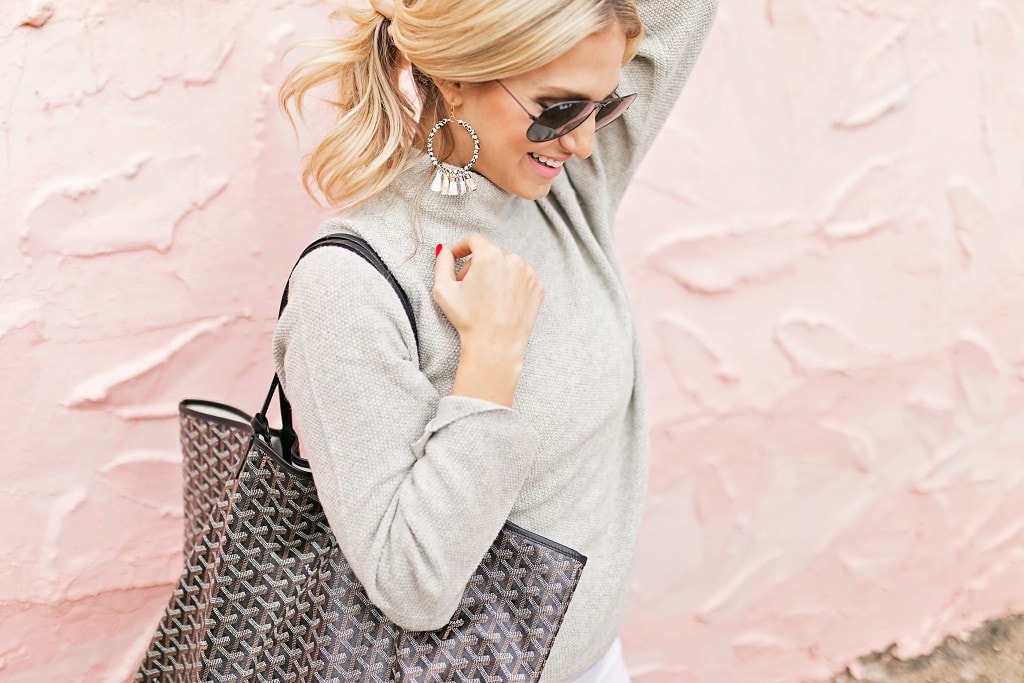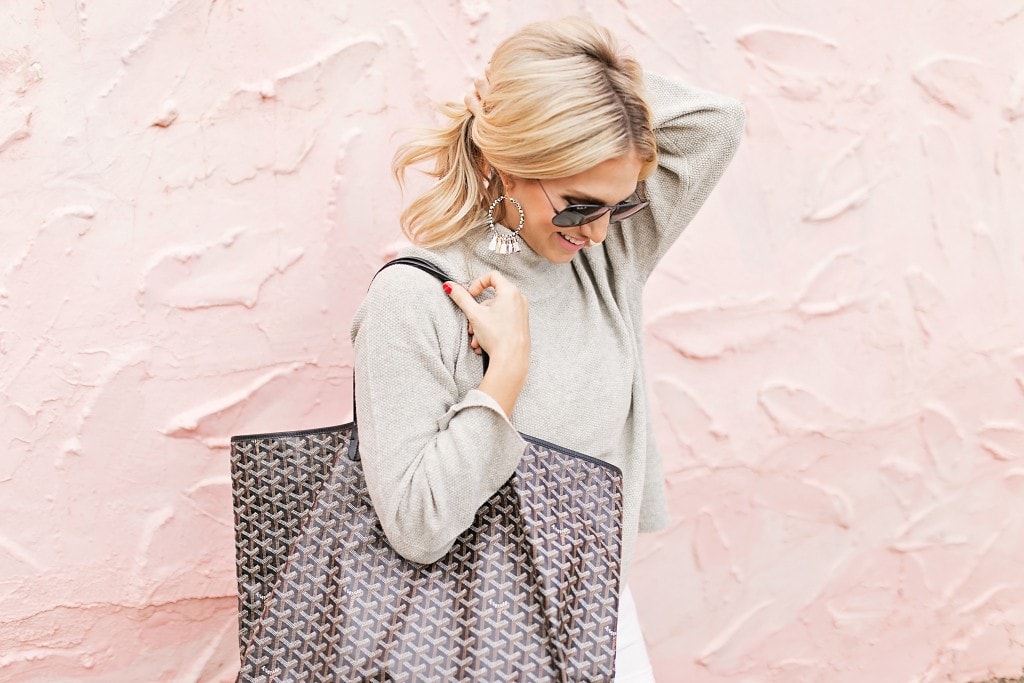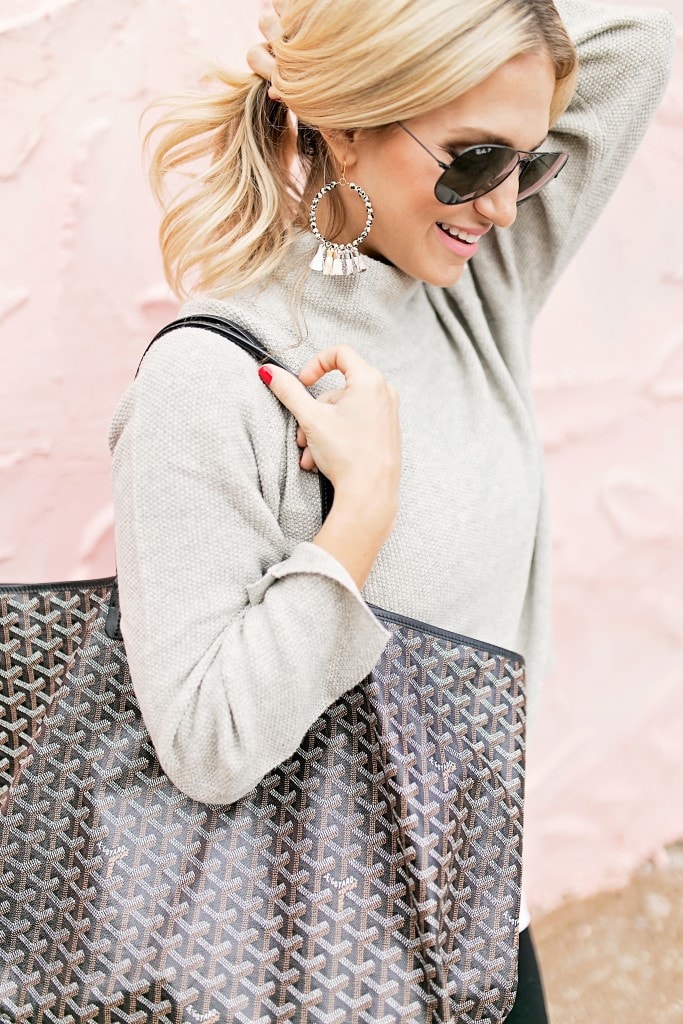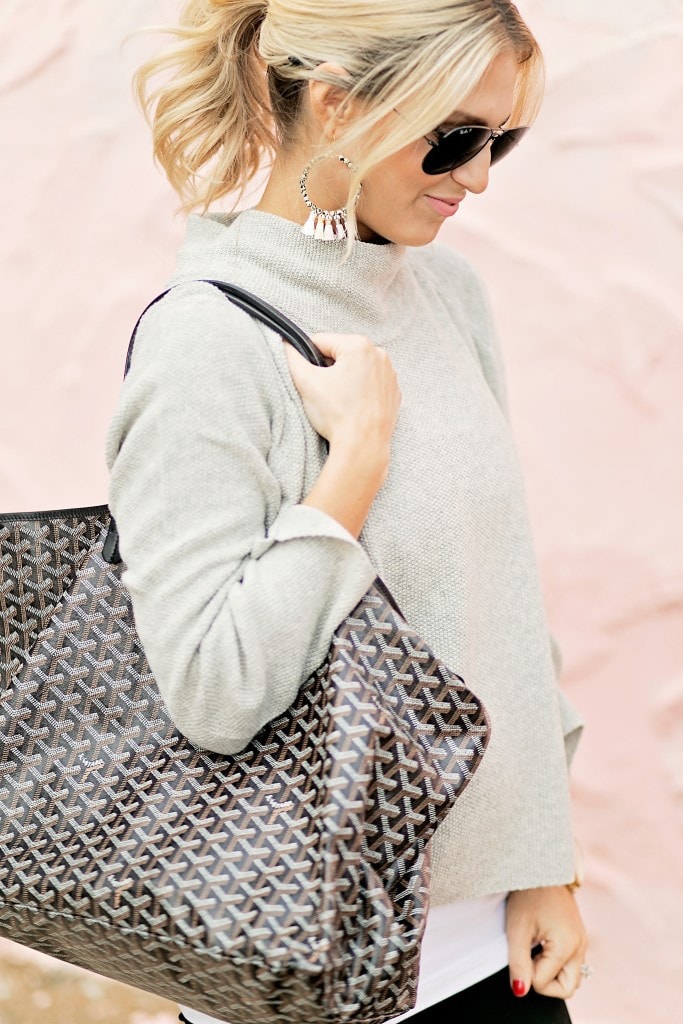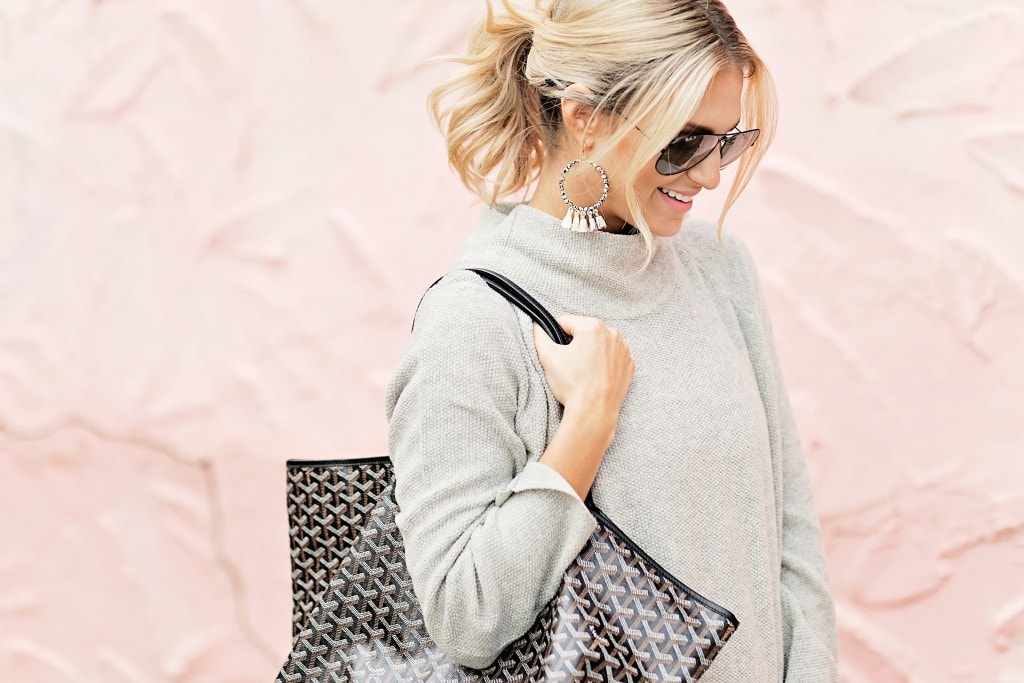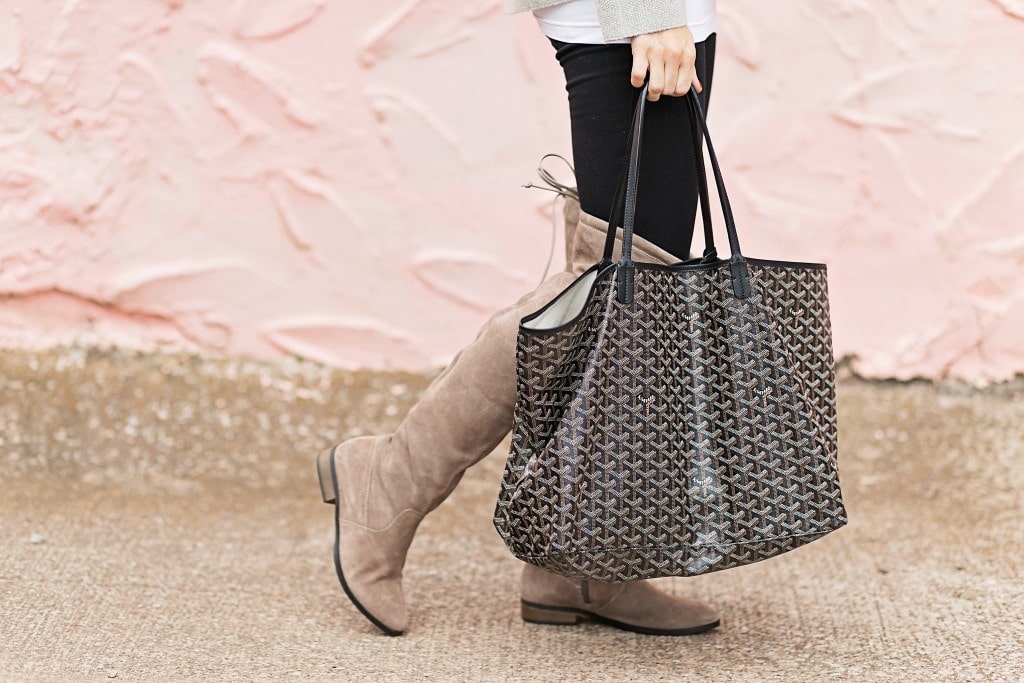 Sweater: Madewell [size up!] | Tank: BP | Leggings: Nordstrom | Bag: Goyard [Keeks], Similar | Boots: Sole Society | Earrings: Mad Jewels [c/o] | Lipstick: Girl Next Door
Photography by: Angie Garcia
---
I thought I would mix things up this week and do a "week in review" sharing things on my mind as opposed to a traditional Friday Frills! I seriously love to read what other girls were up to during their week so maybe this won't be as boring as I fear it might come across as! haha.
A Few Thoughts From This Week:
1. Breakfast For Dinner
Before I met my husband I hated breakfast. I never ate it. Didn't want it. Didn't get why everyone liked brunch. He converted me and now I pray for a free Saturday morning void of plans so we can run and get eggs and bacon. I'm also embarrassed to admit that this pregnancy has me loving breakfast and cereal like nobody's business. We might have had breakfast for dinner 3 nights this week. No shame in my avocado toast game.
2. Why Do We Admire Hustling?
Millennials can't get enough of hustling. Multi-tasking. Saying yes more than you say no. Juggling a lot on your plate. Call it what you want, but we still use the term "hustling" to make it sound a bit more cute. I fall prey to it too. If I get up by 5 a.m. and can crank out 150 e-mails in my inbox by noon I am more than happy, I'm straight-up giddy. I fully believe we are made to work in whatever capacity we are called to whether that be a teacher, a nurse, a blogger or a stay-at-home mom. I mean God worked 6 days and only rested one!
Proverbs 13: 4 A sluggard's appetite is never filled, but the desires of the diligent are fully satisfied.
But sometimes hustling leads to burnout and lack of intentionality. Last week was an incredibly busy week for work and I kept telling Paul, "I just have to get to Saturday. I just have to get to Saturday." Sure, those weeks will happen with work. But that's a ridiculous way to force yourself to live. I noticed recently that one of my girlfriends really slowed down with everything she was doing from her blog to her business and without even talking to her and asking why, I was admiring her so much. She had so much time to be intentional. To invest in others. To really analyze if what she was doing was to benefit herself, others as well as the Lord. She finally explained that she was slowing down to live more purposefully and it shocked me how much I admired what she was doing before she even announced what she was doing! Sometimes I think we think we admire things that we truly don't. Here I am always trying to do everything because that's what we place value on as society, and yet I'm over here admiring the girl that is choosing to forego a work event to bake cookies with her daughter and relax instead. It is a thought I have had all week and something I want to really try to live out more as well. I truly believe as women we can do things truly well and balance more than we think we can, but when it isn't necessary let's find joy in living simpler. Let's admire it in others and let's praise others when we see them not overcommitting. We find rest in God, not in hustling more. If you take anything from this little babble, I just want to encourage you to maybe take one thing off your plate and try to be still a little more next week as I will too! We can do it together! 🙂
3. Site Redesign
I'm currently working on a little makeover for the blog, but it has been so hard! There are so many things I love about my current layout as well as so many things I really need to change. So who knows how this will honestly turn out. haha. I get really extreme ideas on changing up the layout, then get sad when I see how different it is and then go back to normal. Design research proves so many things for so many opposite designs. For example, the way my site is designed proves that readers have an easier time reading. However, the compete opposite design [something more editorial and unique] proves more exciting and enjoyable to read. Who wants to pick between enjoyable or easy?! So it's just taken awhile to really be able to blend both of the designs. Of course this time next year I won't even remember how this layout looked and not know how I lived without the new one. It will probably be a few more weeks maybe even two months before the new design is revealed. Why is change so hard and yet so necessary all at the same time?!
4. Wedding Season
Wedding season is in full swing in Texas! So many people here just don't get married in the spring or summer because of the weather. I've had lots of wedding-related content on the blog and in a few weeks I'll have some registry content as well! 🙂 Paul thought about us taking another trip before the baby just the two of us and I started to laugh so hard. He wasn't sure why so I whipped out my planner. This is how it went:
"Next weekend you're in New Orleans for a bachelor party."
"I have a bachelorette party the next weekend."
"Then we have so and so's wedding the next weekend."
"Weekend after that we go to Austin for XYZ's wedding."
"The following weekend we have two bridal showers and a baby shower."
"Weekend after that I'm in Houston for a wedding while you stay here and are in a wedding."
"Thanksgiving."
"Bridal shower."
"My baby shower."
"Wedding."
"Wedding."
"Christmas."
"Wedding."
"Bridal Shower."
"I give birth."
"So when did you want to go, babe?"
Why don't men every remember schedules?! haha. It was so funny but I'm really excited our next trips that aren't wedding related will include our little girl. We already have Colorado planned for next summer and DC for the fall as we don't want to take her anywhere too warm the first year!
5. Free Earrings
And I thought I'd end the weekend with a good old fashioned giveaway, because what is better than winning free earrings for the weekend? A FW designer, Shop Mad Jewels, has made her way into my jewelry box over the past two years with her beautiful stones! She is actually sold at my favorite FW gift shop, Lawrence's Gifts which is how I found her pieces! These dalmation jasper stone earrings with neutral tassels are so good for a sweater and boots this fall. Sometimes I don't want to wear a clunky statement necklace if I'll be in a scarf or a sweater all day, so these still add a bit of edge to an otherwise really classic outfit. They are so light and I wore them all day without wanting to take them off [which is so rare for statement earrings]. You can shop these Parisian Hoops here! Head to my instagram later today to win a pair!