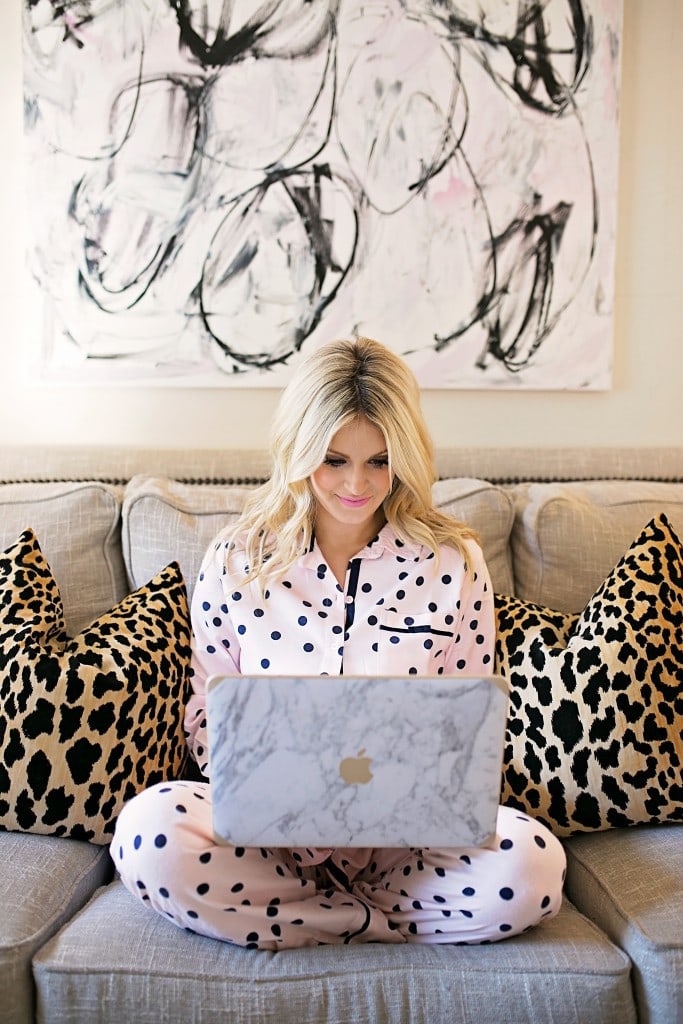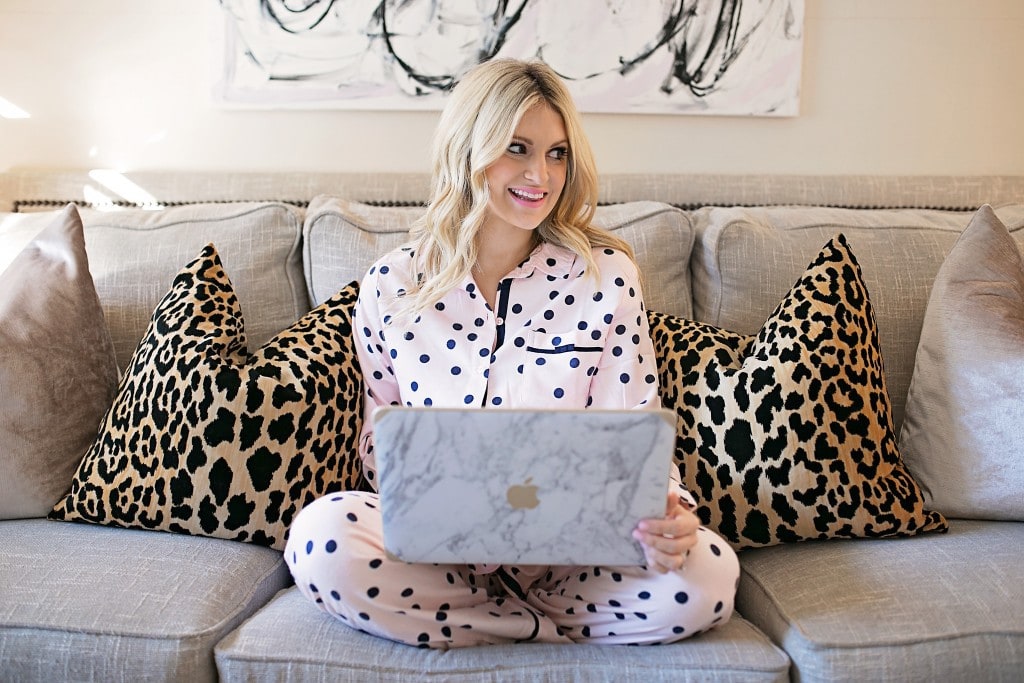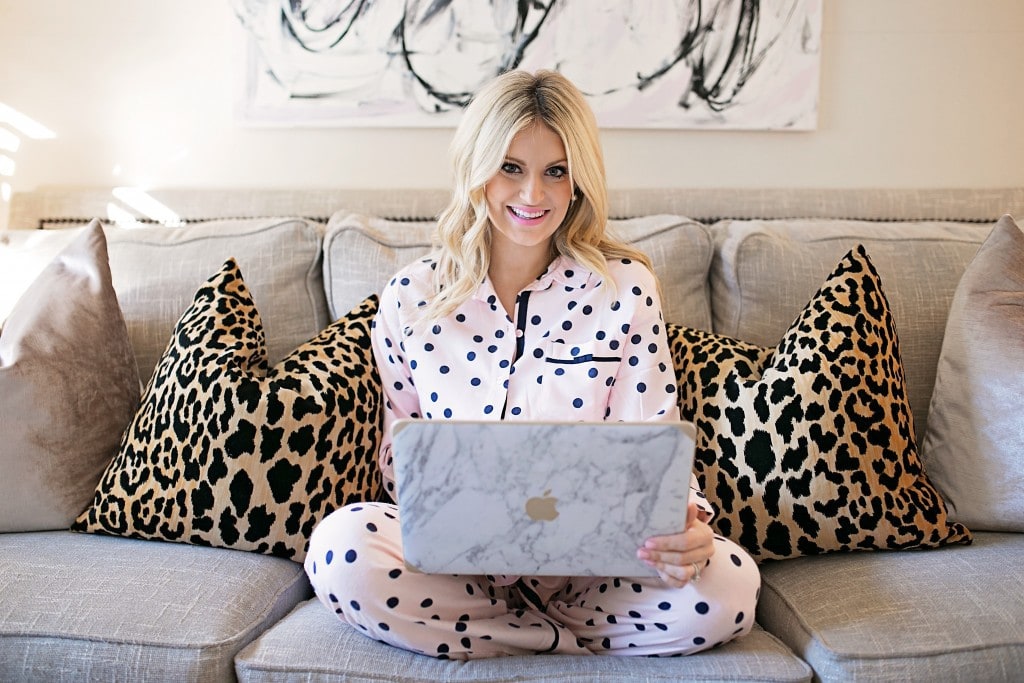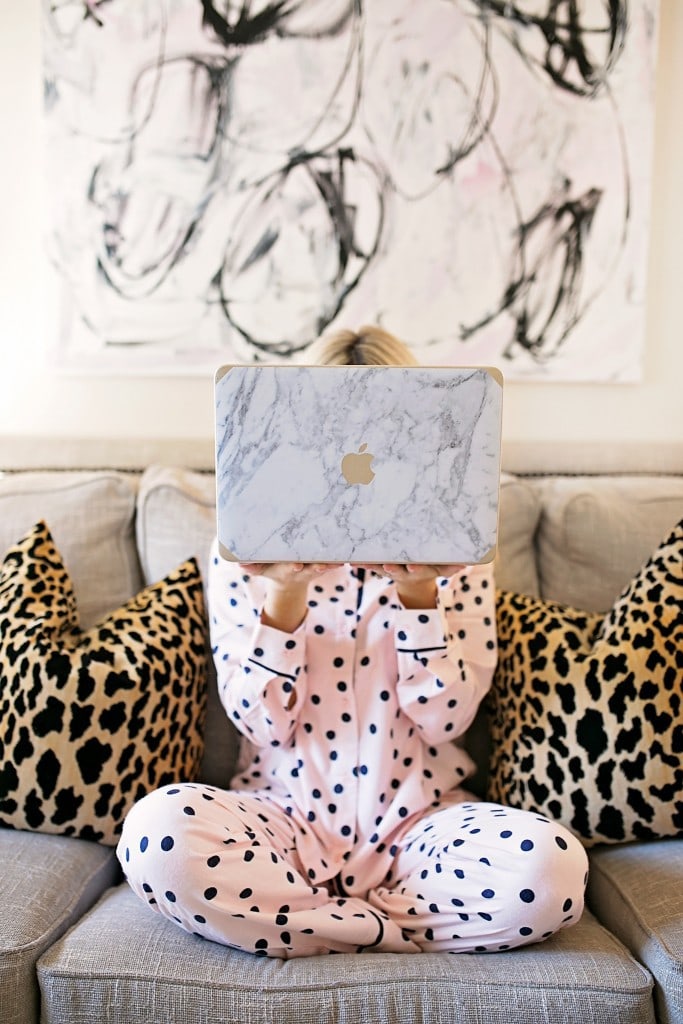 Pajamas: Kate Spade, White Version on Sale Here | Laptop Case: Etsy | Pillows: Little Design Co [c/o]
Photography by: Angie Garcia

---
Happy Cyber Monday! I pray you all had the best Thanksgiving weekend with family! I forget how much I love this week every year. Long, lazy days with family. Plenty of leftovers for days. And a reminder that we all get to do it in a few weeks again with Christmas! 🙂
This Cyber Monday there are a lot of sales still going strong and a few new ones kicking off! Most of our Christmas shopping is done but I'm getting those last few pieces, gifts for our gift closet [I know I'll be scrambling on birthdays the first part of next year! haha] and some things that I know Paul and I need [like new luggage]. If spring cleaning is a trend, then I'm all for holiday stock-up time. There are just a few things we put off that we need like luggage and by the time we go to pack suitcases next year there won't be good deals on them and I'll have forgotten to do it. Over Thanksgiving we always make a list of a to-do list we want accomplished before the next year hits and I like to take advantage of that during Cyber Monday! So whether you're treating yourself [you deserve it after hosting for the holidays] or you're treating someone you love, here are my favorite things you need from Cyber Monday!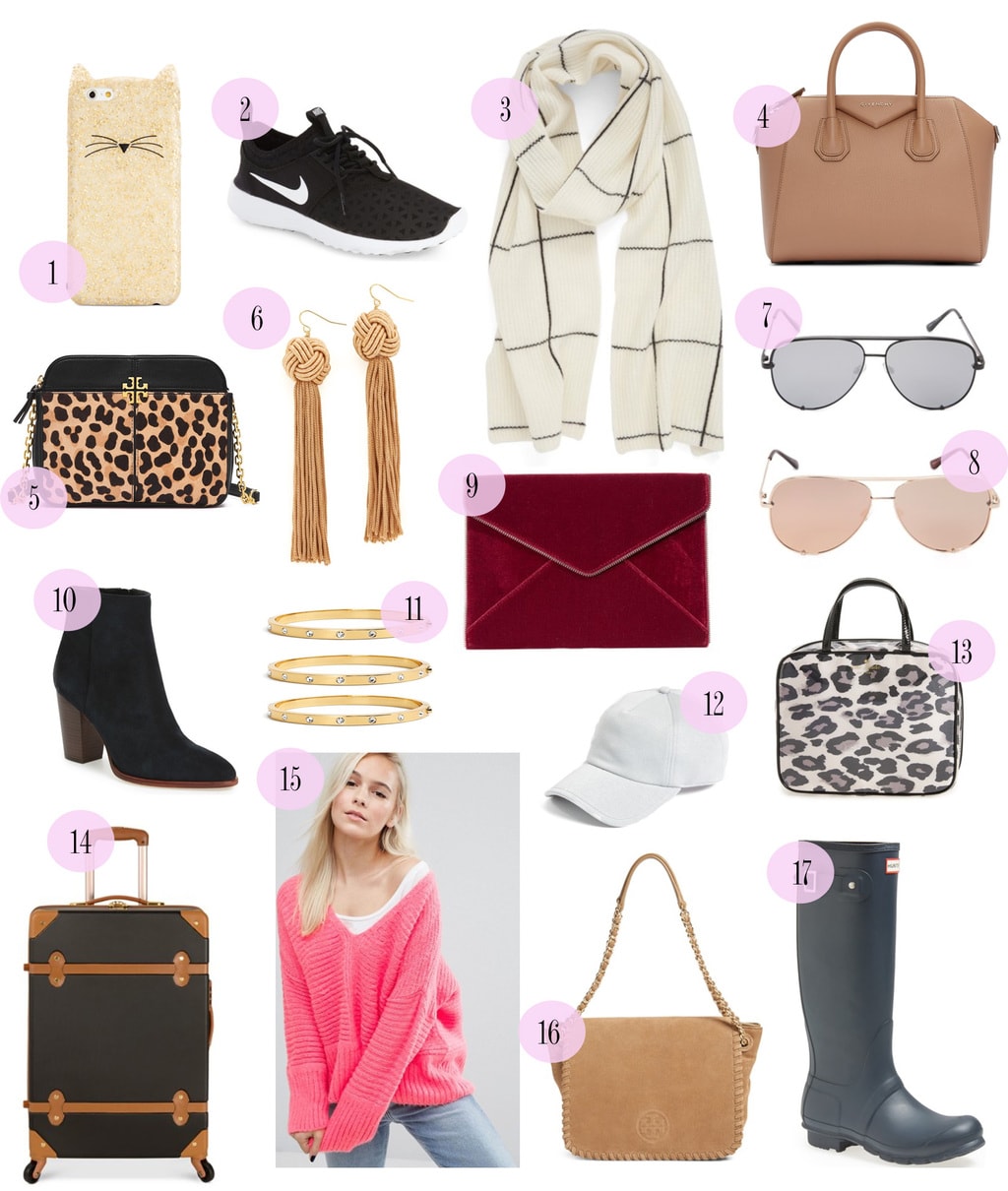 1 | 2 | 3 | 4 | 5 | 6 | 7 | 8 | 9 | 10 | 11 | 12 | 13 | 14 | 15 | 16 | 17

---
1. Glitter Kitten iPhone Case: I'm always obsessed with the Kate Spade kitten iPhone cases! This one is on sale for $33 so it makes a wonderful stocking stuffer!
2. Black Nikes: When it comes to picking out a shoe for the gym, I always like to grab a black pair! I can wear them while I work out, but I can also wear them with leggings while I run errands. It's not distracting and doesn't show dirt easily! These are a steal!
3. Striped Scarf: A wool & cashmere scarf that is 52% off for $37?! Getting one for my sister-in-law. Getting one for my mother-in-law. Getting one for my mom. *Getting one for myself.* Getting one for my sister…
4. Givenchy Pink Small Antigona Bag: Let's be honest, designer bags don't go on sale. "They just don't." Cue the Elle Woods voice. I'm not sure if you are in the market or not, but I've always had my eye on the Givenchy Antigona Bag and working in fashion, I love that I get to hear pros and cons about handbags from my friends. They'll tell me what bags they've gotten to style for their sites and what really doesn't live up to the hype. With so many different opinions I've heard a negative thing about every single designer bag on the market, except this one! From moms who blog to my girlfriends that work in NYC for Tom Ford, none of them have a bad thing to say about this handbag! So I'm thinkin' that means it's quite something!
5. Leopard Bag: The Tory Burch sale is what has had me the most excited this weekend! I love this small bag for running errands and keeping your hands free and I definitely got my mom this for Christmas! It's okay I'm sharing because she was with me when I got it! haha. I just told her she had to act surprised. 😉 Use code THANKS at checkout for 30% off and free shipping!
6. Knotted Tassel Earrings: These are the perfect gift for all the girls on your list as they come in 6 different shades! If you hit $200 you get 15% off and the savings increase the more you shop with code: GOBIG16 at checkout.
7. Aviators: I always get questions about the aviators I wear on a daily basis, but unfortunately they are discontinued. However, these are the same size and I am getting them just in case my beloved ones ever break! I seriously don't know what I would wear because they are my favorite size!
8. Rose Gold Aviators: Or if you are a rose gold girl, they come in this version as well! I'm definitely torn between the two, but with the sale I may just go for both!
9. Velvet Clutch: Velvet is a huge trend for winter this season and it can be a little intimidating. When I think of velvet the first thoughts that come to mind are my dance recital costumes circa 1995 or something Kim Kardashian wears. But when I see it done in terms of accessories on other girls it looks so incredible every time! In fact, I've had about 3 handbags saved to my dashboard for a month just waiting to take the plunge! I love that for under $100 this is a noncommittal price and allows you to style this trend with whatever you are wearing. Use code GOBIG16 checkout.
 10. Chic Black Booties: Just like denim, you can never have too many good pairs of black booties. I love that these have the right heel height to be worn with skirts, dresses and jeans! They are also $90!
11. Crystal Bracelets: I love the look of stacking gold bangles like the Cartier ones, but not the price! These are 30% off and I actually grabbed 3 a few months back to stack. They are $33 right now so you can stack 3 for under $100. Take that Cartier Love Bracelet! 😉
12. Rag & Bone Hat: I'm not sure why, but I can't get over this hat. It's pricier than a typical ball cap, but it's much nicer. I feel like this would be perfect with baby on the way and all the dirty hair I will have haha. You can wear it with jeans, booties and a faux fur vest and still feel chic!
13. Travel Cosmetic Case: A travel cosmetic case is one gift I'm always more than happy to open because  we always need them! Right?! I love the leopard spots on this one!
14. Luggage: One of my girlfriends who lives in California came to stay with me a month or so ago and she brought this bag with her! I absolutely loved it and it was so sturdy! It's only $143 and ships free with code: CYBER at checkout!
15. Pink Sweater: Now that I'm almost 8 months pregnant [say what?!] I am so torn on buying clothing! I hate to buy items I know I won't really wear next year/that might be too big. But with this ASOS sale going on, I'm stocking up on everything! ASOS is already one of my favorite sites for affordable clothing, but you get an extra 30% off with code THANKFUL30 so this pink sweater was added to my cart quickly.
16. Suede Tory Burch Bag: If you aren't sure what to get your mom or your mother-in-law a suede shoulder bag by TB is a wonderful option! Or I mean if you just aren't sure what to get yourself I say go for it girl! haha.
17. Hunter Boots: Very rarely do these bad boys go on sale! These are my favorite for rainy days and snow days as well! I'm really particular about rain boots [and hate the rubbery smell they can have!] so I love that Hunters aren't like that.
---
 Cyber Monday Sale Codes
 ASOS: 30% off everything with code THANKFUL30

BaubleBar: 35% off with code SAVE35 when you purchase 2 or more items, 25% off when you purchase 1 with code SAVE25 

Chicwish: 25% off with code BLK25

Goodnight Macaroon: 40% off everything with code CYBER40

Kate Spade: 30% off your purchase with code WIRED

Nordstrom: extra 20% off select sale items

Shopbop: up to 25% off with code GOBIG16

Tory Burch: 30% off any purchase of $250+ with code THANKS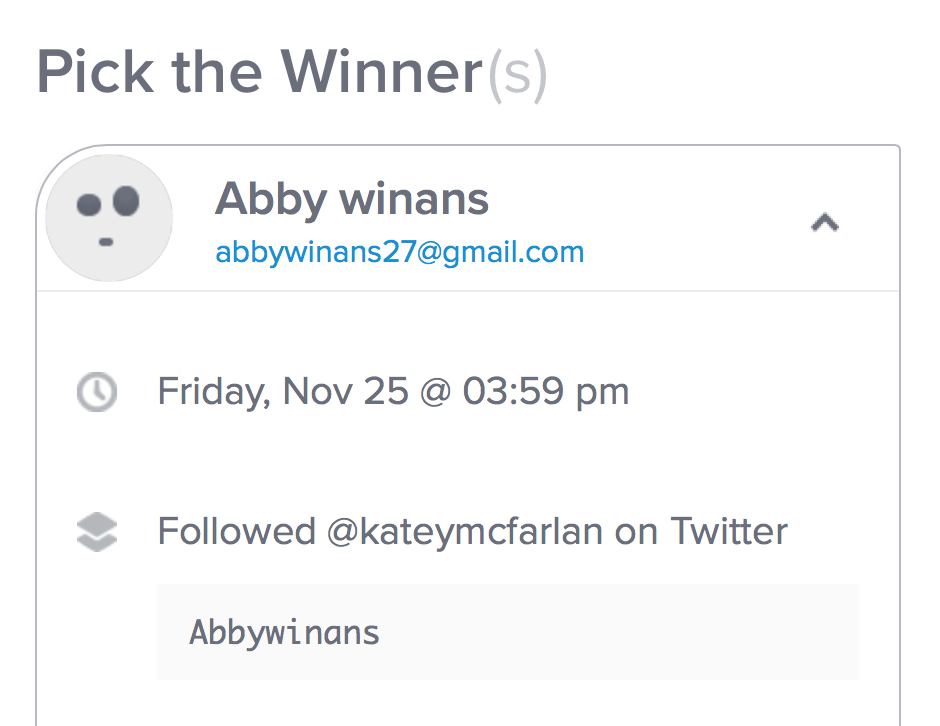 I also wanted to share the winner for the Louis Vuitton wallet! Rafflecopter chooses the random winner through the entries. Congratulations Abby! E-mail me to claim your wallet!