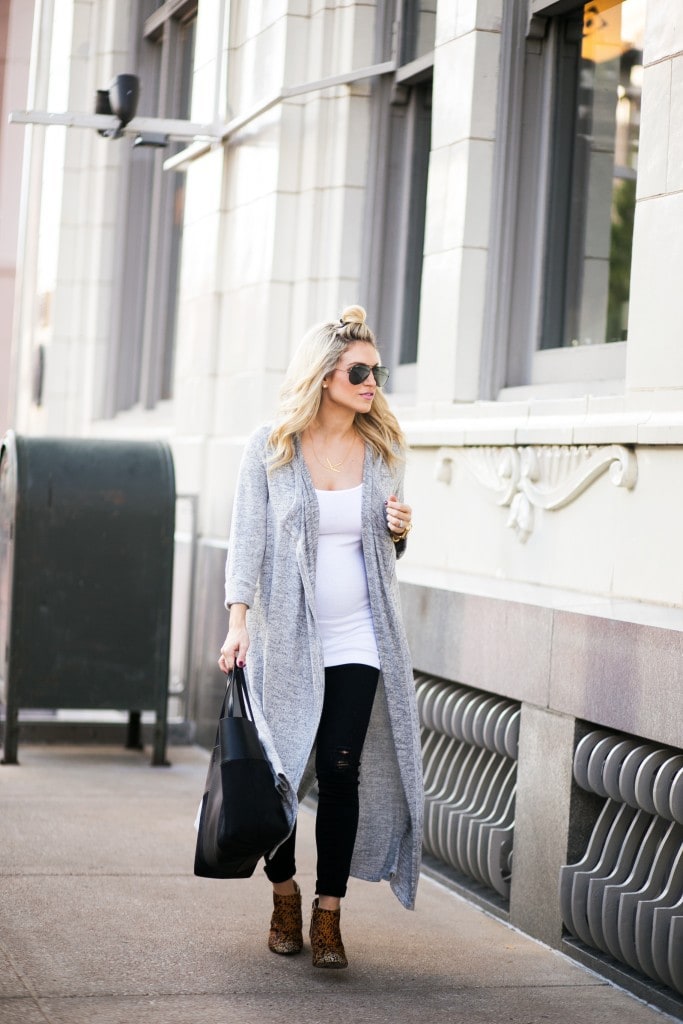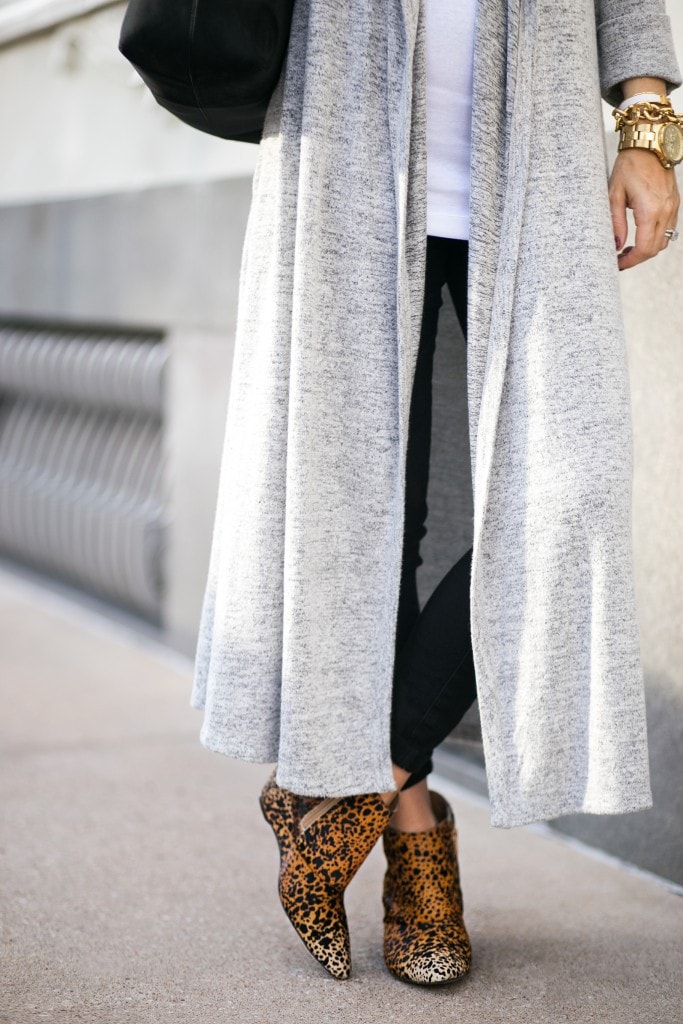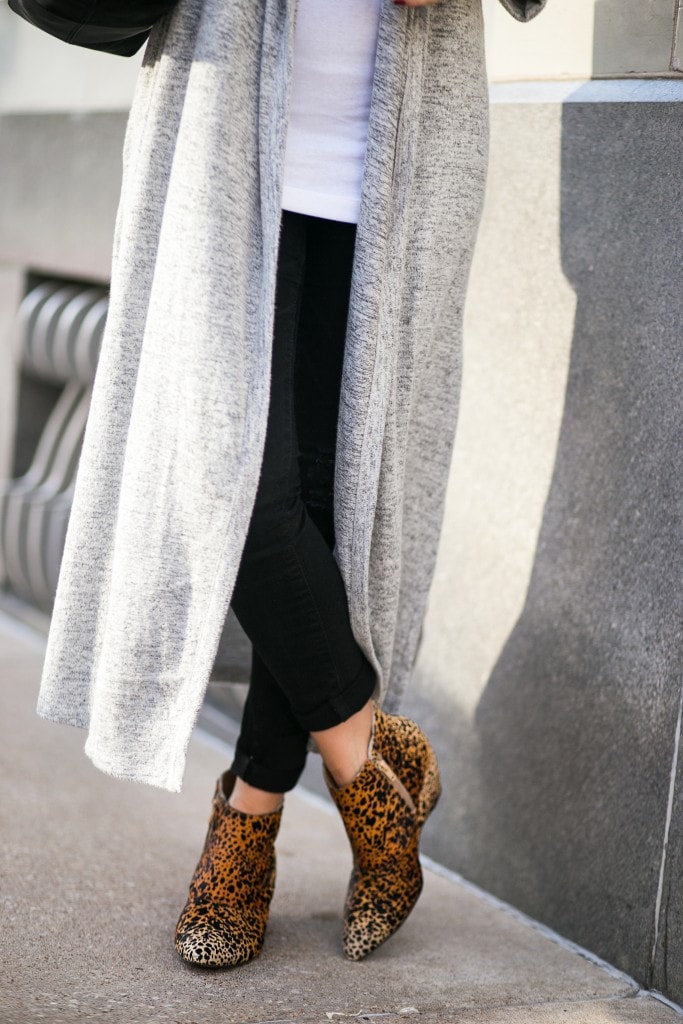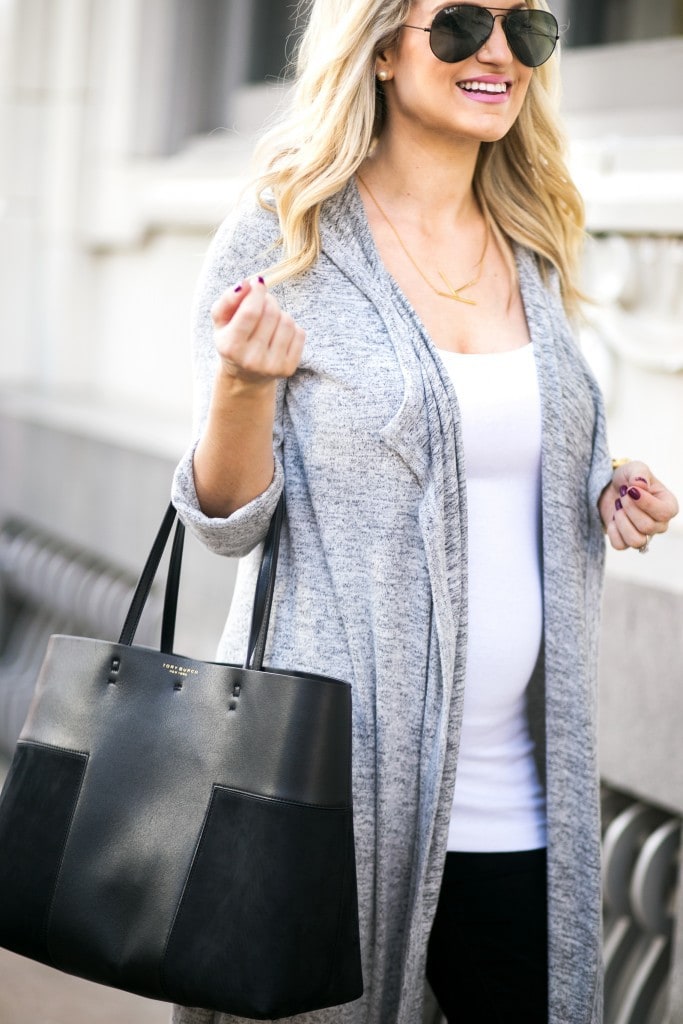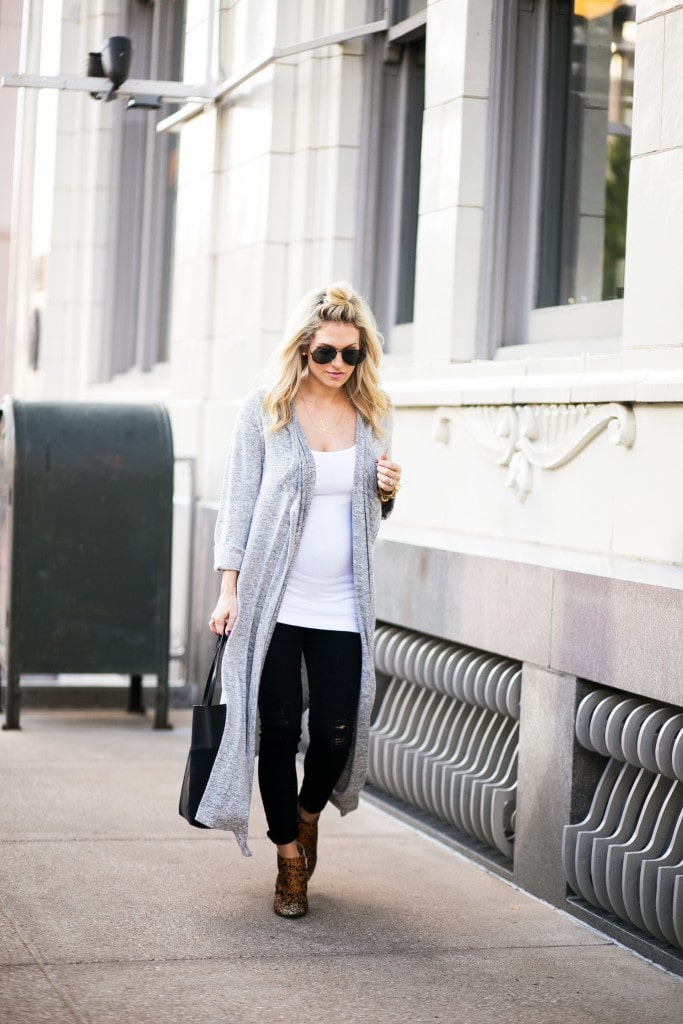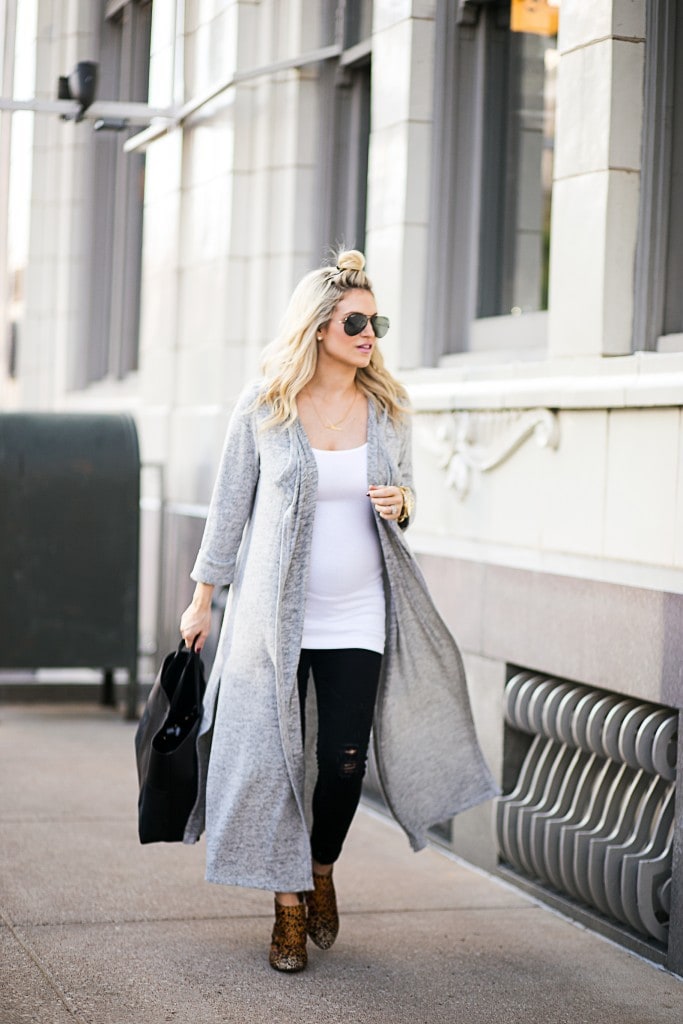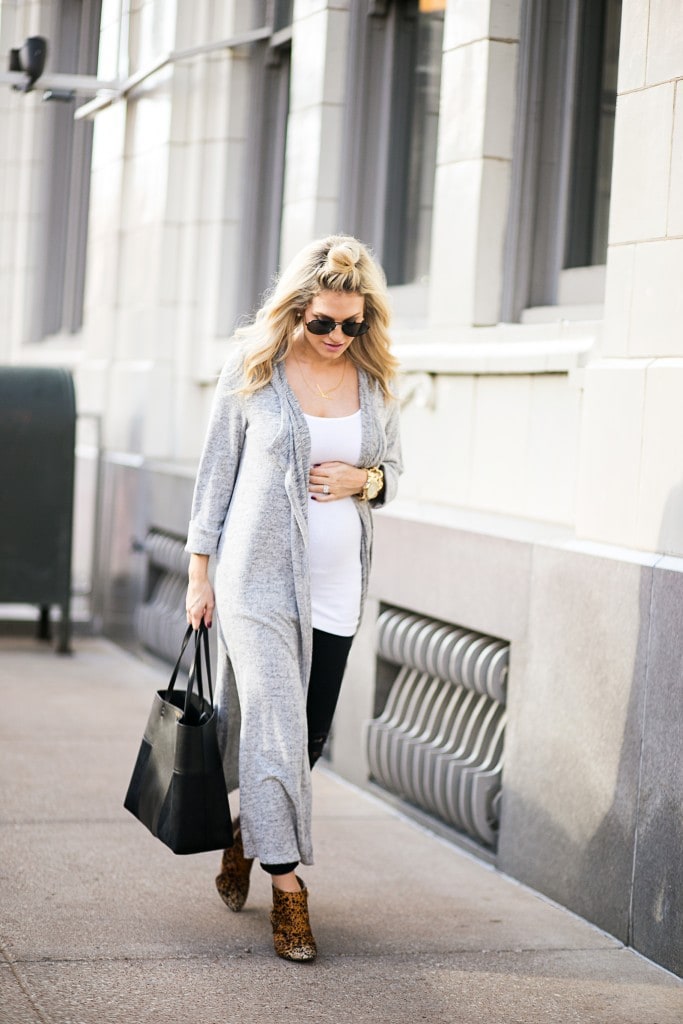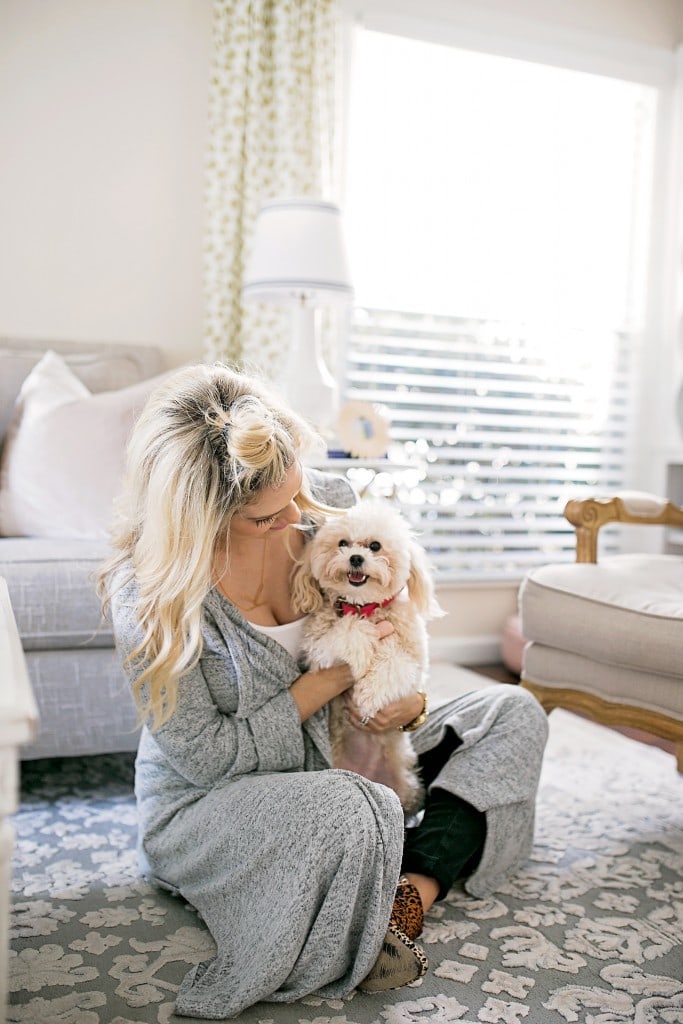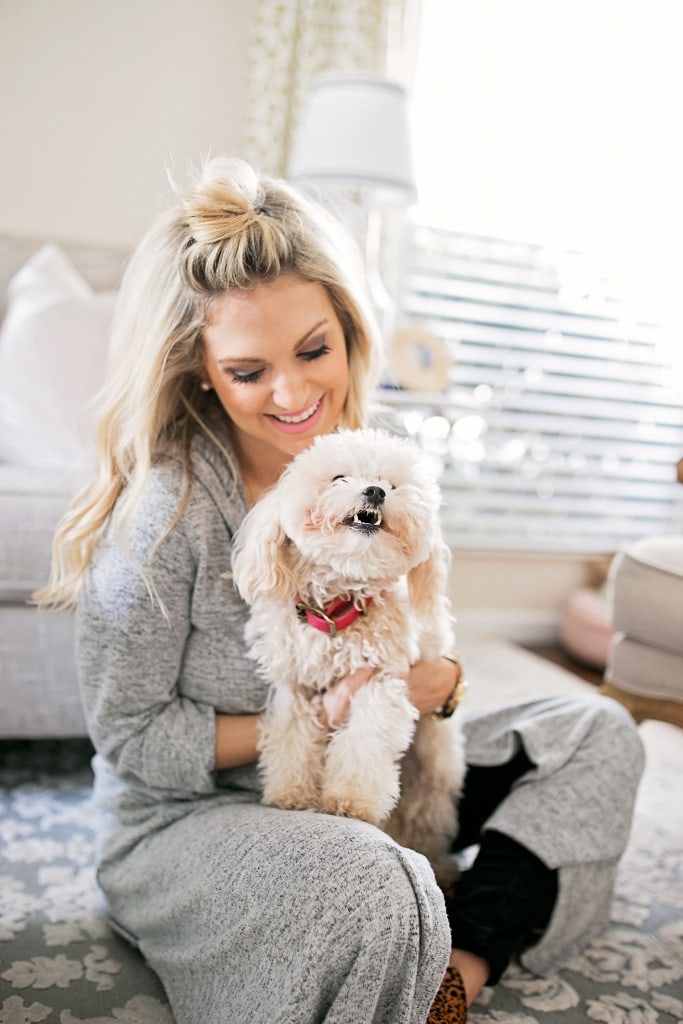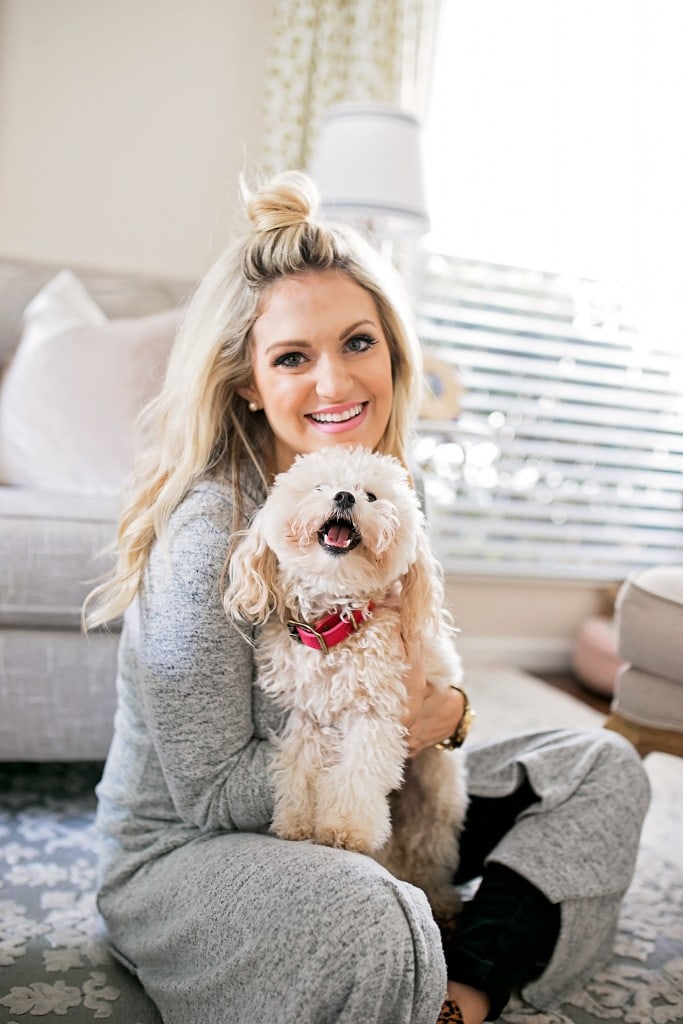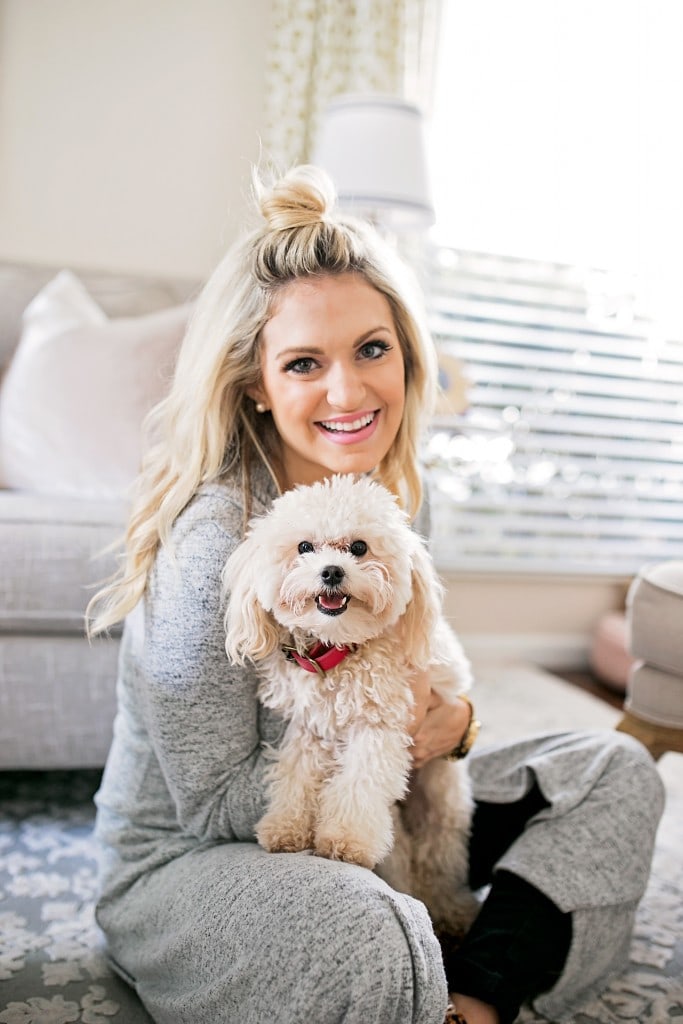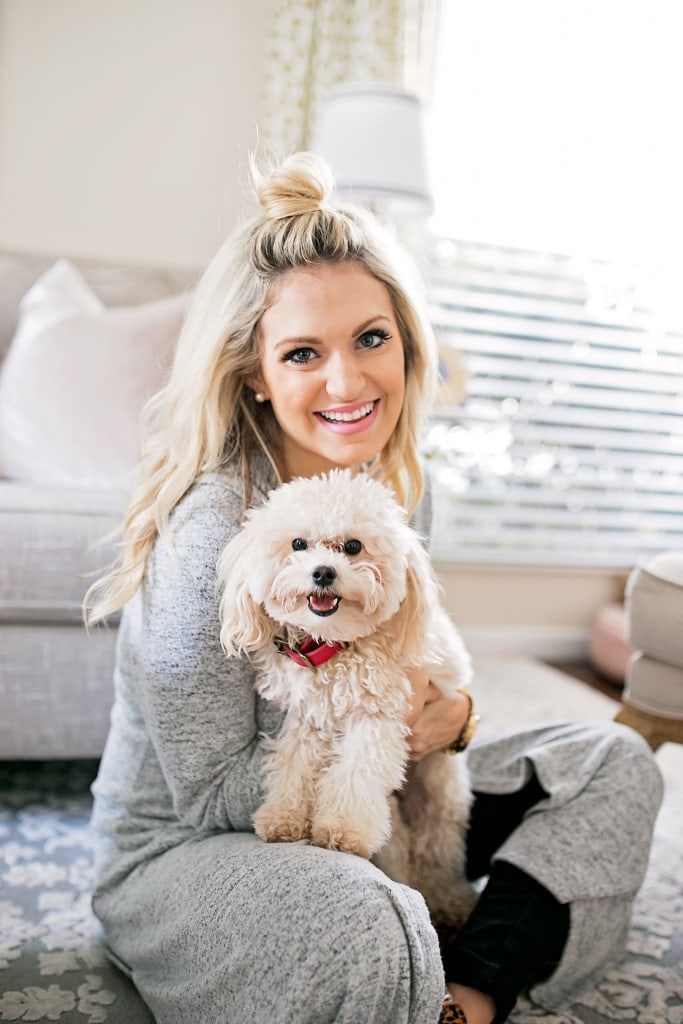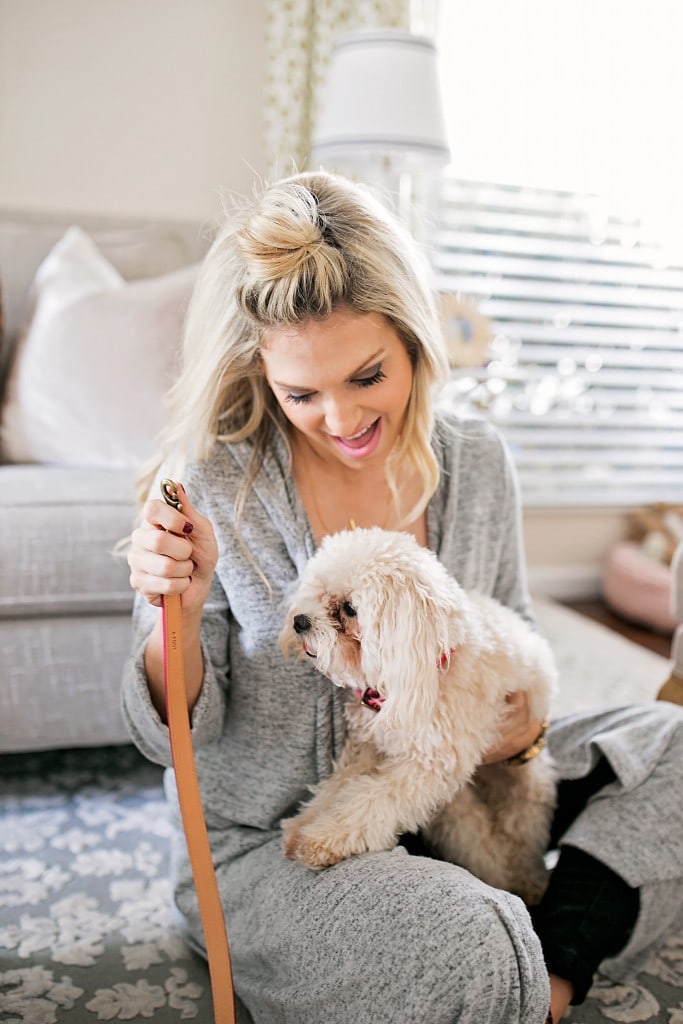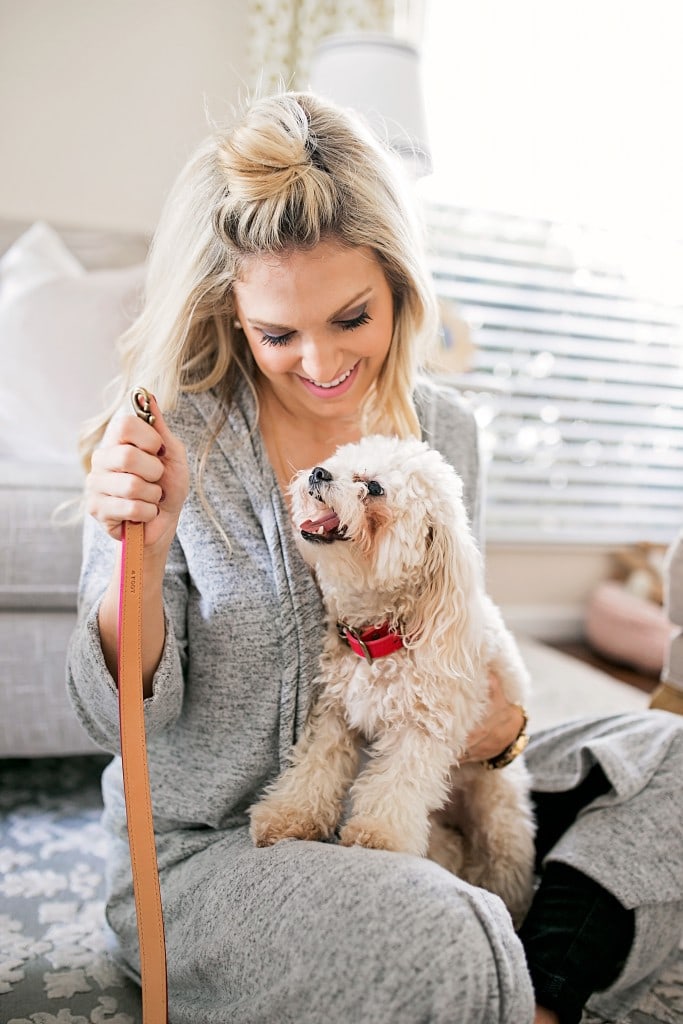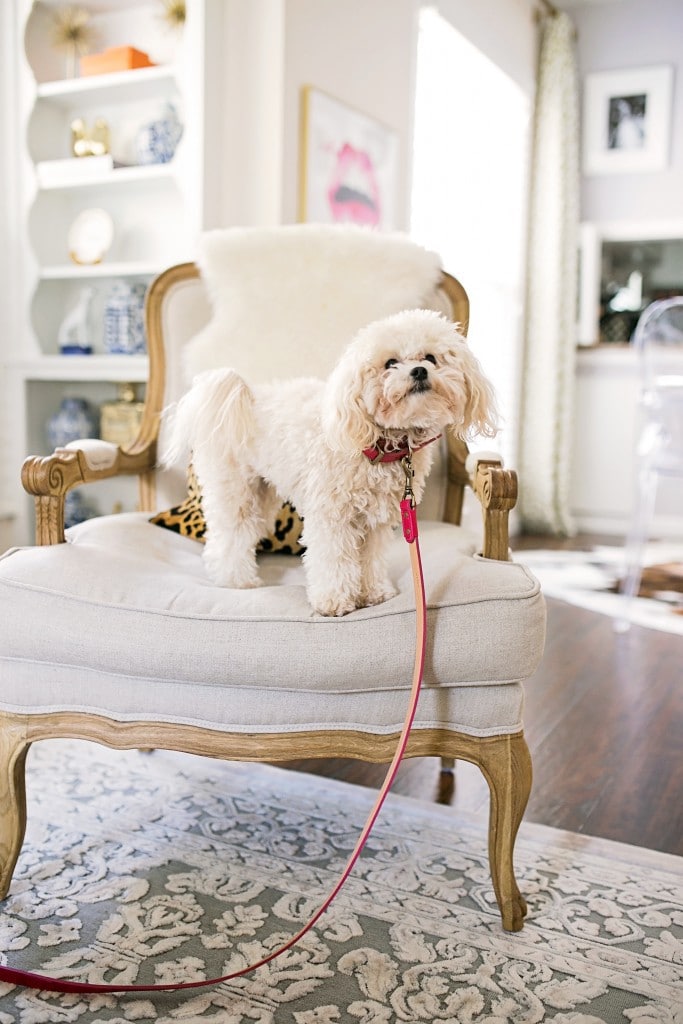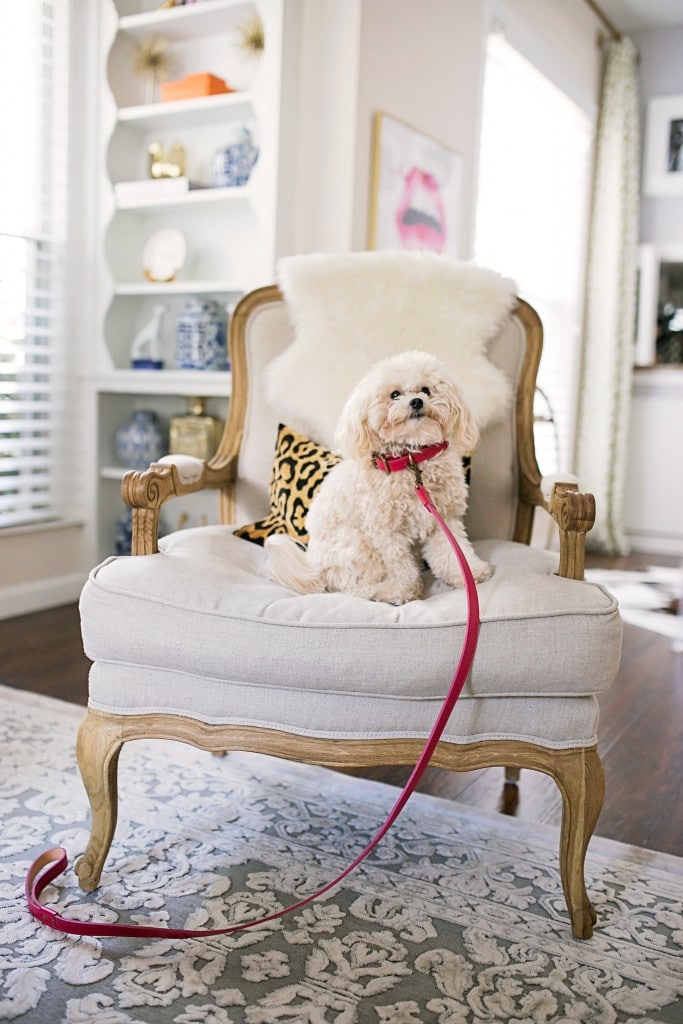 Sweater: Nordstrom [size down! Wearing XS] | Tank: Nordstrom | Jeans: Nordstrom | Booties: Zappos, Same Brand | Bag: Tory Burch, Similar | Watch: Michael Kors | Bracelet: Baublebar | Necklace: Anthropologie | Lipstick: Brave | Sunglasses: Similar | Leash: Gigi New York [c/o] | Collar: Gigi New York [c/o]
Photography by: Angie Garcia
---
Hello, third trimester! Nice to meet you! I was getting a little stumped on what to write about for my bumpdate this week so I asked readers on Snapchat what they wanted to hear about, so a few of these are from y'all which is why they may not have been previously answered. But if you have questions you wanted answered in the future please let me know! I definitely don't want to keep boring you with topics you aren't interested in. 🙂 I also had to include Peaches in this little bumpdate as I'm getting a lot sleepier and we are getting in a few more naps together during the week at Hotel Hellman.
How far along: 28 weeks! I'm SHOCKED I'm in my 3rd Trimester. How did it go by so fast?!
How do you plan on introducing Peaches to your daughter: I've read a lot of different articles and books and asked my friends all about their dogs and their kids. I hear so many opposing opinions, so I'm just going with what I know Peaches likes best. I want to preface this by saying, you can make all the plans in the world and it can change, but in a perfect scenario this is how I think we will introduce! While I'm in labor we have a close family friend that will be watching her and my dad said he will bring by a blanket with the baby's scent on it so Peaches can sleep with that and get accustom to it. When we get home from the hospital, my plan is to walk in the house first while Paul and baby H wait in the car. I'll give her treats and lots of cuddles first and show how much I missed her. Then Paul and the baby can come in and we will let her sniff out the car seat and see her. Peaches LOVES people, the only time she seems to not like them is if they don't greet her. For example, if someone comes in our house and doesn't say hi to Peaches she barks. It's her way of saying, "Hi! I want to meet you! Please play with me!" I'm convinced some people think she is angry they are coming in, but it's truly because they won't greet her. All of our friends that come in and greet Peaches get her so excited she seriously pees all over the floor. haha. It's hilarious. So I hope that by me greeting her and introducing her to baby she'll be excited. I know she won't immediately cuddle up with her, but I think she will learn really quickly and become super protective of her sister. Right now I let her go in the nursery whenever and take naps in there and it has become her favorite room in the house.
Will you be taking time off: 100% YES, however, it may not look like I do. I am looking forward to those first few weeks so much and just can't wait to only worry about her schedule and getting to know her and what she needs best. I am so incredibly lucky and blessed that I work from home and don't have a timeline on the calendar of when I have to go back to work and find childcare. So for every mother that has to find the best option whether it be daycare, a nanny or a family member you are a rockstar! That's so much research to do and I respect you so much for finding the perfect option for your child. However, owning your own business does require you to think about maternity leave in a different way. If I were to take the traditional 12 weeks paid time off [and I do realize that not all moms get 12 week paid leave. Lots of my friends got unpaid leave! I'm just stating the "general" corporate rule of what I would have gotten working in PR] I wouldn't have to worry about touching my e-mail, etc. because someone would be taking care of that for me. But when you own your own business it is a little different. I can take as much time as I want off, but that also means my business isn't running. So I've had to really think about how I want to do this. Essentially, I plan on taking a month off that I'm currently prepping for. I'm shooting posts now for February and will write and schedule them come January. If I feel really great and feel like I can get things done while she naps maybe I'll get back to my e-mails a little sooner. If healing is a bit much and I'm just enjoying bonding with her so much, I'll take more time. I really respect that this time is so precious and formative for both she and I, so there is no rush. I appreciate how understanding y'all are and I want to respect that by creating content now that you can enjoy while I'm off. 🙂 If you have a question while I'm off feel free to comment on twitter or Instagram as that is truly the easiest way to get a quick response. I talked about it a lot with my Nana the other week and she was really encouraging. In fact she said, "You'll probably feel like getting back to work a lot sooner than you think because she sleeps so much in the beginning. It's when she hits 4 months that you'll think, 'Wait! I want maternity leave! I'm exhausted!'" haha. So I'm trying to be really go with the flow and just plan so I don't have to worry about what decision to make.
[Also, I recognize that every job requires you to think about maternity leave in a different way! I'm just generalizing for how it would have been different if I still worked in PR. 🙂 It's a tricky thing for all mothers with each job having unique pros and cons! We all deserve a lot of kudos for handling it gracefully.]
What are we most excited about next: We had our 3D ultrasound on Monday and oh my goodness, I think my heart stopped. While she wasn't cooperating very much and I have an anterior placenta [it just makes it more difficult to see her/explains why I didn't feel kicks for awhile] seeing part of her little face was the most emotional thing in the world and I am getting so excited to meet her. We keep joking we don't know what her hair color will be! I'm a blondie and so is my sister, Paul has incredibly dark and curly hair and both of our grandmothers have red hair, as do my cousins! So we seriously have NO clue what hair color she will have. And I know the funny thing is that she may be born one hair color and it will change as she gets older. It's just been fun to guess what she will look like and what personality traits she will have.
What are we least excited about: There are 12 weeks left until we meet her! It feels so odd to say this as we haven't met her yet, but I just don't really feel like "me" until she is here with us.
Movement: She still moves like crazy! When I had my glucose test last week and they were checking her heartbeat after she wouldn't stop moving. The nurse was laughing at how much she loved all the sugar and I was like, "I'm glad she is enjoying it because I think I am going to puke!"
Cravings: As of the past week, I don't really crave anything, nor do I get excited about food. I've heard you can eat less your 3rd trimester as baby gets bigger and you just don't have a ton of room, so maybe that is it. I just have Paul pick everything we eat and I feel bad because I need to get back to cooking more. I just don't have a huge interested in food. Except cookies. I always want cookies.
Weight gain: 15 pounds. I feel really good going into my 3rd trimester with this weight gain but let me just say, it feels like more! haha. I feel like I'm carrying an extra 50 pounds or something with how tired I get. I will say workouts have gotten a lot more difficult. But my doctor was so kind about it and said as long as I'm doing SOMETHING to not worry about it, it's the best thing. I'll get to the gym and 30 minutes in I'm exhausted. I just listen to how my body feels and remind myself that I'm doing my workouts while holding another human now, so it's going to be difficult no matter what.
What I'm Reading: I'm almost finished with Bringing Up Bébé and our pediatrician recommended the next few books that are on my list: Healthy Sleep Habits, Happy Baby and Einstein Didn't Use Flashcards. I also plan on reading Baby Wise closer to giving birth. While I don't think any parenting book should be treated like gold, I'm really interested to just see different techniques and schedules. I will say, my mom did Baby Wise with my sister and I and she said she got a full nights rest every single night after her babies were 4 weeks old. I'm going to go out on a limb and say that's just the Lord blessing her for an extremely difficult labor with me 😉 but all my friends that follow the book say the same. So naturally, I'm curious! My friend Diana is also reading Expecting Better and she and I have a lot of the same views on pregnancy, so I think I need to order that on Amazon, too.
What I've Purchased: I went on a bit of a binge this weekend researching, purchasing and tracking down every etsy baby item during my pregnancy insomnia.
We got this stroller and I'm so glad I did! I've loved the Bugaboo long before I was pregnant but I didn't tell Paul which stroller I liked best. We went to go look at a million different strollers and this was his favorite as well, so I was relieved we chose the same without prompting.
After researching, asking on mom's forums and texting everyone I know that has given birth in the past 5 years[because that's normal], we went with the nuna PIPA car seat. There is an attachment for the Bugaboo so that makes it a really easy transition from car to stroller. But just let me give you encouragement if you are searching for car seats, don't do what I did. I went nuts. Research, have your spouse research, ask close mom friends and go with your gut. You don't need to join 15 different mom groups on Facebook and ask. Rookie Mistake, y'all. Rookie mistake. All the moms were more than nice, I just was mortified that I felt the need to do that!
We ordered all her little props and outfits for her newborn photos this weekend! I will keep those a secret so you all can see on the blog but that was by far one of the most fun purchases we have made throughout this process.
This weekend I also got a little fixated on her having a fleece onesie. "Technically" it's called a bunting, but in Texas who wears them?! I kept thinking, "She will be a February baby and how will we go on walks?!" So I purchased this. Let's just be honest, I'm giving birth in Texas. I'll take her home from the hospital and it will be 70 degrees. She will probably never wear it, but it made me feel more comfortable. haha.
Lastly, her bookshelf finally came in and I've been working on getting it decorated. I kept it fairly fuss-free with embroidered baskets, a box for bows and her shower invitations framed.
Thank you so much for reading!