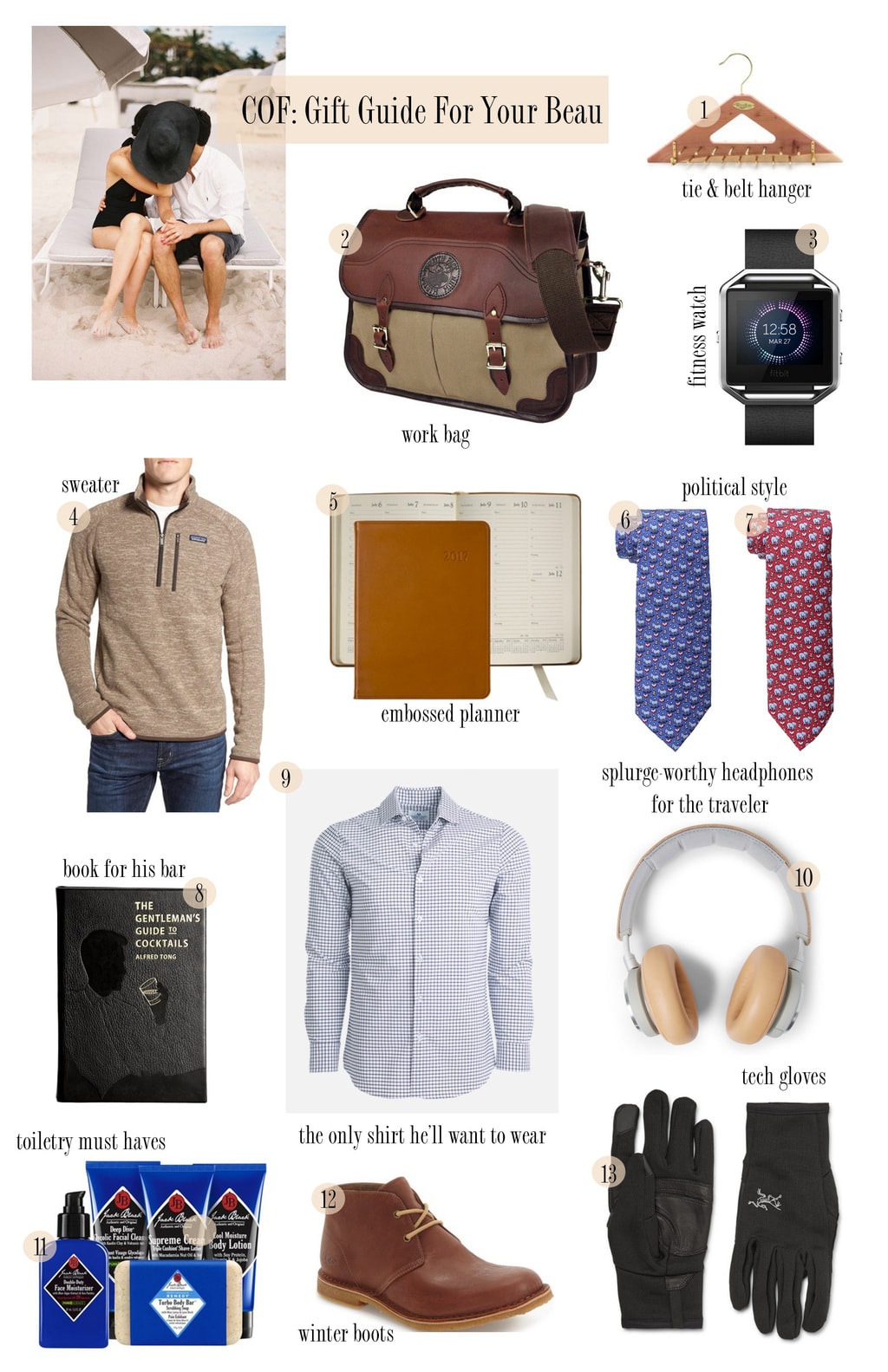 1 | 2 | 3 | 4 | 5 | 6 | 7 | 8 | 9 | 10 | 11 | 12 | 13
---
It doesn't matter if you are shopping for your boyfriend of 6 months or your husband of 6 years, why does this always seem to be the hardest gift to purchase each year?! Girls get excited about anything from a cute notepad to a designer bag and men are typically minimalists or never really want anything. And if they do want something it's extravagant like Super Bowl tickets! 😉
However, I've learned that men love basic items that are nicer than the ones they would purchase for themselves. For example, Paul loves when I buy him socks just because I'll get him nice pairs from J.Crew whereas he would grab a pair at Target. For this gift guide I tried to find a few splurges and luxury items at different price points for different necessities all men need. I also have a COF coupon code for you as well!
1. Tie & Belt Hanger: This is a must-have for any male's closet and I love how many items it fits. It will hold 30 ties and 8 belts!
2. Work Bag: This is the work bag Paul uses and he has it in the leather option. He's a huge fan of Duluth Pack because the brand is incredibly durable. Another option from the brand is a travel bag. Paul got this travel bag this year and he has used it more often than I use my LV duffel! It fits SO much and is the perfect guy's guy gift. I have a coupon code for Duluth Pack for y'all as well that will be good throughout December. Use code: FRIVOLITY15 for 15% off.
3. Fitness Watch: Paul loves watches but he really doesn't have a fitness one. I love that he can wear this to work and count his steps while still "looking" like an actual watch!
4. Patagonia Sweater: One thing I love about Paul is how much of a creature of habit he can be. He loves these Patagonia sweaters and if I got him a different color each holiday he would be as happy as can be! They pair perfectly if he has a job that allows business casual or for weekend wear.
5. Embossed Planner: When we were in NYC for fashion week, Paul saw these planners and loved them! I can count on my hand how many times he has ever said he actually "liked" something, so I had to get it for him. I shared more details of this planner in Monday's post, but I love how masculine and professional it is for his office.
6. Democrat Tie: I love how cheeky these political ties are! Granted, your guy probably won't rock this to work, but how fun is it for parties?! If your other half wishes he could have campaigned for Obama or Clinton, this is 100% for him!
7. Republican Tie: Or maybe your guy loves the Bush family and voted for Trump, if so this is his tie!
8. Cocktail Book: I can find all the coffee table/fashion books in the world for me, but it's been so hard to find books for our home for Paul. I love this leather cocktail book I can put on his nightstand or our coffee table. Paul could not care less about how I decorate our home [I beg for his input and he is like, "Wait, am I supposed to care?" He is SUCH a guy! haha] but I do like to incorporate things he loves throughout the decor. From our JFK print to his grandfather's ash tray I like to add these personal touches so he feels incorporated in all the leopard pillows. 😉
9. Mizzen & Main Shirts: The one brand for men I have discussed for years on COF is Mizzen & Main! When we lived in Dallas we were introduced to this local brand and they quickly became the only article of clothing Paul actually cares about. These shirts are professional shirts that are made with performance fabric. You can wash them in the machine, they don't require dry cleaning! They are moisture wicking, have a 4-way stretch and never need to be ironed! I actually have to get my dad a few of these shirts for Christmas as well because someone got a little bitter when he saw how many Paul had in his closet. haha.
10. Leather, Wireless Headphones: If your boyfriend or husband travels a lot for work these headphones are an investment and really unique. Paul listens to music at work all day so I'd love to get these for him! If he is a minimalist, I'd splurge on these as one big gift.
11. Jack Black Toiletries: Men will never say they want or need toiletries and then they will use yours! haha. Last Christmas I got him the Jack Black shaving items and they have become his favorite. This set is perfect for his stocking.
12.  Ugg Chukka Boots: One of our best friend's, Austin, has these boots and Paul always wants Austin's shoes! [He is going to roll his eyes reading that, but it's true! haha] These come in a ton of different shades and Austin says they are super comfortable!
13. Tech Gloves: Because we have very few snow days in Texas I always forget to get Paul and I gloves. However, when we make trips to NYC or do have a snow day we are out of luck and trying to Amazon Prime gloves that turn out to be total busts. These are perfect and allow him to text in the cold.
What do you love to get your guy?!