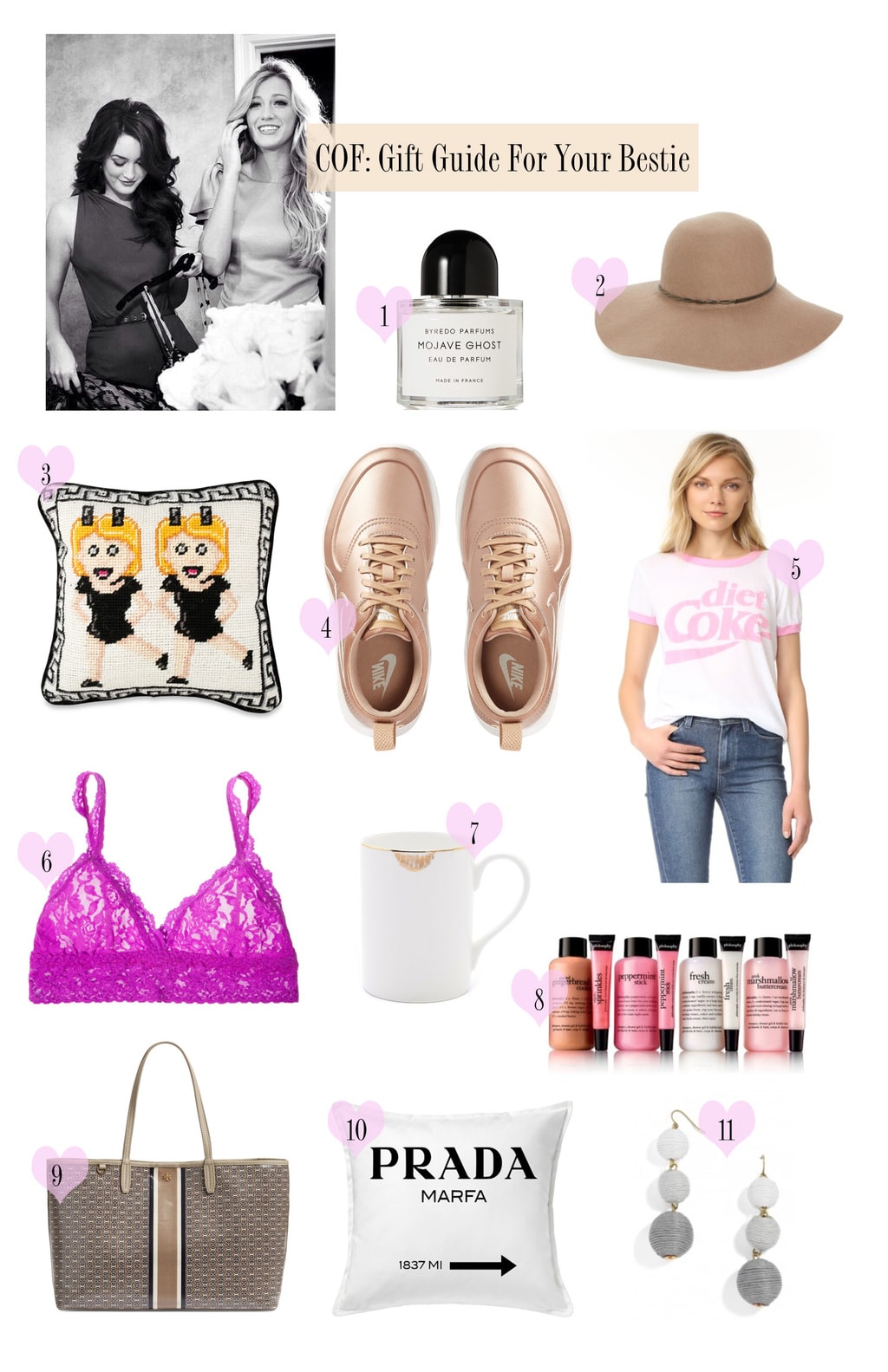 1 | 2 | 3 | 4 | 5 | 6 | 7 | 8 | 9 | 10 | 11
---
She's the Blair to your Serena, otherwise known as your bestie. She may be your sister, your roommate from college or your cousin! These were my favorite unique and splurge-worthy gifts for the girl that you call first when something happens!
1.Mojave Ghost: Byredo perfumes are the ultimate luxury gift and this one is on my wish list! Mojave Ghost is a scent that appeals to so many different noses across the board. One of my girlfriends only likes clean, floral scents. I like spicy, woodsy scents! We both love this. Thanks to violet and sandalwood undertones, your favorite girl will smell amazing to everyone she walks by!
2.Floppy Hat: I love floppy hats for the fall and winter, but I can never seem to get myself to splurge on one! I was shopping a few days ago and tried this hat on 3 different times, but I just didn't see the reason to actually buy a hat. This is where a gift comes in! Most every girl wants a staple hat for her wardrobe, but just won't treat herself to one. Spoil her with this one for $55!
3. Emoji Pillow: If the twin emoji is next to your best friend's name in your phone, I think this gift doesn't even need an explanation. 😉
4. Rose Gold Nikes: If your best friend loves her athletic wear, she will love these to dress up her look for running errands, Saturday brunch or going to the movies!
5. Diet Coke Tee: Can your bestie not break her soda habit? I'm so guilty of that! Even after I finished Whole 30, I said I realized the one indulgence I like in life is a good Coke! haha. Naturally, I had to order this top since I'm not drinking diet soda during pregnancy. But I can wear it! 😉
6. Bralette: I would take this bralette in every single color! It's especially fitting for your bestie as this brand was founded by one friend making a gift for another!
7. Lip Mug: I've had this mug for a few years now and I still get e-mails weekly from readers asking about it- which makes it a really safe gift for $25 that you know your girlfriend will love! Throw in a gift card or her favorite lipstick and tie with with a bow and you are finished.
8. Philosophy Gift Set: This is my favorite brand of body washes and my mom always gets my sister and I these sets each Christmas. If your bestie is a beauty junkie or loves bath products she will love all the soaps and lip glosses to match!
9. Tory Burch Tote: For a Tory Burch tote, I love that this is under $200! It's so reasonable for a designer bag and what I love even more is that it is an amazing Goyard dupe!
10. Prada Pillow: If your bestie really is the Blair to your Serena and loves Gossip Girl as much as you do, this pillow will only do! It's perfect for a bachelorette pad or her girly nook in her married home.
11. Drop Earrings: These earrings are everywhere this season and this pair is the most affordable I have found. The other great thing about these earrings is they truly aren't heavy! They make a statement without you wanting to take them off an hour into your day.