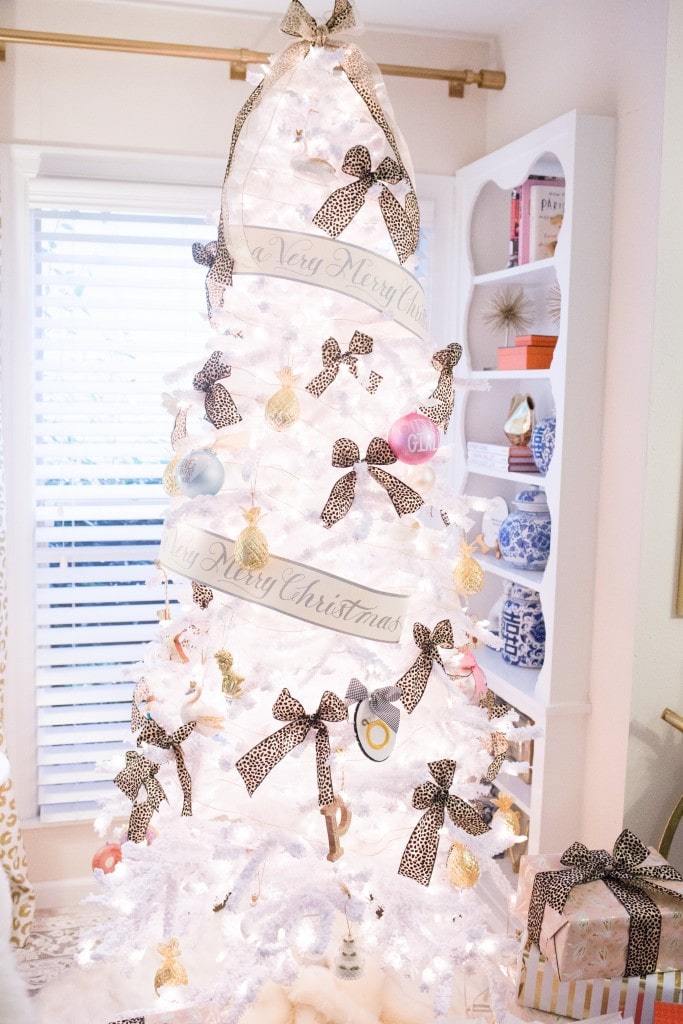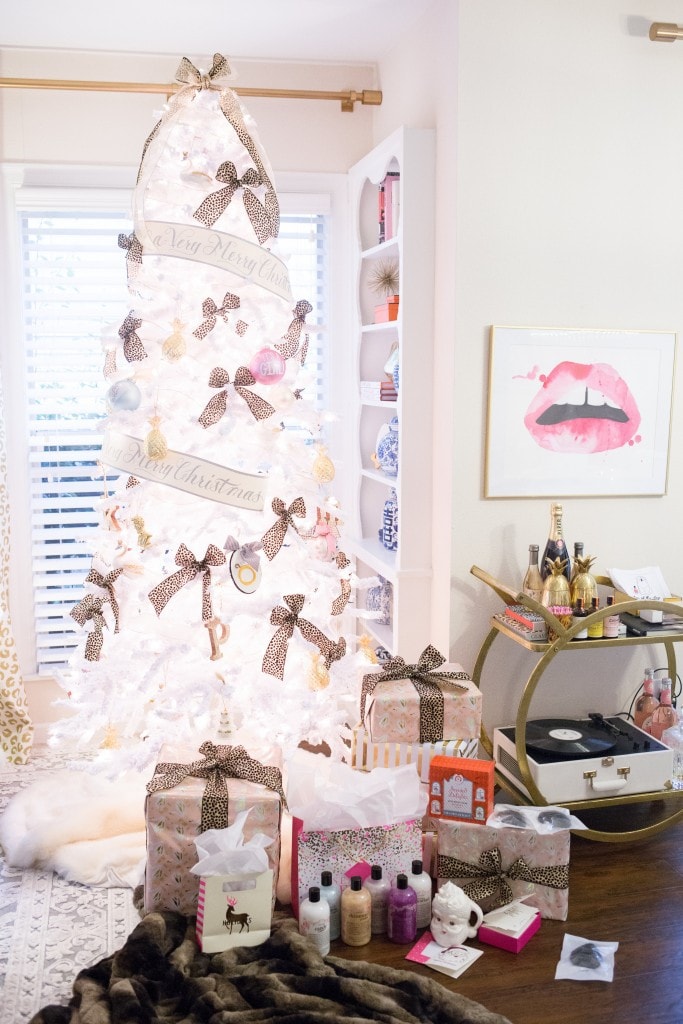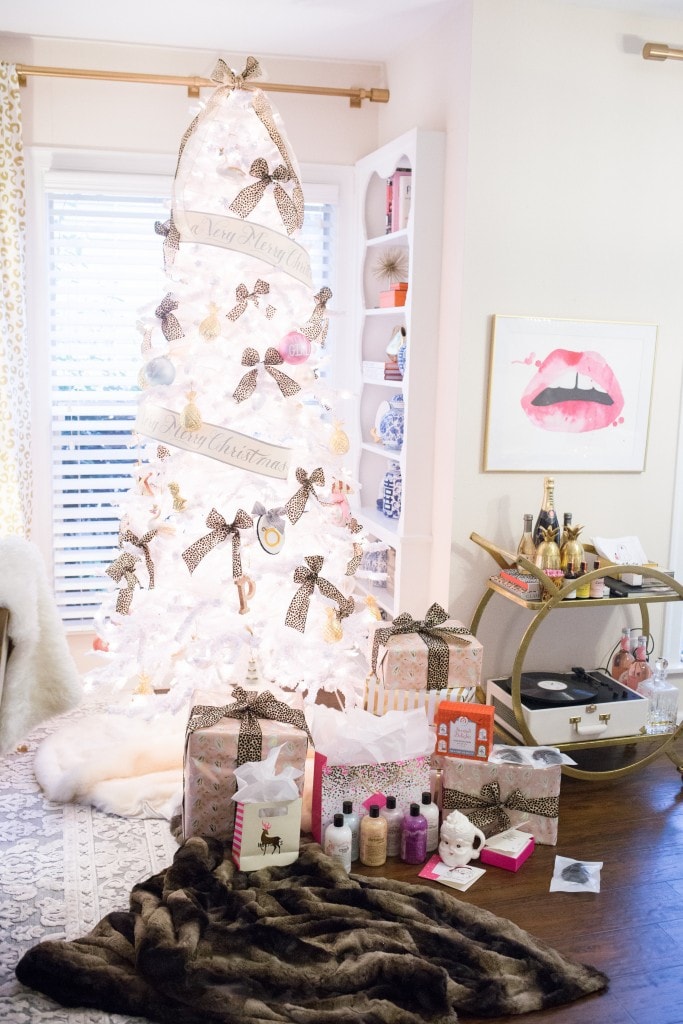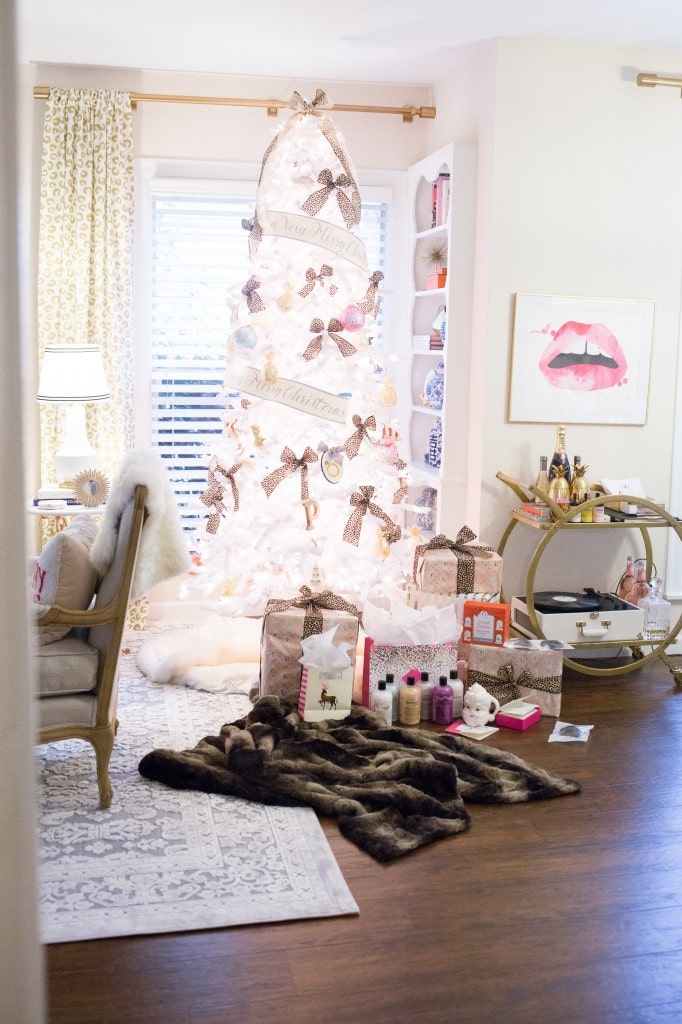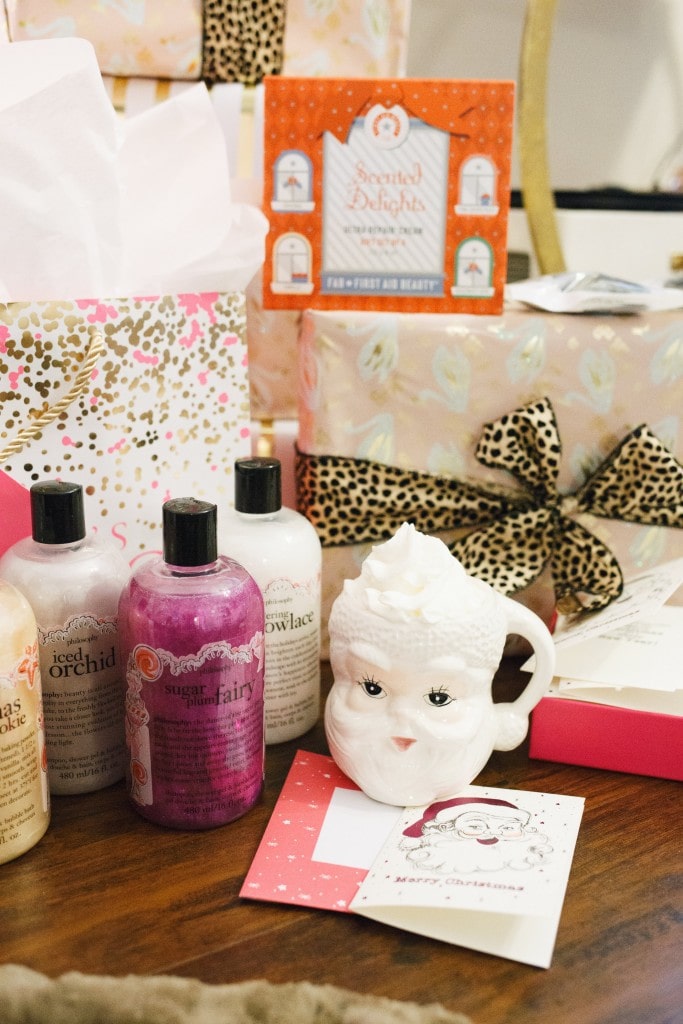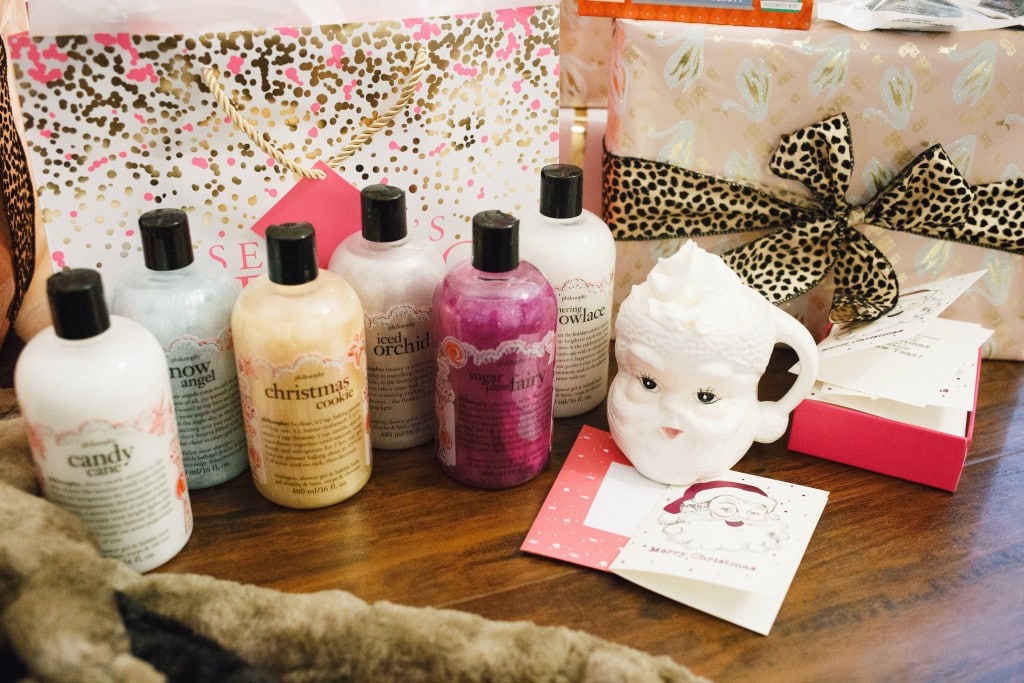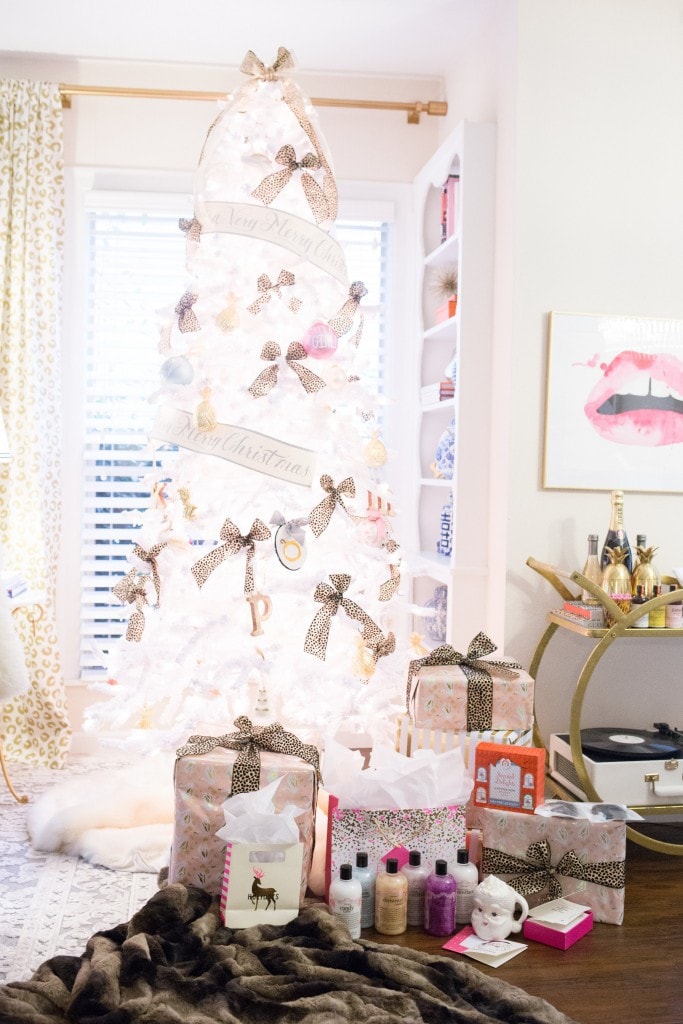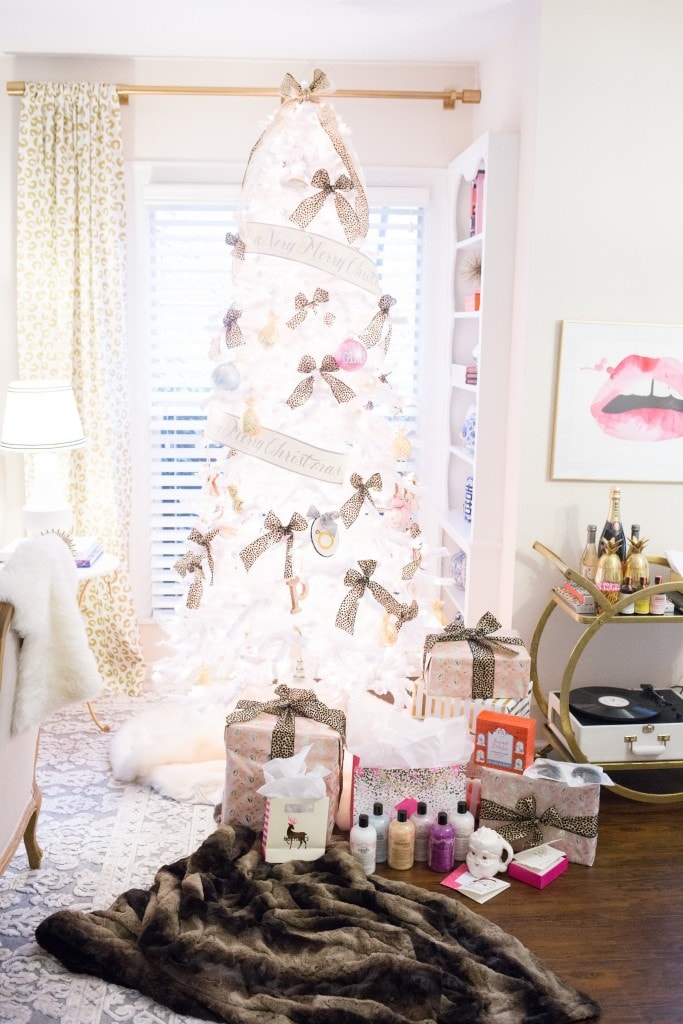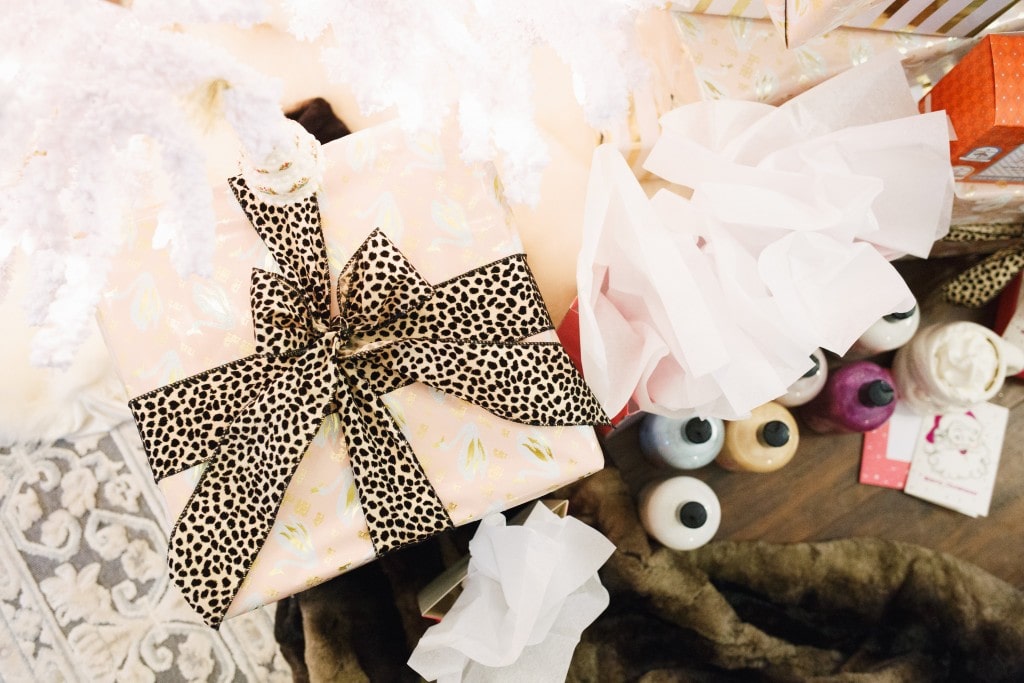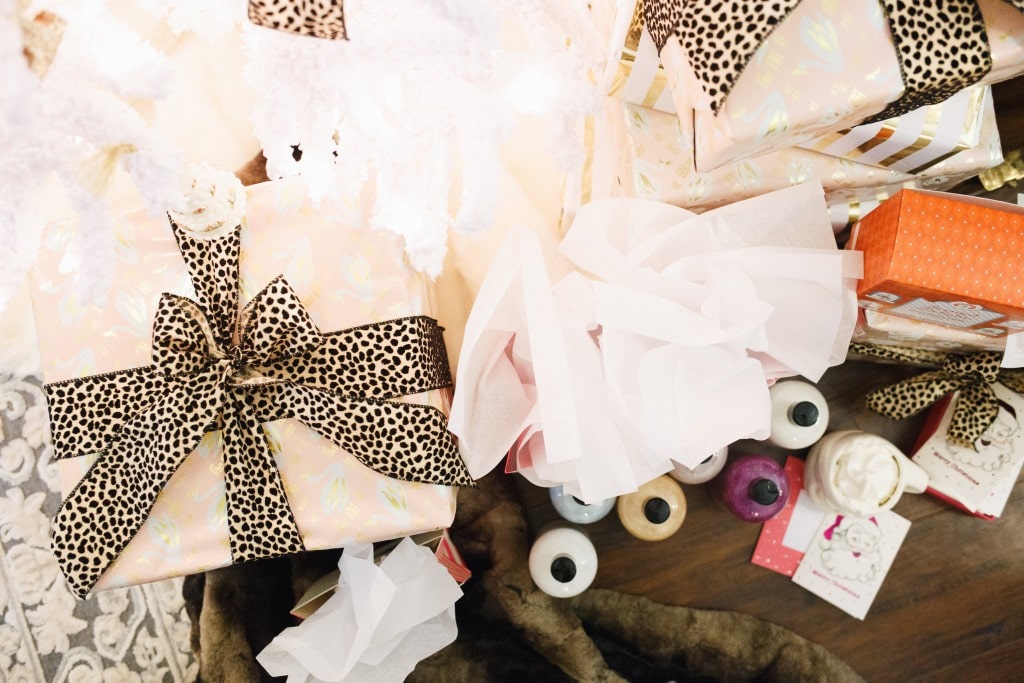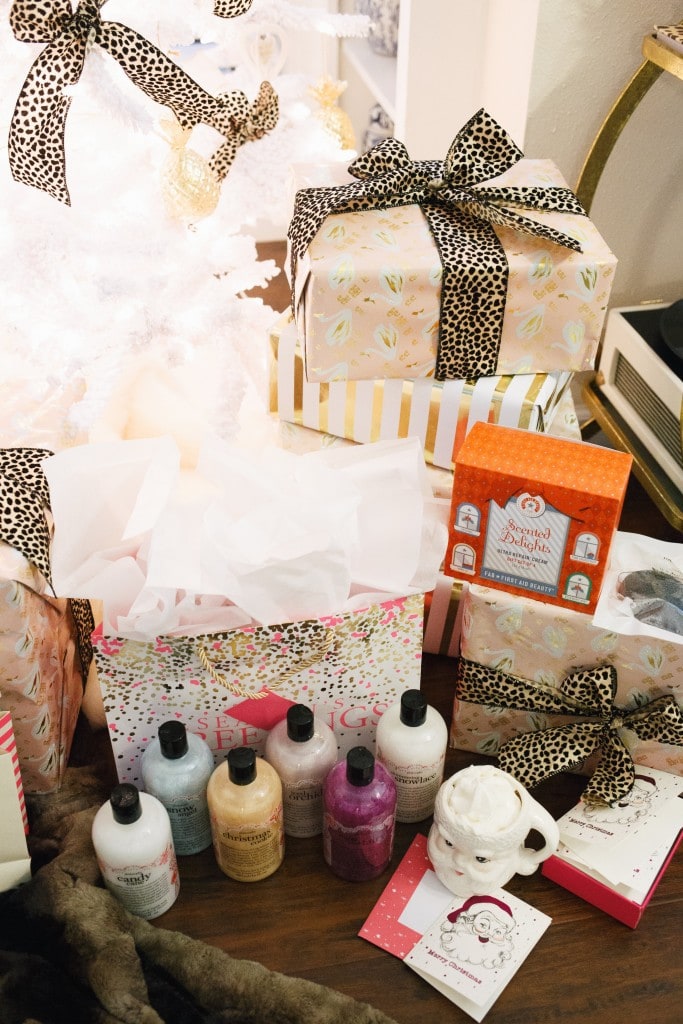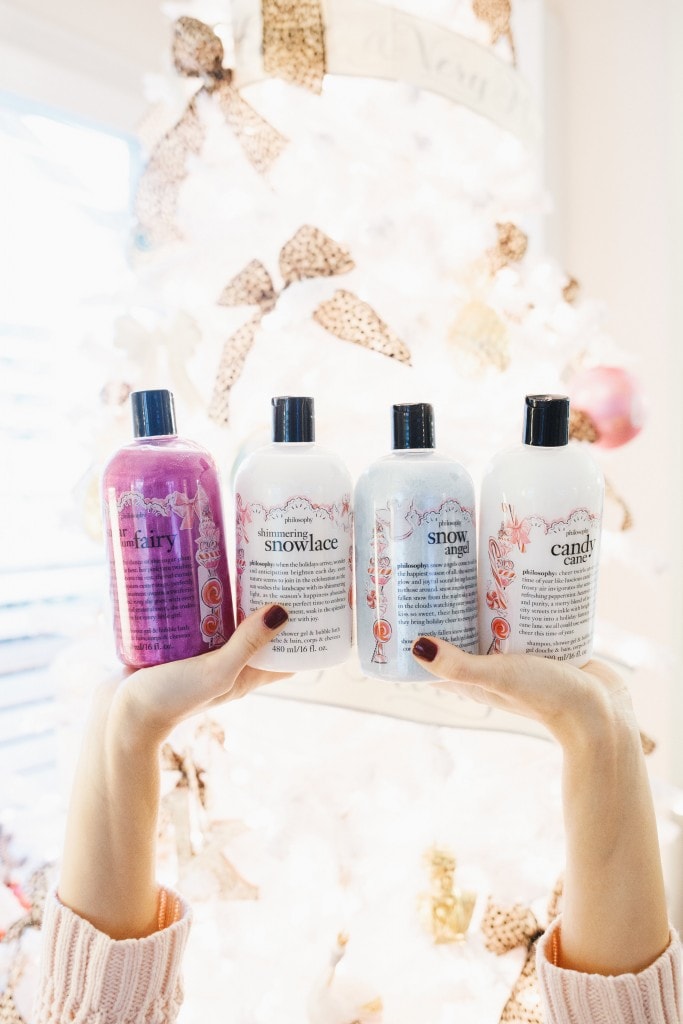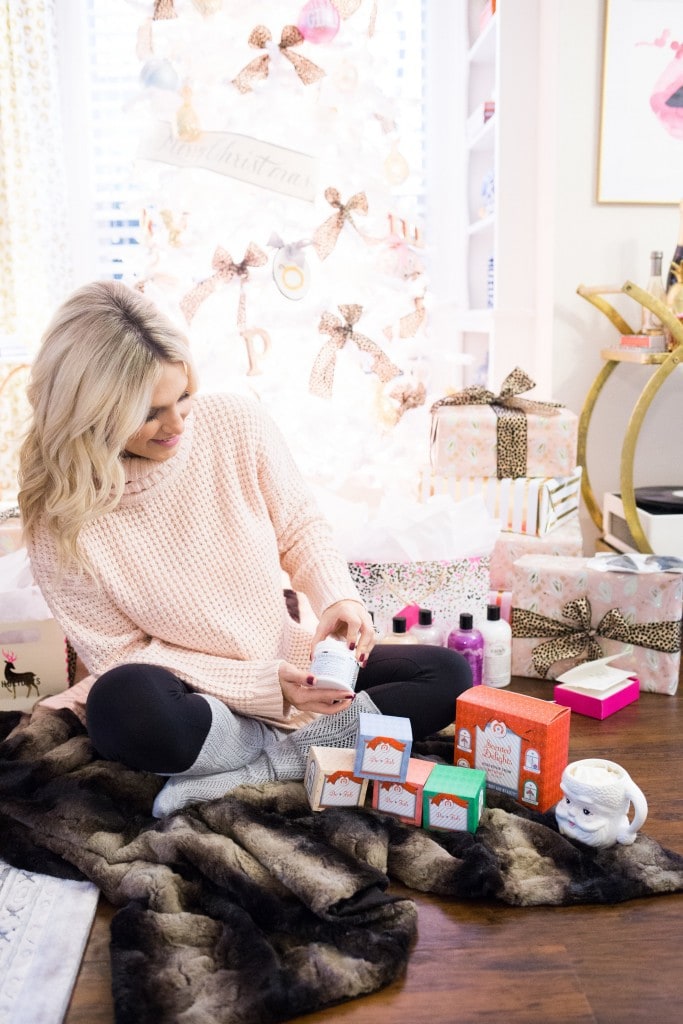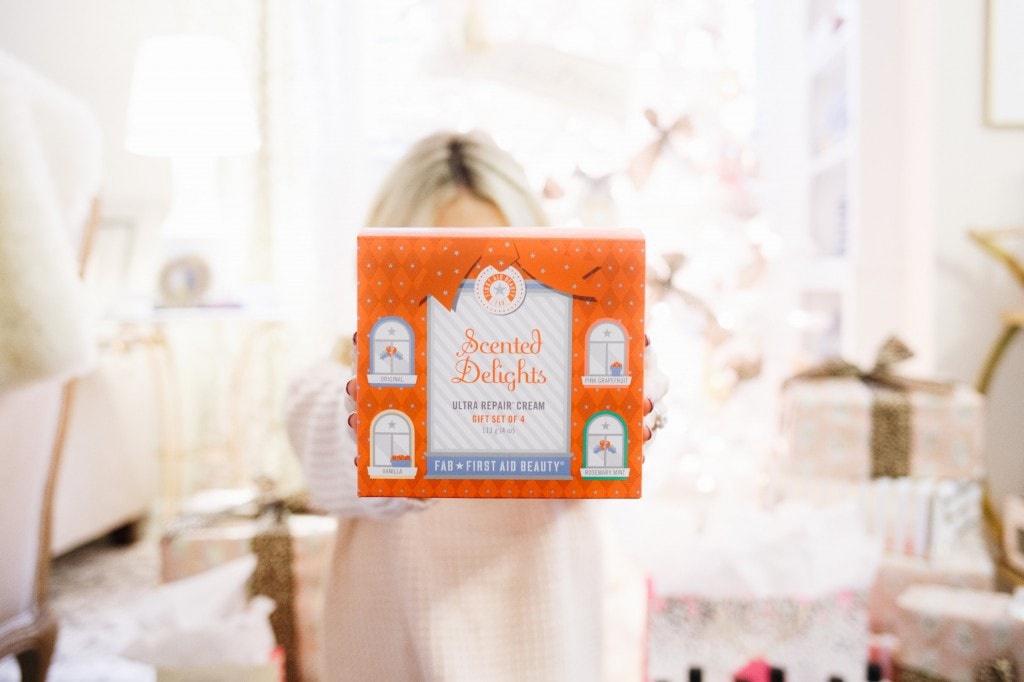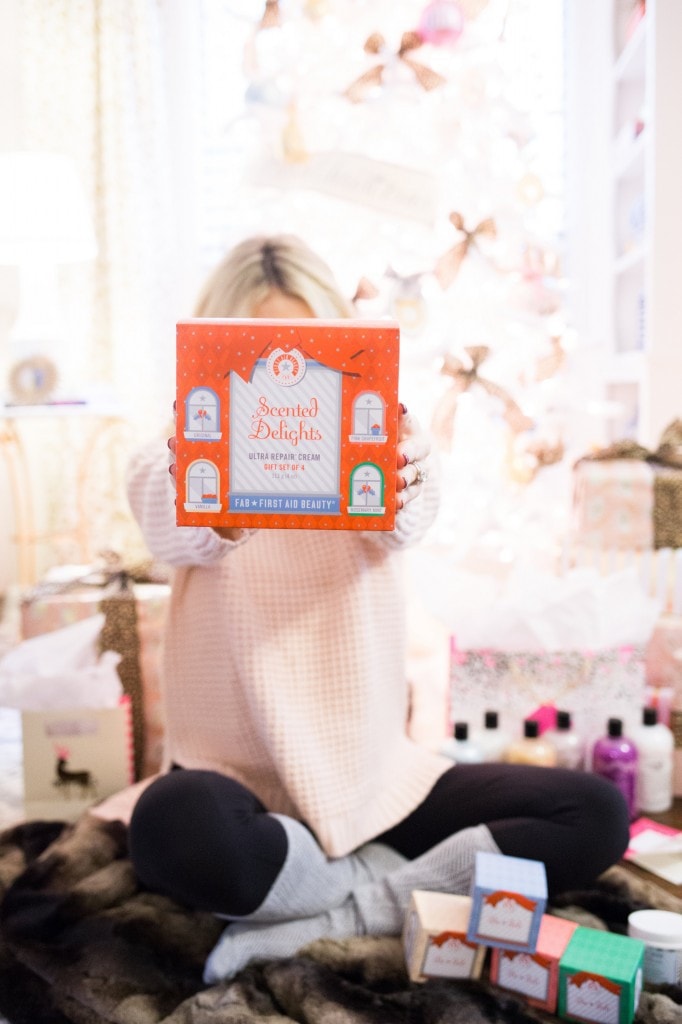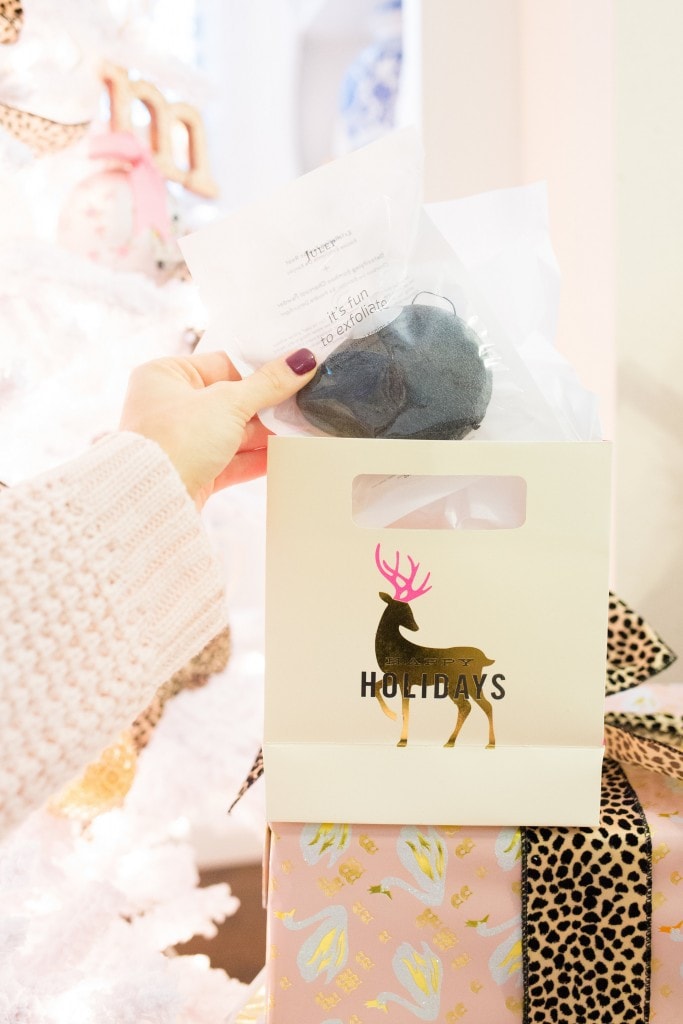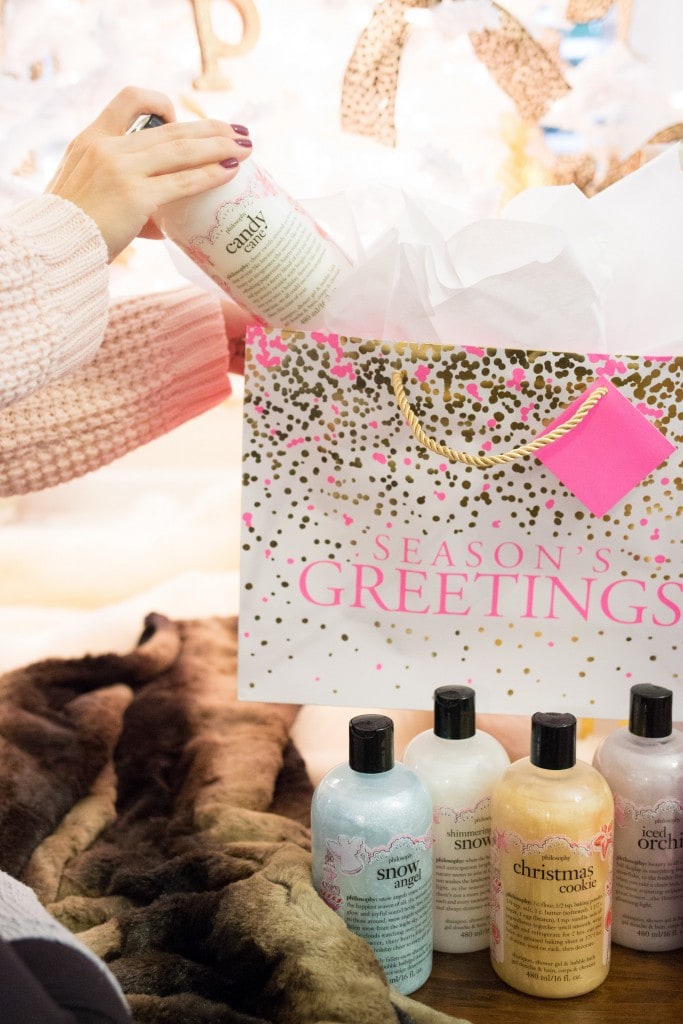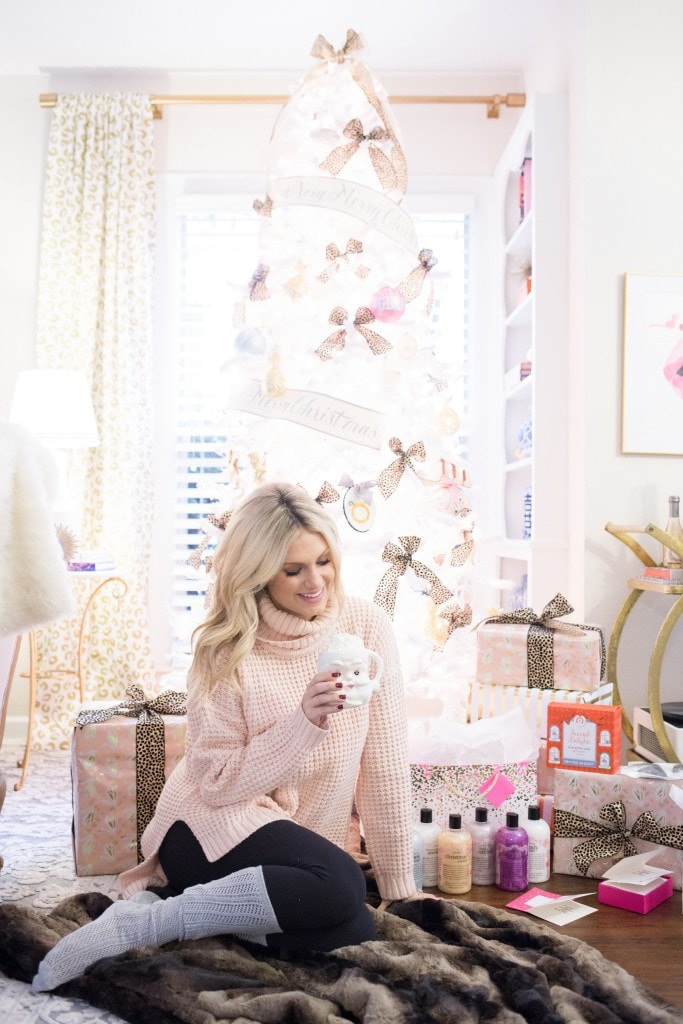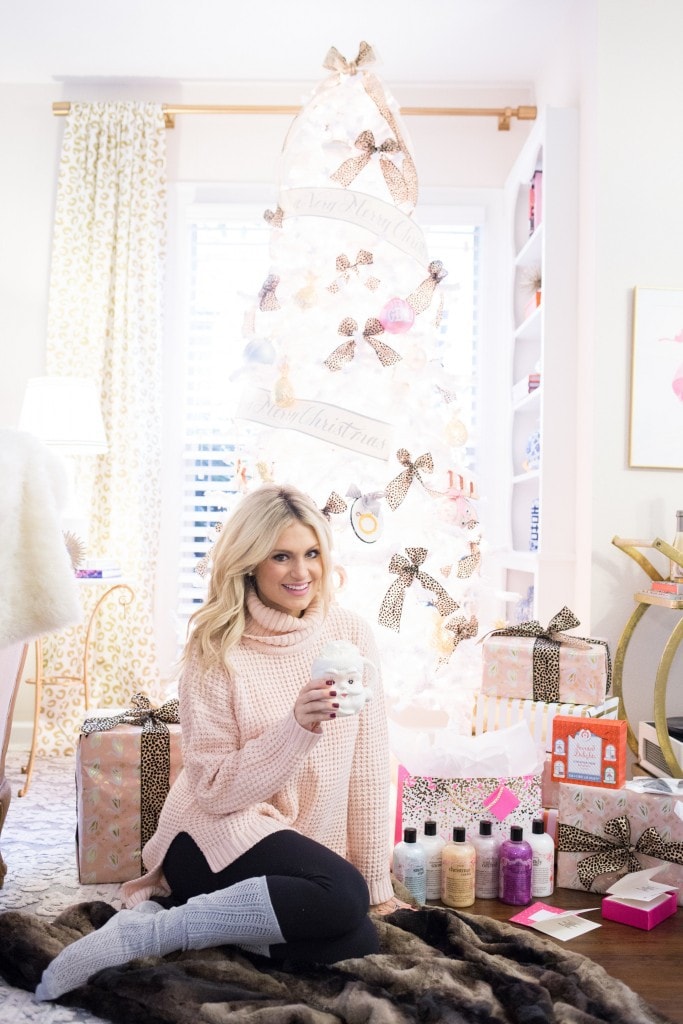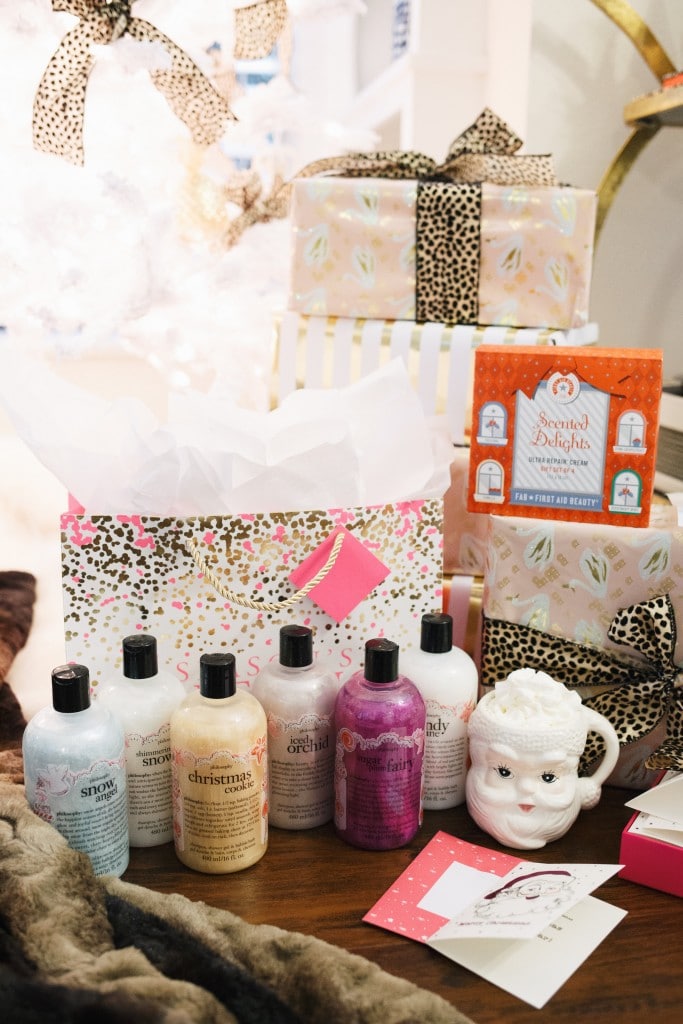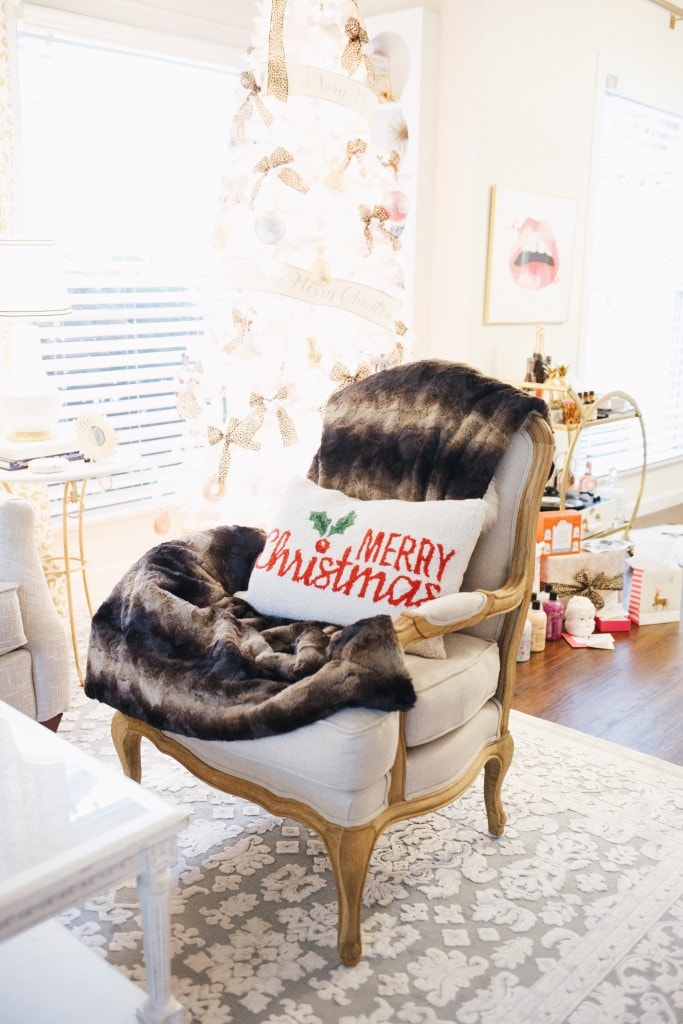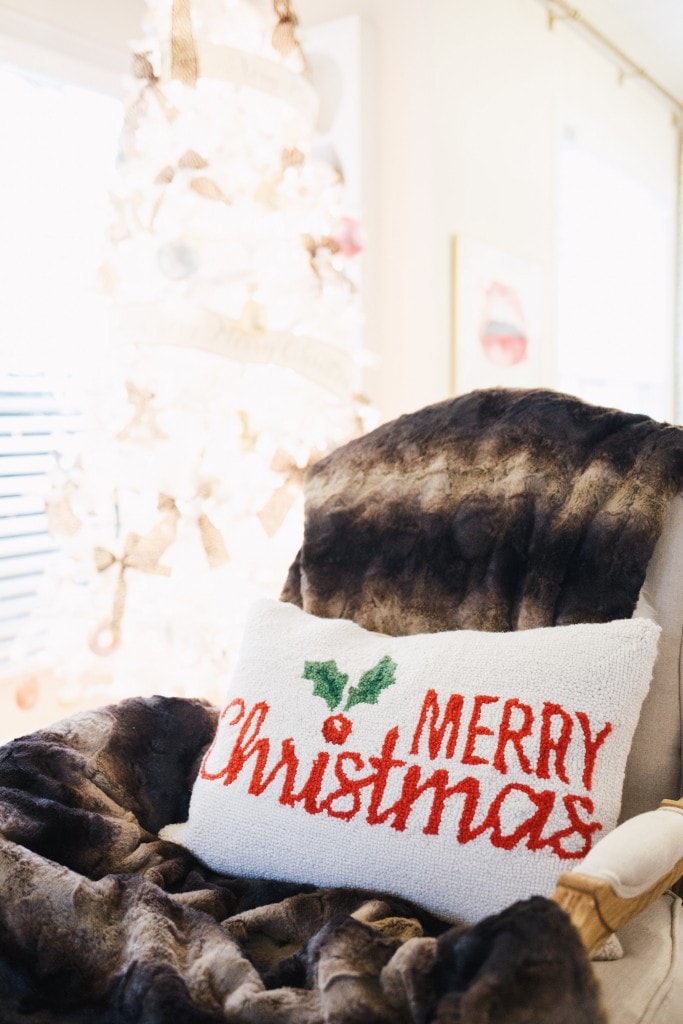 Faux Fur Throw: QVC [c/o] | Body Washes: QVC [c/o] | Exfoliating Sponge: QVC [c/o] | Ultra Repair Cream: QVC [c/o]
Photography by: Madison Katlin
---
The tree is up! The tree is up! We were going to wait until this weekend, but then our tree got delivered on Tuesday and we thought it might be nice to put it up while the election was on. And as you can see I got on a bow kick. I didn't even buy that ribbon for the tree, but once I put up light gold ribbon the tree just looked SO white. I thought I would add a little something and 2 hours later you get the idea… haha!
I'll share more pictures once all our holiday decor is up, but today I thought I would share a few more gifts for "her" as you cross of your Christmas list! When in doubt, I always go the pampering route. Some people can be really nerve-wracking to shop for, especially if they don't have the same taste as you. But instead of stressing out, I try to get them something they can use to pamper themselves because let's face it, whether we have a bohemian or preppy style, we all have to bathe, shower and take good self care! 🙂
A few months back I partnered with QVC to share one of their beauty boxes and y'all told me how much you loved them! Growing up my mom always got my sister and I beauty gift sets for Christmas from QVC so it was really sweet to know some of my readers shared the same traditions and sentiments. Plus, y'all loved that you can get some of my favorite brands like GLAMboxes for less!
Today I'm excited and honored to partner with them again to share a few favorite pampering gifts for any girl in an array of affordable options!
First up, let's talk body wash because that's a gift that any girl loves. I've probably harped on it a bit too much, but my mom always gifts my sister and I Philosophy body washes. This little set comes with 6-full size shower gels so you could get this, wrap it in a bow and gift to 6 different girls and be done with all your girlfriends.
Another skincare option is the First Aid Beauty Ultra Repair Creams. If you follow me on Snapchat, I've shared these over the years and always keep a tub in my medicine cabinet. This stuff fixes ANYTHING from patchy skin post blemish to eczema that flares up in the winter. Paul and I both have really sensitive skin and we joke this is like our "Windex" from My Big Fat Greek Wedding because we put it on anything and it helps clear up any issue. These options are scented for the holidays and come in a set of 4 that you could break up and divide or gift together!
Or maybe your girlfriend loves to have skin that glows! If that's the case, I love these Julep Charcoal Body Konjac Sponges. You wet them under warm water, massage your skin in a circular motion and I love to use mine with a body wash as well. It's different than a loofa in the sense that it is stronger and really works to remove dry, winter skin. It has a little hook to hang up in your shower and keep it clean.
And lastly, this one is always a safe bet to gift for the holidays: a faux fur throw. I'm going through this really odd nesting phase where I want to get rid of all of our blankets and my pajamas and start new. I'm not sure if it's because I know I'll be living in pajamas and blankets once baby is here or if I just don't like the old ones we have [thank you, Peaches, for chewing all of our blankets! haha] and I'm justifying this as an excuse. So this one I'm being bad and keeping for myself! When it arrived in the mail I threw it on the couch and I found my husband sleeping with it 15 minutes later. Not all faux fur throws are created equal and our blanket basket can attest to that. Some have hard faux fur, some are so soft they leave fuzz on EVERYTHING and some get really itchy. This one by Dennis Basso is just so soft, doesn't leave lint and never itches your skin while looking great on a couch.
And most importantly, while you're gifting for the holidays be sure to make it fun for yourself as well. We all know it is better to give than to receive, but sometimes when you're down to the wire wrapping presents at midnight you just can get cranky! Make some hot chocolate [add a ton of whipped cream like I did!], throw on a Christmas CD and enjoy the process. I always like to add a little note and share my favorite memory with that friend or family member from the past year. It's a therapeutic process that reminds me of all I'm thankful for.
Do you have any go-to pampering gifts?! I'd love to hear them and add them to my list this year!

In partnership with QVC. All opinions are my own!