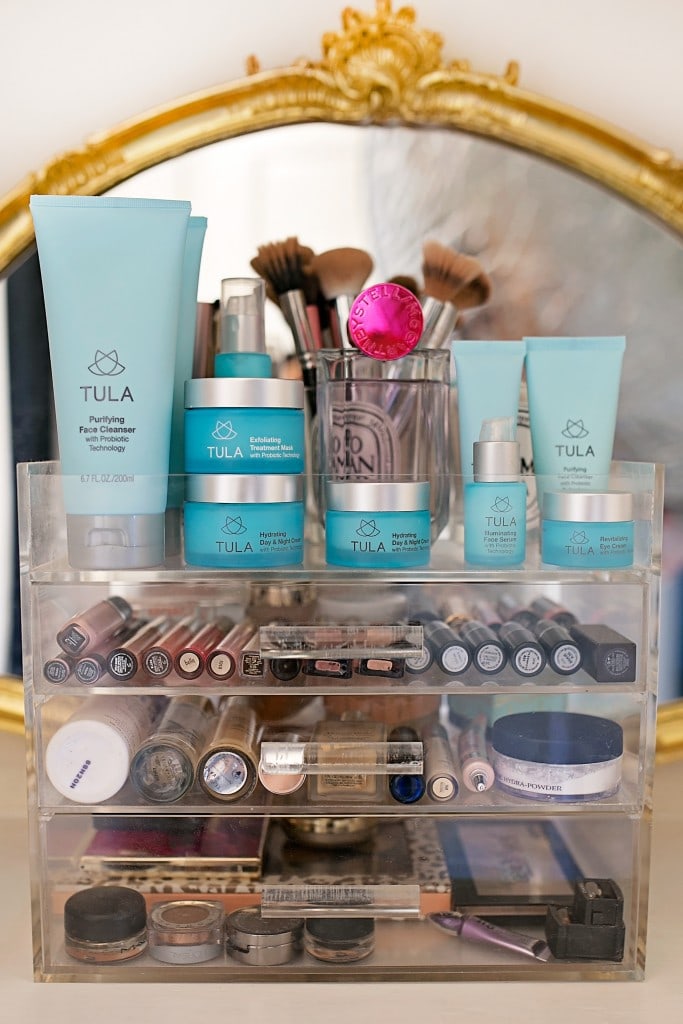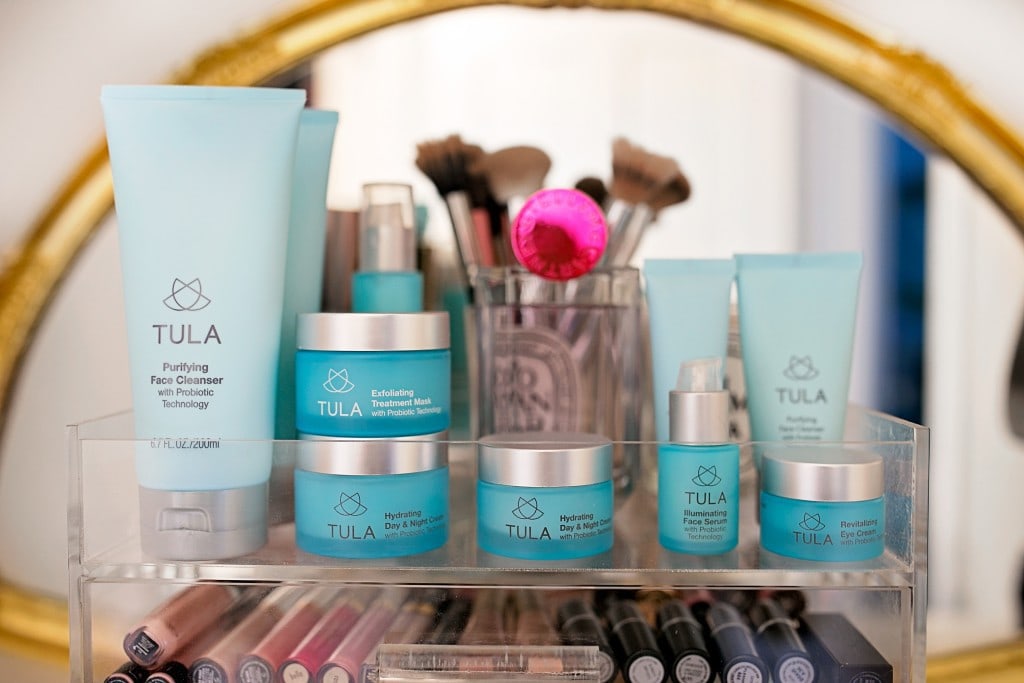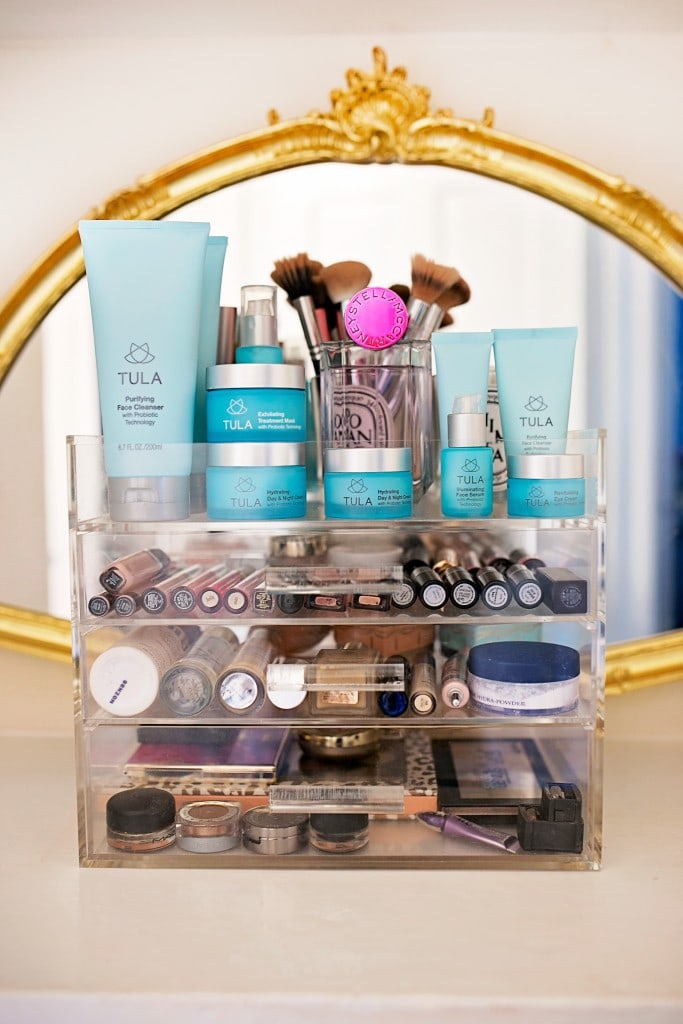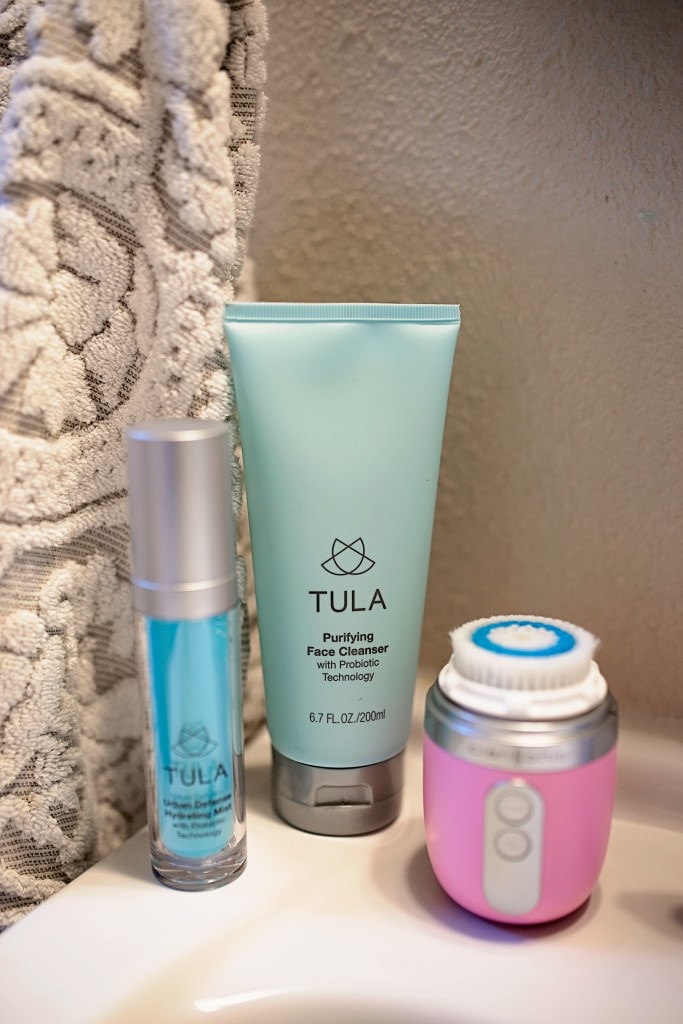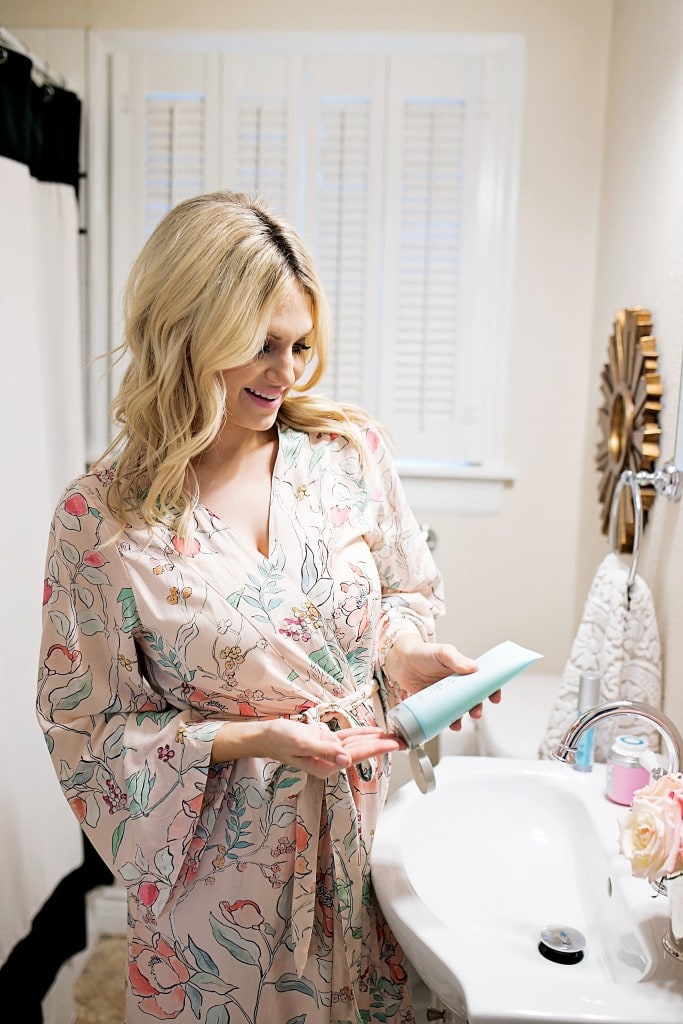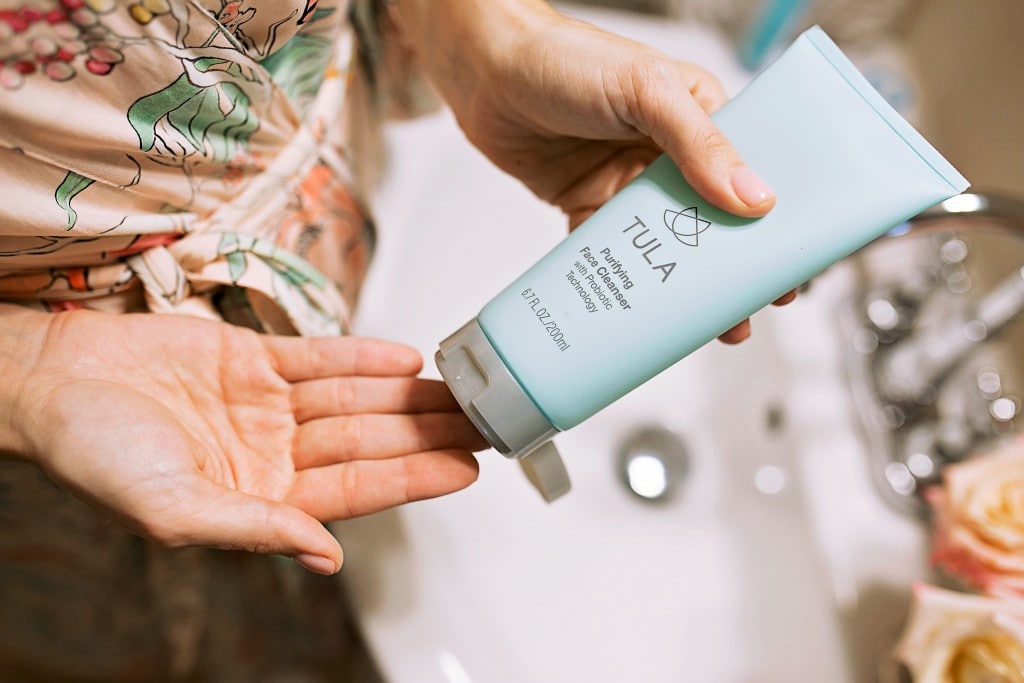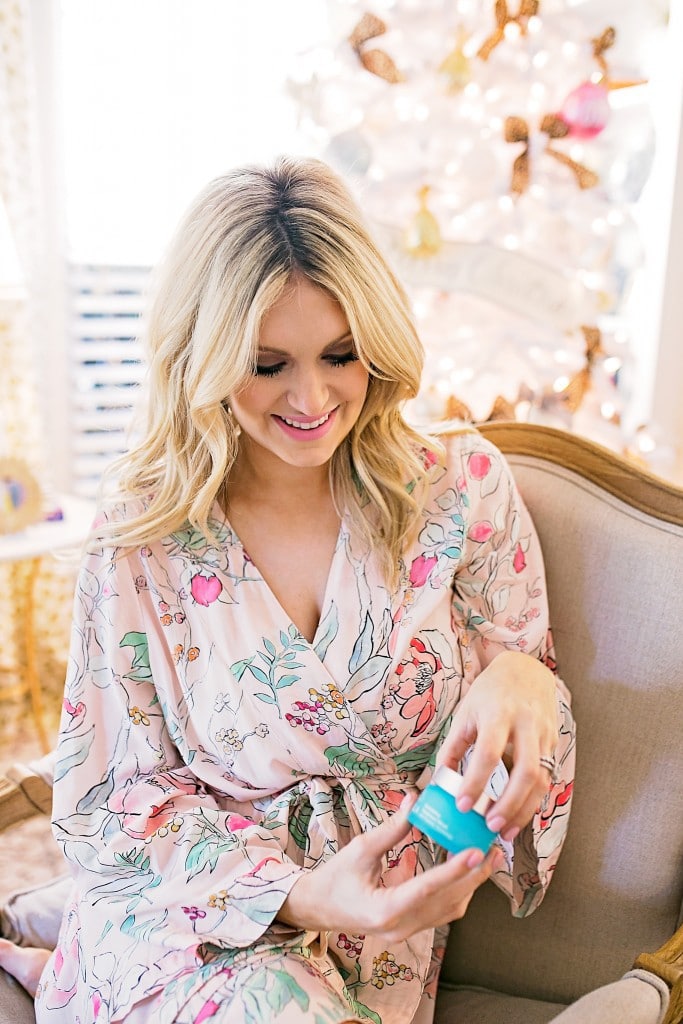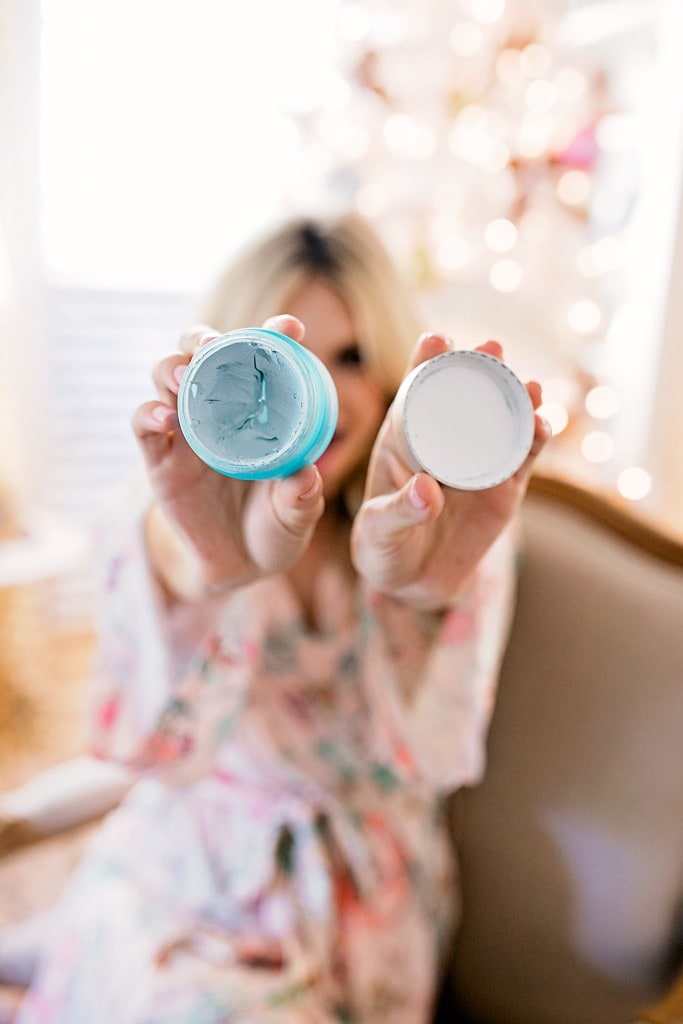 Beauty Organizer: GLAMbox | Robe: Plum Pretty Sugar
Photography by: Angie Garcia
---
I'll be honest, as a blogger sometimes you feel like you are just beating a dead horse. Because I'm the one writing my content, I always worry that I'm constantly saying the same favorite products or the same go-to wardrobe pieces, just because they are the items I personally post the most. I think it it a testament that I genuinely love the same products for months [sometimes years] and shows that I don't just promote whatever people send me, but then I also worry if people get bored with the same items.
Hence, why I love to do Q&A's! I get a lot of e-mails weekly about my skincare routine, pregnancy skincare and the oder I use TULA products, so I thought that for today's post I would answer the questions readers sent me on Snapchat after I asked. It's always a good reminder when people say something like, "Can you go over your makeup routine?" Because then I know at least someone does want to see what makeup I'm using, and it's totally in my head that I "think" I talk about my makeup products too much. Maybe that's just me, but hopefully that makes sense to you all, as well.
Here are the top questions I received Sunday evening!
1. I break out so much when I'm stressed and anxious. But I also have sensitive and dry skin. I don't want to spend money on a product that won't work. Will TULA be a good try?
It was so hard to screenshot these questions because the first thing I wanted to do was automatically respond, but I knew I had to wait for the post so it would help others as well! haha. But in my head there were the first 3 things I wanted to tell her:
-You're the PERFECT candidate for TULA because you have combination skin with dryness and stress-induced acne. TULA means "balance" and when you use products that specifically target one type of skin [i.e. an oil-free acne cleanser] you're hurting the other aspects of your skin [like dryness] that need TLC as well. What you need is something to balance the dryness and the acne, and that's what TULA does. It isn't made to combat dryness, it isn't made to combat acne. It's simply made to balance and in turn what it does is do both.
-I also want to say, that skincare is an industry where one product will work for someone and it won't work for another. You can make 47 appointments with 47 different dermatologists and they will recommend 47 different products. They are going off of what they see generally helps their patients. I understand how frustrating it is to use a product and it not work. In fact, that's why I started blogging. I was diagnosed in middle school with Discoid Lupus and after seeing doctors from Oklahoma to Atlanta prescribe me different medication and treatments that simply didn't work, I was frustrated I couldn't find product reviews for myself. It was the entire reason I went into PR. I wanted to write key messaging for brands to get into the hands of girls that need it, which transitioned into me blogging full time. So, I loved that this was the first question because I always want to disclaim, a shoe that fits me, might not fit you. A shampoo that works for me, might make your hair dry. And a skincare that works for me, may not work for you. However, I confidently have recommended TULA for years [WITHOUT BEING PAID THROUGH SPONSORSHIPS BY THEM] because it's the #1 product I know that can work for an array of skin types. I have normal to combination skin, so I may not be the best blogger for a girl with really oily skin. But I don't want her to feel like she finds nothing of use from my blog. Which is why I love TULA because it's going to work the same for both she and I by balancing our skin to get it to a normal state.
-Because of your dry skin, you definitely don't want to slather a ton of acne treatments on your entire face and wake up with cracking skin. My recommendation for you would be to make sure you are extremely strict with your skincare regimen. Like hands off the face, 100 ounces of water a day, never skipping a face wash, strict. That way when your stress and anxiety does flare up, your skin is already taken care of. A pimple is the cumulation of WEEKS of dirt and grime [as well as hormones which we can never really control], so if you don't allow that to build up, you may still flare up, but it won't be as deep or painful. To remove makeup, my favorite product is the Boscia cleansing oil. They have a few different ones, but this one is what I would say for more sensitive skin! The other option is more for oily skin. Apply to damp skin [I do dry skin, but you can do either] and massage all over your face and eyes to remove makeup. Splash a few times with water, then you will start the true cleansing process. For this second cleansing step you want to make sure you are exfoliating and deep cleaning to remove impurities. I recommend exfoliation to everyone, so if you can treat yourself to a Clarisonic this Christmas definitely ask for that on your list! This is the Clarisonic I use every night! For your skin I would use the Sensitive Brush or the Cashmere Cleanse Brush! I'm not sure which issue is more concerning for you [sensitivity or dryness] but if sensitivity is, go with that brush and if dryness is, go with the cashmere! I apply my TULA Purifying Cleanser on top of the brush because I know it won't strip off my natural oils and it is really gentle! If I were to use two back-to-back cleansers of something really harsh it would counteract. After I do this, I apply serums and moisturizers. I don't use a toner just because my skin-type is more sensitive and I don't need one. However, some people do like them! I've heard this one is amazing. I know it is really costly and I can't speak to how it works, it's just a cult favorite among all my blogger friends. Because you have dry skin, I would go to a moisturizer next! If you use eye cream, apply that before your moisturizer. Then apply the TULA Day and Night Hydrating Cream. Now, to handle your breakouts there are two products I recommend. For upkeep and treatments UNDER makeup, I recommend the TULA Exfoliating Treatment. Right behind the TULA Cleanser, this is my next favorite product. You can see how I use it to heal a blemish quickly in this blog post. I use the treatment once a week all over my face and then as a spot treatment under makeup when I do break out. Now, my favorite cream in terms of a quick drugstore product for a zit zap is this Neutrogena On-The-Spot Treatment. For me personally, benzoyl works better than salicylic acid, but every girl has a preference. Be very careful and use this treatment sparingly and only on the blemish and it really dries your face out, but it works very quickly if you want an overnight treatment that is "made for acne." It's also a pretty affordable option! Some dermatologists say to apply your acne cream under moisturizer and some say over. I say it is a personal preference and I like to apply it after my moisturizer so that I'm not just sucking the life out of my skin and making it dry! I know when we do break out we just wish we could dry everything out but dry skin is the enemy 😉 and will always lead to quicker aging and skin that just doesn't look youthful or healthy. Also, if you are having dry, cracking skin in any spots I recommend the First Aid Beauty Ultra Repair Cream for that! I don't put it all over my face, but if I have any peeling or itchy skin I use this on spots!  I'll link below the products I recommend for you!

2. What is the best way to get rid of blackheads?
Blackheads are the result of excess sebum, which looks black on the skin because the sebum becomes oxidized and turns black when exposed to air. It's like jewelry tarnishing. I honestly think it looks worse than it honestly is! The jewelry is completely fine, just some chemicals have caused it to look like the situation is a lot worse. Lots of girls love pore strips and swear by those while others like to just get rid of them with facials. Because this is noninflammatory acne [meaning not infected like cystic acne] I like to use a more natural approach! Proper cleansing is actually the best way to prevent [like with my double cleansing listed above! Don't scrub or use anything harsh, just a good oil-based cleanser to remove makeup and then a purifying cleanser] and then I use a natural treatment. I use lemon juice, sugar and honey! Honey is a natural soother and offers antibacterial benefits, while lemon juice exfoliates so it's removing those dead skin cells and oxidized sebum. Sugar is also an exfoliant! Cut a lemon in half, sprinkle a bit of sugar on the lemon and drizzle some honey on it as well. Use the lemon like a loofa and scrub on the problem areas [for most girls it is the nose]. I let it sit for a few minutes and then wash off! Regularly doing this like once a week helps them go away after about a month! However, if you are dying and want them gone NOW but don't want to book a facial, use a blackhead tool. You can Youtube how to use it, but this wasn't my first recommendation for a reason! Some girls get addicted and it can cause some infection or irritated pores. If you can use it just a little bit and not damage your skin, go for it. But just be careful and sanitize after EVERY use! 😉
3. I struggle with winter dryness but it seems like all moisturizers make me oily!
You and I are in the same boat! I have normal to combination skin [and by combination I mean sensetive/dry/yet I still get blemishes and I don't know why sometimes skin! haha]. In the winter I'm more dry and yet if I dip my face in a tub of moisturizer made for dry skin I might get a clogged pore or two. I use the TULA Moisturizer and it doesn't do that to me and if I have cracked skin I use the Ultra Repair Cream as listed above! I love the TULA moisturizer because for me personally, it is creamy but it dries more gel-like. It isn't a gel [for those with dry skin worried] but it just isn't an oily moisturizer that is going to make you feel like you were sweating at a Soul Cycle session! Another tip is sleep masks because it allows the moisturizer to sink in your skin while you sleep! I just wash my skin as normal in the morning, but my skin is really dewy. Sometimes if I do it on a Friday night I won't wash off directly Saturday morning and let it keep soaking in until we have somewhere to go. I love this by Shiseido and this by GLAMGLOW. The Shiseido has more of a gel-type texture if you don't want something super heavy and the GLAMGLOW is heavier, but both work great!

4. Did you have pregnancy acne? What are your recommendations on controlling it? I'm 16 weeks and it is my biggest struggle. 
I did! Oh my goodness up until week 20 it was everywhere and so, so painful! I continued to use my TULA Face Wash and Exfoliating Treatment once a week per my doctor saying it was okay! Then I used the Belli Acne Spot Treatment. I won't lie and say it is the best product ever. You are told to steer clear of traditional acne medication during pregnancy, so the Belli product is very natural and I didn't see results overnight like I was used to. However, it would clear up spots within a few days which was more than I could ask or hope for! 😉 My Clarisonic with the Acne Brush Head was also a life saver!

5. Other than the cleanser, what TULA products would you recommend someone purchase from their line?
After the cleanser my next recommendation is the Exfoliating Treatment just because it's such a multi-purpose product. Regular use [I use once a week] exfoliates, brightens skin, tightens skin, plumps up skin for a dewy look and removes impurities. After that I recommend the moisturizer. I'm so excited because this season I got to curate a page with TULA to share my favorite products and gift sets for the holidays! You can see my favorite products I recommend here. Use code: KATEYHOLIDAY25 for free shipping AND 25% off!
6. Does the new TULA anti-aging product have retinol?
Yes it does, which is why I don't use it during pregnancy. 🙂 Granted, a lot of skincare has a TINY bit of retinol in it, so I don't want to worry pregnant girls if you dig deep and find your traditional moisturizer has some. I actually made an appointment with my dermatologist when I found out I was pregnant too and was really worried about anything in my medicine cabinet having retinol or anything intense. She cleared everything I use so I recommend any pregnant woman to do the same!
7. What is your skincare routine? Do you use the serum and moisturizers at the same time?
With pregnancy, I chose to forego traditional serums! When not pregnant I use the TULA serum before my moisturizer. Serums are more specified! So whereas a moisturizer is something like a conditioner for your hair [everyone needs it] a serum can be viewed as the treatment you use after you shower. Some girls need a detangler, some girls need moroccan oil, and some need a volumizer. I'm all about getting my skin to glow, so the TULA Illuminating Serum is what worked best for me. If wrinkles and anti-aging are more of your area of concern, I recommend this serum-it's the one my mom uses! She is 53, never had a facial, never had a filler or Botox and doesn't have ONE wrinkle! Just remember a serum doesn't sit in place of a moisturizer or vice versa. You wouldn't skip conditioner and just apply a volumizing mousse, just like you wouldn't use a volumizing mousse after you shampoo in the shower. My skincare routine is listed above in question 1 and once I have baby I'll be sure to do an updated one!

8. How do I minimize my pores?
Unfortunately you can't "shrink" pores even though I'm sure we all wish we could! 😉 It's genetically determined along with skincare routine. However, the only way to make them permanently smaller is laser treatments and certain prescription drugs like Accutane make them smaller while you take the medication, but they go back to normal size after. However, products containing retinol can unclog pores and make them appear much, much smaller! This Overnight Skin Rescue Treatment from TULA contains retinol which can do just that. This mask is also recommended for deep-cleaning pores and removing acne! The next tip is to make sure you're using a primer that minimizes pores! For a splurge-worthy primer that is raved about go with this Lancôme option. If you want something more budget-friendly pick up this on your next Target run! So to minimize the look of pores remember: keep pores clean, add in retinol, use masks and invest in a primer!

9. I just got the TULA starter kit but how often do I use the products? 
First off, yay! haha. I always recommend this kit that way girls can see what products they can't live without and what products they don't think they would use a lot! I wish MORE skincare brands did this because you want to try before you splurge on the big items. Because this kit includes the cleanser, serum, eye cream and moisturizer you're going to use the products daily! I use the cleanser morning and night and the moisturizer at the same times as well! I used the serum at night before I went to bed. If I were to just be at home and go makeup-free for the day I would apply the serum before the moisturizer in the morning as well, but because I'm getting ready quickly, I just don't have the time for the products to absorb that much! I also recommend the eye cream at night since it is heavier and that way it won't affect your under eye concealer. Here it is laid out:
Night:
Cleanser
Serum
Eye Cream
Moisturizer
Morning: 
Cleanser
Moisturizer

If you are going to purchase any TULA products after this post I want to share a coupon code for 25% off as well as free shipping! Use code: KATEYHOLIDAY25 at checkout and see my page here for favorite products.
I'm sorry this post was such a mouthful and you're probably on your second cup of coffee by now, but I like to be really thorough when discussing skin with girls, especially having a background of an autoimmune disorder that affects my skin. I remember sitting in a doctor's office in Atlanta and the doctor said, "Well, this is happening to your skin and this is happening to your body but I don't really know what to tell you." I just remember being so frustrated we had driven 815+ miles to just be told, "I don't know." I remember thinking, "I don't ever want to say that to someone."
So with that being said, feel free to take whatever advice with a grain of salt! I did preface this post by saying that what works for one may not work for another, but I hope that something on this post will help you and your skin! 🙂 Lots of water, proper cleansing and religious moisturizing will always be tried-and-true recommendations because they truly work. But I hope you learned a trick here you may not have known. Thank you so much for reading!