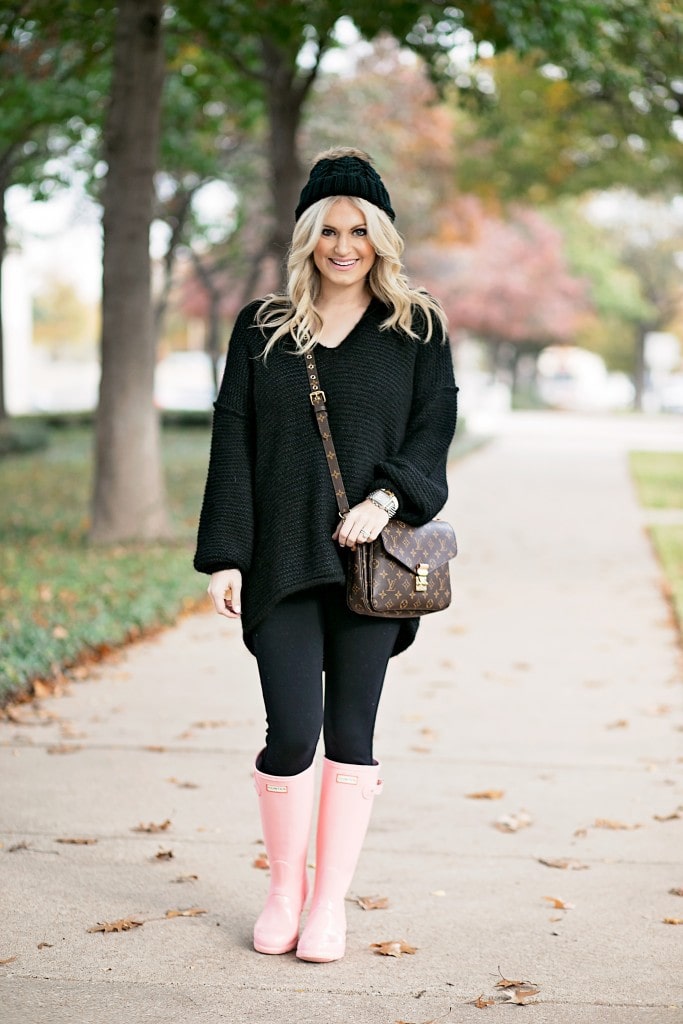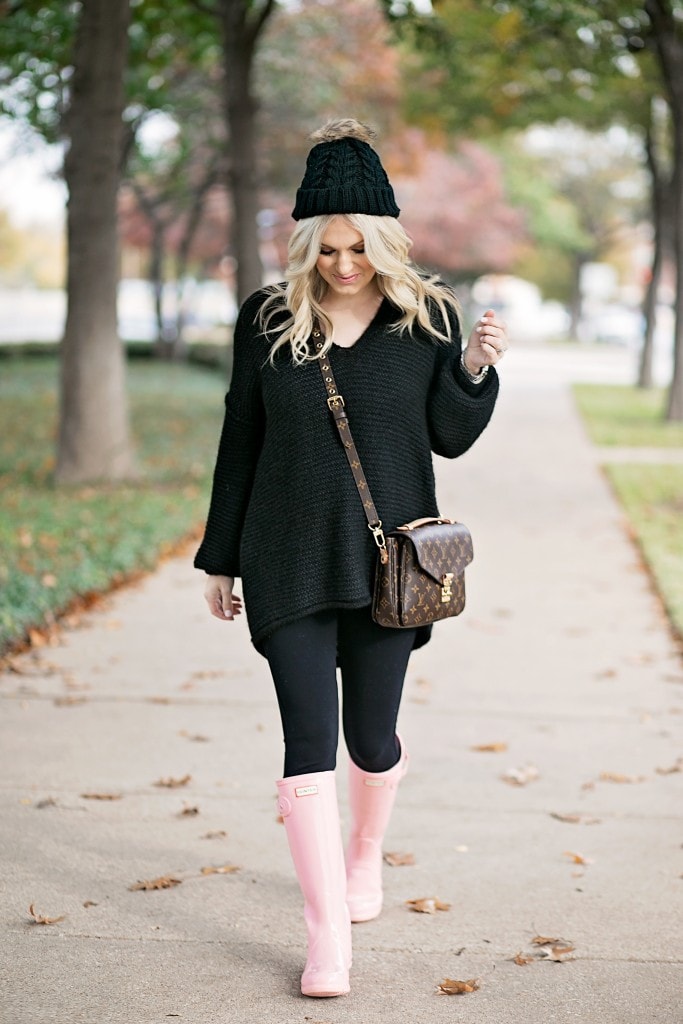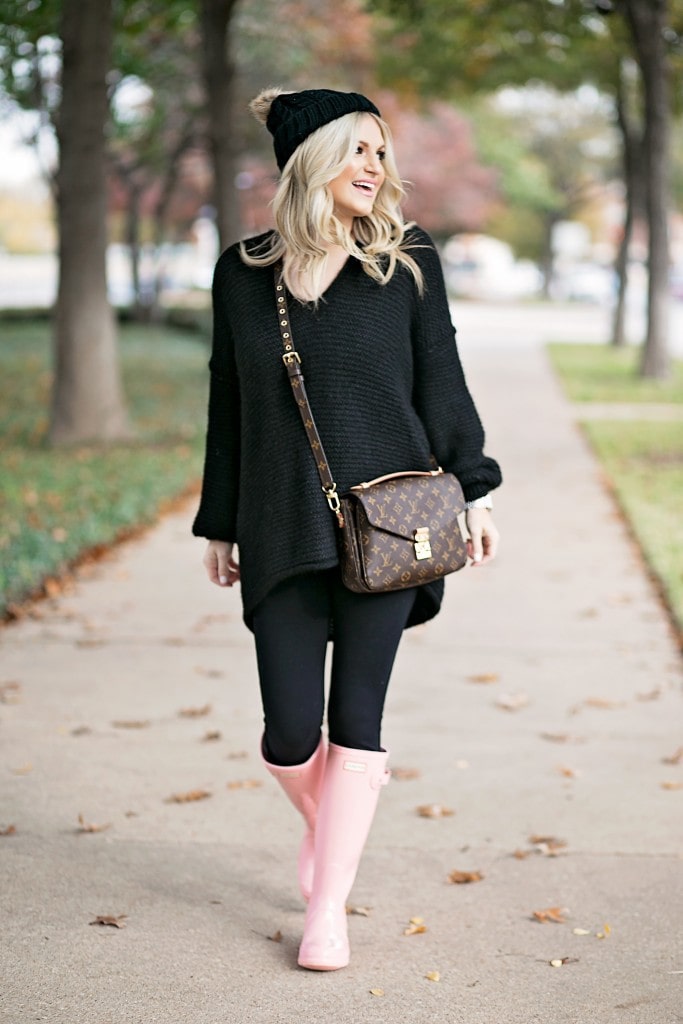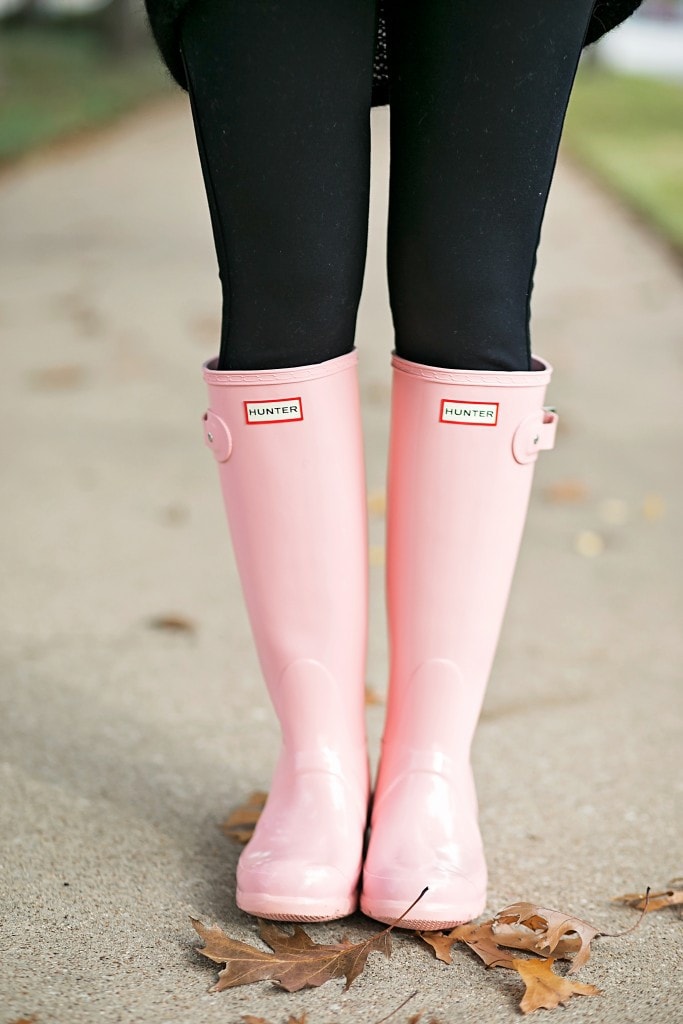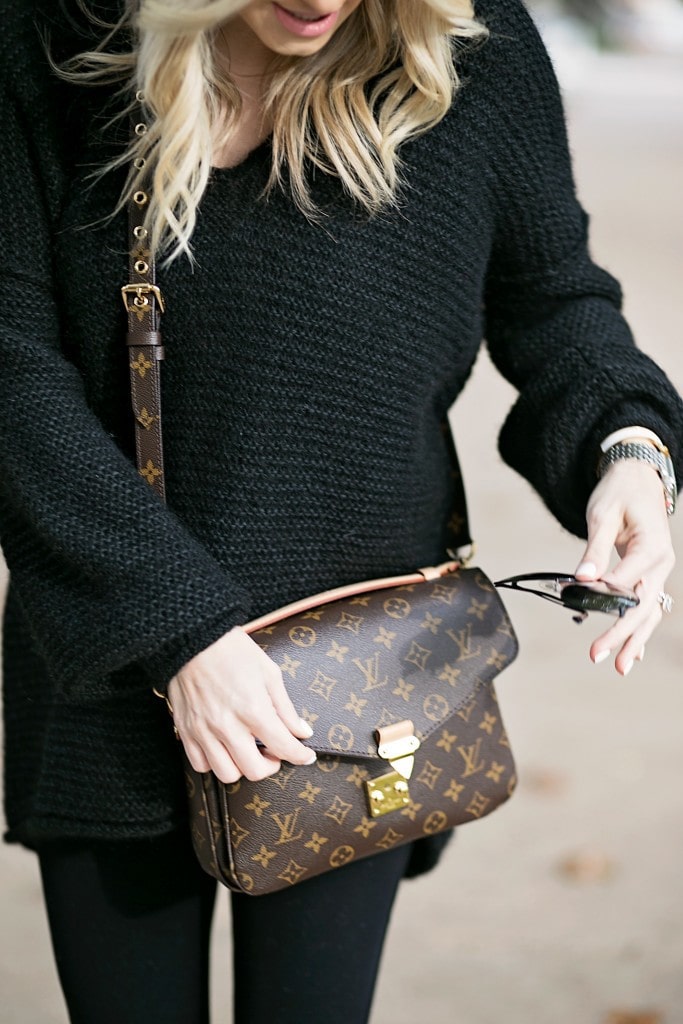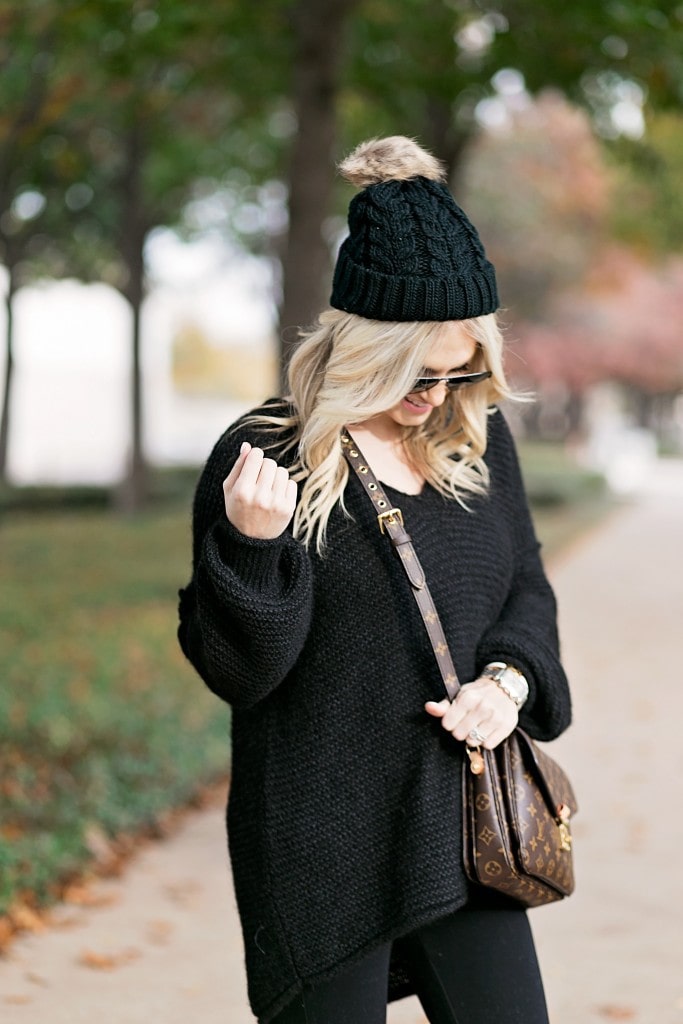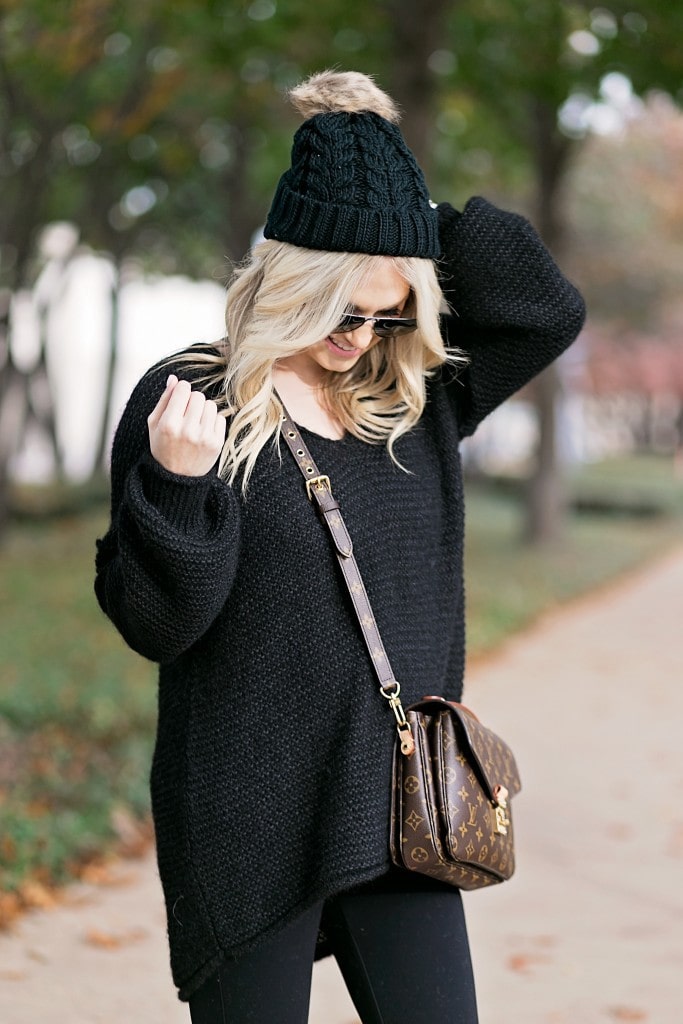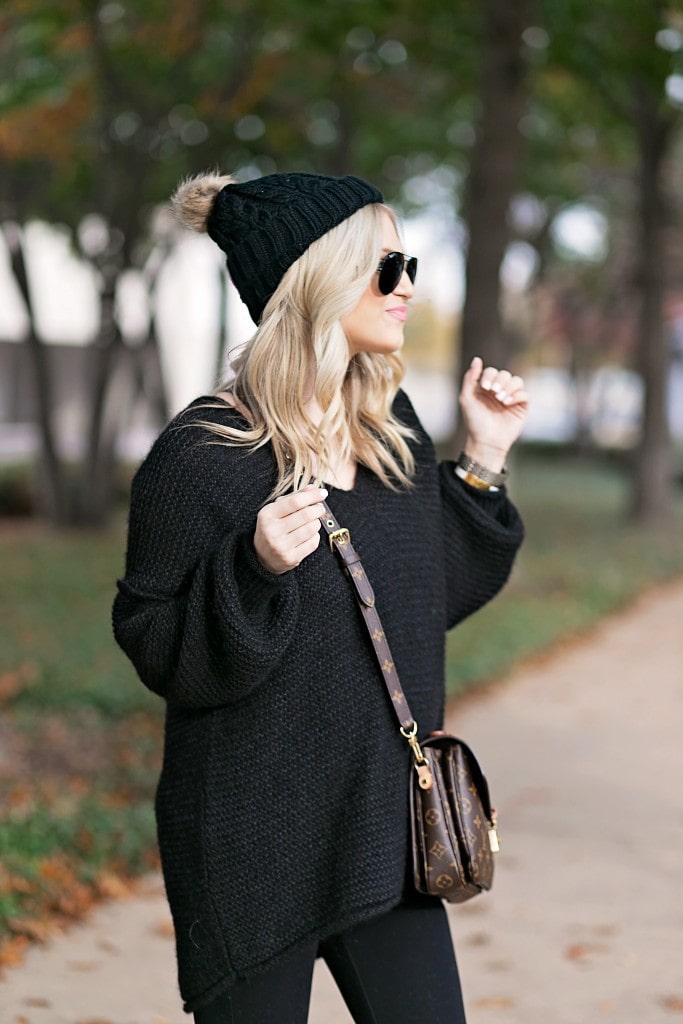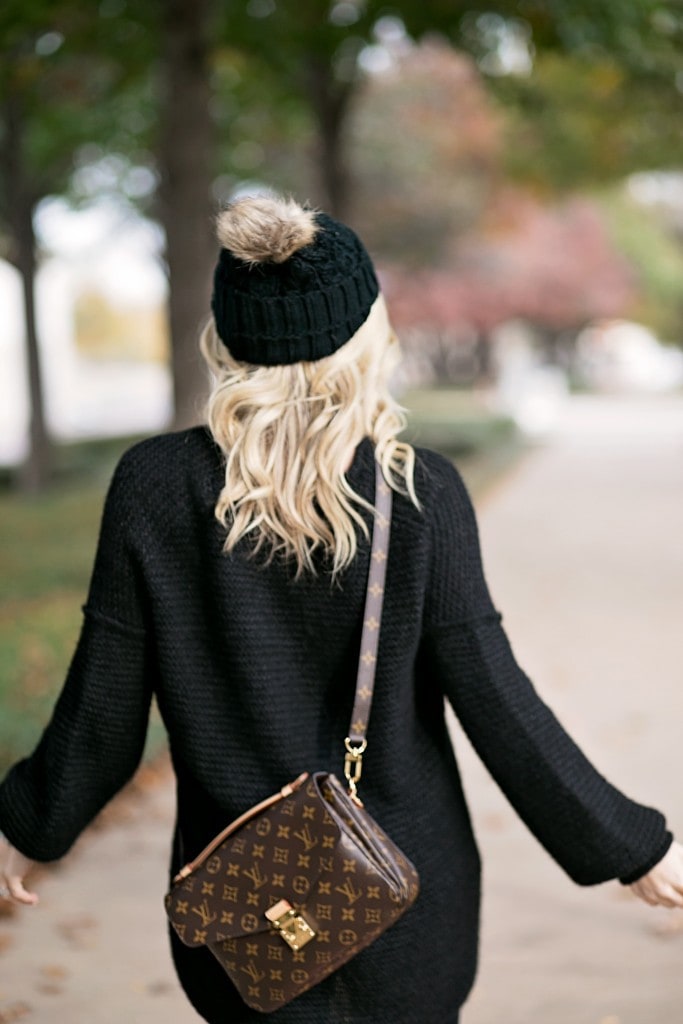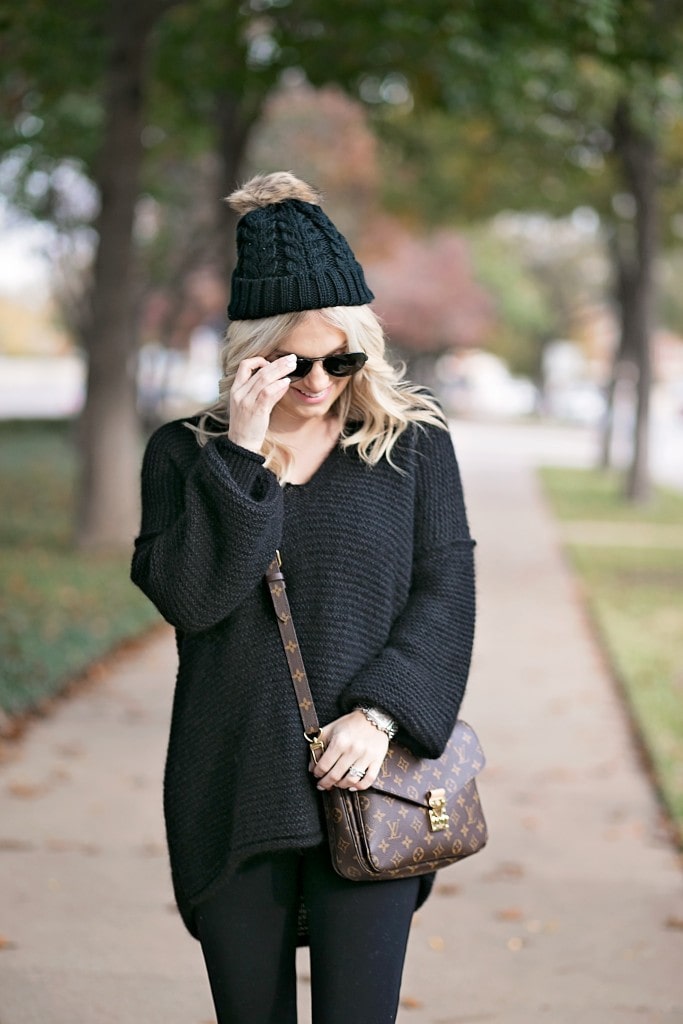 Sweater: Free People | Boots: Hunter | Bag: Similar | Pants: Nordstrom | Sunglasses: Ray Ban, Similar Size | Hat: BP | Watch: Michele | Lipstick: Girl Next Door
Photography by: Angie Garcia
---
 I remember one time being a little girl in the check-out line at Albertson's [a local grocery store] with my mom. There was a girl next to us wearing all black and I shouted [probably to my mom's embarrassment], "Mommy! I like her outfit. Why don't I dress like that?"
I'm sure it caught her off guard and she muttered something about how little girls wear little girl clothes and I have plenty of time to wear all black outfits when I get older. What she probably wanted to say was, "You're 4. You can't wear a black moto jacket and leather leggings. They don't make those in your size!" haha.
I've aways remembered that moment as it was my first recognition that I was drawn to all black looks! Whether it is a LBD, the perfect black suede pumps or a winter ensemble like this you feel so put together. There is an edginess about it that just makes me love my look all day and want to be an outfit repeater the entire weekend.
I like to add a few different textures and elements when wearing black and one of those was this faux-fur pom hat! It's only $19, so I thought that was a really reasonable price for something that you only wear seasonally. Hats are such a fun aspect that I normally don't reach for. Now, I didn't go head-to-toe black in this look. I stay true to my one-part edgy, one-part girly dressing rule and threw in some pink Hunter boots as it was freezing the day we took these photos. These are a winter must-have and I got mine from Nordstrom. Be sure to go down a size as they run large! Another sizing tip with this look is to go down a size in the sweater. I'm wearing a S but if I wasn't pregnant, I would have wanted the XS as it still has an oversized fit.
If you live somewhere with bitter-cold winters, just layer over this black parka to complete your LBL [little black look 😉 ].  Also the final order date for overnighted Christmas delivery from Nordstrom is December 23rd so if you were wanting to gift this sweater and overnight it be sure to order today! 🙂

In collaboration with Nordstrom. All opinions/selections are my own!