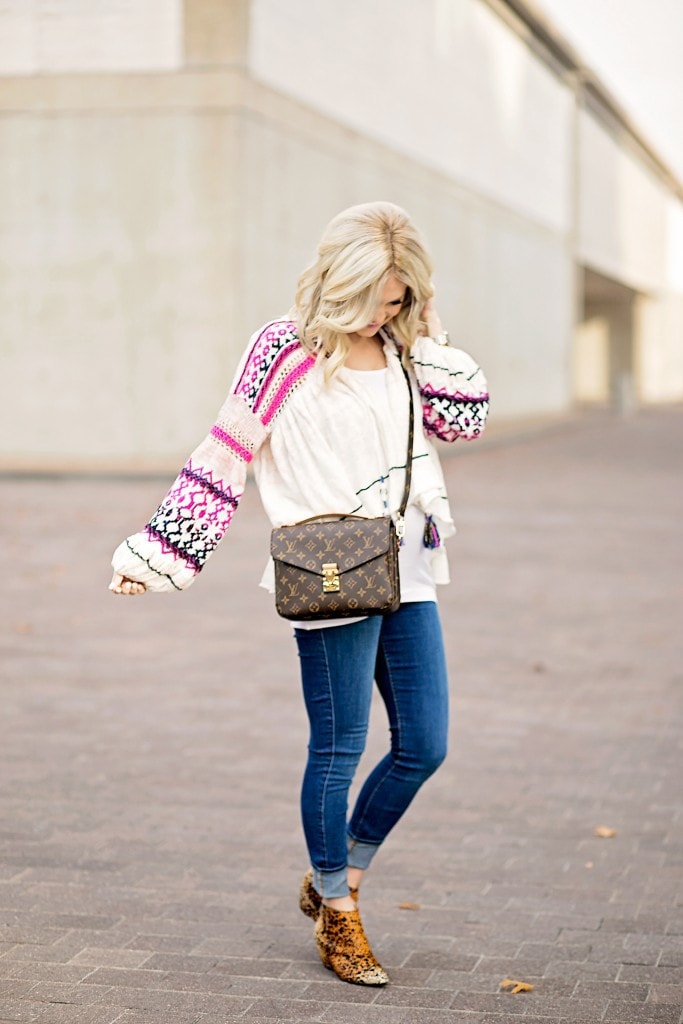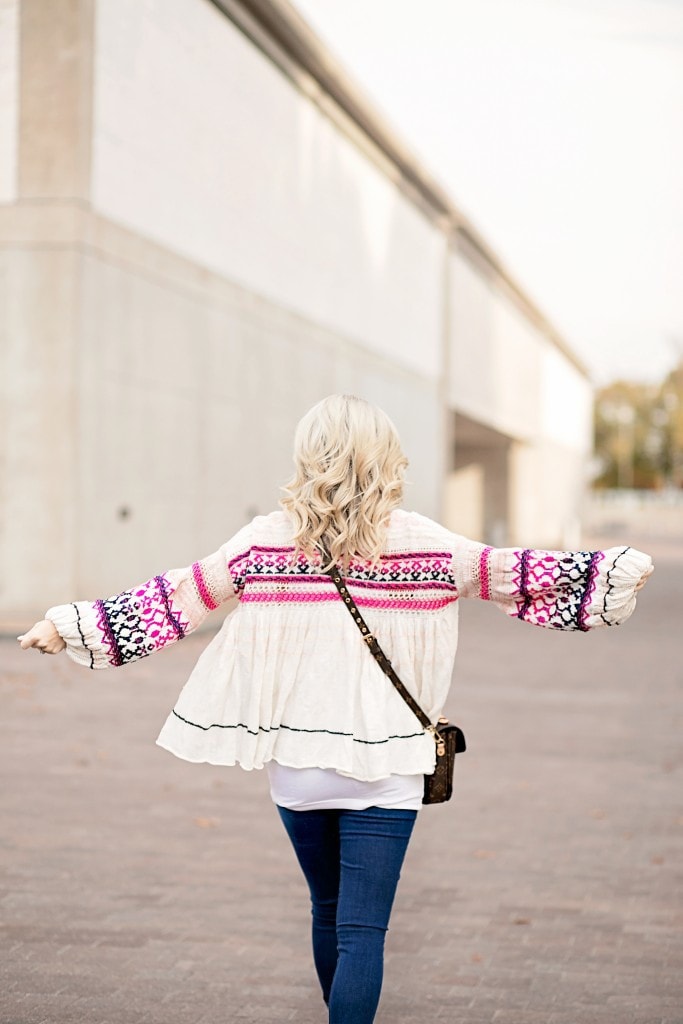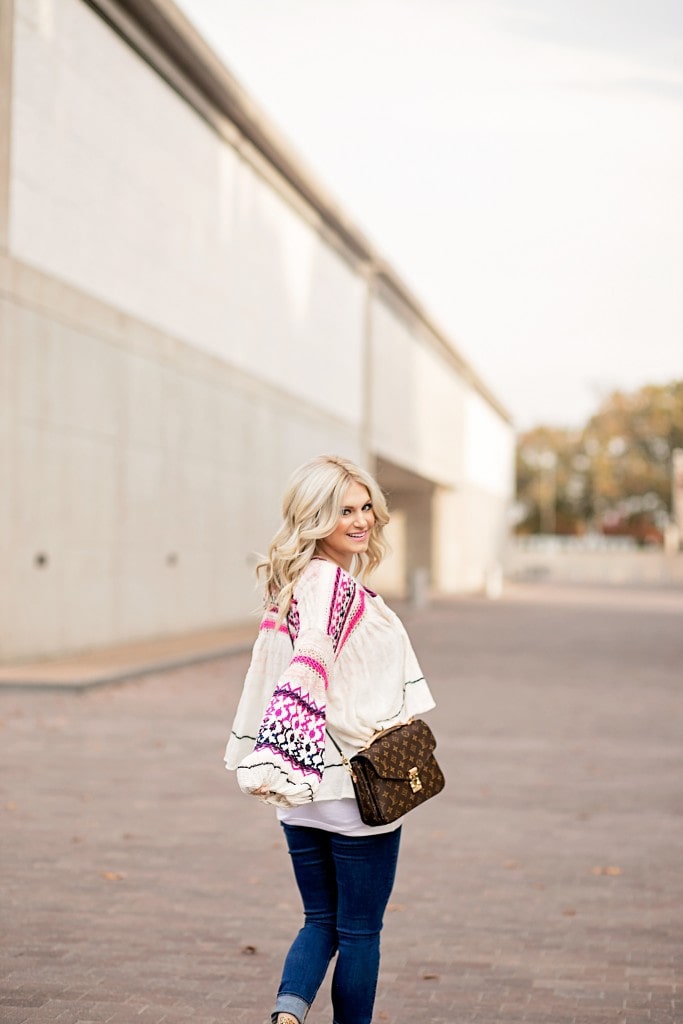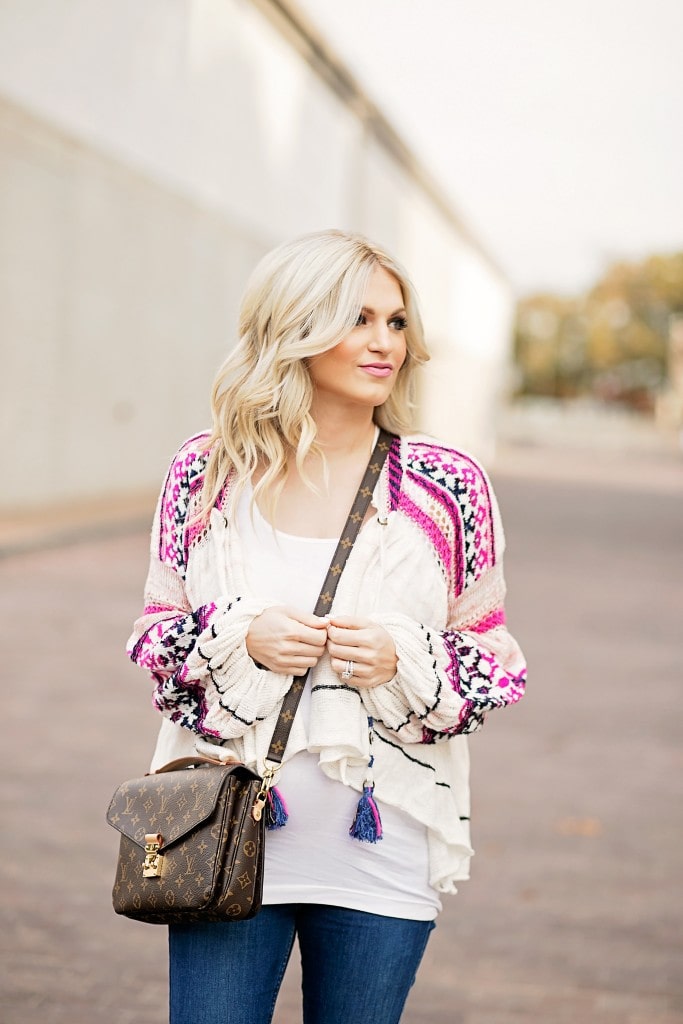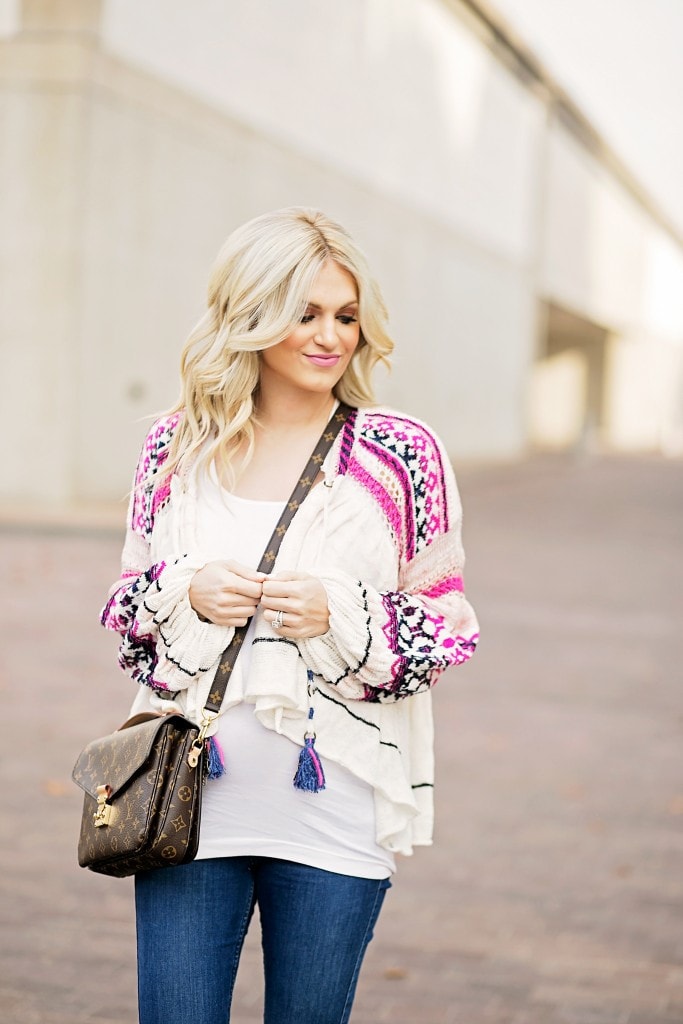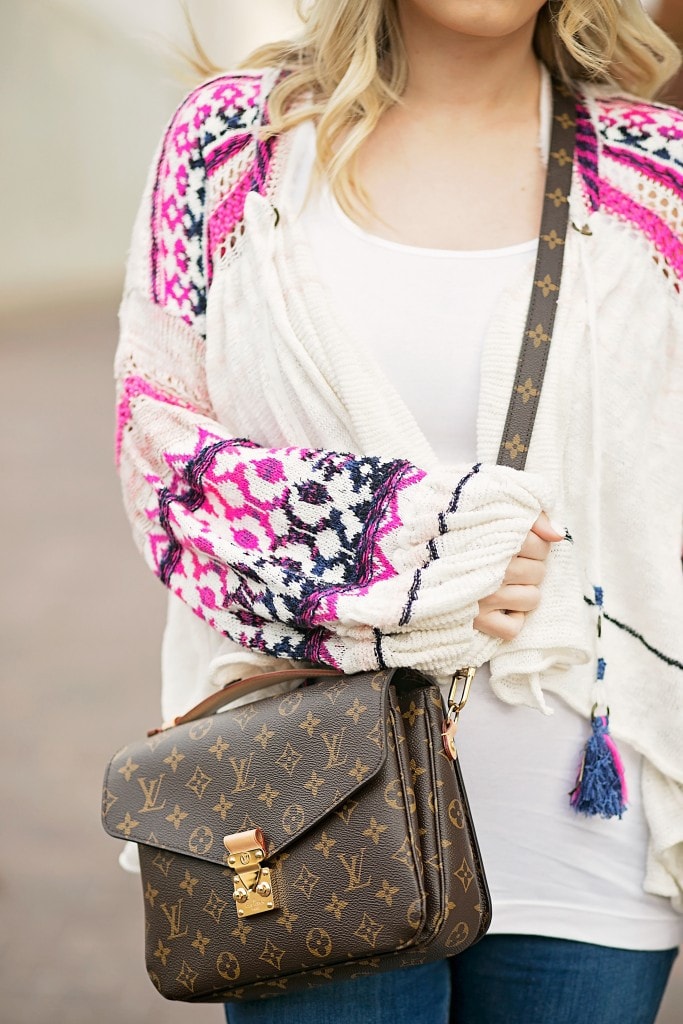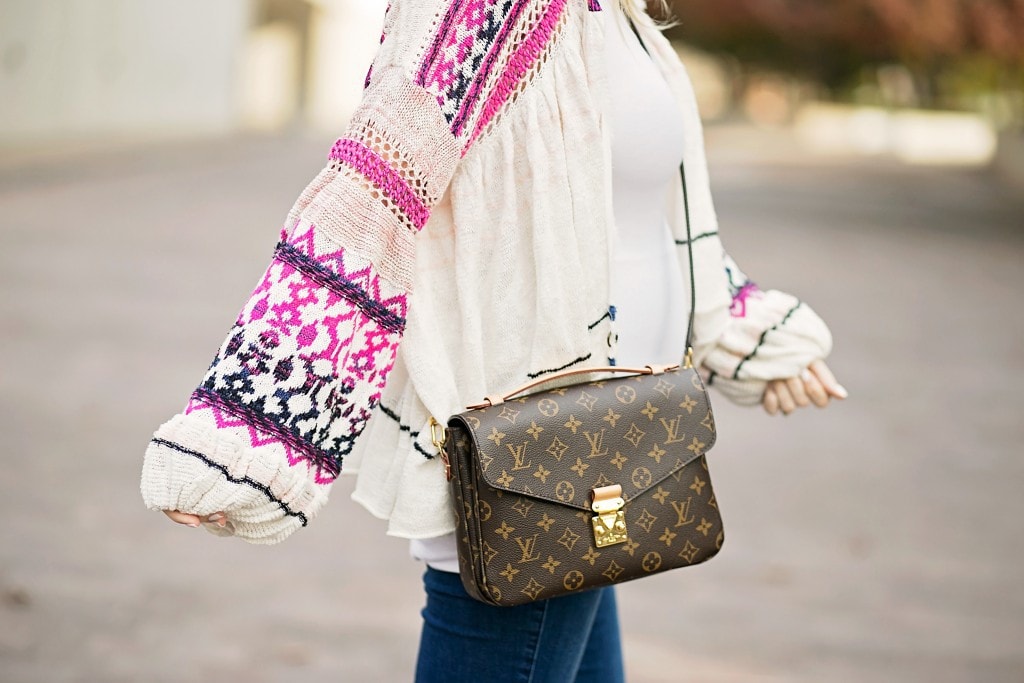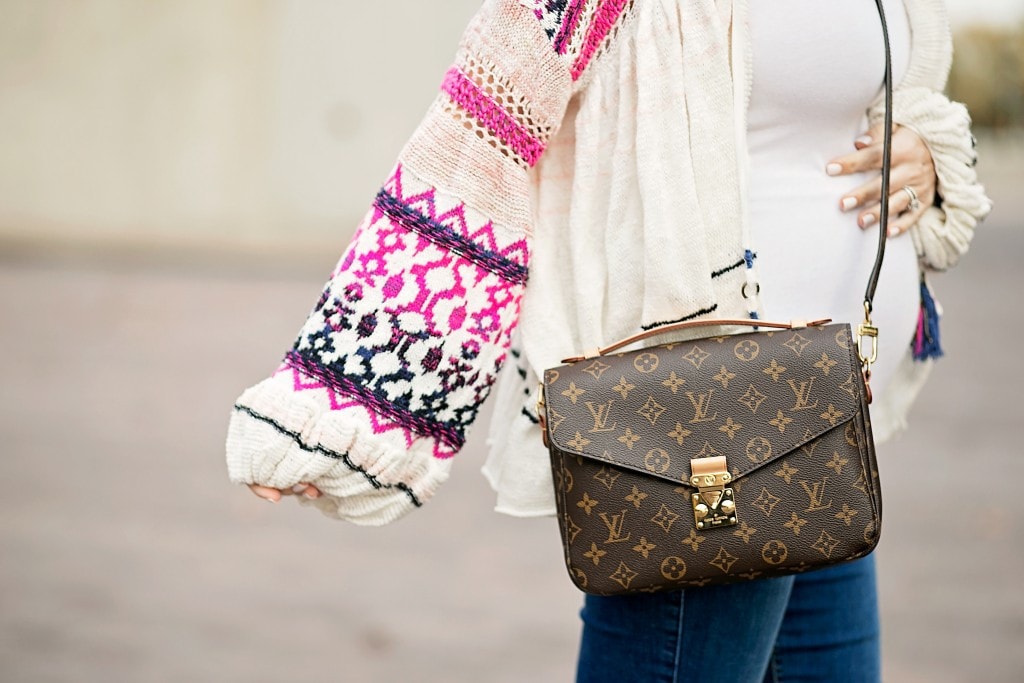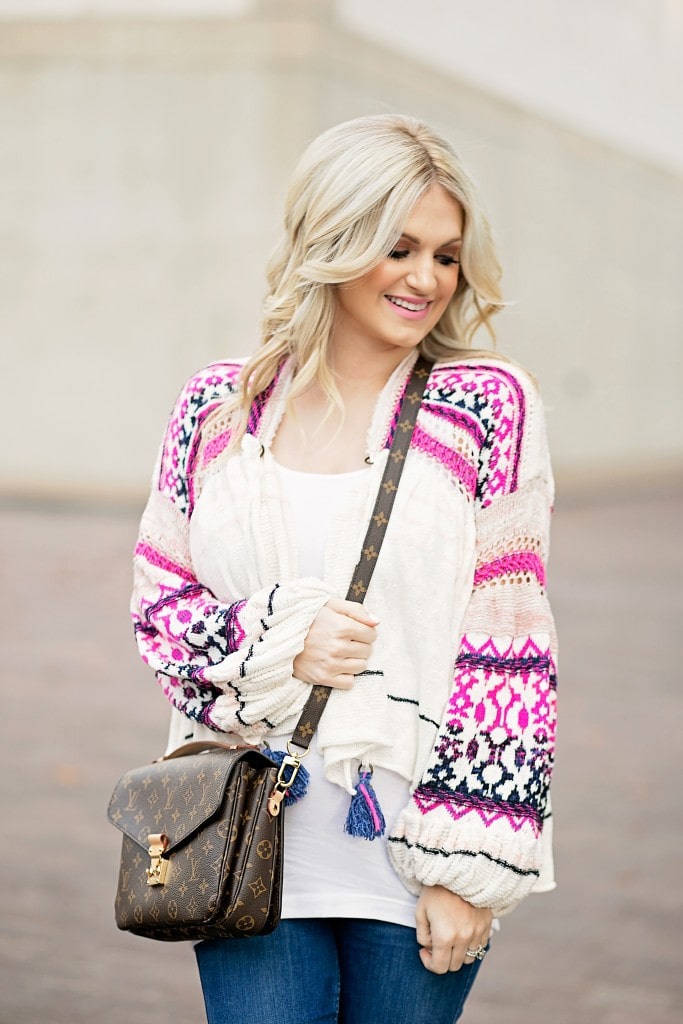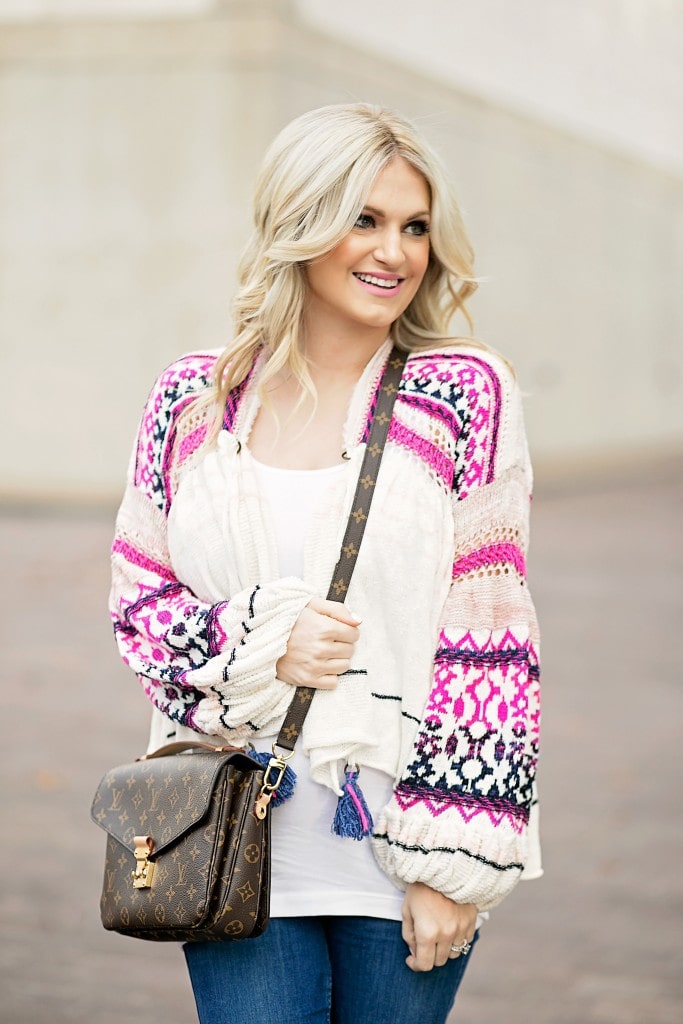 Cardigan: Free People [wearing size S] | Tank: Splendid | Jeans: Nordstrom | Booties: Here, Same Brand | Bag: LV, Similar | Lipstick: Girl Next Door
Photography by: Angie Garcia
---
When I first saw this cardigan I'm pretty sure my face turned into the heart-eye emoji. While it's bohemian, the pink details make it really girly and something you can also wear year-round! From a tank and shorts in the spring to wearing this over a longer dress now, this is an item that has permanent residency on my clothing rack. This was so fun to style and shoot because of the movement and the sleeves. Now onto the Friday Frills! 😉
1. Easy Weekend Project
If I want to do something on the weekend to make me feel a bit more refreshed, I always rearrange my coffee table! This post shares 5 tables you can copy! Our Central Market had a steal on peonies this past week so I threw some in a ginger jar and I love how it turned out. Do you have anything you love to rearrange seasonally?
2. A Personal Post
One of my dear friends, Kara Stout, wrote an extremely personal post for Glitter Guide last week and I am so proud of her! She was over at my house a few weeks back and we were talking about her sharing her struggle of infertility online. One thing I've really learned being pregnant is how taboo it still can be in 2016 to talk about fertility. People don't want you to talk about anything you went through to get pregnant [Miscarriages, endometriosis, IVF, ployps, etc.]. Society can view it as far too personal, TMI or "attention seeking."  She and I were talking about how I think all women want to talk more about their own personal story with fertility and how we thought God was giving her this amazing opportunity to do so with this article.
She sent it to me the day it went live and I've just never been more proud of a friend. First off, she had to be so raw to share all of this. I've shared on the blog before my mom suffered 5 miscarriages and she would get pretty far in her pregnancies. It's something that has stuck with me my entire life and I have such great empathy for any woman that has gone through any sort of physical or emotional pain while trying to carry a child. I can't imagine the feelings that went through Kara's mind when she had to send this to the publisher for Glitter Guide. Secondly, she wrote the most graceful and beautiful post I've ever read! I was getting my hair done when I read it and I couldn't stop crying. Kara has so many talents [she is a nutritionist and food photographer!] but let's also add writer to the list, because this post was incredible. Lastly, I asked her if I could share this post with you all. I don't know what a reader is going through or maybe what your friend is going through. But I hope this post on "Practices to Give you Hope Through Infertility" can serve as encouragement, or simply just a shoulder of understanding for you or someone you may know. Feel free to share it with anyone you may think it helps! See the article here.
As we mentioned about infertility, you can see here to learn more about it.
My favorite quote from her article:
"Starting conversations where we're not ashamed of our struggles can lead to relating and connecting to another person's pain- whether it be infertility or not." 
Kara, I love you and am so honored to be your friend!
P.S. I also hope that no one finds offense I'm sharing this emotional article in a Friday Frills roundup. While these are normally light-hearted, and cheeky [as you can see I share a wish list and pink pajama roundup below!] I always aim for COF to provide an array of sources and ideas for you. Whether that be a recipe or an article on fertility, COF and COF girls are not one-sided characters. I think we can definitely celebrate, encourage and embrace all aspects of being a woman on this site and I hope my posts encourage that. I didn't simply want to tweet this article and not express my admiration and respect for Kara as a friend and woman. She is such a blessing in my life and her story deserved far more than 140 characters! 
3. Wish List
In our community group last week we were chatting about love languages and how you traditionally give what you like to receive. While those love languages may change depending on your circumstance in life [i.e. moms traditionally like acts of service more while raising little ones, etc.], a lot of it stays true to who you are as a person. Two people in our group however, don't do that. I'm one of them! I love to give gifts, it's a trait I got from my mother. However, gifts are not my love language by any stretch of the imagination. In fact, I get anxiety! The entire time I'm worried a person doesn't know how much I love it or will use it. #PeoplePleaserPartyof1
My love language is acts of service and quality time. If Paul loads the dishwasher while I am in the shower, I could cry when I get out. I seriously think it is the nicest gesture. How strange am I?! And if he gets us tickets to go see a movie? I feel like he just proposed all over again. I'm so cheesy! haha.
So naturally, since I'm a gift giver, our tree has no more room under it. Paul can't even walk around it and had to say, "Stop buying me gifts!" Okay, husband. Fine. But ignore the next few packages from Nordstrom because they are for you and technically were purchased before you made that request. haha. So now that I have no more wrapping or shopping to do, I've had my eye on some online window shopping. Here are things that I have in my pretend shopping cart.

4. What to Watch over the Holidays
If you're anything like my family, the holidays provide ample time to stay in pajamas and catch up on movies or DVR. I finished Madam Secretary and now I keep hearing everyone talk about The Crown. I think we will have to start this next week! Anyone watching? Or if you're more of a movie gal, here is a list of 30 movies to watch with your family over the break.
5. Pink Pajamas
As January nears and we start to think about things we want to clear out, I always recommend going through your pajama drawer first. These things get so worn out! One way to make pajamas last longer is to always hang them dry! But in case you have a few you need to replace, here are a few of my pink favorites.

Thank you so much for reading! I hope you have a wonderful weekend!