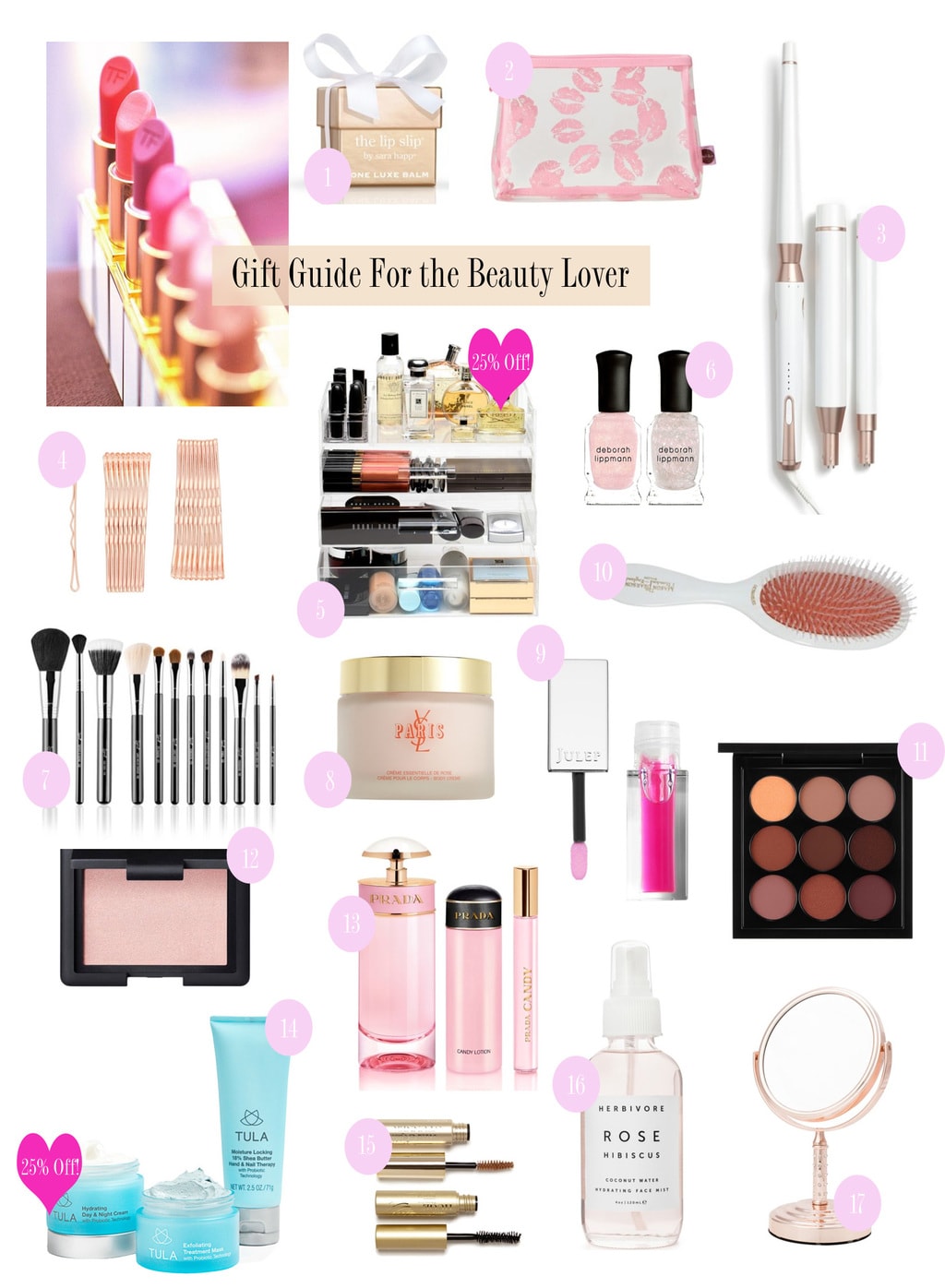 1 | 2 | 3 | 4 | 5 | 6 | 7 | 8 | 9 | 10 | 11 | 12 | 13 | 14 | 15 | 16 | 17
---
Have a girl in your group that keeps a minimum of 7 lip products in her purse at all times? Or what about your friend that always "needs" to go to Sephora? I'm definitely that girl in my group of friends hoarding Ulta coupons like candy and having permanently stained lips from liquid lipstick.
Beauty gifts are perfect for the holidays because you don't have to know a size, fit or style. The thing about beauty lovers is they love most all products [I think I love them ALL 😉 ] so you're really safe getting her anything! But if you need an extra suggestion or two, here are my picks for your beauty queen!
1. The Lip Slip: Every girl has a million lip balms. But very few of them are indulgent. This lip balm by Sara Happ has been a beauty editor fav for years because of the color and glow it gives your natural lips. I love to apply lip balm, but I hate that sometimes it makes my lips really red and overly glossy. This almost looks like a pigmented gloss, but it's an ultra-moisturizing balm. It's thick, so one jar lasts you quite a long time.
2. Cosmetic Pouch: It's pink, it's $15 and it is TSA approved. Need I say more? Get this for the girl in your group that is always on the go!
3. T3 Wand: The T3 curling iron is my favorite, and wands are one of the most universally used hot tools. Straighteners had their day in 2000. But in 2016 girls want a good wand. I gifted this to a friend at church and she loved it! This would be perfect for a daughter or sister. The consensus about the T3 is how long your curls last. Longer lasting curls means less heat you have to apply to keep them styled, so your locks can receive as little damage as possible.
4. Rose Gold Bobby Pins: Bobby pins are always an afterthought. I have so many mismatched ones in my drawer and I'm always short a few. This $10 treat can be paired with something like a cute Christmas mug and you have a coveted gift for under $15.
5. GLAMbox on SALE: This is one of the most searched for items on my blog and you all know why! I'm the biggest fan of it. If you're beauty queen loves organization, this will be the way to her heart. I have a code for 25% off for COF readers until the 21st! Get 25% off GLAMboxes makeup storage line with code: COFgift2016 at checkout! I have a full-lid!
6. Deborah Lippmann Polish Set: I picked up this polish set for a gift when my mom and I were in San Antonio a few weeks ago. These pinks are fool-proof to paint your nails with so you won't have to worry about perfection or smudges. They also last a really long time. I'd gift this to a newly-engaged or married friend so it matches her new bling. 😉
7. Sigma Brush Set: This Beauty Essential Kit is a $213 value for $160. Sigma is one of my favorite makeup brush brands and this would give a girl everything she needs in her kit. I've washed my Sigma brushes a million times and they stay just as perfect as my Chanel makeup brushes.
8. YSL Body Cream: A luxe body cream is the equivalent of bringing an expensive bottle of wine to a hostess. It's always welcomed by any woman! If you aren't sure of what to get your mom or mother-in-law I recommend this rose-scented moisturizer. It will be beautiful on her vanity and this is a product not sold in stores, so chances are no one else gifted her this.
9. Julep Lip Oil: With liquid lipstick having their 15-minutes of fame this year, chances are most girls are dying to get their hands on some moisturizing treatments. I've gotten more e-mails from girls this year on lip treatments than I have in years, and I really thing it is attributed to this trend we love! I am addicted to a matte lip now, but my poor lips miss the TLC of a gloss. This lip oil treatment by Julep allows her to have a punch of color while the oils repair her lips from the inside out AND plump!
10. Mason Pearson Detangler Brush: If you are unsure of what to get a college daughter or the girl who has everything look no further than a Mason Pearson Brush. I was gifted mine from my mom and it truly is different than any brush I've ever tried. I feel like Marsha Brady brushing my hair each night before bed, haha! This is a splurge gift when you think of the price being just a hair brush, but these brushes are ones that last a lifetime. Girls with thin hair, damaged hair, ultra curly hair all love this brush. If you think one of your girlfriends "has everything" I always like to just gift her something that is used daily like this but that can last forever.
11. Burgundy Times Nine Eyeshadow Pallete: I love the MAC x 9 eyeshadow pallets. For $32 you get enough product to last you a year plus! I'm also a huge fan of warm-toned eyeshadows lately. I am going through a phase where I love coral blush, coral lipgloss and warm eyeshadows which is very unlike me. It's not even spring! But something about the warm shades make my skin tone look a lot more tan in the winter, when it surely is not!
12. Nars Blush: I'm always gifting Nars blushes! They have some of the most universally flattering shades and even my tomboy girlfriends want to borrow mine. The most common shade is Orgasm, after that I love Impassioned for a plumy-pink, Gina for a coral and Reckless [featured shade] for a frosty pink.
13. Prada Candy Florale: The most iconic scent of 2011 was Prada Candy, and for good reason. It smells unique on everyone, yet has notes that girls from granddaughters to grandmothers all love. The floral scent is a more modern take on the Prada Candy and I'm a huge fan, which says a lot because I don't like floral fragrances! This just smells incredibly fresh with notes of caramel.
14. TULA Hydration Kit: If you're wanting to gift skincare I still have a coupon code for TULA until Christmas! Enter code: KATEYHOLIDAY25 at checkout for 25% off and free shipping!
15. Stila Huge Last Duo: My new favorite mascara is Stila Huge Last and this duo with a primer is is such a cute gift for your girlfriend that is dying to try lash extensions. Maybe this duo will rethink her decision and be a little easier on her wallet! 😉
16. Rose Facial Mist: This beautiful facial mist to add to your vanity is meant to tone and moisturize skin. You use it after you wash your face and right before you moisturize. My girlfriends who have this swear it reduces so much redness so you're not as tempted to apply a full-face of foundation.
17. Rose Gold Vanity Mirror: My vanity mirror is my BFF. Without it, this girl would have a million stray eyebrows and a really uneven jawline of foundation. haha! This rose gold mirror is such a pretty version and I'm a little bitter this wasn't out when I purchased mine last year.
I hope you enjoy shopping for the beauty junkie in your life! Happy Tuesday!