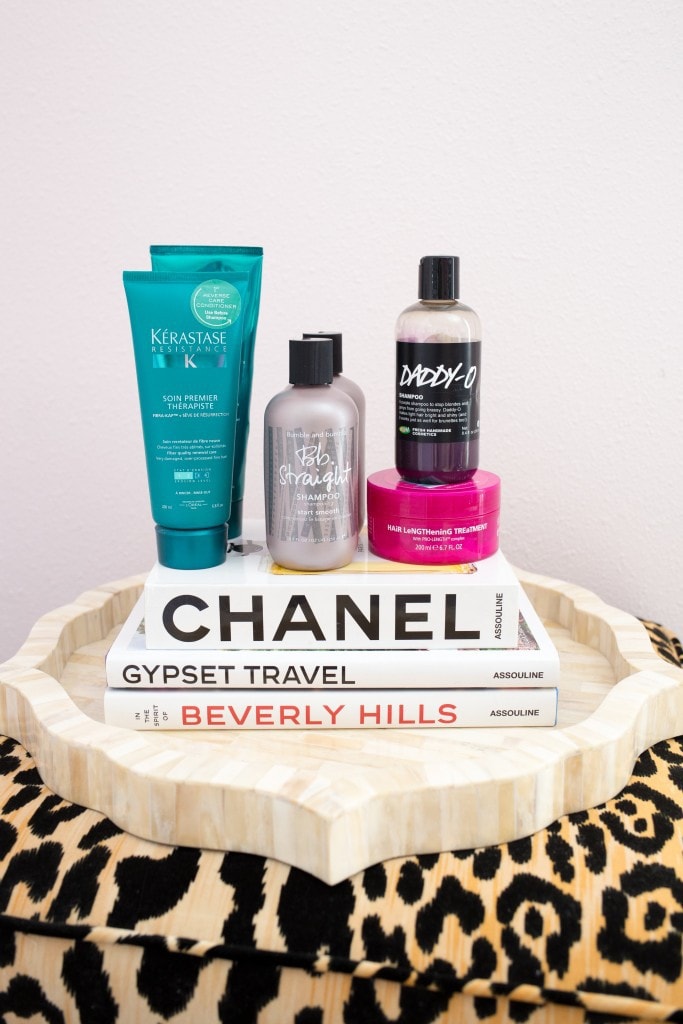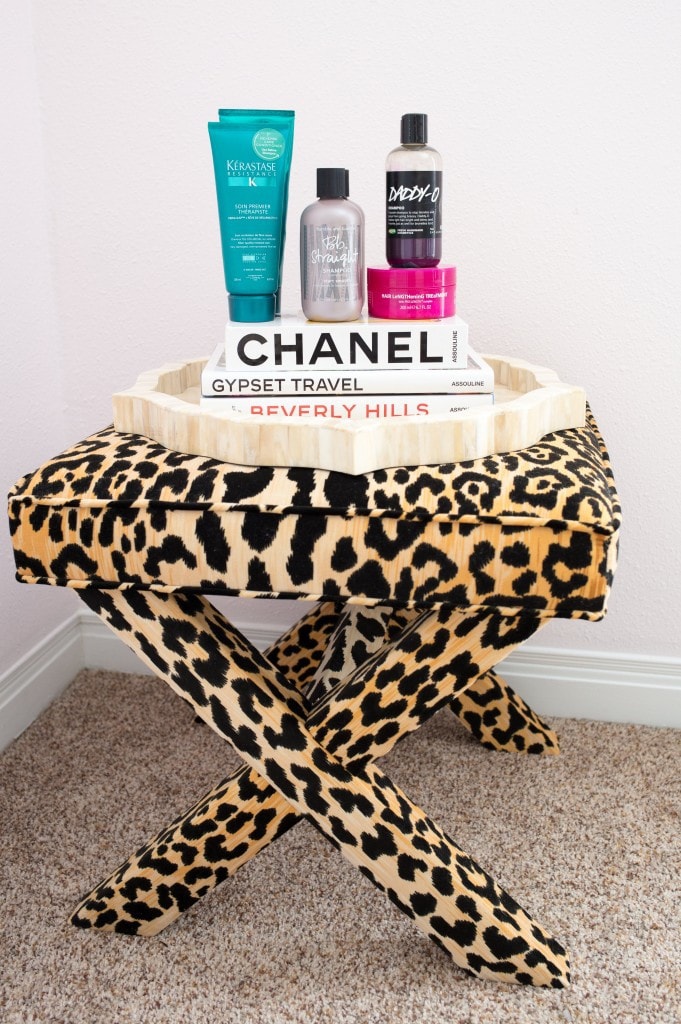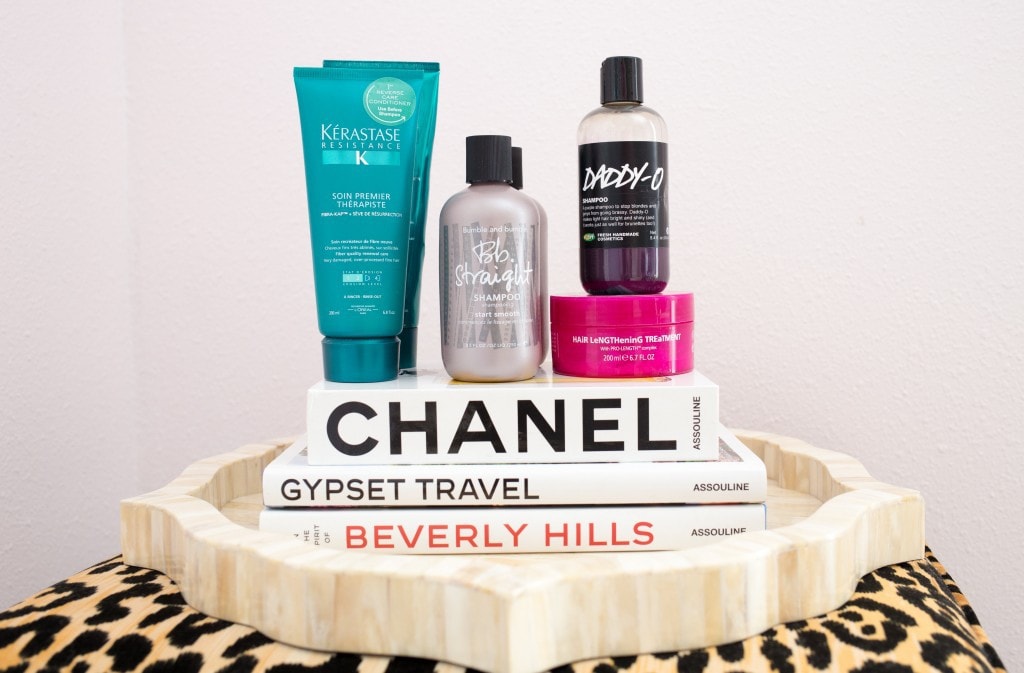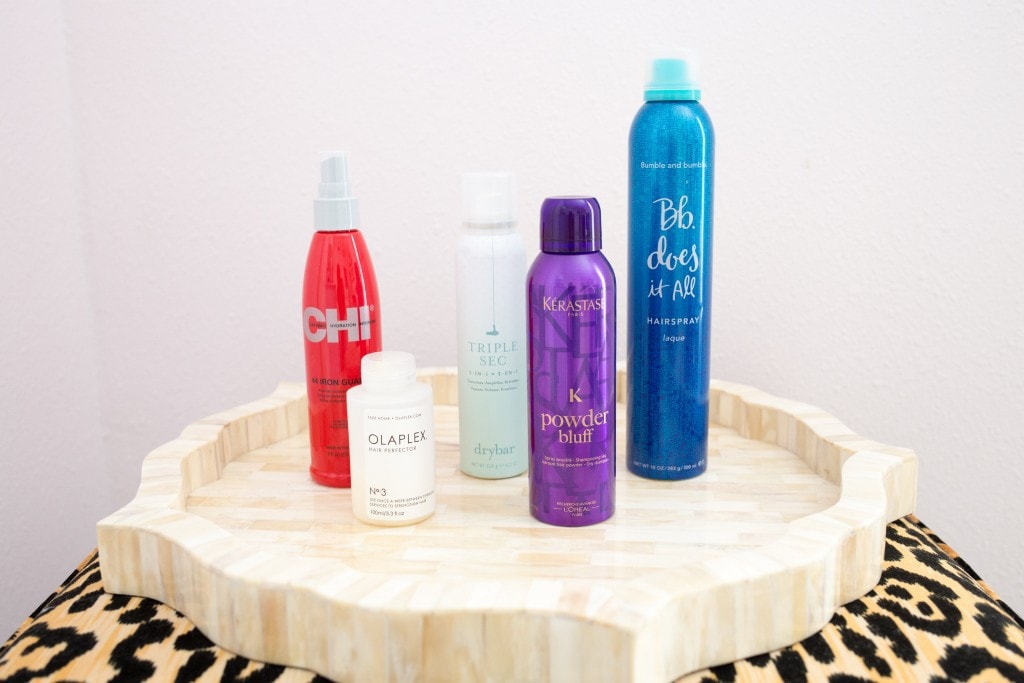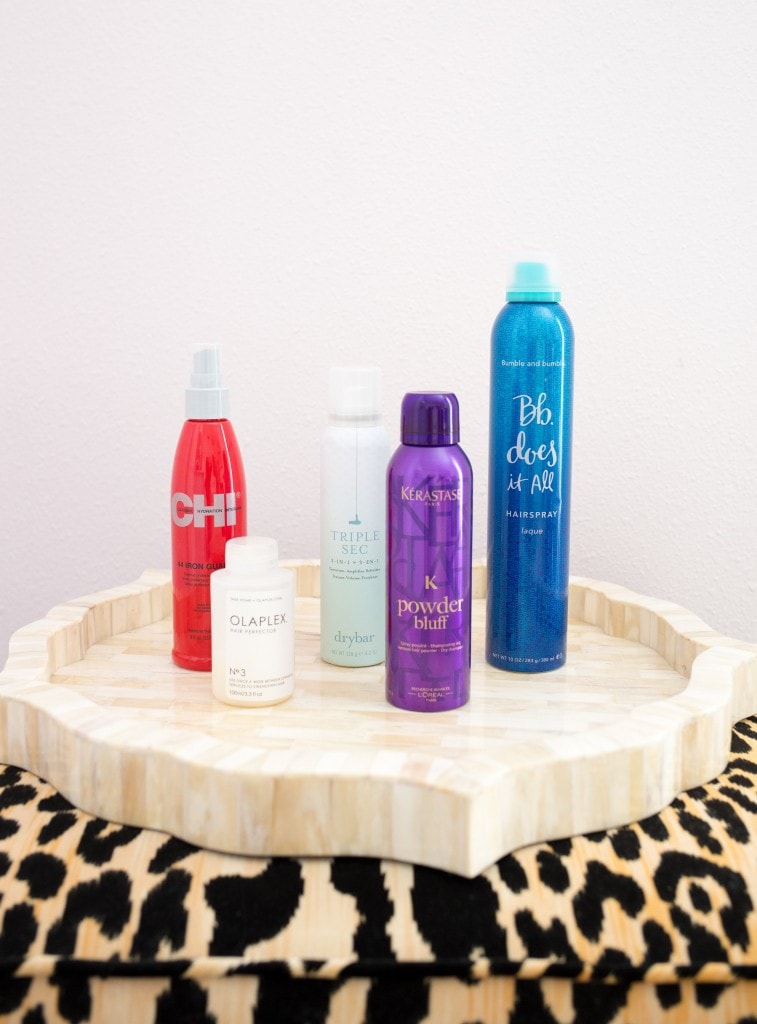 Happy Friday! It has been freezing in Texas this week and I love it! Yesterday it got to 29 degrees which is pretty rare, so I've been soaking up all the parkas and beanies I can find in my closet. As we head into winter most of us change up our hair care or beauty routines. Moisture becomes a must and a lot of us set aside our beach-wave sprays. I thought it would be fun to share my hair care products that I use regularly and how I care for my hair. I also want to disclaim, everyone has different hair! After struggling with Discoid Lupus and learning how much it affects my hair, my biggest pet peeve is when people just assume that all people have the same texture/style/integrity of hair. What works for me, may not work for the next girl and vice versa. However, learning about new products and testing them out is what helps me learn how to care for my hair best, so I hope this post helps you in any small way!
Before buying hair care products, you always want to think of what your biggest concern is. For me, I like to maintain my color and the health of my hair. I love my curling iron and I'm also blonde so combining the two could equal a lot of damage! You'll probably see a lot of products below to protect from damage, but that's because I think you can prevent most of it by putting an emphasis on that in your hair care routine. It's like caring for your body, if you eat a lot of good food, vitamins and work out you'll see the benefits. If you have really fine or thin hair, you may not be able to use all of these products, as I have lots of textured hair so it doesn't get weighed down. But be sure to check out the styling products, as one will give you tons of volume!
Washing
I've never had to wash my hair more than twice a week because I have so much of it and it really doesn't get that oily. Even as a little girl I would put my hair up in a top knot and shower without washing my hair, so I don't even know what I would do if I washed it every day! haha. My sister is a runner so she does and I'm always in shock at how fast she goes through shampoo. Now with pregnancy, my hair NEVER gets oily. I basically force myself to wash it once [twice if I have an outside workout] a week just  because I know I want clean hair. I like to mix it up so my hair doesn't get used to the same products, so each shampoo I use a different product on rotation. I keep three in my shower: a styling shampoo, a repair shampoo, a purple shampoo. With a styling shampoo I pick what I'm wanting whether that be straight hair, volume or curls. Currently, I'm using Bumble & Bumble Straight Shampoo and Conditioner. I love it! I have naturally wavy hair [but not the kind you can really scrunch and make look like curls] and it doesn't give you pin straight hair, but it does make the styling incredibly manageable which I love. I can blow dry it pretty straight after, sleep on it and my hair is fine. For a repair shampoo, I use something to protect from damage. Typically, I go with a Kerastasé Shampoo & Conditioner, but you just have to be conscientious to get the kind that fits your hair type. I've purchased kinds before that don't work with my hair type and I couldn't tell a difference. Right now I'm using the Reverse Care line which is really unique. You do conditioner first then shampoo. This is so moisturizing and if you have recently highlighted your hair or put it through a lot of heat styling, I can't recommend this enough! You might think, "This is way too thick!" while washing your hair, but I'm not left with any residue, just incredibly soft hair. My hair dresser kept commenting that my hair isn't damaged from coloring it and I really attribute it to this. Then for my third shampoo, I use a purple shampoo to keep brassy tones at bay! My favorites are Oribe, Lush Daddy-O or Drybar. I kind of just purchase them on rotation in that order. If you are brunette, I also recommend the Oribe purple shampoo. It will keep you hair on the chestnut side as opposed to any amber tones. A trick if you don't want to buy the conditioner as well is to make that your mask day. I'll use the Lush Daddy-O purple shampoo then use a mask as my conditioner.

Masking
I always do a hair mask at least once a week! I typically do this in the shower on days I use my purple shampoo. Or if I didn't use purple shampoo that week I will do a mask before I shower. There are lots of different ways you can do this. If you aren't one for going out and buying a new product, coconut oil works great! You can even mix it with castor oil and jojoba oil and create a really deep-conditioning mask. But be sure to shampoo twice to get it all out! With coconut oil, I will just take a scoop the size of my hand, massage it all in my hair, put it in a top knot and leave it for a few hours. I'll do this on Sunday afternoons while I'm just at home cleaning and then wash it as normal. If you have really fine hair, you'll need to shampoo multiple times to get it out. Because I don't, I can just wash once. Another mask I love to use before I shower and to reverse any damage is this one from Amazon. It smells amazing and is really thick, so a little goes a long ways! Now if you have finer hair or you like to use a mask in the shower because you're thinking, "Katey, when do I have time to sit around the house for a few hours with a mop on my head?!" I have lots of in-shower masks I love. Currently in my shower I have this one I picked up from ULTA. It's called a Hair Lengthening Treatment and it smells incredible. Now, most products you see that claim to lengthen your hair, are really just protecting from damage. Nothing that costs under $12 will probably grow your hair! haha. Unless, you're using a really expensive product. What this mask does is really just moisturize and infuse with keratin to protect against further damage. I love the smell and it makes my hair so easy to style after I use it. Another mask I love for the shower is this one by Moroccan Oil. If you're wanting to give your hair extra TLC after one too many highlight sessions or an extra curling iron or two, moroccan oil is always a go-to for healing your hair.

After Shower Products
After I shower I like to put two products in my hair. One is Olaplex. My hair dresser uses Olaplex on my hair when highlighting to protect against damage. It's what the Kardashians use to bleach their hair back and forth and allow it to not fall out. If you use Olaplex at the salon, they will send you home with this bottle. I put a dime size in my hair after I get out of the shower and then brush it through with the Wet Brush. Be sure to only use a Wet Brush or a wide-tooth comb once you get out of the shower as your hair is really fragile wet. Then, I'll throw in Moroccan Oil. The light version works best for blonde or fine hair. If it's the afternoon and I'm not going anywhere, I'll just let my hair air dry! If you are wanting to grow your hair, I recommend this Caviar Lengthening Serum for after your shower! It goes on your roots and works really well. Or if you're suffering a bad hair cut and want the strongest treatment, NeuLash [my favorite lash serum!] makes a hair serum called NeuHair! If you're pregnant, do not use it as it isn't recommended. I like to keep my hair this length, because it feels very "me" but if I ever cut my hair and don't love how short it is, I'll use these serums and within a few weeks it's back to normal. Now if I'm going to try to get my hair to air dry wavy, I'll run this through my hair instead of the Moroccan Oil. Once it has air dried I spray with this by Oribe to maximize waves.

Heat Protectants
I used to be really against blow drying my hair! I typically shower at night, so I thought, "Why cause extra damage?" If you have naturally straight hair that's really true for you. However, I learned that going to sleep on wet hair can damage it a lot more and then you use more heat in the morning trying to fix your bed head. So if I'm showering before bed after I use Moroccan Oil, I use a heat protectant by Kerastasé. These are heat-activated and protect your hair from damage but seal in products to help style your hair in the way you want. The frizz option or the damage option are my favorite! Before I style I also apply a heat protectant. I'm currently using the CHI spray I picked up at Target. However, be careful if you have fine hair this will make your hair a little "crunchy." I don't notice it because of my hair texture. Another heat protectant I love is this one from Drybar!

Styling Products
I keep three styling products on standby no matter what I'm doing to my hair. First off, I always have to have a good dry shampoo! Even though my hair doesn't get oily, I like to use dry shampoo so that it smells really clean and feels clean. Most dry shampoos make my hair feel even worse and full of product. My two favorites that don't do that are Kerastasé Powder Bluff and Ouai Dry Shampoo. Secondly, for hair spray, Bumble & Bumble is my favorite! The blue or purple bottle are what I always grab and I've used this since I was a freshman in college! It lasts all day but doesn't make you hair feel like you have hair spray in it. I never knew how much I loved this stuff until we recently went to a wedding in Austin. I forgot my hair spray, so I ran into CVS and picked up a $3 one. I HATED my hair all night and I had styled it completely the same. The hair spray had just made my hair really heavy and it had no movement to it, so I just didn't feel like myself. After I use hair spray, I always spritz my hair with Triple Sec by the Drybar. This acts as a texturizer, refresher and adds body and shine. It does a million things in one and I also use this every morning when I don't wash my hair to refresh it. If you have fine hair or are wanting volume I can't recommend Triple Sec enough- it's a product I'm always buying in bulk.

Heat Tools
For heat tools I use T3 products. This is the curling iron I use and this is my blow dryer I currently use! T3 is great because your curls last a really long time!

Brushes
For wet hair, I use a Wet Brush. And for brushing my hair before bed or while dry I have a Mason Pearson brush. This is a really big price for a brush and it's a gift you pass down for generations! My mom got this for me as a gift, and typically brushing my hair just pulls it out and makes it look so much worse. But something about the boars and bristles in this brush pull oils all through your hair in the right way and I feel like I have Sleeping Beauty hair after I use it! haha.

Make Your Style Last Longer
I always sleep on a silk pillow case because this allows curls or whatever style you have to last longer. It also helps with anti-aging and this is the sleeping pillow case I use.

I hope this post helps you or you find a new product to try! 🙂 Thank you so much for reading!

Photography by Madison Katlin